September, 4, 2010
9/04/10
4:31
PM ET


Georgia Tech beat South Carolina State
41-10
in its tuneup for next week's road trip to Kansas. Here are a few notes for you from the game:
No true freshmen started, but at least four played -- safety Isaiah Johnson, outside linebacker Jeremiah Attaochu, running back B.J. Bostic and cornerback Louis Young.
Georgia Tech has scored at least one rushing touchdown in 26 of 28 games under Paul Johnson.
Quarterback Joshua Nesbitt has rushed for touchdowns in season openers in 2008, 2009 and 2010. He has rushed for two or more touchdowns in a game eight times in his career. With 130 yards rushing, he now has five career 100-yard rushing games.
Kicker Scott Blair entered today's game having made 41 consecutive extra-point attemps. Blair's streak remains alive as the botched PAT in the second quarter was a "team" attempt.
January, 5, 2010
1/05/10
10:45
PM ET
MIAMI, Fla. -- Whatever Georgia Tech coach Paul Johnson said to his team during the half, whatever adjustments he made, seemed to work. The Jackets were finally able to sustain a drive and looked like they had all season. Problem is, they couldn't do anything with it, as Scott Blair missed a 41-yard field goal attempt. Georgia Tech fans should be encouraged by the fact that the Jackets were able to move the ball, but in a game where points are at a premium, that could come back to haunt them. Especially when Iowa's offense is controlling the clock.
December, 5, 2009
12/05/09
10:48
PM ET
TAMPA, Fla. -- When these two teams met in September, Georgia Tech kicker Scott Blair stole the spotlight with his touchdown pass and game-winning field goal. He's doing it again. Blair seems to have Clemson's number, as Blair has accounted for 12 of the Jackets' points so far on four field goals. That's an ACC championship game record. He's set his career-long twice, first with a 48-yarder then with a 49-yard field goal.
December, 5, 2009
12/05/09
9:19
PM ET
TAMPA, Fla. -- On its last possession, Georgia Tech looked like it was an eighth grader pushing a fifth-grader in the hallway. Just a few nudges in the chest, making the poor kid backtrack.

And then Georgia Tech started to beat itself up.

Just when the Jackets were ready to bulldoze their way into the end zone again -- they got as close as the 7-yard line -- they racked up four penalties, two holding calls and two false starts. Somehow, though, Scott Blair bailed them out again, with another career-long field, goal, this time 49 yards. The Jackets lead 13-7, and Clemson fans should feel fortunate about that, because it could be a whole lot worse.
December, 5, 2009
12/05/09
8:33
PM ET
TAMPA, Fla. -- For the second straight week, a Georgia Tech receiver dropped a key ball that could've prolonged a scoring drive. One week after
Demaryius Thomas
dropped a fourth-down ball against Georgia on the Jackets' final chance of the game,
Roddy Jones
just dropped a key pass here in the ACC championship game.
These guys don't get many opportunities to catch the ball, so when they do, they have to hang onto it. Usually, they do. I've been watching Thomas, and he's done a great job of blocking so far in this game. Instead of the chance at the touchdown, though, the Jackets had to settle for a career-long 48-yard field goal by Scott Blair, and trail, 7-3.
December, 3, 2009
12/03/09
10:29
AM ET
When Clemson coach Dabo Swinney was an assistant at Alabama in 1999, the Crimson Tide went to Florida and beat the Gators, and then managed to do it again in the SEC championship game.
It was the only time Swinney had ever faced the same team twice in one season -- until now.
There will be a sense of familiarity when Clemson and Georgia Tech meet on Saturday in the ACC championship game, as Georgia Tech beat the Tigers,
30-27
, on Sept. 10 in Atlanta. Whether it will be an advantage for either team remains to be seen, but both teams are better now than they were in the second week of the season, and the coaches expect a few new wrinkles from each other.
[+] Enlarge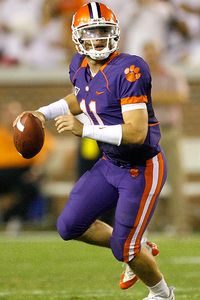 Kevin C. Cox/Getty ImagesKyle Parker threw for 261 yards, three touchdowns and two interceptions in the Sept. 10 meeting with Georgia Tech.
"This is a little different for them and for us in that I don't think either team really knew what we were getting into back [in the] second game of the season," Swinney said. "Neither one of us really had a lot to go on from a film standpoint, and there's a lot of new people playing on both sides. You know, our freshman quarterback and we've got some young linemen, and some freshmen playing in the secondary and things like that. So you know, now that you've got a lot of film to really study them throughout the season, and they'll have all of ours and we'll have all of theirs, from a scheme standpoint that's a good advantage this time around."
Georgia Tech coach Paul Johnson said he can't remember playing a team twice in the same season since he was at Georgia Southern (1997-2001). Johnson said Appalachian State and Furman would usually make the playoffs, and his team would see them again there.
"I don't think on the 1-A level we've ever played anybody twice in the same season," Johnson said. "That usually doesn't happen."
Georgia Tech outscored Clemson 24-0 in the first half earlier this year, but allowed the Tigers to battle back to a 27-24 lead in the fourth quarter. The Jackets' defense stifled rookie quarterback
Kyle Parker
to preserve the win, but it was kicker Scott Blair who stole the spotlight with his 34-yard touchdown pass and last-minute, game-winning field goal.
"You know, we know their personnel well," said Clemson guard Thomas Austin. "We've gone against those guys the last couple years and this season, but from a schematic standpoint, we know what they do, they know what we do, so I think for us it'll just be a matter of not trying to hide things but just doing what we do a little bit better."
Georgia Tech has won five of its past six games against Clemson, but this time, the Tigers will have had a full week to prepare for that triple-option offense -- again.
"It's six of one, half dozen of the other," Johnson said. "It probably helps them, but we also know how they lined up the last time. There's no guarantee everybody is going to line up the same way or do the same thing, but at least you have a little bit of familiarity. The first time we played them with a new coordinator, we had no idea what they were going to line up in. Like I said, I'm sure they'll have some tweaks and do a few things differently, but at least you've got some idea."
The other similarity between these two teams is that they're both coming off a loss to their respective SEC rivals that raised questions and revealed weaknesses. Clemson's offense all but disappeared against South Carolina, and Georgia Tech's defense was more than welcoming to Georgia's running game. Still, both coaches agree their teams have improved since they last met in September.
"You know, I think they've improved a whole lot offensively since they've played us," Johnson said. "I hope that we've gotten better, too. If we haven't, it's going to be ugly."
September, 17, 2009
9/17/09
10:18
AM ET

Posted by ESPN.com's Heather Dinich
It's not a secret, and Georgia Tech quarterback
Josh Nesbitt
will be the first to admit it -- he didn't throw the ball well last Thursday night against Clemson.
"I kept on telling myself, 'I gotta do better' during the game," he said, "but at the same time I didn't want to outdo myself and try to be the hero."
| | |
| --- | --- |
| | |
| | Mike Zarrilli/Getty Images |
| | Georgia Tech hopes Josh Nesbitt can improve his completion percentage when throwing the ball. |
There are enough skill players surrounding Nesbitt in the Jackets' run-based spread-option offense that he certainly shouldn't have to be, but that doesn't diminish the fact that Georgia Tech would still like to be more efficient in its passing game, starting tonight against Miami. It's another nationally televised game, another gritty defensive opponent, and another chance for Nesbitt and the offense to execute better than they did a week ago in a 30-27 win over the Tigers.
"I didn't play as well as I should have, but a win is a win," Nesbitt said. "I've just got to come out this game and perform a whole lot better. I didn't place the ball where it needed to be on the cover throws, and on some chances I had to run I didn't take the chance. I just have to be more effective this game."
It was hardly a complete disaster. Nesbitt completed 3 of 14 passes for 83 yards and two interceptions in last week's win over the Tigers, (including an interception with the score tied at 24 in the fourth quarter), but he also came up with the big plays when the Jackets needed them.
On Georgia Tech's second possession in the fourth quarter, Nesbitt completed a 24-yard pass to
Anthony Allen
on third-and-9. He followed that with 41 rushing yards on five carries, sustaining a drive that help set up the game-tying field goal. Then with the scored tied at 27 and Georgia Tech facing third-and-11, Nesbitt connected with receiver
Demaryius Thomas
on a clutch 39-yard first-down conversion. That helped set up the game-winning field goal by Scott Blair.
"It wasn't that bad," Thomas said of the passing game. "I'm guessing we could've ran our routes different or something like that, gave the quarterback a little more time. I'm sure we can get a lot out of the passing game. We're open a lot, we've just got to connect. Once we connect, we'll be fine. I know it's a lot better than last year, I can say that."
Georgia Tech will continue to throw the ball to keep defenses honest, but the staff never goes into a game with a set number of intended passes. The defense helps dictate that. Ideally, though, they'd like to throw it 10 to 15 times per game and aim for 60 percent or better completion rate.
"The thing we need to do when we throw the ball, we need to make it count when we throw," said quarterbacks coach Brian Bohannon. "They need to be very productive throws that hits them a little hard."
The staff continually asked Nesbitt to thrown the ball downfield against Clemson, but he struggled to do it. According to ESPN's Stats & Information, Nesbitt completed 2 of 10 passes over 10 yards, and 1 of 8 passes over 20 yards. He threw two interceptions and no touchdowns when aiming for more than 10 yards, but that's only in one ACC game.
"He's actually thrown the ball well in camp, and Josh can throw the football," coach Paul Johnson said. "I think it was just one of those deals where he got off to a bad start and it just kind of compounded. The thing people forget is, in the fourth quarter, when we had to have two third-down conversions, he made really good throws and converted. He's very capable of throwing the ball. If people want to crowd the line, we're going to play the way we play. We're not going to change anything because he struggled the other night."
They are, however, expecting fewer struggles.
"He'll be better," Bohannon said of Nesbitt. "He's going to get better. He wants to be good. It was not his best game. On the flip, he probably read the option and did that better than he's done in a while. If we could put it all together, we'd be alright."
September, 12, 2009
9/12/09
10:22
PM ET

Posted by ESPN.com's Heather Dinich

Wake Forest quarterback Riley Skinner:
Skinner engineered his seventh career fourth quarter game-winning drive with a 24-17 win over Stanford. He completed 18 of 26 passes for 187 yards and one touchdown. In the process, Skinner broke the school record for pass completions in a career. He now has 677 career completions.
Skinner scored on a 1-yard run with 2 seconds left to play. During the fourth quarter, Skinner completed 8 of 9 passes for 92 yards. On the final drive, he was 4 for 4 for 65 yards including a 44-yard completion to
Lovell Jackson
on third and nine from the Stanford 46. He completed his final eight passes of the game.
Georgia Tech kicker Scott Blair:
His surprise 34-yard touchdown pass to
Demaryius Thomas
put the Jackets up 21-0 in the first quarter, and his three field goals of 24, 27 and 30 yards accounted for the remainder of Georgia Tech's points in their 30-27 win over Clemson on Thursday night. It was Blair's first game-winning field goal, and his first touchdown pass. Go figure.
UNC tight end Zack Pianalto:
He had career highs in catches (7) and yards (87) in UNC's 12-10 win at Connecticut. His two-yard touchdown catch with 2:36 left to play tied the game at 10. Unfortunately for the Heels, Pianalto was carted off the field in the fourth quarter with a subtalar dislocation of his right foot. He'll have an MRI on Monday.
Duke corner Leon Wright:
The senior returned two interceptions for touchdowns -- on consecutive plays from scrimmage -- to seal Duke's 35-19 win at Army. Wright added four tackles, one fumble recovery and one pass breakup. The interception returns covered 51 and 33 yards as he became the first player in Duke history to return two interceptions for touchdowns in a single game.
NC State quarterback Russell Wilson:
He rebounded from a quiet night in a loss to South Carolina with a career-high four touchdown passes in a 65-7 rout of Murray State. Wilson also extended his interception-free streak to 293 passes, moving him into second place in NCAA history. He completed 15 of 21 passes for 228 yards.
September, 11, 2009
9/11/09
10:00
AM ET

Posted by ESPN.com's Heather Dinich
Clemson coach Dabo Swinney
admitted it
-- "I got my butt outcoached in the first half," he
told reporters
after the Tigers'
30-27 loss to Georgia Tech
on Thursday night.
| | |
| --- | --- |
| | |
| | Paul Abell/US Presswire |
| | Anthony Allen's 82-yard run put the Yellow Jackets on the board. |
He did, but Swinney and his entire team redeemed themselves in the second half, and should be lauded for their effort.
It's too early to determine Clemson's path for this season, but the Tigers showed something they didn't last season under former coach Tommy Bowden -- toughness and resiliency. Instead of folding after falling deep into a 24-0 hole, the Tigers rallied to take the lead in the fourth quarter. It seemed like they were on the verge of making an improbable comeback, and for the second time in a week the ACC delivered another nationally televised page-turner.
A few quick observations:
If Georgia Tech defensive end Derrick Morgan continues to play like that, it would be hard to imagine him sticking around instead of bolting for the NFL. He finished with 10 tackles (7 solo), three sacks for a loss of nine yards, and four tackles for a loss of 13 yards. It was baffling that the Clemson coaching staff didn't try to double team him earlier, as Morgan single-handedly disrupted the Tigers' backfield and rattled Kyle Parker.
As expected, Morgan is the strength of that line, and in its first real test, the Jackets' interior guys struggled. Still, it also exposed weaknesses that linger on Clemson's offensive line. Both teams looked at times like they needed some help up front.

| | |
| --- | --- |
| | |
| | Brian Schneider/US Presswire |
| | Kyle Parker directed Clemson's second-half comeback. |

Kyle Parker is going to be an excellent quarterback – as long as he gets the protection he needs. Parker completed 15 of 31 passes for 261 yards, three touchdowns and two interceptions. He led the Tigers on four second-half scoring drives and made it a game again.
Clemson did a much better job of getting the ball to its top playmakers. C.J. Spiller might have been the most underutilized player in the country last year, but against Georgia Tech, he lined up all over the field and Jacoby Ford had five catches for 109 yards and a touchdown. The speed on the field was exciting.
The rest of the ACC better look out for Anthony Allen. Five carries for 127 yards and a touchdown – an 82-yard run on a pitch from Josh Nesbitt. Thanks to a missed assignment by a Clemson defender, Allen was freed. Still, Georgia Tech's offense left much to be desired. The Jackets were 3-of-14 on third-down conversions and kicker Scott Blair accounted for the bulk of their points.
Georgia Tech has to play more than one quarter. For the second straight game, the Jackets let off too easily. This is a team that needs to learn to play with a lead, extend it, and never be satisfied until the clock runs out.
If Miami was watching -- and it would be hard to believe it wasn't -- first-year defensive coordinator John Lovett might have learned something from Kevin Steele in the second half. Clemson did a much better job of stifling that option offense and forcing the Jackets into uncomfortable throwing situations.
The lesson learned from this game is that both teams still have room to grow but are capable of leading their respective divisions. It's not even mid-September yet, and both Clemson and Georgia Tech will improve as the season unfolds. For now, it's Miami and Georgia Tech at the top of the heap, which makes for an exciting game next Thursday.
September, 10, 2009
9/10/09
11:23
PM ET

Posted by ESPN.com's Heather Dinich
Turning point:
With the game tied at 27 in the fourth quarter, Clemson had a 38-yard play nullified by a holding call on guard Thomas Austin. It erased a beautiful pass from
Kyle Parker
to
Jacoby Ford
, and forced the Tigers back to third-and-21 instead of landing inside Georgia Tech's 30. They had to punt it away with just under 3 minutes remaining and gave Georgia Tech the possession that resulted in the
game-winning field goal
.


Stat of the game:
Georgia Tech quarterback
Josh Nesbitt
was 3-of-13 with two interceptions before a 39-yard pass play with 1:15 left in the game to
Demaryius Thomas
at the Clemson 27 for a first down.
Player of the game:
Georgia Tech kicker Scott Blair. His surprise 34-yard touchdown pass to Thomas put the Jackets up 21-0 in the first quarter, and his three field goals of 24, 27 and 30 yards accounted for the remainder of Georgia Tech's points.
Best call:
Richard Jackson's 53-yard field goal attempt on fourth-and-8 with 11:33 left in the fourth quarter put the Tigers ahead 27-24. With the way Clemson's defense was playing, Dabo Swinney showed confidence the Tigers would get the ball back anyway, and he showed confidence in Jackson.
Second guessing
: To pass or not to pass? Was it really a good idea for Nesbitt to keep throwing the ball? The Jackets got away from their identity, a run-based offense, and Paul Johnson is the one who calls the plays. Clemson's defense showed Nesbitt no respect in totally committing to stopping the option. Johnson might have tried to loosen them up by throwing, but for the most part, it didn't work.