April, 10, 2013
4/10/13
9:00
AM ET
SOUTH BEND, Ind. -- The expectations for the next-in-line at Tight End U. are as basic as can be for three relatively untested faces. What
Alex Welch
,
Ben Koyack
and
Troy Niklas
have done in two-plus years hardly registers when measured against the legacies
Tyler Eifert
and others before him have left behind.
So yes, Niklas concedes that, just more than halfway through spring ball, there is still a feeling-out period among Notre Dame's tight ends, a trio that will bear large responsibility in one way or another on an offense that returns upward of seven starters but only two of its top six pass-catchers from last season.
"That's a tough question to answer," Niklas said. "But I would say the expectation for our group is just to block when we need to block, catch passes when we need to catch passes and just be as dynamic and aggressive and open to new things as we can and just be really flexible with what we do."
All is up for grabs at tight end, where Eifert re-wrote the school record books in grabbing 140 passes for 1,840 yards during the past three seasons.
[+] Enlarge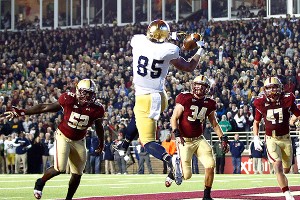 Mark L. Baer/US PresswireTroy Niklas counted this touchdown against Boston College among his five catches last season.
There is Niklas, a converted linebacker entering his third season with the Irish and second at tight end after grabbing five passes for 75 yards and a score in 2012. There is the junior Koyack, the most seasoned of the three despite grabbing just four balls the past two years while being limited to mostly blocking. And there is the redshirt junior Welch, who missed all of last season after an anterior cruciate ligament tear in his right knee suffered during fall camp ruined any hopes of becoming Eifert's No. 2 in 2012.
The distinction of succeeding a likely first-round pick in Eifert -- and NFL players Kyle Rudolph, John Carlson and Anthony Fasano before him -- is not lost on this group.
"I wouldn't say it's a pressure, it's kind of like a prestige," Welch said. "You feel good about yourself to be a part of the tight ends at the University of Notre Dame, but at the same time we're not trying to be any of those tight ends; we're going to be ourselves. We lost Tyler Eifert, he's a great tight end. He'll be playing in the NFL. But none of us are trying to replace him. We're just trying to be ourselves and go out there and help the team."
For Welch, that means getting back up to speed after a dream season spent on the sideline. Holding his own in winter workouts was the first big hurdle cleared, and now he is hoping to use the spring to make up for what was lost in a year off the field, with fall camp later serving as the true barometer among his peers.
"You don't really forget, just when you're out there on the field you take for granted certain things," Welch said. "When you get 15 practices under your belt you feel much more comfortable, especially after I got my knee done."
Emerging from the unit as the next future pro is currently off the radar. For now, this spring is simply a start toward filling out one of the offense's biggest holes.
"[Tight ends] coach [Scott] Booker always has high expectations in general," Koyack said, "but I feel like as long as we just do what we're coached to do, we may not be put in the same exact situation as Tyler was put into, but as long as we do well in the situations that we are put into I think that's pretty much the expectations of the group at this point."
April, 20, 2012
4/20/12
9:00
AM ET
SOUTH BEND, Ind. -- Chuck Martin received a late Christmas gift after he moved from safeties coach to offensive coordinator. The gift, former linebacker
Troy Niklas
, received a chance to play with an All-America tight end. That tight end,
Tyler Eifert
, received more responsibilities after he decided to return to Notre Dame.
Just how much more the tight ends will be utilized in the Irish's offense remains to be seen. But don't bother asking Martin if he can make it work with multiple tight ends, as the abundance of talent at the position --
Alex Welch
and
Ben Koyack
are also capable options -- presents a good problem for the offense to work out.
[+] Enlarge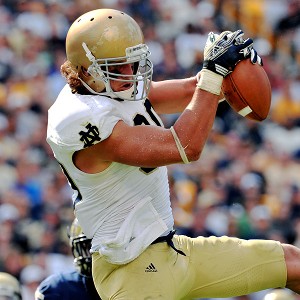 Matt Cashore/US PRESSWIREAll-America tight end Tyler Eifert is spending the offseason learning every receiver position.
"Everyone's like 'Are you going to go two tight ends?' I don't even think in those terms," Martin said. "When I learned offense from Coach [Brian] Kelly back when I was an assistant the first time, it was like, personnel's for fans and media. Like, if Eifert's flexed out is he a Y or a Z? I don't know, you can call him whatever you want. He's just playing there, you know? And [he has] pass-catching ability, which we all know is unbelievable. So they can think you're in two tight ends, let them think we're in two tight ends.
"Eifert could be at Z or X or W, he could be a running back. We've got a package where Eifert can play running back. I don't know if we'll hand him the ball ever, but he could be our running back and throw the ball to him."
A junior season that featured more catches (63) and receiving yards (803) than every other FBS tight end has only led to a bigger challenge for Eifert, who is charged with learning every receiver position for his senior year.
It is not quite the intensive pre-draft process Eifert could have been undergoing this spring had he declared for the NFL, but it is not exactly the typical spring for a returning senior starter, either.
"All last year I knew what I was doing pretty much every play, and I knew what most of the guys were doing," Eifert said. "But it's been a little challenging having to learn, first time I've had to learn some stuff in quite a while, as far as concepts go."
Another addition to those duties has been helping with the transition of Niklas, nicknamed "Hercules" for his 6-foot-7, 252-pound frame. The former high school tight end actually started one game last season as a freshman outside linebacker before the offseason move, which he believes presents him with a higher upside.
Mastering in-line blocking has been his first course of duty.
"The biggest thing about the transition is that I guess I know what the defense is trying to do," Niklas said. "So of course I've played that outside linebacker position, I know coverages, I know different defensive philosophies that I think will help me in film study and getting open and all that kind of stuff."
New tight ends coach Scott Booker has been open to both the possibilities and the number of tight ends Notre Dame could put on the field at the same time. Seeing teams such as Stanford and the NFL's Patriots have successful offenses revolve around the tight end position has certainly presented workable models.
And that could mean the good problem of Notre Dame's offense turning into a bad one for opposing defenses.
"It's one thing if the guy's a blocker and this guy's a catcher. They're kind of 'That guy's a tight end, he becomes a wideout,' I get that," Martin said. "But if they can both block and catch, which I think we have the ability to do that, then it causes major issues for the defense, because they don't know what personnel we're in. We do everything defensively based on personnel. Twelve personnel, two tight ends on the field. Eleven personnel, one tight end.
"In our whole game plan, we have our 12 game plan and our 11 game plan, not only do you come in and say Eifert and Koyack are out at the same time and we're actually running 12 formations and 11 formations, then what do you do as a defense? As a guy who thinks he knows a little bit about defense, it's not fun, picking basically [a] game plan for 12 because you have to, and then they come out in 11 and you're not really in what you want to be in."
March, 30, 2012
3/30/12
9:00
AM ET
The third and final part of our breakdown of Notre Dame's 2012 roster wraps up today with the special teams.
SPECIAL TEAMS
The (key) players
:
Kyle Brindza
,
Ben Turk
,
Jordan Cowart
,
Theo Riddick
,
John Goodman
,
George Atkinson III
,
Amir Carlisle
,
Austin Collinsworth
,
Chris Salvi
,
Nick Tausch
The incoming:
Scott Daly
The breakdown:
New tight ends coach Scott Booker is now in charge of special teams, though the entire staff will take a more hands-on approach following a 2011 campaign in which the Irish averaged 0.3 yards per punt return before the bowl game. In addition to kickoffs, Brindza will likely be the Irish's field goal kicker as well following the loss of
David Ruffer
. Turk improved as the season went on last season and figures to be the starting punter again. Atkinson returned a pair of kickoffs for touchdowns last season and may see more action in the backfield this season, so it remains to be seen if his duties could be extended to the punt return game as well. Same goes for Collinsworth, who was solid on both the kick-return and kick-coverage teams but will likely see extended time at safety following the graduation of
Harrison Smith
. Carlisle is out for the spring with a broken ankle, but he returned kicks for USC at times last season and could possibly be a factor on either return team.
Riddick's struggles returning punts last season are well-documented, but the staff likely isn't ready to give up on the big-play potential of which he is capable. Goodman had the sure hands and was basically back there last season as a safety net to prevent anything bad from happening, and the Irish hope that won't be needed again this year. (Goodman is in line to play a bigger role offensively, too.) Salvi earned a scholarship for being such a force on both kickoff teams, and Daly is the second scholarship long-snapper in school history, likely backing up Cowart this season before taking over the reins in 2013.
March, 28, 2012
3/28/12
9:00
AM ET
With Notre Dame a week into spring practice, the fifth-year players officially returning and the 2012 recruiting class finalized (we think), let's break down the Irish's complete roster, position-by-position, as it gears up for Year 3 under Brian Kelly.
We'll start with the offense today and delve into the defense tomorrow, with special teams coming Friday.
QUARTERBACK
The players:
Tommy Rees
,
Andrew Hendrix
,
Everett Golson
, Gunner Kiel
The incoming:
None
The breakdown:
Experience is the only real way to rank these guys, as Rees has 16 starts, Hendrix has played in five games, Golson has sat a year learning the offense and Kiel arrived on campus just two months ago. Nonetheless, that likely won't matter as Kelly goes to a square-one approach, opening the playbook from the beginning to allow for a fair chance for everyone. The decision -- which will likely be up in the air deep into the summer -- may prove to be Kelly's biggest so far with the Irish.
RUNNING BACK
[+] Enlarge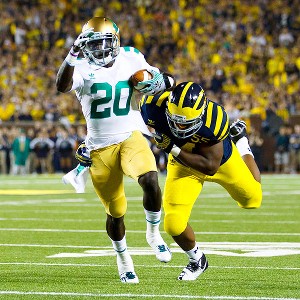 Rick Osentoski/US PresswireCierre Wood is still the clear favorite in Notre Dame's backfield, but the Irish have other running backs ready to vie for playing time.
The players:
Cierre Wood
,
Theo Riddick
,
George Atkinson
,
Amir Carlisle
, Cam Roberson,
Tyler Plantz
The Incoming:
Will Mahone, KeiVarae Russell
The breakdown:
Wood is the clear No. 1, as he was heading into last season as well. Riddick broke off a pair of huge runs toward the end of Saturday's scrimmage, and Kelly wanted both him and Atkinson to see more time back there as Wood rested with a minor quad injury. (Kelly said Wood did go in the rodeo drill earlier.) Both Riddick and Atkinson are capable of playing in the slot, and may end up seeing more time catching balls this season than taking handoffs, though Tony Alford will coach both regardless.
Carlisle, the USC transfer, is eligible to play in 2012 but out for the spring with a broken ankle. Where he fits in will be interesting, as carries may be hard to come by if Atkinson really progresses this spring in the backfield. The 5-foot-10, 185-pound Carlisle was featured on kickoffs last season with the Trojans, and there, or on the punt return team, may prove to be the fastest way on the field for him.
WIDE RECEIVER
The players:
John Goodman
,
T.J. Jones
,
Robby Toma
,
DaVaris Daniels
,
Daniel Smith
,
Luke Massa
,
Eric Lee
,
Nick Fitzpatrick
,
Ryan Liebscher
The incoming:
Justin Ferguson, Davonte Neal
The breakdown:
Goodman has talked about making the most of this last chance, and the coaching staff would not have invited him back for a fifth year had it not believed in him. Whether he can be a top target is up in the air, but he should bring some stability and leadership to a group loaded with youth. Jones has been solid through two years and Kelly has said he is on the cusp of breaking out. Toma has done everything asked of him and then some in the slot when replacing the oft-injured Riddick, and he may have the position to himself this year.
Daniels has the complete package physically, but he has yet to take a snap after redshirting last season. He was seen running with the 2s to start spring, but that could easily change with a strong showing. Smith, too, ran with 2s to open spring, but he must stay healthy first. Ferguson has the tools to compete for playing time upon arrival, but that could likely depend on how the incumbents step up in front of him. Neal is pegged as an athlete, but Kelly said there are no plans right now to play him at corner upon his arrival. He could possibly be a playmaker at receiver or on special teams.
TIGHT END
The players:
Tyler Eifert
,
Troy Niklas
,
Alex Welch
,
Ben Koyack
,
Jake Golic
,
Arturo Martinez
The incoming:
None
The breakdown:
We all know what Eifert can do, which is why he almost entered the draft this year. Niklas is the big question mark. And by big, we mean it literally. A switch from linebacker -- where he started one game last fall as a freshman -- to tight end for the 6-7, 252-pounder has many excited to see what the offense can do with a potential two tight end set. Everyone saw what the
New England Patriots
did last year with
Rob Gronkowski
and
Aaron Hernandez
.
It would be foolish to expect that much so soon -- both without
Tom Brady
as the Irish's quarterback and without Niklas having played the position since high school. How quick Niklas can master the playbook and blocking could go a long way in seeing some of these sets come to fruition. The move does leave some to wonder what this means for Welch and Koyack, but the duo is young and, according to tight ends coach Scott Booker, up for the challenge.
OFFENSIVE LINE
The players:
Zack Martin
,
Chris Watt
,
Braxston Cave
, Mike Golic,
Tate Nichols
,
Christian Lombard
,
Bruce Heggie
,
Jordan Prestwood
,
Matt Hegarty
,
Conor Hanratty
,
Nick Martin
,
Brad Carrico
,
Matt Tansey
,
Dennis Mahoney
The incoming:
Mark Harrell, Ronnie Stanley
The breakdown:
Cave will not be playing much, if at all, this spring as he recovers after injuring his foot last season. Golic, who started in his place, is the center with Cave out, but it would not be surprising to see Golic move to right guard upon Cave's return. Right now Lombard is manning the right guard spot, with Nichols at right tackle. How the second unit gets shuffled upon Cave's return to the starting unit remains to be seen, but to open spring, it consisted of Heggie, Prestwood, Hegarty, Hanratty and Martin.
February, 16, 2012
2/16/12
9:00
AM ET
Feels like just yesterday we were in Orlando, no? Yet just a little more than a month from now, spring practice will be underway, and at Notre Dame, there is plenty to be sorted out before the 2012 season kicks off this fall.
NOTRE DAME
Spring practice start date:
March 21
Spring game:
April 21

What to watch:
The quarterback battle. Four candidates, one spot. Two played last year, two others were ballyhooed recruits. Oh, and there's a new QB coach, too. Former safeties coach Chuck Martin will coordinate the offense and direct the signal-callers, jobs he held as Grand Valley State's head coach from 2004-09.
Reshuffled staff: Martin wasn't the only one making a change. No one from Notre Dame's offensive staff last season holds the same title in 2012, with Harry Hiestand (offensive line/running game coordinator) and Scott Booker (tight ends/special teams coordinator) providing new faces. Bob Elliott comes from Iowa State to replace Martin as safeties coach. For some current players, 2012 will mark a third different position coach within a four-year span.
How good can this front seven be? Likely first-round draft pick Manti Te'o returns for his senior year to captain the defense, but that job may be much easier with the talent in front of him. Sophomore ends Aaron Lynch and Stephon Tuitt exploded onto the scene in their freshman seasons, and junior noseguard Louis Nix proved to be a force in the middle. The pass rush could be devastating, making life much easier for a secondary that will likely feature three new starters.
February, 10, 2012
2/10/12
5:30
PM ET
SOUTH BEND, Ind. -- In discussing his reshuffled coaching staff and new additions Friday, Brian Kelly repeatedly used the phrase "shared vision." For a team that will feature a third different position coach in four years among certain spots, that philosophy is vital to a seamless transition.
"It's absolutely crucial," the third-year Notre Dame coach said. "And the specifics of that would be, they manifest themselves in the sense that when you get out on the field, that everybody is on the same page. Every coach is talking the same language. Every player is hearing the same thing. And that's absolutely crucial to a shared philosophy and vision as to how we do things on a day-to-day basis.
[+] Enlarge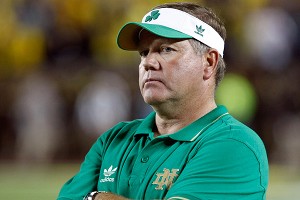 AP Photo/Tony DingNotre Dame coach Brian Kelly has his coaching staff in place for the 2012 season.
"So I believe it shows itself when you get into the practice area, it shows itself on game day. And when you have that, where everybody's on the same page, that's where it becomes, nobody sees it. 'Boy they look pretty good today.' Well, it's probably because we're all on the same page."
Among the most noticeable offseason shifts is former safeties coach Chuck Martin taking over as offensive coordinator, a position he held during his six-year head-coaching stint at Grand Valley State from 2004-09.
The only returning full-time offensive staff members from last season are Mike Denbrock and Tony Alford. Denbrock moves from tight ends coach to coaching outside wide receivers and coordinating the passing game.
Alford, who has coached running backs and later receivers while with the Irish, will return to running backs coach while also working with slot receivers and coordinating the team's recruiting, a position formerly held by Martin.
Martin will try to shore up a streaky offense that has failed to live up to the defense's standard for much of Kelly's first two seasons with the Irish. Notre Dame turned the ball over 29 times last season, tied for 10th-most in the nation.
"The biggest thing is just the execution," Martin said. "Coach talked about lacking consistency, which we did. But we've done a ton of great things on offense. We can put together an offensive highlight tape of the last two years that we look like world-beaters, but he hit a lot at his talk today about being inconsistent [and] trying to get us to play at the highest level all the time, and that's my job."
Cornerbacks coach Kerry Cooks is now the co-defensive coordinator with Bob Diaco, who assumes assistant head-coaching duties in addition to his previous roles of defensive coordinator and linebackers coach.
Diaco, who worked under Kelly at Central Michigan and Cincinnati, will become the face of the program when Kelly cannot handle outside assignments, joking he could man the "Batphone."
"Coach is incredible," Diaco said. "And if you guys looked at his mileage and air miles and time spent away from his family, it's sad, and it's pretty incredible what he's done. And he's pulled like that, and that's one choice he makes in a day and he's gotta say no to 10. So when time allows, if he could not be torn with going here or there, or go there and send me ... somewhere else, that's really pretty exciting."
"The beauty of it is through three institutions we can do that, because he's been such a fantastic boss," he later added. "He mentioned a shared vision, but also a shared heart. There's a shared heart. We're in lockstep with matters of all things professional and matters of the heart and with young people."
Former Iowa State secondary coach Bob Elliott was hired to replace Martin, and former Tennessee offensive line coach Harry Hiestand was hired for the same position with the Irish, in addition to becoming running game coordinator.
Scott Booker was promoted from offensive intern to tight ends coach, and he will coordinate the special teams as well. The latter duty previously belonged to defensive line coach Mike Elston, though Kelly said special teams are a shared approach by the staff. The Irish's punt return unit ranked 112th in the nation in 2011.
With three new faces and just four assistants coaching the same units they did last season, Kelly acknowledged the changes could make for a tricky balancing act. But he is counting on the shared vision he so often discussed Friday -- the same language, formations and structure among the staff -- to ease the turnover.
"We talk about this all the time: Our guys go to class and get probably the most dynamic professors in front of them on a day-to-day basis, teaching them," Kelly said. "So when they come here, you better meet or exceed that level, or you're gonna lose your players. So all I think it means is that we're gonna be more dynamic in the way we communicate to our players on a day-to-day basis, but it's gonna be the same pieces that they've already heard."
February, 10, 2012
2/10/12
12:15
PM ET
Scott Booker, who was promoted from offensive intern to full-time staff member last month, will coach the tight ends and be the special teams coordinator, Notre Dame announced Friday.

Former wide receivers coach Tony Alford will now coach running backs and slot receivers in addition to becoming the team's recruiting coordinator. Former tight ends coach Mike Denbrock will coach outside wide receivers and be the team's passing game coordinator.
The announced moves complement the offseason hires of former Tennnessee offensive line coach Harry Hiestand (offensive line/running game coordinator) and former Iowa State secondary coach Bob Elliott (safeties).
The Irish's staff dealt with offseason defections from Charley Molnar (offensive coordinator), Tim Hinton (running backs) and Ed Warinner (offensive line/running game coordinator). Molnar took over head-coaching duties at Massachusetts, and Hinton and Warinner left for Ohio State, where they will coach the tight ends/fullbacks and offensive line, respectively.
Notre Dame announced in early January that former safeties coach Chuck Martin would become the offensive coordinator, that defensive coordinator and linebacker coach Bob Diaco would add the title of assistant head coach, and that cornerbacks coach Kerry Cooks would receive co-defensive coordinator duties.
Defensive line coach Mike Elston will no longer be the special teams coordinator, though head coach Brian Kelly said the unit as a whole will be a team effort among his staff.
Josh Reardon (defensive) and Pat Welsh (offensive) were also hired as graduate assistants, the school announced Friday. Bill Brechin (offensive) and David Grimes (defensive) will be the staff's interns this spring and become GAs in August, when the NCAA legislation will change and allow schools to have four.
January, 11, 2012
1/11/12
9:00
AM ET
Notre Dame's 2011 season has been over for nearly two full weeks, but things haven't exactly been quiet in South Bend, Ind. Here's what has gone down in the young offseason.

1. Tyler Eifert is back.
This is the best news for Notre Dame in the wake of its 18-14 Champs Sports Bowl loss to Florida State. Eifert was the Irish's second-leading receiver in 2011, will be the key to the passing attack next season and joins linebacker Manti Te'o in passing on a potentially high NFL draft selection to return to Notre Dame for his senior season.
2. There are still staff uncertainties.
Tim Hinton (running backs) and Ed Warinner (offensive line/running gamer coordinator) are gone, not long after Charley Molnar took over head-coaching duties at Massachusetts. Offensive intern Scott Booker is now a full-time staff member, though his position has yet to be announced. Chuck Martin has moved from safeties coach to offensive coordinator. Defensive coordinator Bob Diaco is now an assistant head coach. Cornerbacks coach Kerry Cooks is now a co-defensive coordinator. Everyone has received a contract extension as well, as Brian Kelly received a two-year bump through 2016 on Tuesday. There are still two open positions on staff, however.
3. New face in the backfield.
Former USC running back
Amir Carlisle
is transferring to Notre Dame. The freshman will have to sit out the 2012 season under NCAA rules after a first year with the Trojans that saw him tally 118 rushing yards on 19 carries and 41 receiving yards and a touchdown on seven catches.
January, 10, 2012
1/10/12
5:53
PM ET
Notre Dame extended Brian Kelly's contract two years Tuesday, keeping the head coach under contract through the 2016 season.

"While Coach Kelly and I are focused on the additional work that must be done to reach our goals, I am very pleased with the progress we have made during the past two years," Notre Dame vice president and athletic director Jack Swarbrick said in a statement. "Our football team's performance on the field, in the classroom, and in the community reflect Coach Kelly's commitment to building a program that will be able to sustain success in the long run, and to doing so in a manner consistent with Notre Dame's values and tradition."
The Irish have gone 8-5 in each of Kelly's first two seasons at Notre Dame. They finished this season with an 18-14 loss to Florida State on Dec. 29 in the Champs Sports Bowl in Orlando, Fla.
Notre Dame announced contract extensions Jan. 2 for its six returning assistant coaches.
"I want to thank [school president] Father [John] Jenkins and Jack Swarbrick for their unwavering support of me the last two years," Kelly said in a statement. "My family and I are truly blessed to be at Notre Dame and we are excited about what the future holds for the Fighting Irish football team. I also want to thank Father John and Jack for the commitment they made to the football program last week by renewing the contracts of our assistant coaches. I think we have one of the finest coaching staffs in the country at Notre Dame, and the confidence our administration has shown in us is truly appreciated."
Assistants Tim Hinton (running backs) and Ed Warinner (offensive line/running game coordinator) left the program last week. Scott Booker was promoted from offensive intern to full-time assistant, though his duties have not yet been announced.
Notre Dame has yet to announce any new hires.
"The quality of the assistant coaches that Coach Kelly has brought to Notre Dame is evident both in their performance and the interest that other schools have shown in them since the end of the regular season" Swarbrick said in a statement. "Building on the foundation we have now created and maintaining continuity is critical to the future success of our football program, and that is why we have secured the continued service of our football staff."
Kelly's extension should momentarily quell whatever premature concerns there might be about his job security two years in and help form an image of stability moving forward. Of course, Kelly's predecessor, Charlie Weis, received a 10-year extension just seven games into his Notre Dame career and was let go after season five.