January, 24, 2012
1/24/12
9:00
AM ET
Signing day is coming fast. Next Wednesday, the next round of players will sign up for their respective programs and start what could be storied careers.
Here's what each team across the Big 12 needs. You'll find Texas A&M and Mizzou on the SEC blog and West Virginia on the Big East Blog.

BAYLOR
Quarterback:
This one's pretty simple.
Robert Griffin III
is taking his talents to the NFL early.
Nick Florence
is waiting to take over, and the Bears have
Bryce Petty
behind him, but more reinforcements at quarterback are needed. Dual-threat quarterbacks, ideally.
Defensive tackle:
Baylor already was one of the nation's worst teams (102nd nationally) at stopping the run. Now it'll need to replace both its interior linemen,
Nicolas Jean-Baptiste
and
Tracy Robertson
.
Offensive linemen:
Baylor's offensive line, meanwhile, has been solid. It loses junior college transfer and two-year starter
Robert T. Griffin
, as well as All-Big 12 center
Philip Blake
.
John Jones
, a reserve guard, also has exhausted his eligibility.

IOWA STATE
Receiver:
This has been a weak spot for the team for several years, and its top overall talent,
Darius Reynolds
, is gone.
Darius Darks
is, too.
Aaron Horne
and
Josh Lenz
will be the team's best weapons in 2012, but the pair of shifty slot guys will be seniors. This position needs reinforcements.
Defensive back:
The DBs have been a quiet strength for ISU, especially in 2011. Cornerback
Leonard Johnson
and safety
Ter'Ran Benton
both have exhausted their eligibility, though, and defensive backs coach Bobby Elliott left for Notre Dame. You'll see plenty of new faces in the Cyclones' secondary next year.
Defensive line:
Experienced starters
Stephen Ruempolhamer and Jacob Lattimer are both gone, and Iowa State has struggled to stop the run consistently the past few seasons.

KANSAS
Quarterback:
Kansas landed high-profile transfers
Dayne Crist
(Notre Dame) and
Jake Heaps
(BYU), but this is still a huge position of need. Last year's starter,
Jordan Webb
, left the team.
Quinn Mecham
is out of eligibility. Heaps is sitting out his NCAA-mandated year after transferring. Crist is the starter, but he badly needs a backup, especially if
Brock Berglund
's transfer appeal allows him to leave.
Wide receiver:
Kansas lacks a big threat at this position. It needs a talent upgrade in a big way. Oklahoma transfer
Justin McCay
is joining the team, but he's no guarantee to a) be granted immediate eligibility or b) become an impact player.
Defensive tackle:
Kansas is thin here, too. Richard Johnson,
Patrick Dorsey
and
Michael Martinovich
are gone, and Kansas couldn't stop much of anything on defense. Some push up front could help make everything look better. A late addition to the 2012 class from a junior college seems like a no-brainer. The Jayhawks need physically mature players to contribute immediately.

KANSAS STATE
Offensive line:
K-State's offensive line was much better in 2011 and could be again in 2012. It needs help replacing All-Big 12 lineman
Clyde Aufner
, though. Starter
Colten Freeze
is also gone.
Defensive line:
Kansas State is bringing back about as many starters as anyone in the Big 12, but the biggest losses are along the defensive line. Kick-blocking specialist (five in 2011) Ralph Guidry is gone, along with tackle
Ray Kibble
. Juco transfer
Jordan Voelker
exploded onto the scene this year, but he's gone, too.
Defensive backs:
Cornerback
David Garrett
leaves a huge hole behind.
Tysyn Hartman
may not be as talented as teammate
Ty Zimmerman
, but his experience leaves a big hole. Zimmerman will have to mentor a younger safety in the near future.

OKLAHOMA
Receiver:
The Sooners are thin here in a big way. That was obvious late in the season when
Ryan Broyles
' storied college career ended a few weeks early with a knee injury. The team also lost Justin McCay (transfer) to Kansas.
Jaz Reynolds
and
Kenny Stills
are the likely top two targets, but they need help.
Tight end:
This position inspired a bit of panic at the end of the season. Seniors
James Hanna
and
Trent Ratterree
are gone.
Austin Haywood
wasn't allowed back on the team, and two more tight ends left the team for various reasons. That left the Sooners suddenly without a scholarship player at the position returning in 2012.
Offensive line:
Starting tackle
Donald Stephenson
must be replaced, as will guard
Stephen Good
, who moved in and out of the starting lineup throughout his career. The Sooners bring back a lot of talent and aren't dying for depth there, but those two will leave holes. Three more offensive line starters will be seniors in 2012.

OKLAHOMA STATE
Offensive line:
The Cowboys need a whole lot of help here to fill in behind young players stepping into the starting lineup. Starters
Levy Adcock
,
Nick Martinez
and
Grant Garner
are gone. Backup center
Casey LaBrue
is gone, too. Those are two All-Big 12 linemen who leave big shoes to be filled.
Receiver:
Justin Blackmon
surprised no one by leaving a year early, and
Josh Cooper
leaves with perhaps the most underrated career of any receiver in school history. In OSU's offense, there's always room for depth here. Nine receivers had at least 19 catches in 2011. Blackmon and Cooper combined for 192, though.
Defensive ends
: The pass rush was solid for Oklahoma State this year, but both starters,
Jamie Blatnick
and
Richetti Jones
, are gone. Replacing both is a necessity.

TEXAS
Receiver:
Texas lacks a true game-changer at the position, though
Jaxon Shipley
and
Mike Davis
may develop into that role in 2012. Former blue-chip recruit
Darius White
left for Missouri, too.
Quarterback
:
David Ash
and
Case McCoy
didn't show a ton of potential at quarterback this year, though Ash may grow with an offseason to prepare as starter. Garrett Gilbert got a big chunk of the work in the spring, summer 7-on-7 and fall preseason camp. Even if Ash does grow, the Longhorns need reinforcements at the position.
Linebacker:
Two senior impact players are gone. Texas is left trying to replace
Emmanuel Acho
and
Keenan Robinson
, though
Jordan Hicks
may mature into a star in 2012.
TCU
Offensive line:
TCU's offensive line is headed for some major turnover. OT
Robert Deck
, OG
Kyle Dooley
and OG Spencer Thompson are gone. Two more starters, OG
Blaize Foltz
and C
James Fry
, will be seniors in 2012.
Defensive linemen:
TCU isn't losing a lot at this spot, but
Ross Forrest
and
D.J. Yendrey
will be seniors in 2012. The Horned Frogs would be well-served to prepare, and offer some depth next year.
Specialists:
TCU will have to break in a pair of new starters on special teams next season. Kicker
Ross Evans
and punter
Anson Kelton
have exhausted their eligibility.
TEXAS TECH
Receiver:
The Red Raiders' offense requires a lot of depth here.
Tramain Swindall
is the only loss at the position, but three more (
Alex Torres
,
Cornelius Douglas
,
Darrin Moore
) will be seniors. Douglas moved to cornerback this year after the team was racked with injury, but we'll see whether he moves back this offseason.
Offensive line:
Tech has a huge need here. Four players won't be returning in 2012.
Lonnie Edwards
,
Mickey Okafor
and center
Justin Keown
must be replaced.
Defensive linemen:
Tech's
Donald Langley
and
Scott Smith
are both out of eligibility, and juco transfer
Leon Mackey
will be a senior.
November, 19, 2011
11/19/11
5:12
PM ET
Not exactly what we expected in this one, either.
Any given Saturday, I suppose. Texas Tech had lost its past three games by an average of 42 points, but leads Missouri 17-10 at halftime.


Missouri coordinators Dave Steckel and David Yost filled in for Gary Pinkel in the pregame festivities in Columbia. Pinkel was suspended one week and given other financial penalties totaling more than $306,000 after being arrested on drunk driving charges on Wednesday night.
Donnie Carona booted a solid 48-yard field goal into a stiff wind in the final minute of the half to give the Red Raiders a 10-point lead. Missouri's Trey Barrow countered with a field goal of his own after a long return by
Gahn McGaffie
and a 36-yard completion to
L'Damian Washington
.
Time for a look at the first half in Columbia.
Turning point I:
Kendial Lawrence
broke a run up the middle, but was stripped by former receiver
Cornelius Douglas
just short of the goal line and fumbled into the end zone, preventing Missouri from tying the game. Douglas also scooped up a fumble and scored for Tech's only points last week.
Turning point II:
Missouri running back
De'Vion Moore
, in for the injured
Henry Josey
, broke a 54-yard run down the right sideline to set up a 5-yard touchdown run from quarterback
James Franklin
that cut Texas Tech's lead to 14-7. Missouri's offense needed a spark and Moore provided it to get them back in the game. The 90-yard drive was Missouri's longest of the season.
Stat of the half:
Texas Tech prevented Missouri from scoring on five consecutive possessions. That's the longest streak Texas Tech's put together all season.
Best player in the half:
Scott Smith, DE, Texas Tech. He's been a constant disruption, making four tackles and getting two sacks, both coming on third down. He also tackled Franklin short of a first down on a third-down scramble. He's made the plays necessary to make that five-possession streak happen.
What Texas Tech needs to do:
Don't change a thing. The offense has moved the ball consistently, and the defense put its best half of the season together against the Tigers. The Red Raiders will be without leading receiver
Alex Torres
, who suffered a knee injury in the first half, but
Seth Doege
has been solid, and the defense is making enough plays to stay in the lead. The Red Raiders are winning the field position battle, too, thanks to some solid special teams play.
What Missouri needs to do:
Like I wrote earlier, keep this game on the ground and keep pounding. The defense has had trouble with Tech's offense, and keeping them off the field is the best option at this point. Missouri's had a lot of success running the ball, and there's not much reason to believe that won't continue.
July, 27, 2011
7/27/11
11:00
AM ET
DALLAS -- After navigating his way through his first season in the Big 12 in 2010, Texas Tech coach Tommy Tuberville knows what the Red Raiders will have to do to be better.

"It's all about depth and speed on defense," Tuberville said. "You don't really have to worry about size. You worry about quickness and speed. I've always believed in that anyway. That's the type of defense I've been around."

Tuberville's first Texas Tech defense was one of the worst in his long coaching career. A former defensive coordinator at Miami and head coach at Ole Miss and Auburn, Tuberville built his best teams around stingy defenses.

But largely because of injuries and suspensions, the Red Raiders were woefully inept on defense in 2010. Texas Tech finished No. 118 nationally in pass defense (293.8 yards per game), 114th in total defense (456.3 yards) and 93rd in scoring defense (30.9 points).

The Red Raiders never had a full complement of players on defense in 2010. Senior cornerback LaRon Moore missed the first four games because of a broken leg; junior defensive end Scott Smith was suspended for the season after four games; and end Aundrey Barr missed the final nine games with a knee injury.

Tuberville hopes the addition of former TCU defensive backs coach Chad Glasgow, who is installing the Horned Frogs' vaunted 4-2-5 scheme as the Red Raiders' new defensive coordinator, will help shore up some of Tech's defensive problems.

"With the type of players that you play against and the formations [you face in the Big 12], you have to run a lot of nickel defenses," Tuberville said. "You play Oklahoma, you play Texas A&M last year, they just run you down. It kind of reminds me of defenses I've been part of when we've had good success. That's how you win championships; it's not with anything else other than the speed on defense."
March, 24, 2011
3/24/11
1:00
PM ET
LUBBOCK, Texas -- Last season, exactly two teams in college football defended the pass worse than Texas Tech. The Red Raiders ranked last in the Big 12 and 118th in college football, giving up more than 293 yards a game.
Within that, the Red Raiders were one of just two teams to give up at least 150 pass plays of longer than 10 yards.
"We just got outran," said coach Tommy Tuberville. "That's the bottom line."
Solution one: The Red Raiders need more speed. Part of that comes with recruiting. Tuberville addressed the need in his 2011 class, recruiting a handful of pass-rushers to provide more depth.
[+] Enlarge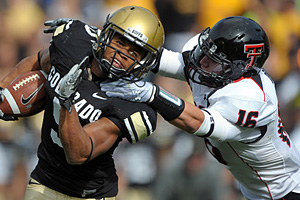 Kirby Lee/Image of Sport/US PresswireSafety Cody Davis (16) is hoping a simplified scheme will help improve the Texas Tech defense.
That depth is the other half of fixing the problem. Injuries were a constant, including two contributors in the secondary just before the season began.
But those injuries meant freshmen on the field, defensive tackles trying to play defensive end and even a few offensive players moving to the defensive side of the ball.
"It didn't look good for us early, but if guys kept getting hurt, we'd have really been in trouble," Tuberville said. "We'd have ended up with
Taylor Potts
playing safety."
Two of the team's best pass-rushers played early, Aundrey Barr (knee) and Scott Smith (suspension) missed the majority of the season, which didn't do the defense's back line any favors.
"The main thing for us next year is if we can stay healthy and get playing time underneath our belt, there's potential," Tuberville said. "A lot of them just don't have a clue what they're doing."
The hope is that changes this year with new defensive coordinator Chad Glasgow, who came from TCU as one of the nation's best secondary coaches. Most welcome, he came preaching simplicity.
"We were confused about some calls and everybody didn't know what everybody else was doing, so simplifying this should be better this year," said safety Cody Davis, second on the team with 87 tackles last year. "Everybody should know what they're doing."
Glasgow is also implementing a 4-2-5 that will put more defensive backs on the field.
"I think it fits us very well because we have so much experience at safety and lack of depth elsewhere," Davis said.
For immediate help changing that, Tuberville brought in Leon Mackey and Dennell Wesley, a pair of junior college defensive linemen.
"They're a little older guys. They're not like big-eyed 17-year-olds coming in," Tuberville said. "You throw them up against a Big 12 team in the first month, at least you've got a little experience."
Despite the defensive struggles, Texas Tech still managed to win eight games, but to tally any more than that, it'll have to stay on the same page, healthy and in front of high-powered Big 12 offenses which got behind it all too often in 2010.
"We didn't have near enough speed to compete this year, and it showed up," Tuberville said. "We had some good players, but we just didn't have enough of them."
February, 16, 2011
2/16/11
9:00
AM ET
Springtime is almost here. And here's a look at what to expect across the Big 12 when it gets into full swing here in the next couple weeks.
BAYLOR BEARS

Spring practice starts:
February 28
Spring game:
April 2
What to watch:
Big changes on defense. Baylor brought in Phil Bennett as its new defensive coordinator, and he says his scheme will be multiple, built to fit the Bears' personnel. Considering the Bears' recent recruiting successes in the secondary, look for a 4-2-5 type of look.
Recruiting stars: time to shine. Both safeties, Tim Atchison and Byron Landor, are gone. Baylor, though, has two former ESPNU 150 recruits at safety who would be well served to start filling their potential. Prince Kent was a reserve last season and at one time, the nation's No. 51 overall recruit who originally signed with Miami. Ahmad Dixon, meanwhile, was the No. 15 overall prospect in the 2010 class. The opportunity is there. Baylor needs big talent at the position. Briles has recruited it. Can they develop into players who make Baylor a contender?
Running back competition. Jay Finley topped 1,200 yards in 2010, but he's gone. Who steps into his void? Terrance Ganaway is a bowling ball at 5-foot-11, 235 pounds, but the shifty Jarred Salubi could get a good amount of carries, too. They could begin to share carries this spring.
IOWA STATE CYCLONES

Spring practice starts:
March 22
Spring game:
April 16
What to watch:
Quarterback competition. It should be a good one in Ames this spring. Jerome Tiller is the name most recognize after getting lots of meaningful time and starts because of injuries to Austen Arnaud over the past two seasons. But juco transfer Steele Jantz sounds confident he can win the job. Rising sophomore James Capello and redshirt freshman Jared Barnett will compete, too.
Paging Cyclone receivers. Iowa State had one of the most underwhelming receiving corps in the league during the past season, and three of its top five pass-catchers won't return in 2011. Of those three, however, one is a tight end (Collin Franklin) and another is a running back (Alexander Robinson). The new quarterback will need some help, and Darius Darks and Darius Reynolds will need to provide it as seniors.
Shontrelle's time or not? Freshman Shontrelle Johnson looked like the running back with the most pop behind Robinson for most of 2010, but two other freshmen running backs jockeyed for carries, too. Paul Rhoads is hardly handing the job over to Johnson, but spring could be the time when he really separates himself from the pack.
KANSAS JAYHAWKS

Spring practice starts:
April 1
Spring game:
April 30
What to watch:
What are they doing behind center? Kansas never got much consistent play out of the quarterback position last year, but freshman Brock Berglund is one of the 2011 class' top recruits, and enrolled early to compete in the spring with Jordan Webb and Quinn Mecham. With a building program like Kansas, there's perhaps some value in handing the program to a younger player like Webb or Berglund, but they'll have to earn it. Doing so will start in the spring, but don't expect the Jayhawks to have a set-in-stone starter by spring's end.
Top linebacker back on the field. Huldon Tharp missed all of 2010 with a foot injury, but he says he's 100 percent and ready to get back on the field. As a freshman in 2009, he was fifth on the team in tackles, with 59, and looked like one of the league's possible budding stars. Now, he'll get his chance to join fellow linebacker Steven Johnson as one of the team's top tacklers, and he'll do it as a sophomore after redshirting in 2010.
Toben rising? Turner Gill raised plenty of eyebrows when he moved his team's leading rusher in 2009, Toben Opurum, to linebacker in fall camp, and eventually slid him up to defensive end. But toward the end of 2010, Opurum started showing some major signs of growth at the position. We'll get a better idea this spring if he's one of the league's most unlikely new stars at defensive end.
KANSAS STATE WILDCATS

Spring practice starts:
April 6
Spring game:
April 30
What to watch:
Prodigal Kansan sons come home. There's no doubt that the Wichita native Brown brothers are the main attraction at Kansas State this spring, a season after transferring back home. Bryce Brown, the running back, was the nation's No. 8 prospect in the 2009 class. Arthur Brown, the linebacker, was the nation's No. 6 prospect in the 2008 class. Bryce transferred from Tennessee and Arthur from Miami. The Wildcats are pinning much of their hopes on the duo, and we'll get a good sense of what they can provide soon.
Quarterback competition. Carson Coffman is gone, and two new faces will challenge for the job: juco transfer Justin Tuggle and Daniel Sams. Sammuel Lamur is also up for the gig. Collin Klein may or may not be; Bill Snyder hasn't explicitly confirmed a past comment from Sams saying Klein had moved to receiver. Don't expect a starter to be named by spring's end, but a general order could start to form.
Can the defense show improvement? Kansas State had the Big 12's worst overall defense last year, and the worst rushing defense in college football, giving up 3,008 yards on the ground. Coordinator Chris Cosh looks like he'll still be around in 2011, and defensive backs David Garrett and Tysyn Hartman are solid pieces to try and build around. But this young maturing defense must get better to make a bowl game again with so many questions on offense. That starts in the spring.
MISSOURI TIGERS

Spring practice starts:
March 8
Spring game:
April 16
What to watch:
Franklin comes alive! Blaine Gabbert bolted to the NFL early, and Missouri has a gaping hole a quarterback. The position, however, is surrounded by a lot of quality talent that likely makes the Tigers a Top 25 team. There's no understating the importance of the position for the Tigers, and that will begin to be decided in the spring. James Franklin, a rising sophomore, saw spot duty in 2010 as more of a runner, and may have the inside track on the job, but Tyler Gabbert, Blaine's younger brother, and Ashton Glaser should make it an interesting competition in the spring. If neither of them impress early, don't count out incoming freshman Corbin Berkstresser.
Here is the new secondary. Same as the old secondary? After years of pass defense being one of the Tigers' biggest weaknesses, it became a strength in 2010 behind the leadership of senior corners Kevin Rutland and Carl Gettis. But the Tigers lose them and safety Jarrell Harrison. Rutland emerged as one of the team's most impressive players last spring, but was Missouri's success in the secondary a one-time thing or the beginning of a welcome trend?
Time to dominate the trenches? Missouri played without likely first-round pick Aldon Smith for much of the previous season, but the defensive and offensive lines for the Tigers were as good as ever in 2010. How will they look in 2011? Impact juco transfer Sheldon Richardson won't be enrolled by the spring, but the four returning starters on the offensive line should get some solid work against Brad Madison, Jacquies Smith and Terrell Resonno.
OKLAHOMA SOONERS

Spring practice starts:
March 21
Spring game:
April 16
What to watch:
Freshmen on display. Coach Bob Stoops hasn't been shy about saying his 2010 recruiting class was his best ever, but it could look even better after this spring. Two of his best emerging recruits, Justin McCay and Geneo Grissom, didn't even play in 2010, and could start to make an impact. The same goes for Corey Nelson, who will try to earn some more time somewhere backing up star Travis Lewis.
Is there a golden boot in Norman? Jimmy Stevens was much more accurate in 2010, finishing 19-for-23, but his attempts outside 45 yards were sparse. The good news is he missed none of his 53 extra points. Field goals have been a bit of an adventure for the past couple years, but continuing in the spring what he started last year would be a good sign for Oklahoma. The Sooners are strong everywhere and need good special teams play to reach their lofty title goals.
Are the Sooners' backs back? Roy Finch missed the Fiesta Bowl with a stress fracture, and his durability is certainly questionable entering 2011. When he's healthy, he looks like the next star in the Sooners' backfield, but they'll need some depth behind the 5-foot-8, 173-pounder. Jermie Calhoun, Jonathan Miller and Brennan Clay have all looked good at times, but there should be some good competition from newcomers Brandon Wegher, an Iowa transfer who'll be in camp this spring and eligible next season, and blue-chip recruit Brandon Williams, who enrolled early.
OKLAHOMA STATE COWBOYS

Spring practice starts
: March 7
Spring game
: April 16
What to watch
:
Every piece of the offense. The spring in Stillwater is all about keeping or improving upon the status quo. Had it kept Dana Holgorsen, there'd be little doubt that would happen, but Oklahoma State must make the most of its five returning offensive linemen, quarterback Brandon Weeden and receiver Justin Blackmon. The opportunity for a historic season is there, but they'll have to pick up the nuances of the new offense quickly in the spring like they did last year.
What about the kicker? Dan Bailey won the Lou Groza Award as the nation's top kicker in 2010, but he's gone. Oklahoma State needs to fill that role quickly, and we'll likely know who will get the nod after the spring.
Who steps up on the defensive line? The Cowboys lose three starters up front on defense, including All-Big 12 performer Ugo Chinasa and tackles Chris Donaldson and Shane Jarka. Can senior Richetti Jones become a star in the Big 12? We'll have a good idea if he, or any of the Cowboys' other defensive linemen, can by the end of April.
TEXAS LONGHORNS

Spring practice starts
: February 24
Spring game
: April 3
What to watch
:
New coaches and their students/players. Texas has five new coaches. Although it's hard to get a good read early on, how they relate with the players on the field, in the film room and around the facilities will have a big impact on how the 2011 season plays out in Austin. The young-blooded coordinators could serve themselves well by relating to players and the players will need to spend plenty of extra time learning new schemes and plays.
Quarterback competition ... or not? Mack Brown says the gig is open and it is, for now. Garrett Gilbert can close it with a strong spring. If Garrett struggles on the field or has difficulty grasping the new system, the door will be wide open for Connor Wood or Case McCoy to step in and close it. Gilbert didn't get much help, but he did very little in 2010 to inspire a lot of breathing room with McCoy and Wood clamoring for playing time.
And you've got to defend the pass, too. Texas loses its top three cornerbacks to the NFL, and only Carrington Byndom and A.J. White got much meaningful playing time last season. Younger players can earn some rare early playing time with a strong spring. Will anyone step up?
TEXAS A&M AGGIES

Spring practice starts
: March 22
Spring game
: April 16
What to watch
:
New linebackers in the running. Spring isn't so scary when you bring back nine defensive starters, but the two Texas A&M lost were the heart of its defense. Linebackers Michael Hodges and Von Miller are gone. Kyle Mangan didn't look fantastic when forced into action during the Cotton Bowl, but the time is now for Damontre Moore and Dominique Patterson, a pair of sophomores, to make their impact.
Tannehill's tuning things up. Quarterback Ryan Tannehill played about as well as anyone could have hoped late last season, but he'll need it to continue his performance with a solid spring nailing down the timing with his receivers, who all return. He's already got a leg up on last year's quarterback, Jerrod Johnson, who was held out of team drills last spring after shoulder surgery that eventually derailed his senior season.
Christine's back. Christine Michael missed the second half of the season with a broken leg, giving way to Cyrus Gray's rise among Big 12 backs. It should make Texas A&M's depth at the position even more impressive, but we'll see how Michael looks coming back from the injury.
TEXAS TECH RED RAIDERS

Spring practice starts
: February 19
Spring game
: March 26
What to watch
:
Past defending that pass defense. Texas Tech had the Big 12's worst pass defense last season, but has a pair of big potential players at cornerback in rising sophomores Tre Porter and Jarvis Phillips. Starters LaRon Moore and Franklin Mitchem are gone, but if returning starters Cody Davis and Will Ford can continue to mature, the defense should improve in the area most important for success in the Big 12.
And they're off! There's a four-man quarterback derby set in Lubbock this spring between Seth Doege, Jacob Karam, Michael Brewer and Scotty Young. I don't expect it to be settled until midway through fall camp, similar to last season, but there should be a solid front-runner and more clarity after spring. Coach Tommy Tuberville was extremely impressed with Doege and Karam last spring after Taylor Potts and Steven Sheffield went down with injuries.
Time to find new stars. Most of the big names on Texas Tech's defense are gone. Colby Whitlock, Bront Bird, Brian Duncan will all continue their careers elsewhere. The leaders on the defense will have to begin to emerge in the spring. Is it Scott Smith? Cody Davis? A younger, unexpected player? We'll find out. Sometimes these types of situations aren't as easy to predict as they might seem, like Missouri's strength in 2010 emerging in the secondary.
September, 20, 2010
9/20/10
2:02
PM ET
Best offensive player:
Brandon Weeden, QB, Oklahoma State.
Weeden threw for six touchdowns with 328 of his 409 passing yards coming in the first half in a
65-28
win against Tulsa.
Best defensive player:
Scott Smith, DE, Texas Tech
. Smith's play helped the Red Raiders stay alive early against Texas, tipping an interception to himself and tipping another to a teammate that was returned for a touchdown. He also sacked
Garrett Gilbert
twice, forced a fumble and had three tackles for loss among his six tackles.
[+] Enlarge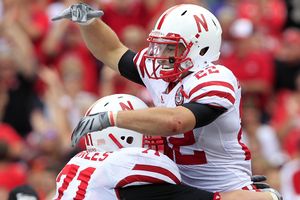 AP Photo/Elaine ThompsonRex Burkhead and Nebraska rolled on the road against Washington.
Best team performance:
Tie, Texas and Nebraska.
Both notched impressive road wins on Saturday. Texas played the better opponent and earned a conference win, but Nebraska dominated Washington on both sides of the ball.
Best offensive freshman:
Taylor Martinez, QB, Nebraska.
In his first-ever road start, Martinez was as solid as the Huskers could have asked for. He accounted for 287 yards of total offense and four touchdowns without a turnover.
Best defensive freshman:
Jackson Jeffcoat, DE, Texas.
Jeffcoat recovered a fumble cleanly on Texas Tech's first snap and had a hand in two more sacks. He harassed
Taylor Potts
all night and played a lot of snaps for a group of Texas defensive ends that is the best and deepest in the conference.
Best play:
T.J. Moe, WR, Missouri.
For the
second consecutive week
, a catch-and-run takes home the prize. Moe rescued Missouri with a nifty juke before slicing between two defenders and racing to the end zone for a 68-yard score that beat San Diego State
27-24
in the final minute.
Best game:
Missouri 27, San Diego State 24.
Texas and Texas Tech played the most high-quality game, but it's hard to beat the drama of Moe's heroics.
Worst quarter:
Jerrod Johnson, QB, Texas A&M.
In the third quarter, he threw four interceptions on consecutive drives, including a pick-six that put the Aggies in a
20-6
hole entering the fourth quarter.
Timeliest redemption:
Texas A&M running backs.
Christine Michael
scored from 37 yards out to cut the Florida International lead to seven. Then
Cyrus Gray
took the lead with just over four minutes to play at 27-20.
Best impression of itself:
Kansas State.
Hopped on the back of
Daniel Thomas
, who carried them 34 times to a
27-20
victory against Iowa State. That's how Kansas State is going to win games this season.
Worst impression of itself:
Colorado
. The first half has been pretty representative for how the rest of the game will go for the Buffaloes so far this season. But down 10-0 at the break, the Buffaloes rebounded by outscoring Hawaii 31-3 over the remainder of the game to win convincingly at home.
Runner up: Texas Tech
. Did the Red Raiders really stay in a game with a top 10 team with solid, opportunistic defense and without 150 yards of total offense?
September, 19, 2010
9/19/10
3:21
AM ET
Brandon Weeden, QB, Oklahoma State:
Weeden threw for 328 of his 409 passing yards in the first half and left the game early in the third quarter. His
six
touchdown passes and no interceptions pushed Oklahoma State to a big halftime lead in its
65-28 win
over Tulsa.

Will Muschamp, defensive coordinator, Texas:
His defense locked down Texas Tech's offense, keeping them under 150 total yards for the first time since 1990. The Longhorns defense allowed just seven points and helped Texas earn a tough conference win in Lubbock over Texas Tech,
24-14
.
Scott Smith, DE, Texas Tech:
Smith was everywhere for a Texas Tech defense that played fantastic in its loss to Texas. He tipped a pass to himself for an interception, tipped another pass that ended up in the hands of Jarvis Phillips, who returned the pick 87 yards for a touchdown. He also had two sacks and a forced fumble to go with his six tackles.
T.J. Moe, WR, Missouri:
Missouri's season was preparing for an early black eye after back-to-back interceptions from
Blaine Gabbert
. But with under a minute to play, Moe took a pass from Gabbert, made a few defenders miss and raced 68 yards into the end zone for a
27-24 win
over San Diego State that rescued an otherwise lackluster night for the Tigers.
Taylor Martinez, QB, Nebraska:
T-Magic made it happen all day in a lot of different ways in Nebraska's
56-21 win over Washington
. His 80-yard touchdown run on the opening play of the second half put the Huskers up by 21, and he ran for 137 yards on 19 carries with three scores. He also threw for 150 yards on 7-of-11 passing and got his first career touchdown pass on his first pass of the day.
September, 18, 2010
9/18/10
9:53
PM ET
LUBBOCK, Texas -- What an impressive comeback by a Texas Tech team that looked very vulnerable early on, but used a big play and its first sustained drive to fight its way back and tie the game.
The Red Raiders take most of the momentum into halftime with a great defensive stand late, but we should have a thrilling second half.
Turning point:
Texas Tech redshirt freshman cornerback Jarvis Phillips grabbed a tipped ball and raced 87 yards into the end zone to bring the Red Raiders to within 14-7.
Stat of the half:
Texas quarterback
Garrett Gilbert
and Texas Tech quarterback
Taylor Potts
have combined to throw four interceptions.
Stat of the half II:
Texas Tech's only scoring drive was six plays and 68 yards for a touchdown. It has 70 yards of offense.
Best player in the half:
Scott Smith, DE, Texas Tech. Smith turned the momentum with a tipped interception to himself that ended a Texas drive. The Longhorns were trying to make it 21-0 before Smith tipped another Gilbert pass, which Phillips intercepted and returned for Texas Tech's first score. Smith also added a pair of sacks on Texas' final drive of the half, forcing the Longhorns into a third-and-26 after starting near midfield.
September, 18, 2010
9/18/10
9:04
PM ET
LUBBOCK, Texas -- The interceptions are plentiful in the first quarter, and all three have come off of tipped balls.
Texas Tech's Scott Smith tipped the first to himself, but on the next play, Texas cornerback Aaron Williams tipped Texas Tech quarterback
Taylor Potts
' pass.
This time, Texas' Blake Gideon caught the floater, a pass similar to the one he dropped at the end of the 2008 classic.
But the first play to bring the Texas Tech crowd back in the game came courtesy of Smith and Jarvis Phillips. Smith tipped a third-and-25 pass to Jarvis Phillips, who hurdled a diving Gilbert on his 87-yard touchdown return to send the crowd into a frenzy and bring the Red Raiders to within 14-7.
Early on, it looked like Texas might run away with it.
Thanks to some timely turnovers, that doesn't look like the case anymore. With the first quarter over, the Red Raider crowd is back in it, and so is the team.
February, 17, 2010
2/17/10
2:00
PM ET
Here's a breakdown of three issues facing each program heading into the spring:

Baylor Bears
Spring practice starts
: March 16
Spring game
: April 10
1. Quarterback Robert Griffin III's surgically repaired right knee
. Griffin hasn't played since tearing the ACL in his right knee in the third game of the '09 season. He recently said he's ahead of schedule in rehabilitation, but probably won't do much during spring practice. He'll wear a heavy knee brace and won't participate in contact drills.
2. New linebackers
. The Bears lost strongside linebacker Antonio Jones and middle linebacker Joe Pawelek, who combined to make 190 tackles last season. Senior Earl Patin, who also has played some defensive end during his career, is poised to replace Pawelek in the middle. But Patin will have to hold off highly regarded youngsters Chris McAllister and LeQuince McCall, who redshirted in '09. Senior Chris Francis is probably the top candidate to replace Jones on the strong side.
3. Safety
. The Bears must replace both of their starting safeties, including All-Big 12 performer Jordan Lake, who started 36 games in a row. Junior college transfer Byron Landor and sophomore Mike Hicks will get the first looks in the spring. But they'll have to hold off incoming freshman
Ahmad Dixon
, one of the top prospects to ever sign with Baylor, after he arrives for fall camp.

Colorado Buffaloes
Spring practice starts
: March 6
Spring game
: April 10
1. Michigan transfer Toney Clemons
. Buffaloes coach Dan Hawkins called Clemons his team's most exciting receiver while he sat out the '09 season under NCAA transfer rules. The cousin of Arizona Cardinals receiver Steve Breaston, Clemons could bring an interesting dynamic to the CU offense. His arrival couldn't come at a better time, either, after
Markques Simas
was suspended indefinitely for violating team rules.
2. Linebacker
. The Buffaloes must replace their two most productive linebackers after losing Marcus Burton and Jeff Smart. The departed seniors combined to make 105 solo tackles and 6.5 sacks last season. Senior Michael Sipili is the top candidate to replace Burton in the middle, and sophomore Jon Major might get the first crack at replacing Smart on the weak side.
3. Offensive line
. The unit's inconsistency has dogged Hawkins' offense in each of his first four seasons. Eight offensive linemen had significant playing time in '09, so the Buffs are looking for more stability up front. The return of sophomore guard Maxwell Tuioti-Mariner from a pair of knee injuries, and early arrival of junior college transfer Eric Richter might shore up the interior line.

Iowa State Cyclones
Spring practice starts
: March 23
Spring game
: April 17
1. Linebackers
. The Cyclones lost each of their starting three linebackers: Josh Raven, Jesse Smith and Fred Garrin. Junior Jacob Lattimer is in line to replace Raven on the strong side, and two highly regarded sophomores are in line to fill the other spots. A.J. Klein, who had 17 tackles in 13 games as a freshman, might get the unenviable task of replacing Smith, who led the Big 12 in tackles in '09. Jake Knott, who had 23 tackles as a freshman, is the top candidate to start on the weak side.
2. Wide receiver
. Iowa State lost leading receiver
Marquis Hamilton
, who had 50 catches for 606 yards with four touchdowns in '09. Tight end
Derrick Catlett
, another top receiving threat, also is gone. The good news: Junior
Darius Reynolds
returns from a broken leg that caused him to miss all but four games last season. Reynolds, who earned the moniker "Money" for his big-play potential, had 13 catches for 72 yards before he was hurt in practice in late September. Junior college tight end Ricky Howard enrolled in classes in January and will participate in spring practice.
3. Defensive line
. Two starters will have to be replaced after ISU lost right end Christopher Lyle and tackle Nate Frere. Lyle led the team with five sacks in '09; Frere was a pretty good run-stopper. Sophomores Cleyon Laing and Roosevelt Maggitt will get strong looks at end, and senior Austin Alburtis and sophomore Jake McDonough will move into the tackle rotation.

Kansas Jayhawks
Spring practice starts
: March 27
Spring game
: April 24
1. Quarterback
. New Kansas coach Turner Gill might have one heck of a competition on his hands. Sophomore
Kale Pick
is a mobile option, after averaging 11.9 yards per rushing attempt in 2009. Junior college transfer Quinn Mecham, who enrolled in classes at Kansas in January, threw for 3,091 yards with 40 touchdowns and 11 interceptions at Snow College in Utah last season.
2. Wide receiver
. The Jayhawks have to replace departed stars
Kerry Meier
and
Dezmon Briscoe
, which will be no easy task. The duo combined to catch 186 passes for 2,322 yards with 17 touchdowns last season.
Bradley McDougald
and
Johnathan Wilson
were proven targets last season, but younger players such as
Chris Omigie
and incoming freshman
Keeston Terry
will have to help this fall.
3. Secondary
. The Kansas defense gave up too many big passing plays and didn't create enough turnovers last season. The Jayhawks will have to replace strong safety Darrell Stuckey, who led them with 93 tackles in '09. Senior Phillip Strozier will get the first crack at replacing the heart and soul of the Kansas defense.

Kansas State Wildcats
Spring practice starts
: March 21
Spring game
: April 24
1. Oregon transfer Chris Harper
. In 2008, Harper played wide receiver and quarterback for the Ducks as a freshman. He became the first Oregon player in eight years to run, pass and catch a touchdown in the same season. Harper, a native of Wichita, Kan., might figure into Kansas State's quarterback or wide receiver plans after sitting out the '09 season under NCAA transfer rules.
2. Quarterback battle
. Harper and two other players will probably battle to replace departed senior
Grant Gregory
. Senior
Carson Coffman
, who started the '09 season at quarterback, figures to be back in the mix, along with junior college transfer
Sammuel Lamur
.
3. Defensive line
. The Wildcats have a couple of gaping holes to fill up front defensively. End Jeff Fitzgerald, who had 40 tackles and 10 tackles for loss in '09, has to be replaced, along with tackles Daniel Calvin and Chidubamu Abana. Junior college transfer Javonta Boyd, who has already enrolled in classes, could help in the interior line.

Missouri Tigers
Spring practice starts
: March 9
Spring game
: April 17
1. Wide receiver
. The Tigers have to replace
Danario Alexander
, who led the country with 1,781 receiving yards in 2009. Juniors
Jerrell Jackson
and
Wes Kemp
both caught more than 20 passes last season, but younger players like
T.J. Moe
and
Rolandis Woodland
are going to have to contribute more. Incoming freshman
Marcus Lucas
could help in the fall.
2. Linebacker
. The Tigers bring back two of their starting three linebackers, but three-time All-Big 12 selection Sean Weatherspoon is the one who left. Sophomore Donovan Bonner heads into spring camp as the top candidate to replace Weatherspoon on the weak side, and Will Ebner and Andrew Gachkar are back at the other linebacker spots.
3. Defensive line
. Two starters are gone on the defensive front: end Brian Coulter and nose tackle Jaron Baston. At least the Tigers know they're set at one side, with end Aldon Smith coming back after totaling 19 tackles for loss and 11.5 sacks in '09. Marcus Malbrough and Jacquies Smith will battle for starting end, and Terrell Resonno could move into the vacant tackle spot.

Nebraska Cornhuskers
Spring practice starts
: March 24
Spring game
: April 17
What to watch:
1. Will quarterback Zac Lee keep his starting job?
After Lee was plagued by inconsistency throughout the '09 season, offensive coordinator Shawn Watson is expected to open the competition during spring practice. Sophomore
Cody Green
, senior
Latravis Washington
and freshman
Taylor Martinez
will all be given a fair chance to win the job.
2. Defensive tackle
. Nebraska fans won't see All-American Ndamukong Suh commanding double-team blocks along the line of scrimmage. Even after losing one of the most decorated players in school history, the Cornhuskers figure to be pretty good up front. Jared Crick and Baker Steinkuhler will man the middle, with Pierre Allen and Cameron Meredith entering spring camp as the favorites at ends.
3. Rex Burkhead
. The sophomore burst onto the scene after Roy Helu Jr. was hurt early in the Huskers' 33-0 rout of Arizona in the Pacific Life Holiday Bowl, rushing for 89 yards with one touchdown. Burkhead was very explosive running out of the Wildcat package, so look for Watson to try and utilize him even more to make the Nebraska attack less predictable.

Oklahoma Sooners
Spring practice starts
: March 8
Spring game
: April 17
1. Offensive line
. The Sooners have a lot of questions up front on offense, after left tackle Trent Williams and right guard Brian Simmons departed. Will junior Donald Stephenson finally be ready to contribute at left tackle after being suspended for all of the '09 season? Will center Ben Habern be ready after breaking his leg late in the '09 season? When will Jarvis Jones return from a broken heel?
2. Linebacker Ronnell Lewis
. The sophomore had a break-out game in the Sooners' 31-27 victory over Stanford in the Sun Bowl, finishing with six tackles and a forced fumble. With starting linebackers Keenan Clayton and Ryan Reynolds departing, Lewis will assume a starting role on the strong side. Redshirt freshman Tom Wort is projected to start in the middle, with junior Travis Lewis starting on the weak side.
3. Secondary
. The Sooners have shuffled their defensive backs after losing cornerbacks Dominique Franks and Brian Jackson. Sophomore Demontre Hurst is in line to replace Franks at field cornerback, and senior Jonathan Nelson has moved from strong safety to boundary cornerback. Junior Sam Proctor is expected to replace Nelson at strong safety, and senior Quinton Carter is back at free safety.

Oklahoma State Cowboys
Spring practice starts
: March 8
Spring game
: April 17
1. Quarterback Brandon Weeden
. The 26-year-old junior is the top candidate to replace
Zac Robinson
, who broke nearly every OSU passing record. Weeden was a second-round choice of the New York Yankees in the 2002 amateur baseball draft. If he can grasp new offensive coordinator Dana Holgorson's spread offense quickly, the Pokes' passing game should again be potent in 2010.
2. Defense
. Defensive coordinator Bill Young will have his hands full this spring trying to replace nine starters. The only returning starters are defensive end Ugo Chinasa and strong safety Markelle Martin. The Pokes have to replace three starters on the defensive line, three linebackers and three defensive backs. Three newcomers -- linebacker
Caleb Lavey
and defensive backs
Devin Hedgepeth
and Malcolm Murray -- will get early looks in spring camp.
3. Offensive line
. The Cowboys will have to replace star left tackle Russell Okung, left guard Noah Franklin, center Andrew Lewis and right tackle Brady Bond. Juniors Nick Martinez, Casey LaBrue and Grant Garner will be the top candidates to fill open starting spots.

Texas Longhorns
Spring practice starts
: Feb. 26
Spring game
: April 4
1. Quarterback Garrett Gilbert
. The sophomore was thrust into action after
Colt McCoy
injured his shoulder against Alabama in the Citi BCS National Championship Game and played admirably well in tough circumstances. The Longhorns might change their identity on offense with a young quarterback under center, so developing a running game to take pressure off Gilbert might be a top priority.
2. Defense
. The unit is in good hands with coordinator Will Muschamp, but he'll have to replace many of the star players from 2009. End Sergio Kindle, tackle Lamarr Houston, linebacker Roddrick Muckelroy and safety Earl Thomas are all gone. Younger players such as end Alex Okafor and tackle Tyrell Higgins will have to turn it up a notch during spring practice.
3. Wide receiver
.
Jordan Shipley
, who was McCoy's favorite target, also departed. Seniors
James Kirkendoll
and
John Chiles
, junior
Malcolm Williams
and sophomore
Marquise Goodwin
will have to be more consistent in their route running and pass catching. Other receivers such as
D.J. Monroe
and
DeSean Hales
will be trying to crack the receiver rotation during the spring, before talented freshmen like
Darius White
,
Mike Davis
and
Demarco Cobbs
arrive on campus.

Texas A&M Aggies
Spring practice starts
: March 23
Spring game
: April 17
1. New defensive coordinator Tim DeRuyter
, who built one of the country's best units at Air Force last season. He inherits an A&M defense that was woefully porous last season and will switch to a 3-4 scheme. Nine starters are coming back on defense, including pass-rushing specialist Von Miller. DeRuyter will spend the spring trying to install his system and getting his players comfortable with it.
2. Offensive line
. The Aggies must replace three starting offensive linemen: left tackle Michael Shumard, center Kevin Matthews and right tackle Lee Grimes. Juniors Joe Villavisencio and Danny Baker and sophomore Stephen Barrera have to be ready to step up this spring.
3. Special teams
. The Aggies' special teams weren't so special last season, as they ranked 104th in net punting, 91st in kickoff return defense and 49th in kickoff returns among FBS teams. Aggies coach Mike Sherman is putting a new emphasis on special teams, which cost his team dearly in its 44-20 loss to Georgia in the Independence Bowl.

Texas Tech Red Raiders
Spring practice starts
: March 7
Spring game
: April 17
1. Quarterbacks
. With former Auburn coach Tommy Tuberville replacing Mike Leach at Texas Tech, senior quarterbacks
Taylor Potts
and
Steven Sheffield
figure to start spring camp on a level playing field. Potts started 10 games last season, throwing for 3,440 yards with 22 touchdowns and 13 interceptions. Sheffield started two games and threw for 1,219 yards with 14 touchdowns and four picks. New offensive coordinator Neal Brown, who was hired from Troy, runs a version of the spread offense, but Tuberville will probably incorporate more of a traditional running game into the offense.
2. Defensive line
. New defensive coordinator James Willis has to replace three starters on his defensive front: ends Brandon Sharpe and Daniel Howard and tackle Richard Jones. Making matters worse, the top two reserve ends in 2009 were seniors, along with the backup nose tackle.
3. Offensive line
. O-line coach Matt Moore, who was retained from Leach's staff, has to replace three starters: center Shawn Byrnes, right guard Brandon Carter and right tackle Marlon Winn. Juniors Justin Keown and Mickey Okafor and sophomore LaAdrian Waddle will probably be given first crack at replacing them. Incoming junior college transfer Scott Smith could play stand-up end in Tech's 3-4 scheme, and junior college defensive tackle Donald Langley might also have an impact in spring practice.
October, 23, 2009
10/23/09
9:59
AM ET
Posted by ESPN.com's Brian Bennett

There are no longer signs and chalk messages all over campus urging Notre Dame to maim this week's opponent. The national media isn't descending into South Bend. No huge perception breakthrough is on the line.


Still, the Fighting Irish need to emphasize this week's game against Boston College as much as they did last weekend's 34-27 loss to USC. At 4-2, they can't afford any more defeats if they want to keep alive their slim BCS bowl hopes.
And while Boston College might not present the same kind of line-in-the-sand game as USC, this is still another rivalry that has gone the wrong way too often for Notre Dame. The Eagles have won six straight in this series since the last Irish victory in 2000.
"Ending that streak would mean a whole lot," safety Kyle McCarthy said. "First and foremost getting our season back on track and what our goals are, that's the most important thing. Then the added flavor that it's BC adds fuel to the fire."
The team must first make sure it doesn't let the disappointment of last week's loss linger.
The players, coaches and entire campus put so much effort and emotion into ending the losing streak against the Trojans, only to come up four yards short of tying the game on the last play. Some of the players think they suffered a bit of a hangover last year after an overtime loss to Pitt; they went out and lost 17-0 to Boston College in the following game.
"Any time you lose a tough game, it's going to take a while to get yourself back to just kind of feeling normal," linebacker Scott Smith said. " I know after the (USC) game, kind of into Saturday, on Saturday night, Sunday, even Monday, I was still pretty crushed, because I knew that was my last time being in a game like that against USC."
Yet with a seasoned, veteran team this year, the Irish feel like they can get over a loss more quickly than before.
"I think we're better handling that situation because we've been there before," quarterback
Jimmy Clausen
said. "We've been there, done that. (Tuesday's) practice was really up-tempo.
Everyone was having fun. In years past, after a loss, everyone's down until probably Wednesday, Thursday of the next week. You know, I didn't see that at all yesterday. "
Notre Dame's campus is on a fall break this week, allowing the players to concentrate solely on football without any distractions. Clausen has been using the free time to get extra treatment on his turf toe injury.
It's wildly unlikely that Boston College will pitch another shutout this year against the Irish. Clausen had one of his worst days last year in Chestnut Hill, battling through an illness before the game and then coughing up four interceptions, one of which was returned 76 yards for a touchdown. Clausen has thrown only two interceptions this season.
One of Notre Dame's goals this week is to come out strong offensively so it can build a lead and not have to go through a sixth straight final-minute thriller. Whether that materializes shouldn't have anything to do with a lack of focus on this week's opponent, pre-game hype or no pre-game hype.
"I know there's not a question in my mind they'll come out fighting again like they've been," coach Charlie Weis said. "People worry about being flat. How can be you flat when you are playing a team that just beat you six times in a row?"
September, 9, 2009
9/09/09
3:02
PM ET

Posted by ESPN.com's Brian Bennett
Jimmy Clausen
says Notre Dame's players like to think they have a 2-0 record. They view last year's Hawaii Bowl as the start of the current season.
The Irish pounded Hawaii 49-21 and followed that up with a 35-0 shellacking of Nevada last week at home. Clausen and the offense were nearly perfect in those two games.
Of course, there's quite a difference between the WAC and the Wolverines. For Notre Dame to actually reach a 2-0 record, it will have to go in and beat Michigan on the road this week. The team's only road win last year -- if you don't count Hawaii -- came against a winless Washington team.
"This is the next big step for us," Clausen said, "going on the road to Michigan in a hostile environment, 110,000 people there. It's going to be a big test for us."
The Hawaii win hinted at a breakthrough for the Irish. All offseason, talk centered around how more experience and maturity could get this team back into national relevance, maybe even BCS contention. That promise looked pretty good in Week 1, when Notre Dame dismantled a Nevada team coming off four straight bowl games.
"When you think about openers and coming out and making a statement for our season, I can't think of it going much better than it did on Saturday," tight end
Kyle Rudolph
said.
But if Notre Dame is really on the way back, it needs to go into Ann Arbor and win. With a victory there, it's not hard to imagine the Irish sitting at 5-0 when USC visits on Oct. 17. A loss to Michigan will raise some of the same old questions about Charlie Weis' job security and when this team will truly turn the corner.
"We've talked about it," Rudolph said. "There are positive things coming out of Notre Dame now, and this is a way for us to build even more momentum.
"With each win, every week gets even bigger. If we get a win up there, that makes Week 3 even bigger. But if we fall up there, that makes Week 1 not mean anything."
The Irish are riding as much confidence going into Michigan week as they've ever had under Weis. Of course, the Wolverines finally have a reason to feel good about themselves after last year's 3-9 season and the controversies surrounding Rich Rodriguez right before the first kickoff.
Their 31-7 opening win over Western Michigan has them looking at this week as a swing game, too. With Eastern Michigan and Indiana up next, a 4-0 start would be well within the Wolverines' grasp.
"I think right now they're probably taking a similar approach to us as far as shortsightedness," Weis said. "They're coming off a 31-7 win, and I don't think they're worrying too much about what happened last year."
Last year's problems seemed long ago buried by the way Notre Dame played in the opener. It will take a win this Saturday to truly keep those ghosts down.
"Coming out of the opener, we gained a lot of momentum and a lot of confidence in our team and each other," linebacker Scott Smith said. "Obviously, we realize this weekend at Michigan is a huge game, and they're going to bring their best effort and we're going to bring our best effort. Like we did in the first game, it's all about showing up and performing on Saturday and giving it all we got."
Posted by ESPN.com's Brian Bennett
Junior quarterback Jimmy Clausen, senior safety Kyle McCarthy, senior offensive lineman Eric Olsen and senior linebacker Scott Smith were named on Saturday as Notre Dame's captains for the 2009 season.
The selections were made by a vote of team members on Friday. Clausen and Olsen will captain the offense, McCarthy will be the defensive captain and Smith will captain special teams.

The selections weren't exactly a surprise, but it's a good sign that Clausen -- whose leadership has been a question mark during his first two years in South Bend -- was voted a captain by his teammates.
Notre Dame also named its leadership committee based on the voting results. The members will be senior fullback James Aldridge, senior cornerback Mike Anello, senior safety Sergio Brown, sophomore wide receiver Michael Floyd, junior defensive end Kerry Neal, sophomore tight end Kyle Rudolph, senior defensive end John Ryan, junior linebacker Brian Smith and senior offensive tackle Sam Young.