NCF Nation:

Scottie Montgomery
April, 18, 2014
Apr 18
9:00
AM ET
Scottie Montgomery returned to Duke last year from an NFL world where quarterbacks were never, ever hit in practice.
So when his quarterbacks started begging him to go live this spring, his first reaction was, 'No way!' He was in protection mode, the way he was as a Steelers assistant. But veterans
Anthony Boone
and
Brandon Connette
persisted, and he slowly relented -- only a few times, and with clear instructions to the defense.
[+] Enlarge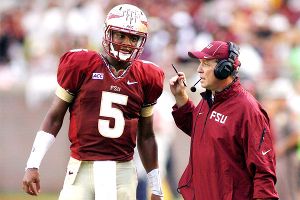 AP Photo/Phil SearsFlorida State coach Jimbo Fisher had Jameis Winston go live last spring when he was dueling Jacob Coker for the starting job.
"My initial feel is, 'Don't ever let anybody get touched, so I have to fight myself at times, because I want to protect these guys and these guys want to compete for jobs," said Montgomery, the offensive coordinator.
His is a dilemma that many coaches across the league
have faced this spring
. Do you allow your quarterbacks to get hit in practice to help simulate game situations and foster competition, knowing you have increased their injury risk? Or do you never even broach the subject because the priority should always be to protect the quarterback?
Four ACC teams allowed their quarterbacks to go live at some point during spring practice, more than any other power-five league. Clemson did it for the first time under offensive coordinator Chad Morris, believing he would see more out of the three quarterbacks vying for the starting job. Early enrollee freshman Deshaun Watson
ended up getting hurt
and missing the spring game.
Florida State allowed its younger quarterbacks to go live this spring. Coach Jimbo Fisher said he did the same last year, when
Jameis Winston
was a redshirt freshman competing to win the starting job.
"They've got to be able to feel things around them and react," Fisher said. "They get in a false security blanket sometimes."
Does that cause him extra worry?
"It's no different than when we run the running backs, and I get nervous in the scrimmages when the backs are running and get tackled," Fisher said. "Our guys know if they've got a kill shot, not to. There's a certain limit of how we practice with each other. You know those shots that everyone wants to have? We won't take those on each other even if we're in a live scrimmage because it's not productive to the organization. Tough to me is when you're eyeball to eyeball, not when a guy's exposed and you can do that."
The coaches are not the only ones who wrestle with the idea. NC State quarterback
Jacoby Brissett
was not live this spring. But when he was competing for the starting job at Florida with
Jeff Driskel
back in 2012, both were allowed to go live early on in fall practice. The first day they were allowed to take hits, Driskel hurt his shoulder.
[+] Enlarge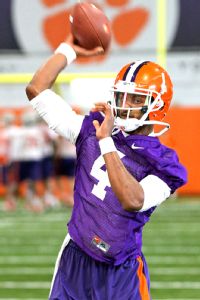 AP Photo/Anderson Independent-Mail/Mark CrammerClemson freshman Deshaun Watson was injured in practice and missed the spring game.
"There's a right time and wrong time for quarterbacks to be live," Brissett said. "We haven't done live practices, but in the fall sometimes we will have a live scrimmage on a Saturday. It helps out with the game speed reps."
For a running quarterback such as Brissett, that helps. Same for the Duke quarterbacks. Georgia Tech has its quarterbacks live during practice for that reason.
Some coaches believe going live helps separate the competition. But Clemson was the only school with an open quarterback competition to allow its quarterbacks to go live during scrimmage situations. North Carolina, for example, has
Marquise Williams
and
Mitch Trubisky
battling to win the starting job, but offensive coordinator Seth Littrell does not believe it is necessary to allow quarterbacks to get hit. "I've never done it," he said.
Virginia Tech also is in the middle of an intense competition, but quarterbacks have been off limits so far this spring. Veteran
Mark Leal
would have no problem if the coaches changed their minds.
"Honestly, I'd like to be live," he said. "I think the rest of the quarterbacks would, too, because it gives more of a game feel. If you're not live, sometimes the whistle gets blown early when you don't think you should have been sacked or the play gets messed up because when there's a rush around you, the first thing the coaches want to do is blow the whistle, rather than you continue to play or go through your reads and progressions and finish the play."
Depth concerns often dictate what coaches do. Pitt only had two scholarship quarterbacks this spring, so there was no way they were going live. Virginia Tech only has three quarterbacks on the roster this spring.
Still, all the protections most coaches take are not enough to keep their quarterbacks injury-free. Miami quarterbacks were off limits this spring, but
Ryan Williams
tore his ACL
during a scrimmage.
It was a noncontact injury.
November, 3, 2009
11/03/09
12:02
PM ET
Posted by ESPN.com's Heather Dinich
Following his team's
28-17 win
over Virginia on Saturday, Duke freshman wide receiver
Conner Vernon
sent his former high school coach, Earl Sims, a text message that read, "Sorry about what happened in Charlottesville."
With seven catches last week at Virginia, Vernon broke Duke's single season freshman record for receptions with 38.
Sims, who was a linebacker at Virginia from 1997-2001 and is now coaching Gulliver Prep in Miami, was disappointed his alma mater lost, but he understood that Duke's win – with the help of two of his former Gulliver Prep players – wasn't a fluke.
Vernon and
Donovan Varner
, a sophomore who also played for Sims, are ranked No. 1 and No. 2 respectively in the ACC in receptions per game, and each have had three 100-yard receiving games this season. They're a major reason why quarterback
Thaddeus Lewis
is having such a standout season, why Duke's passing offense ranks fifth nationally, and why Duke controls its own destiny in the Coastal Division heading into Saturday's game against rival North Carolina.
Varner and Vernon's production over past 3 games
Donovan Varner
Conner Vernon
Opponent
Catches
Yards
TD
Catches
Yards
TD
NC State
7
154
0
10
86
1
Maryland
8
120
1
5
102
0
Virginia
7
113
0
7
103
1
TOTAL
22
387
1
22
291
2
"The old Duke, even though it's present in our minds, isn't there anymore," said Sims "This is a totally new everything. When you hear Duke, you don't think, 'Oh, it's a stat game,' or anything like that. It's something you have to definitely prepare for. I think they'll no doubt do something for recruiting as far as receivers, as far as anybody from Florida, as far as maybe even Gulliver. More of our athletes may look towards Duke. They're doing a phenomenal job as far as the coaching staff, and everybody. The fact that those guys are playing that early, I think they'll definitely do something to help spark recruiting."
Vernon and Varner represent the future of Duke football, and the early success of coach David Cutcliffe's staff in ushering in talented players from winning programs. Wide receivers coach Scottie Montgomery, whose recruiting turf includes South Florida, was the lead recruiter for both Vernon and Varner.
"I had a lot of other scholarship offers, but I felt like me and coach Montgomery had this vibe, and I knew I could come in and be an impact," Varner said. " … I can't even explain in words how good it feels to be a part of this. I never knew that it could be so big, but at the same time it's an everyday grind. We're just going to keep trying to continue to build on top of our success."
Duke enters Chapel Hill on Saturday riding a three-game conference winning streak for the first time since 1994. Over the past five games, Duke is averaging 433 yards of total offense, including 347.5 passing yards and 33.8 points.
Varner is tied for third in the ACC with five touchdown receptions this season. Vernon ranks second in the NCAA among freshmen in both receptions per game (5.17) and receiving yards per game (76.50). Varner and Vernon are No. 2 and No. 3 in the conference in receiving yards per game, respectively.
"Having Conner here with me is a lot of fun," said Varner, who has a team-high 42 receptions this year. "We have a bond on the field. It helps us to settle down on the field and depend on one another to make big plays."
The Miami pipeline has made a difference in Duke's offense, as Lewis, a Miami native, talked a lot with Varner during his recruiting process, and Varner was then in Vernon's ear during his.
"A lot of people didn't really give them an opportunity and a chance," said Lewis. "Other major universities said Donovan was an athlete, but they really wanted to use him on defense. Coach Montgomery saw something in Donovan a lot of people didn't see, he saw him line up at receiver one time. He knew he had the ball skills. And Conner, he was a year younger than him, he said he could be as talented as anyone in the country.
"You can tell that Duke is definitely going to compete with everyone in the country for the top-notch recruits all over the country. This is a place where a lot of young guys like Conner and Donovan will see the things they're doing right now. It's going to attract the same attention as other major colleges around the country."
Right now, though, they have the attention and respect of North Carolina.