NCF Nation:

Scotty McKnight
January, 26, 2011
1/26/11
9:00
AM ET
Signing day is exactly a week from today, and it's time to take a look at who needs what in its 2011 class.
Some schools have addressed these with their current class. Some haven't. Others are still trying.
We'll kick things off with the artists formerly known as the Big 12 North and examine the South later today.

COLORADO
Cornerback:
Jalil Brown and Jimmy Smith were pretty reliable for the Buffaloes, but both are headed to the NFL, and the Buffaloes could definitely use some depth behind their first-year starters. It's not quite as pressing of an issue considering their move to the less pass-happy Pac-12, but they still like to sling it out west.
Receiver
: Colorado isn't exactly starving anywhere on offense, but receiver sticks out a bit.
Toney Clemons
was good, but maybe not quite what the Buffaloes hoped he'd be in 2010, but they caught a break in getting
Paul Richardson
back after a great freshman season. The Buffaloes need some complementary pieces around Clemons and Richardson to replace departed pass-catchers
Scotty McKnight
and
Travon Patterson
. Next year, that should be tight end
Ryan Deehan
and receiver
Will Jefferson
.

IOWA STATE
Receiver:
It's been a struggle for Iowa State in recent years, but they have to get better outside to help out their quarterback.
Sedrick Johnson
's transfer only worsens the Cyclones depth at the position, but
Jake Williams
and tight end
Collin Franklin
, the team's leading receiver, are gone.
Shontrelle Johnson
looks ready to become a big factor in the offense, but the Cyclones filling the space at receiver will make it easier for Johnson to replace running back
Alexander Robinson
.
Safety:
Both starters, David Sims and Zac Sandvig, are gone. So is the Cyclones top reserve at the position, Michael O'Connell. Sims was a top-notch talent that will be tough to replace, but Iowa State needs more depth here. They should be solid at corner with Leonard Johnson, Ter'ran Benton, Jeremy Reeves and Anthony Young, which could make the new safeties' jobs easier.

KANSAS
Defensive line:
KU is losing three of four starters on the line, including the team's only All-Big 12 talent, defensive end Jake Laptad. Turner Gill wants more speed, and this is a place to install it. Tackles that tip the scales at 320 pounds aren't too necessary in this league, but speed on the edge can go a long way in stopping the pass.
Quarterback:
Neither
Jordan Webb
or
Quinn Mecham
look like long-term answers at quarterback for the Jayhawks. Mecham will be a senior, and Webb might develop into a better player as a sophomore next year, but Kansas needs other options. The Jayhawks hope Brock Berglund, the top-rated recruit in Colorado, is the solution to the problem.

KANSAS STATE
Running back:
I hear your cries for
Bryce Brown
, Wildcats fans, but K-State can't expect to hitch their wagon to the former blue-chip recruit turned Tennessee transfer in the same way it did for
Daniel Thomas
. Thomas and his backup,
William Powell
, are gone, and the Wildcats need some depth at running back to show up.
Interior offensive linemen:
K-State loses both guards and its center from an offense that produced the Big 12's leading rusher in 2010. Don't expect them to do it again in 2011 without Wade Weibert, Kenneth Mayfield and Zach Kendall, as well as Thomas and Powell, but finding some new talent behind them will help them come close.
Cornerback:
David Garrett emerged as a budding star in 2010 ready for a breakout senior year in 2011, but the Wildcats lose Terrance Sweeney and Stephen Harrison, as well as safety Troy Butler. Like we've mentioned earlier, good secondaries are a must for success in the Big 12, and K-State had one of the league's worst in 2010.

MISSOURI
Receiver:
Missouri has some good ones ready to suit up in 2011, namely
Wes Kemp
,
Jerrell Jackson
and
T.J. Moe
, but the Tigers don't have a true gamebreaker. They have some younger players in
Marcus Lucas
and
Jimmie Hunt
who they hope will develop into big-time, All-American caliber receivers, a la Jeremy Maclin and Danario Alexander. In Missouri's system, though, adding a few receivers is always a good idea. They certainly don't need any more running backs.
Defensive backs:
Mizzou doesn't have any huge holes that need to be filled with recruiting, but the Tigers lose both corners, Carl Gettis and Kevin Rutland from their 2010 team. Kip Edwards and E.J. Gaines look likely to fill those roles, but the Tigers could use some depth and keep recruiting in the secondary to help add some talent around Tavon Bolden and Matt White, safeties who will replace departed Jarrell Harrison, who actually had to play some linebacker in 2010 because of injuries.

NEBRASKA
Every kind of kicker:
Alex Henery, the team's punter and kicker is gone. So is kickoff specialist and lover/producer of touchbacks, Adi Kunalic. Fan favorite Henery was hardly underappreciated by the Nebraska faithful, but they'll miss him even more if the Huskers can't find a suitable placekicker and punter. Bo Pelini was reportedly after Wake Forest commit Mauro Bondi this week.
Receiver:
Niles Paul
and
Mike McNeill
are gone. The Huskers need
Brandon Kinnie
to come through with another good year and it'd be nice if
Quincy Enunwa
broke through in 2011, but
Taylor Martinez
needs some more help at wide out, and a couple new recruits could provide it as Martinez's passing prowess matures.
November, 15, 2010
11/15/10
2:00
PM ET
Best offensive player:
Brandon Weeden, QB, Oklahoma State
. For all of Texas' struggles this year, the secondary has still been pretty good, ranking second in pass defense this year. Well, before they ran into Weeden, who torched them for 409 yards through the air on 29-of-43 passing, including a gorgeous 67-yard rainbow to
Justin Blackmon
for a touchdown.
Best defensive player:
Quinton Carter, S, Oklahoma.
More good performances this week than any other this year, but Carter owned the back line against a dangerous passing attack, helping keep Texas Tech at just seven points. Carter made 17 tackles, the most of any Oklahoma defensive back since Brandon Everage in 2002. He also had a pass breakup.
Honorable mention:
Orie Lemon, LB, Oklahoma State; Michael Sipili, LB, Colorado; Jared Crick, DT, Nebraska; Lavonte David, LB, Nebraska
Best team performance:
Texas A&M.
The Aggies pitched a second-half shutout against a big-time Baylor offense and earned a 42-30 comeback victory on the road against the Bears to keep their slim South hopes alive.
Honorable mention:
Oklahoma.
[+] Enlarge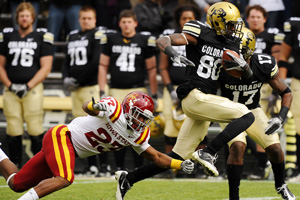 AP Photo/ Matt McClainColorado wide receiver Paul Richardson averaged over 24 yards a catch in a win over Iowa State.
Best offensive freshman:
Paul Richardson, WR, Colorado
. Richardson's becoming a consistent target opposite
Scotty McKnight
, and the lanky 6-foot-1, 175-pounder caught five passes for 121 yards in a win over Iowa State.
Honorable mention:
Kenny Stills
, WR, Oklahoma.
Best defensive freshman:
Tre Walker, LB, Kansas State.
Walker repeats this week, once again leading the Wildcats in tackles with 12. He also picked off a
Blaine Gabbert
pass and returned it 17 yards.
Classiest gesture:
Dan Hawkins
. He said in his farewell news conference he'd be his team's biggest fan down the stretch, and he made good on his word on Saturday,
watching the game from a low-key perch
on a balcony outside the offices he occupied for four-plus seasons in Boulder. You won't see many other coaches do that.
Best play:
Weeden-to-Blackmon
. Texas cornerback Aaron Williams covered the play perfectly, but Weeden hit a pinpoint pass over the top right into Blackmon's arms for a game-changing 67-yard touchdown that put Oklahoma State up 16-3 in the second quarter.
Most underrated play:
Wes Kemp, WR, Missouri
. Kemp hit the key block that freed up the last few yards of Blaine Gabbert's 32-yard touchdown run in the second quarter. He decleated one defender, and blocked another on his follow-through to help give the Tigers an early 14-7 lead.
Most heartbreaking play:
Terrance Frederick, Texas A&M
. Frederick returned a blocked field goal 71 yards at the end of the first half, but went out of bounds at the 1-yard line after time expired, meaning his play was all for naught.
Worst play:
K-State's fumblerooski.
The Wildcats version was slow to develop, but
John Hubert
got the ball from under his legs, ran to his left and fumbled. Missouri's Jacquies Smith recovered the ball.
Dishonorable mention:
Kansas State's goal-line fumble at the end of the first half with a chance to tie the game.
Worst quarter:
Texas' second quarter.
The Longhorns hung around early, but got outscored 23-0 in the period. Playing starters vs. starters, we could have played this one through Tuesday and the Longhorns might not make up a 23-point deficit on Oklahoma State, even if the Cowboys offense wasn't allowed to play.
Best game:
Texas A&M 42, Baylor 30.
The Aggies rebounded from a terrible start that featured
Robert Griffin III
's longest run of the season, a 71-yard touchdown to earn a dramatic win in the Battle of the Brazos and set up a huge game against Nebraska in College Station on Saturday.
November, 4, 2010
11/04/10
9:01
AM ET
»
Predictions
:
ACC
|
Big 12
|
Big East
|
Big Ten
|
Pac-10
|
SEC
|
Non-AQ
OK, I'm done not listening to myself. I told you last week I picked against my gut twice last week, trusting Texas' defense to wake up like it did against Nebraska, and putting confidence in Missouri to be able to run the ball against Nebraska like it did against Oklahoma.
Nope. I whiffed on both picks. This week, I went with my gut on all six picks.
Last week:
4-2 (.667)
Overall:
59-12 (.831)
No. 17 Oklahoma State 51, No. 21 Baylor 44:
In no way is this a joke. Come back later this afternoon for a video of me explaining my pick.
Colorado 27, Kansas 20:
This one is by far my least confident pick. That comes with picking Colorado to win on the road, where it suffered 26-, 33- and 42-point losses this year. But here goes.
Rodney Stewart
has a big day, and
Cody Hawkins
hits
Scotty McKnight
enough times to halt the Buffaloes' 15-game road losing streak.
No. 7 Nebraska 38, Iowa State 20:
Iowa State's pulled off a pair of wins nobody thought it would at the season's start, knocking off Texas and Texas Tech. But then again, neither team has been anywhere near as good as most thought in the preseason. Nebraska is considerably better, thanks to
Taylor Martinez
. No passing necessary in this one. The Huskers don't reach the double digits in pass attempts and roll over the Cyclones.
No. 8 Oklahoma 30, Texas A&M 28:
Consider me a believer in Oklahoma's struggles on the road. It's probably unfair to say it necessarily
struggled
on the road last year, it just played much better competition. This year, though, the Sooners were a muffed punt return away from having a real chance to lose to a bad Cincinnati team and one bounce of the ball away from possibly going into overtime against Texas. Both sides of the ball fell apart in the fourth quarter against Missouri. The Sooners lead 27-14 midway through the third quarter of this one, but hang on late. The Aggies will miss
Christine Michael
dearly.
Cyrus Gray
is very good. Michael is better.
Texas 21, Kansas State 20:
For all the curves Oklahoma State and Baylor should bring, this game's bringing the hairy moles. Kansas State and Texas might play the ugliest game of the year in the Big 12. Somebody's got to win, and
Garrett Gilbert
engineers a late drive, continuing his maturation process, and bringing along freshman receiver
Mike Davis
.
No. 12 Missouri 34, Texas Tech 24:
Missouri won't blow out the Red Raiders; it
is
Lubbock, after all. But it will win comfortably if corners Carl Gettis and Kevin Rutland continue their solid play. The offense will move the ball consistently for 60 minutes, but chalk the Tigers up for an inexplicable turnover in one of the toughest places to play in the Big 12.
October, 13, 2010
10/13/10
10:59
AM ET
Missouri captain and cornerback Kevin Rutland has gotten plenty of compliments and kudos on campus and elsewhere in Columbia. That's because he is the head of a unit that leads the Big 12 in scoring defense and his 14 forced turnovers is tied for second in the conference.
"It's been special so far, and you take note of it and would like it to keep going," Rutland said. "But we take it with a grain of salt. We know things can change, but we know if we keep our play at the level it's been, we'll be just fine."
[+] Enlarge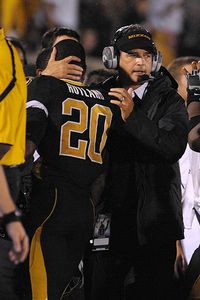 John Rieger/US PresswireMissouri coach Gary Pinkel has put his trust in cornerback Kevin Rutland and the Tigers defense.
He would know. Rutland played corner for a defense that ranked outside the top 100 in pass defense a year ago, frustrating fans with its penchant for giving up backbreaking big plays.
This season, limiting those big plays has been goal No. 1.
"That's always gotten us, whether it's the big pass play or big run play, and not that we haven't experienced those things because we have, but we're trying to keep those things to a minimum," he said.
There was a 93-yard touchdown run by San Diego State's
Ronnie Hillman
and a 42-yard run by Illinois running back
Mikel Leshoure
this year. None of those cost Missouri a game, unlike the 400-plus yards Baylor quarterback
Nick Florence
racked up in the Bears' lone conference win in 2009, highlighted by a 59-yard touchdown pass to
Kendall Wright
.
Missouri was never better this year than on Saturday when they shut out Colorado in a 26-0 win.
Rodney Stewart
's 22-yard run and a
Scotty McKnight
's 22-yard catch were the only sizeable chunks of yardage the defense gave up. Missouri is 5-0, thanks largely to its defense, and is headed to College Station for its first game outside the state this season.
"We're getting better each week and with a lot of the little things, attention to detail things that we need to do and we haven't arrived in any way, I'm not implying that, we've got some great tests ahead of us, including this week, but it seems like we're playing real well as a team, together, as a unit," said coach Gary Pinkel.
They've had to do it without a full squad. Suspensions and injuries have kept contributors at every level of the defense off the field. Star defensive end Aldon Smith, who had 11.5 sacks a year ago, is out with a broken fibula and is expected to miss Saturday's game against Texas A&M.
"I'll give some of the credit to experience and some of it to trust between coaches and players," Rutland said. "We go out there and we know what's expected of us. The coaches have enough faith in us and enough trust in us to get job done, whatever the call may be. Whether we're blitzing or we're in zone coverage or man coverage. The coaches have so much trust in us, from the secondary down on to D-line, that it's really opened up the playbook."
Rutland, a senior, has been one of the reasons why the coaches trust the unit. Rutland has adjusted to the team's more aggressive style under coordinator Dave Steckel and life as a team captain.
"My role is a lot more important than it's been," Rutland said. "When there's a time to step up and say something, I enjoy being that guy. That's the biggest thing, but even in practice or before a game or after the game, during the game, anything I can do. I like to go out there, make sure I'm doing my best and send a positive message with a great example to my teammates."
Texas A&M will be the toughest test yet for Missouri, and it won't get any easier. The Tigers host Oklahoma next week and travel to Lincoln for what could be a de facto Big 12 North championship game on Oct. 30. They will face the Huskers dynamic running game spearheaded by freshman quarterback
Taylor Martinez
.
So far a defense that returned nine starters from last year's team, but lost linebacker Sean Weatherspoon and defensive tackle Jaron Baston, has been as good or better than anyone might have expected.
"Players, athletes get better, if they're good athletes and they keep working hard to improve and get better. People say they have so many starters back, but if the starters aren't very good, it's not going to matter," Pinkel said. "We have many tests to go here, but very pleased with the progress so far."
September, 4, 2010
9/04/10
5:23
PM ET
Definitely an impressive 24-3 win for Colorado, even though Colorado State isn't on the level of competition the Buffaloes will see for most of this season. After winning just three games last year, beating anyone 24-3 is a great sign for Colorado, who may have convinced a few more folks that all the optimism out of coach Dan Hawkins and the rest of his players is different than what they've been saying for the past few seasons. I'll reserve judgment until we get closer to conference play, but the Buffaloes should be one of the more intriguing teams in the Big 12.
Tyler Hansen's stat line (17-26, 191 yards, 2 TD, INT, 1-yard rush TD) isn't going to make anyone say, "Wow!" but he moved the offense for most of the day, and helped set up Rodney Stewart, who finished with 69 yards on 16 carries. Good sign for Hansen, though, who continued his solid play from last year and should take some good vibes into next week's game against soon-to-be (or perhaps later) Pac-10 roommate, Cal.
Scotty McKnight proved once again why he's one of the conference's best, giving Hansen a nice target with six catches for 78 yards and a score. The newbies I wrote about earlier today got off to nice starts, but Travon Patterson and Toney Clemons didn't do a lot after Colorado jumped out to a 17-0 lead at halftime. We'll learn more about them if Colorado gets down in nonconference play and Hansen is forced to throw the ball around 40 times.
This will sound backhanded, but I don't mean it to: I'm very impressed with the three interceptions, even if they came at the expense of true freshman Pete Thomas. Colorado only had nine INTs all of last season, so that's a very good sign for the development of Colorado's defense, which was getting torched this time last year.
Colorado was very close to Iowa State as having the most impressive debut of any team in the Big 12 so far in Week 1.
September, 4, 2010
9/04/10
3:31
PM ET
Colorado's defense struggled early last season. So did the offense. The result? An 0-2 start that keyed off a frustrating 3-9 season in Dan Hawkins' fourth season at Colorado.
No such problems this year on either side of the ball. With a new quarterback,
Tyler Hansen
, Colorado's flipped the script against their rivals, jumping out to a
17-0 halftime lead
.
A year ago, the Buffaloes never rebounded from a 17-0 hole of their own in a 23-17 loss, made respectable by a late touchdown.
Hansen has completed 10 of 15 passes for 137 yards and two touchdowns, including a 27-yarder to
Scotty McKnight
, one of the league's best receivers. Meanwhile, true freshman
Pete Thomas
has thrown two interceptions for the Rams. Colorado intercepted just nine passes all of last season.
August, 13, 2010
8/13/10
11:03
AM ET
If you haven't noticed just yet, Friday's college football content at ESPN.com is all about the quarterbacks. We've
ranked the conference's top 5 individual quarterbacks
, but now it's time to take a broader look at who's in good shape behind center and who's in trouble across the conference.
The discrepancy between the South's QBs and the North's is somewhat jarring, especially when you see it on paper (bandwidth?) like this. Only one North team made the top six, and the bottom five teams are all from the North.
Five schools (four in the North) still have their starters up in the air, and that makes this a little tricky, but here's how I'd rank them:
[+] Enlarge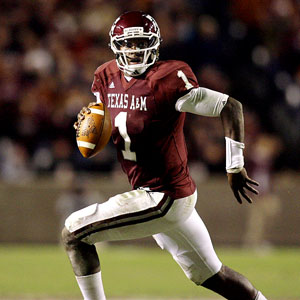 Brett Davis/US PresswireJerrod Johnson is not only the best quarterback in the conference, he's also the best player.
1. Texas A&M
: The Aggies boast the preseason player of the year at quarterback and the man at the top of our Big 12 player list from earlier this summer,
Jerrod Johnson
. I also got a few e-mail requests from some Aggies fans to stress -- once again -- that it's juh-RAHD, not Jared from Subway. Word has apparently not reached every corner of Big 12 country just yet. It might if the Aggies can win more than six games like they did in 2009. But Johnson broke out in a big way last season, throwing for 3,579 yards, 30 touchdowns and just six interceptions while also running for 506 yards and eight touchdowns.
2. Baylor
: Trust in
Robert Griffin
's knee lands the Bears here, significantly higher than they're used to considering the strong quarterback tradition across the Big 12 for the past decade. But Griffin will still have to regain his status as the conference's most electrifying player on a reconstructed knee after missing the final nine games of the previous season with a torn ACL. Baylor also has a nice situation at backup quarterback because of the injury with sophomore
Nick Florence
, who threw for 427 yards in Baylor's lone conference win -- at Missouri -- last season.
3. Missouri:
Blaine Gabbert
has a claim as the conference's best quarterback, and he'll try to snatch it as a junior after playing much of his sophomore season with a bum ankle, courtesy of a soggy Ndamukong Suh sack. Despite being hobbled for most of conference play, he still racked up 3,593 passing yards and 24 touchdowns. If he stays healthy, he might get a chance to showcase his underrated wheels, too. Freshman James Franklin is impressing in camp and hanging on to his job as Gabbert's backup over
Jimmy Costello
,
Ashton Glaser
and little brother Tyler Gabbert.
4. Oklahoma
:
Landry Jones
should benefit from his first full spring and preseason camp taking the first-team reps, but he'll need a second reliable target opposite
Ryan Broyles
to emerge if he wants to improve on his 26 touchdowns and 3,198 yards as a redshirt freshman. Jones also needs to limit his turnovers after throwing a league-high 14 interceptions in 2009, but it's worth noting that seven of those came away from Owen Field against top-tier defenses in Texas and Nebraska. He didn't play a good defense in Norman, but he threw 18 touchdowns to just four interceptions and helped the Sooners stretch their home streak to 30 games. Backup
Drew Allen
is untested and inexperienced, but has potential and wouldn't inspire panic if Jones finds injury in 2010.
5. Texas Tech
: No team has two quarterbacks with as much skill and experience as Texas Tech, but unlike receivers or running backs, the Red Raiders can't play both of them. Regardless of who wins the competition in Lubbock, Texas Tech will be in great shape with
Taylor Potts
or
Steven Sheffield
. You heard
a few hundred words on the details of this race
earlier this morning.
6. Texas
: This may look silly in November, but it's tough to put
Garrett Gilbert
on top of anyone else on this list who has already proven themselves. Clearly, the potential is there, and he's inspired a lot of confidence from his coach and team, but making good on that potential will mean finding a solid target to replace the only player he's ever thrown a real touchdown to: Jordan Shipley. If Gilbert goes down, Texas would have to rely on a pair of true freshmen: Connor Wood or Case McCoy, Colt's little brother.
7. Oklahoma State
: This won't be the last time you hear about the Cowboys 26-year-old former minor leaguer,
Brandon Weeden
. Just make good decisions, make easy throws to open receivers who make plays with the ball and he should put up big numbers in new offensive coordinator Dana Holgorsen's version of the Air Raid. Oklahoma State got to see Houston's offense in person last season and wanted it for themselves. Now they've got the man who coordinated the best offense in college football a year ago and an unquestioned, mature starter to run it. If he's injured, the Cowboys would have to rely on one of two freshmen,
Clint Chelf
or most likely Johnny Deaton, to run the offense.
8. Iowa State
: Coach Paul Rhoads says no player on his team has improved from Year 1 to Year 2 more than
Austen Arnaud
, but he'll need to prove it on the field to move up this list. He's probably likely to improve on his 2,015 yards passing to go with 15 touchdowns, but he's right behind Jones in the interception column, with 13. That number has to shrink for the Cyclones to get back to a bowl game. Talented sophomore Jerome "JT" Tiller led the Cyclones to their marquee win over Nebraska and should take the reins next year. The future looks bright in Ames.
9. Colorado:
Tyler Hansen
not emerging from preseason camp as the starter would be shocking, and he'll get a lot more help this year with a beefed-up receiving corps that's among the conference's most underrated. Newcomers Paul Richardson, Travon Patterson and preseason Big 12 Newcomer of the Year
Toney Clemons
will join the reliable
Scotty McKnight
. If Hansen goes down, at least they'll have an experienced vet behind him in
Cody Hawkins
. Freshman Nick Hirschman looked good in the spring and provides some hope for the position in the future.
10. Nebraska
: A two-quarterback system is never ideal, but it might work for the Huskers.
Zac Lee
is the best passer of the group competing for the starting job, but using the athletic
Taylor Martinez
or
Cody Green
in spot duty, similar to last year, could very well happen. But Bo Pelini would much prefer if one player -- most likely Lee, in my opinion -- would emerge and improve on his play from 2009, when he threw for 2,143 yards, 14 touchdowns and 10 interceptions.
11. Kansas
:
Kale Pick
is untested, and so are
Jordan Webb
and junior college transfer Quinn Mecham. Pick, however, seems like the favorite to win the job. The Jayhawks need a spark on offense, and Pick could provide it. He'll have some nice receivers to throw to in sophomore
Bradley McDougald
, senior
Johnathan Wilson
and tight end
Tim Biere
. Former cornerback Daymond Patterson looks ready for a good year in the slot.
12. Kansas State
:
Carson Coffman
needs to improve from his play last year that cost him his job early last season. Beating out
Collin Klein
and
Sammuel Lamur
won't be easy -- and the competition between the three is still pretty tight -- but Coffman's experience gives him a slight edge. Whoever wins the race will lean on the league's leading rusher,
Daniel Thomas
, and a revamped receiving corps with transfers
Brodrick Smith
from Minnesota and
Chris Harper
from Oregon. The Wildcats hope the duo will add the spark that was missing from the team's offense in 2009.
July, 14, 2010
7/14/10
11:57
AM ET
Big 12 Media Days in Irving, Texas are only a couple weeks away, and the schedule for the three-day gabfest has been released.
First thing I noticed: Nebraska (first) and Texas (last) are as far away as possible. Though I don't think the week is going to be as conducive to fireworks
as some believe
, it should still be plenty entertaining.
Media Days run July 26-28, and here's when to look for who on your team. (all times ET)
Monday, July 26
2:00
Nebraska
: Coach Bo Pelini, WR
Niles Paul
, DE Pierre Allen, CB Prince Amukamara
2:45
Baylor
: Coach Art Briles, LB Antonio Johnson, OT Danny Watkins
3:30
Iowa State
: Coach Paul Rhoads, QB
Austen Arnaud
, RB
Alexander Robinson
, DE Rashawn Parker
4:15
Texas A&M:
Coach Mike Sherman, QB
Jerrod Johnson
, LB Von Miller, DT Lucas Patterson
Tuesday, July 27
10:00
Missouri
: Coach Gary Pinkel, QB
Blaine Gabbert
, RB
Derrick Washington
, CB Kevin Rutland
10:45
Oklahoma State
: Coach Mike Gundy, QB
Brandon Weeden
, LB Orie Lemon, DE Jamie Blatnick
11:30
Kansas State
: Coach Bill Snyder, RB
Daniel Thomas
, S Tysyn Hartman, OL Zach Kendall
12:15
Texas Tech
: Coach Tommy Tuberville, QB
Taylor Potts
, QB
Steven Sheffield
, DL Colby Whitlock
Wednesday, July 28
10:00
Kansas
: Coach Turner Gill, DE Jake Laptad, CB
Chris Harris
, OL Brad Thorson
10:45
Oklahoma
: Coach Bob Stoops, DE Jeremy Beal, LB Travis Lewis, WR
Ryan Broyles
11:30
Colorado
: Coach Dan Hawkins, CB Jalil Brown, WR
Scotty McKnight
, OL Nate Solder
12:15
Texas
: Coach Mack Brown, QB
Garrett Gilbert
, OT Kyle Hix, DE Sam Acho, DT Kheeston Randall
A few quick thoughts:
Definitely surprised that Texas' Garrett Gilbert will be making the trip. I saw firsthand how well-spoken he was this spring on my visit to Austin, but I'm still surprised Brown would trot out his first-year starting quarterback for the media horde outside Dallas. Although his presence guarantees there should be plenty to talk about with the Longhorns.
Tommy Tuberville probably had to bring two or none of his quarterbacks, lest he tip his undecided hand at his starter and get people talking about a nonexistent decision. He chose the former. Interesting to note that Colorado's Dan Hawkins went with the latter.
Not sure why DE Jamie Blatnick will be one of Oklahoma's State's representatives instead of DE Ugo Chinasa or S Markelle Martin. Chinasa is a senior two-year starter heading into his third, while Blatnick is a junior who started only part-time last season. Martin is one of the conference's rising stars.
Baylor is the only team in the league bringing just a three-man contingent, and in Waco, they're the closest team to Media Days. A little surprised that Robert Griffin III won't be making the short drive, but at least that forces everyone to ask questions not about Griffin's knee. For that, I thank you, Art. But throwing WR Kendall Wright in the car at the last minute wouldn't be a terrible idea.
Meanwhile, Texas is the only team with a five-man crew. Everything's bigger.
Pretty good representation elsewhere, no real complaints. What do you think?
May, 3, 2010
5/03/10
10:00
AM ET
1. Texas
The defending champs will have one of the nation's best defenses again, and perhaps its best secondary.
Garrett Gilbert
spent the spring validating his performance in the national title game, showing some of his near-limitless potential. The Longhorns won't be easy to unseat in 2010, especially if they finally discover a running game.
2. Oklahoma
Here's why the Sooners are here: The gap between Oklahoma's offense and Nebraska's offense is wider than the one between the Sooners' defense and the Huskers' defense. If Oklahoma's offensive line can show improvement next season, the Sooners won't have trouble scoring with the amount of talent they have at the skill positions, talent that's much better than Nebraska's.
3. Nebraska
The Huskers get Missouri and Texas in Lincoln and don't see the Sooners, which has Big Red looking for a big season, but don't count on another 10-win season if the offense doesn't improve. The offense previewed its fall reopening in the 33-0 bowl win over Arizona, but if the quarterback play isn't solid, the reopening could be a bad thing. With what could be the best defense in football again, and two solid backs in
Roy Helu
Jr. and
Rex Burkhead
, the Huskers' floor is pretty high and the ceiling is even higher.
4. Missouri
Home losses to Nebraska and Baylor ended any chance the Tigers had of winning the North in 2009, but they bring back a lot from last year's eight-win team and have a lot of experienced talent at linebacker and receiver ready to replace the big names -- Sean Weatherspoon and Danario Alexander -- they lost from last year's team.
Blaine Gabbert
has to show he's ready to become a household name, and if he does, the Tigers could make a serious run at the North.
5. Texas A&M
The Aggies kept almost the entire core from last year's team, but remember, A&M still only won six games last season. It'll be replacing three offensive linemen who could stop the Aggies' skill position players -- cumulatively the best in the conference -- from being as productive as they could be. One of those replacements should be true freshman Luke Joeckel, but if the defense improves and the line re-establishes itself, the Aggies are South contenders. If not, they won't be much better than a seven-win team.
6. Kansas State
The Wildcats aren't built to win 10 games just yet, but if Nebraska and Missouri stumble, they'll be there to slip into the North conversation just like last season, when they were one upset win over the Huskers from a trip to Arlington.
Carson Coffman
took hold of the starting quarterback job in the spring, but he'll need to keep it in the fall and be productive with his three new receivers to lighten the load on running back
Daniel Thomas
. If that happens, there'll be more happy Saturdays than sad ones in Aggieville.
7. Texas Tech
Injuries kept the Sticks vs. Potts debate from really heating up this spring, but the switch to a higher risk/reward strategy with an aggressive defense could be fun to watch next season. The Red Raiders are deep at running back and receiver, but look for the former to get more touches this fall than they have in over a decade.
8. Oklahoma State
The Cowboys grabbed hold of Dana Holgorsen's offense this spring, and
Brandon Weeden
grabbed hold of the starting role. Oklahoma State should have an impact player at each level of the defense in defensive end Ugo Chinasa, safety Markelle Martin and linebacker Orie Lemon, but they'll need the rest of the D to solidify for the Cowboys to climb to a higher rung of the South ladder.
9. Iowa State
Iowa State is getting better, but the tough schedule and young defense will make it difficult for the Cyclones to improve on their 7-6 record in 2009. Five linebackers from last year's team graduated, and the three likely starters this year, sophomore A.J. Klein, Jake Knott and juco transfer Matt Tau'fo'ou have a combined 41 career tackles. Iowa State is solid in the secondary, but with the amount of quality running backs in the North, a good defense up front is more important. It's also replacing two starters on the defensive line.
10. Baylor
A bowl game isn't out of reach for the Bears, but they'll have to prove something before they move out of the South's cellar. Robert Griffin gives Waco hope, but the other 21 guys have to provide substance for Baylor to succeed. Replacing two safeties, two linebackers who combined for 190 tackles last season and an offensive line shift to replace All-American center J.D. Walton could make Baylor's early road a bumpy one.
11. Kansas
Kansas will be short on talent this year, but expectations are measured after losing plenty on both sides of the ball. The Jayhawks are a team that could get a lot better as the season progresses, but when it starts, they'll have a lot of work to do. They'll be competitive in the bottom half of the North, but slipping past rival Kansas State to finish in the top half of the division is about as good as it could get for the Jayhawks in Turner Gill's first season. Not having Texas or Oklahoma on the schedule could help make that happen.
12. Colorado
Transfer
Toney Clemons
infuses some excitement into the Colorado faithful, and alongside
Markques Simas
and leading receiver
Scotty McKnight
, the Buffaloes could have one of the more underrated receiving corps in the conference, helping loosen things up for
Rodney Stewart
. But the defense gave up the second-most points in the conference last season, and there's little reason to think they'll be a lot better in 2010. Scoring 22 points a game and allowing just under 29 is the opposite of a recipe for success.
April, 12, 2010
4/12/10
8:30
AM ET
Colorado finished its spring workouts with the annual spring game on Saturday, and
Tyler Hansen
sat atop the depth chart at quarterback for the Buffaloes. Hansen and
Cody Hawkins
suited up against each other in the spring game and both performed well, but coach Dan Hawkins remained non-committal after the game in deciding on a clear starter entering the lengthy summer break.
[+] Enlarge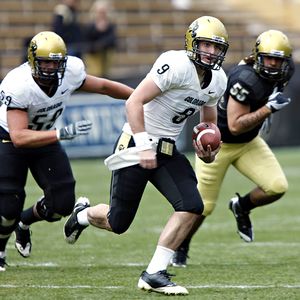 AP Photo/David ZalubowskiIt appears the battle for the starting quarterback job between Tyler Hansen (9) and Cody Hawkins will go into fall camp.
"You'd love to make a decision after the spring's over, but it's great for our competition and great for our guys to keep battling,"
Hawkins said.
But it could also be great for Hawkins' "guys" to have a clear starter and leader entering summer workouts, allowing either Hawkins or Hansen to embrace the role of "starting quarterback," and all the off-the-field effects of that role. Clearly, Hawkins prefers the former.
Hansen took over for Cody Hawkins mid-game during an Oct. 10 loss to Texas and started for the remainder of the season. During that stretch, the Buffaloes were 2-5, with wins over Kansas and Texas A&M. In Hawkins' starts, the Buffaloes went 1-4 with the lone win coming against Wyoming and losses against West Virginia, Toledo and Colorado State.
In Saturday's spring game, Hansen threw three touchdowns and completed 17 of 22 passes for 170 yards. Hawkins threw two touchdowns and completed 20 of 26 passes for 220 yards.
You can't put too much stock into it, but Hansen led the Gold team to a 37-27 win. Both have to be encouraged by completing over 75 percent of their attempts.
"I don't know why, unless you had a guy who won 10 games, would say, 'Yeah, you're the guy,'" Dan Hawkins said.
Judging by those comments, only wins will secure either quarterback a job, and the Buffaloes won't have a chance at any more for almost four months.
A few other notes from the Buffaloes spring game:
Michigan transfer Toney Clemons had plenty of eyes on him all spring, and they must have liked what they saw. In the draft for the spring game, the Colorado captains selected Clemons with the first overall pick. Clemons caught four passes for 33 yards.
The second pick in the draft, All-Big 12 offensive tackle Nate Solder, caught a touchdown pass from Hawkins on a tackle-eligible play at the goal line in the fourth quarter. "We were supposed to run it all last season," Solder said. "We finally got the chance."
The Gold team busted out the Haka before the game, a Polynesian war dance made popular most recently by Hawaii in college football and the All Blacks, New Zealand's rugby union team.
Freshman quarterback Nick Hirschman threw one pass in the scrimmage -- and completed it to Andre Simmons for an 83-yard touchdown. That's good enough for a quarterback rating of 1127.20.
May, 31, 2009
5/31/09
9:18
PM ET
Posted by ESPN.com's Tim Griffin
Josh Smith apparently has decided that the career route to becoming the next Jay-Z or Fifty Cent can be furthered by attending a school other than Colorado.
Smith and tight end Ryan Wallace have announced they are leaving the school. The move snatches away one of Colorado's top receivers and a developing player in Wallace who many thought could turn into a serviceable Big 12 tight end.
Smith announced that he's leaving Colorado because he wants to pursue a musical career after producing rap demos and CDs since high school. Schools that have the music major he's interested in are Arizona State and USC.
Additionally, the Boulder Camera reported that Smith spent time in the Phoenix area with Arizona State quarterback Samson Szakacsy recording tracks. That seemingly would provide a neat entry into the Sun Devils program if Smith should choose to continue playing at his new school.
Smith's departure comes after he dropped on the team's depth chart over the spring. The Buffaloes aren't exactly loaded at the position and Smith was expected to challenge for a starting job this spring.
But he struggled at times as Markques Simas and Dustin Ebner zoomed past him at his "X" wide receiver position and Scotty McKnight and walk-on Jason Espinoza are fixtures on the other side.
The other question will be how this affects the Buffaloes' relationship with heralded running back Darrell Scott, who is Smith's nephew.
Scott had a strong spring after struggling during his freshman season last year. He reportedly tried to talk Smith out of transferring.
And Wallace was listed at fifth-string on the Buffaloes' post-spring depth chart but was thought to have a good future with the program. He becomes the third member of the heralded 2008 recruiting class to leave Colorado, joining linebacker Lynn Katoa and wide receiver Chance Blackmon.
Colorado's biggest offensive weakness is its lack of breakaway threats. Smith is the team's best deep threat and top kickoff returner.
With a heavy ground-based attack, new offensive coordinator Eric Kiesau hopes to build more of a vertical play-action passing game. He already will be making a tough choice between quarterbacks Cody Hawkins and Tyler Hansen and taking away his best deep threat won't help the offense's productivity.
The Colorado offense ranked last in the Big 12 last season in total offense and scoring. Smith was a critical element in plans for coach Dan Hawkins, who vowed his team would "win 10 games with no excuses" this season after a disappointing 5-7 record last year.
Even with Smith's drop on the depth chart, it's still not a good situation for the Buffaloes or their ability to stretch the field with Smith leaving.
May, 26, 2009
5/26/09
10:15
AM ET
Posted by ESPN.com's Tim Griffin
All questions aren't settled during the course of spring practice as teams still have much work to upgrade their weaknesses heading into the season.
Obviously, some will receive a boost from incoming freshmen who will arrive later. But here's how each team's biggest liability shakes out heading into the summer.
Baylor: The Bears are desperately looking for help at offensive tackle after losing No. 2 overall draft pick Jason Smith and Dan Gay as their starters. Former Canadian firefighter Danny Watkins has established himself at Smith's old position protecting Robert Griffin's blind side. And on the right side, junior Chris Griesenbeck and redshirt freshmen Cameron Kaufhold are competing for the starting job with Tyler Junior College's Phillip Blake and Blinn College's Marquis Franklin set the arrive later this summer.
Colorado: Wide receiver has been a question mark for the Buffaloes throughout Dan Hawkins' coaching tenure. The Buffaloes return four scholarship wide receivers and had a chance to work out several new players with Scotty McKnight injured during the spring. Josh Smith and Markques Simas are the top playmakers coming out of the spring. Non-scholarship players like Jason Espinoza and Ryan Maxwell emerged, but the Buffaloes definitely need a big upgrade at the position from their arriving freshman class.
Iowa State: The Cyclones will be facing a big hole at left tackle, where two-year starter Doug Dedrick departs. It could be filled by Matt Hulbert, who started two games last season when Dedrick was hurt. Or it could be massive 354-pound junior Hayworth Hicks or freshman Brayden Burris at the position. Whoever emerges will face a huge challenge in filling Dedrick's experience as he protects the blind side of the Iowa State quarterbacks.
Kansas: Coach Mark Mangino will be facing a few huge rebuilding job at linebacker, where the Jayhawks lose key contributors Joe Mortensen, Mike Rivera and James Holt from last season. Mangino is talking about using a two-linebacker set as his base defense with fifth-year senior Jake Schermer and senior Arist Wright getting the starting jobs leaving spring practice. Sophomore Steven Johnson and converted running back Angus Quigley were competing for playing time during the spring and another boost is expected when junior linebacker Justin Springer, who is recovering from a torn ACL last season, returns in the fall.
Kansas State: Carson Coffman appeared to have claimed the starting job at quarterback -- at least for a few weeks -- after a strong effort during the latter stages of spring practice. But Coffman's late binge has to be tempered considering he is playing against the weak Kansas State secondary. So it's fair to say there are some lingering questions at the position. Coffman apparently has beaten back the challenge of challengers Collin Klein, Joseph Kassanavoid, Trey Scott and Milton McPeek. But the arrival of South Florida transfer Grant Gregory and heralded junior-college transfer Daniel Thomas will mean more competition in the summer.
Missouri: The Tigers will be facing a challenge of replacing NFL first-round draft pick Evander "Ziggy" Hood at defensive tackle to play opposite nose tackle Jaron Baston. Redshirt sophomore Terrell Resonno appeared to have claimed the job out of the spring, with Dominique Hamilton, Chris Earnhardt and converted linebacker George White perhaps earning their way into the rotation.
Nebraska: After the graduation of top receivers Todd Peterson and Nate Swift from last season, the Cornhuskers need to fill both positions. Leading returning receiver Menelik Holt appears to have a hammerlock on one position, but Niles Paul lost a chance to take a big step forward after missing the spring after he was suspended for driving under the influence. Antonio Bell was the biggest surprise, but converted I-back Marcus Mendoza, Chris Brooks, Wes Cammack and Curenski Gilleylen all showed flashes during the spring.
Oklahoma: There was concern before spring practice, considering the Sooners were replacing four-fifths of their starting offensive line with only Trent Williams back from last season's starters. And it got worse when Bob Stoops called out the young replacements because of their lack of diligence in their preseason conditioning. Williams emerged at left tackle with Brian Simmons and Stephen Good at guards, redshirt freshman Ben Habern at center and either LSU transfer Jarvis Jones or Cory Brandon at right tackle. The depth took a hit when center Jason Hannan left early in training camp and sophomore guard Alex Williams chose to leave after spring practice. The group struggled against the Sooners' talented defensive line, allowing Sam Bradford to be touch-sacked twice in three possessions in the spring game and produced only 27 rushing yards in 52 carries.
Oklahoma State: The loss of veteran center David Washington produced a huge hole in the center of the Cowboys' interior line. Andrew Lewis returns to his natural position, leaving Oklahoma State needing two new starters at guard. Noah Franklin and Jonathan Rush have staked claims to the starting positions with Anthony Morgan and Nick Martinez getting repetitions inside. This group needs to improve if it hopes to equal the standards of previous seasons, when the Cowboys led the Big 12 in rushing each of the last three seasons.
Texas: The tight end was rarely used for the Longhorns after Blaine Irby dislocated his kneecap last season against Rice. He still wasn't ready to go during the spring as Greg Smith, Ahmard Howard, Ian Harris and D.J. Grant all got work. None of them emerged. And with Irby's return remaining iffy, it means the Longhorns again could reduce the use of the tight end and utilize four-receiver sets when they want to move the ball. Don't look for the Longhorns to use the tight end much unless this production improves.
Texas A&M: The Ag
gies were wracked with injuries during the spring as projected starters Lee Grimes, Kevin Matthews and Lucas Patterson were sidelined all spring as A&M was down to only nine healthy offensive linemen for some practices. It still doesn't excuse the lack of offensive production for A&M's starting unit, which produced only 9 yards rushing on 24 carries against Texas A&M's first-string defense. Coach Mike Sherman will be counting on immediate production from an impressive group of incoming freshman at fall practice, but it's fair to characterize the Aggies' offensive line as the team's biggest spring concern -- especially after allowing 39 sacks last season and ranking last in the conference in rushing yards per game.
Texas Tech: The loss of productive starters Daniel Charbonnet and Darcel McBath left a gaping hole at safety for the Red Raiders. Junior Franklin Mitchem earned the free safety position leaving spring practice and redshirt freshman Cody Davis emerged at strong safety.Jared Flannel , Brett Dewhurst and converted linebacker Julius Howard also got some snaps at safety. It will still be a challenge to combat the explosive Big 12 defenses with such an inexperienced group at the position.
November, 16, 2008
11/16/08
12:15
AM ET
Posted by ESPN.com's Tim Griffin


The kid from the Denver suburbs made a triumphant return to his old stomping grounds Saturday night.

Oklahoma State quarterback Zac Robinson rushed for one touchdown and passed for another score to key the Cowboys' 30-17 victory over Colorado.
Robinson, a junior from nearby Littleton, Colo., punctuated his rushing touchdown by throwing his hands high in the air to signal to friends and family members who attended the game.
The victory keeps the Cowboys' hopes alive for a New Year's Day bowl.
The Colorado-Oklahoma State game turned out to be the most competitive Big 12 game of the day, but it was that way only because of some good fortune for the Buffaloes.
Colorado got a gift touchdown in the third quarter on a fortunate fourth-down rebound of a Cody Hawkins' pass that glanced off Cody Crawford's hands into the waiting grab of Scotty McKnight for a 29-yard touchdown. If Colorado didn't get that play, the Cowboys likely would have cruised to an easy victory.
Colorado had persevered for fourth-quarter comeback victories over Oklahoma and West Virginia during the last two seasons. And the Buffaloes appeared to have seized that momentum after Demetrius Sumler's 3-yard touchdown run early in the fourth quarter.
But the Buffaloes never could climb back into the game as they struggled with poor field position and Hawkins' inability to make big plays when the Buffaloes needed them.
It means the 5-6 Colorado has to win at Nebraska on the day after Thanksgiving in order to qualify for a bowl game.
And considering the way that the Cornhuskers have been playing recently, that sounds like a huge test for the offensively-challenged Buffaloes.
Here are some other things I noticed while watching the game.
Injuries to Kendall Hunter (jammed left knee) and Brandon Pettigrew (apparent concussion) made Oklahoma State look pedestrian on offense at the end of the game. Oklahoma State coach Mike Gundy has to hope both can heal up during their off week as they prepare for the Bedlam game with Oklahoma in two weeks.
One thing that struck me was how few tackles that the Colorado defensive line made throughout the game. George Hypolite's name was barely called.
I was surprised that we didn't see Colorado freshman quarterback Tyler Hansen play for the Buffaloes - particularly as Hawkins struggled in the second half. A change of pace provided by a running quarterback might have helped diversify the Buffaloes' offense.
Gundy needs to make sure that punter Matt Fodge gets a game ball for his performance in the fourth quarter. The biggest reason why Colorado's offense never got going late in the game was because they started drives at their own 7 and 10 when they still had a chance to climb back into the game.