March, 6, 2014
Mar 6
10:00
AM ET
Setting up spring in the ACC Atlantic.
Boston College
Spring start:
March 12
Spring game:
April 12

What to watch:
Big shoes to fill: Steve Addazio helped BC make huge strides in 2013, but the task of keeping the momentum going gets much harder without star running back and Heisman finalist Andre Williams, who rushed for an NCAA-best 2,177 yards and 18 touchdowns. Tyler Rouse and Myles Willis will attempt to fill the vacancy this spring, and both have potential. Willis averaged nearly 6 yards per carry as Williams' primary backup last year. The real intrigue might wait until fall, however, when four freshmen running backs arrive on campus.
Murphy makes the move: It's an open competition at quarterback after Chase Rettig's departure, but there's no question the most intriguing player in the race is Florida transfer Tyler Murphy. The fifth-year senior worked with Addazio at Florida, and he'll open the spring competing with redshirt freshman James Walsh and early enrollee Darius Wade. That's a deep enough bench that BC didn't worry about moving Josh Bordner, last year's backup, to tight end. With both of last year's starting tackles gone, too, Murphy's experience could be even more important in determining the outcome of the QB battle.
Restocking the LBs: Even at its low points in recent years, Boston College managed to churn out plenty of talented linebackers, but the position gets a massive overhaul this year. First-team All-ACC star Kevin Pierre-Louis (108 tackles in 2013) is gone, as is Steele Divitto (112 tackles). That leaves junior Steven Daniels (88 tackles, 5 sacks) as the lone returning starter. Josh Keyes adds some experience, but it'll be a group in transition this spring.
Clemson
Spring start:
March 5
Spring game:
April 12

What to watch:
Replacing Boyd: The talk of Clemson's spring camp will no doubt surround the quarterbacks, as senior Cole Stoudt, sophomore Chad Kelly and early enrollee Deshaun Watson vie for the job. Stoudt's experience makes him the early favorite, but it's Watson, a dual-threat QB with immense talent, who could steal the show. Coach Dabo Swinney has already lauded Watson as perhaps the most talented quarterback Clemson has signed, so all eyes will be on the freshman to see if he can back up all that hype with a strong spring.
Skill-position shuffling: If the QB battle is the headliner, there are plenty of significant sideshows on offense this spring. Clemson waved goodbye to receivers Sammy Watkins (1,464 yards, 12 TDs) and Martavis Bryant (828 yards, 7 TDs) and tailback Roderick McDowell (1,025 yards, 5 TDs). That means a massive overhaul on offense, where there's no clear-cut bell cow at running back (Zac Brooks and D.J. Howard return as potential options) and the receiving corps will be looking for some new top targets.
Dominance up front: On offense for Clemson, there's plenty of concern for what the Tigers lost. On defense, however, the excitement is all about what they're bringing back. Clemson's defensive line, in particular, could be one of the nation's best. When All-American Vic Beasley announced his return for his senior season, the Tigers knew they could have something special. Add sophomore lineman Shaq Lawson and senior Stephone Anthony at linebacker and Clemson has all the makings of a dominant pass rush.
Florida State
Spring start:
March 19
Spring game:
April 12

What to watch:
The running backs: After leading FSU in rushing three straight years, Devonta Freeman is gone. So, too, is James Wilder Jr. But the Seminoles enter spring with a quartet of intriguing options to replace their departed stars, led by Karlos Williams (730 yards, 11 TDs in 2013) and Dalvin Cook (No. 21 on the 2013 ESPN300). Mario Pender, who missed last year with academic issues, also figures to be in the mix.
The defensive front: There are a wealth of question marks here, both in terms of personnel and scheme. With Timmy Jernigan, Telvin Smith and Christian Jones gone, there are plenty of jobs up for grabs. The development of Mario Edwards Jr., Eddie Goldman and Terrance Smith will be key, but with Charles Kelly taking over the defense, it's also still a bit unclear how much the scheme will deviate from what Jeremy Pruitt ran with so much success in 2013.
Jameis Winston's swing: A year ago, the big question was who would win the QB battle. Now, Winston's got a Heisman Trophy and will be a favorite to win it again in 2014. So the intrigue surrounding the FSU star QB is more on the baseball field, where once again, he'll be splitting time this spring. Perhaps the bigger question is how the rest of the QB depth chart shakes out, with Sean Maguire the elder statesman and John Franklin III looking to make his move.
Louisville
Spring start:
March 18
Spring game:
April 11

What to watch:
Bobby's back: After a seven-year hiatus that included an abrupt departure from the Atlanta Falcons and a damaging scandal at Arkansas, Bobby Petrino is back in charge at Louisville insisting he's a changed man. Fans will be watching closely to see if he has changed his stripes away from the field, but also whether he can rekindle the same offensive fireworks he delivered in his first stint with the Cardinals.
Replacing Bridgewater: It's an open QB battle, and for Petrino, it's among the first chances he'll have to see the players vying to replace departed star Teddy Bridgewater in action. Sophomore Will Gardner is perhaps the favorite, but he has just 12 career pass attempts. Redshirt freshman Kyle Bolin is close behind, while Reggie Bonnafon is set to arrive in the fall.
New look on D: Louisville finished the 2013 season ranked second nationally in scoring defense, trailing only national champion Florida State. But this spring, things will look a bit different for the Cardinals, as Todd Grantham takes over as the new defensive coordinator after being lured from Georgia. Grantham figures to bring a 3-4 scheme to Louisville, which will certainly shake things up a bit. Defensive end Lorenzo Mauldin missing the spring with a shoulder injury only clouds the situation further.
NC State
Spring start:
March 4
Spring game:
April 12

What to watch:
Brissett takes the reins: The sting of last year's winless ACC season was barely in the rearview mirror before coach Dave Doeren named Florida transfer Jacoby Brissett his new starting quarterback. Brissett spent last year on the sideline, but apparently Doeren saw enough during practice to comfortably wave goodbye to Pete Thomas, who announced his transfer. There will be ample spotlight on Brissett this spring as he tries to revive the underperforming NC State passing game.
The new faces: If 2013 was about cleaning house, this spring begins the far more difficult project of rebuilding. For NC State, that means plenty of new faces, including a whopping seven early enrollees headlined by safety Germain Pratt. While there are ample holes for Doeren to fill in Year 2, these incoming freshmen could certainly push for starting jobs and bring an influx of depth that the Wolfpack sorely missed last year.
Shoring up the lines: NC State's 2014 signing class included 11 offensive and defensive linemen, and that's just the start of the overhaul at the line of scrimmage. Last season, the Wolfpack allowed the second most sacks in the ACC (35) on offense while its defensive front recorded the fewest sacks in the conference (20). That's a formula for disaster, and Doeren understands NC State must get much better in the trenches. Brissett's arrival at QB could help, but the bottom line is NC State needs to see improvement on both sides of the line, and it needs to start this spring.
Syracuse
Spring start:
March 18
Spring game:
April 19

What to watch:
Hunt's next step: 2013 was a roller coaster season for Terrel Hunt. He lost the QB battle in fall camp, stepped in as starter after two weeks and was dominant, struggled badly through the midsection of the season, then closed strong with back-to-back come-from-behind wins. Now that he has experience, it will be interesting this spring to see how much he's progressed. The talent is there, and spring practice should give Hunt a chance to refine it a bit more.
The defensive front: Syracuse finished its first ACC season ranked fourth in rushing defense and third in sacks despite myriad personnel issues entering the year, but more questions remain as the Orange look toward 2014. With star lineman Jay Bromley and veteran linebacker Marquis Spruill gone, the Orange are looking to fill sizable holes. Robert Welsh figures to be the anchor of the Syracuse pass rush, and the Orange could benefit from the return of Donnie Simmons, who missed 2013 with a knee injury.
Secondary concerns: Syracuse got a chance to learn what life was like without top cover corner Keon Lyn after the senior fractured his kneecap late last year, but while Brandon Reddish did an admirable job as his replacement, a whole new set of questions crops up in the secondary this spring. Syracuse figures to have openings at both corner and safety, and while Julian Whigham, Darius Kelly and Ritchy Desir offer options, there's a lot to be decided on the practice field this spring.
Wake Forest
Spring start:
March 25
Spring game:
April 26

What to watch:
Clawson's early impact: It's been 14 years since Wake Forest opened a spring camp with someone other than Jim Grobe calling the shots, so there's no question this will be an intriguing few weeks in Winston-Salem. Dave Clawson takes over after leading Bowling Green to a MAC championship, and he inherits a major rebuilding job. First up for the coach will likely be creating an offensive identity -- something Grobe couldn't do in 2013.
Identifying some offense: If 2013 was an offensive slog for Wake Forest, 2014 threatens to be much, much worse. As bad as things got at times last year, the Deacons at least had veterans to rely on. This season, Wake's leading passer (Tanner Price), rusher (Josh Harris), receiver (Michael Campanaro) and top tight end (Spencer Bishop) are all gone. On the plus side, plenty of younger players saw action in 2013. The job this spring is to figure out who can take a big step forward entering the 2014 campaign.
The defensive scheme: Wake appears to be moving away from the 3-4 that was a hallmark of recent seasons, as new coordinator Mike Elko tries to maximize the talent remaining on the roster. Without veteran lineman Nikita Whitlock, Wake's defensive front will have a far different look in 2014, and this spring will largely be about Elko identifying playmakers and tweaking his system to fit their skill sets.
February, 7, 2014
Feb 7
10:30
AM ET
It was an off-hand comment from Jimbo Fisher on national signing day that first drew the attention of Florida State fans, but
Jameis Winston
added validity to the notion
on Thursday, saying he planned to play two more years in Tallahassee before heading to the NFL.
The plan comes as a surprise to many outsiders, given Winston's status as a likely first round pick in the 2015 draft -- and, perhaps, the first selection overall. But for Winston, it's not entirely unreasonable.
[+] Enlarge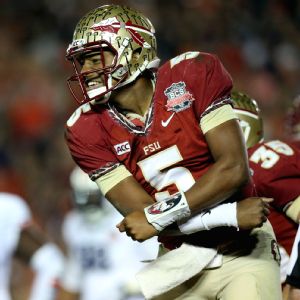 Stephen Dunn/Getty ImagesIf Jameis Winston sticks to his plan to play two more years at FSU, the ramification could be far-reaching.
The Heisman Trophy winner doesn't mind going against conventional wisdom, with his return to the baseball team this spring providing the perfect context. Since his recruitment, Winston has insisted he wants to be a two-sport star, playing both football and baseball professionally before his career is over. That's part of what brought him to Florida State in the first place. After his exceptional 2013 football season, it seemed reasonable he'd shift his focus entirely toward football and avoid the risk of injury on the baseball field. For Winston, however, that was never a consideration.
Winston will take a similar approach toward his decision regarding the NFL draft. Baseball remains a priority for him, and if staying through the 2015 football season allows him to continue to develop on the diamond, it's entirely possible he'll stick around. And for now, that appears to be the plan.
But what would it mean for FSU to have Winston in garnet and gold for an extra year? A few key points to keep in mind:
The depth chart
If Winston planned to leave for the NFL as soon as he's eligible, that would've meant a chance for
Jacob Coker
to start for Florida State in 2015, but clearly that possibility wasn't enough to keep him in Tallahassee. Coker plans to transfer to Alabama at the end of this semester, and given Winston's plans to stick around for two more years, Fisher understood Coker's rationale.
"He wants to graduate and he wants to play. He's got two years left and he's a year behind Jameis. Could he battle again? Yes. But I understand," Fisher said. "I'm very supportive of it. I think the guy is a good player. I think he's going to be a good quarterback and we had a great conversation about it."
Should Winston stay, it also makes FSU's one-quarterback haul on signing day a little easier to tolerate.
Treon Harris
, a longtime FSU commit, flipped to Florida on Wednesday, leaving
J.J. Cosentino
as Florida State's lone QB signing. That might be a concern if Winston departs following the 2014 season, but another year for the Heisman winner allows FSU to pad its QB depth with next year's recruiting class, too.
While
Sean Maguire
likely will be the No. 2 for Florida State in 2014 and 2015, Cosentino also gets an extra year to develop his skills, too, and Fisher said the QB from Western Pennsylvania has ample upside when his time finally arrives.
The recruiting buzz
Winston's plans to stay through 2015 actually might have hurt Florida State's hopes of inking two quarterbacks in this year's signing class, but just the notion that the star QB will be in Tallahassee for two more seasons is certainly a big selling point for other offensive talent.
FSU already inked three top receivers this year in
Ermon Lane
,
Travis Rudolph
and
Ja'Von Harrison
, along with highly touted running back
Dalvin Cook
. The opportunity to spend two years playing with Winston was certainly alluring.
But even the notion that Winston might be back for 2015 provides Fisher with another selling point on the recruiting trail this coming year. If Class of 2015 recruits believe he'll be around for their freshman season, it's one more reason to think FSU is a great landing spot.
"I also think getting them here and getting them to play with him is tremendous, especially when we have a need at that position," Fisher said of his wide receiver recruiting. "Those guys have a chance to make an impact and be able to play with him."
The 2015 season
Winston's return for his redshirt junior campaign would mean a lot to a Florida State offense that figures to endure a massive overhaul in 2015. Of the 10 other projected offensive starters this season, as many as nine figure to be gone in 2015, including the entirety of the offensive line.
That's perhaps a reason for Winston to reconsider his plan moving forward. While his talent and football acumen certainly won't diminish with an extra year in college, the risk of injury is a real concern, and with five new starters on the offensive line in 2015, the potential for an injury diminishing his draft stock becomes all the more likely.
But if Winston does come back in 2015, it allows for some stability for an offense that will be saying goodbye to
Rashad Greene
,
Nick O'Leary
and
Karlos Williams
, among others.
The reality
The problem with all this supposition about Winston's future is that he's still 11 months away from having to commit to any definitive decision, and a lot can happen in that time. While Winston might be completely sincere in his plan to stay through 2015 now, the lure of first round money in the NFL and the risk of spending another year playing two sports in college could certainly change his mind. If he does, FSU is still in good shape with Maguire and Cosentino. If he doesn't, the Seminoles fans get an extra year with a once-in-a-lifetime player.
At this point, there's no reason for Winston to offer any possibility other than his stated commitment to remain at Florida State. But what Winston and Fisher believe today doesn't matter all that much. If his plans haven't changed by January 2015, however, it's an enormous boon for Florida State.
November, 21, 2013
11/21/13
9:00
AM ET
Hard to believe that only two weeks remain in the regular season. Andrea is clinging to a one-game lead on Heather in the overall predictions standings at 71-20, after they each went 4-2 last week. Neither saw Maryland coming into Blacksburg, Va., and upsetting Virginia Tech. Bet we were not alone there.
On to the picks!


OLD DOMINION (8-3) at NORTH CAROLINA (5-5), noon, ESPN3. #ODUvsUNC.
The Tar Heels are going for their fifth straight win and bowl eligibility against a team that is 0-2 against ACC competition already this year. Old Dominion has put up some points this season, but the Tar Heels' D has been vastly improved in this recent winning streak and will be able to shut the Monarchs down. With another punt return for score,
Ryan Switzer
would tie the ACC single-season record.
AA picks: North Carolina 40, Old Dominion 17
HD's pick: North Carolina 44, Old Dominion 24


DUKE (8-2, 4-2) at WAKE FOREST (4-6, 2-5), noon, ESPN2. #DUKEvsWF.
Before winning last season, Duke had lost 12 straight games to the Deacs. But the Blue Devils today are the superior program, with better athletes all the way around. They have successfully used two quarterbacks all season, and their defense is filled with young talent and playmakers at linebacker. Duke is 3-0 on the road and should pick up another win against an offensively challenged Deacs team still trying to find some answers with
Michael Campanaro
out.
AA picks: Duke 35, Wake Forest 20
HD's pick: Duke 24, Wake Forest 21


CITADEL (5-6) at No. 7 CLEMSON (9-1), noon, ESPN3. #CITvsCLEM.
It's senior day at Clemson, giving the Tigers the opportunity to honor
Tajh Boyd
and his fellow seniors. The question is just how much Boyd will play after bruising his collarbone last week, especially with a big game looming next week against South Carolina. Coach Dabo Swinney says he prefers to have an FCS opponent in this slot, giving the Tigers ample time to prepare for their in-state nemesis.
AA picks: Clemson 56, The Citadel 3
HD's pick: Clemson 45, The Citadel 10


VIRGINIA (2-8, 0-6) at MIAMI (7-3, 3-3), noon, ESPNU. #UVAvsMIA.
Miami's issues against UVa are common knowledge, so this game sets up to be closer than what some might anticipate. Plus, the Hurricanes have lost three straight after a 7-0 start and have seen their defense drop off considerably. Virginia does not scream offensive juggernaut, but neither did Virginia Tech and the Hokies racked up 42 points in a win two weeks ago. The Hoos have a solid back in
Kevin Parks
, No. 3 in the ACC in rushing, and a good tight end in
Jake McGee
, who will make some plays, but ultimately,
Stephen Morris
and the Miami offense will make a few more plays to win.
AA picks: Miami 28, Virginia 27
HD's pick: Miami 34, Virginia 24


EAST CAROLINA (8-2) at NC STATE (3-7), ESPN3. #ECUvsNCST.
The Pirates took down North Carolina earlier this year, nearly beat Virginia Tech, and go into this game as the favorites. NC State has looked like a ragged bunch, losing six straight in its worst season since 2006. There is no doubt East Carolina has the much better quarterback, as
Shane Carden
has turned in an outstanding season. But NC State is going to find a way to dig deep and come out with a win thanks to a few big plays from its pass game.
AA picks: NC State 28, East Carolina 24
HD's pick: East Carolina 41, NC State 14:
ECU is No. 10 in the country in scoring offense at 41.5 points per game, and Carden leads the No. 8 passing offense in the country. The Pirates undoubtedly have the edge at quarterback, as NC State has struggled with both
Brandon Mitchell
and
Pete Thomas
. The two have combined for 15 interceptions and five touchdowns. Carden threw that many TDs by himself last week. If North Carolina was embarrassed by the Pirates at home, there's no reason to believe the Wolfpack will fare much better. ECU is a solid eight-win team that, unlike NC State, is bowl eligible.


PITT (5-5, 2-4) at SYRACUSE (5-5, 3-3), 12:30 p.m., ESPN3. #PITTvsCUSE.
This game is a toss-up, as is nearly every league game these two teams have played this season (excluding Clemson and Florida State). Both are coming off losses, and both need one win for bowl eligibility. The problem for the Panthers is they have no real identity on offense. Syracuse does, and that is pounding the football. The Orange will get enough out of their run game and keep
Aaron Donald
at bay to win a close one.
AA picks: Syracuse 24, Pitt 23
HD's pick: Syracuse 21, Pitt 17


ALABAMA A&M (4-7) at GEORGIA TECH (6-4), 1:30 p.m., ESPN3. #AAMUvsGT.
Like Clemson and Florida State, Georgia Tech also gets a warm-up game before it closes with its in-state rival next week. Coach Paul Johnson says the focus is on getting better at what his team does this week. You can bet
Robert Godhigh
will have another terrific performance, following his 100-yard rushing/100-yard receiving day against Clemson. Godhigh is on pace to set the ACC mark for highest average yards per carry, currently at 9.5.
AA picks: Georgia Tech 55, Alabama A&M 3
HD's pick: Georgia Tech 56, Alabama A&M 10


IDAHO (1-9) at No. 2 FLORIDA STATE (10-0), 3:30 p.m., ESPNU. #IDAHOvsFSU.
Once again, the question is how long will Jimbo Fisher keep his starters in, especially with a bigger game against rival Florida looming. This also seems as good a time as any to get backup quarterback
Sean Maguire
some reps. Idaho is one of the worst teams in the entire country, and this game should be out of hand by the end of the first quarter.
AA picks: Florida State 65, Idaho 0
HD's pick: FSU 72, Idaho 3


BOSTON COLLEGE (6-4, 3-3) at MARYLAND (6-4, 2-4), 3:30 p.m., ESPN3. #BCvsMD.
This may have been the toughest game to pick this week. Maryland is coming off an impressive win at Virginia Tech, while
Andre Williams
has put together two straight games of incredible performances. So which direction will this game go? It is hard to pick against the Eagles given what Williams and the offensive line have done this season. Simply put, they have worn the opposition down. Maryland has had injuries to contend with on defense, so I think BC will end up wearing the Terps down in the end.
AA picks: BC 24, Maryland 21
HD's pick: Maryland 21, Boston College 17:
This game could go either way, but with it being the final home game in Byrd Stadium, it was hard to pick against the Terps. More importantly, Maryland has fared well this year in stopping the run, and is ranked No. 30 in the country in rushing defense, holding opponents to 139.8 yards per game. Boston College has made its living this fall with its running game, and Williams is certainly no secret. The Terps will be looking to slow down the ACC's all-time single-season rushing leader, and they've also got the advantage in quarterback with
C.J. Brown
.
November, 16, 2013
11/16/13
9:17
PM ET
TALLAHASSEE, Fla. -- He started with 11 straight completions, an answer to anyone who wondered if this chaos would finally unravel the unflappable focus of
Jameis Winston
.
He lounged on the sideline throughout the entirety of the second half of yet another blowout win, joking with former Heisman winner and Florida State great Charlie Ward. If Winston was worried that an off-field scandal might squash his hopes of following in Ward's footsteps, his wide smile and relaxed demeanor didn't show it Saturday.
Once the 59-3 shellacking of Syracuse was over, Winston lingered on the field for a few extra moments, then darted toward the tunnel, stopping behind the end zone when he found coach Jimbo Fisher's young son. He shared high-fives with a contingent of kids, then exited the field through a cadre of fans reaching out their hands and shouting his name, disappearing into the locker room that is his sanctuary.
This was Florida State's first mantra this week: Everything stays the same.
[+] Enlarge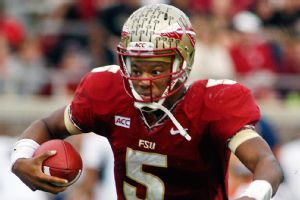 AP Photo/Phil SearsJameis Winston threw for for 277 yards and two touchdowns.
"It's the same Jameis," receiver
Kenny Shaw
said. "Practice was the same, everything was the same. Same schedule. Nothing changed."
Eventually, Winston emerged to face the cameras and the reporters. During his five-minute news conference, he faced a slew of questions about his focus, but not one about his potential involvement in a sexual-assault case being investigated by the state attorney's office. Media had been instructed that Winston would discuss football only, but those unanswered questions tinged every aspect of Florida State's victory on Saturday.
That is the other mantra at Florida State until there is some resolution to this case: No comment.
"One thing about Florida State, we're a big family," Winston said, "and we stay inside the family."
A sexual assault was alleged to have occurred last December, and at some point after that, Winston became entangled in the investigation. On Wednesday, that information became public, but few other details of the story have emerged since.
Fisher skillfully dodged questions during a postgame media session that was, at times, more like a chess match between those who wanted details and a man who might have some.
Winston turned the focus onto his teammates, just as he had all season. Florida State's defense once again was dominant. The offense scored touchdowns on its first five drives. There was too much love to go around to belabor the ugly story that overshadowed everything else for the previous four days.
The rest of the Seminoles were subjected to similar scrutiny, but they were careful not to provide any spark that might further ignite this growing media firestorm. It was, defensive tackle
Timmy Jernigan
said, the closest thing possible to business as usual.
"The guy, he's had a lot going on around him from the start of the season," Jernigan said of Winston, a redshirt freshman. "When you play like he plays, a lot's going to come with it, whether it's in a good way or a bad way. He's just going out and playing his game. Nothing's going to bother him."
Indeed, Winston hardly seemed flustered by the off-field distractions. He finished the game completing 19 of 21 passes for 277 yards and two touchdowns. He delivered a devastating block 40 yards downfield on a 74-yard touchdown run by freshman
Levonte Whitfield
. He nearly drew a flag sprinting onto the field to celebrate a defensive touchdown. He beamed after his backup,
Sean Maguire
, threw the first touchdown pass of his career in the third quarter, a beautiful lob to tight end
Nick O'Leary
in the end zone that may offer some hope for Florida State's offense should this scandal derail Winston's season.
"Nothing's going to hold Jaboo back," tailback
James Wilder Jr
. said of his QB. "He's always happy, always cheering. He was tuned in, locked in."
Before the game, the 1993 national championship team was honored, and even Seminoles 20 years removed from their playing days faced questions. Ward offered support for Winston. After an 11-month delay in investigating the incident, Ward suggested the timing of Tallahassee police's decision to send the case to the state attorney was curious.
Derrick Brooks, a defensive star on that 1993 team, said this year's Seminoles would rally around Winston. Championship teams, he said, always face adversity, and the cure was to step back onto the field.
But adversity seems like the wrong word. Fans cheered his name, and reporters studied Winston's face for signs that the cloud of suspicion would finally crack his unflinchingly upbeat facade. But the alleged victim in the case remains nameless and faceless to the public, another in the stream of details still unknown.
Saturday's game did little to part the clouds of the growing storm surrounding the program. It simply proved once again that, with Winston at quarterback, Florida State is a team more than capable of playing for a national championship.
"When you have great veterans around you and great people you trust," Winston said, "you want to go out on that battlefield and play your heart out for them."
April, 25, 2013
4/25/13
2:00
PM ET
Florida State quarterback
Jameis Winston
stole the show in the Seminoles' spring game, but the departure of former quarterback Clint Trickett will not mean an automatic promotion for Winston, coach Jimbo Fisher said on Wednesday.
(Some
don't believe this
.)
Despite Winston's jaw-dropping athleticism, FSU will head into fall camp with an open competition remaining, and Winston and
Jacob Coker
will continue to split reps, Fisher said.
"We're still going to break it up," Fisher said. "Jameis had an outstanding spring … but Jacob Coker will still be in that battle and so will Sean [Maguire], but Jacob and Jameis will really be battling hard for that job, and Sean has really developed; I'm very pleased with him.
"We'll split those reps and we'll keep it because I think we still have some outstanding quarterbacks on this team. We'll [see] how the consistency relays through, but I was very pleased with those guys in spring practice."
Fisher said that Coker played three quarters of the spring with a broken foot, so he is eager to see how Coker competes when at full strength.
"He's a big, strong guy who can think, really knows the offense, tough guy, big-time arm strength, can get the ball vertically and throw the underneath game," Fisher said. "And Winston has all the tools, also. I'm very excited for those guys and their futures here."
March, 20, 2013
3/20/13
9:00
AM ET
You look at the Florida State roster, and you look at the Florida State coaching staff, and the automatic assumption is this could be a rebuilding year for the Noles.
Jimbo Fisher does not see it that way. Not one bit. As spring practice opens today, Fisher needs to find new starters at some key positions, including quarterback, defensive end and linebacker. But he sees players who have had valuable playing experience ready to step right into starting roles, not wet-behind-the-ears freshmen in over their heads.
To him, there is no dropoff between the talent on his 2012 ACC winning team, and the talent on his 2013 team.
[+] Enlarge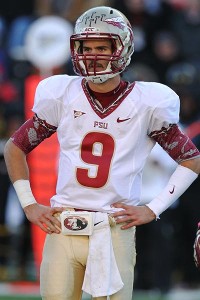 Mitch Stringer/USA TODAY SportsThere will be a competition for FSU"s starting quarterback, but Clint Trickett has more game experience than the others.
"I ask people this: Lawrence Dawsey is arguably one of the best receivers in Florida State history," Fisher said during his pre-spring news conference earlier this week. "How many years did he start here? He started one year. How about Odell (Haggins)? He was a linebacker that got moved. Nowadays he'd be, 'Oh, he wasn't what we said he was, you moved him.'
"Just because you don't start a game doesn't mean you're not starter material. Do you understand what I'm saying? We're establishing ourselves as a program again and guys still played as much ball as anybody else."
Fisher gave a host of examples. Every starter on the defensive line is gone -- ends
Bjoern Werner
and
Tank Carradine
, and tackles
Anthony McCloud
and
Everett Dawkins
. But the players expected to move into the starting lineup played extensively last season.
Mario Edwards Jr.
and
Giorgio Newberry
will start with the first-team at end;
Timmy Jernigan
, perhaps the best interior lineman last year, moves up to start at one tackle spot.
Vince Williams
and
Nick Moody
are gone at linebacker. Into the middle steps
Telvin Smith
, who has extensive game experience and should have no problems moving up.
Then of course, there is the quarterback spot, a position that folks across the ACC will be paying attention to as the competition begins.
Clint Trickett
starts out
No. 1 on the depth chart
, and here again is where playing time has helped him. Trickett has played in 16 games with two starts behind
EJ Manuel
the last two seasons.
The other three players competing for the starting job --
Jacob Coker
,
Sean Maguire
and
Jameis Winston
-- have either limited or no game experience. That does not take them out of the mix by any stretch. Fisher already said the position is wide open, and he has no timetable to make a decision. But having game experience is certainly not going to hurt him as the Noles try to find their leader on offense.
"From a talent standpoint, I think we're still a very talented football team and we have guys with a lot of experience still playing," Fisher said. "We look at returning starters sometimes, it's a very misleading factor about depth of a team and how much guys have played behind them. I'm excited about these young guys. Even though they're new starters, they've still played like starters."
As for the coaching changes, six new assistants will be on the field this spring, including new defensive coordinator Jeremy Pruitt. But Fisher downplayed those changes as well, saying nothing would change about philosophy or with the schemes the Noles run.
"We're going to do things the Florida State way, the way we've been doing," Fisher said.
That means plugging new guys into the starting lineup and believing there will be few hiccups along the way.
March, 18, 2013
3/18/13
2:00
PM ET
As expected, Florida State quarterback
Clint Trickett
will enter the spring as the Seminoles' No. 1 quarterback, coach Jimbo Fisher said on Monday at his news conference, but the competition to replace former starter
EJ Manuel
remains open.

"I have no timetable on anything," Fisher said of naming his starter for the season opener against Pittsburgh. "I never put a timetable on anything."
Trickett will be competing with
Jacob Coker
,
Jameis Winston
and
Sean Maguire
when FSU starts spring practices on Wednesday. Trickett is the most experienced candidate, as he played in 16 games over the past two seasons with two starts as a backup to Manuel in 2011. Winston, though, is the one with the hype. He was the top player at his position in the 2012 recruiting class, and he has further added to his resume with the FSU baseball team. Despite his commitment to baseball, Winston is not expected to miss any football practices.
Fisher said not enough attention has been given to Maguire, a pro-style quarterback out of New Jersey.
"I like him," Fisher said. "Everybody kind of forgets about him and nobody talks about him, but he wasn't recruited here to sit the bench, either."
Fisher said each quarterback will receive the same reps, and that consistency is the intangible that will eventually separate them.
"At the end of the day, the guy who moves the team down the field and scores the points and puts you in the best position to win," Fisher said, "at the end of the day, that's what the job is."