May, 10, 2013
5/10/13
12:00
PM ET
While so much of the attention on Oregon State this spring has been on the quarterback competition -- one of the most intriguing in the nation between
Sean Mannion
and
Cody Vaz
-- there are other critical position battles.
And the one at cornerback might even be of greater importance.
Post spring,
Sean Martin
sits atop the depth chart at left corner, opposite returning starter
Rashaad Reynolds
on the right side. This position is of great interest because it was formerly held by the departed Jordan Poyer -- one of the school's top secondary players of all-time who sits fourth on the school's career interceptions list with 13.
[+] Enlarge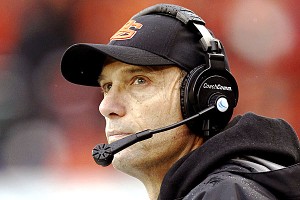 AP Photo/Don Ryan"I'm not ready to say which one of them is going to come out of the fold as 'the starter,'" Oregon State's Mike Riley said of cornerbacks Sean Martin and Steven Nelson.
Pushing Martin is junior college transfer Steven Nelson -- who was rated by one service as the No. 2 JC cornerback in the country.
But head coach Mike Riley isn't approaching it with the thought that one will be a starter and one will be a backup. If all goes according to plan -- it's likely we'll see them on the field at the same time.
"That competition is good for the Beavers because my goal out of this thing is that both of these guys become bona fide starters," Riley said. "They both won't necessarily start on first down, but if they proceed to grow as we've seen them through their competition in the spring, then you'll see them both playing together a lot. Third-down defenses, nickel or dime. We actually need both of them to be considered as starters."
He says that with the caveat that he's not ready to say which one has pulled ahead in their competition. Spring depth charts offer a little insight, but not nearly enough to pass judgment.
Once a commit to Georgia, Nelson comes to Oregon State from the College of Sequoias in California, and has spent the spring playing catch up. Martin, however, started three games last year -- twice as a nickel and one at corner against Arizona State when Poyer was out with an injury. After missing the majority of 2011 with a broken foot, Martin bounced back in 2012 to register 43 tackles, two interceptions and three pass breakups.
Martin's experience might be what keeps him atop the depth chart -- at least for now.
"I think Sean Martin has improved dramatically in the course of two years here and I think Steven has all the athletic tools to be a corner in our league and be a good player," Riley said. "He needs to learn more and more about what we do and how he fits into that, but I think he's very conscientious and I think he'll make that move. I think this has all been very good."
After a rough 2011, where the Beavers ranked 104th in pass-efficiency defense, they bounced back and were 20th nationally last year. After giving up 28 passing touchdowns in 2011, they cut that number in half to 14 in 2012. Poyer was a huge part of that, hauling in seven of OSU's 20 interceptions last season.
With Reynolds (25 career starts) on the other side and returning safeties
Tyrequek Zimmerman
(13 starts) and
Ryan Murphy
(15 starts), the secondary should again be solid with just the one hole to fill.
But Riley isn't as concerned with finding one guy who can step in for Poyer as he is developing them to work together in unison.
"I'm not ready to say which one of them is going to come out of the fold as 'the starter,'" Riley said. "But my goal is for both of them to be ready to play and be good, solid players in the fall."
March, 20, 2013
3/20/13
11:00
AM ET
Get comfortable, Oregon State fans. It's going to be a long quarterback competition.
Addressing the media Tuesday in a pre-spring conference call, Oregon State head coach Mike Riley said it's doubtful anything will be decided between
Sean Mannion
and
Cody Vaz
this spring. Mannion is listed No. 1 on the depth chart -- only because Riley and Co. didn't include an "or" between the two names. Anyone looking for meaning to Mannion being No. 1 can keep looking.
"You can't read anything into that," Riley said. "We're going to split their time evenly. You don't need to ask them daily about what's going on because I probably won't make a decision until the end of fall camp. I'm just going to let them play and grow and try to get better this spring. We'll give them absolute even turns as we go -- unless somebody just takes the bull by the horns and separates. But I don't know if that's going to happen. I think they both did a lot of good things and they both had some rough moments. It's a matter of who comes out of it with the most consistent, best play. And that might take some time. I think they are both knowledgeable. They both work hard and are well-respected. We're going to let them get as much preparation as they can."
This will be one of the more closely watched quarterback competitions in the conference -- and nationally, as the Beavers are expected to start the season in the preseason top 25.
Mannion helped the Beavers to a hot start in 2012, guiding them to victories in their first four games before hurting his knee against Washington State. That paved the way for Vaz, who engineered back-to-back wins at BYU and against Utah.
[+] Enlarge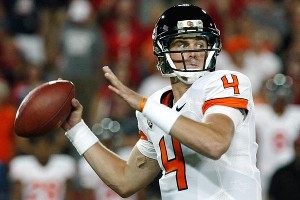 Rick Scuteri/US PresswireSean Mannion is listed as Oregon State's No. 1 QB, but nothing's been decided, coach Mike Riley said.
Then came the first loss of the season, to Washington, in which Mannion threw four interceptions. Oregon State was off and on the rest of the season -- as were its quarterbacks. After a 6-0 start, the Beavers went 3-4 down the stretch, culminating with a 31-27 loss to Texas in the Alamo Bowl.
Mannion finished the year with 2,446 yards and 15 touchdowns to 13 interceptions on 64.7 percent passing. Vaz completed 58.9 percent of his throws for 1,480 yards, but also had 11 touchdowns to just three interceptions.
"We've talked to both of them about the fact there is going to be competition," Riley said. "They have to learn to handle that and be a great leader and a great teammate and focus on doing their best. I think it will be good for both of them. I think it will bring the best out in both of them and then we'll have to see what we're going to do from there. I suppose in the long run we could come out of it stronger."
Other notes:
Players who will miss spring ball include: Safety Tyrequek Zimmerman, left tackle Garrett Weinreich, defensive end Scott Crichton, wide receiver Richard Mullaney and fullback Tyler Anderson. Left guard Chase Eldredge and center Isaac Seumalo will be limited.

Riley talked about the competition between Sean Martin and junior-college transfer Steven Nelson to replace departed cornerback Jordan Poyer: "[Martin] got more opportunities to play last year and that was all good for him, and we'll see if he can step up into what can be a reliable starting role. ... [Nelson] is always around working out, and in a short amount of time has seemed to fit in real well. I anticipate good things from him in spring ball. The best thing that can happen to this team is really develop good competition with good players at the corner. "

Riley on the depth at running back with Storm Woods, Terron Ward and Chris Brown: "That right there is good depth. I hate losing Malcolm [Agnew] because he's a good football player. He's all over special teams and when you watch our cutups or games, he's always doing something. But I think we have good players there. Storm can build on his freshman year for sure and Terron Ward looked really good in the offseason running and has really worked hard. Chris Brown is a young talent trying to break in where he can hopefully fill some of those roles that Malcolm Agnew played and bust into the rotation of playing in the game."
November, 4, 2012
11/04/12
9:00
AM ET
Pretty epic weekend in the Pac-12, so there are plenty of stickers to go around (and a few more who would probably be honored any other week). We're only supposed to do five or six each week, but sometimes you just have to give a little more love. (Shhh, don't tell Ted).
Austin Seferian-Jenkins, TE, Washington: Teammate Bishop Sankey could get the nod here also -- but Seferian-Jenkins' gutty performance on bum ankle was pretty darn impressive. He caught eight balls for 152 yards and a touchdown in Friday's 21-13 win at California.
Kenjon Barner, RB, Oregon: All he did was have more rushing yards in a game than any other running back in Oregon history. And he did it in the biggest game of the year to date. Barner finished with 321 yards and five touchdowns on 38 carries in the 62-51 victory over USC. Huh, so that's what it looks like when he plays four quarters. I've had him at No. 2 on my Heisman ballot the past three weeks. Guess who's moving up to No. 1?
Marcus Mariota, QB, Oregon: Poise, pure and simple. In the toughest test of his budding career, Mariota was a sterling 20-of-23 for 304 yards with four touchdown passes and 96 yards on the ground. Oh yeah, no interceptions.
Reggie Dunn, KR, Utah: He did it again, returning yet another kickoff 100 yards for a touchdown, this time in Utah's 49-6 win over Washington State. It's his third in two weeks -- which as of this posting is believed to be an NCAA record. The four for his career is an NCAA record.
Kevin Hogan, QB, Stanford: He injected some life into a middling Cardinal offense by completing 18 of 23 passes for two touchdowns with no interceptions. He was also Stanford's leading rusher with seven carries for 48 yards in the 48-0 victory at Colorado.
Johnathan Franklin, RB, UCLA: Kudos go out to his quarterback, Brett Hundley, but Franklin gets the nod in this game for becoming UCLA's all-time leading rusher. He carried 24 times for 162 yards and a pair of touchdowns in the 66-10 rout of Arizona.
UCLA's defense: First, cool seeing defensive coordinator Lou Spanos with eye black smeared across his face like war paint. Second, you hold that offense to 257 yards, and you earn a helmet sticker as a unit.
Sean Martin, CB, Oregon State: I know Cody Vaz or Terron Ward probably deserve stickers also, but was anyone else really impressed with the way Martin filled in for the injured Jordan Poyer? Looked like he was beaten on that long pass to Richard Smith at the end of the game, but he stuck with the play and ripped it loose. Six tackles (three solo) and a pass breakup is a pretty nice substitute for one of the best defensive players in the conference.
March, 20, 2012
3/20/12
8:44
PM ET
Oregon State coach Mike Riley believes he has talent and depth at running back. He just doesn't know how much and from whom. He has "viable" bodies for every position on the offensive line. But he's pretty sure the starting five coming out of spring won't be the same at the start of the season.
These are a few of the concerns Riley is pondering as the Beavers set to open spring practice on April 3.
[+] Enlarge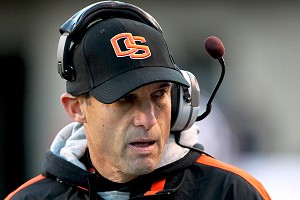 AP Photo/Colin E. BraleyThere are a lot of questions surrounding Mike Riley's running game this spring.
Tailback
Jovan Stevenson
will be limited with a foot injury, which means lots of reps for
Jordan Jenkins
,
Malcolm Agnew
,
Storm Woods
and
Terron Ward
.
"I think we have good depth," Riley said in a conference call with media on Tuesday. " ... It's definitely the biggest question mark, but it's a good group. I feel good about it. Sorting it out will be very important for us."
Which leads to another issue. The backs will be getting lots of work -- but who is going to do all of the blocking? With
Grant Enger
(shoulder) out for spring and
Colin Kelly
(ankle) expected to miss most or all of spring, the Beavers have very limited depth to work with over the next month.
"The hardest part about spring ball is that we're very thin on the offensive line," Riley confirmed. "We have the starters that are out rehabbing ... we have some good young talent that will get a lot of good work to see if they can play. We're looking -- not necessarily how it will look as a whole in the fall -- but as an individual development of those guys at that position. We'll just have to be careful how we practice."
Riley went on to say that as a result, there won't be much chemistry with whatever starting five opens the year Sept. 1 against Nicholls State in Corvallis.
"I think we'll develop toward that line that we'll have in the fall," he said. "The hard part is we won't have a whole synchronized group. I doubt the starting lineup coming out of spring ball will be the starting lineup necessarily in the fall. But there is a viable guy at each position this spring so let's see what they can do with it and we'll put up some better depth in the fall and we'll see who wins the job then.
"I think we have good candidates. That's good enough for right now."
Riley has said in previous interviews that restoring the ground game is a top priority in the upcoming year. Oregon State ranked last in the Pac-12 last season, averaging just 86.9 yards per game while managing just 12 touchdowns on the ground -- second worst behind Colorado (10).
Other roster notes: