February, 14, 2013
2/14/13
11:55
AM ET
Michigan State fans unloaded on offensive coordinator Dan Roushar for much of last season, criticizing him for the Spartans' struggles to move the ball and score points.
Perhaps the Spartan backers who want Roushar out will get their wish.
The (New Orleans) Times-Picayune
reports Roushar will interview for the New Orleans Saints running backs coach position. The Saints are expected to move running backs coach Bret Ingalls to offensive line.
Former Kansas State coach Ron Prince and Maurice Carthon, a longtime NFL assistant, also are in the mix for the running back spot, according to the Times-Picayune.
A member of Mark Dantonio's coaching staffs since 2005, Roushar mentored Michigan State's offensive line from 2007-10 before being promoted to offensive coordinator the past two seasons. He worked alongside Saints head coach Sean Payton at Illinois in 1996.
Michigan State finished 95th nationally in total offense and 108th in scoring in 2012 after putting up much better numbers in Roushar's first season as coordinator (2011).
February, 14, 2013
2/14/13
11:52
AM ET
Georgia defensive coordinator Todd Grantham has seen the figures.
The Bulldogs are losing 12 players on defense who started at least two games for them last season, and as many as eight of those players could end up being drafted in April.
"I guess I look at it a little differently," Grantham said. "We've got nine starters coming back who started in one game or more last year. We really started 21 different guys last year, and in the last two years, we've had 24 different lineups.
[+] Enlarge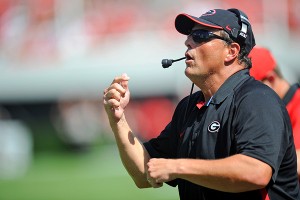 Kevin Liles/US PresswireIn the past two seasons, Todd Grantham's Georgia defense has forced 62 turnovers, the second most in the SEC behind LSU (63).
"We've been able to adjust, and we will again. I like the young talent on this defense and what we have coming in. To me, it gets back to developing players. It's going to be an exciting and aggressive spring, but we've been aggressive around here for the last couple of years. We'll coach them hard and see to it that they learn how to compete.
"You've got to learn how to win a position before you can help us win a game."
That mindset has served the Bulldogs well the past two seasons. They're coming off back-to-back SEC championship game appearances, and their ability to keep teams out of the end zone and force turnovers has been a big reason for their success.
In the past two seasons, Georgia has forced 62 turnovers, the second most in the SEC behind LSU (63). The Bulldogs were third in the SEC last season in scoring defense in league games. They allowed 18.1 points per game.
"The biggest thing is points allowed and turnovers. That's how you win ballgames," Grantham said.
What the Bulldogs didn't do as well was stop the run, and it cost them against Alabama in the 32-28 SEC championship game loss. The Crimson Tide rolled up 350 rushing yards and manhandled the Bulldogs in the second half.
The takeway from that game for Grantham was pretty simple.
Georgia needs to play more players up front and tackle better from the inside linebacker positions.
"We did some good things in that game," Grantham said. "We blocked a field goal and ran it back for a touchdown. We were really good on third down, and got a turnover in the red zone. The thing we didn't do was stop the run in the second half.
"We've got to play more players up front and keep them fresh, and from the inside linebacker position, we've got to learn to tackle backs like (
Eddie Lacy
). Those are two things we've got to do better."
Georgia's overall rushing defensive statistics weren't pretty last season. The Bulldogs finished 77
th
nationally in rushing defense. But they also played a pair of option teams (Georgia Southern and Georgia Tech) in back-to-back weeks in November, and those two teams combined for 125 rushing attempts, and both amassed more than 300 yards on the ground.
"It got a little skewed," Grantham said. "The biggest thing for me is what do we need to do to be good in SEC play. In SEC stats, we gave up 3.3 yards per carry, and it was 4.1 yards overall."
Grantham, who coached in the NFL for 11 seasons before coming to Georgia in 2010, took some heat from fans when he interviewed for the New Orleans Saints' defensive coordinator job the day after signing day.
The Philadelphia Eagles were also interested and wanted to set something up in January, but Grantham wasn't willing to do anything that might hurt the Bulldogs' class prior to signing day.
Even then, he wasn't looking to get out at Georgia. It was more that he felt he owed it to himself and his family to at least meet with Saints coach Sean Payton.
Grantham is one of the highest paid defensive coordinators in college football at $825,000 per year. But the salaries for NFL defensive coordinators have sky-rocketed. Just recently, former Florida defensive coordinator Dan Quinn got a three-year deal worth $5.7 million to go to the Seattle Seahawks, so roughly $1.9 million per year.
How many coaches anywhere wouldn't listen for that kind of cash?
"I look at it more as a compliment to what we've been able to do here, and a compliment to the SEC," Grantham said. "I have a great job here and enjoy it here, and my family loves it here. But the first thing you do in any profession when something comes along is say, 'Is this something I should consider for my family and for our future?'
"Sometimes you can't just do that with a phone call, but need to meet face-to-face. That's really what it was."
As Grantham prepares for the start of spring practice on March 2, he said it's paramount that the Bulldogs develop more depth up front and find some playmakers in the secondary.
He said junior end
Ray Drew
has had a great offseason so far, and he's also eager to see redshirt freshman
Jonathan Taylor
on the practice field. Junior college transfer Chris Mayes is on campus and will go through spring practice along with John Atkins, who spent last year at Hargrave (Va.) Military Academy.
"They're all big and athletic, and we're going to need contributions from all of them up front," Grantham said.
Sophomore outside linebacker
Jordan Jenkins
, who was essentially a starter for the Bulldogs from the Florida game on, has star potential written all over him. He's the heir apparent to step into Jarvis Jones' role as the finisher on this defense.
One of the key questions facing the Bulldogs this spring is where to play sophomore
Josh Harvey-Clemons
. He played safety last season, but Grantham said there's a chance he could move to outside linebacker.
"He's more of that guy who can walk out and cover a slot when they go to three wides," Grantham said. "That's why I wanted him to learn the nickel stuff last year, what we call the star. He learned all the underneath zones and what an outside linebacker has to do. So if he transitions back to outside linebacker, it will all be carry-over for him."
Georgia signed 18 defensive players in the 2013 class, and six of them are already enrolled. Grantham said defensive backs
Tray Matthews
and
Quincy Mauger
will both get thrown into the fire early.
"We'll find out what they can do and what they can handle, because athletically, they can help us," Grantham said. "We'll work hard to develop those guys at safety."
December, 31, 2011
12/31/11
11:00
AM ET
SCOTTSDALE, Ariz. — Stanford head coach David Shaw knows quarterbacks. For nine years in the NFL, he studied them, analyzed them and broke down every tangible mechanic and intangible characteristic trait there is.
So when he says he's never seen anyone like
Andrew Luck
-- specifically, a college quarterback with the intelligence to read defenses the way he does and call plays -- you have to consider him a credible source.
[+] Enlarge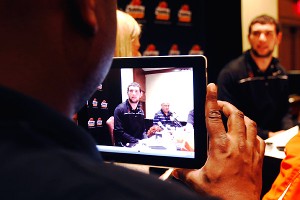 AP Photo/Paul Connors"I applaud him for being able to do it," former NFL quarterback Brian Sipe says of Andrew Luck calling plays for Stanford, "and for the coaches who are willing to give him that responsibility."
But he's also biased. Like any good coach, he sticks up for his guy. Pumps him up. Some have even accused Shaw of over-inflating his future No. 1 draft pick.
So to get unbiased sources, I looked to a pair of former NFL MVP quarterbacks from two different eras -- Steve Young and Brian Sipe -- for their take on Luck and the significance of a college football player calling his own plays. Young, a Hall of Famer, spent years carving up defenses just up the road from Palo Alto with the San Francisco 49ers.
And he knows a little something about the Stanford offense. It derives from the Bill Walsh offense Young ran with San Francisco. It's not identical, but as a Walsh disciple, Shaw kept many of the same principles.
Much is made about what Luck does pre-snap. He has a playbook of 250 plays each week in his mental Rolodex and he can pull from anything at any time. That's an awful lot to heap on a college kid. And the fact that Luck does it with amazing results is tangible, empiric evidence of his football IQ and NFL potential.
"What I appreciate is what [offensive coordinator] Pep Hamilton has done for Andrew, continuing what Jim Harbaugh did. They have really prepared him like a pro," said Young, a two-time NFL MVP. "They do pro game plans with pro verbiage and pro schemes. They can't push some of the other kids as much, because they don't have the experience. But they find ways to keep Andrew motivated. Calling his own plays, creating his own plays, putting more responsibility on him keeps him focused and sharp."
Sipe, now the quarterbacks coach with San Diego State, played during a transitional era -- spanning a time when all quarterbacks called their own plays to a time when none of them did. Sipe was one of the last to still make the calls in the huddle and at the line of scrimmage.
"[Luck] is obviously very intelligent and we know it can be done," said the 1980 NFL MVP. "What's shocking to me is that there is a coaching staff out there comfortable enough to relinquish that kind of responsibility. If we prepare these kids right, they know what we're trying to do and they should be able to do it. But at the same time, they don't have the luxury of all the information and data in front of them. I understand why coaches prefer to call their own plays from the sidelines and the press box. I applaud them for having that confidence in him."
That confidence comes from trust. Shaw said he knew early on he'd be able to take this leap with Luck -- and when Luck announced he was returning for another year and Shaw was promoted from offensive coordinator, the two clicked.
"As soon as I got the job, the first thing I said was 'Andrew, we're going back to the no-huddle,' and there was a big smile on his face," Shaw recalled. "He and I have both loved the idea from the beginning, and he's so good at it. It took a little bit of time, but he's a rare quarterback that can handle this."
Luck said they tinkered with the idea early in his career, but not until he proved he was ready to handle the extra responsibility did they start integrating his play calling into the game plan.
"Experience is a big part of it, and showing the coaches that you can execute their plan on the field," Luck said. "As a player, obviously it's great to know your coaches trust you. To go out there and make the call and know they are behind you, that's special."
Sipe said he enjoyed being able to call his own plays -- though he understands the game has evolved.
"As a quarterback, I felt like I had a feel for the game that could only come from being out on the field and being in the huddle with the guys and being close to it," Sipe said. "But at the same time I recognize the benefit of having data at your fingertips and hearing from everybody else. When you're out there, you are on your own and have to process it all … you have to think like an offensive coordinator, and I applaud him for being able to do it and for the coaches who are willing to give him that responsibility."
Chances are, Luck won't be calling his own plays at the next level. Young said the pro game has changed so much that quarterbacks actually calling their own plays could be detrimental.
"I think it's almost foolish -- like you're not a real man if you don't call your own plays," Young said, the second part tongue in cheek. "Good play-callers like Marty Mornhinweg or Mike Holmgren or Mike Shanahan, the all-timer -- in some ways the last thing you want to be doing is taking them out of the mix. I had free range to call whatever I wanted. But I liked calling their combinations. I think it's overrated a little bit in the pro game.
Drew Brees
could call his own plays. But Sean Payton can put together great combinations. I don't see it as a badge of honor.
"But in college, the way Stanford uses it for Andrew, I think it's really great. It's the perfect way to keep him active and keep him sharp."
It's when pulling those combinations together, Shaw said, that Luck is at his best.
"That's a big part of understanding the situations -- what do we need on second-and-5 as opposed to second-and-10," Shaw said. "He gets it. We don't give him any guidelines. We put it in his hands and he gets it naturally.
"We wanted to make sure we were continually challenging him. Let's give him options. Let's make sure he always has something to study. Andrew has taken it to the next level."
February, 2, 2010
2/02/10
10:30
AM ET
It's Super Bowl week, and here in Chicago, we're celebrating the
hiring of Mike Martz
as Bears offensive coordinator after a month-long search. Hope
Jay Cutler
has a life insurance policy.
OK, moving on to less depressing topics, like the Big Ten and Super Bowl XLIV.
Once again, the Big Ten has plenty of connections to the game, including 20 former players on the two teams, more than any other conference.
All 11 member schools will be represented by a player and/or coach participating in the game. Michigan has the highest number of former players (four), followed by Ohio State (three) and then six teams -- Illinois, Indiana, Iowa, Northwestern, Purdue and Wisconsin -- each with two former players. Penn State and Minnesota will have former coaches on the sideline Sunday.
Both head coaches have Big Ten roots, as the Colts' Jim Caldwell played at Iowa and served as an assistant at Iowa, Northwestern and Penn State. The Saints' Sean Payton had a one-year stint as an Illinois assistant in 1996.
Here's the full lineup of Big Ten links to Super Bowl XLIV, courtesy of the league office:
INDIANAPOLIS COLTS
Players
Kelvin Hayden
, DB, Illinois
Dallas Clark
, TE, Iowa
Bob Sanders
*, DB, Iowa
Mike Hart
, RB, Michigan
Marlin Jackson
*, DB, Michigan
Ervin Baldwin
, DE, Michigan State
John Gill
, DL, Northwestern
Anthony Gonzalez
*, WR, Ohio State
Curtis Painter
, QB, Purdue
Jim Sorgi
*, QB, Wisconsin
Coaches
Jim Caldwell, Head Coach (Played at Iowa from 1973-76; Assistant at Iowa in 1977, Northwestern in 1981 and Penn State from 1986-92)
Larry Coyer, Defensive Coordinator (Assistant at Iowa from 1974-77 and Ohio State from 1991-92)
Gene Huey, Running Backs (Assistant at Ohio State from 1988-91)
Tom Moore, Offensive Coordinator (Played at Iowa from 1957-60; Assistant at Iowa from 1961-62 and Minnesota from 1972-73 and 1975-76)
Ray Rychleski, Special Teams (Assistant at Penn State in 1991)
Bill Teerlinck, Defensive Assistant (Assistant at Indiana from 2003-04)
John Teerlinck, Defensive Line (Assistant at Illinois from 1980-82)
NEW ORLEANS SAINTS
Players
Pierre Thomas
, RB, Illinois
Tracy Porter
, CB, Indiana
Courtney Roby
, WR, Indiana
Adrian Arrington
, WR, Michigan
Jonathan Goodwin
, C, Michigan
Zach Strief
, OT, Northwestern
Malcolm Jenkins
, CB, Ohio State
Will Smith
, DE, Ohio State
Drew Brees
, QB, Purdue
Jonathan Casillas
, LB, Wisconsin
Coaches
Sean Payton, Head Coach (Assistant at Illinois in 1996)
Greg McMahon, Special Teams (Assistant at Minnesota from 1983-84 and Illinois from 1992-2004)
Bret Ingalls, Running Backs (Assistant at Northwestern from 2006-08)
Aaron Kromer, Offensive Line/Running Game (Assistant at Northwestern from 1999-2000)
Mike Mallory, Assistant Special Teams (Played at Michigan from 1982-85; Assistant at Indiana from 1986-87 and Illinois from 2001-05)
Terry Malone, Tight Ends (Assistant at Michigan from 1997-2005)
*-Injured reserve