July, 3, 2013
7/03/13
2:00
PM ET
Georgia Tech punter
Sean Poole
grew up with a father in politics. The last thing he wanted to do was follow that career path.
Until ... he decided to follow that career path.
After arriving in Atlanta intent on studying business, Poole began to miss politics. He decided to switch majors to public policy and admitted to his father, Van, "You rubbed off on me a little more than I thought."
[+] Enlarge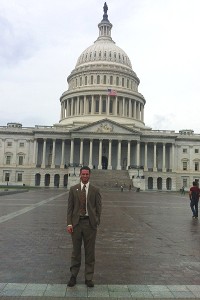 Courtesy of Sean PooleGeorgia Tech punter Sean Poole has spent his summer interning for a lobbying firm in Washington, D.C.
Now, Poole has his political aspirations up and running. He is spending his summer interning at a lobbying firm in Washington, D.C., working in the governmental relations sector. He spends a lot of time on Capitol Hill, hob-nobbing with important folks and sitting in on his fair share of subcommittees.
"It's been such a cool experience," Poole said in a recent phone conversation. "I've gotten to meet a lot of different people, all up and down the line. You don't realize whose hand you're shaking sometimes. To be in that environment and pick those guys' brains, to ask, 'How do I aspire to do what you do?' getting the advice from all the people in the firm is great."
But football has not exactly taken a back seat. In order to get permission from coach Paul Johnson to leave Atlanta for the summer, Poole knew he had to present a plan for football. So when the two met before the spring semester ended to discuss the internship, Poole came prepared.
The plan: Poole wakes up at 5 a.m. to work out at the gym, and kicks five times a week at a local high school after work. He has a lined field where he can judge punts and work on his consistency. He also enlisted the help of a friend who used to be a long-snapper at a junior college. Poole also has relied on cousins in the military who are stationed nearby to help keep him in line during his workouts.
"One of the advantages of attending a school with an academic reputation like Georgia Tech, and in a thriving city like Atlanta, is that you have world-class businesses anxious to hire bright students," Johnson said. "And when those businesses hire student-athletes -- whether it be for an internship or a full-time position -- they know they are going to get a young man or young woman who is able to balance first-class academics and athletics."
Politics have been a way of life for years in the Poole household. Van Poole served in the Florida House of Representatives and then eventually served as chairman of the Republican Party of Florida before becoming a lobbyist. Poole has been staying with his sister, who also works in politics in Washington, D.C.
Last summer, Poole interned in the Georgia Governor's office, working in health policy.
His initial plan for this summer was to interview with a few senators he made contacts with while working for the governor's office. But there was uncertainty there because of the budget cutbacks. One senator suggested applying for an internship at a lobbying firm.
"I took a wild shot to see if I even had a chance," Poole said.
He did a phone interview from Atlanta, then flew to Washington for a second round of interviews. Poole was one of 12 people chosen for the internship. Though he is not at liberty to disclose specifics about clients or his day-to-day duties, Poole did give generalities about his role at the firm.
As an example, Poole would be assigned to attend a subcommittee hearing and take notes on the different points of view presented. He then takes the information and puts in a memo or brief, to be presented to the interested parties. The work has convinced Poole that he wants to continue on the lobbying side once he graduates.
But before he goes into the job force, Poole has another football season. His big goal is to work on his consistency and to stay healthy, after missing time last season with a shoulder injury. He heads back to Atlanta a few weeks before his internship ends to rejoin his team for fall practices.
"I am feeling 100 percent, and I know I will be ready and not miss a beat whenever I come back," Poole said. "It will work out perfectly."
April, 1, 2013
4/01/13
5:00
PM ET
Georgia Tech had its first day in full pads on Saturday, and it was a chance for new defensive coordinator Ted Roof to get a better look at the defense.

"We've got a long way to go," he said.
The standards have been raised, and that's a good thing -- Georgia Tech struggled defensively in the first half of 2012, and former coordinator Al Groh was fired midseason. The Jackets showed significant improvement, though, in their Sun Bowl win over USC, and there have been positive reviews following the hire of Roof.
The challenge now is to get some positive reviews out of Roof.
"There were some good things, some mistakes, obviously," he said. "Things we've got to clean up. We've just got to be a lot more consistent, a lot more consistent from angles of pursuit, to finishing tackles, to finishing plays. We've got a lot of work to do in that area, but that's something we can correct."
A few other notes from Georgia Tech, according to the team's practice reports:
Injuries have created some opportunities for backups, especially at wide receiver, where Anthony Autry and Travin Henry are sitting out all spring, and returning starter Darren Waller was in red on Saturday. That leaves redshirt freshman Micheal Summers, who has impressed the staff, and junior Correy Dennis.
The A-back competition is heating up, as a number of players are working to take Orwin Smith's starting job. Among those competing this spring: Deon Hill, Synjyn Days, B.J. Bostic, redshirt freshman Dennis Andrews and others. Tony Zenon will also be in the mix when he returns in August.
Sophomore Ryan Rodwell is the only experienced, healthy punter in camp, as senior Sean Poole is recovering from shoulder surgery. Poole initially injured his shoulder trying to make a tackle against Miami last September, but held off on surgery until the offseason. Poole and Rodwell, who had identical 39.7-yard averages in 2012, should compete deep into August for the starting job.
June, 21, 2012
6/21/12
4:30
PM ET
Georgia Tech coach Paul Johnson has gone from one extreme to another -- from no special teams coach to one dedicated entirely to that phase of the game. No other position group or meetings to worry about. Why? Well, for starters, two field goals were blocked last season, including one that was returned for a touchdown. A fumbled punt return led to a Miami touchdown, kickoffs were returned from deep in the end zone, there were two punts of less than 20 yards, and three missed field goals against Utah.
Enter Dave Walkosky -- special teams guru. (His first college play was a blocked punt.)
[+] Enlarge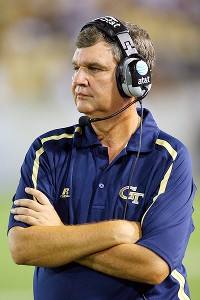 Kevin Liles/US PresswirePaul Johnson and the Yellow Jackets have put an emphasis on special teams this season.
Since his days as a walk-on at Toledo, Walkosky has had a soft spot for the importance of special teams. Never before, though, has he had a chance to focus all of his attention on it. At the collegiate level, the special teams coaches are also usually assigned a position group. Walkosky has also worked with defensive backs and linebackers throughout most of his career.
Not anymore.
"The commitment that he's made in hiring me as a special teams coordinator, and doing it just like the NFL … I don't know if any other team in the country has that," Walkosky said. "The opportunity that I have that Paul gave me is to study our opponent, study our film. That's what's an advantage for Georgia Tech in that I can study more film, study our opponent and find weaknesses, things like that. Now, does that equate to being better? I hope so. That's something I'm excited about, the position and the huge commitment he made. I'm fired up about it. Of course everyone expects things to be better, and I'm OK with that. I expect things to be better, also."
Walkosky was hired after one season (2011) as linebackers coach for the Calgary Stampeders, where he was quickly promoted to defensive coordinator. Prior to working in the CFL, Walkosky spent 19 years as a Division II head coach and Division I defensive coordinator and assistant coach. His stops included Washington State and Toledo.
Now he's tasked with turning around a kick return game that ranked No. 108 in the country last season. He has already raised the expectations. Walkosky's constant attention and higher demands have been a change for the kickers. They've had to -- you know,
run
.
"In everywhere I've been, I've never had an opportunity to be with them throughout the whole practice," Walkosky said. "If you're a position coach, you give them things to do, and then you go practice with your position, check on them, and then after practice watch film with them. As a specialist, you have to be in phenomenal shape. You have to be conditioned. You have to have phenomenal core strength for the long-snapping, punting and kicking positions. And that's something I wanted to make sure they understood. They're part of the team -- they're going to be in great condition, great strength and great core strength in order to perform their game day duties. It's not just, 'hey, after our specialty period we're done for the day.'"
The kickers' work is far from done at Georgia Tech.
Justin Moore
tied for eighth in the ACC last season with 11 of 17 made field goals, and punter
Sean Poole
was No. 6 in the league with 39.7 yards per punt.
David Scully
handled kickoffs and is expected to do so again.
"The specialists need to work," Walkosky said. "We're going to work and try to get better. Some of the performances were not up to par last year. Can those be fixed? We're going to work on that. We tried to in the spring, we'll continue in the fall."
Walkosky said his motto is "one down to be perfect," and he liked the potential he saw in the Jackets this past spring.
"This whole football team has more special teams-type players than I've ever been associated with," he said. "It used to be you're looking for the tight ends, the big guys. That doesn't really fit what I'm looking for on special teams. I want linebackers, the guys who can run. The A-backs and B-backs we have, and the linebackers and d-ends who can run are awesome. They fit what I like to do, so I'm ecstatic about the special teams-type players we have here."
And for the first time under Johnson, they've got a coach.