NCF Nation:

Sean Richardson
July, 22, 2011
7/22/11
8:15
PM ET
Alabama:
The Tide led the SEC with 16 players selected on the media's preseason All-SEC team. That's great for PR, and means that there should be some talent in Tuscaloosa this year, but neither the players nor head coach Nick Saban are paying attention to us and what we think.

Good, because the last thing Alabama needs is to get caught in the hype with the goal of winning multiple championships on the line.
"From a logical standpoint, I know there's a couple other teams in our division -- forget about the league -- that have just as many returners starting, and their quarterback," Saban said to the media when asked about being picked to win the SEC. "So even though I have a tremendous amount of respect for the intelligence level and your ability to prognosticate, which we really can't do, I'm not capable of doing it, I don't understand how you come to the decisions that you come to."

LSU:
The Tigers' offense was downright offensive to watch at times last fall, and they know it. LSU was 11th in the SEC in total offense, averaging 341.3 yards per game.
Now, under the tutelage of new offensive coordinator Steve Kragthorpe, there is more optimism on the bayou when it comes to talking about an offense that the Tigers expect to be more pass-friendly.
"I love it," offensive lineman T-Bob Hebert said of the offense. "Coach Kragthorpe brought a new intensity to the offensive side of the ball and he's injected new life in us. We can't wait to get back there during camp, start practicing, get more refined and more like a well-oiled machine. That's how an offense should work -- like a machine."

Ole Miss:
The loss of linebacker and emotional leader D.T. Shackelford this spring to a knee injury was absolutely devastating for the Rebels. The centerpiece of the defense is gone and Ole Miss didn't find a replacement this spring.
However, prized recruit C.J. Johnson appears to have what it takes and Houston Nutt isn't going to hesitate throwing him in the regular rotation early.
"C.J. Johnson doesn't look like a guy just coming out of high school," Nutt said. "Physically he looks the part. So I'm excited about him, getting him going. We'll give him every opportunity to get in the mix.
"Just by default because of D.T. Shackelford's injury, we lose a guy like that, he'll line up second team day one. He'll have every opportunity to play a lot of football."

Vanderbilt:
The Alabama secondary is getting a ton of preseason love, and so is LSU's secondary. But Vanderbilt senior cornerback Casey Hayward says not to sleep on the Commodores' secondary when you start ranking the best defensive backfields in the league.
Hayward was a second-team All-SEC selection by the coaches and media. Senior safety Sean Richardson had 98 tackles a year ago, and his running mate at the other safety spot, Kenny Ladler, was one of the most talented freshman safeties in the league last season. Junior cornerback Trey Wilson also looks like he's coming. He was one of the Commodores' most impressive players this spring.
"We don't get a lot of credit because of our record," said Hayward, who was second in the SEC last season with six interceptions. "But production-wise, when you look at the things we did last year, not too many secondaries did that. I think we'll take it to another step this year."
July, 20, 2011
7/20/11
11:22
AM ET
HOOVER, Ala. -- The stars will be out in force this week at the SEC media days.
Alabama's
Trent Richardson
will be here. So will the South Carolina tandem of
Marcus Lattimore
and
Alshon Jeffery
, not to mention Georgia quarterback
Aaron Murray
and Arkansas running back
Knile Davis
.
The spotlight will be bright for all of those players and probably won't dim much during the season.
But what about those players who haven't received the pub they deserve? You know, the guys who are outstanding football players in their own right, but seem to fly under the radar for some reason.
We've already sized up the coaches' preseason All-SEC team. The media's preseason All-SEC team will be unveiled on Friday.
So while we're picking teams, here's our stab at the 10 most underrated players in the SEC:
[+] Enlarge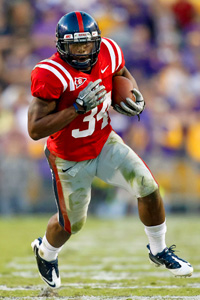 Derick E. Hingle/US PresswireOle Miss running back Brandon Bolden found the end zone 17 times last season.
1. Ole Miss RB Brandon Bolden:
He's one of the most complete running backs you'll find anywhere in college football. The 5-foot-11, 221-pound senior rushed for 976 yards last season and averaged 6 yards per carry. He also led the Rebels with 32 catches and scored 17 touchdowns. But try finding Bolden's name on the coaches' preseason All-SEC team for the 2011 season. He didn't even make third team.
2. Arkansas LB/S Jerico Nelson:
Arkansas defensive coordinator Willy Robinson will tell you that Nelson is the guy who sets the tempo for the rest of the Hogs' defense. He's small for a linebacker (5-foot-10, 211) and also has some safety responsibilities, but he's incredibly productive. He was second on Arkansas' team with 87 tackles last season, including 11 for loss. Nelson is also another player you won't find anywhere on the coaches' preseason All-SEC team.
3. Tennessee RB Tauren Poole:
There's no denying that the running back position in the SEC is insanely talented, but Poole rushed for 1,034 yards last season and rarely gets mentioned among the top backs in the league. One of the most respected players on Tennessee's team, Poole recorded six 100-yard rushing games a year ago, which tied for the SEC lead. Where's the love?
4. LSU S Brandon Taylor:
When the Tigers lost Taylor to that ankle injury in the Alabama game last season, they were never quite the same defensively. LSU defensive coordinator John Chavis said Taylor adds a presence to the LSU secondary that's irreplaceable. The 6-foot, 195-pound senior was also selected to wear No. 18 this season, which is one of the Tigers' top honors as a player.
5. Vanderbilt S Sean Richardson:
The 6-foot-2, 215-pound senior has started in 18 consecutive games, including all 12 at free safety a year ago. He's been overshadowed at times by others in the Vanderbilt secondary, but Richardson is the real deal. He set single-season career highs a year ago in total tackles (98) and tackles for loss (7) and finished fourth in the SEC in solo tackles (5.2 per game).
6. South Carolina C T.J. Johnson:
He's the guy who makes it go up front for the Gamecocks. The 6-foot-3, 314-pound junior has started every game in his first two seasons at South Carolina, all 13 at right guard as a redshirt freshman and all 14 at center last season. He's tough. He's smart, and he's one of the strongest leaders on South Carolina's team.
7. Georgia CB Brandon Boykin:
More pub is starting to flow his way leading into this season. Boykin was a second-team preseason All-SEC selection by the coaches. Of course, he'll readily tell you that he doesn't think there's a better cornerback in the league than him, and he'll get a chance to prove that this fall. When you throw in his return skills, Boykin rates right up there with any of the SEC's two-way players.
8. Auburn WR Emory Blake:
Here's a quick trivia question: Who led the Tigers in touchdown catches last season en route to their BCS national championship? Some might be surprised that it was Blake, who had eight touchdown catches. He's also Auburn's leading returning receiver and averaged 16.8 yards per catch. So when you start listing the top receivers in this league, don't forget about Blake.
9. Kentucky OG Stuart Hines:
The Kentucky guard getting all the love right now is Larry Warford and deservedly so. He's an excellent player, but don't sleep on the Wildcats' "other" guard. The 6-foot-4, 296-pound Hines is one of the better pulling guards in the league and has made 24 starts during his career. It's no secret that Kentucky will lean heavily on its offensive line in 2011, and Hines -- rock-solid in every way -- is a big reason why.
10. Mississippi State S Charles Mitchell:
He's been an integral part of the Bulldogs' secondary since he was a true freshman and has played in all 37 games of his college career. The 5-foot-11, 205-pound senior is a big-time hitter and collected 93 total tackles a year ago. He's the Bulldogs' enforcer in what should be a very productive secondary in 2011.
June, 22, 2011
6/22/11
11:40
AM ET
Safeties seem to have more responsibility on the field these days and there are a ton of players in this league that love to mix it up close to the line of scrimmage.
The range of some of these players is amazing to watch. Some are known more for their hitting, while others can get involved in the cover game as well.
Here's the list we came up with at the safety position:
1. Mark Barron, Alabama, Sr.:
It would have been easy for Barron to have turned pro this year, but he opted to stay another year with the Tide. He might be the top safety prospect for next year's NFL draft and even though he went through spring in a non-contact jersey, the coaches expect him to be back to his old self this fall. Passers beware.
[+] Enlarge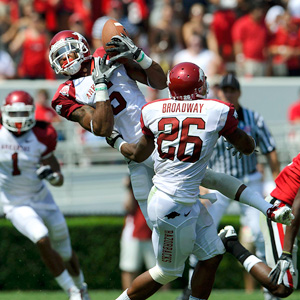 Paul Abell/US PresswireRazorbacks safety Tramain Thomas has seven career interceptions, including four in 2010.
2. Tramain Thomas, Arkansas, Sr.:
Thomas was tremendous last season and showed that he could make plays all over the field. He registered 83 tackles and grabbed four interceptions. This spring was one of his best, as he made tons of plays and could be the league's ultimate ball hawk this season.
3. Robert Lester, Alabama, Jr.:
Lester has already heard his name associated with next year's draft and plenty of mock drafts have him going in the first round with Barron. He led the Tide with eight interceptions a year ago and was second in the league with 12 pass breakups. He makes Alabama's safety tandem arguably the best in the country.
4. Brandon Taylor, LSU, Sr.:
He's the leader of the defensive backfield and should be healed from his foot injury he suffered at the end of last season. Before his injury, he started the first nine games, collecting 44 tackles, including four for loss and had five pass breakups. He has great cover skills and should fly around the field if that foot is fine.
5. Janzen Jackson, Tennessee, Jr.:
He would be right near the top if we knew for sure that he'd be playing this fall. He withdrew from school this spring to take care of some personal issues, but Tennessee's staff is hopeful he returns. If he does, he shouldn't miss a beat with his ability to take away the deep ball. He grabbed five interceptions last season and has some of the best range at the postion.
6. Sean Richardson, Vanderbilt, Sr.:
He's another member of Vanderbilt's stout defensive backfield. He's not an interception machine, but he roams all over the field and registered a team-high 98 tackles and had a sack in 2010. Richardson has the talent to compete at the highest level in the SEC.
7. Winston Guy, Kentucky, Sr.:
For a while, Guy didn't get much praise from his coaches, but that has changed this spring after he was more consistent during spring practice. He plays in the box a lot and will be the team's nickel linebacker as another one of those versatile hybrids.
8. Bacarri Rambo, Georgia, Jr.:
As a freshman, Rambo looked like he was going to be a major hit in the SEC safety world. He had 82 tackles and three interceptions last year, but lacked consistency at times. If he regains the form he had when he first arrived, he could easily move up on this list.
9. Charles Mitchell, Mississippi State, Sr.:
He's another safety that makes his way all around the field. He was third on the team with 93 tackles and is praised by his coaches for having relentless work ethic and is considered the team's best tackler.
10. D.J. Swearinger, South Carolina, Jr.:
The Gamecocks coaches have been very impressed with the progress Swearinger has made. Now in his third year, Swearinger has the talent to be the X factor in the Gamecocks' secondary. He's a hard hitter and can move down from his free safety spot to play in the box.
June, 22, 2011
6/22/11
9:44
AM ET
We head into high-flyer mode as we discuss defensive backs today. They are athletic as ever this season, and some teams return a bevy of secondary talent in 2011.
Here's how the teams look:
[+] Enlarge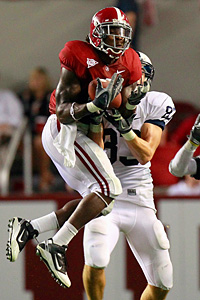 Kevin C. Cox/Getty ImagesMark Barron decided to return to Alabama instead of making himself eligible for the NFL draft.
1. Alabama:
This was an area of the team that was a problem and it wasn't so much the yardage given up but the lack of consistency, especially in big games (see the Auburn game). This year, the Tide should have one of the best defensive backfields in the country. Safety Mark Barron could have entered the NFL draft, but stayed. And while he was in a non-contact jersey this spring, he'll be one of the top safeties around this fall. Robert Lester is another solid safety who is also making everyone's short list of top safeties for next year's draft. At corner, everyone knows Dre Kirkpatrick, but DeQuan Menzie could be Alabama's best weapon in the secondary. Dee Milliner is still in the mix at corner and there is a lot of good young talent as well.
2. LSU:
No Patrick Peterson? No problem. The Tigers are once again loaded in their secondary with corners Morris Claiborne and Tyrann Mathieu. Both are All-SEC material and Claiborne led the Tigers with five interceptions last season. Mathieu found a way to get to the ball often last season and both should make it tough for any quarterback to throw on LSU this fall. Sophomore Tharold Simon made strong improvements at corner this spring as well. Safety Brandon Taylor is another top player at his position and he should be fine after suffering a foot injury at the end of last season. Youngsters Eric Reid and Craig Loston look like stars in the making at safety.
3. Mississippi State:
The Bulldogs return five players who started at some point in 2010. Johnthan Banks, Corey Broomfield and Nickoe Whitley each recorded three interceptions and had 50-plus tackles last year. Broomfield should be the Bulldogs' top option at corner, while Banks can play both corner and safety. Charles Mitchell returns at safety and was third on the team with 93 tackles last season. All of Mississippi State's defensive backs not only have a knack for making big plays down field but they can each play efficiently in the box.
4. Arkansas:
This group is a little inexperienced, but there is a lot of talent to go around. Things start with safety Tramain Thomas. Thomas was fourth on the team in tackles last season and grabbed four interceptions. Thomas looked even better this spring, making play after play. Fellow senior Elton Ford should get time at safety, and converted corner Eric Bennett should get reps as well. Hybrid linebacker Jerico Nelson enhances the group when he drops back with the safeties and Isaac Madison returns at one of the corner spots and should team up with Darius Winston. The two have 27 career starts under their belts.
5. South Carolina:
The Gamecocks' secondary has to improve after underachieving a year ago, and South Carolina has the weapons to do it. Corner Stephon Gilmore wasn't at his best last year, but has tremendous cover ability and speed to be tops at his position. Akeem Auguste moved from safety back to his more natural position at corner and should give the Gamecocks one of the top corner tandems in the SEC. DeVonte Holloman moved to the Spur linebacker spot, so there are still questions at safety, but D.J. Swearinger really impressed this spring and some think he's the most gifted defensive back in Columbia. Replacing Holloman's spot is going to be tough, and the coaches have yet to find someone to solidify that position.
6. Vanderbilt:
This is the strongest part of Vanderbilt's team. The Commodores return a heap of talent, starting with senior corner Casey Hayward, who was a second-team All-SEC pick a year ago. Hayward led the SEC with 11 pass breakups and had six interceptions. Safety Sean Richardson led the team with 98 tackles and would start on a lot of teams in the SEC. The other safety spot is occupied by Kenny Ladler, who was one of the top safeties in the league last season, even as a freshman. Junior Trey Wilson had a great spring and could move past last year's starter Eddie Foster on the depth chart.
7. Georgia:
Like most positions at Georgia, there's no shortage of talent. However, there are still questions. Senior Brandon Boykin is solid at one of the corner spots with his natural corner instincts, great speed and is the defensive leader. Sanders Commings is talented and has the best size, but he'll have to battle Branden Smith at the other corner spot. Smith is a total athlete, but he has to improve his coverage skills. Bacarri Rambo is solid at safety, but he needs to return to the form he had as a freshman. Finding someone to line up next to him is important. With Alec Ogletree moving to linebacker, there is a hole at safety and one of Georgia's newcomers might have to step in this fall.
8. Florida:
The Gators would have been higher on this list had it not been for the dismissal of All-SEC corner Janoris Jenkins. There's a gaping hole at corner, and the hope is that junior Jeremy Brown can help fill it. He finally played after a severe back injury kept him out for two years, and while he struggled at times, Florida's coaches were very impressed with his play this spring. Sophomore Cody Riggs was a pleasant surprise at corner last season and is battling unproven senior Moses Jenkins. There is nothing but youth and inexperience behind them. At safety, Matt Elam had a good spring at strong safety, while free safety wasn't totally locked down by Josh Evans. The good news is that Florida signed six defensive backs this year.
9. Tennessee:
This group could be decent, but there are so many questions. We aren't sure if star Janzen Jackson will return after leaving school this spring. Prentiss Waggner moved from safety to corner last season, where he was an All-SEC performer, and then back to safety when Jackson left. But he might be back at corner this fall. If Waggner is a corner and there's no Jackson, there's an enormous hole at safety. If he stays at safety, then there's one at corner. Fortunately, Brent Brewer, a former minor league baseball player, is a solid safety, and corner Marsalis Teague returns after converting from receiver last season. Incoming junior college transfer Byron Moore should compete immediately for time at corner.
10. Kentucky:
There is a lot of experience with four senior starters returning, but the unit has to show that it can be consistent in big games. Safety/linebacker hybrid Winston Guy leads the group with his speed, strength and athleticism, and will move down into the box as the nickel linebacker. Seniors Randall Burden and Anthony Mosley are back at corner after combing for 11 pass breakups and two interceptions. Junior Martavius Neloms began the spring as the starter at corner, but could see more time at safety this fall. Mychal Bailey will line up at safety and was second behind Guy with two interceptions last season. Inexperience behind this group is still a problem.
11. Auburn:
Things started off poorly when senior safety Michael McNeil was one of the four players arrested for robbery and later dismissed this spring. McNeil, who started seven games last season, was supposed to be one of the stars of the Tigers' defense this fall. Now he's gone and former corner Neiko Thorpe is moving over to safety. The move actually benefits the hit-first defensive back. T'Sharvan Bell is at corner and has the speed and tight cover skills to be one of the best at his position. After that, it's a free-for-all. Incoming freshman Erique Florence should get an opportunity to come in and play immediately at safety.
12. Ole Miss:
This group had to hear about how it was the goat of last season's 4-8 campaign after allowing 246 passing yards a game. It was a motivational tool this spring, but there's a lot of work to do. New defensive backs coach Keith Burns was pleased with the spring progress and really liked how JUCO transfer Wesley Pendleton played at corner. He's competing to take one of those spots from either Marcus Temple, who missed spring with injury, or Charles Sawyer, who had to be pushed at times this spring. The reliable Damien Jackson is back at safety and could line up next to Brishen Mathews, who got good playing time last season, but is still unproven. JUCO transfer Ivan Nicholas and freshman Cliff Coleman will compete for time at safety and corner, respectively.
July, 28, 2010
7/28/10
10:40
AM ET
The SEC lost a bevy of great defensive backs from a year ago.
In fact, 12 were taken in the NFL draft, and seven went in the first three rounds. Gone are Eric Berry, Joe Haden, Kareem Jackson, Major Wright, Javier Arenas, Chad Jones, Myron Lewis, Walt McFadden, Marquis Johnson, Kendrick Lewis, Reshad Jones and Trevard Lindley.
What's that leave in the way of the top defensive backfields in the SEC for 2010?
Here's a look:
[+] Enlarge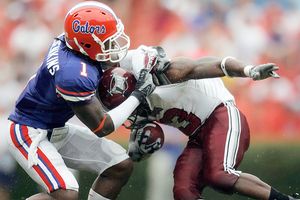 Cliff Welch/Icon SMI Janoris Jenkins is one of the mainstays in the Florida defensive backfield.
1. Florida:
It's a testament to how well the Gators have recruited that they own the top secondary in the SEC even after losing Haden and Wright early to the NFL. Janoris Jenkins is one of the top cornerbacks in the league, and good luck in finding a better safety tandem than Will Hill and Ahmad Black. Talented freshmen are waiting in the wings, too, like Matt Elam and Joshua Shaw.
2. South Carolina:
The Gamecocks were second in the league last season in pass defense and should be even harder to throw the ball on in 2010. Sophomore Stephon Gilmore is one of the best young cornerbacks in college football, and his former high school teammate, safety DeVonte Holloman, may be one of the breakout players in the league. Senior Chris Culliver, a second-team All-SEC selection last season, also returns and is switching from safety to cornerback.
3. LSU:
If you're looking for the fastest secondary in the SEC, look no further than the unit the Tigers will put on the field this season. Patrick Peterson is the best cornerback in the country -- period -- and his running mate on the other side, Morris Claiborne, has been turning heads since the spring. They may end up being the best cornerback tandem in the league. Jai Eugene has moved from cornerback to safety, while Brandon Taylor returns at the other safety. He, too, is a former cornerback.
4. Auburn:
There's nothing like adding three veteran leaders back to the mix, and that's what Auburn will do with senior safeties Zac Etheridge, Aairon Savage and Mike McNeil. All are returning from serious injuries. One of the priorities this season is to get junior cornerback Neiko Thorpe more help. He played too many snaps a year ago. Demond Washington is returning to his cornerback position after filling in at safety last season.
5. Vanderbilt:
Don't blink. Vanderbilt has consistently played some of the best pass defense in the SEC under Jamie Bryant, who oversees the Commodores' secondary. Safety Sean Richardson and cornerback Casey Hayward are returning starters, and both have what it takes to be All-SEC players. Junior Jamie Graham has settled in at the other cornerback after playing receiver earlier in his career. Nickelback Eddie Foster also returns, and the Commodores liked what they saw this spring from freshman safeties Jay Fullam and Kenny Ladler.
6. Alabama:
The only guy who won't be new for the Crimson Tide this season in the secondary is junior safety Mark Barron, who led the SEC with seven interceptions a year ago. Everybody else who was in the rotation is gone. Alabama still has plenty of young talent in its defensive backfield, but there could be some growing pains early. Sophomore cornerback Dre Kirkpatrick has unlimited potential. There's also a chance that junior college cornerback DeQuan Menzie could be back after tearing his Achilles tendon in the spring.
7. Georgia:
The Bulldogs gave up far too many big plays in the secondary last season and allowed a league-high 25 touchdown passes. They should be better in 2010, particularly with the addition of junior college safety Jakar Hamilton, who was one of the stars of the spring. Junior cornerback Brandon Boykin has the skills to be one of the league's top cover guys, but the Bulldogs are still thin at the cornerback position. They can't afford any injuries.
8. Tennessee:
The dismissal of starting safety Darren Myles Jr. following his arrest and involvement in a bar brawl drops the Vols down a spot or two. They don't have a lot of depth behind him. The leader of the unit is sophomore free safety Janzen Jackson, who can be one of the best defensive backs in the league if he stays out of trouble off the field. Junior cornerback Art Evans is underrated and will be the Vols' top cover guy.
9. Mississippi State:
The Bulldogs got big performances from freshmen last season in their secondary, which means their pass defense should improve considerably from their No. 11 showing in the SEC a year ago. Sophomore cornerback Corey Broomfield had six interceptions, and sophomore Johnthan Banks had four interceptions. Banks is moving to free safety this season. Also look for a big junior season from strong safety Charles Mitchell, who is Mississippi State's enforcer back there.
10. Kentucky:
With Lindley missing four full games last season with a high ankle sprain, the rest of the Wildcats' defensive backs were forced to step up their games. Three starters return, including budding star Winston Guy at free safety. Cornerbacks Paul Warford and Randall Burden are also back, as Kentucky started five defensive backs in most games. Finding another safety will be key this preseason.
11. Ole Miss:
The lone returning starter is senior safety Johnny Brown, who's coming off his best season. The Rebels' other safety a year ago, Kendrick Lewis, was one of their mainstays on defense, and replacing him won't be easy. Junior college newcomer Damien Jackson will draw that job, and he was extremely impressive in the spring. Ole Miss will be both inexperienced and thin at the cornerback positions.
12. Arkansas:
The Hogs gladly welcome back junior cornerback Isaac Madison, who missed all of last season with a knee injury. Their pass defense suffered with Madison out of the lineup, and they finished last in the league, allowing 401.2 yards per game. They also gave up 22 touchdown passes. To get more speed on the field, Arkansas moved Rudell Crim to safety during the spring. Ramon Broadway returns at the other cornerback and Elton Ford at the other safety.
February, 11, 2010
2/11/10
11:35
AM ET
This time a year ago, how many of us were up to speed on
Darvin Adams
at Auburn, Justin Houston at Georgia,
Greg Childs
at Arkansas or Mark Barron at Alabama?
All four had breakout seasons in 2009, guys who went from role players/solid players to All-SEC caliber players.
Who are those players going to be in 2010?
Let's take a look:
1. Alabama defensive end Marcell Dareus:
Several in and around Alabama's program think Dareus will be the next great defensive lineman for the Crimson Tide. He certainly made his presence felt in the BCS National Championship Game in January when he was named the game's Defensive MVP after returning an interception 28 yards for a touchdown and knocking Texas quarterback
Colt McCoy
out of the game. Dareus only started in four games last season, but he still wound up with 9.5 tackles for loss and 6.5 sacks. Look for those numbers to soar in 2010, and look for him to emerge as one of the most dominant defensive linemen in the league.
2. Florida quarterback John Brantley:
Following a legend is always difficult, but Brantley has the skills to be one of the top three quarterbacks in the SEC next season. No, he's not going to make everybody forget about
Tim Tebow
, and he's not going to be able to provide everything Tebow did for the Gators the last three seasons. But what Brantley can do is throw the football, and Florida will build its offense around Brantley's strengths next season. The 6-3, 217-pound junior had a lot of work with the first-team offense last spring while Tebow was resting his shoulder and performed extremely well.
3. Vanderbilt safety Sean Richardson:
Some might say that Richardson already introduced himself to the league last season with his 84 tackles, which led all SEC defensive backs during the regular season. But if you're looking for prototypical safeties who can hit, cover and act as an enforcer back there in the secondary, the 6-2, 210-pound Richardson has a chance to really be special next season. Vanderbilt defensive coordinator/secondary coach Jamie Bryant has done an outstanding job when it comes to grooming quality defensive backs, but Richardson is the kind of punishing tackler that may be one of the best yet to come out of Vanderbilt.
4. Arkansas running back Ronnie Wingo Jr.:
The Hogs have so many returning offensive weapons that it's easy for some of those guys to get lost in the shuffle. Don't look for that to happen with Wingo, who has everything Arkansas coach
Bobby Petrino
likes in a running back. The 6-3, 220-pound sophomore is fast, tough and can catch the ball out of the backfield. Wingo played in all 13 games last season as a true freshman and ranked fourth on the team in total yards (319) and carries (47). He averaged 6.5 yards per carry. Petrino is on record as saying that the Hogs need to get the ball in Wingo's hands more and will look for ways to do that this coming season.
5. LSU receiver Rueben Randle:
With
Brandon LaFell
gone, somebody at LSU has to step next season on offense and become that go-to player. The 6-3, 200-pound Randle has all the physical tools to be that player. He was the No. 1 receiver prospect in the nation when he signed with the Tigers and started in four games last season as a freshman. Randle sort of played in LaFell's shadow, but still caught two touchdown passes and averaged 15.7 yards per catch. In a lot of ways, he was still getting re-acclimated to the position after playing quarterback as a high school senior. Look for Randle to blossom in 2010. The Tigers sure need him to.
December, 17, 2009
12/17/09
11:00
AM ET
Every year, there are players who fly in under the radar to have big seasons.
We've gone through and picked the 10 best players in the SEC that you really didn't know about when the 2009 season began that everybody knows about right now.
These guys all had major impacts on their team after playing limited roles the season before for various reasons. Some were hurt. Others were buried on the depth chart, and a few just simply came into their own. True freshmen and transfers were not included in this list, but redshirt freshmen were.
[+] Enlarge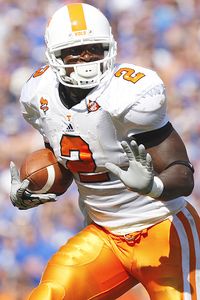 Kim Klement/US PresswireMontario Hardesty rushed for 1,306 yards and 12 touchdowns this season.
So here are the 10 best players in the SEC this season that went from anonymity to starring roles:
1. Montario Hardesty, RB, Tennessee:
He'd never rushed for more than 384 yards in a season and only carried the ball 76 times in 2008. But when finally given a chance, Hardesty showed he could stay healthy and also proved he was one of the best backs in the SEC with 1,306 yards rushing and 12 touchdowns. He didn't lose a fumble, either, in an SEC-high 264 rushing attempts.
2. Mark Barron, S, Alabama:
A fixture on special teams as a freshman, Barron developed into a star in his first season as a starter on defense and led the SEC with seven interceptions. He was a first-team All-SEC selection by the coaches and helped ease the loss of senior captain Rashad Johnson with his ball-hawking play at strong safety.
3. Darvin Adams, WR, Auburn:
The Tigers were searching for playmakers at receiver, and Adams answered the call. The speedy sophomore tied for the SEC lead with 10 touchdown catches. He was third in the league with 855 receiving yards and fourth with 48 catches. That's after catching a total of three passes, all against UT-Martin, as a freshman.
4. Greg Childs, WR, Arkansas:
He was listed as a backup coming out of spring practice after catching 18 passes as a freshman, but exploded as a sophomore to finish third in the SEC in receiving yards per game (71.8). Childs caught seven touchdown passes and averaged 19.2 yards per catch.
5. Greg McElroy, QB, Alabama:
McElroy was about as unproven as it gets at the college level coming into the season. He'd never played a meaningful snap. That sure changed in a hurry. The steady junior directed an Alabama offense that improved in just about every category from last season, and then played his best game in the most important game, earning MVP honors in the 32-13 SEC championship game victory over Florida.
6. Sean Richardson, S, Vanderbilt:
After playing in Reshard Langford's shadow as a freshman, Richardson started all 12 games at strong safety as a sophomore and led all SEC defensive backs with 84 tackles. He established himself as one of the best tackling safeties in the league.
7. Justin Houston, DE, Georgia:
With all of the grumbling about Georgia's defensive problems, Houston's big season was sort of lost in the shuffle. The 6-foot-3, 259-pound sophomore bounced back from a two-game suspension to start the season to finish second in the league with 7.5 sacks and also had 15 tackles for loss.
8. Corey Broomfield, CB, Mississippi State:
Talk about making the most of your opportunities. Broomfield only started in three games for the Bulldogs, but finished with six interceptions and returned two of those for touchdowns. He redshirted his first year at Mississippi State in 2008, but is part of a nucleus of young talent in Starkville that has everybody in maroon so excited.
9. Sam Maxwell, LB, Kentucky:
He went from dependable backup to one of Kentucky's best big-play defenders as a senior. Maxwell was second on the team with 80 tackles and led all SEC linebackers with six interceptions and 13 passes defended from his strongside position. Unfortunately for Maxwell, he will miss the bowl game because of surgery to repair a torn labrum.
10. Eryk Anders, LB, Alabama:
One of the most overlooked players on Alabama's vaunted defense, Anders has made his senior season a memorable one. He has 12.5 tackles for loss, including five sacks, from his jack linebacker position. This coming from a guy who'd all but decided to transfer following the 2007 season.