NCF Nation:

Sekope Kaufusi
August, 1, 2012
8/01/12
7:00
PM ET
Mike Leach is funny when you asked him which Pac-12 coach he'd like to take hunting. He's funny you ask him to compare his team leaders to famous military generals. He's funny when you ask him about his affection for pirates. Heck, Leach is funny -- and often insightful -- about a variety of things. He's just not going to tell you much about his football team.
Leach and the Cougars begin preseason camp Thursday not unlike they began spring practices: as mostly a blank slate. The depth chart that was included in the Cougars' 2012 media guide doesn't seem to be a terribly valuable document, at least to Leach. When you ask the Cougs' new coach about areas of concern, deepest positions, thinnest positions and incoming players who have a chance to earn playing time, it's not wise to expect much in the way of details or specific names.
[+] Enlarge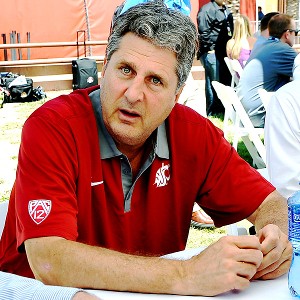 Jayne Kamin-Oncea/US PresswireMike Leach begins his first preseason at Washington State on Thursday, and much of the depth chart is uncertain.
"You earn your job every day," he said, mostly speaking to all depth-chart questions. "The starting lineup is going to be based on performance, not how many years you've played or how old you are."
One thing Leach isn't terribly funny about: team discipline. If his players didn't take his emphasis on it seriously in January, they surely will now. Last week, he dismissed projected starting defensive tackle Anthony Laurenzi after he was arrested for allegedly shoplifting a pair of headphones from a Walmart. He was the third likely starter Leach cut loose from his defensive front seven, which wasn't terribly deep and stout in the first place. He'd previously booted linebackers
C.J. Mizell
and
Sekope Kaufusi
, who were both returning starters.
"There's nothing fun about it," Leach said when asked about kicking players off the team. "You'd like to save everyone."
Laurenzi was listed as the starter at left defensive tackle and the backup at nose tackle. His backup is senior
Steven Hoffart
, though senior
Lenard Williams
could move over from the right said, where he backs up
Xavier Cooper
on the depth chart. Or a new guy could break through. Leach wouldn't project who was first in line to work with the first-team defense. He, in fact, wasn't even ready to agree Laurenzi was a likely starter.
"It's difficult to say he had the first crack at it to begin with," Leach said. "We played a variety of people there and will continue to. We didn't have a set group of starters there."
Leach also professed to "feel good" about his front seven, though it appears to be his team's biggest question mark.
Leach said most of preseason practices will be focused on fundamentals, with game prep not beginning until around 10 days before the visit to BYU on Sept. 1.
Leach did say he'll wait only a week before deciding who his No. 1 quarterback will be, though it seems almost certain that will be
Jeff Tuel
. At that point, Tuel would get two-thirds of the reps with the first-team offense and his likely backup,
Connor Halliday
, would get the other third.
Note
: Leach wouldn't comment on the
expected arrival of freshman cornerback
Raymond Ford
, who was previously headed to California.
March, 28, 2012
3/28/12
9:25
PM ET
Mike Leach is not afraid of the weather in Pullman, Wash., which could be a bit nippy --
and perhaps snowy
-- for the first day of Washington State's spring practices on Thursday.
Heck, it's not like his first spring practice leading the Cougars could be more inclement than his first leading Texas Tech in 2000.
Cold? Snow? Not as bad as hail.
"It's flying off their helmets like popcorn," Leach said recalling his first practice in Lubbock.
[+] Enlarge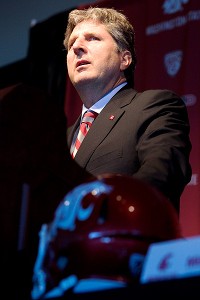 AP Photo/Dean HareTight ends typically don't excel in Washington State coach Mike Leach's system. That could change in 2012.
Or do you know what happens when a hard rain meets a dust storm?
"A couple of times a year there, it rains mud," he said.
Leach the raconteur took control of his chat with reporters Wednesday afternoon and was, as usual, highly entertaining. But getting specifics from him about what he sees with his personnel wasn't part of the plan, and it led to briefer answers. Of course, that makes sense because Leach isn't sure what he's got as he installs his "Air Raid" offense and a 3-4 defense.
Evaluation is obviously a top priority, but Leach used the terms "precise" and "efficient" repeatedly.
Or, as he said, "Getting as good as we possibly can at practicing."
The first order of business is finding a quarterback. Leach said reps will be split 50-50, at least during the early-going, between
Jeff Tuel
and
Connor Halliday
. When asked if Halliday, who suffered a lacerated liver against Utah on Nov. 19, was ready to practice full-go, Leach said, "I assume."
Leach said the top two priorities for his QBs will be decision-making and accuracy. "Those two you really can't compromise on," he said. Quick feet also help, particularly for a team that has some questions on the offensive line.
Leach pointed out that he didn't pursue a JC QB because he's pretty satisfied with what he's seen on tape of Tuel and Halliday. "It's not like you're starting from zero," he said.
He seemed intrigued by his talent at receiver, noting that the crew was taller than what he typically had at Texas Tech. And, yes, he's been impressed by
Marquess Wilson
.
"What I like about him is he always wants the ball," he said.
On the other side of the ball, it will be interesting to see how things develop, particularly if the Cougars want to make new coordinator's Mike Breske's 3-4 alignment their base scheme. After dismissing both
C.J. Mizell
and
Sekope Kaufusi
from the team -- both returning starters -- there's a decided lack of depth at linebacker. Count on there being some position shuffling, both from the backhalf and the line. Leach, in particular, seemed intrigued with
Travis Long
, who has started the previous three years at end. The 6-foot-4, 256-pound senior might be athletic enough to play an outside linebacker spot.
"He can do a lot of things," Leach said. "Moving him around as a player is pretty tempting."
It's obvious there will be a lot going on this spring in Pullman, so the often-challenging weather is not a chief concern. Getting guys into the right spot is.
Said Leach, "There isn't anybody who's not being evaluated."