NCF Nation:

Se'Von Pittman
April, 3, 2012
4/03/12
10:00
AM ET
Spring practice is in full gear around the Big Ten, and that means optimism is also running high for the 2012 season on just about every campus.
A new season means new names and faces throughout the league, and this is the time to daydream about unlimited potential. So today we're taking a look at a few of the top newcomers (i.e., those who haven't played a down of Big Ten football before this season) to watch this fall:
DeAnthony Arnett, WR, Michigan State and Kyle Prater, WR, Northwestern:
We put these two together because technically neither is yet eligible to play for his respective team in 2012. But the two transfers -- Arnett played at Tennessee last year, while Prater was at USC -- are both appealing to the NCAA for waivers to become immediately eligible, and both schools feel good about their chances of winning those cases. Each player fills a need; Michigan State lost its top three receivers from last year and desperately needs some experienced playmakers at the position, while Prater could step into the No. 1 receiver role that
Jeremy Ebert
left behind. Both could make a big impact on the season if they are able to see the field.
Noah Spence, DE, Ohio State:
The top-rated recruit to sign with a Big Ten team in February, Spence was rated as the No. 4 overall prospect in the 2012 class. It's easy to see why, as he's a 6-foot-4, 245-pound athletic specimen who looks ready to chase after opposing quarterbacks from Day One. Urban Meyer said he doesn't plan to redshirt many freshmen and expects his defensive line recruits to contribute right away. If not Spence, then Se'Von Pittman, Adolphus Washington or Tommy Schutt could all make their presence known up front on defense as true freshmen.
Danny O'Brien, QB, Wisconsin:
Let's see. Former ACC starting quarterback graduates and transfers to Wisconsin, where he's immediately eligible. Haven't we heard this story before? True, maybe O'Brien won't play at a superstar level like
Russell Wilson
did a year ago. But the former Maryland signal caller plugs a huge hole on the Badgers roster, as injuries and inexperience at quarterback threatened to derail an otherwise promising season. O'Brien won't arrive in Madison until later this spring, but he's likely to grab hold of the starting quarterback job right away and perhaps lead Wisconsin back to the Big Ten title game.
Joe Bolden, LB, Michigan:
Our recruiting gurus loved Bolden when he signed with the Wolverines, and the early enrollee has already drawn praise from head coach Brady Hoke on the way he's practiced this spring. Don't be surprised to see him get major minutes at linebacker and possibly contribute on special teams.
James Gillum, RB, Minnesota:
The junior college transfer ran for over 1,000 yards in each of his two seasons at Mississippi Gulf Coast, and he has the opportunity to start at tailback right away for a Gophers offense in search of more playmakers. The 5-foot-11, 204-pound Gillum already has many of the skills needed for a top-flight Big Ten running back but still must adjust to a higher level of play. If he pans out, he could pair with quarterback
MarQueis Gray
to form a dangerous Minnesota rushing attack.
February, 3, 2012
2/03/12
1:15
PM ET
Urban Meyer has been receiving a lot of accolades for his recruiting work at Ohio State. But don't forget the hard work his assistants did in compiling one of the best classes in the country.

ESPN.com has named Buckeyes assistant Mike Vrabel as its 2012 Big Ten
recruiter of the year
.
"Vrabel moved from linebackers coach to defensive line coach with the hire of Urban Meyer. And in the process the two-year assistant helped secure one of the nation's best defensive line classes. Five-star prospect Noah Spence was the biggest signing in the class, but four-star prospects Adolphus Washington, Se'Von Pittman and Jamal Marcus give the Buckeyes four of the nation's top 16 players at the defensive end position. Vrabel deserves much of the credit for that."
It's an impressive achievement for the former New England Patriots star linebacker, who only became a college coach last summer following his retirement from the NFL. Vrabel should have a lot of fun coaching up the talent on that Ohio State defensive line.
Other recruiters who earned honorable mention in the ESPN.com evaluation were Nebraska's John Garrison, Northwestern's Randy Bates, Michigan's Jeff Hecklinski and Michigan State's Mark Staten.
February, 2, 2012
2/02/12
7:23
PM ET
Wisconsin coach Bret Bielema made waves Wednesday when he suggested new Ohio State coach Urban Meyer used "illegal" recruiting practices in signing his first class.
Now it appears that Bielema and Wisconsin are taking things to the next level.
Sporting News reported Thursday that Wisconsin athletic director Barry Alvarez will speak with Big Ten commissioner Jim Delany
about Meyer's recruiting methods
during the league's next athletic director meetings.
During his National Signing Day press conference, Bielema hinted that Meyer was using "illegal" recruiting practices. He said as much again Thursday when contacted by Sporting News, and without getting into specifics offered this:
"I called Urban and we spoke about it," Bielema said. "We talked about it, and he said it would stop and it did. I'll let our commissioner deal with anything else. That's not who we are [in the Big Ten]. We settle things among ourselves as coaches."
Meyer's arrival and big splash on the recruiting trail, which included flipping several recruits committed to other Big Ten schools, clearly has rankled coaches in the league. There's a belief, whether it's real or not, that things are done differently in the Big Ten. Bielema spells it out to the Sporting News' Matt Hayes, saying, "We at the Big Ten don't want to be like the SEC -- in any way, shape or form."
Meyer, of course, made his previous coaching stop in the SEC at Florida.
The Ohio State coach
reiterated to Brian Bennett
today that he assessed recruits' interest in the Buckeyes and only pursued those who wanted to play in Scarlet and Gray. He added that several prospects, like one-time Michigan State commit
Se'Von Pittman
, "came after us."
Are Wisconsin's complaints solely about the so-called "gentleman's agreement" in the Big Ten -- where coaches don't poach each other's recruits? Or is there something else?
I've seen the "agreement" violated every year. Even Bielema told me Wednesday, "We're all vultures." Sure, the recruit-flipping hasn't happened with the frequency we saw with Meyer at Ohio State -- nor with so many high-profile recruits -- but it happens a lot.
It'll be interesting to see what action, if any, Delany takes on this matter. Unless Meyer violated some NCAA recruiting bylaw, which it appears he did not, I can't see the Big Ten doing much.
Meanwhile, the Wisconsin-Ohio State rivalry just got even spicier.
February, 2, 2012
2/02/12
2:12
PM ET
Urban Meyer hasn't coached a game yet at Ohio State, but his impact on the Big Ten has already been massive.
Though he was only hired in late November, Meyer managed to put together an impressive first recruiting class that ESPN ranked as the
sixth-best in the country
. Several players in the class were at one time committed to other league schools. The Buckeyes put together one of the best groups of defensive linemen in the country as well.
[+] Enlarge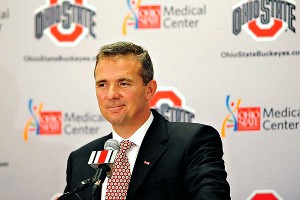 Andrew Weber/US PresswireNew Ohio State coach Urban Meyer made an immediate impact on the recruiting trail.
I caught up with Meyer on Thursday morning to talk about the class, whether there's such a thing as a "gentleman's agreement" in recruiting, and how he expects his recruits to see the field right away.
Did you expect to sign a class this highly rated, given how little time you had to put it all together?

Urban Meyer:
I think it exceeded expectations a little, especially on the D-line. If you had told me in December that we would get those four defensive linemen in this class and the two offensive tackles ... that's what separated this class I think, from being pretty good to being really good.
The class is heavy on the defensive and offensive lines. How much of that was need-based and how much of was just that's what you need to build a foundation?
UM:
I think anytime you get a premiere guy like
Noah Spence
, he knows that we need him. That's the way it is nowadays. Kids want to go somewhere where there's a need. The same with the two offensive tackles,
Taylor Decker
and
Kyle Dodson
. We just don't have those body types right now in our program, and they know that. We made that real clear. Their opportunity to play is going to be real quick here.
How did you go about evaluating what you needed in recruiting when you hadn't seen the players on the current roster much in person?

UM:
Well, that's where Luke Fickell and Mike Vrabel and Stan Drayton and when Taver Johnson was here, they were the ones [who helped]. Then when I went out to watch practice, I just walked out on the practice field and just kind of watched for a second, and I could tell our offensive line didn't look the way we needed them to look. I could tell we were short on pass-rushers off the edge. And then linebackers. So those are the three areas that we had to get just to be functional. So we attacked it as hard as we could and it all came together.
What do you like about the three big defensive linemen in this class -- Noah Spence, Adolphus Washington and Se'Vonn Pittman?

UM:
Well, number one is they're competitors. They're very high-character guys. To have three guys like that with high character who are very good people, I hate to say that's hard to come across, but it is. And they're all different body types. You've got Noah Spence, who's the pure speed guy coming off the edge, relentless effort. Then you've got Adolphus Washington, who's very thick, lower body and more power. And then you've got
Se'Von Pittman
, who's a little bit of both. So they all complement each other.
In your experience, and understanding every player is different, how long does it take players with that talent level to make an impact on the field?

UM:
We're going to rotate them right away. We don't redshirt here at Ohio State. We're changing that up. We're going to have the culture out here that there's no redshirting. If you don't play here, it's because you're not good enough. It's not because we're holding you back. We're going to recruit the kind of player where we want them on the field right now. That's the approach we took at Florida, and it's the approach we're going to take here.
Is the same thing true with offensive linemen? People say that's the position where it takes guys longer to develop.

UM:
Well, Maurkice Pouncey jumped right into it [at Florida], started every game, and in three years he went to the NFL. So if you're recruiting, you lay it out there for them. Usually, linemen take a little longer, but we've played with some young players before.
You mentioned Wednesday that you're not happy with the speed at the offensive skill positions. You're not necessarily done with this class, but was that just not out there for you this year, or is it more of a priority going forward?

UM:
Yeah, we're not happy where we're at with our speed and skill on offense. I don't know what we have. I saw on film and looked at the stats, and you would say from statistical analysis and just evaluation that we're not very good at all. But I'm going to give them the benefit of the doubt and see what happens in spring practice and evaluate them in the offseason, which starts Monday. But we're not where we need to be, by a long shot.
When you learned about the bowl ban, was there a time when you thought this class wouldn't come together nearly as well as it did?

UM:
Oh yeah. Devastated. I would say, panic button in December. Absolutely.
What does it tell you about the players who decided to sign with you anyway?

UM:
It tells you about the power of this program, too. I mean, Ohio State is Ohio State. It's the most powerful alumni base in the country. It's one of the great stadiums in the history of college football. A great tradition and a great city. So there are so many strengths about it that obviously overcame the negative hit we took.
Is recruiting in the Midwest and primarily vs. Big Ten schools different than recruiting in the SEC? The SEC has a reputation of being more ruthless.

UM:
A little bit, but it's hard for me to articulate that. It was a little bit different, but there is still a lot of intense recruiting that goes on up north, as well.
There were a couple of coaches who criticized you for recruiting players who had committed to their schools. I liked the way you answered that question on Wednesday. Is there ever such a thing as a gentleman's agreement in recruiting, or is that a phony thing?

UM:
Actually, Will Muschamp and I talked about that, about if a guy is previously committed. Up here, I was hired, and we covered our state and said to players, "Would you be interested?" We had one or two that said they would be interested, and others recruited us. Se'Von Pittman and Taylor Decker came after us.
Coming in as a new head coach at a program, would you even be doing your job if you didn't check in on those recruits?

UM:
You've got a responsibility to your home state. Absolutely. There's not a coach in America who's not going to do that, not going to check his own state. You take a job, you're going to check your in-state players to see if they're interested. And if they are, then come on now, let's talk about it. And if they're not ... The young man up at St. Edward [offensive lineman
Kyle Kalis
, who signed with Michigan] we asked. He said, "I'm solid, I'm good." We said, "Good luck," and we moved on. I didn't call him again.
Could you get a sense of how much just having a coach in place and some stability at Ohio State, as well as your background, helped recruits change their mind?

UM:
I think any time there's instability, that causes anxiety for a recruit. So I know with Se'Von Pittman, his comment to me was, "I always wanted to be a Buckeye. I just wanted it to be stable."
There are going to be lingering questions about your health, energy level, etc. Recruiting takes a lot of energy and time. How did you feel out there recruiting again, with all the time and travel it required?

UM:
Oh, it was great. Great. No issue at all.
Jamal Marcus was a signing-day addition for you, and you talked about how he blew you away on tape. You really didn't know anything about him before that?
UM:
That was one of those Christmas presents I unwrapped when they showed me the highlight video. I mean, he's as good as I've seen on a highlight video. Then you meet the kid and he's a beautiful kid, great family. Everett Withers identified him and brought him up. It's almost a shame to say this, but the first time I shook his hand and even talked to him was when he got on campus. And he blew us away.
He's been listed some places as a linebacker, others as a defensive end ...

UM:
Oh, he's a linebacker. Linebacker all the way.
What are the priorities now for you over the next month or so before spring practice begins?

UM:
We have a bunch of new coaches, a completely new offensive scheme. So the next month, the priority is to get around our players, get to know them with the new coaches. And No. 2 is to install an offense and defense, and make sure everybody is on the same page, so when we hit March we're up and running.
I talked with offensive coordinator Tom Herman recently, and he said he'd be blending the offense with your philosophies. How is that going on right now?

UM:
That's all we're doing. I've hired some very good coaches, very successful coaches. We have a system I have great belief in, but I use the term enhance. If we can enhance our system, we will. And so far we have. It's going very well.
What kind of reports have you gotten from strength coach Mickey Marotti on how offseason workouts are going?

UM:
Good. But we haven't really hit it hard yet. We've been kind of introduced to our offseason program. I meet with Mickey nonstop. Constant evaluation. But so far, it's mostly just been indoctrination. On Monday, it starts for real.
How much help has Luke Fickell been in this entire transition process?

UM:
Well, there's no agenda with him. He has a true passion and love for Ohio State, and he's a very quality football coach and family man. It's a perfect fit, and his stability and relationships really helped us.
How much are you working on the 2013 class right now?

UM:
Oh, we're killing it. We're all over it.
February, 2, 2012
2/02/12
10:30
AM ET
National signing day is in the books, and it's time to evaluate the Big Ten teams and their classes. Although several potential Big Ten recruits are announcing their plans after signing day, most of the classes are complete.
Here's how ESPN Recruiting
graded the Big Ten classes

.
Let's take a look at how teams filled their big recruiting needs:

ILLINOIS
The Illini have had a nice run at defensive tackle with 2011 NFL first-round draft pick Corey Liuget and Akeem Spence, who enters 2012 as a legitimate pro prospect. They solidified the interior line for the future with recruits like
Teko Powell
and
Vontrell Williams
.
INDIANA
It's no secret Indiana needs to make significant upgrades on defense, and coach Kevin Wilson looked to the junior college ranks for help. Indiana added six juco defenders, including cornerback
Tregg Waters
and linebacker
Jacarri Alexander
. These players give the Hoosiers a chance to get better in a hurry.
IOWA
Running back has again become a pressing need for Iowa with the departures of Marcus Coker and Mika'il McCall. While Iowa has lost running backs at an alarming rate, it also has developed young backs very well in recent years. The coaches hope to work their magic with
Greg Garmon
, who could be the most significant recruit of the 2012 class.
MICHIGAN
Arguably no staff in the country makes defensive line a bigger priority than Michigan, which has three coaches, including head man Brady Hoke, focused on the front four. The Wolverines lose standouts Mike Martin and Ryan Van Bergen from the 2011 line, but they addressed the situation in recruiting with pickups like defensive tackle
Ondre Pipkins
and defensive end
Chris Wormley
.
MICHIGAN STATE
Michigan State is creating a nice recruiting pipeline at the wide receiver position. The Spartans lose their top two wideouts from 2011 (B.J. Cunningham and Keshawn Martin) but added several nice receiver pickups in the 2012, including Tennessee transfer
DeAnthony Arnett
and four-star prospects
Monty Madaris
and
Aaron Burbridge
.
MINNESOTA
Quarterback MarQueis Gray returns, and Minnesota needed to get him some help in the passing game after the departure of Da'Jon McKnight. The Gophers added some excellent pickups at the wide receiver position in
Andre McDonald
and
Jamel Harbison
.
NEBRASKA
The Huskers were thin at linebacker in 2011 and lose standout Lavonte David to graduation. Nebraska coaches also have discussed the need to add more traditional linebackers to face Big Ten offenses. Big Red filled the need in the 2012 recruiting classes with players such as
Michael Rose
and
Jared Afalava
.
NORTHWESTERN
Defense has been Northwestern's downfall in the past two years, and the Wildcats need more difference-makers on that side of the ball. They likely landed one in end/linebacker
Ifeadi Odenigbo
, an ESPNU 150 prospect who is Northwestern's most decorated defensive recruit in recent memory. Odenigbo could help immediately as a situational pass-rusher.
OHIO STATE
No Big Ten team made a bigger impact at one position than Ohio State did along the defensive line. The Buckeyes, who were a bit thin up front in 2011, got a lot better with this class, which is headlined by ESPNU 150 prospects
Noah Spence
,
Adolphus Washington
,
Se'Von Pittman
and
Tommy Schutt
.
PENN STATE
Skyler Mornhinweg
's decommitment stings a bit, as Penn State needs more quarterbacks in the mix, but the Nittany Lions also need more difference-makers at wide receiver and tight end. They helped themselves in the 2012 class with wide receiver
Eugene Lewis
, ranked as the nation's No. 34 wideout by ESPN Recruiting. Tight end
Jesse James
is another nice pickup.
PURDUE
Offensive line has been a position of stability for Purdue the past few seasons, but the Boilers lose two starters from the 2011 squad (Dennis Kelly, Nick Mondek) and will say goodbye to several more after 2012. Purdue had to reload up front, and the two highest-rated players in the 2012 class, according to ESPN Recruiting --
Jordan Roos
and
Cameron Cermin
-- all play offensive line.
WISCONSIN
Quarterback is undoubtedly Wisconsin's top priority as
Russell Wilson
departs and Jon Budmayr and Curt Phillips battle back from major injuries. The Badgers needed a signal-caller in a small class and landed a decorated one in
Bart Houston
, a four-star prospect from California powerhouse De La Salle High School.
February, 1, 2012
2/01/12
9:30
AM ET
Urban Meyer has made his presence known on the recruiting trail since becoming Ohio State's coach Nov. 28, and much of his success has come at the expense of other Big Ten schools.
Ohio State flipped several recruits who had made commitments or were learning to programs elsewhere in the league. The Buckeyes undoubtedly benefited from the turmoil at Penn State, and also landed defensive lineman
Se'Von Pittman
, who had committed to Michigan State but jumped at the chance to play for the Scarlet and Gray.
The trend prompted some fans to ask whether Meyer was violating an unwritten rule among Big Ten coaches not to poach another team's recruits. The fact is Big Ten coaches at multiple schools have flipped recruits for years. The quantity and quality might not match what has happened with Meyer at Ohio State, but the tactic is hardly new to the league.
The "rule" doesn't exist ... or does it?
Michigan State defensive coordinator Pat Narduzzi made some interesting remarks Monday at the Pro Football Hall of Fame Luncheon Club in Canton, Ohio. Narduzzi, never one to pull punches, addressed recruit flipping within the league and how things might be changing.
"[The agreement] has been between the coaches," Narduzzi said. "Jim Tressel and Mark Dantonio would never call or talk to each other's commitments. People Coach Dantonio knows well don't come in and take players away. When you do, you lose friendships over that."
Narduzzi said he would not speak for Dantonio and declined to say if there were a friendly relationship between Meyer and Dantonio. However, he indicated, Michigan State's coaching staff learned a lesson.
"It sets a tone and starts a recruiting rivalry," Narduzzi said. "I guess it's fair game. You don't want it to be that way, but that's how it is."
Tressel and Dantonio had a unique friendship that stretched back for years. Dantonio worked for Tressel at Ohio State and Youngstown State. Most Big Ten coaches aren't as close as they were.
But Narduzzi's comments make you think whether the policy was upheld more than it was broken. While there's enough evidence of recruit-flipping before Meyer's arrival, perhaps we'll see more in the coming years.
As Narduzzi said, that's how it is. The Ohio State-Michigan State recruiting battles should be interesting to watch.
January, 31, 2012
1/31/12
1:10
PM ET
The Super Bowl is Sunday, but the super bowl of recruiting arrives on Wednesday. So on the eve of national signing day, we thought we'd check in with some of ESPN.com's top recruiting experts to get a feel for what's going on in the Big Ten.
Our esteemed panel included senior national recruiting analyst Tom Luginbill, Midwest recruiting writer Jared Shanker and Scouts Inc. recruiting coordinator Craig Haubert. This is Part I of our discussion; look for Part II later on today.
Topic 1: What impact has the arrival of Urban Meyer had on the league and in general when it comes to recruiting?
Tom Luginbill:
"It's been fairly significant. If there's one thing Urban Meyer understands and has been able to do, it's that you build a championship team from the inside out. Whether it was at Florida or now at Ohio State, if you notice who essentially all his first commitments were, they were all on the defensive line and offensive line. So he understands that, if they're going to compete for a national championship, the gap has to be closed in the defensive front seven. That's the difference between what's happened in the SEC and everywhere else. So I think that's where he's made his biggest impact."
Craig Haubert:
"What Urban Meyer has been able to come and do down the stretch has been huge. I knew when he took over, they would get better as a class, but I didn't really think when this happened, they'd have a chance to crack the Top 25. They're still in a position to possibly land some guys.
Davonte Neal
, the No. 1 athlete, could be headed there.
Stefon Diggs
and
Jordan Diamond
are also in the mix there." [Diggs and Neal are both post-signing day announcements].
"If you look at this class, it's all in the trenches, really. And our philosophy is there's always an increased value to upper-tier linemen because they're harder to find.
Noah Spence
obviously is huge, he's a five-star, but so is
Adolphus Washington
. The other thing that stands out to me about Ohio State is he's been plucking guys from other Big Ten schools.
[Se'Von] Pittman
was a Michigan State kid.
Joey O'Connor
had decommitted before he got him, but he was a Penn State kid. Same thing with
Tommy Schutt
.
Armani Reeves
. So his upper part of his class, a lot of them have come from other Big Ten schools."
Jared Shanker:
"He's exceeded my expectations. He's obviously a great recruiter. At the same time, I wouldn't call it walking into a perfect situation, but with what was going on at Penn State, I think he's taken five recruits from Penn State, so there were opportunities for him to come in and flip some guys. Noah Spence was a Penn State lean. He had O'Connor and Tommy Schutt, two other ESPNU 150 guys who were committed to Penn State.
Camren Williams
and
Armani Reeves
, two other guys at Penn State. Obviously, he's one of the best recruiters in the game. He also had some good fortune in being able to come in at a time when things were shaky at a rival school and pick up some of their commitments. Se'Von Pittman, the other ESPNU 150 guy, he was really looking for a reason to get to Ohio State."
Topic 2: How good is Michigan's class, and has the Wolverines' momentum slowed down in the last several weeks?

CH:
"They came out fast. We've always had them in that 5-to-7 type range. People might get frustrated that it's getting near signing day, when there's a lot of buzz and things going on, and they're not doing much, but to be fair to them, what they did has allowed them to maintain in the same area where they've been for most of the recruiting process. The thing that sticks out to me about this class is a lot of people kind of scoffed when Brady Hoke got hired and he said, 'I'm a Michigan man.' But he's been true to that. They've done very well in state. A lot of their key players are Michigan guys, led by
Terry Richardson
. So he's brought a little bit of that Michigan man feel, and there seems to be an excitement among recruits."

TL: "
Michigan was rolling before Meyer got the job, and they were teetering on maybe swinging
Bri'onte Dunn
, the running back, and Ohio State was able to keep him in the fold. Is Michigan in competition with Ohio State for some players? Yes. But Michigan right now is more focused on revamping the roster to the mold that Brady Hoke wants. They need more size up front, some size at the linebacking positions and some size at the skill spots. And I think they've done that in all three areas. [The lack of recent commitments] is a reflection of numbers and how much room they have. With the Big Ten's hard cap, they don't have a ton of wiggle room. If anything, the winning on the field and the sustained excellence helped solidify that the class would stay intact."
JS:
"I don't know if I'd say they've lost momentum. They really were hoping to get Josh Garnett, who ended up going to Stanford. Their class filled up so quickly, and they only had about four or five spots left midway through the season. They're hoping to get some of the guys who are closer to signing day. They're in good position to get Jordan Diamond. I think he's No. 94 overall. So it seems like they've maybe fallen off, but they were at 21 or 22 commitments by the time the season started. They really had their run of success in the spring and summer. I'm sure they would have liked to maintain that a little bit and gotten some of those final targets like Garnett, but they're also able to get the two receivers, [Amara] Darboh and [Jehu] Chesson, right after the season ended. So they've still been able to pick up some guys along the way."
Topic 3: How has Penn State fared given all the turmoil surrounding the program and the flurry of decommitments?
JS:
"My thinking for them was, if they could have just held on to their 14 commitments, that would be the main thing. They were obviously going to get some more commitments, but they weren't going to be the top-caliber guys. If they could hold onto the 14 and add those sleeper guys who have a chance to be something at the next level, that was my expectation for them. I like that they got
Akeel Lynch
, the running back. I think he could be a good player. They're probably a little disappointed that it looks like they're going to miss out on
[Skyler] Mornhinweg
and the two Massachusetts guys in Reeves and Williams."
TL:
"I think to this point, Bill O'Brien has done a good job. But a lot of credit needs to go to that previous staff. Outside of the guys they lost to Ohio State, through all of this, they're still siting here with 18 verbal commitments. If you think about it, that's astounding. And I would say that the top third of them, athletically, can compete for a conference championship. Of course, you don't know all the intangibles and all that, but based on pure player level, this is a pretty strong class. It certainly isn't anywhere near where people would have expected it to be. ... But just to have bodies in this class, in my opinion, is a positive. [O'Brien] won't be judged on this class. He will be given a long leash, and in my opinion, it was made very clear with the timetable the administration set with this hire that the 2012 class is not the priority. If it had been, they would have hired a guy in December."
December, 13, 2011
12/13/11
8:00
AM ET
Just a hunch, but Urban Meyer won't be making many friends within the Big Ten, both on the field and on the recruiting trail.
Consider what went down Monday afternoon/evening. Meyer received commitments from two top recruits who had committed to other Big Ten programs: defensive linemen Tommy Schutt and Se'Von Pittman.
Both are ESPNU 150 selections. Both had been the highest-rated commits for Penn State (Schutt) and Michigan State (Pittman), respectively. And now both say they're headed to Columbus to play for Meyer at Ohio State.
Neither switch is a huge surprise. Schutt's pledge to Penn State seemed very shaky in light of the the recent troubles in State College. He considered several other programs and on Monday
made the move to Ohio State
. Pittman committed to Michigan State during the summer but had been rumored to be reconsidering. His high school teammate, Steve Miller, plays for Ohio State. Pittman also
made the switch Monday
.
It's certainly notable to have two top players switch commitments to the same school within the league on the same day. It shows Meyer will be aggressive in assembling Ohio State's class up until national signing day and likely will pursue other top commitments both within and outside the Big Ten.
But it also dilutes the ridiculous belief held by some Big Ten fans that there's some gentleman's agreement within the league not to pursue players who commit to other programs. This is a complete myth. Meyer isn't the first Big Ten coach to swipe a recruit or two. He's just the latest to do so. It goes on in every conference and with pretty much every coach. Meyer simply will get more attention because of who he is, where he has been and which team he now coaches. While the Big Ten might become "the SEC North," as
Dan Wetzel tweeted
Monday, the league isn't nearly as pure as some fans think it is.
There's also the
NCAA waiver Ohio State received to have two coaching staffs working simultaneously
: the existing staff under Luke Fickell and the new staff under Meyer, which also will include Fickell. This has infuriated fans of other teams and raised questions about fairness, but Ohio State surely won't be the only program to exploit the loophole (Illinois is trying to do the same). Blame the NCAA on this issue.
Our Twitter page blew up Monday night after
I tweeted about what Meyer had done
. Some thought I was glorifying him. Hardly. I simply pointed out a notable development on the recruiting trail by a new Big Ten coach. Go ahead and whine about it, but it's a part of today's recruiting.
Without an early signing date, all recruits are fair game until the first Wednesday of February. Whether it's wrong or not is beside the point. It's the way it goes.
It will be interesting to see who else Meyer pursues, and whether he can keep Ohio State's own commitments on board, particularly running back Bri'onte Dunn, a rumored candidate to bolt.
Fifty days till signing day ...