NCF Nation:

Shakim Phillips
August, 26, 2014
Aug 26
12:00
PM ET
Tyler Murphy
's path to Boston College has been unconventional, to say the least. But the Connecticut native and former Florida quarterback has come full-circle as he enters his final year of college ball, reunited with head coach Steve Addazio, who had recruited to Murphy to the
Florida Gators
when Addazio was an assistant in Gainesville.
ESPN.com caught up with Murphy recently to touch on a number of topics.
What has the acclimation process been like at BC?
[+] Enlarge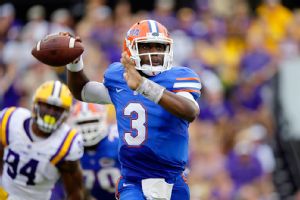 AP Photo/Gerald HerbertQB transfer Tyler Murphy on the offense BC will run this season: "We're still trying to find our identity."
Murphy:
It's been going very smooth. As soon as I got here in the spring the team welcomed me with open arms. I was able to get to know some of the guys, allow them to get to know me, so we've been building a bond since I've gotten here. We've been working really hard on and off the field, knowing coach Addazio and some of the coaches from before, like (offensive line) coach (Justin) Frye and (tight ends) coach (Frank) Leonard, they've really made it smooth, knowing some of the guys and having some familiarity with the offense.
Were you familiar with any of the players before?
TM:
No, I really didn't know anyone really before I got here. I came up with Ian (Silberman), me and Ian helped each other with the process. But I was able to get to know the guys quickly and build relationships really fast, which made everything easy for both of us.
What did you remember about Addazio from recruiting and from Florida?
TM:
He's a very passionate guy, I remember that from the recruiting process. He loves what he does, he takes pride in what he does. Not only does he try to make you the best football player that you can, he also tries to develop you as a person and make you the best man off the field as well. That really stuck with me. That's something I really look for when trying to find a new program, and knowing that coach Addazio had that instilled in him, it made my decision very easy.
Did you watch BC at all last season? Were you surprised by the jump they made in Addazio's first year?

TM:
I definitely followed the team a little bit last year, especially with coach Addazio being the offensive coordinator my freshman year. You always kind of root for guys that you know, so any time BC was playing I'd definitely tune in and watch. It shows what kind of guy coach Addazio is and the leader he is, and the seniors last year did a great job of turning things around and building a culture. You have to give them credit, and it's something that I really look for when choosing a new school, and it's a great culture, it's something I'm happy to be a part of. And I'm just going to do my best to help this program, help this team and find a way to lead, get us a few "Ws" and take the next step for this program.
Coach Addazio said you are a BC guy and that you fit into the culture there. How so?
TM:
When you think of Boston College you think of a high-standard program with lots of great people that really do the best to try and excel and help the community around them. The people academically and athletically are all very nice. They all go out of their way to try to help people and uplift people. When I got here you could also see that with the team. Guys were really a close-knit bunch of guys and they were sacrificing for one another and doing things that that they probably wouldn't do for themselves, but they would push through things because they didn't want to let the guy down next to them. When I saw that and felt that, I was really happy and I felt like I made the right decision.
How would you describe the offense you are running?
TM:
Right now we're in heavy sets, we're in spread sets, we're a little bit of everything right now. We're still trying to find our identity. We're trying a bunch of things out to see what we're good at and we're just going to really try and excel once we find out what we are good at. We're just trying to be successful with everything the coaches throw at us and try to execute everything, because the more things we have, the more versatile we can be and the more pressure on the defense. So we're just trying to make things easy for us, and the more things we can do, the better. We're just trying to go out there, execute, fly around, have some fun.
Who are some of the receivers you think will step up this year?
TM:
I think all of the receivers are doing a great job. Starting with
Charlie Callinan
to
Dan Crimmins
to
Drew Barksdale
, those guys have really stepped up and are finding roles. And we also have
Shakim Phillips
with some experience,
David Dudeck
and
Josh Bordner
, he's been doing a good job lining up and doing some things outside. So I think our fans should be excited, because these guys can make some plays and they work hard and they do a lot of the little things right to help this offense go. They're going to do some things and surprise some people, and hopefully they'll be able to have great careers while they're here.
How did you and (NC State quarterback) Jacoby Brissett help each other throughout the transfer process?
TM:
We both played at Florida and we both didn't play much, so we kind of would try to keep each other up. Sitting on the bench isn't fun, it could be difficult. We tried to build a friendship where we keep each other up, keep each other motivated, and each and every day find a way to go into the office and get better, and so we both decided we needed to move on. We both talked to each other, and when it was his time and he wanted to leave I sat down with him and we both tried to break things down and what his options were and what was the best option. And it was vice versa, he did the same thing with me. So we have a really good relationship. We still talk to this day. We talk, if not every day then maybe every other day, just to check up on each other and see how things are going, because it can be a tough transition. And as friends you always want to see your other friend do well, and we both look forward to competing against each other when we do line up and play this year.
November, 9, 2012
11/09/12
11:18
PM ET
Many of us thought a letdown could be in store for Pitt on Friday night after the Panthers dropped a triple-overtime heartbreaker to Notre Dame last week.


But nobody expected what actually happened against the Huskies.
Connecticut -- so hapless on offense for most of the season -- set the tone early on with dominant play up front and then held off a furious Pitt rally to end a four-game losing streak and win
24-17
and keep its bowl hopes alive. Pitt failed to show up in the first half, trailing 24-0 at halftime before deciding to make a game of it.
The Huskies (4-6, 1-4) helped them out, continuing their second-half scoring struggles. In five Big East games, UConn has a total of three second-half points. In this one,
Jarred Holley
intercepted
Chandler Whitmer
in the end zone with 4:57 to go and the Huskies up 24-10.
Pitt (4-6, 1-4) turned the mistake into a score when
Tino Sunseri
threw an 18-yard touchdown pass to
Mike Shanahan
with 2 minutes, 46 seconds remaining. But Whitmer made up for his earlier miscue with a huge third-down conversion on a pass to
Shakim Phillips
to ice the game.
Pitt now has to win out over Rutgers and South Florida to get back to a bowl game. Panthers fans have come to expect these types of games from the most enigmatic team in college football. One week, they lose to Youngstown State. Another week, they nearly upset the No. 3 team in the country.
On Friday night, it was just another bad loss to a team that was winless in Big East play going into the game. Consider:
UConn was one of the worst teams in the nation in total offense, scoring offense and rushing offense going into the game. The Huskies had gone four consecutive games without rushing for 100 TOTAL yards. But against the Panthers, they went over the century mark and Lyle McCombs had his first 100-yard game since Sept. 22 against Western Michigan.
The Huskies scored over 20 points for the first time since notching 24 on Sept. 29 against Buffalo.
UConn, maligned all season for the play of its offensive line, had perhaps its best game of the season in successfully controlling the line of scrimmage.
The Huskies also got an 80-yard punt return for a touchdown from
Nick Williams
in the first half to help build their 24-0 lead. Two huge players on the night for UConn: tight end
Ryan Griffin
, who tied a career-high with six receptions for 84 yards and a score; and linebacker
Sio Moore
, who was a one-man wrecking crew.
Pitt simply could not move the ball with any consistency, getting 48 total yards rushing. Sunseri ended up with over 300 yards passing, but it was too little, too late.
May, 24, 2012
5/24/12
2:00
PM ET
PONTE VEDRA BEACH, Fla. -- I had a chance to catch up with UConn coach Paul Pasqualoni during the Big East spring meetings. We talked about where the quarterback race stands and some of his remaining questions heading into fall practice.
Do you have a front-runner in the race to be your starting quarterback?
PP:
Chandler Whitmer had the best production in the spring game, so I think there are members of the media, and I've been through this before, that like to choose the quarterback. If the members of the media, based on the spring game, were choosing the starting quarterback, Chandler Whitmer would be the front-runner. But I've been in this long enough to know that it's not based on one performance. It's the body of work over an extended period of time. They all did some pretty good things in the spring. Having said that, we're going to come back into preseason camp and we're going to continue the competition but I would like very, very much to make a decision as soon as I can.
[+] Enlarge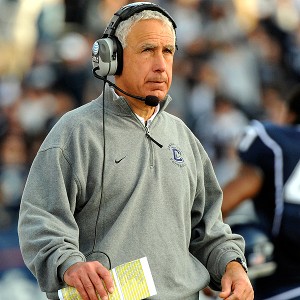 AP Photo/Tomasso DeRosaPaul Pasqualoni still has a decision to make regarding his starting quarterback.
It did drag on into the season opener last year.
PP:
I preferred for that not to happen. Years back when we had Donovan McNabb, Kevin Johnson and Keith Downing all competing, it was the same thing; we were trying to figure it out. We weren't able to do it early in preseason, so we did it in the end to get all the scrimmages in and get all the opportunities to watch and see them play and produce. If we have to, we're going to do that, but if we don't have to, we're not going to do that. I'd like to be able to say tomorrow, 'Here it is, let's go,' but I just can't do that. So we're going to grind it out. It's a big decision, obviously, and we're going to try to make the best, informed decision that we can.
How will you manage the reps with all five still competing?
PP:
We did a great job of managing the reps in the spring, so we'll go back in and we'll manage the reps the same way. They'll each get a significant number of reps. Scotty McCummings will still have the majority of the Wildcat reps, although he works on the entire game plan and we're trying to develop him as a drop-back passer as well. We'll divide them up and we'll do the best we can with it.
If Casey Cochran doesn't emerge as your starter, have you given thought to redshirting him?
PP:
We haven't discussed any of that yet. We really don't talk about redshirting anyone at this point. My policy is I want them coming in with a non-redshirt mentality when they get on campus. My fear has always been if you start to talk that redshirt mentality and they come into camp and they're not ready enough, it affects their conditioning and the way they go through practice. I want them coming in and all competing.
How about the development of your offensive line this spring. Where does that group stand?
PP:
We're anxious to get
Jimmy Bennett
back. He'll be back. He's been cleared, he'll work out full go here in early June. He was really one of our better tackles last year. The biggest issue with Jimmy is to get him ready to go but keep him healthy.
Adam Masters
got nicked up in the spring, we have to get Adam back, and over at right tackle,
Kevin Friend
has been working hard. So if Jimmy's back and Jimmy's playing tackle, it gives us flexibility to put Adam back at guard.
Alex Mateas
and
Tyler Bullock
are competing at center. There are a few freshmen I want to see practice, Tyler Samra, Rennick Bryan. I want to see where they can fit in the top 10. So those are going to be all really big things for us with the offensive line in camp.
How about the defensive line? It seemed Ryan Wirth had a good spring game.
PP:
Ryan Wirth got nicked up but then he came back for the spring game and had a very productive spring game. He's a senior, and we expect to get senior leadership out of him.
Shamar Stephen
,
Angel Pruitt
, I thought
Julian Campenni
had a productive spring until he got hurt. He cut his ear and was unable to play in spring game but he had a productive spring. We're not there yet on the defensive line, and we're not there yet on the offensive line, but we're going in the right direction. We've got the right guys on the bus. It's a matter of getting them in the right seats now.
What are your biggest questions then, aside from quarterback?
PP:
Offensive line, defensive line, and what the depth is going to be at both the tailback position and the wide receiver position.
Losing D.J. Shoemate was obviously tough.
PP:
It was. We know what
Lyle McCombs
can do. But we've got to find out who the next two guys are.
At receiver, Shakim Phillips seemed to have a good spring as well.
PP:
Shakim had a good spring,
Mike Smith
is back and he's played a lot of football for us.
Nick Williams
is back. We've got the two young guys in
Tebucky Jones
and
Geremy Davis
who have done pretty good, and then we moved
Deshon Foxx
out to wide receiver and he showed some promise. I think we know who the older guys are there. Now we have to figure out the younger rookie guys and see what kind of depth we have. I want each of them to have a role. To say that I've got all that figured out right now -- I don't.
April, 14, 2011
4/14/11
9:00
AM ET
It seems as if Boston College receiver
Colin Larmond Jr.
has made his collegiate career out of waiting.
For two years, he waited patiently for his chance to become a full-time starter. Before he ever had a chance to experience it last year, Larmond suffered a season-ending torn ACL two weeks before the season began. Now, after a spring in which he has been limited to running, lifting and watching, Larmond is once again waiting to be cleared for full participation with the hopes of playing an integral role in BC's offense this fall under first-year coordinator Kevin Rogers.
[+] Enlarge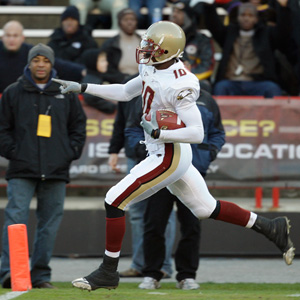 AP Photo/Rob Carr)Colin Larmond Jr.'s best season came in 2009, when he caught 29 passes for 596 yards and five TDs.
Larmond said he expects to be 100 percent by the end of May or early June, and he'll have some catching up to do in summer camp. Every player who caught a pass last season returns at BC, including two true freshmen who gained invaluable experience in
Alex Amidon
and
Bobby Swigert
.
Without Larmond in the lineup, they didn't have much choice.
Amidon led the team with a 21.1 yards per catch average. He totaled 338 yards on 16 catches and had two touchdowns. Swigert led the team in catches (39), yards (504), touchdowns (4) and average per game (38.8).
Ifeanyi Momah
is returning for his fifth year and was second among wide receivers with 31 catches, 338 yards and a 26.0 per game average. The Eagles also return
Clyde Lee
,
Johnathan Coleman
, and
Shakim Phillips
.
Larmond said he feels like he has to win his job back.
"Coach always says no one's jersey is tattooed on them," Larmond said. "That's good and it also gives me more motivation. It's like, 'OK, well guess what? No one remembers you now because you sat out and these guys came in and stepped up.' It's just like the real world. If you can't get the job done, somebody else will replace you, or if you go down, there's someone there to fill in. I'm going to have to work even harder than those guys. Even though I've been here it doesn't really matter because when I wasn't there, those guys stepped up. Their numbers were called and they made plays."
And unlike Larmond, they've had the spring to practice the new offensive scheme. Larmond said he's been studying it and he feels like he knows it, but …
"Those guys have been doing it day in and day out for the past month," he said. "I'm in meetings and I understand it, but it's different when you're sitting there instead of actually being out there and showing you understand it. There's a whole bunch of things I feel like I have to prove when I come back, not just for myself but also Coach Rogers and this new offense."
Last Tuesday, Larmond received a brace for his ACL. He's been working on getting his knee stronger, but has a separate workout from his teammates to help rebuild the strength in his hamstring and quad. Larmond hasn't run full speed in about eight months, so he will need the rest of the offseason to get reconditioned, but he also said he needs the time to get mentally stronger as well.
"I know that when that day comes back around in camp again, it's going to be on my mind -- OK, let's hope this doesn't happen again," he said. "That mental aspect of the game, which was my main concern, making sure I get over that hump, over that hurdle, knowing that I'm going to go out there and run this 110 percent, not being nervous that I might mess my knee up again. The time is going to be very helpful."
And a healthy Larmond could be even more helpful to BC's offense in 2011.
August, 23, 2010
8/23/10
1:27
PM ET
Boston College wide receiver
Colin Larmond Jr
. suffered a season-ending knee injury Saturday that will require surgery, the school announced on Monday.
This is a huge blow to the Eagles' receiving corps and the passing game, as Larmond Jr. was expected to be the team's top receiver this fall. He was the leading returning receiver with 29 receptions for 596 yards and five touchdowns last season. He led the 2009 team in yards per catch (20.6) and finished second in receptions (29), yards (596), touchdowns (five) and average per game (45.8).
It's now crucial that
Ifeanyi Momah
produces, as he more than likely will start. Momah redshirted last season because of injury, but in 2008 he caught 11 passes for 149 yards and was second on the team with three touchdowns. The staff had planned to use Momah as a defensive end in addition to his receiver duties this fall, but this will likely scratch those plans. The other starter at receiver is
Billy Flutie
, who caught five passes last season.
Beyond those two, there really isn't much depth or experience to depend upon. Sophomore
Clyde Lee
caught four passes last season, and senior
Ryan Lindsey
has one career reception. True freshman Bobby Swigert is likely to end up playing, and he has looked good in the scrimmages. True freshman Shakim Phillips would be right in the mix, but he has been sidelined with a hamstring injury. Alex Amidon is another true freshman who might help.
The Eagles are fortunate to have running back
Montel Harris
. He might have to catch the ball out of the backfield a little more than eight times this fall, though.
February, 4, 2010
2/04/10
9:00
AM ET
Boston College has developed a reputation for producing standout offensive linemen, and recruiting coordinator Mike Siravo said he thinks
this year's class
has the potential to continue the trend. While there weren't any players from the ESPNU 150 in coach Frank Spaziani's first full recruiting class, there is still plenty of talent that can help the Eagles continue to contend for the Atlantic Division.
"We feel like that's one of the spots we focused on and we evaluated and brought in some good kids," Siravo said of the offensive line.
The staff brought in four offensive linemen, including
Seth Betancourt
, a three-star offensive tackle from Saint Joseph's Prep in Pennsylvania, but it also filled a need at quarterback, wide receiver and running back. Usually there's a gem hidden amongst the BC recruits -- just look at linebacker
Luke Kuechly
-- but Siravo wasn't sure yet who it is in this class.
"We were talking about it today," Siravo said on Wednesday. "None of us want to say who it is. We're so excited about [two-star running back]
Andre Williams
. He's got a great frame on him. People raved about him in Pennsylvania. ... It could be a guy like him, it could be an offensive lineman. I really have no clue. I try to predict them and I'm always wrong."
BC continued its philosophy of recruiting unheralded but solid football players who want to be in Chestnut Hill, leaving the staff with little doubt about how signing day would unfold.
"Most of our kids signed in by 9 o'clock [Wednesday] morning," Siravo said. "I don't want to say it's uneventful, but there's not a lot of drama on signing day for us because of the kind of kids we're involved with. It's just a sign of stability. ... They just were solid all the way though. They never wavered, and that's what we win with."
Siravo said the positions where a freshman is most likely to contribute immediately include running back and wide receiver. The wideouts you might see early are
Shakim Phillips
,
Bobby Swigert
, and
Alex Amidon
. Quarterback
Chase Rettig
is "very accurate and very polished" and could challenge Dave Shinskie this spring.
February, 3, 2010
2/03/10
5:07
PM ET
It was a bit easier this time around, as coach Frank Spaziani and his staff have gone through a season together and had the past year to work together and recruit
this 21-player class
. One player to keep an eye on in this class is quarterback
Chase Rettig
, who could push
Dave Shinskie
for the starting job. Receiver
Shakim Phillips
is another player who could see the field quickly. The staff brought in three four-star players, but overall, this should be a typical BC class -- filled with players who want to be there and will help the Eagles contend for the Atlantic Division.