July, 16, 2013
7/16/13
2:21
PM ET
Redshirt freshman quarterback
Shane Dillon
is leaving Colorado because he wants to play college basketball, the school announced Tuesday.
Dillon, who was coming back from shoulder surgery, struggled during spring practices, when
Connor Wood
seemed to take the lead in the Buffaloes' quarterback competition. In the four main spring scrimmages, he completed 19-of-39 passes for 185 yards and two touchdowns (one interception), and rushed for 26 yards on 10 attempts.
[+] Enlarge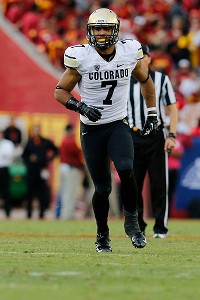 Ric Tapia/Icon SMIShane Dillon says basketball has always been his first love.
But Dillon, 6-foot-5, 200 pounds, said this isn't about football but about his favorite sport being basketball.
"I've grown up playing basketball my entire life, I've always been a basketball kid and have played since I was 4 years old," said Dillon in a statement released by the school. "I was a late bloomer in football and never started playing quarterback until halfway through my sophomore year.
"I always kind of felt my decision that I had to play football was forced upon me a little bit," he added. "People told me I had to make a decision by the end of my junior year between football and basketball because quarterbacks all seemed to commit pretty early. Basketball has always been my passion, and even though I really enjoyed my year here, I felt the time is now for me to make the change."
Dillon's departure is another blow at the position for the Buffs.
Jordan Webb
, the 2012 starter, blew out his knee during spring practices.
Nick Hirschman
opted to transfer to Akron. It's possible incoming freshman
Sefo Liufau
will be Wood's backup.
Dillon averaged 19 points and 13 rebounds as a senior, and 25 and 12, respectively, as a junior, at Christian High School in El Cajon, Calif., and was recruited by several schools for basketball.
"We hate to see Shane go, he's truly a phenomenal young man, but we understand what he wants to pursue," Colorado coach Mike MacIntyre said. "I felt like he definitely had a future in football, but as Shane and I discussed, it was going to take hard work to succeed in football, and it's also the same for basketball. Instead of throwing passes for three hours in practice, he'll be shooting baskets."
According to the news release, Dillon spoke with basketball coach Tad Boyle about the possibility of joining the CU men's team, but all scholarships in 2013-14 are spoken for, so he would have had to be a walk-on and then try to earn a scholarship a year from now. Said Dillon, "That's something my family really can't afford right now, or I would definitely have considered that option."
April, 16, 2013
4/16/13
1:00
PM ET
Four of the five Pac-12 teams that entered spring with wide-open quarterback competitions are now finished with practices and are headed into the offseason.
So ... what did we learn? A little but not a lot. We didn't expect much resolution and we didn't get it. So, hey, we lived up to expectations.
Arizona, California, Colorado, Oregon State and USC entered the spring with wide-open battles. Of them, only Oregon State is still practicing, and coach Mike Riley has said he won't decide between
Cody Vaz
and
Sean Mannion
until the fall.
Which is sort of the message with the other four, too.
Still, here's our best tea leave reading.

Arizona
When I was in Tucson at the beginning of spring practices, coach Rich Rodriguez and offensive coordinator Rod Smith kept saying they just wanted to find a QB with whom they could win.
At the time, I kept thinking, "Well, duh." But I get it now. The translation:
Matt Scott
isn't walking back down the stadium tunnel. It's difficult to imagine 2013 production at the position will approximate what the Wildcats had in 2012.
The general takeaway from spring practices? The Wildcats probably can be at least adequate on offense and win a few games and be competitive throughout the season with
B.J. Denker
at quarterback.
The second takeaway? The guys who weren't able to participate this spring -- USC transfer Jesse Scroggins and incoming freshman Anu Solomon -- are Denker's true competition.
So ... this is still wide open and it's wide open in a predictable way.
Denker has the most experience in the offense. Scroggins has a significantly better arm. Solomon is seen as the future. The question with him is readiness and whether he will benefit more from a redshirt season (Pac-12 blog guesses "yes") than playing immediately, even if in only limited packages.

California
California's QB competition also remains officially unresolved, but the scuttlebutt seems to strongly favor redshirt freshman
Zach Kline
.
Further, there was some movement. For one, senior
Allan Bridgford
, quite reasonably, recognized he was the odd man out and opted to transfer. Second, it became a three-man race between Kline, junior
Austin Hinder
and surprising true freshman Jared Goff.
The post-spring depth chart was sort of interesting, though it's likely the Pac-12 blog is reading more into stuff than it should. While all three were separated by the time-honored "OR," Goff was first, Kline second and Hinder third.
Typically, "ORs" go in alphabetical order. You don't need a Berkeley degree to know that's not what happened there. Perhaps this is a case of youngest to oldest?
A further wrinkle: Hinder is the best runner of the troika by a wide margin. It wouldn't be surprising if he's given some specific, situational packages to run next fall.

Colorado
Colorado started with six candidates -- though not with equal standing -- and the top two after spring practices might surprise some, particularly those hoping for new blood: juniors
Connor Wood
and
Nick Hirschman
.
Before spring practices began, more than a few folks believed redshirt freshman
Shane Dillon
was the favorite. But he often looked raw while Wood and Hirschman seemed far more comfortable with the new offense under Mike MacIntyre, something that likely is due to their having significantly more experience.
Of course, there's no reason Dillon can't find his stroke this summer and jump back into the competition. The most obvious precedent of a guy overcoming a poor spring to win the starting job is Arizona State's
Taylor Kelly
, who was well behind
Mike Bercovici
and
Michael Eubank
a year ago.
Further, just like Arizona, Colorado has its own touted incoming true freshman: Sefo Liufau.
Youth is an advantage in some ways. The Buffaloes aren't going to win the Pac-12 in 2013. There's something to be said for, if the race is close, going with Dillon or Liufau and accepting immediate growing pains with an eye toward 2014 and beyond.
+

+
USC
USC's
QB situation is interesting
, in large part because one guy clearly outplayed the competition this spring: Sophomore
Cody Kessler
.
But
Max Wittek
is undeniably a more talented passer; he might have the strongest arm in the Pac-12. He also is a strapping 6-foot-4, 235 pounds, while Kessler is a scrappy 6-foot-1 215.
USC isn't known for scrappy. Some might call that, on occasion, a shortcoming.
So there is a bit of controversy here as coach Lane Kiffin didn't seem inclined to say after the spring game -- Kessler passed for 242 yards and three touchdowns with no interceptions compared to Wittek's 145 yards, two touchdowns and two interceptions -- that Kessler was ahead.
Of course, this could just be a minor, media-driven quibble. For one, Kiffin might release a depth chart in a few days and put Kessler ahead. So there you go, media!
Or Kiffin, unlike his mentor and predecessor Pete Carroll, might want to keep the competition going as long as possible. He might want to see who asserts himself as the screws tighten. Nothing invalid about that. Will we media sorts similarly harrumph if Riley does the same even if Vaz/Mannion decisively outplays Mannion/Vaz?
(Carroll liked to "anoint" -- his frequently used term -- a QB as early as possible so he could take over requisite leadership for the position).
The problem Kiffin has is some see him sometimes prioritizing talent over performance (see, OT
Aundrey Walker
), which diminishes the perception of true competition. Carroll seemed to fall into that during his later years at USC before bolting for the Seahawks.
Anyone remember the old USC glory days of "Competition Tuesdays?"
Wittek might end up
earning
the starting nod. But it will not benefit him if there's a sense in the locker room that he didn't truly win the job. If Kiffin hands him the keys to the offense -- not saying he will, only "if" -- then it will be a disservice to Wittek as much as his teammates.
March, 14, 2013
3/14/13
1:00
PM ET
If someone had asked me before spring practices began who California's starting quarterback would be in 2013, I would have quickly said with my all-knowing look: "
Zach Kline
."
If that someone had gently protested with a "But what about..." I would have interrupted with another all-knowing look, "No. It will be Zach Kline."
Unfortunately, that would have been the same all-knowing look I gave while asserting USC's national championship prospects before the 2012 season. It might be wise for me to mothball that all-knowing look, and I just want to add that my wife and children owe Lane Kiffin and the 2012 Trojans an eternal debt of gratitude.
[+] Enlarge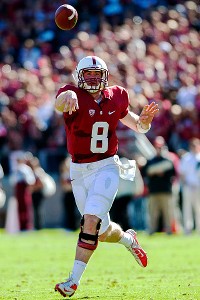 Ed Szczepanski/US PresswireThe success of young QB's like Stanford's Kevin Hogan is no longer a rarity in college football.
Kline might well end up the Bears' starting quarterback, but that's not what this is about. It's about Cal's quarterback battle looking like it's going to be
a showdown between
Kline, a redshirt freshman, and true freshman
Jared Goff
, who opted to graduate early from high school, skip all the riotous things high school seniors do during their final spring frolic and begin the serious business of Pac-12 football.
A redshirt freshman is the "veteran." A true freshman is the challenger.
There are two notable things about the Conference of Quarterbacks this spring: 1. There's an impressive crew of talented and already accomplished ones returning; 2. Youth now rules a position where that very quality was nearly a disqualifying negative not too long ago.
California is not the only school that might tap a true freshman. Arizona has Anu Solomon coming in this fall, and the look on both coach Rich Rodriguez's and co-offensive coordinator Rod Smith's faces when talking about him suggest his candidacy is legitimate.
"If the kid is good enough and he can handle it," Smith said." Some kids transition better than others. Anu is a kid who was a four-year starter in high school. That doesn't mean anything for college, but at least he's been in the mode when he's the new kid on the block competing with older kids and he performed well. He was 56-4 as a starter. The kid is a winner. He knows how to move the football and win."
That is not too far from the case Pete Carroll made in 2008 when he opted to go with true freshman
Matt Barkley
, only Carroll went all Pete Carroll-y and made Barkley into
some metaphysical quarterbacking beast
, citing Malcolm Gladwell and labeling Barkley an "outlier."
Still, that was a precursor to the new reality.
A redshirt freshman, Texas A&M's
Johnny "Football" Manziel
, won the Heisman Trophy, and a redshirt freshman, Oregon's
Marcus Mariota
, was first-team All-Pac-12, over seniors Barkley and Arizona's
Matt Scott
. Stanford's season transformed when it handed its offense to redshirt freshman
Kevin Hogan
. Utah started a true freshman,
Travis Wilson
, a few games into the season. Redshirt freshman
Brett Hundley
led a UCLA resurgence.
Further, USC again has a early arriving true freshman who is a legitimate candidate to win the starting job in Max Browe. More than a few folks believe the front-runner to win the job at Colorado is redshirt freshman
Shane Dillon
.
We might not be at the end of 2013's youth movement. While Washington and Washington State both welcome back veteran quarterbacks in
Keith Price
and
Connor Halliday
, there is a sense they both could be threatened by, yes, true and redshirt freshmen challengers.
The only Pac-12 teams certain to start upperclassmen at quarterback: Arizona State with junior
Taylor Kelly
, and Oregon State with junior
Sean Mannion
or senior
Cody Vaz
.
This youth movement doesn't include a sacrifice of quality and high-prospects. It's not primarily about a failure of the older guys. Does any conference offer a better array of returning quarterbacks than Mariota, Kelly, Hundley and Hogan? The answer is no.
There are many explanations for this youth movement. First of all, quarterbacks are better prepared in high school. They get private coaching, go to summer camps, play 7-on-7 in the offseason, etc. In high school, they don't just show up in August for two-a-days and draw plays in the dirt anymore.
Further, a player's recognition of and respect for the natural pecking order has been reduced, as has patience. If a touted guy loses out in a quarterback competition, he seems more likely to transfer now in search of playing time. A couple of coaches also have told me it's more difficult to recruit the position when a team has an entrenched, underclass starter. That then means the junior and sophomore quarterbacks on the roster might not be as good as the younger players who sign only when the starter is a junior or senior.
Or the job will be vacant, as is the case with Browne at USC.
Yet just because a guy starts as a freshman doesn't mean the death of the upperclassman quarterback. In fact, it should in most cases increase its likelihood of occurring.
The logic is simple: If a guy is good enough to start as a freshman and plays well, then you can project forward two or three years of improvement and future success. The most important position on the field is locked down and secure and worry-free. A good thing.
It doesn't always work out like that -- see Price at Washington this past season. Or the Barkley of 2011 versus the lesser version in 2012.
That noted, it's not unreasonable to hold high hopes. Know that just about every Oregon fan has projected improvement for Mariota over the next two years, though he could enter the NFL draft as a third-year player after this season. Even moderate improvement sets him up as an All-American and Heisman Trophy candidate. Same could be said for Hogan, Hundley and Kelly, by the way.
The youth movement at quarterback is a substantial shift in thinking. An experienced, veteran quarterback used to be the first preseason measure of a team. Now all a team needs to be highly esteemed is a returning starter, even if that's just a sophomore.
It's getting to the point, in fact, that youth at quarterback will be weighted less as a potential problem by prognosticators.
At least, it's possible that the next time someone frets a lack of experience at quarterback being a problem, I'll resurrect my all-knowing look and say, "No, it's not!"