December, 20, 2010
12/20/10
10:30
AM ET
My, oh, my what an end to the season for the Cougars. Back in October, many left them for dead after a 2-5 start, featuring an anemic offense and a shaky defense. But BYU (7-6, 5-3 MWC) played one of the most difficult stretches to open the season, and had to do it with a true freshman in
Jake Heaps
first rotating snaps and then taking over as the starter.

After losing to TCU on Oct. 16, the schedule lightened considerably and BYU responded. The Cougars closed out the season with wins in five of their final six games -- and probably should have beaten Utah to end the regular season. Heaps showed growth, coach Bronco Mendenhall proved to be a terrific defensive coordinator and BYU moves on to the land of independence with serious momentum after an all-around terrific performance against UTEP in the New Mexico Bowl.
This was not the best season in BYU history, but it was one that showed the true heart, soul and grit of a team clawing its way back to respectability. Mendenhall reiterated throughout the season that this was his most gratifying in six years as a coach. It is easy to see why after watching his team rise from the doldrums to become a bowl champion.
Offensive MVP: RB JJ Di Luigi.
For a big stretch of the season, he was the only playmaker to step up for the Cougars. Because of him, Mendenhall decided to change his offensive identity to be more of a power run team. Di Luigi ended up leading the team with 917 yards rushing and eight touchdowns, and added 45 catches for 443 yards and another score.
Defensive MVP: S Andrew Rich.
BYU could not ask for a better defensive leader than Rich, who ended up leading the team with 111 tackles and five interceptions.
Turning point:
Losing 31-16 at Utah State. The loss dropped BYU to 1-4 and was an embarrassment. So much so that Mendenhall fired defensive coordinator Jamie Hill and took over duties himself. BYU won its next game against San Diego State -- a critical victory that made the difference in the Cougars becoming bowl-eligible.
What's next:
Independence. Anybody who watched the New Mexico Bowl saw some serious talent returning for next season as BYU leaves the Mountain West. Heaps played the best game of his career, throwing for 264 yards and four touchdowns.
Cody Hoffman
caught a career-high eight passes for 137 yards and three touchdowns in the New Mexico Bowl.
Joshua Quezada
, ran for 101 yards on 15 carries and one touchdown. The running back trio of Di Luigi,
Bryan Kariya
and Quezada all return next season. So does
Ross Apo
, a highly touted receiver who was limited this season after injuring his thumb. There will be some tough losses -- kicker Mitch Payne, Rich and linebacker Shane Hunter. Offensive tackle Matt Reynolds must also decide whether he wants to leave school for the NFL draft or return for his senior season. But BYU showed promise. Now the big question is how it will handle a difficult schedule that includes games at Ole Miss, Texas, Oregon State and Hawaii.
October, 8, 2010
10/08/10
10:00
AM ET
BYU made its triumphant announcement on the eve of this college football season, deciding that it would blaze its own trail and go independent.
The news was met with mixed reviews. Some wondered how a program with a limited national following, a program that had never played in a BCS bowl game, could pull this off. Others pointed to its hubris and arrogance, figuring the move was doomed to fail.
For those loyal to BYU, the move made perfect sense. The Cougars had been transformed back into a contender under coach Bronco Mendenhall, winning 10-plus games the past four seasons, including conference titles in 2006 and 2007.
They had the fan base and wherewithal to make the move work. Another winning season would silence all those doubters.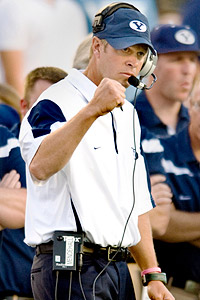 Douglas C. Pizac/US PresswireBronco Mendenhall and the Cougars are now scrambling to turn their season around and qualify for a bowl game.
Instead, the triumph of the preseason has been met with heartache during the season, and plenty of head scratching. BYU has lost four straight, is 1-4 for the first time since 1973 and in a fight to become bowl eligible.
Mendenhall has seemed unsure and unsteady in the face of his biggest challenge as a head coach, waffling between starting quarterbacks and taking a backseat as his coaches made many of the decisions surrounding his team. He had finally seen enough after an embarrassing loss to Utah State last week, an in-state rival it had absolutely dominated.
With his team hanging on the precipice, he fired defensive coordinator Jamie Hill and is now in charge of the defense. He spoke this week of wanting to find the heart of this team heading into a huge game against San Diego State on Saturday, of needing to be more involved in teaching and guiding his inexperienced players.
But are these moves too little too late? And how does a poor season impact going independent beginning next year?
Nobody wants to talk about next year, not when so much is on the line in 2010. The last time BYU finished with a losing record was 2004, going 5-6 in the final season under Gary Crowton. Mendenhall went 6-6 in his first season, but said this week he has learned more this year than in his five previous seasons combined.
"I've learned that winning a college football game is meaningful and it takes a lot of work," Mendenhall said. "Sometimes when you win 11, 11, 10 and 11, you almost take for granted all the work that goes into winning a game.
"Sometimes you take for granted the effort the players put in, the diligence in doing extra. Sometimes you take for granted the real diligence of everyone on your staff really doing their very best to help the team achieve. And sometimes you just take for granted experienced players. With that comes a lot of introspection and a lot of things on how you can continue to improve the program regardless of the team you have in any given year."
The struggles in Provo have been well documented already this year. The Cougars rank No. 96 in total offense, practically unheard of at a school that thrives on its passing attack. Mendenhall began the year rotating
Riley Nelson
and
Jake Heaps
. But Heaps is now the full-time starter after Nelson went down with a season-ending shoulder injury.
There were plenty of holes to fill, and everybody realized that, what with Max Hall, Dennis Pitta and Harvey Unga gone. But BYU had always been able to reload quite easily. Perhaps Mendenhall figured that would happen again.
Meanwhile, the defense ranks last in the country against the run, and is No. 101 in total defense. There is no question the start to the season has been incredibly difficult. But BYU lost to an Air Force team it had beaten six straight times going into the season, and lost to a Utah State team it had defeated 10 straight times.
"We're tired of losing," said running back
JJ Di Luigi
, who has been the best player on offense. "We know where we can be and we know what we have to do to get there and what's in front of us."
So why the sudden morale boost?
"Self pride," he said.
"Being 1-4 here at BYU is not acceptable," said linebacker Shane Hunter. "We know we're a better team than that, and we know we needed to step up our performance."
Especially with more than wins on the line.
Whether BYU wants to admit it or not, its national rep is hanging in the balance, too. Independence brings another set of expectations, fair or not.
"We definitely have faced a lot of adversity, but I think that will make us stronger," Hunter said. "If we learn to overcome these challenges, that's going to make us a better team and it's going to help us in the long run."