NCF Nation:

Shane McDermott
November, 13, 2014
11/13/14
12:00
PM ET
Miami is not a program that can happily live in a vacuum. Not when its history is so intricately tied to its present.
Big wins are expected. So are championships. And that is why there is more pressure on Miami coach Al Golden than there is on Florida State coach Jimbo Fisher headed into their showdown on Saturday. That might not make much sense on the surface because Fisher needs to win out to get Florida State into the College Football Playoff.
But Fisher has succeeded where Golden has not. Fisher has his signature victories on his résumé.
[+] Enlarge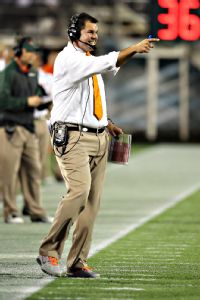 AP Photo/Alex MenendezAl Golden is 0-3 against rival Florida State heading into their matchup on Saturday night.
Golden is still looking for one. He is 0-3 against the rival Seminoles. Including games against the Noles, Golden is 3-7 against teams ranked in the Top 25 at the time Miami played them. His two biggest wins ended up turning into duds -- No. 17 Ohio State in 2011 and No. 12 Florida in 2013. Both those teams ended up with losing records.
"For everybody, to win this game would be big," linebacker
Denzel Perryman
said. "The past four years, we've been coming up short, so to have that win would be big for us and the coaches and the program, To have that W is always great momentum."
When the senior class signed with Miami, there was no way to envision being winless against the Seminoles.
"Of course not, you come to Miami to beat Florida State," offensive lineman
Shane McDermott
said. "It's been four years, and we haven't beaten them. it's been a rough road in that sense, but we have a great shot coming up this Saturday. It's my senior year, so we'd really like to get that win."
Given the way both Florida State and Miami have played of late, the oddsmakers have made the Noles slim favorites, bolstering expectations for a close game and potential Hurricanes win. If Miami gets blown out, you can bet the Golden critics will be out again, the way they were after Miami lost to Georgia Tech to drop to 3-3.
A group of fans
flew a banner
over Sun Life Stadium the following week during the Cincinnati game, reading "Fire Al Golden." Prominent alumni started questioning the direction of the program. But all those critics have grown silent during the Canes' three-game winning streak.
Golden has had plenty of people come to his defense, too, from former receiver Michael Irvin to former running back Mike James. Athletic director Blake James remains firmly behind him as well.
"Coach Golden's done a tremendous job," McDermott said. "He stayed here throughout all our NCAA storm, and he handled every single thing with class, and he's really showed love for our university. There's been a lot of yapping going on around the program, but he just ignores it. That's one great quality he has. Every single day, he goes to practice, and he wants to make us the best possible team he can. We're starting to become that."
Golden has hung signs up around the football facilities that say, "Ignore the Noise." Despite disappointing results against Louisville, Nebraska and Georgia Tech, Miami has the No. 11-ranked defense in the country (312 ypg) and is on pace to have its best rushing performance since the 2001 national championship team.
On the flip side, Miami has lost three of its four toughest games this season. Of its six wins, only one is over a power-five team with a winning record -- No. 21 Duke.
"We've made a lot of progress," Golden said. "Obviously, you open the season with an inexperienced quarterback at two very difficult places to play at Louisville and Nebraska. So I think we learned a lot from that. Certainly, our quarterback has learned a lot. He's done a better job protecting the ball, and he's grown throughout the season. It's a great challenge coming up."
Golden and Davis do have one more thing in common. As McDermott alluded to, both coaches had to deal with NCAA sanctions at the start of their tenures. Davis eventually beat Florida State after five straight losses, and set the program up for its fifth national championship.
But 15 years later, there seems to be more impatience from many Miami supporters, desperate to get back to national prominence the way Florida State has over the past three years. Golden and his players are desperate to win, too. They try to "ignore the noise" but they are not completely blind and deaf.
They know the perception. They know they have to win this game.
"Of course, you get angry, but you turn that into fuel and say, 'You know what? We're going to prove everyone wrong here,'" McDermott said.
Their opportunity to prove it comes on Saturday.
October, 24, 2014
10/24/14
8:30
AM ET
BLACKSBURG, Va. -- Earlier in the week,
Willie Byrn
said he expected an air of desperation between his Virginia Tech team and Miami in Lane Stadium on Thursday night.
One team played with desperation.
The other looked desperate for answers.
With each team needing a win to stay alive in the Coastal Division, Miami dominated from start to finish, playing its most complete game of the season in a
decisive 30-6 win
.
Duke Johnson
was unstoppable, running for a career-high 249 yards as Miami racked up 364 yards rushing -- the most ever given up by a Frank Beamer-coached team.
The defense, meanwhile, played with an unmistakable edge, holding Virginia Tech scoreless until the final 1:30. It added up to the first road win of the season for the Canes, and it came at the best time imaginable.
[+] Enlarge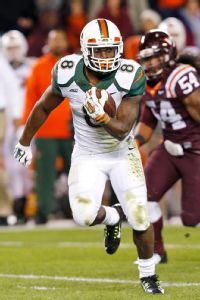 AP Photo/Steve HelberDuke Johnson led Miami with a career-high 249 yards and a touchdown.
Miami has renewed Coastal title hopes -- with North Carolina coming to town next week. At 2-2 in ACC play, they remain one loss behind Duke, Pitt and Virginia. Miami owns the head-to-head win over Duke, with games against Pitt and UVa coming up in November.
"No one wants to go on the road and lose. No one wants to take a plane ride somewhere and not come back with a W," Miami offensive lineman
Shane McDermott
said. "We take pride in that. This is an ACC Coastal game and we wanted to execute. We needed to execute to keep alive in the Coastal. We came out and did that."
For Virginia Tech, it looked about as hopeless as it has over the last three uncharacteristically weak seasons. That might seem like a harsh assessment, but this team has regressed after showing some early glimmers at Ohio State. Indeed, that victory in September continues to confound many. How could Virginia Tech look so good in that game, but so bad in its four losses?
After falling behind 24-0, three third-quarter fumbles sealed their fate against Miami. Now, the Hokies are staring at a 1-3 deficit in ACC play, strange and uncharted territory for a program that has made its name as the Coastal flag bearer.
As bad as it has been for Virginia Tech, the Hokies have never before been 1-3 in conference play, calling into question not only why this team has failed to progress, but how much progress can definitively be made as long as Beamer is in charge.
Yes, there are some terrific young players. But Miami also has terrific young players who have gotten better each week. Take the quarterbacks, for example. Miami freshman
Brad Kaaya
looks nothing like the player that started the opener against Louisville. Three times in the last four games, he has not thrown an interception and is finding ways to make plays.
While he was not asked to do much against the Hokies, Kaaya made some good throws and did not get the Canes into any trouble.
Michael Brewer
, a transfer from Texas Tech, does not have nearly the same type of command. Perhaps it is because Kaaya has a much better supporting cast. But there is no denying Kaaya has made improvement. Brewer does not give Virginia Tech an edge at the position.
"It wasn't a pretty picture all night, but I saw some things we can certainly build on," Beamer said afterward, trying to put an optimistic spin on the night. "We are going to be a better football team. We have a lot of good players on this team. I look forward to the future because I think we are going to be pretty good."
While that might be true, the reality is Miami ran circles around Virginia Tech in every imaginable way -- and Beamer is being judged not on potential in 2015 but what he has in front of him now. The Miami coaching was better; the play calling was better; the game plan was better; the talent was better.
Miami's problem this season has been an inability to put everything together in one game. Finally, the Canes got the best out of their offense and defense. Maybe that was due to the Hokies, not exactly a juggernaut this season. But after weeks of criticism and questions, Miami and its coaches deserve some credit.
They got the most out of their players in a place that has vexed the program since 2005. What awaits next is tougher: sustaining that edge, effort, drive and intensity for the final four games.
"We're getting better," coach Al Golden said. "We had really good practices leading up to this game, good attitude, everybody concentrating on what they need to concentrate on and block everything out. We've got a long way to go. But I think the guys have made a commitment to get better each week and each day and are staying positive."
June, 20, 2013
6/20/13
3:30
PM ET
Duke and Miami have the most returning experience on the offensive line in the ACC this year, according to the conference. The Blue Devils return four starters in tackles
Perry Simmons
and Tacoby Cofield, and guards
Laken Tomlinson
and
Dave Harding
, who have combined for a total of 100 starts.
Miami returns all five starters from last year's team: tackles
Seantrel Henderson
and
Malcolm Bunche
, guards
Jon Feliciano
and
Brandon Linder
, and center
Shane McDermott
. They have combined for 97 starts. (Um, yeah,
Duke Johnson
is set for another great year).
Here's a look at what the rest of the league has returning up front, according to the ACC:
Ouch, Virginia Tech. The Hokies are trying to rejuvenate their offense under first-year coordinator Scot Loeffler, and they've got to do it with one of the least experienced offensive lines in the conference. There are plenty of veteran linemen in the Coastal Division, but few in Blacksburg.
The league's top veteran is actually at Duke, where Simmons is a three-year starter at tackle and leads all returning offensive linemen with 36 career starts.
Here's a look at the returning offensive linemen in the ACC with the most career starts:
1. Perry Simmons, Duke, Sr., Tackle: 36
2.
James Hurst
, North Carolina, Sr., Tackle: 35
3. Brandon Linder, G, Sr., Miami: 31
3.
Morgan Moses
, Virginia, Sr., Tackle: 31
5. Brian Stork, Florida State, Sr., Center: 28
6. Dave Harding, Duke, Sr., Guard: 26
7.
Macky MacPherson
, Syracuse, Sr., Center: 25
7.
Luke Bowanko
, Virginia, Sr., Center: 25
9. Laken Tomlinson, Duke, Jr., Guard: 24
9.
Ray Beno
, Georgia Tech, Sr., Center: 24
11.
Ian White
, Boston College, Sr., Guard: 23
12. Jon Feliciano, Miami, Jr., Guard: 22
March, 1, 2013
3/01/13
10:30
AM ET
Buried beneath pounds of paperwork from the NCAA is the fact that Miami's depth chart should be good enough to win the Coastal Division in 2013. With so much attention focused on the NCAA investigation, Nevin Shapiro has gotten more ink (unfortunately) than quarterback
Stephen Morris
. And Morris is going to be very, very good.
As Miami begins spring practices on Saturday, the Canes do so underneath a cloud for the third straight preseason under coach Al Golden. If those within the program, though, can focus on their on-field goals and avoid the distractions once again, Miami should pick up right where it left off in 2012 -- at the top of the division standings. Miami returns 10 starters on offense
and
defense. Golden and his staff brought in the No. 15 recruiting class in the country, coupled with the experience of 21 freshmen who played in 2012.
[+] Enlarge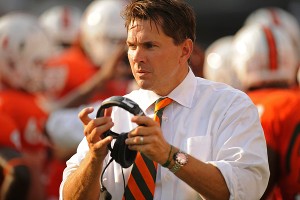 Kevin Liles/US PresswireAl Golden and the Hurricanes enter the spring with experience on the offensive and defensive lines.
This Coastal Division race is going to be tight. Expect every team in the division to be better. Trying to predict the division winner right now is like trying to predict when the NCAA will hand down its verdict. On anything. Miami fans, though, have reason to believe that if the program is eligible to play in the postseason, the pieces are in place to get them to Charlotte.
Here are three reasons why Miami is my way-too-early pick to win the Coastal Division:
1. QB Stephen Morris and running back Duke Johnson:
This dynamic duo is going to be a highlight in the ACC. As a true freshman, Johnson had arguably the greatest freshman season in the program's history. He was named the ACC's Overall and Offensive Rookie of the Year after racking up 2,060 all-purpose yards and 13 touchdowns in 12 games. And Morris can be good enough to push Clemson quarterback
Tajh Boyd
as the ACC's best quarterback in 2013. Morris finished 2012 on a hot streak, as he threw for 1,131 yards and 11 TDs – with zero interceptions -- in his final four games. Morris finished the season with a program-record 3,415 yards of total offense, eclipsing the previous mark of 3,412 held by Bernie Kosar.
2. Experience up front:
Miami returns all five starters on the offensive line (
Malcolm Bunche
, started 12 games at left tackle;
Jon Feliciano
, started 12 at left guard;
Shane McDermott
started 12 at center;
Brandon Linder
started 12 at right guard;
Seantrel Henderson
started seven at right tackle and
Ereck Flowers
started four at right tackle). Miami also returns all four starters on the defensive line (
Anthony Chickillo
12 at defensive end,
Curtis Porter
the last three at defensive tackle,
Olsen Pierre
11 at defensive tackle, and
Shayon Green
at defensive end). How many schools in the country can say they return every starter on both their offensive and defensive lines? Granted, the defensive line is Miami's unit most in need of improvement this offseason, but considering the group only had 13 sacks a year ago, it should only be better.
3. A favorable schedule:
Miami has an entire month to prepare for league play, as its first ACC game isn't until Oct. 5 against Georgia Tech. It doesn't even have to leave the state until Oct. 17, when it travels to North Carolina, and even then the Canes have a bye week to prepare for the Thursday night game against the Tar Heels. Yes, they have to play rival FSU on the road, but they do get Virginia Tech at home. Winning at Pitt on a Friday in November won't be easy, but getting Virginia Tech and Georgia Tech at home helps compensate for it.