NCF Nation:

Shannon Dawson
January, 3, 2012
1/03/12
9:00
AM ET
FORT LAUDERDALE, Fla. -- They sold him on the chance to be the next Noel Devine.
When
Tavon Austin
signed with West Virginia, he believed that to be his future role with the Mountaineers. He had played running back from the time he started Pee Wee football at age 7, and he had his sights set on being a terrific college running back as well. But when he got to Morgantown, there would be no future as the next Devine.
[+] Enlarge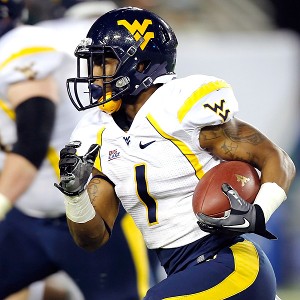 J. Meric/Getty ImagesDespite being recruited to play running back, Tavon Austin has blossomed into West Virginia's best all-purpose player.
Coaches essentially offered Austin a proposition he had to take: Sit for two years behind Devine. Or play now. At receiver. A position Austin had never played.
Austin was hugely disappointed at the time. But it's a move that ended up working out not only for him, but for West Virginia. He moved to inside receiver when coach Dana Holgorsen arrived last spring, and was one of the best players in the Big East this season. But he can do much more than catch passes.
Austin is one of the most dangerous all-purpose players in the country. He needs 62 yards to end up as the No. 1 all-purpose player for 2011. He has scored this season on kickoff returns, touchdown catches and touchdown runs. His small frame (5-9, 176) and incredible speed make him one of the tougher players to bring down, presenting a huge challenge for Clemson in the Discover Orange Bowl Wednesday night.
"He can run with the ball, so we've got to tackle, and we've got to rally to the ball," Clemson coach Dabo Swinney said. "We've worked hard on that in camp as far as really getting everybody to the ball, because he's hard to get a hold of, and makes people miss. So we've got to get that first guy there, hold on somehow and get the posse on the way."
To see what Austin has been able to do at receiver in such a short period has truly been remarkable. "Maybe I ran one go route before I got here," he said in a recent interview with ESPN.com. "Nothing where I had to cut in and out of routes, gaps and stuff like that."
When asked how he felt when he changed positions, Austin said, "I definitely was down the first couple weeks. I came in to be one thing and it turns out they wanted me to be something else. I kept my spirits up high and I kept grinding. My body is still fresh and I'm not really banged up, so it was probably the best thing for me."
So was Holgorsen's entrance into the West Virginia fold. His high-powered offense typically produces 3,000-yard passers and 1,000-yard receivers. Given the track record, many anticipated that Austin would end up with his best season yet. And he did, making the Big East first team as a receiver and return specialist, while also winning Big East Special Teams Player of the Year honors.
Austin ended the season with 1,063 yards receiving and a team-high 89 catches, forming a 1,000-yard duo with
Stedman Bailey
.
"I think you can tell pretty quick that they're special players," inside receivers coach Shannon Dawson said. "You never know how a kid's attitude is going to be, and I think that's the most important thing. A lot of times when you're dealing with kids that have been good their whole life, then they have a little bit of sense of entitlement to them, and that's one thing as coaches, you've got to either get it out of them or hope and pray that they don't have it.
"So that's one thing that I would say that I've been more surprised with more than their ability. I could tell they had ability on Day One. But I was pleased with the fact that they're selfless. I was pleased with the fact that they continue to go out and work every day just like they're trying to prove themselves, and so that's the best part about those guys."
So how best to defend a player as small and fast as Austin?
"You have to put your hands on them at the line," Clemson cornerback Coty Sensabaugh said. "If you give those guys space to maneuver, they can embarrass you out there. They're really good receivers. We're going to have a big challenge as a whole, as a defense, but it will be exciting. They like to get the ball out in space with those guys and make people miss. We definitely have to tackle well."
For his part, that all-purpose mark means more to Austin than just piling up receiving yards. He takes pride in his punt and kickoff returns because he can contribute to the team in various ways. Who knows what would have happened had he stayed at running back.
West Virginia clearly did not need another Noel Devine. It needed the first Tavon Austin.
January, 2, 2012
1/02/12
1:00
PM ET
FORT LAUDERDALE, Fla. -- West Virginia inside receivers coach Shannon Dawson played under coach Dana Holgorsen at Wingate, an FCS school in North Carolina.

It was just one season, but that was enough to convince Dawson he should get into coaching. Though the two went their separate ways after that year, they remained close and Holgorsen hired him when he came aboard West Virginia, some 12 years after they first met.
"Well, for some reason we hit it off right at the beginning, and I don't know what that is," Dawson said Monday during a Discover Orange Bowl news conference. "Maybe we have similar personalities. I don't really know. But my relationship with him was the reason I got into coaching, and I didn't want to coach in any other offense than the one I played in, because that was fun for me.
"So just when I graduated college, he helped me get on with a coach, coach Hal Mumme, and just stayed in contact, and I went and visited him out at Texas Tech a lot. Like I said, I mean, the only reason I got into coaching was because when I played for him, I had fun, and I had fun in the offense, practice was fun, the way it was structured was fun, it was laid back, and so with that being the case, I chose to do that from that point."
March, 24, 2011
3/24/11
1:30
PM ET
As spring practice kicks into high gear around the Big East, here's your handy-dandy guide to all of the offseason coaching moves around the league. Clip and save: (Oh, wait. This is a blog. Do not clip your computer screen.)
Cincinnati
No changes
Connecticut
Out:
Randy Edsall, head coach (to Maryland)
Todd Orlando, defensive coordinator/inside linebackers (to Florida International)
Lyndon Johnson, outside linebackers/special teams coordinator (to Maryland)
Terry Richardson, running backs (to Miami)
In:
Paul Pasqualoni, head coach
George DeLeone, offensive coordinator
Don Brown, defensive coordinator
Clayton White, special team coordinator/running backs
Internal moves:
Former offensive coordinator Joe Moorhead is now quarterbacks coach
Quick take:
Pasqualoni, the Connecticut native, comes aboard with two new coordinators (three if you count special teams). But the rest of the staff stayed intact. Edsall took only one assistant with him to Maryland, which is strange. There should be more continuity in this coaching change than most. The trick will be getting the old and the new styles to mesh.
Louisville
Out:
Mike Groh, quarterbacks (to Alabama)
In:
Shawn Watson, quarterbacks
Quick take:
Charlie Strong scored a victory by keeping his staff almost fully together after a successful first year. Watson, the former Nebraska offensive coordinator, looks like a great addition to coach a position in flux.
Pittsburgh
Out:
Dave Wannstedt, head coach (forced resignation)
All of Wannstedt's assistants
In:
Todd Graham, head coach
Paul Randolph, executive associate head coach/co-defensive coordinator/defensive line
Calvin Magee, assistant head coach/co-offensive coordinator/running backs
Mike Norvell, co-offensive coordinator/wide receivers/director of recruiting
Keith Patterson, defensive coordinator/linebackers
Tony Dews, tight ends
Todd Dodge, quarterbacks
Tony Gibson, cornerbacks,/recruiting coordinator
Spencer Leftwich, offensive line
Randall McCray, safeties/special teams coordinator
Quick take:
It's certainly a sea change at Pitt, with an new staff and a whole new philosophy. The presence of several West Virginia assistants lends a little more spice to the Backyard Brawl, as well. Graham has done a good job of building some excitement after the whole Wannstedt/Mike Haywood mess.
Rutgers
Out:
Kyle Ciarrocca, co-offensive coordinator/quarterbacks (not retained)
Randy Melvin, defensive line (not retained)
Ed Pinkham, co-defensive coordinator/defensive backs (to Elon)
In:
Frank Cignetti Jr., offensive coordinator/quarterbacks
Brian Angelichio, tight ends
Jeff Hafley, defensive backs
Internal moves:
Phil Galiano moves from tight ends to defensive line
Robb Smith will coach linebackers as well as special teams
Quick take:
After a 4-8 season, Rutgers needed to make some major changes. Head coach Greg Schiano took advantage of the Pitt staff turnover to hire three former Panthers assistants. Hafley's ties in New Jersey already helped in recruiting. Cignetti will be charged with fixing a stale offense.
South Florida
No changes
Syracuse
Out:
Bob Casullo, assistant head coach/special teams (parted ways)
In:
Tim Daoust, defensive end
Internal moves:
Nathanial Hackett was
promoted to offensive coordinator
John Anselmo becomes assistant head coach and will work with linebackers
Dan Conley will concentrate on inside linebackers
Defensive coordinator Scott Shafer will work with defensive backs
Jimmy Brumbaugh will coach defensive tackles
Special teams will be divided among the staff
Quick take:
Casullo left before last season ended, so Syracuse had already moved on. The changes in responsibilities reflect the areas of concentration for the Orange this summer, as they have many young players who need tutoring.
West Virginia
Out:
Jeff Mullen, offensive coordinator/quarterbacks (not retained)
Lonnie Galloway, receivers (to Wake Forest)
Dave Johnson, offensive line (not retained)
Chris Beatty, running backs/slot receivers
(not retained)
Dave McMichael, tight ends/special teams (not retained)
In:
Dana Holgorsen, offensive coordinator/head coach in waiting
Shannon Dawson, receivers
Bill Bedenbaugh, offensive line
Robert Gillespie, running backs
Quick take:
The entire offensive staff was let go except for Galloway, who left for Wake Forest a couple of weeks ago. West Virginia hasn't named a replacement for Galloway yet, but Dawson and Holgorsen will likely coach the receivers, with someone coming on board for special teams. The defensive staff remains intact, and Bill Stewart will coach his final year before handing the reins to Holgorsen. It will be a fascinating chemistry test.
TOP 25 SCOREBOARD
Saturday, 12/21
Monday, 12/23
Tuesday, 12/24
Thursday, 12/26
Friday, 12/27
Saturday, 12/28
Monday, 12/30
Tuesday, 12/31
Wednesday, 1/1
Thursday, 1/2
Friday, 1/3
Saturday, 1/4
Sunday, 1/5
Monday, 1/6