March, 25, 2013
Mar 25
9:00
AM ET
Georgia Tech opens spring practice today with a new defensive coordinator in Ted Roof, and a new starter at quarterback in
Vad Lee
. I had a chance to catch up with coach Paul Johnson to ask about his expectations of both headed into the spring. Here is a little of what he had to say.
I have to start off by asking -- how are you enjoying Twitter so far?
PJ:
My daughter, she said, 'You'll be good at that, Dad, you need to do it.' And, 'I'm like, I don't know about that.' She goes, 'Oh just try it.' So it's been interesting.
What is the No. 1 thing you want to see this spring out of your defense as it starts to get adjusted to playing a different scheme?
PJ:
It's the same regardless of scheme. You want guys that can play fast, play hard and understand what they're doing. The scheme is there to help them. We try to work the scheme around them rather than trying to fit them into the scheme. And I think our guys are excited about it. Ted's a fiery guy. He's going to have a lot of passion, a lot of energy and I think they're looking forward to that. And it's not that big of a change from what we did the last half of the season.
You guys showed major improvement the second half. Is the goal to build on some of what you were able to do?
PJ:
Yeah I think the second half we simplified things and tried to let guys play fast and understand what they were doing and basically we played a lot of 4-3 tenets the last six games. We got away from the 3-4 a little bit.
Jeremiah Attaochu is going to be playing more at defensive end. What are your hopes for him in that role?
PJ:
That's what he played last year. Very seldom did he drop. He was more our rush guy. We played a field boundary guy and it's going to be very similar in what we're doing now, so we'll try to play to his attributes and his strong suits. He's a really good pass-rusher and we'll try to utilize him in that area and line him up on some tight ends and some of that.
[+] Enlarge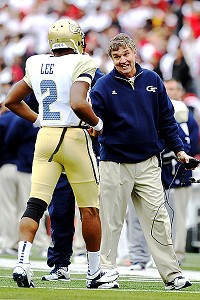 Mitch Stringer/USA TODAY SportsGeorgia Tech's Vad Lee is in a QB competition this spring, but coach Paul Johnson said there's no doubting Lee's leadership skills.
How do you see some of the competition playing out along the line with T.J. Barnes and Izaan Cross gone?
PJ:
We've got some good depth.
Euclid Cummings
is a guy I'm excited about. I think he's got a ton of ability.
Emmanuel Dieke
has played a lot.
Adam Gotsis
,
Shawn Green
played. We've got a couple guys, Pat Gamble, Rod Chungong,
Francis Kallon
that we redshirted so we feel like we've got depth there and some guys so we'll probably play six, seven guys up front.
Now that Vad looks to be your starter, have you seen him taking on more of a leadership role?
PJ:
Vad's always been a leader. It's in his DNA. Usually the good ones in that position are that way. He's a hard worker and I think that he's trying to develop a chemistry with everybody and we've got another guy named
Justin Thomas
that we redshirted at quarterback, and that ought to be a heck of a battle this spring. Clearly, Vad's in front but Justin's a good player in his own right, so that ought to be some pretty good competition between those two guys.
How will you work the reps?
PJ:
Well, Vad will start out at 1 but in the spring, you're going to run two teams anyway so they'll probably get an equal number of reps.
Any kind of scenario where you play both like you did with Vad and Tevin Washington last year?
PJ:
It's possible. It will be determined on how it turns out, once we get into the spring and we start playing how it looks and how it unfolds, but I think going into the spring you'd have to say Vad's the No. 1.
What about at A-back. Orwin Smith was able to do so much, what's the competition going to look like there?
PJ:
We've got a lot of guys back there who have played a lot.
Synjyn Days
played the last half of the season there, we moved from quarterback so we're excited about him.
Robbie Godhigh
is the starter that returns.
Deon Hill
,
B.J. Bostic
,
Dennis Andrews
is a guy we redshirted. We have a lot of guys there we feel can be pretty good players.
What are you looking for out of those guys to take the next step?
PJ:
Well Robbie's been a reliable guy, he played well all year and I think the other guys are very capable. I think the more Synjyn plays, hopefully the better he's going to be. He's 225 pounds so he's ideal. He can block, has good speed, hard to tackle. B.J. and
Tony (Zenon
) both are shifty littler guys, Deon's in the middle so out of that group of guys we just hope to find a rotation that fits what we need really.
What about Broderick Snoddy? Will he continue to run track this spring?
PJ:
Football will override the track part and so he'll be at practice. Whenever they have meets and those kind of things we'll try to work it out and let him do both.
Do you envision a bigger role for him?
PJ:
Yeah, I would hope so. Every time we got to the point last year where we were trying to get him in, he would get hurt or something would happen and it just didn't materialize but certainly we'd love for him to have a bigger role. But that's going to be up to him this spring to earn it.
Who are you looking at to replace Omoregie Uzzie on the offensive line?
PJ:
There will be some competition. We were able to redshirt a couple of classes of guys and we feel like we have some depth, so we'll just work it out. We'll end up with the best five playing if we have to move some guys around. With Jay (Finch) missing the spring,
Catlin Alford
,
Freddie Burden
will get a lot of reps. We'll slide some guys. We've got some guys,
Will Jackson
has played both guard and tackle. He can slide in there. He and Shaq (Mason) will probably be the starters and then
Morgan Bailey
and
Ray Beno
, who both started at tackle all year -- we could still have five guys who started a lot of games.
January, 13, 2012
1/13/12
11:00
AM ET
It's time to wrap up the 2011 season with the top performers from the bowl games. No, they're not all from Florida State and NC State. Although they could be …
Offense:
QB:
Mike Glennon
, NC State:
He was named the MVP of the Belk Bowl after throwing for 264 yards and three touchdowns to lead NC State past Louisville 31-24.
RB:
Preston Lyons
, Georgia Tech:
The senior fullback started in place of injured
David Sims
and rushed for 138 yards in the overtime loss to Utah. Before this, Lyons had never rushed for more than 50 yards in a game.
[+] Enlarge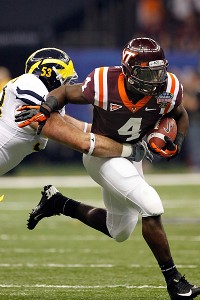 AP Photo/Dave MartinVirginia Tech running back David Wilson finished the season with 1,709 rushing yards.
RB:
David Wilson
, Virginia Tech:
He broke the school's single-season rushing record in the Allstate Sugar Bowl against Michigan with 82 yards on 24 carries. He finished the season with 1,709 yards. His 11-yard run on his second carry of the third quarter enabled him to surpass Ryan Williams' mark of 1,655 yards set in 2009.
WR:
Rashad Greene
, Florida State:
He had five catches for 99 yards and a touchdown in the 18-14 win against Notre Dame and was named the MVP of the Champs Sports Bowl. His 15-yard touchdown catch with just over 13 minutes to play gave the Noles a 15-14 lead.
WR:
T.J. Graham
, NC State:
He finished with seven catches for 116 yards and two touchdowns in the win against Louisville. He also had three kick returns for 63 yards and one punt return for two yards.
WR:
Kris Burd
, Virginia:
He had six catches, 103 yards, two touchdowns and a broken collarbone. He became only the third player in school history to score two receiving touchdowns in a bowl game.
OT:
Zebrie Sanders
, Florida State:
He was the lone senior on an offensive line that started four freshmen. He posted a career-high grade of 94 percent in his final game at left tackle.
OT:
Rob Crisp
, NC State:
Hey, no other lineman in the ACC had a reception in a bowl game. Granted, his teammates keep ribbing him for rumbling and fumbling, but Crisp played a good game, paving the way for the offense from the right tackle spot.
G:
Josue Matias
, Florida State:
As one of four true freshman starters on the Noles' line, Matias posted a grade of 82 percent from the left guard position in his first career start.
G:
Shaq Mason
, Georgia Tech:
Even with guard
Omoregie Uzzi
sitting out with an injury and suspended tackle
Phil Smith
on a bus back to Atlanta, Tech rolled up 311 rushing yards and 448 total yards against a Utah defense that was ranked among the nation's best entering the Hyundai Sun Bowl.
C:
Dalton Freeman
, Clemson:
Freeman had an 84 percent grade and four knockdowns in helping Clemson to 443 yards and 33 points against West Virginia.
Defense:
DE:
Brandon Jenkins
, Florida State:
He finished with two tackles (both solo), including one sack for minus-10 yards. His sack in the third quarter took Notre Dame out of field goal range.
DT:
Nikita Whitlock
, Wake Forest:
He finished with six tackles, 0.5 sacks, 1.5 tackles for loss and one fumble recovery in the loss to Mississippi State.
[+] Enlarge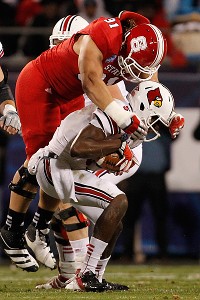 AP Photo/Bob LeveroneThe Wolfpack's Markus Kuhn lands on Louisville's Teddy Bridgewater for a sack during the Belk Bowl.
DT:
Markus Kuhn
, NC State:
He finished with three tackles, including 1.5 for a loss of seven yards. He also had one sack for a loss of six yards in the win against Louisville.
DE:
J.R. Collins
, Virginia Tech:
He finished second on the team with seven tackles and had one tackle for loss in the loss to Michigan in the Allstate Sugar Bowl.
LB:
Nigel Bradham
, Florida State:
He closed out his career with a team-high nine tackles (eight solo) against Notre Dame, finishing the season with a team-leading 86. He was the first FSU player to lead the team in tackles for three consecutive years since All-American Marvin Jones (1990-92). Bradham also added his third career interception in the win.
LB:
Tariq Edwards
, Virginia Tech:
He finished with a team-high eight tackles, one sack for a loss of seven yards and two tackles for a loss of eight yards in the loss to Michigan.
LB:
Audie Cole
, NC State:
The senior ended his career with a team-high 10 tackles, including a pair of sacks and four tackles for loss.
DB:
David Amerson
, NC State:
He had two interceptions and returned one of them 65 yards for a touchdown in the Belk Bowl win against Louisville. He became the ACC's leader in interceptions in a single season with 13. It was one shy of the Football Bowl Subdivision record set by Al Worley of Washington in 1968.
DB:
Kyle Fuller
, Virginia Tech:
He intercepted a pass by Michigan quarterback
Denard Robinson
in the first quarter. The interception marked his second of the season and the second of his career.
DB:
Merrill Noel
, Wake Forest:
He had a team-leading seven tackles and one interception for 18 yards in the 23-17 loss to Mississippi State.
DB:
Lamarcus Joyner
, Florida State:
With Notre Dame inside the 5-yard line, Joyner intercepted his team-best fourth pass of the season. His 77-yard kickoff return after Notre Dame went up 14-0 was the longest kickoff return by a Seminole this year. It was also the third-longest in FSU bowl and Champs Sports Bowl history.
Special teams:
P:
Shawn Powell
, Florida State: He punted 8 times for 378 yards and a 47.2-yard average. He had three punts of more than 50 yards and landed two inside the 20-yard line. His performance sealed his title as the nation's leader in punting.
P/K:
Justin Myer
, Virginia Tech:
Myer entered the game 0-for-2 on the season but made field goals in the Allstate Sugar Bowl of 37, 43, 36 and 25 yards, recording a field goal in every quarter and tying Georgia's Billy Bennett (2003) for the BCS bowl record. The four field goals tied for second-most in Sugar Bowl history. Myer missed on his fifth try, a 37-yard attempt in overtime. The field goals were the first in Myer's collegiate career. The Hokies made six field goals of 30 or more yards all season entering the game.
A/P:
Sammy Watkins
, Clemson:
Despite the loss, Watkins broke two school records in the Discover Orange Bowl and finished with 205 all-purpose yards, giving him 2,282 for the season -- second-most in ACC history. He had seven kick returns for 143 yards, and he had five catches for 66 yards and a touchdown.
TOP 25 SCOREBOARD
Saturday, 12/7
Thursday, 12/5
Friday, 12/6
TOP PERFORMERS