August, 8, 2014
Aug 8
10:30
AM ET
»
More team previews:
ACC
|
Big 12
|
Big Ten
|
Pac-12
|
SEC
Previewing the 2014 season for the
Georgia Bulldogs
2013 record:
8-5 (5-3 SEC). Lost 24-19 to Nebraska in the TaxSlayer.com Gator Bowl.
Key losses:
QB Aaron Murray, TE Arthur Lynch, DL Garrison Smith, S Josh Harvey-Clemons, S Tray Matthews, CB Shaq Wiggins, OT Kenarious Gates, OG Chris Burnette, OG Dallas Lee, DL Jonathan Taylor.
Key returnees:
RB
Todd Gurley
, LB
Ramik Wilson
, LB
Amarlo Herrera
, OLB
Leonard Floyd
, OLB
Jordan Jenkins
, OT
John Theus
, CB
Damian Swann
, WR
Malcolm Mitchell
, WR
Chris Conley
, DE
Ray Drew
, C
David Andrews
, PK
Marshall Morgan
, WR
Justin Scott-Wesley
.
Instant impact newcomers:
OLB
Lorenzo Carter
, RB
Sony Michel
, RB
Nick Chubb
, CB
Malkom Parrish
, DT
Lamont Gaillard
, DB
Shattle Fenteng
, TE
Jeb Blazevich
.
[+] Enlarge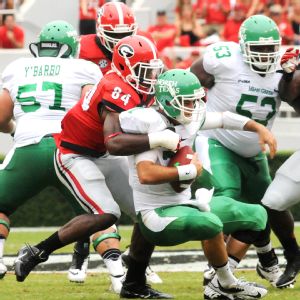 Jeffrey Vest/Icon SMIAfter leading the Bulldogs with 6.5 sacks as a freshman last season, big things are expected of Leonard Floyd in 2014.
Breakout player: Floyd.
The lanky outside linebacker led Georgia with 6.5 sacks in 2013 and added 9.5 tackles for loss as a freshman. He'll benefit from having a full year in Georgia's conditioning program and could become a star in his second season.
Most important game: Sept. 13 at South Carolina.
Two of the favorites in the SEC East will meet early in the season in Columbia, where the Gamecocks haven't lost since 2011. They've beaten Georgia in their last two trips to Williams-Brice Stadium, including a 35-7 thrashing in 2012. The margin for error is typically narrow within the division, so the winner of this one will be the early team in the East driver's seat.
Biggest question mark:
The secondary is easily Georgia's biggest area of concern. The Bulldogs' pass defense was spotty at best in 2013, and the offseason departures of three regulars has left plenty of personnel questions. Coach Mark Richt kicked two starting safeties -- Harvey-Clemons and Matthews -- off the team, and cornerback Wiggins transferred to Louisville, so there is plenty of playing time available. Swann's presence is big at cornerback, and converted running back
J.J. Green
was impressive in the spring, but junior college transfer Fenteng and Parrish will have an opportunity to make an immediate impact in August.
Upset special: Oct. 11 at Missouri.
This could be a tricky game that might not get as much attention as it deserves with matchups against Clemson, South Carolina, Florida and Auburn also on Georgia's schedule. The defending SEC East champs lost a ton of firepower, so Mizzou seems likely to take a step backward. But it's a long road trip that kicks off a stretch of more than a month when the Bulldogs won't play at home once -- and it could easily become a loss if Georgia doesn't have its act together.
Key stat: 36.7.
The average score of a Georgia game was 36.7 to 29.0 in 2013. Even if what was an inexperienced defense improves this fall, the Bulldogs will still likely rely on their star-studded offense. They might need to keep scoring at that prolific clip, which is somewhat uncertain with three longtime starting offensive linemen to replace, to allow time for the defense and their new set of coaches to develop some continuity.
Team's top Twitter follows:
The Bulldogs have some good choices here. Seeing as how he's never started a game, it might seem surprising that senior offensive lineman
Watts Dantzler
(
@WattsDantzler
) has 12,000 Twitter followers. But he's a natural-born entertainer who has a nationwide following that grew substantially when he live tweeted a harrowing spring break trip back to Athens on a bus. Another good pick is tight ends coach John Lilly (
@JohnLillyUGA
), who is a much more creative on Twitter than the typical coach. Lastly, Conley (
@_Flight_31
) regularly updates his 27,400 followers on his latest film exploits; he produced and starred in a well-received "Star Wars" tribute film over the summer and has started work on a new movie in recent weeks.
Preseason predictions:
ESPN Stats & Info:
9.06 wins
Bovada over-under:
9.5 wins
Our take:
Georgia was better than an eight-win team last season, but the Bulldogs were absolutely decimated by injuries to key players like Mitchell, Gurley, Scott-Wesley, tailback
Keith Marshall
and eventually Murray. If new defensive coordinator Jeremy Pruitt can get things straight on his side of the ball, the ceiling is extremely high for this team. The offense has an impressive array of talent surrounding senior quarterback
Hutson Mason
and should be difficult to contain. If the Bulldogs open with a win against Clemson at Sanford Stadium, this could easily become a 10-2 or 9-3 season where Georgia is once again in the thick of the East race.
June, 4, 2014
Jun 4
4:00
PM ET
Louisville coach Bobby Petrino and his staff have the
SEC pedigree
. Now they are filling the roster with much of the same.
The Cardinals could potentially add a fourth SEC transfer to the mix. Safety
Tray Matthews
was
dismissed from Georgia
on Tuesday, then tweeted he would transfer to either Auburn or Louisville. If he chooses the Cards, he would join three former SEC players -- his old Georgia teammates
Shaq Wiggins
and
Josh Harvey-Clemons
, and former Texas A&M receiver
JaQuay Williams
.
[+] Enlarge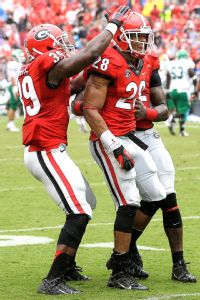 AP Photo/John BazemoreTray Matthews, shown celebrating after an interception last September, tweeted that he's considering a transfer to Louisville after he was dismissed from the Bulldogs.
None of these moves comes as a huge surprise. All three Georgia players played for current Louisville defensive coordinator Todd Grantham. The decision to hire Grantham away from the Bulldogs clearly has paid off in more ways than one. His presence has helped bring Wiggins and Harvey-Clemons to the Louisville defensive backfield, an area with a major lack of depth.
Should Matthews enter the fold, Louisville would be in line to start nearly the same defensive backfield in 2015 that Georgia featured when all three players were healthy this past season.
That would be absolutely huge for a Louisville team making the transition into the ACC. Petrino has made foolish mistakes in his past, but he is not a fool when it comes to understanding what it takes to win -- especially on his side of the division.
Atlantic Division front-runners Florida State and Clemson are the only two ACC schools consistently recruiting at an SEC level on a consistent basis. To compete with them, Louisville must do the same. Accepting these transfers is one way to start closing the talent gap that currently exists between the programs. Williams, Wiggins, Harvey-Clemons and Matthews were all four-star recruits out of high school. The three Georgia players were ranked in the ESPN 300 and were dubbed the Bulldogs' defensive backfield of the future.
To understand how much catching up Louisville has to do, consider this: During the last five years, Louisville signed a combined 24 four-star players. Seven were ranked in the ESPN 300. Those are great numbers for the old Big East/American. But in the same span, Florida State signed 70 four-star and five-star players, and 55 were ranked in the ESPN 300. Clemson signed 55 four-star or five-star players, and 34 were ranked on the ESPN 300. It's easy to see why these two schools have separated from the rest.
As successful as Louisville was in its final years in the Big East/American, playing in a tougher conference means you need better players. Looking for transfers -- even transfers with baggage -- is one way to do that.
There are some risks involved. Harvey-Clemons and Matthews were both dismissed from Georgia. Though no specific details were given about Matthews' departure, Harvey-Clemons served multiple suspensions for team rules violations, including the 2013 Capital One Bowl.
Petrino was criticized during his first go-around with Louisville for bringing in players with discipline problems. Athletic director Tom Jurich told one reporter in 2008 that the Cardinals
dismissed 21 players
after Petrino left for the Atlanta Falcons because of disciplinary issues.
So the track record is not sterling. But Petrino and Jurich have both vowed things would be different in the program this time. Given where Louisville stands as it heads into the ACC, Petrino has to be willing to take a few risks. At the same time, he also has to show he means business with the players who have been in trouble in the past. Second chances are one thing, but there needs to be a level of discipline in the program that was not there the first time Petrino was in charge.
None of the incoming players are eligible until 2015, when Petrino will have a much better idea of where his team stands in the ACC. If he can maximize their potential and keep them out of trouble, Louisville will be well on its way.
June, 4, 2014
Jun 4
1:35
PM ET
The news of Tray Matthews'
dismissal from Georgia's football team
on Tuesday is yet another reminder of how much work the Bulldogs' defense has in front of it in 2014.
Matthews was far from perfect last year, and was known more for his
unspeakable gaffe
with Josh Harvey-Clemons against Auburn than any real positive impact he had on the field in 2013. But he had experience and time to improve. Even if Matthews was never going to be the all-world performer he was pumped up to be before his Athens arrival, his absence certainly doesn't help in the depth department.
[+] Enlarge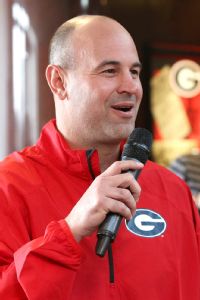 AP Photo/Jason GetzOffseason departures will make new defensive coordinator Jeremy Pruitt's job even more difficult.
However, Matthews, who was also one of four Georgia players arrested and charged with theft by deception in March, is gone, leaving the Bulldogs without three starters from last year's secondary.
From an experience standpoint, it isn't an ideal situation for new defensive coordinator Jeremy Pruitt, but there's nothing he can do about it now. When I spoke to him in his office this spring, he made it clear that he understood the tall task he was undertaking by guiding this defense, and he didn't take the job for a quick fix. He said he left Florida State to build something at Georgia.
Right now, it's going to take a lot from him to even build something for fans to rally around this fall. The secondary will be overrun with youngsters and the defensive line is still waiting for a great, consistent player to emerge. Georgia should be fine at linebacker with the likes of
Leonard Floyd
,
Ramik Wilson
,
Jordan Jenkins
and
Amarlo Herrera
returning, but they can't do everything.
This spring, Pruitt's task was getting his new group to buy in to what he was selling. At the same time, he was trying to get a read on who his players were and what they brought to the table during 15 practices. That isn't a lot of time to get a lot done when you're new, or you're an embattled group that gave up a school-record 377 points last year and allowed 375.5 yards per game, the most during the Mark Richt era.
Pruitt saw good work ethic and some promise, but there's still plenty that has to improve before the season opener against Clemson on Aug. 30.
"I don't know how it was here before. I know our coaching staff is very focused on attention to detail, playing with effort, playing with toughness," Pruitt told ESPN.com in April. "We have a long ways to go to get to where we want to be.
"We have to get guys to do it right all the time."
Pruitt isn't going to cry about the players he has lost. He has to get a plan together before he gets to work with the guys who will actually play for him this year.
The fact of the matter is this defense doesn't have the talent that the 2011 and 2012 teams had. Outside of the linebacker group, especially Floyd and Wilson, there are a lot of unknowns, but Pruitt understands that what he can do to make this defense more competitive is to have them win the mental battle. They have to be disciplined and tough enough to make opponents earn yards.
Pruitt said his guys have to work hard over and over to challenge opponents. If you get beat, he said, make sure it's by ability, not carelessness.
It's on Pruitt to put his players in good positions this fall, but the guys who actually move around on the field have to have a little more pride about them. They have to want to get better and play tougher.
Where Pruitt hopes to get a spark is from some new faces. Looking at the secondary, there's a chance that three or four newcomers could find starting jobs in a group in which senior
Damian Swann
is the only cornerback who has started more than one game.
Finding players to nail down spots at the boundary corner positions will be key. Redshirt freshman
Reggie Wilkerson
is returning from his ACL injury and 2014 signees
Malkom Parrish
,
Shaq Jones
, and
Shattle Fenteng
(junior college transfer) will all get the chance to take a corner spot. True freshman
Dominick Sanders
also will take reps at safety.
"I'm hoping that these young guys we have coming in can help us in the secondary," Pruitt said. "I'm going to give those guys a chance right off the bat. They're going to have to prove to me that they can't do it."
Georgia's defense will go through a lot of growing pains in 2014. There will be plenty of frustrating moments for Pruitt and his group, but there will still be chances for growth.
How fast that growth begins will depend on how Pruitt and his players attack the steep hill in front of them.
October, 20, 2013
10/20/13
10:00
AM ET
Saturday was full of upsets, injuries and last-second finishes -- just another day in the SEC. Here are five things we learned from action in Week 8.
Nobody's safe:
Five SEC teams in the Top 25 lost Saturday, and only one (Florida) was an underdog coming in. Georgia and South Carolina still were considered among the favorites to win the East, but both teams tripped up on the road to unranked opponents. Vanderbilt scored a touchdown in the final minutes to knock off the Bulldogs, and Tennessee kicked a field goal as time expired to spoil Steve Spurrier's latest trip to Knoxville. No. 7 Texas A&M was a heavy favorite at home against Auburn, but the Aggies' defense let them down again. Auburn rushed for 379 yards and scored late to pull off a 45-41 upset. In the nightcap, a short-handed Ole Miss team jumped out to a 17-0 lead and held off No. 6 LSU at home.
[+] Enlarge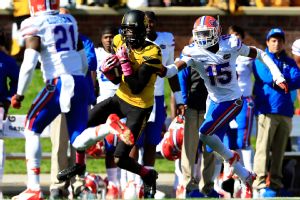 Jamie Squire/Getty ImagesAfter dominating Florida, Missouri (yes, Missouri) is on a collision course with Alabama to face off in the SEC title game.
Collision course:
The only two teams that didn't slip up Saturday were the two unbeatens in the SEC: Alabama and Missouri. Now, the Crimson Tide and Tigers are on a collision course headed for Atlanta and the SEC championship game. It shouldn't come as any surprise that the two-time defending national champions are in this position, but who would've guessed Missouri would still be perfect this late in the season? The Tigers dominated Florida on Saturday, putting up 500 yards of offense to the Gators' 151. Quarterback
Maty Mauk
didn't miss a beat in his first start in place of
James Franklin
. The redshirt freshman threw for 295 yards with one touchdown and one interception. He also rushed for 15 yards and a score.
Auburn is for real:
You can make excuses, particularly this one: If
Johnny Manziel
hadn't hurt his shoulder late in the game, Texas A&M would've won. But the fact of the matter is Auburn went to Kyle Field, put up 45 points, gained 615 yards and beat a top-10 team. Quarterback
Nick Marshall
looked very impressive after missing last week's game. He threw for 236 yards, rushed for 100 yards and scored four touchdowns. Even the defense, much maligned throughout the game, made the stop when it mattered -- with Manziel in the game. It comes back to first-year head coach Gus Malzahn. He has changed the culture around the Auburn program, and the Tigers are now 6-1 and the biggest threat to Alabama in the West.
Signature win for Butch:
Tennessee came oh so close to pulling the upset against Georgia two weeks ago. It would've been the win to take the Volunteers to the next level, and show recruits that what coach Butch Jones is doing is real. But they came up short. Instead of dwelling on the loss, Tennessee bounced back after a week off and beat a Top 25 team at home. It wasn't pretty, but a win is a win. And how about that catch from
Marquez North
late in the game to put the Vols in range for the game-winning field goal? That was a grown-man catch. Tennessee isn't likely to go into Tuscaloosa and upset the No. 1 team in the nation, but it's obvious that Jones is turning around the program. The Vols took another step with Saturday's win over South Carolina.
Freshman impact:
North's catch was spectacular, but he wasn't the only true freshman who had a big game on Saturday. Georgia's
Shaq Wiggins
returned an interception 39 yards for a touchdown. Florida running back
Kelvin Taylor
scored the Gators' only offensive touchdown on a 20-yard run in the third quarter. And for Alabama, tight end
O.J. Howard
caught his first touchdown pass from 17 yards out, and running back
Derrick Henry
showed why he was such a heralded recruit with an 80-yard touchdown run late in the game. It just goes to show how important recruiting has become in the SEC, and it doesn't matter if it's the worst team in the conference or the best team -- freshmen will still play a role.
October, 12, 2013
10/12/13
6:40
PM ET
ATHENS, Ga. --
Aaron Murray
finally ran out of the late-game magic that served No. 7 Georgia so well up until Saturday's 41-26 loss to No. 25 Missouri, as the Bulldogs quarterback's interceptions on his final two drives prevented Georgia from overcoming a big early deficit.
"Four turnovers. They had none, we had four, and you can't win ballgames when you turn the ball over four times," said Murray, who was 25-for-45 for 290 yards and three touchdowns but also tossed two picks and had a fumble returned for a touchdown that put Mizzou up 28-10 in the second quarter. "I don't care who you're playing. It's just a recipe for disaster."
Murray completed late touchdown passes that paved the way for Georgia (4-2, 3-1 SEC) to beat South Carolina, LSU and Tennessee in what has been the nation's most difficult schedule to this point. But two crucial turnovers in the first half -- Murray's lost fumble for a touchdown and freshman
Brendan Douglas
' fumble at the Missouri 6 -- allowed the Tigers to build the 18-point halftime lead over a Georgia team that was without many of its top offensive weapons.
Perhaps things might have been different if
Todd Gurley
and
Keith Marshall
were in Georgia's backfield or if
Malcolm Mitchell
,
Michael Bennett
or
Justin Scott-Wesley
was in at receiver. But the Bulldogs still outgained Missouri's explosive offense 454 yards to 375 even without those players and had trimmed the Tigers' lead to 28-26 after a furious third-quarter rally.
If healthy, Gurley -- who Georgia coach Mark Richt said has "a realistic shot" of playing next Saturday against Vanderbilt -- would have been the likely ball carrier on the play in which Douglas fumbled. But the other three turnovers were the responsibility of veteran regulars. The interceptions were both bad reads by Murray. His sack came after senior tight end
Arthur Lynch
allowed
Shane Ray
to beat his block and knock the ball away from Murray with a blindside hit before
Michael Sam
picked up the loose ball and ran in for the score.
[+] Enlarge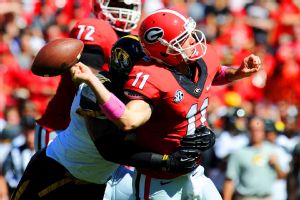 Dale Zanine/USA TODAY SportsGeorgia quarterback Aaron Murray is sacked and fumbles after being hit by Missouri defensive lineman Shane Ray during the second quarter.
"It's completely my fault," Lynch said. "You can't expect Aaron to hold that ball. It's a blindside [hit]. That's my fault 100 percent, and I feel bad I let my team down in that sense. But even then, we've got to be able to overcome mistakes, and I thought we did for the most part. Just at the end of the game, we ran out of a little bit of magic, and that's the unfortunate situation."
The difference in the outcome was that Georgia's defense couldn't carry over its momentum into the fourth quarter -- even after Missouri quarterback
James Franklin
left the game with a shoulder injury -- and the Bulldogs committed two more turnovers in the final period, ending any hope of another dramatic Georgia victory.
"I'm not going to sit here and start talking about if we'd had this or that," Richt said. "That's football. Everybody has injuries. We had injuries; other teams do too. Their quarterback went out when the game was a two-point game. They found a way to win."
And the Tigers did it with backup quarterback
Maty Mauk
coming on to lead a pair of late touchdown drives that secured the victory. Up 28-26 early in the fourth quarter, Missouri (6-0, 2-0) was facing a third-and-6 at its 45-yard line when Franklin left the game.
Georgia's defense had an opportunity to halt the Tigers' drive but allowed Mauk to slip away with a 6-yard scramble for a huge first down at midfield. Two plays later, Tigers receiver
Bud Sasser
hit
L'Damian Washington
-- who made a leaping catch over freshman cornerback
Shaq Wiggins
-- with a 40-yard touchdown off a double pass.
"You had a chance on third down to get [Mauk] and they run him and we don't finish him off on the tackle and the guy gets it, and the next play is an explosive play," Georgia defensive coordinator Todd Grantham said.
That series ruined what had been an enormous turnaround by Grantham's defense in the second half. The Bulldogs surrendered touchdowns on three straight Tigers possessions before halftime, and it looked like Missouri might win a blowout when it led 28-10 at halftime. But Georgia allowed just 35 yards in the third quarter and forced Missouri to punt all three times it had the ball in the period.
Murray and the offense used those opportunities to trim the lead to 28-26 after he hit
Chris Conley
with a 10-yard touchdown pass early in the fourth quarter. Even when Conley dropped the two-point pass that would have tied the score, the Bulldogs had seemingly gained the upper hand before allowing Missouri to convert the two big third downs that kept alive the ensuing touchdown drive that ended with Washington's touchdown grab.
"One negative play here or there that's an explosive play can eliminate a lot of good plays," Grantham said.
With their résumé already full of last-minute heroics, the Bulldogs believed they were still in it even when Mizzou pushed its lead back to eight. They were still down eight when the defense forced a punt, giving the ball to Murray and the offense with 4:25 left.
Only Murray didn't deliver this time.
Randy Ponder
intercepted a first-down pass and returned it to the Georgia 33, setting up another short touchdown drive that put the Tigers up 41-26.
"We're thinking we're in position to win the game, we're going to drive the field, score, score the two, overtime, who knows," Richt said. "Yeah, we're absolutely thinking, 'Here we go again. We've got a chance to do it.' And to their credit, they made a play."
They threw open the SEC East race in the process.
August, 30, 2013
8/30/13
8:00
AM ET
No. 5 Georgia and No. 8 Clemson will end a 10-year hiatus in their historic rivalry Saturday when the Bulldogs visit Death Valley n in one of the most intriguing matchups of opening weekend.
Let's examine five key elements involved in a game that could impact this season's BCS championship chase:
Big-play offenses:
Las Vegas is predicting two of the nation's most-prolific offenses to combine for around 70 points on Saturday night. And research provided by ESPN Stats and Information gives us plenty of reasons to see why many analysts expect a high-scoring game between the Bulldogs and Tigers.
Beyond simple scoring and total offense stats, they both ranked among the nation's top big-play offenses a season ago. Georgia ranked first nationally or tied for first in touchdowns of at least 20 yards (31), 30 yards (22) and 50 yards (12) and led the nation with an average of 7.09 yards per play.
Clemson, meanwhile, led the nation in completions of 25 yards or more (51) and touchdown passes that covered at least 25 yards (20). Clemson's
Tajh Boyd
had 11.2 percent of his passes go for completions of at least 25 yards, which was the highest of any quarterback in the country who attempted at least 150 passes.
Georgia quarterback
Aaron Murray
led the nation in yards per pass attempt (10.1) and percentage of attempts to gain 20 yards or more (16.1).
Both quarterbacks improved their accuracy on passes of 20-plus yards last season, with Murray completing 46 percent of such throws (an increase of 17.3 percent) and Boyd hitting on 51 percent (an increase of 14 percent).
Will Watkins step up?:
With Georgia breaking in a largely rebuilt secondary, this game would seem like a prime opportunity for Clemson's 2011 All-American receiver
Sammy Watkins
to exploit the Bulldogs' youth.
Watkins talked a big game about beating Georgia during the offseason, but will he reclaim his spot as the Tigers' top receiving target after losing that title last fall to DeAndre Hopkins. Watkins was third nationally in all-purpose yards (2,288) in 2011, but totaled fewer than half as many a year later (1,073). His touchdowns-per-touch ratio dropped from 1-in-9.6 to 1-in-17.8, as well.
Clemson quarterbacks targeted Watkins 44 fewer times (from 123 in 2011 to 79 last year) and his catch (82 to 57), receiving yardage (1,219 to 708) and touchdown (12 to three) totals all dropped severely.
Hopkins led the nation with 11 touchdown catches of 25-plus yards last season, so the Tigers desperately need Watkins to live up to the standard he set in 2011 and replace some of the departed star's production. Watkins is more than capable, posting 11 TD catches of 25-plus yards in his first two seasons as a Tiger.
Pound the run?:
An interesting subplot to Saturday's game is how Georgia offensive coordinator Mike Bobo will attack Clemson's defense. The Tigers also have some concerns in the secondary -- this on the heels of surrendering 7.32 yards per pass attempt a season ago. But conventional wisdom seems to dictate that Georgia uses its powerful running game -- paced by All-SEC pick
Todd Gurley
and
Keith Marshall
-- to extend drives and provide time for its defense to rest between series against Clemson's up-tempo offense.
Both players averaged better than 6 yards per carry last season, due in large part to their capabilities as home-run threats. They combined for 12 runs of 25-plus yards, eight of which went for touchdowns. Gurley alone had 27 carries that went at least 15 yards, which tied for fifth in the FBS.
Clemson ranked 57th nationally against the run last season, surrendering 155.92 yards per game on the ground in Brent Venables' first season as the Tigers' defensive coordinator. The Tigers were 71st against the pass at 240.3 ypg.
Murray on the big stage:
Fair or unfair, Saturday's game -- and the upcoming matchups with South Carolina and LSU in September -- will serve as another referendum on Murray's status as a big-game performer.
[+] Enlarge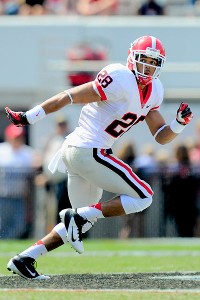 Dale Zanine/USA TODAY SportsDespite big-name offensive talent, Georgia-Clemson could come down to young defenders like Tray Matthews.
Georgia's quarterback caught plenty of guff over shortcomings against ranked opponents well into last season. He's 3-11 in his UGA career against teams that ended the season ranked in the AP Top 25 with 23 touchdowns versus 16 touchdowns against those teams. He's 25-2 with 72 touchdowns and 16 interceptions against teams that finished unranked.
The positive sign for Murray is that he has won two of his last three games against opponents that finished the season as a ranked team: Florida and Nebraska last season. Following an atrocious first half against Florida last season, Murray has tossed seven touchdowns against three interceptions in 10 quarters against ranked opponents, including the SEC championship game loss to Alabama.
Fresh-faced defenses:
Let's have some fun with numbers concerning Georgia and Clemson's defensive depth charts.
After losing 12 key players from last season's defense, Georgia defensive coordinator Todd Grantham appears set to trot out a large group of newbies. Of the 22 players listed on the Bulldogs' defensive two-deep in this week's game notes, 16 of them have never started a college game. Heck, nine of them, including seven true freshmen, have never PLAYED in a college game.
But a number of them -- including outside linebacker
Leonard Floyd
, defensive lineman
John Taylor
, safety
Tray Matthews
and cornerbacks
Brendan Langley
and
Shaq Wiggins
-- could play big roles on Saturday.
Meanwhile, Clemson has some experience issues of its own. Ten of the 22 players on the defensive two-deep have never started and three of them are freshmen. They're expected to be without injured freshman cornerback
Mackensie Alexander
, who at No. 4 in the 2013 ESPN 150 was Clemson's highest-rated signee in its most recent recruiting class.
It's easily conceivable that Saturday's outcome could be determined by which team's young defensive personnel acquits itself more effectively in its first game in leading roles.
May, 17, 2013
5/17/13
2:02
PM ET
ATHENS, Ga. -- After losing their security blanket at safety, Todd Grantham and Scott Lakatos had to weigh their options at the position for the first time in a long while.
Bacarri Rambo and Shawn Williams started 80 percent of Georgia's games (66 of a possible 82 starts) at the two safety positions since defensive coordinator Grantham and defensive backs coach Lakatos arrived on campus in 2010. So this spring might have felt like a throwback to the coaches' first few months in Athens when they had to evaluate which young players were mentally and physically prepared to guard the back line of the Bulldogs' defense.
"I want to see what they can do and how they can learn it and what they can handle because the days of just lining up and playing are gone," Grantham said. "You've got to be able to affect the game with lost-yardage plays and pressures and things like that and your safeties have got to be really involved in that kind of stuff. So we've just got to continue to work and see what they can handle and then we'll develop our game plans as we move forward from that."
The good news for Georgia's coaches is that two players with the athleticism to do those things --
Josh Harvey-Clemons
and
Tray Matthews
-- pushed into the lead for starting positions this spring. The bad news is that Harvey-Clemons, a sophomore, and Matthews, a true freshman who enrolled in January, have never started a college game and have a long way to go before they develop the knowledge and experience base that Williams and Rambo possessed.
Grantham said at Wednesday's UGA Day meeting in Atlanta that he is not particularly concerned about their inexperience, however, because of the way they performed during spring practice. Harvey-Clemons was the Bulldogs' defensive MVP of the spring and Matthews' big hits generated major buzz among the coaches and players.
[+] Enlarge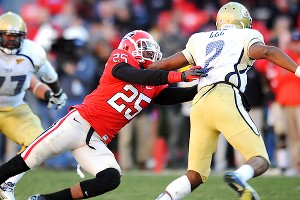 Radi Nabulsi/ESPNSafety Josh Harvey-Clemons, defensive MVP this spring, is expected to have a significant role in Georgia's defense.
"Tray's a guy that he's a good tackler in space, he's got good ball skills, he's physical," Grantham said. "He actually knocked two guys out in three scrimmages. The only problem is one of them was a defensive guy."
Nonetheless, safety is one of the most detail-oriented positions on the defense, so young safeties have to do a lot more than drop a receiver with a bone-crushing hit before Lakatos' uneasiness about playing them in important situations subsides.
"[I watch] when they can get lined up, number one, and communicate with the rest of the team depending on the situation," Lakatos said. "And when the offense starts moving people around, are they going to be able to handle the adjustments that we have to make? And once a guy can prove he can do that, then that's when you start to feel a little more comfortable."
In a matter of weeks, Georgia's list of options at safety will grow once signees
Shaquille Fluker
,
Kennar Johnson
and
Paris Bostick
enroll in Athens for summer classes. Asked to name a few defensive newcomers that he's excited to evaluate in preseason practice, Grantham named Fluker and Johnson before anyone else because he believes the junior college transfers "can have an immediate impact."
"I think all of them have some upside and a skill set that they can help us," Grantham said, also mentioning
Shaq Wiggins
and
Brendan Langley
as new cornerbacks who he will be excited to observe. "So I really look forward to all of them, but particularly the defensive back kind of guys."
The reason for the intrigue is obvious since five of the Bulldogs' eight defensive back signees are not yet on campus, and there is plenty of playing time available thanks to the departures of Williams, Rambo, Branden Smith and Sanders Commings.
Newcomers and young players will almost certainly fill a large portion of that void -- if they can prove to Grantham and Lakatos during preseason practice that they know where to be and have the ability to make the proper play once they arrive.
"We need to get roles established as soon as possible so we can get ready for the season. But a lot of that depends on how guys progress," Lakatos said. "The more situations that we can create out there through practice and scrimmages and those type of things, the better we'll have an idea of where they stand once the other guys get here, the May and June graduates.
"Then we'll kind of put them in and see how they handle all the stuff without the benefit of spring practice. But we're certainly going to give them opportunities and give them a lot of work when we start practicing in the summer and see where we go after 29 practices."
February, 6, 2013
2/06/13
11:19
PM ET
Georgia's 2013 class includes 32 signees, and that includes 13 players who're already enrolled in school.
The Bulldogs missed out late on several of the state's top prospects, including defensive tackle
Montravius Adams
(Auburn) and running back
Alvin Kamara
(Alabama). Nonetheless, they wound up No. 10 in the current
ESPN class rankings

.
Their highest ranked signee was cornerback
Shaq Wiggins
of Tyrone, Ga. He's No. 39 in the ESPN 150 and ranked the No. 6 cornerback in the country. The Bulldogs signed five ESPN 150 prospects and nine more prospects in the ESPN 300.
Among the players already enrolled in school are quarterback
Brice Ramsey
, safety
Tray Matthews
and receiver
Tramel Terry
, all ESPN 150 players. Terry, the No. 2 prospect from the state of South Carolina, is recovering from ACL surgery.
Georgia coach Mark Right was unfazed by those players the Bulldogs didn't get on signing day and said, "As far as I'm concerned, I think we got the No. 1 class in America."
To see Georgia's entire 2013 signing class,
click here
.
January, 30, 2013
1/30/13
11:06
AM ET
National signing day is just around the corner (Feb. 6), and with things really, really heating up on the recruiting trail, we thought we'd take a look at how all 14 SEC teams are doing when it comes to finding the next college stars.
The SEC currently has five teams ranked in the top 10 of ESPN's
RecruitingNation class rankings
and 12 in the top 40. Florida, which has 26 commitments, including 11 in the ESPN 150, owns the nation's No. 1 class. Alabama is second with 22 pledges (10 ESPN 150 members).
Here's how the entire SEC is doing with only a week left until pens are put to paper:
ALABAMA

2013 verbal commitments:
22
Spotlight:
Yulee, Fla., athlete
Derrick Henry
is big, physical and very athletic. Plus, he's already on campus. He's versatile and could play multiple positions at the college level. After breaking the national high school career rushing yards record, he'll probably spend most of his time in Alabama's backfield.
ESPN 150 members:
10 (Henry; WR
Robert Foster
of Monaca, Pa.; DE
Jonathan Allen
of Ashburn, Va.; DE
Tim Williams
of Baton Rouge, La.; TE-H
O.J. Howard
of Prattville, Ala.; RB
Altee Tenpenny
of North Little Rock, Ark.; QB-PP
Cooper Bateman
of Salt Lake City, Utah; RB
Tyren Jones
of Marietta, Ga.; CB
Maurice Smith
of Sugar Land, Texas; OG
Grant Hill
of Huntsville, Ala.)
ARKANSAS

2013 verbal commitments:
17
Spotlight:
Tight end
Hunter Henry
of Little Rock, Ark., is the gem of this class after being very active on the offensive side in high school. He isn't the greatest blocker, but he creates mismatches over the middle of the field with his size and speed. There was some concern that he might go elsewhere, but Bret Bielema and his staff secured his commitment earlier this month.
ESPN 150 members:
1 (Henry)
AUBURN

2013 verbal commitments:
19
Spotlight:
Defensive end
Carl Lawson
of Alpharetta, Ga., is the headliner of this class, but he's looking around a bit at other schools. Clemson and Tennessee are still in the race for Lawson's services. He'd be a major get/loss for Gus Malzahn's first class. He current ranks as the No. 2 defensive end in the country and is the No. 2 overall prospect in the country.
ESPN 150 members:
3 (Lawson; DE
Tashawn Bower
of Somerville, N.J.; QB
Jeremy Johnson
of Montomgery, Ala.)
FLORIDA

2013 verbal commitments:
26
Spotlight:
Cornerback
Vernon Hargreaves III
of Tampa, Fla., is rated the No. 1 cornerback prospect in the country and is the No. 3 overall player in the nation. He's one of the more complete players out there and it looks like he'll be able to play right away for the Gators when he arrives in Gainesville.
ESPN 150 members:
11 (Hargreaves;
Caleb Brantley
of Crescent City, Fla.; RB
Kelvin Taylor
of Belle Glade, Fla.; OLB
Daniel McMillian
of Jacksonville, Fla.; WR
Ahmad Fulwood
of Jacksonville, Fla.; WR
Demarcus Robinson
of Fort Valley, Ga.; S
Keanu Neal
of Bushnell, Fla.; S
Marcell Harris
of Orlando, Fla.; ATH
Alvin Bailey
of Seffner, Fla.; OLB
Matt Rolin
of Ashburn, Va.; LB
Alex Anzalone
of Wyomissing, Pa.)
GEORGIA

2013 verbal commitments:
29
Spotlight:
Cornerback
Shaq Wiggins
of Tyrone, Ga., is a top corner prospect, despite his smaller frame. He might not have elite size, but Wiggins plays like a bigger, more physical defensive back. He can cover a lot of ground and has a chance to make an instant impact for the Bulldogs' defense in 2013.
ESPN 150 members:
5 (Wiggins; ATH
Tramel Terry
of Goose Creek, S.C.; QB-PP
Brice Ramsey
of Kingsland, Ga.; S
Tray Matthews
of Newnan, Ga.; C
Brandon Kublanow
of Marietta, Ga.)
KENTUCKY

2013 verbal commitments:
18
Spotlight:
Junior college defensive end
Za'Darius Smith
from East Mississippi Community College is Kentucky's top get for the 2013 class, and what's even better is that he's already on campus. He excels as both a pass-rusher and a run-stopper and has shown good speed along the way. His speed off the edge will be a welcomed addition to Kentucky's defense.
ESPN 150 members:
None
LSU

2013 verbal commitments:
27
Spotlight
: Athlete
Kendell Beckwith
of Jackson, La., was a major addition to LSU's class early this month. He was mostly a dual-threat quarterback in high school, but could play both wide receiver and outside linebacker at the college level. His speed and mobility will help him get on the field early to help the Tigers.
ESPN 150 members:
6 (Beckwith;
Jeryl Brazil
of Loranger, La.; OT
Ethan Pocic
of Lemont, Ill; DT
Greg Gilmore
of Hope Mills, N.C.; TE-H
DeSean Smith
of Lake Charles, La.; DT
Maquedius Bain
of Fort Lauderdale, Fla.)
MISSISSIPPI STATE

2013 verbal commitments:
22
Spotlight:
Defensive end Chris Jones of Houston, Miss., could develop into a trouble-making pass-rusher. He has good size and quickness and flew off the line during his senior year. He continues to get a lot of attention from other schools, especially Alabama, so keeping him will be a tough chore for Dan Mullen and his staff.
ESPN 150 members:
1 (Jones)
MISSOURI

2013 verbal commitments:
19
Spotlight:
DT
Josh Augusta
of Peoria, Ill., is Mizzou's top-rated commitment right now. He was a big January get for the Tigers' staff and is a major athlete who played multiple positions at the high school level. He could play along the defensive line or offensive line in college. He played some tight end in high school, but doesn't project there at the next level.
ESPN 150 members:
None
OLE MISS

2013 verbal commitments:
23
Spotlight:
Wide receiver
Laquon Treadwell
of Crete, Ill., was a major pickup for the Rebels' staff. He's rated as the nation's No. 1 receiver and while he might be a taller prospect, he's very explosive. He has the ability to be a big-time deep threat for the Rebels and should also make plenty of plays after the catch.
ESPN 150 members:
2 (Treadwell; DE
Elijah Daniel
of Avon, Ind.)
SOUTH CAROLINA

2013 verbal commitments:
19
Spotlight:
Defensive tackle
Kelsey Griffin
of Hoschton, Ga., is a big-bodied lineman who should be a solid run-stopper with his girth and explosion. He doesn't have great height, but he has a big enough body that he should cause plenty of problems for opposing linemen at the next level.
ESPN 150 members:
2 (Griffin; RB
David Williams
of Philadelphia, Pa.)
TENNESSEE

2013 verbal commitments:
17
Spotlight:
Quarterback
Riley Ferguson
of Matthews, N.C., has a big-time arm and shows pretty good mobility in the pocket. He also has a lot of confidence in his arm and his throws. The coaching turnover didn't hurt Tennessee's chances of keeping Ferguson, who could push for time once he gets on campus.
ESPN 150 members:
None
TEXAS A&M

2013 verbal commitments:
32
Spotlight:
Tight end
Derrick Griffin
of Rosenberg, Texas, should cause major matchup issues for his opponents when he gets to the college level. He's the nation's top tight end/H-back and could be used all over the field by Kevin Sumlin and the Aggies' staff. He's versatile enough to be a major asset for A&M in the near future.
ESPN 150 members:
6 (Griffin; ATH
Ricky Seals-Jones
of Sealy, Texas; ATH
LaQuvionte Gonzalez
of Cedar Hill, Texas; QB
Kohl Stewart
of Houston, Texas; DT
Justin Manning
of Dallas; WR
Sebastian LaRue
of Santa Monica, Calif.)
VANDERBILT

2013 verbal commitments:
24
Spotlight:
Defensive tackle
Jay Woods
of Jackson, Ga., is a powerful body up front, who will be even better at the next level once he adds some bulk. He has good speed off the line and can clog holes up front. He'll be used as a run-stopper and can get to the quarterback when needed.
ESPN 150 members:
None