NCF Nation:

Shaquille Powell
July, 14, 2014
Jul 14
2:00
PM ET
In three years at Duke,
Jamison Crowder
has blossomed into one of the ACC's best receivers, while helping the Blue Devils' offense become one of the most feared in the conference. As Crowder prepares for what could be his third straight 1,000-yard season, we caught up with the Duke senior for his thoughts on what awaits in 2014.
You came to Duke when the program was a perennial loser, and you've seen it grow exponentially since your arrival. Did you envision this type of success from the beginning?
Jamison Crowder:
As any recruit going to a new place, you have second thoughts about certain things. But I had confidence in what Coach [David] Cutcliffe pitched at me. We had guys coming in and some young guys already here that had good talent. Coach Cut said in the next few years, we'd be a program on the rise, and that was the mindset I had coming in. Now, that's what's happening. My career has escalated as well as the program, and right now, I couldn't have made a better choice.
[+] Enlarge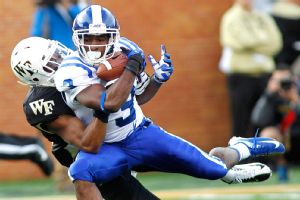 Ellen Ozier/USA TODAY SportsReceiver Jamison Crowder is looking to help Duke win a second straight ACC Coastal Division title.
How do you think people's perceptions of Duke have changed since you've been here? And what did losing those last two games against Florida State and Texas A&M last season mean for where the program is?
JC:
People saw we were for real, but for a lot of people, we still have a lot to prove. And for ourselves. We had a team meeting yesterday, and one of the things we talked about, obviously our program is headed in the right direction, but at the end of the year, both years, we didn't win bowl games. We made it to the ACC championship and that was a good marker, but we failed to win. I think everybody on the team has that determination to continue the success, but now, win the championship games and bowl games. From the outside, I think we still have a lot to prove. A lot of people still think last year was a fluke, but I think we're going to be pretty good again this year.
You're back, Anthony Boone is back, Braxton Deaver, Josh Snead, several key linemen — can this year's offense be even better than last season?
JC:
We've got a lot of experience coming back. We've lost a few linemen and one of our running backs, but we have a lot of playmakers coming back. We have a pretty good running back in
Shaquille Powell
that is going to come on the scene a lot this year. Coach Mo [Scottie Montgomery] is a guy that's fired up and puts players in the right position to make plays. Expectations are high. Last year, we left a lot of plays on the field. That's in the back of our minds. We don't want to leave any plays behind.
Is it fair to compare expectations for QB Thomas Sirk to what Brandon Connette did last year? Can he handle that role?
JC:
Sirk is — Brandon had a little more of a built frame, but Sirk is taller and I think he'll come in a lot on the goal line to run the wildcat. Sirk is very athletic and he can come in and fill that role. One thing he has to work on is in the open field, but I think he can overall come in and do what Brandon did, if not better, on the goal line and in short-yardage situations.
You had a very young secondary last year, including a lot of playing time for freshmen. Have you seen that group improve over the spring and summer?
JC:
Most definitely. Those guys have a good work ethic. I lift with
Bryon Fields
and
Quay Mann
. Those guys have been working. Last year, they were thrown in the fire. They handled it well. They gave up some big plays, but they made some big plays. For a freshman to come in, that's a difficult task, and they did real well last year. And this year, you can see they're more comfortable and bigger and stronger and faster.
What do you need to accomplish this year to convince people at the next level that you're a legit prospect?
JC:
I just have to have another good season. My status, as far as the league, is still unsure because of my size or because I'm not the fastest. So I just want to have another good season, not get complacent. You hear a lot of people telling you you're going to make it, but those same people are the ones making the decision whether I'm playing on Sundays. Only thing I can work on is me, and I'm staying hungry and continuing to work. I want to go out and make plays, score touchdowns and definitely have a better year as a returner this year. Last year I had two returns [for touchdowns], but I feel like I left two or three on the field.
You mentioned special teams, and the ACC has some very talented return men, including your own teammate, DeVon Edwards. Do you compare your game to any of those guys? Is there anyone who you particularly like to watch play?
JC:
Most definitely, DeVon. It's fun to have teammates that make the game easier. I've realized that scoring on special teams takes a load off the offense. That one play is a whole possession. DeVon and me, we joke that I'm going to have more. Last year, we both had two. So this year I said I'm going to have more returns, and he says, 'You're crazy.' But you've got to go out there and perform. Aside from my teammate, I like [North Carolina's]
Ryan Switzer
. I've watched a few highlights on YouTube, and I like his game.
What would a third straight 1,000-yard season mean for you?
JC:
It's great to get 1,000 yards in two years. But I want to be able to play at the next level, and the numbers hold some weight, but if you're not performing at the highest level it doesn't mean anything. The numbers are great, it shows I'm working, but I can do better and I know I'm going to have to do better to have a chance to play at the next level. And as long as we're winning ballgames, that's the main thing.
Is this the most talented Duke team since you've been here?
JC:
Most definitely. We lost a few guys, but we have a lot of talent — raw talent. We're getting better. We're adding talent on talent. We've got a lot of confidence and talent that Duke hasn't had in recent years. Now we've just got to get ready to play.
November, 20, 2013
11/20/13
9:00
AM ET
The Coastal Division race could become very confusing in the next two weeks, with possible tiebreaker scenarios looming and yet another season filled with unpredictable results. Don't get too overwhelmed, though, because as of right now, the picture is very clear: Duke is the team to beat.
[+] Enlarge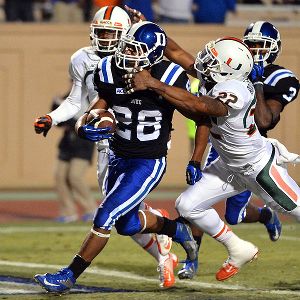 Chuck Liddy/Raleigh News & Observer/MCT via Getty ImagesShaquille Powell is one of five Duke players with more than 200 yards rushing.
The Blue Devils are just two wins away from playing Florida State in the ACC championship game on Dec. 7 in Charlotte, N.C., and will end the season with back-to-back road trips against in-state rivals Wake Forest and North Carolina. Duke's job is not done yet -- it has to win out to leave no doubt that it is the best team in the division -- but based on what we've seen so far, Duke is the most deserving team in the Coastal. That's based on the Blue Devils' résumé, which includes two wins against ranked teams -- not on the fact that Duke also happens to be the feel-good-story-of-the-year in the ACC.
"We all do believe we deserve it, we worked hard over the summer and throughout the whole season we've been grinding out there, but to say we're deserving over other teams that would be a little cocky," said Duke running back
Shaquille Powell
. "As a team, I think these next two wins is what we're focusing on. To say we deserve it over other teams is pushing it, but deep down we know we're really working for this and hopefully it will all pay off in the end."
Powell is being polite. It's just how they are at Duke. An 8-2 team, though, is a far more attractive championship prospect than any four- or five-loss team, regardless of history -- and that's exactly what we're looking at this week. Duke enters Saturday's game at Wake Forest riding a six-game winning streak and is the only team in its division ranked among the Associated Press Top 25.
Nobody else in the division has done anything to separate itself.
This is not Virginia Tech's year. The Hokies lost to Duke and Maryland ... at home?! And they couldn't stop Boston College. Virginia Tech has lost three of its last four heading into the final week of the regular season. Not exactly screaming championship material in Blacksburg.
Georgia Tech? The Jackets have lost four games -- twice as many as Duke. Granted, they won the head-to-head battle, but that was also Duke's first game without starting quarterback
Anthony Boone
, who suffered a broken collarbone the previous week against Memphis. That win over Duke, though, gives Georgia Tech the best argument in a tiebreaker scenario. Virginia Tech and Miami can't say the same.
Miami isn't back, it's going backwards. The defense is regressing. It has lost three straight, including a 48-30 loss to Duke. If Miami is going to earn its way to the ACC title game, this isn't the way to do it.
"

That's one of the best coaching jobs in college football in a long time. What he's done at Duke is amazing.

"

Penn State coach Bill O'Brien, a former assistant at Duke, on Blue Devils coach David Cutcliffe.
It's very possible the Coastal Division could still finish in a five-way tie at 5-3, but do ACC fans really want to see a five-loss North Carolina team representing the division? That's almost as bad as a six-loss Georgia Tech team playing for it all (see: 2012).
Duke, meanwhile, has something to brag about.
Penn State coach Bill O'Brien, who was offensive coordinator and quarterbacks coach at Duke in 2005 and 2006, knows how far the program has come.
"I can't say enough about what he's accomplished there," O'Brien said of Duke coach David Cutcliffe. "Duke, when I was at Duke with Ted Roof, it was tough. We had great kids there, but I don't think we for one second felt we had the support of our administration. Coach Cutcliffe obviously does ... That's one of the best coaching jobs in college football in a long time. What he's done at Duke is amazing."
It's the first time since 1971 that the program has defeated two ranked opponents in a season -- and they did it with only 11 seniors on scholarship (two fewer than last season). All four of Duke's running backs are averaging at least five yards per carry. Boone is 7-0 in his first season as a starter. Duke ranks second in the ACC in red zone defense (.750). This is a smart, well-coached team that has earned its spot at the top of the standings.
All it has to do now is keep it.
August, 27, 2012
8/27/12
10:30
AM ET
It is time to consult my Magic 8 ball and come up with 10 preseason predictions for the ACC this season. If I get any of these wrong, place all of your blame on said Magic 8 ball.

1. Florida State will win the ACC.
Where have you heard that one before? This is the year it will happen! I do not have my fingers crossed behind my back. The best I can do is pinkie-swear with you that the Noles have the best team in the ACC this year and will finish the year ranked in the top five. Wait, that is two predictions in one. Double bonus!
2. The ACC will win its BCS game.
Yes indeed, as the BCS representative, Florida State will be the first to take baby steps toward improving the depressing BCS results. That defense is going to be simply outstanding.
3. Travis Blanks will be the freshman of the year.
Of all the true freshmen who are going to see playing time this year, I have the most confidence at this point to say Blanks will make the biggest impact on his team. Clemson needs help on defense, and Blanks has shown throughout the spring and summer he will be able to contribute in a variety of ways.
4. Maryland will be better this year.
I know the Terps lost quarterback
C.J. Brown
and have had a few other pretty significant injuries during preseason camp, but there is no way they will be worse than last season.
Perry Hills
will have his share of growing pains as a true freshman starting quarterback. But Randy Edsall now has a team committed to playing for him, and that will make a huge difference this year.
5. Miami will be better than expected.
Not many people have faith in the Hurricanes this year, with only 10 starters returning and limited depth at a variety of positions on the field. But I think
Stephen Morris
will be a major upgrade over Jacory Harris and there are plenty of young playmakers who will do well when pressed into playing time. Watch out for
Duke Johnson
, who has the potential to dazzle.
6. Perry Jones will rush for 1,000 yards.
There is depth and talent at running back for UVa, but Jones came oh-so-close to the coveted mark last year. He will be better this year and become the first Virginia running back to reach 1,000 yards since Alvin Pearman in 2004.
7. The ACC will have five teams ranked at some point this season.
Florida State, Clemson and Virginia Tech go into the season as the lone ranked ACC teams. But Georgia Tech and NC State are good enough to be in the Top 25 right now, so I think all five will be in the poll. They may even end the season that way.
8. Boston College will struggle.
I am having a hard time finding much to get excited about when it comes to this team. Coach Frank Spaziani finds himself on the hot seat, so he has to get back to a bowl game. I just don't see it. The best defensive player in the entire country is gone in Luke Kuechly. Not even he could save this team last year. Injuries to some of its best players are mounting, and the nonconference schedule is not easy with games at Northwestern, Army and home to Notre Dame. I worry about BC this year.
9. Rookie running back attack
. There are several true freshmen running backs who have a shot at having big seasons this year. Watch out for the aforementioned Johnson at Miami;
J.C. Coleman
at Virginia Tech;
Wes Brown
and
Albert Reid
at Maryland; and
Jela Duncan
and
Shaquille Powell
at Duke.
10. Brandon Jenkins and Bjoern Werner will get 20 sacks combined.
The two had 15 combined last year (Jenkins was second in the ACC with eight, while Werner had seven). Clemson's Andre Branch was the only ACC player to reach double digits in sacks last year. I think there will be more than one this year, given some of the talent returning.
August, 23, 2012
8/23/12
4:00
PM ET
Now that we are closing in on the start of the season, we have a much better idea of how many true freshmen could make an impact in the ACC this season based on preseason practice time and early depth charts.
Maryland could end up playing the most, and having players who make the biggest impact. You have quarterback
Perry Hills
starting in place of the injured
C.J. Brown
. Highly touted athlete
Stefon Diggs
has had an outstanding preseason camp. Don't forget about running backs
Albert Reid
and
Wes Brown
, who also have looked really good.
Here are a few young players to keep an eye on at each school.
Boston College: Justin Simmons, DB.
Defensive back is an area where Boston College needs help, especially after the loss of
Al Louis-Jean
, who's out six to eight weeks with a foot injury. Simmons already has made his presence felt. In a scrimmage last weekend, he had two interceptions. Also watch for defensive back
Bryce Jones
and linebacker
Steven Daniels
.
[+] Enlarge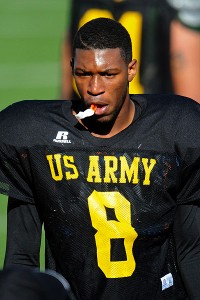 John Albright / Icon SMI The versatile Travis Blanks may line up at a number of positions on defense for the Tigers.
Clemson:
Travis Blanks, DB.
One of the top defensive backs in the country out of high school, Blanks enrolled early and had an impressive spring showing. He has followed that up with a great preseason, and will line up in a variety of positions -- nickelback, cornerback and some linebacker as well. On offense, watch for
Germone Hopper
, who has had some pretty explosive plays this fall.
Duke: Jela Duncan and Shaquille Powell, RBs; Ross Martin, PK.
Duncan and Powell have turned heads during the preseason, and coach David Cutcliffe said he would feel comfortable using both players in the opener against FIU. Martin is sure to get plenty of game experience as the starting kicker this year. Others to watch: receiver
Max McCaffrey
, tight end
Erich Schneider
and safety
Dwayne Norman
, who had an interception return for a touchdown in one scrimmage.
Florida State:
Ronald Darby, CB.
Do not be surprised if Darby ends up starting in the spot vacated by
Greg Reid
. Darby and
Nick Waisome
are competing for the starting job. Coaches like both players, but there is
something special
about Darby. Said coach Jimbo Fisher: Darby is "going to be a very, very good one." Also watch for defensive tackle
Eddie Goldman
and tight end
Christo Kourtzidis
.
Georgia Tech:
Anthony Autry and Micheal Summers, WR.
Georgia Tech only has four other scholarship wide receivers, so that increases the chances for Autry and Summers to play this season. Autry seems to have a slight edge over Summers. Others to watch: defensive back
D.J. White
.
Maryland:
In addition to Hills, Diggs, Brown and Reid, several others could make an impact this year. Punter
Brad Craddock
is competing for the starting position with redshirt freshman
Nathan Renfro
; and cornerback
Sean Davis
could be starting on opening day because he has done well, and there are some injuries on defense.
Miami:
Ereck Flowers, OL.
Flowers is listed as a starter right now at right tackle, helped in part because of
Seantrel Henderson
's absence. Offensive line coach Art Kehoe has been
extremely impressed
. Others to watch: defensive back
Tracy Howard
and running back
Duke Johnson
. Howard is listed on the two-deep behind
Ladarius Gunter
but has drawn raves so far and so has Johnson, who should also return kickoffs this year.
Deon Bush
is in the mix for a starting safety spot.
North Carolina: Quinshad Davis, WR.
Davis missed some early practice time because of a medical issue but has returned in the last week and has a big chance to make some noise. The Tar Heels are lacking depth at this position, and the way Larry Fedora likes to spread the ball around, he will take as many good receivers as he can.
NC State:
Charlie Hegedus, WR.
Receiver is a position of need for the Wolfpack, and Hegedus has seen more reps during fall camp with the injury to
Bryan Underwood
. One player NC State hopes you do not see this year is backup quarterback
Manny Stocker
, a true freshman behind veteran
Mike Glennon
.
Virginia:
Maurice Canady, CB.
Coaches are extremely high on Canady, who is in the mix to earn a starting spot in a secondary that has to be rebuilt this year. He has been working with the first team recently. Others to watch:
Michael Moore
at outside linebacker, and
Eli Harold
at defensive end.
Virginia Tech: J.C. Coleman, RB; Donaldven Manning, DB.
Both players enrolled in January and are virtual locks to play this season. Coleman has separated himself from another true freshman,
Trey Edmunds
, despite a hand injury. He has had an outstanding fall camp. Manning has had to deal with a hamstring injury, but his early enrollment works in his favor.
Wake Forest:
The Deacs rarely play true freshmen. But if there is one player who has a shot this year, it is defensive end
Tylor Harris
, who has stood out this fall for his pass-rushing ability -- something Wake Forest needs help improving this year.
August, 20, 2012
8/20/12
10:00
AM ET
Not every school in the ACC gives scrimmage reports, but for those that do, we will gladly post the highlights. Here's a look back at what happened in the ACC this weekend, according to each school's report:

Boston College
Offensive highlights:
Junior receiver
Alex Amidon
had seven catches for 84 yards, including a 29-yard touchdown reception, in the situational scrimmage Sunday. The scrimmage featured six end-of-half/fourth-quarter situations with limited time on the clock and a limited number of timeouts.
Chase Rettig
went 18-of-32 for 168 yards, one touchdown and two interceptions.
Defensive highlights:
Justin Simmons
had two interceptions off second-team quarterback
Josh Bordner
.
Manuel Asprilla
intercepted Rettig at the goal line, and linebacker
Nick Clancy
intercepted a Rettig pass that was deflected by
Mehdi Abdesmad
a few plays later.
Special teams:
Gerald Levano
punted four times and averaged nearly 48 yards per punt. His first punt landed at the 2-yard line, while his second attempt went 60 yards. Kicker
Nate Freese
made his only field goal attempt, from 40 yards, and is now 6-for-6 on field goal attempts in the preseason.
Quotable:
"We got a lot of nice young guys on this football team, and if they come through and play well, good things can happen, and Justin [Simmons] is one of them," coach Frank Spaziani said. "He's as advertised. We did our homework and everything that you do on kids. He's a good prospect."

Clemson
Offensive highlights:
Tajh Boyd
threw for 218 yards and three touchdowns Saturday, while
Martavis Bryant
had four catches for 97 yards and had two touchdowns. Boyd was 13-of-22 for 218 yards, three touchdowns and two interceptions. Backup
Cole Stoudt
went 4-of-9 for 61 yards and led a touchdown drive on his first possession.
Andre Ellington
had an 8-yard touchdown run, while
Roderick McDowell
led all running backs for a second straight scrimmage with 65 yards on four carries.
Defensive highlights:
Coach Dabo Swinney praised the defensive line, where
Josh Watson
,
Grady Jarrett
and
DeShawn Williams
made plays.
Xavier Brewer
made a brilliant breakup of a long pass and added five tackles.
Jonathan Meeks
added an interception.
Tony Steward
made a big play with a 25-yard interception return.
Special teams:
Williams had a blocked a field goal. Backup kicker Spence Benton made a 53-yard kick that could have been good from 63 yards.
Quotable:
"We have two weeks to get dialed in," Swinney said. "We are going to turn the page on Monday after our last two-a-day (practices) and start getting ready for Auburn. We will have our guys penciled in on where they need to be."

Duke
Offensive highlights:
Quarterback
Brandon Connette
caught a 15-yard touchdown pass from
Sean Renfree
and ran for another in a 95-snap, controlled scrimmage Friday night at Wallace Wade Stadium. Renfree went 14-of-21 for 116 yards with one touchdown and one interception. Freshman
Shaquille Powell
had eight carries for 30 yards, while
Jela Duncan
had 28 yards on nine attempts. Garrett Patterson, who moved from defensive back to receiver this week during practice, had five receptions for 80 yards.
Defensive highlights:
Cornerbacks
Lee Butler
and
Tony Foster
each had interceptions while linebacker
Deion Williams
recovered one fumble. Freshman defensive end
Michael Mann
had one sack and one forced fumble.
Special teams highlights:
Freshman kicker
Ross Martin
made field goals of 43 and 48 yards and converted his only extra-point attempt.

Georgia Tech
Offensive highlights:
Broderick Snoddy
had a 70-yard touchdown run on the second series, while quarterback
Vad Lee
threw two touchdowns to A-back
B.J. Bostic
. Lee later added a touchdown run as he continues to work at quarterback and A-back.
Synjyn Days
and freshman
Justin Thomas
also took snaps at quarterback, and each led scoring drives.
Defensive highlights:
Nick Menocal
had an interception he nearly returned for a touchdown.
Jimmie Kitchen
recovered a fumble, while defensive lineman
Anthony Williams
had two sacks.
Special teams highlights:
Justin Moore
had a 29-yard field goal, while
David Scully
made a 31-yard field goal and all five of his extra-point attempts. There was no punting on Saturday.
Quotable:
"The guys are ready to play someone else," quarterback
Tevin Washington
said. "We've been hitting each other for two weeks and all summer doing drills against each other. Guys are just ready to go and get some new faces in front of us."

Maryland
Freshman
Stefon Diggs
continued to impress, as he had three first-half touchdowns -- a 68-yard punt return, a 98-yard kickoff return and an 11-yard reception. Quarterback
Perry Hills
ran the first-team offense and led Maryland to scores on three of his five drives.
On the opening drive, Hills took the Terps on an 18-play, 76-yard touchdown drive, He went 5-of-6 for 27 yards on the drive and also rushed for 36 yards, including a 16-yard touchdown run.
"I thought Perry [Hills] had a good day," coach Randy Edsall said. "I thought he did some good things. Of course there's going to be plenty of things that he could learn from, and get better, but I think that we didn't have any issues with delay of game, really didn't have any false starts. When you talk about the mechanics and the operation of the offense I thought he handled it really well."

Miami
The Hurricanes' scrimmage Saturday was cut short in the middle of the second quarter because of lightning in the area. Among the highlights in the abbreviated scrimmage:
Mike James
and
Duke Johnson
each had touchdown runs, and
Kelvin Cain
recorded a sack in the end zone for a safety.
Virginia Tech

Offensive highlights:
Logan Thomas
went 8-of-15 for 112 yards and a score, while backup
Mark Leal
went 6-of-16 for 111 yards, with a touchdown and an interception.
Kevin Asante
led all receivers with four catches for 79 yards, while
Corey Fuller
caught three passes for 68 yards. The Hokies also rushed for 174 yards.
J.C. Coleman
played with a broken hand and had 54 yards -- 52 coming on one run -- and
Trey Edmunds
added 45.
Tony Gregory
rushed for 36 yards, including a 26-yard touchdown run. Projected starter
Michael Holmes
had three carries for 21 yards.
Defensive highlights:
The projected first-team defense allowed a little more than 120 yards in four series (24 plays) and gave up just two field goals. Walk-on
Zach Snell
had six tackles, while
Ronny Vandyke
had five.
Desmond Frye
and
Antone Exum
each recorded four. The defense had five total sacks and
Bruce Taylor
had an interception.
Special teams highlights:
Cody Journell
made two field goals and missed one, while
Brooks Abbott
made one and had a 37-yarder blocked by
Kyle Fuller
.
Quotable:
"I thought it was one of the more productive offensive first scrimmages we've had around here," coach Frank Beamer said. "I think we did some good things, and I think we'll see some things we can improve. Overall, I think the effort was good. I always say this, but it's hard to come out pleased because if the offense makes plays, you're worried about your defense. If the defense makes plays, you're worried about your offense. Overall, I thought it was a good first scrimmage."
January, 31, 2012
1/31/12
3:25
PM ET
We've already taken a look at what the recruiting needs were for the Atlantic Division. Let's shift our attention to the Coastal Division. Here's a look at where each school's biggest holes will be in 2012 or are anticipated to be in the near future:
DUKE

Offensive skill positions:
After last year's rare class that didn't include either a quarterback or running back, both positions are needed in this group. Quarterback
Thomas Sirk
-- the MVP of the 57th annual Florida Athletic Coaches Association North-South All-Star Football Classic last December -- has already enrolled in school while
Shaquille Powell
-- a PARADE All-American running back from Las Vegas -- has committed to the program. In addition, with David Cutcliffe's offense, wide receivers and tight ends also are a priority.
Kicker:
Will Snyderwine
, who earned first team All-America honors as a junior before struggling through a sub-par season in 2011, graduated, but Duke has a commitment from Ohio native
Ross Martin
, considered the No. 2 placekicking prospect in the country by ESPN.com.
Safety:
With the transition to a 4-2-5 alignment that utilizes three safeties, this becomes an annual point of emphasis. The Blue Devils lose All-American
Matt Daniels
to graduation.
GEORGIA TECH

Defensive line:
This is the most glaring need in the current class. The Yellow Jackets have to replace senior starters
Logan Walls
(DT) and
Jason Peters
(DE), but return
Izaan Cross
(DE) and solid backups
T.J. Barnes
(DT),
Emmanuel Dieke
(DE) and
Euclid Cummings
(DE). The Jackets are expected to sign about 18 players in this year's class, and five of them should be defensive linemen.
Wide receiver:
This is another glaring need after the departures of
Stephen Hill
, who decided to leave early for the NFL draft, and
Tyler Melton
.
Darren Waller
and
Jeff Greene
, who both played last season as true freshmen, have lots of potential, but the position still needs depth.
MIAMI

Defensive backs:
There's still a lot of depth with this group, and the return of
Ray-Ray Armstrong
and
Vaughn Telemaque
helps, but the Canes have to replace two starters in the secondary and have six commits in the current class to help do that.
Defensive line:
The Canes have to replace
Adewale Ojomo
,
Micanor Regis
,
Andrew Smith
and
Olivier Vernon
from last year's two-deep. The defensive end position was a particular focus in this class.
Receiver:
This position lost a lot with the departures of
Tommy Streeter
,
LaRon Byrd
and
Travis Benjamin
.
Allen Hurns
is now the veteran of the group, along with redshirt senior
Kendal Thompkins
. There are five receivers currently committed in this class.
Quarterback
: Beyond
Stephen Morris
, Miami has a lot of questions at the position and not a lot of experience. True freshmen
Gray Crow
and
Preston Dewey
are already on the roster, along with redshirt sophomore
Ryan Williams
.
NORTH CAROLINA

Defensive line:
This is one of the biggest areas of concern after the departures of
Quinton Coples
and
Tydreke Powell
.
Receivers
: Larry Fedora's offense will make good use of this group, but he needs to replace standout
Dwight Jones
.
Linebackers:
This group was thin to begin with in 2011, and now the Heels need to replace outgoing senior
Zach Brown
.
Kevin Reddick
is now the main man.
Safety:
UNC will have to replace two starters in
Matt Merletti
,
Charles Brown
and
Jonathan Smith
, so this position will have to be rebuilt for the future.

VIRGINIA
Defensive back:
This should be the main priority in this class. The Cavaliers will lose four DBs, including two starting safeties in Rodney McCleod and
Corey Mosley
, and standout cornerback
Chase Minnifield
. They'll also miss
Dom Joseph
, who came in for the nickel packages.
Demetrious Nicholson
, who started as a true freshman last year, is suddenly the veteran of the group.
Offensive line:
The Hoos will have to replace their starting center and left guard. Redshirt freshman center
Cody Wallace
could get a promotion, and sophomore right guard
Luke Bowanko
started in the bowl game. They've got some big bodies waiting in the wings, but they'll have some questions to answer here this spring.
Kickers:
This position needs to be rebuilt, as the Cavaliers lose
Robert Randolph
, who finished sixth all time in scoring at UVa, kickoff specialist
Chris Hinkebein
, and four-year punter
Jimmy Howell
. The position is wide open heading into the spring.
VIRGINIA TECH

Running back:
This one is a no-brainer, as the Hokies have lost four players here in the past two years.
David Wilson
and his backup,
Josh Oglesby
, were the latest to depart, and
Tony Gregory
just had ACL surgery and is out for the spring. The staff likes
Michael Holmes
, who redshirted last year, and
J.C. Coleman
enrolled last week.
Receiver:
The Hokies will miss
Danny Coale
and
Jarrett Boykin
, and next year's class has three seniors in
Dyrell Roberts
,
D.J. Coles
, and
Marcus Davis
. The future of the position is young, and the staff is still going after several uncommitted players pretty hard.
Defensive line:
This year's class already includes at least five committed defensive linemen, and the Hokies will be particularly thin at noseguard. They had some players graduate early who didn't play a lot, but at least provided depth.
Linebacker:
The Hokies have four committed, and are still chasing another just to build the depth. The staff missed on some recruits at this position last year and would like to make up for it in this class.