NCF Nation:

Shawn Elliott
February, 15, 2013
2/15/13
4:10
PM ET
South Carolina has managed to hold onto one of its most valuable assistant coaches.
Offensive line coach and co-offensive coordinator Shawn Elliott informed South Carolina coach Steve Spurrier on Friday that he would be staying in Columbia after interviewing with Nick Saban for the Alabama offensive line job.

Elliott, who'll be entering his fourth season at South Carolina, has been a big part of the Gamecocks' success. He's provided stability for South Carolina's offensive line and also brought the zone read package with him from Appalachian State that the Gamecocks have used so much of the past three seasons.
Being able to keep Elliott says something about where South Carolina's program is right now. He's obviously a commodity, and his name has come up a couple of different times the last two years in job searches.
But he's a Camden, S.C., native and grew up attending South Carolina games at Williams-Brice Stadium with his father, who was a South Carolina state highway patrolman.
Elliott obviously feels at home at South Carolina even when a powerhouse like Alabama comes calling.
Here's something else to consider: If you're looking for legitimate candidates to replace Spurrier when the Head Ball Coach does decide to step aside, Elliott would (and should) be in that conversation.
He's a superb coach and an excellent fit at South Carolina.
With Elliott out of the picture at Alabama, Miami associate head coach/tight ends coach Mario Cristobal is the latest candidate to reportedly interview for the Crimson Tide's offensive line job. Cristobal was the head coach at Florida International for six seasons before being fired following this past season.
Two other names connected to Alabama's search for an offensive line coach were former Fresno State head coach Pat Hill and UCF assistant head coach/offensive line coach Brent Key.
February, 14, 2013
2/14/13
9:15
PM ET
Kevin Steele is back at Alabama, this time as the Crimson Tide's director of player development.

Alabama's defensive coordinator during the 2007 and 2008 seasons under Nick Saban, Steele will direct the Crimson Tide's recruiting efforts in his new role. Steele was most recently Clemson's defensive coordinator from 2009-11 and was an administrative aide and consultant to his longtime friend, John Chavis, at LSU last season.
What the Tide are getting in Steele is one of the best recruiters in the business and a guy who has a wealth of football experience. He has coached in the NFL. He was the head coach at Baylor, and he's made assistant-coaching stops at such places as Nebraska, Florida State and Tennessee.
With the new NCAA recruiting rules that are slated to go into effect Aug. 1, Steele will be a huge asset for the Tide, who had already assembled one of the most effective recruiting machines in college football.
Saban also announced Thursday that Kerry Stevenson had joined the staff as the team's director of player development. Getting a former high school coach with ties to the Mobile, Ala., area should also come in handy for the Tide, who lost Jeremy Pruitt to Florida State as defensive coordinator. Pruitt had done a bang-up job of recruiting the Mobile area for Alabama.
Saban is also in the process of trying to replace Jeff Stoutland as offensive-line coach. Former Fresno State head coach Pat Hill is somebody to keep an eye on. Hill was the Atlanta Falcons' offensive line coach this past season and coached with Saban on the Cleveland Browns' staff in the early 1990s. Also, South Carolina offensive-line coach and co-offensive coordinator Shawn Elliott was scheduled to interview with Saban on Thursday.
October, 13, 2012
10/13/12
7:33
PM ET
BATON ROUGE, La. -- Greetings from Tiger Stadium. We have a big one between LSU and South Carolina.


Two top-10 teams and two very, very talented defenses will be going at it under the lights Saturday in one of college football's best environments.
The Tigers are limping in after that 14-6 loss to Florida, but interesting things happen under the lights in this place, and something tells me The Hat will have a few new things in store for the Gamecocks. It will be interesting to see how South Carolina deals with not just the crowd noise but with its own emotions after last week's blowout victory over Georgia.
This is South Carolina's first real road trip and the Tigers have their backs against the wall.
It'll be interesting to watch both of these offenses tonight. The Gamecocks have been very balanced and have one of the SEC's most efficient quarterbacks in
Connor Shaw
. That fractured shoulder hasn't been much of an issue at all. The Gamecocks will face their toughest test up front, and that is a concern for offensive-line coach Shawn Elliott. His line has been shaky at times this year, and the tackle spots are key.
Corey Robinson
and
Brandon Shell
will have their hands full with
Sam Montgomery
and
Barkevious Mingo
going at them.
For LSU, the Tigers were already without top offensive lineman
Chris Faulk
and will now be without starting left tackle
Alex Hurst
, who continues to deal with personal issues.
Josh Dworaczyk
will start at left tackle, where he has really struggled.
Trai Turner
will also start for the injured
Josh Williford
at right guard, while
Vadal Alexander
will start at right tackle; both are freshmen. LSU will have three underclassmen starting on the offensive line ... with
Jadeveon Clowney
,
Devin Taylor
and
Kelcy Quarles
to battle.
Talk about a lot of pressure up front ...
July, 13, 2012
7/13/12
9:00
AM ET
We're always looking for the next best thing. The coaching world isn't any different.
Who's the next Urban Meyer? The next Chris Petersen? What about another Brady Hoke?
Who's that next great assistant who rises up the ranks and takes over a major program ... and succeeds?

I'm not completely sure, but I have a few ideas. Here are some coaches lurking in the SEC who could be on their way to bigger and better things or are ready to take the next step with their current teams:
Head coaches
James Franklin, Vanderbilt: Franklin became the only first-year coach in Vandy history to guide the Commodores to a bowl game. He surpassed the program's win totals in each of its previous two seasons and signed arguably the school's best recruiting class in 2012. He brought attitude, confidence and a bit of swagger to the program. He could have left after one year but is really looking to turn things around at Vanderbilt.
Dan Mullen, Mississippi State: Bulldogs fans probably don't like hearing this, but Mullen is becoming a hot name among the coaching ranks. In his three seasons in Starkville, he has guided Mississippi State to two straight bowl wins. In 2010, he led the Bulldogs to nine wins for the first time since 1999. Mullen says he is happy in Starkville, but if he continues to win, bigger schools won't hesitate to go after him.
Assistants
Shawn Elliott, South Carolina offensive line coach/running game coordinator: Steve Spurrier has raved about Elliott's impact on offense and bringing in the zone read package. Elliott has done wonders for South Carolina's offensive line, which was a continual sore spot in Spurrier's early years at the school. Elliott is also a dogged recruiter. Having grown up in Camden, S.C., Elliott is somebody to watch when Spurrier hangs it up. If he doesn't get that job, somebody is going to snap him up.
Rodney Garner, Georgia defensive line coach/recruiting coordinator: He has been at Georgia for a while and has been wooed several times by other schools. LSU went after him several years ago, and Lane Kiffin was interested in bringing him to Tennessee. In the past 12 years, he has coached plenty of NFL talent, including four first-round draft picks. He has consistently been one of the league's best recruiters as well.
Todd Grantham, Georgia defensive coordinator/associate head coach: He could start getting more looks for head-coaching gigs. He has vast NFL experience, including being a defensive coordinator at that level, and more schools are looking for coaches with NFL experience. Grantham has proven himself as a recruiter and worked under two of the best in the college ranks -- Frank Beamer at Virginia Tech and Nick Saban at Michigan State. He has made a tremendous difference in turning around Georgia's defense and has an edge about him that successful head coaches possess.
Chris Kiffin, Ole Miss defensive line coach/recruiting coordinator for defense: He is one of the bright young names among the assistant ranks. As the defensive line coach at Arkansas State, he coached up Sun Belt Defensive Player of the Year Brandon Joiner, who tied for third in the nation in sacks and 10th in tackles for loss. Arkansas State also led the conference and ranked eighth nationally in tackles for loss (7.62 per game) and tied for 15th in sacks (2.69 per game). He is a tremendous recruiter and helped bring in a solid defensive class in a short amount of time this spring.
Kliff Kingsbury, Texas A&M offensive coordinator: After being a standout quarterback at Texas Tech, he is considered one of the top young assistants in college football. He came over with Kevin Sumlin from Houston, where he helped guide the Cougars' offense to its record-setting year in 2011. Houston led the nation in total offense, passing offense and scoring in 2011 behind quarterback Case Keenum. The Cougars averaged 599.1 total yards per game, including 450.1 through the air, while scoring more than 49 points per game.
Paul Petrino, Arkansas offensive coordinator: He came over to help run Arkansas' offense with his brother, but after Bobby Petrino was fired this spring, Paul Petrino assumed the role as primary playcaller. In 2010, he guided an Illinois offense that broke school records for total points (423) and points per game (32.54). The Illini averaged 42.1 points and 448.9 total yards over the final seven games of the season. If he can keep Arkansas' offense going this year, his phone might start ringing a little more.
Bob Shoop, Vanderbilt defensive coordinator/safeties coach: He has been a head coach at Columbia and is innovative on defense, playing the kind of attacking style that attracts great players. He helped orchestrate one of the most impressive defensive turnarounds in the country last year, as Vanderbilt ranked ninth nationally in pass defense efficiency and 18th in total defense. Vandy's defense also ranked among the nation's top units in interceptions, points allowed and rush defense.
Kirby Smart, Alabama defensive coordinator: He is one of the best defensive coordinators around, and it seems like only a matter of time before he is a head coach somewhere. Smart has already passed on a few head-coaching opportunities. He is making $950,000 a year and is in a position to be picky with coaching jobs.
Trooper Taylor, Auburn wide receivers coach/assistant head coach: He is one of the hottest and most successful recruiters in the SEC. He brought in and trained some elite receivers at Oklahoma State and Tennessee before making his way to Auburn. He is continuing that trend and has turned Emory Blake into one of the SEC's best pass-catchers. He was co-offensive coordinator at Oklahoma State, and if Auburn's receivers make another jump, Taylor could be waving his towel elsewhere soon.
Frank Wilson, LSU running backs coach/recruiting coordinator: He has emerged as one of the sport's top recruiters. As a running backs coach, he has done a tremendous job with the Tigers. Last season, LSU averaged 202.6 rushing yards per game and tied a school record with 35 rushing touchdowns. Three backs eclipsed the 500-yard rushing mark. Wilson commands tremendous respect from his players.
David Yost, Missouri offensive coordinator/recruiting coordinator: He has been at Missouri for 11 years, but he has to start getting more attention as an exceptional playcaller. He has a great eye for talent and pointing out mismatches in his spread scheme. In 2011, Mizzou ranked ninth nationally in rushing (244 yards per game) and had one of the most balanced offenses, as Mizzou was one of only two schools in the country to average at least 230 yards rushing and passing in each game.
March, 18, 2011
3/18/11
1:00
PM ET
COLUMBIA, S.C. -- Ellis Johnson, South Carolina's assistant head coach for the defense, isn't necessarily trying to temper expectations for Jadeveon Clowney when he arrives this summer.
After all, Johnson recruited him and knows the caliber of athlete the Gamecocks are getting in the country's top-rated overall prospect.
But what are realistic expectations for the 6-foot-6, 252-pound Clowney in his first season?
[+] Enlarge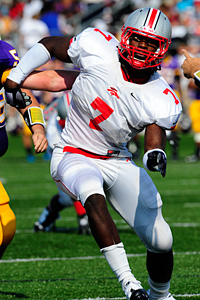 David Allio/Icon SMIExpectations are already through the roof for incoming freshman Jadeveon Clowney.
"I think it's realistic for him to come in and be a starter, but I think it's also realistic not to assume that," Johnson said. "But once a kid gets the kind of attention and hype he did in the national media and all the recruiting services, he can never do as much as everybody expects him to. So I won't even go there.
"But, physically, he could have put on a football uniform for the Carolina Panthers last year and played three games, and nobody would have known that he shouldn't have been in there. That kid is physically ready to go, but there's a difference in this league and high school. There are going to be some things he doesn't do well."
Other than his freakish athletic ability, the other thing about Clowney that jumped out to Johnson was how hard he played.
"There are a lot of big, tall, physical and fast kids in high school, and they don't play like he did because they don't have to," Johnson said. "Jadeveon played like a reckless train."
Big spring for Cann:
It's been a rarity under Steve Spurrier at South Carolina to see the same offensive line coach back for a second year in a row, but Shawn Elliott is going through his second spring.
The Gamecocks played much more consistently up front under Elliott last season and proved that they could run the ball in big games -- Florida and Georgia.
Elliott has a couple of holes to fill this spring and feels like redshirt freshman A.J. Cann may be the key to how everything comes together.
"If he can come in and we can insert him at one of those guard positions, then I think we've got something going," Elliott said. "If he can't step it up a notch, we'll have to go back to the drawing board, but I think he's going to do a good job this spring. He's as physical looking a character as you ever want to see up front. He's 6-3 and 310 pounds. I'm going to put the pressure on him to be that guy."
The other thing Elliott plans to do this spring is see if senior Rokevious Watkins can move over from guard and be the Gamecocks' starting right tackle.
"Watkins has changed his attitude," Elliott said. "He wasn't out of shape a year ago, but was a heavier guy. He's leaned up and starting to do the right things. He's in the weight room when he's not supposed to be in there. He's starting to do a little more than what's expected of him. We're going to experiment with him at right tackle because he's so fluid. He could really be a strong right tackle and solidify us."
Senior Kyle Nunn returns at left tackle and junior T.J. Johnson at center. Senior Terrence Campbell is the favorite to win the other guard spot.
"Terrence is a big, strong guy who filled in at guard in the bowl game," Elliott said. "I've got to see if he can play in a full-time role."
February, 22, 2011
2/22/11
10:00
AM ET
Our SEC spring preview continues with a look at the Eastern Division:
FLORIDA
Start of spring practice:
March 16
Spring game:
April 9

What to watch:
Stamp of Muschamp: All eyes will be on Will Muschamp as he sets foot for the first time on a practice field as a head coach. He takes over for Urban Meyer, who won two national championships in six seasons at Florida, but let it get away from him last season. Muschamp's first order of business is restoring that edge to the Florida program that made the Gators so successful under Meyer. It was a disjointed bunch a year ago with some obvious chemistry problems, but the talent is in place for Muschamp to come in and win right away if he can get everybody on the same page.
New life for Brantley: With Charlie Weis taking over as the Gators' offensive coordinator, he plans to install a pro-style offense, which fits senior quarterback John Brantley a lot better than the spread attack the Gators tried to run with Brantley rotating in and out last season. Tim Tebow was a hit in that offense. Brantley was woefully out of place. But in this new offense, he gets a chance to do what he does best -- throw the ball from the pocket. He'll also have true freshman Jeff Driskel pushing him every step of the way. Driskel, ranked by ESPN as the No. 1 quarterback prospect in the country, enrolled early and will go through spring practice.
Second time around: Remember that freshman class the Gators signed last year that was being hailed as perhaps the most talented ever? We start to find out a lot more about those guys this spring, and the Gators will need a lot more production out of that crowd, too. We're talking about defensive linemen Ronald Powell and Sharrif Floyd, running back Mack Brown, receiver Chris Dunkley, safety Matt Elam and cornerback Joshua Shaw, to name a few. It's time for some of the Gators' younger talents to make their presence felt.
GEORGIA
Start of spring practice:
March 10
Spring game:
April 16

What to watch:
Murray's ankle: There was a collective sigh of relief across the state of Georgia when it was learned that Aaron Murray's ankle injury wasn't more serious than it was. The Bulldogs' sophomore quarterback sprained his ankle playing soccer this past weekend and says he will be ready to go for spring practice. Still, don't look for him to overdo it, particularly early, which means sophomore Hutson Mason may get some increased reps with the first unit. This will be Murray's third spring at Georgia, and he's going to get plenty of work. Something says, though, that his soccer days are over.
Elevating the O-line's play: Most Georgia fans would readily tell you that the Bulldogs' play in the offensive line each of the past two seasons has been disappointing. There's a new guy calling the shots up there this spring, former Alabama All-SEC performer Will Friend. Look for Friend to move some guys around and try to settle on the best combination. Cordy Glenn will get a shot at tackle, and Kenarious Gates may, too, after playing some at right guard last season as a true freshman. However it shakes out, the Bulldogs need to play with more consistency up front next season.
Lining up linebackers: Losing outside linebacker Justin Houston early to the NFL draft was a big blow. He was Georgia's finisher on the edge in Todd Grantham's 3-4 defense and was second in the SEC in sacks last season. Jarvis Jones, a talented transfer from Southern California, is probably the closest thing the Bulldogs have to Houston, which means he'll probably start out on the outside. Jones also worked some on the inside last season. Senior Richard Samuel needs a big spring and could really help fill the void inside.
KENTUCKY
Start of spring practice:
March 30
Spring game:
April 23

What to watch:
Moving to the 3-4: Rick Minter came aboard as Kentucky's new defensive coordinator prior to the bowl game last December and will continue the transition from the 4-3 to the 3-4 this spring. The Wildcats still need to recruit to this defense, in particular find a bigger nose guard, before going full scale to the 3-4. But Minter would like to create a hybrid position where he can take a linebacker and play him some at end, thus giving the Wildcats more flexibility. Kentucky isn't short on talent at linebacker, and junior Ridge Wilson could be a candidate for that hybrid role.
Newton's law: Mike Hartline's eligibility has run out, and Ryan Mossakowski is transferring. That leaves Morgan Newton as the Wildcats' quarterback of record. Heading into his junior season, he needs a big spring with the focus clearly being on becoming a more consistent passer, while also establishing himself as a leader. He needs to prove it to the coaches. But more importantly, he needs to prove it to his teammates that he's the guy to lead this team.
Finding the end zone: Randall Cobb and Chris Matthews combined for 22 touchdowns last season, but they're now gone. Derrick Locke, when healthy, was one of the more dangerous breakaway threats in the SEC at running back. He's also gone. The good news is that Kentucky returns four offensive line starters, but one of the priorities this spring will be identifying guys who can get the ball into the end zone, which is where Raymond Sanders, Brandon Gainer, CoShik Williams and La'Rod King all come in. Getting junior receiver Gene McCaskill back will help, too. He missed all of last season after tearing his ACL in preseason practice.
SOUTH CAROLINA
Start of spring practice:
March 15
Spring game:
April 9

What to watch:
Shoring up the pass coverage: Ellis Johnson, South Carolina's assistant coach for the defense, is determined to get to the bottom of the Gamecocks' issues covering the pass last season. They're plenty talented in the secondary, but were beaten way too often and gave up far too many big plays. One change is Akeem Auguste moving back to cornerback from safety. Auguste played cornerback two years ago. The Gamecocks also hope redshirt freshman Victor Hampton can provide some coverage help when they go to extra defensive backs.
Retooling up front: Gone are four senior offensive linemen who started at some point last season. Of course, some of the best news for the Gamecocks is that they're going to have the same offensive line coach for the second year in a row. When Shawn Elliott arrived last year, he was the third different offensive line coach at South Carolina in as many years. He did a nice job with the Gamecocks' offensive line in his first season and was able to mix and match when guys were injured. Redshirt freshman A.J. Cann will have a chance to win one of the starting guard jobs, while junior college signee Kaleb Broome is already on campus and will vie for the right tackle spot.
Sustaining success: The Gamecocks made history last season by playing in their first SEC championship game. They're likely to be favored in the East race again in 2011, but are they ready to embrace that role and properly manage those expectations? The leaders need to take charge of this team this spring and make sure there's no complacency from simply having gotten to Atlanta last season. The goal now is getting there and winning a first-ever SEC championship. The Gamecocks have the returning talent to make that happen, but do they possess everything else it takes to win a title in this league?
TENNESSEE
Start of spring practice:
March 22
Spring game:
April 16

What to watch:
Growing as an offense: The Vols were so young on offense last season that a lot of the time they were merely trying to keep their heads above water. But with the three true freshman offensive line starters a year older and quarterback Tyler Bray going through his second spring practice and being able to get his timing down that much more with receivers Justin Hunter and Da'Rick Rogers, Tennessee has a chance to really have its offensive attack humming by the fall. Having everybody together this spring and working under offensive coordinator Jim Chaney should only expedite the process.
Living in limbo: Janzen Jackson, the Vols' star junior safety, will not be around for spring ball. He's withdrawn from school this semester to deal with personal problems. Tennessee hopes to get him back for the fall, but there are no guarantees. Brent Brewer, a former minor league baseball player who really came on at safety the latter half of last season, is suspended indefinitely from all team activities following his arrest on a domestic assault charge. The Vols signed two junior college defensive backs, Byron Moore and Izauea Lanier, but they won't be on campus until this summer.
Beefing up the front: The Vols really like promising defensive ends Jacques Smith, Corey Miller and Willie Bohannon and will be looking to bolster their pass rush with those three coming off the edge. Senior Malik Jackson will likely stay inside after moving from end to tackle last season and leading the Vols in tackles for loss (11) and sacks (5). But there's still a huge need for more muscle inside. Junior college signee Maurice Couch will certainly help, although he doesn't arrive until this summer. Montori Hughes is coming off a disappointing 2010 season. The Vols will be looking for all the bodies they can find inside this spring.
VANDERBILT
Start of spring practice:
March 18
Spring game:
April 17

What to watch:
Franklin's debut: With the exception of offensive line coach Herb Hand, Vanderbilt will have an entirely new coaching staff running the show this spring. It will be the first collective look that new coach James Franklin has had at his team. It's also his first chance to evaluate his returning talent, not to mention the returning players' first chance to get a feel for Franklin and the new assistants on the practice field. Franklin has vowed that he won't be afraid to take some risks and that the Commodores will be aggressive.
Smith's time to shine: As quarterback Larry Smith enters his senior season, his slate is wiped clean with this new staff. He won't stray too far from new quarterbacks coach Ricky Rahne this spring and gets a chance to take an early lead in the quarterback battle before the three true freshmen arrive this spring. Jordan Rodgers will be limited this spring after undergoing shoulder surgery last year, but will also get a chance to prove to the new staff that he's the guy to pump some life into a passing game that finished 105th nationally last season.
Identifying playmakers: The Commodores need to generate more big plays in 2011, and that goes for all three areas of the game. This is a big spring for younger receivers Jordan Matthews, Jonathan Krause and Chris Boyd. And on defense, Vanderbilt needs to find a few more finishers in terms of getting to the quarterback. The Commodores were last in the SEC with 20 sacks last season and were also last with 15 forced turnovers. Creating more short fields for the offense and making more happen on special teams will be a must next season.
December, 3, 2010
12/03/10
2:00
PM ET
A look at three keys for each team Saturday in the
SEC championship game
:
AUBURN


1. Shut down Lattimore:
It's no coincidence that in South Carolina's three losses this season that freshman running back
Marcus Lattimore
averaged just 47.3 rushing yards per game. Lattimore missed the Vanderbilt win. But in the four SEC wins he played in for the Gamecocks, he averaged 167.8 rushing yards and scored eight touchdowns. Auburn shut him down last time, holding him to 33 yards on 14 carries. That will be the Tigers' priority again: make South Carolina one-dimensional and put everything on
Stephen Garcia
's shoulders.
2. Red-zone success:
The Tigers have been a better red zone offense this season than the statistics show, and scoring touchdowns against the Gamecocks when they get down there will be critical. Auburn is ranked 25th nationally in red zone offense, converting 50 of 57 opportunities (87.7 percent). However, four of Auburn's seven missed opportunities were instances in which the Tigers took a knee inside the opponents' red zone to run out the clock at the end of a game. Therefore, when trying to score in the red zone, the Tigers are 50-of-53, which would rank third nationally. South Carolina has been stingy around its own goal line and is tied for sixth nationally in red zone defense. The Gamecocks have given up just 17 touchdowns in 39 red zone trips.
3. Eliminating big plays:
Only once this season has Auburn allowed a running play of 30 yards or longer, but it's been a different story when it comes to giving up big plays in the passing game. South Carolina's
Alshon Jeffery
certainly has big-play capability and lit the Tigers up in the first game. Auburn does not want a repeat of that performance, and as good as the Tigers have been this season at coming from behind, the last thing they want to do is give up a bunch of big scoring plays and have to dig their way out of a deep hole for the second week in a row.
SOUTH CAROLINA
1. Win the turnover battle:
Nobody needs to remind the Gamecocks that their past four possessions against the Tigers in the first game ended in turnovers -- two Garcia fumbles and two
Connor Shaw
interceptions. South Carolina recovered from that debacle and has been on the plus side more than the minus side of the turnover battle down the stretch. The Gamecocks have forced 24 turnovers and lost 19 for the season. Protecting the football is a given if they are going to win this game, but they also need to create some turnovers and give the offense some short fields.
2. Establish the run:
The best way to defend
Cam Newton
is to keep him on the bench. The only way to do that is to keep the football, drive the football … and successfully run the football. South Carolina offensive line coach Shawn Elliott said earlier this week that his guys had to "play their butts off." He's right. The Gamecocks have been solid up front and have certainly improved over the past two years. But this needs to be their best game yet, and Lattimore needs to get the football at least 25 times. When he is moving the chains and making yards on first down, it just opens up things for everybody else, and more importantly, keeps Newton off the field.
3. Sure tackling:
The Gamecocks had one of their poorest tackling performances of the season against Auburn the first time around. Of course, Newton has made poor tacklers out of a lot of people this season. The Tigers love to play fast, which means quick runs and quick throws. Not only do the Gamecocks need to tackle better in this game, but they need to get off blocks and be in position to make tackles. Staying home on the back side is another key, because the Tigers also love to hit you with misdirection. Obviously, the Gamecocks need their front four to man up and keep Newton from gashing them like he did the last time to the tune of 176 rushing yards and three touchdowns. The defensive backs also have to tackle well, and that includes Antonio Allen, their hybrid linebacker/safety or what they call the Spur. He's playing his best football right now.
November, 21, 2010
11/21/10
2:12
AM ET
It wasn't a marquee weekend for the SEC in terms of anticipated matchups, but there were a couple of dandy games.
And some dandy performances, too.
Those performances are reflected in our Week 12 helmet stickers in the SEC:

Tennessee defensive end Gerald Williams:
He was everywhere Saturday for the Vols, who moved closer to becoming bowl eligible with a
24-10 win at Vanderbilt
. Williams finished with a career-high eight tackles, including 1.5 tackles for loss. He had a sack, a quarterback hurry and blocked a field goal. He also had a 71-yard interception return for a touchdown, but it was wiped out by a roughing the quarterback penalty on
Malik Jackson
.
South Carolina's offensive line
: It's about time first-year South Carolina offensive line coach Shawn Elliott and his guys up front get some props. The Gamecocks, in
beating up on Troy 69-24
, are averaging 10 points more per game than they did a year ago. They also have a 1,000-yard rusher (
Marcus Lattimore
) and a 1,000-yard receiver (
Alshon Jeffery
) in the same season for the first time in school history and have given up 12 fewer sacks than a year ago. You don't have that kind of success on offense without playing well up front.
Arkansas running back Knile Davis:
In becoming the 10
th
rusher in Arkansas history to top the 1,000-yard mark in a season, Davis rushed for a career-high 187 yards on a career-high 30 carries in the
Hogs' 38-31 double-overtime win against Mississippi State
. He also scored three touchdowns, including a 62-yard run to open Arkansas' scoring in the first quarter and a 7-yard catch in the second overtime. Davis' game-winner in the second overtime made amends for his fumble near the end of regulation when the Hogs were trying to run out the clock.
LSU quarterback Jordan Jefferson:
It's been a rocky season for Jefferson throwing the ball, but he was at his best Saturday. The Tigers needed him at his best, too, in rallying to
beat Ole Miss 43-36
to complete an unbeaten season at Tiger Stadium. Jefferson finished 13-of-17 for a career-high 254 yards. He also rushed for 45 yards. Both of his touchdowns came in the fourth quarter, a 3-yard run and then a 27-yard pass to
Michael Ford
.
Alabama quarterback Greg McElroy:
The quintessential student-athlete, McElroy completed 12-of-13 passes for 159 yards and two touchdowns in Alabama's
63-7 pummeling of Georgia State
on Thursday night. Two days later, McElroy participated in finalist interviews for the Rhodes scholarship. He wasn't selected, but that doesn't diminish what an incredible run he's had as both a student and a football player.
September, 12, 2010
9/12/10
10:12
AM ET
A look at what we learned in the SEC in Week 2:
1. Alabama still on top:
The Crimson Tide made it look easy in their 24-3 win over Penn State and were playing without their best two players -- running back
Mark Ingram
and defensive end Marcell Dareus. The Tide's defense is full of first-time starters and first-time contributors, and it's getting a little bit better and a little bit more comfortable every week. That's bad news for the rest of the league. Alabama's hardly unbeatable. But come November, we may think differently. After all, this is a defense that's given up just two field goals in two games.
[+] Enlarge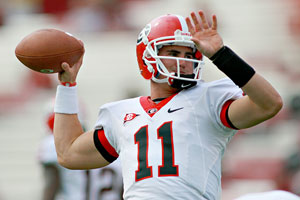 Frankie Creel/US PresswireAaron Murray completed 66.7 percent of his passes Saturday against South Carolina.
2. Turning Murray loose:
A lot of Georgia fans aren't real happy with the defense the day after and rightfully so. The Bulldogs' tackling stunk in the 17-6 loss to South Carolina. But there is a bright side. Freshman quarterback
Aaron Murray
is going to be a good player, and he's going to be a good player this season. The Bulldogs just have to turn him loose. They were way too conservative with him against the Gamecocks, and it cost them. Let him throw the ball down the field. Let him get out of the pocket and make some plays. Let him do what he does best. The Bulldogs did a good job of protecting him until the end when they had to throw, and they have a veteran offensive line. If they're going to get back into the East race, they better take the training wheels off Murray.
3. LSU quarterback concerns:
The bottom line for LSU is that the Tigers are 2-0 and play their next three games at home before going to Florida. They're a talented bunch that hasn't come close to playing its best football. But for this team to make a legitimate run in the Western Division race, junior quarterback
Jordan Jefferson
can't continue to take one step forward and another step backward. He still has time to get it going. But to this point, there simply hasn't been enough consistency on offense with Jefferson under center, and LSU coach Les Miles sounds like he's growing antsy. Following the 27-3 win over Vanderbilt, Miles said, "We're going to continue to evaluate our quarterback situation, and frankly, we're going to expect more out of the position -- period." In other words, don't be surprised if you see
Jarrett Lee
get a shot in these next few games.
4. Hold that line:
From the time Steve Spurrier arrived at South Carolina in 2005, he just hasn't been able to get it right in the offensive line. The Gamecocks have missed on some guys in recruiting and never been able to sustain any continuity with offensive line coaches. Shawn Elliott is South Carolina's third different offensive line coach in as many years, and he deserves a tremendous amount of credit for what the Gamecocks have accomplished up front the first two weeks. They're playing together, playing with confidence and playing with a purpose. It hasn't been perfect. But for the first time in a while, this looks like an honest-to-goodness SEC-caliber offensive line that can push some people off the line and dictate the flow of games.
5. Long season on Rocky Top:
The Vols played inspired football for the first half Saturday and really played above their heads. But as Tennessee coach Derek Dooley said himself, their 48-13 beatdown at the hands of No. 7 Oregon shows them exactly where they are, which is squarely in the bottom half of the SEC. The Ducks left the Vols in their tracks en route to scoring 45 unanswered points and handing Tennessee its most lopsided loss ever in Neyland Stadium. There's no shame in losing to the Ducks. They're a terrific football team with speed everywhere you turn. But as soon as the tide turned in Saturday's game with Oregon taking an interception back for a touchdown, the Vols wilted. If that pattern continues (and they don't show a little more resiliency), it could really get ugly this season on Rocky Top.
September, 2, 2010
9/02/10
11:07
PM ET
COLUMBIA, S.C. -- South Carolina shook off suspensions to three starters and motored past Southern Miss
41-13 in the season opener
Thursday night at Williams-Brice Stadium.
Here's an instant analysis from the game:


How the game was won:
The Gamecocks unleashed the kind of balanced offense on the Golden Eagles that Steve Spurrier was famous for at Florida, but hasn't been able to produce at South Carolina on a consistent basis. After Southern Miss pulled within 7-3 late in the first quarter, South Carolina went on a 27-3 spree to put the game away. The Gamecocks had touchdown drives of 92, 85, 62 and 48 yards in the first three quarters.
Player of the game:
South Carolina junior quarterback
Stephen Garcia
played one of the most efficient games of his career. He completed 16 of 23 passes for 193 yards and no interceptions and also had a pair of rushing touchdowns. The first of those was a 22-yard scamper where he ran over a Southern Miss safety.
Unsung hero of the game:
Let's go with the entire South Carolina first-team offensive line, a group of guys that's been beaten on relentlessly the last couple of years. Even without starting left tackle Jarriel King, the guys up front paved the way for more than 200 rushing yards and also did a better job of protecting Garcia. First-year offensive line coach Shawn Elliott has done a nice job with this unit.
What it means:
Spurrier, still fuming from that awful performance against Connecticut in the Papajohns.com Bowl to end last season, vowed that this would be a different team. Well, the Gamecocks looked like it in the kind of complete effort it's going to take on down the road if they're going to contend in the East. The offense was on top of its game, but so was the defense. The Golden Eagles never really threatened to score a touchdown until the closing minutes of the game, and even then, the Gamecocks held. All in all, this is exactly the way South Carolina wanted to go into Georgia this week, and the Gamecocks will have a couple of extra days to prepare, too.
What South Carolina learned:
No doubt, it had been a crazy past few weeks with the Whitney Hotel investigation, all the stuff with
Weslye Saunders
and all the rumors floating around. But the Gamecocks refused to allow any of that to become a distraction -- a sure sign of maturity.
April, 14, 2010
4/14/10
9:02
AM ET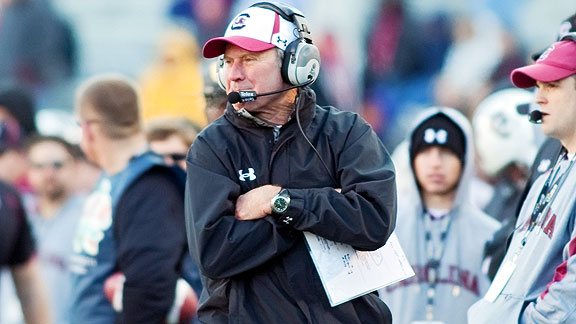 John Korduner/Icon SMIThis season may be Steve Spurrier's best chance yet at bringing an SEC title to South Carolina.
COLUMBIA, S.C. -- The Head Ball Coach isn't gigging rivals as much as he once did.
If anything, he's gigging himself.
As Steve Spurrier enters his sixth season at South Carolina, he might not come right out and say it. Occasionally, his smoldering frustration might say it for him.
But he knows his window is closing on ever winning another SEC championship.
Some might say that window was never cracked in the first place at South Carolina, which has won more than eight games in a season only twice in school history.
Spurrier, even after seeing each of the past two seasons end embarrassingly in lackluster bowl losses, hasn't given up hope that it can be done at South Carolina.
Just don't tell him that this season is a now-or-never proposition, and the same thing goes for this supposedly being the Gamecocks' best chance to make some real noise in the Eastern Division race since Spurrier arrived in 2005.
"I like to be optimistic. That's the way I've always felt you had to coach," Spurrier said. "You're supposed to tell your players they're very good and they've got a chance to have a big year.
"But our guys don't react real well to that, if you know what I mean."
In other words, don't build the Gamecocks up too much. They've been down this road before -- and long before Spurrier was navigating his way down George Rogers Boulevard every morning to work.
Let's face it. South Carolina's football history reads like a Greek tragedy.
Every time the Gamecocks seem poised to break through, they end up breaking garnet and black-coated hearts instead.
"We've got a lot of traditions around here," senior defensive end Cliff Matthews said. "It's about time we started a winning tradition."
April, 7, 2010
4/07/10
5:50
PM ET
COLUMBIA, S.C. –- South Carolina's Steve Spurrier, a.k.a. the Head Ball coach, says he's going to get back to being the Head Ball Coach next season.
[+] Enlarge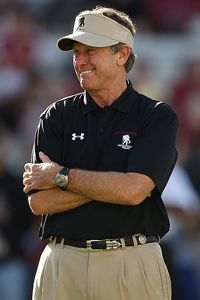 Kevin Liles/US PresswireSpurrier says he's going to call the plays this season.
Most notably, he's going to resume calling all of the Gamecocks' offensive plays.
"I called most all of them last year, but I'm going to call them all this year," Spurrier told ESPN.com on Wednesday. "Sometimes, you think, 'Well, it's probably best to delegate a little bit more, this, that and the other.'
"But, no, I told the guys the other day that I'm going to go back to doing it the way I did it at Florida. I'm going to call the plays, or else they're going to all come through me."
Who was actually calling the plays the last two seasons has been a polarizing topic for South Carolina fans, ever since Spurrier said he was going to delegate a lot of the play-calling duties to his son, Steve Spurrier, Jr., and others on his offensive staff.
The elder Spurrier is considered one of the best play-callers in SEC history, and South Carolina fans weren't thrilled with the idea that he wouldn't be doing one of the things that's made him a sure-fire Hall of Famer.
Known for his unpredictability, Spurrier said his entire offensive staff would still be very involved in drawing up the offensive plan each week. In particular, he said first-year offensive line coach and running game coordinator Shawn Elliott would be heavily involved in choosing running plays.
The Gamecocks are running more zone read plays under Elliott, who was at Appalachian State previously. Elliott is the Gamecocks' third offensive line coach in as many years.
"It's pretty good stuff, and we're trying to expand it this spring," Spurrier said. "The offensive line doesn't have to be as great as Alabama's or Florida's, maybe, to get some running lanes in there."
The Gamecocks were last in the SEC in rushing offense last season, averaging just 121.2 yards per game. They also tied LSU for the most sacks allowed in the SEC (37) and ranked 105
th
nationally.
Spurrier said he's been too soft on soft play at South Carolina and that he's turning up the intensity on everybody.
That includes starting junior quarterback Stephen Garcia, who has really drawn the ire of Spurrier this spring.
"I'm going to yell and scream and be a jerk," said Spurrier, who was known for throwing his visor at Florida. "I hope one or two players say, 'That coach Spurrier is yelling at us all the time.' Nobody has said that lately. I'm going to try and be a little bit more of a jerk to some guys, because we've put up with too much soft play, put up with pitiful effort by some guys and put up with just not good team play."
Heading into his sixth season at South Carolina, Spurrier has lost five or more games each of his first five seasons in Columbia. He's only won more than seven games once.
Still, the 35 wins mark the best five-year run in South Carolina football history.
"If we're going to ever achieve anything, we've got to change our ways, and it probably needs to change with the head coach being a lot tougher and a lot meaner to some of these guys that are too soft around here," Spurrier said.
February, 26, 2010
2/26/10
9:10
AM ET
With LSU opening spring practice Monday, I thought it might be wise to go over all the coaching changes in the SEC this year.

As usual, it was a revolving door this past offseason. In fact, Auburn was the only school in the league that didn't have any staff turnover. The final number of head coaches or assistants departing for various reasons was 31.

Some were fired. Others got better gigs, while there were a few that were swayed elsewhere (within the conference) for more money.

Here's an Eastern Division breakdown of who's out and who's in for the 2010 season. We'll do the Western Division a little bit later:

FLORIDA

Who's out: Associate head coach/defensive coordinator Charlie Strong, defensive coordinator George Edwards, recruiting coordinator/receivers coach Billy Gonzales, cornerbacks coach Vance Bedford and running backs coach Kenny Carter.

Who's in: Teryl Austin, who spent the last seven seasons as the Arizona Cardinals' defensive backs coach, is Florida's new defensive coordinator. He replaces George Edwards, who held the job for less than a month before going back to the NFL with the Buffalo Bills. Edwards replaced Charlie Strong, who left following the season to take the Louisville head job. Stan Drayton returns to coach running backs. He was at Florida earlier this decade before moving on to Tennessee and most recently Syracuse. D.J. Durkin will coach defensive ends and special teams after spending the last three seasons at Stanford. Zach Azzanni will coach receivers. He was previously the assistant head coach/receivers coach at Central Michigan.

GEORGIA

Who's out: Defensive coordinator/secondary coach Willie Martinez, co-defensive coordinator/linebackers coach John Jancek and defensive ends coach Jon Fabris.

Who's in: Former Cleveland Browns defensive coordinator Todd Grantham takes over as Georgia's defensive coordinator. He was the Dallas Cowboys' defensive line coach the last two seasons. Scott Lakatos will coach the defensive backs after spending the last six seasons on the Connecticut staff, and Warren Belin will coach linebackers after spending the last eight seasons on the Vanderbilt staff.

KENTUCKY

Who's out: Head coach Rich Brooks, offensive line coach Jimmy Heggins and defensive line coach Rick Petri.

Who's in: Joker Phillips, who was already the Wildcats' coach-in-waiting, takes over the head-coaching reins. Mike Summers will coach the offensive line after serving as assistant head coach/offensive line coach at Arkansas the last two seasons. Former Tennessee quarterback Tee Martin will coach the receivers. Martin was the quarterbacks coach at New Mexico last season. David Turner, who has coached at four different SEC schools, will coach the defensive line. Turner was at Mississippi State the last three seasons.

SOUTH CAROLINA

Who's out: Offensive line coach/running game coordinator Eric Wolford.

Who's in: Shawn Elliott replaces Wolford, who left to take the head coaching job at Youngstown State. Elliott has spent his entire coaching career at Appalachian State, including the last nine seasons as offensive line coach.

TENNESSEE

Who's out: Head coach Lane Kiffin, defensive coordinator Monte Kiffin, recruiting coordinator/defensive line coach Ed Orgeron, quarterbacks coach David Reaves, receivers coach Frank Wilson, offensive line coach James Cregg, running backs coach/special teams coordinator Eddie Gran and defensive backs coach Willie Mack Garza.

Who's in: Derek Dooley was hired as the Vols' head coach after Lane Kiffin left to take the Southern California head job. Justin Wilcox comes over from Boise State to be the defensive coordinator. Charlie Baggett will serve as assistant head coach and coach the receivers. He has 11 years of NFL experience and was on the St. Louis Rams' staff last season. Harry Hiestand will coach the offensive line. He was the offensive line coach for the Chicago Bears the past five seasons. Darin Hinshaw will coach quarterbacks. He was the receivers coach at Memphis the past three seasons. Terry Joseph will coach the secondary and special tams. He was with Dooley at Louisiana Tech. Eric Russell will coach tight ends and coordinate special teams. He was also at Louisiana Tech with Dooley. Former Tennessee All-SEC performer Chuck Smith will coach the defensive line. He worked as an assistant defensive line coach with the New York Jets last season and has also tutored several defensive linemen over the years. He played professionally for the Atlanta Falcons.

VANDERBILT

Who's out: Linebackers coach/special teams coordinator Warren Belin.

Who's in: Vanderbilt coach Bobby Johnson is still working to replace Belin, who left to join the Georgia staff. Johnson promoted Jimmy Kiser to offensive coordinator, and Kiser will call all of the Commodores' plays this season. Ted Cain remains on staff as the tight ends coach and special teams coordinator.