November, 4, 2013
11/04/13
9:00
AM ET
SOUTH BEND, Ind. -- As Brian Kelly was finishing up his postgame press conference Saturday, an unexpected visitor made an appearance during the penultimate question.
"Jaylon, we'll be done in a second," Kelly said to
Jaylon Smith
, who had entered prematurely. "I know it's your press conference, but I'll be done in a second, and we'll let you get going. Is that all right?"
"Sorry," Smith said to the room of reporters. "I'm new to everything."
Within 24 hours, it turned out the freshman linebacker would be a seasoned veteran by Notre Dame's defense's standards. The Irish are hurting on that side of the ball -- just trying to get by, in a sense, with this weekend's game at Pitt preceding a much-needed bye before a two-game stretch against BYU and at Stanford.
[+] Enlarge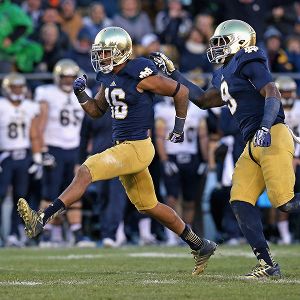 Jonathan Daniel/Getty ImagesSafety Eliar Hardy (left) is one of several Notre Dame reserves that were pressed into action due to injuries.
BCS dreams have essentially taken a backseat to figuring out just who is going to play and where, and how the remaining available guy will get ready for when their time comes.
"I think this is probably close to the pinnacle," Kelly said during Sunday's teleconference when asked if this defense has been hit as hard as any he's had in 23 years as a head coach. He added: "They don't give you any points for complaining about it. If they did, I'd complain every minute. So we just take care of it internally and get the next guy ready."
Ben Councell
, the man behind Smith most of the season at the dog linebacker spot,
was ruled out for the season Sunday after suffering a significant knee injury in the 38-34 win over Navy
. Smith and Councell, of course, waged a preseason battle for a starting spot only after senior
Danny Spond
, last season's starter, was forced to retire because of hemiplegic migraines. And the linebacking corp is less than a month removed from its other big hit, when
Jarrett Grace
broke his leg in the Oct. 5 Arizona State game, costing the Mike linebacker the rest of his redshirt sophomore season.
It only gets worse up front, where
Kona Schwenke
is lost for at least this Saturday's game at Pitt because of a high-ankle sprain suffered on the Midshipmen's final drive. And Schwenke was only starting these last two games in place of nose guard
Louis Nix III
, who at first was ruled to have a shoulder injury suffered in the USC game, and then knee tendinitis, and now tendinitis and a small meniscus tear, though the school says he will practice this week after undergoing an MRI Sunday. Before that, Schwenke filled in for end
Sheldon Day
, who missed most of a three-game stretch after leaving a Sept. 14 game against Purdue with a high ankle sprain, and then re-aggravated said ankle sprain against Navy.
And no, it is not a coincidence that most of these injuries have come during this two-game stretch against Air Force and Navy, teams that often cut-block.
"It's unfortunate," Kelly said. "It's the style of offense that the academies play. It is what it is."
Kelly said it will make sense to possibly avoid scheduling multiple option teams in a single season, but that is a bridge he will cross when he gets to it. For now, his next-man-in philosophy is being tested by, well, a lack of next-men-in.
He said he guards against that by putting those who saw 15 or fewer plays in a game through extra conditioning that following Monday, while reserves get roughly half the work of the starters during 11-on-11 and scout team work in a given week.
"I think that we're so close that you don't really think about it in terms of, Oh, I've never seen you out here," redshirt senior linebacker
Dan Fox
said. "We get a lot of guys in at practice, there's a lot of reps to go around, so next man in and next man in."
Underclassmen such as
Jarron Jones
,
Isaac Rochell
and
Romeo Okwara
have been thrust into more meaningful time than most could have reasonably expected entering the season, while names unfamiliar to all but the closest of program observers --
Tyler Stockton
,
Justin Utupo
and
Eilar Hardy
, to name a few -- saw extended action.
The last of those names, Hardy, helped set Smith up for the game-clinching tackle on Navy's
Shawn Lynch
during the visitors' final fourth-and-4 try. And he was only there because
Austin Collinsworth
suffered a neck strain that will require an MRI Monday.
Fellow safety
Elijah Shumate
, meanwhile, is expected to play against the Panthers after being sidelined the last three games with a hamstring injury, though Kelly had said the sophomore would play going into the Navy game, too.
There are also the knee injuries to left guard
Chris Watt
(PCL) and cat linebacker
Ishaq Williams
(ACL), both of whom left the Air Force game a week ago but only one of whom, Watt, could possibly return this week, depending on how quickly the redshirt senior can acclimate to the knee, which will not require surgery. Williams was in an immobilizer this week and could possibly return for the Nov. 23 BYU game.
The return of Watt would give Notre Dame four of its five starters back on the offensive line, as it lost right guard
Christian Lombard
for the season because of back surgery after the USC game. Still, the bruises have taken their biggest tolls on the other line, which during the spring and summer lost reserves
Chase Hounshell
(shoulder) and
Tony Springmann
(knee) for the season, in addition to seeing freshman signee
Eddie Vanderdoes
leave for UCLA.
All of it leaves the Irish, winners of four in a row, crawling to the finish line, every last piece of Kelly's three straight top-10 recruiting classes fitting into the plan for his push toward a second straight BCS-bowl berth.
"We are running out of next men. We're at that point where from a defensive standpoint, and particularly the defensive line, we're left with very few options," Kelly said, adding, "We'll figure something out. We'll get 11 guys out there. It's just not going to be one of those things where we're going to have the same group of guys out there all the time. As you know, we're going to have to find a way to stop a big, physical offensive line at Pittsburgh, and that is the thing that concerns you the most."
November, 2, 2013
11/02/13
9:54
PM ET
SOUTH BEND, Ind. -- Can't
anything
be easy around here?
Perhaps Ken Niumatalolo encapsulated why not after Saturday's Navy-Notre Dame game.
"For everybody that plays Notre Dame," the Navy coach said, "this is the Super Bowl for that team."
It was a different kind of championship, to be sure. And it was a different kind of rivalry, one whose mutual respect seeped through a silence that could best be described as deafening when both the Midshipmen and the Fighting Irish gathered near the visiting pocket of Notre Dame Stadium to sing the Navy Hymn afterward.
The ensuing "U-S-A" chants from the crowd as both teams gathered for Notre Dame's alma mater was a nice touch, too, as was the scary-low pregame flyover from the Blue Angels.
As for everything that happened in between on Saturday? Let's just say No. 25 Notre Dame will take the 38-34 win, thank you, and will wave a glorious goodbye to triple-option football for another year.
"Yes, I'm very glad," precocious freshman linebacker
Jaylon Smith
said of being done with a two-week stretch of Air Force and Navy, before adding that it would be "good to get back to regular football."
[+] Enlarge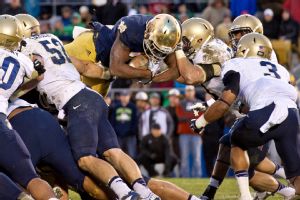 Matt Cashore/USA TODAY SportsTarean Folston, who gained 140 yards rushing, dives for the game-winning score in the fourth period.
Lately at this place, regular football has been tight, even when it should not be. Regular football usually has featured the slightest of game-changing mistakes -- in this case, a missed extra point on Navy's third touchdown, which had the Midshipmen chasing a touchdown on their failed final drive when they should have been a field goal away from tying it.
It all resulted in Notre Dame's 10th straight win under Brian Kelly in games decided by seven points or fewer, with eight of those 10 wins coming at home in the past two seasons.
Kelly said he was "ecstatic" to escape this contest with a win, that there would be no asterisk next to it, that his guys would enjoy all 24 hours of their allotted celebration time.
But after so much talk this week about the confidence built up from three straight wins over Arizona State, USC and Air Force, he recognized the outlier that Navy was, how liberating the sigh of relief that washed over the building was once Smith stopped
Shawn Lynch
on Navy's final play, a fourth-and-4 end-around from the Irish 31.
"This is one, just throw it away," Kelly said. "It's such a different game. It's defending the quarterback, lead play, and it's just you're ready for one game and the Naval Academy and what they do and how they do it, and then the next week it's a totally different situation. That's why it's such a difficult game to play.
"Nobody runs this option as effectively, and when they are on and they're not turning the football over -- and that's what they did today -- it's a one-shot deal with them. Find a way to beat them and move on."
To be fair, his defensive line is pushing all sorts of limits on depth. From the
Eddie Vanderdoes
transfer to UCLA to season-ending surgeries this summer for
Chase Hounshell
and
Tony Springmann
, from losing
Louis Nix
for these past two games and then seeing
Sheldon Day
and
Kona Schwenke
go down with undisclosed injuries against Navy, Notre Dame is barely getting by up front, and it is no surprise that the Midshipmen were able to run for 331 yards.
"I'm just glad I'll never do the triple option ever again," redshirt senior linebacker
Dan Fox
said.
So it was a touching renewal with a rival who actually will stay on the schedule, and then another mark in the W column -- not much else to see here. It is on to a Pitt team that has fallen to the Irish by three points in each of the past two seasons, before a bye week gives way to tougher tests against BYU and Stanford.
Those BCS-bowl hopes that a seemingly refreshed outfit chatted about this week? Still alive, and that's all Notre Dame cares to know, however ridiculous the notion of an Orange Bowl matchup against someone like Florida State sounds after all that transpired in the last 60 minutes.
"It's Notre Dame; we don't expect anything to be easy," Irish senior captain
TJ Jones
said. "That's why we came here. It's one of the greatest challenges off the field and on the field that you can get from an institution, and we expect that week in and week out."