NCF Nation:

Shawn Moffitt
January, 2, 2014
1/02/14
12:55
AM ET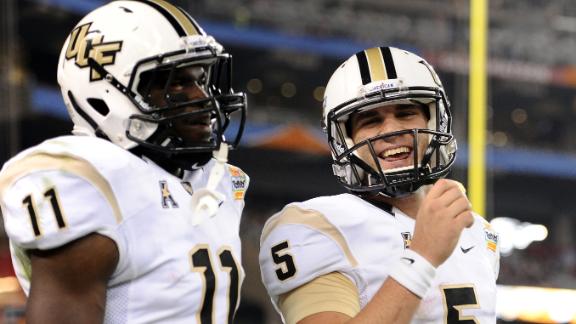 GLENDALE, Ariz. -- With two of the country's top quarterbacks helping two explosive offenses, the Tostitos Fiesta Bowl promised plenty of scoring, and it delivered.
UCF and Baylor -- both BCS newcomers -- traded punches throughout, posting 94 total points, a new Fiesta Bowl record and the second-most points scored in any BCS bowl game in history. But it was the Knights who had the most firepower, as quarterback
Blake Bortles
accounted for four touchdowns, leading UCF to
a 52-42 win
.


It was over when:
Shawn Moffitt
drilled a 36-yard field goal with 4:44 left to make it a three-score game. It wasn't UCF's most impressive drive, but it was the dagger. After Baylor tied the game at 28-28 with 10:18 remaining in the third, UCF responded by scoring on four straight drives.
Bryce Petty
and the Baylor offense were hardly silenced, but UCF matched blow for blow and its defense did just enough to survive.
Game ball goes to:
Bortles. If the country didn't know about the emerging star at UCF before Wednesday night, it does now. Bortles was exceptional down the stretch this season, climbing draft boards along the way. But the Fiesta Bowl was his coming-out party on the national stage. Bortles coughed up back-to-back interceptions in the first half, but he was never rattled. He finished the game 20-of-31 for 301 yards, rushed for another 93 yards and accounted for four total touchdowns. His second-half performance was exceptional, and while Baylor's big-play offense got all the credit entering the game, it was Bortles who was the clear star when it was over.
Stat of the game:
256. That's the rushing yards for UCF on Wednesday, effectively doubling what Baylor has allowed, on average, this season and ensuring the Bears' potent offense didn't spend much time on the field.
Storm Johnson
was resilient, scoring twice early, coughing up a bad fumble, then returning with a series of big plays to eat up clock and wear down the Baylor D. Bortles added a bevy of big runs, too, eclipsing his previous season high on the ground with ease. In the end, the game highlighted by the two star quarterbacks came down to a whole lot of crucial yardage picked up on the ground.
Unsung hero:
George O'Leary. The old-school coach has built the UCF program from nothing during his 10 years there, and the Fiesta Bowl was his crowning achievement. His team was a heavy underdog, but O'Leary had the Knights convinced they could win. His defensive coordinator left for another job last month, but O'Leary had helped build the defense all season. Baylor's offense was considered an unstoppable machine, but with nearly a month to prepare, O'Leary had plenty of answers. In a season of remarkable coaching performances at traditionally overlooked schools, O'Leary's may actually have been the best.
What UCF learned:
It belongs. Few outsiders wanted to give the American Athletic Conference champs much credit entering the game -- the Knights were a 17-point underdog -- but that chip on their shoulder proved ample motivation. UCF dominated early then coughed up the ball on three straight plays. For most teams, that might've been a dagger. The Knights never wavered. The resiliency proved this was no fluke. UCF belonged on the big stage, and Bortles and Johnson are legitimate stars. Add in a young, hungry defense, and the conference affiliation means nothing. UCF is good.
What Baylor learned:
Offense sells tickets, but defense wins games. It's an old cliche, but it was certainly fitting for Baylor on Wednesday. The Bears simply had no answer for UCF's offense. Its only stops came when the Knights shot themselves in the foot. So while Baylor exudes big-play potential -- and the Bears made plenty of big plays against UCF -- none of it matters when it faces a team that can trade punches and come up with a few stops of its own. Art Briles' crew knows how to score. But before Baylor can be a legitimate national contender, it's going to have to do a better job of keeping the other guys from scoring, too.
January, 1, 2014
1/01/14
10:00
AM ET
UCF and Baylor face off in the Tostitos Fiesta Bowl tonight, with the Bears the heavy favorite. But that doesn't mean UCF has no shot to win its first BCS game in school history. Here are 10 reasons the Knights have a shot in Arizona tonight.
1. In a game defined by quarterbacks, UCF has an edge.
[+] Enlarge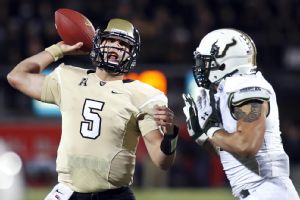 AP Photo/Reinhold MatayWhile UCF might be a big underdog against Baylor, the Knights arguably have a better quarterback in Blake Bortles.
Bryce Petty
is exceptional, but it's UCF's
Blake Bortles
who might be the country's hottest quarterback. In his last seven games of the season, he completed 70 percent of his throws, accounted for 17 touchdowns and threw just four INTs. He's a rising star, and he's more than capable of putting on a show on the big stage.
2. UCF can win time of possession.
The best way to slow Baylor's offense might be keeping it off the field. UCF can do that with a stellar running game, led by former top recruit
Storm Johnson
. The Miami transfer had nearly 1,300 yards from scrimmage and 14 touchdowns this season.
3. Nobody believes in the Knights.
It's been nearly a month since the season ended for Baylor and UCF, which means plenty of time for both teams to read the press clippings. Baylor is the heavy favorite, and everyone is picking the Bears to win. UCF is the decided underdog, and that lack of respect figures to add some extra fuel to the fire.
4. The Knights are better than you think.
UCF gets dinged because of its conference affiliation, but that doesn't mean the Knights don't have talent. They handed Louisville its only loss of the season and came up just three points shy of toppling No. 9 South Carolina. They also went into Happy Valley and upended Penn State, so even a hostile environment doesn't intimidate the Knights.
5. Fundamentals matter.
Baylor is explosive, and its combination of speed at both running back and receiver allows the Bears to stretch the field and clear space. That puts an emphasis on tackling, and that's where UCF could excel. The Knights have a fundamentally sound D, and Petty said the film shows a unit more than capable of running sideline to sideline.
6. O'Leary knows what he's doing.
UCF may be a newcomer on the national stage, but head coach George O'Leary is as old-school as they come. He's coached his share of big games, beaten his share of big-name schools, and he'll have his team prepped for Baylor. More important, he's had the better part of a month to study the Bears' tendencies and get a good game plan in place.
7. Second-half magic.
If the game is close down the stretch, the advantage might belong to UCF. The Knights have won six times this year after trailing in the second half, they're 7-1 in games decided by a touchdown or less, and Bortles is among the nation's top QBs when trailing late in games. Baylor, meanwhile, has played just one close game all season.
8. The Oklahoma State effect.
Through the first nine weeks of the season, Baylor looked unbeatable, scoring 60-plus points six times. Then the Bears traveled to Oklahoma State and were smoked 49-17. They've averaged just 29 points in their past three, including barely edging a bad TCU team. UCF has had a month to review the tape from Oklahoma State and mimic what the Cowboys did so well to slow Baylor down.
9. The kicking game.
OK, so it'd be a bit of a surprise if this game comes down to a field goal, but if it does, UCF's
Shawn Moffitt
is as good as they get. He's connected on 20 of 22 tries this year, including 4 of 5 of 40 yards or more. Baylor's
Aaron Jones
, on the other hand, is just 14-of-22 this season.
10. Tigers are never wrong.
A tiger at the Phoenix Zoo picked UCF
. And who's going to argue with a tiger?