January, 5, 2013
1/05/13
4:47
PM ET
Thanks to 24-point first half and commanding performance by its defense throughout the afternoon, Ole Miss captured its first bowl victory since 2009 with a
38-17 win
over Pittsburgh in front of a sea of red that was a part of a record crowd of 59,135 for the BBVA Compass Bowl.
The SEC improved to 5-3 in bowl games, while the Big East ends bowl play with a 3-2 record.
It was over when:
Ole Miss back up quarterback
Barry Brunetti
pushed forward on a quarterback keeper for a 1-yard touchdown to make it 31-10 Rebels with 21 seconds remaining in the third quarter.
Game ball goes to:
First-year coach Hugh Freeze. He didn't throw any passes or make any tackles, but he had his players very ready for Saturday's bowl game. This game meant a lot to players and fans, and the Rebels came out fast on offense and hunkered down on defense. After missing out on a bowl game the last two seasons, and winning just six total games during that span, Ole Miss finished the year 7-6 after a major culture overhaul thanks to Freeze's guidance.
Stat of the game:
Ole Miss held the rushing advantage over Pittsburgh 222-81.
Stat of the game II:
Pittsburgh defenders
Jason Hendricks
and
Shayne Hale
combined for 30 tackles and 21 of those tackles were solo.
Best call:
All year, Freeze rotated his quarterbacks throughout games.
Bo Wallace
was always the starter but Brunetti would come in for obvious running plays. Sometimes it worked, sometimes it was a little
too
obvious, but it certainly worked on Saturday. Wallace finished the game with 151 passing yards and three touchdowns to two interceptions on 22 of 32 passing. He also ran for 27 yards, while Brunetti totaled 34 yards, but helped really open up a running game that finished with 222 yards and 4.6 yards per carry.
Unsung heroes of the game:
Running back
Jeff Scott
left the game early with a hamstring injury, leaving freshman
Jaylen Walton
to help carry the load. He kept the chains moving for the Rebels, carrying the ball 10 times for 56 yards. He averaged 5.6 yards per carry in the process. Linebacker
Mike Marry
has been one of the most underrated players in the SEC this year and he had a very productive day. He was all over Pitt's backfield, registering four tackles for loss. He finished the day with seven total tackles, a sack and a forced fumble.
What Ole Miss learned:
This team brought a lot of fight to Birmingham, Ala. When Scott went down with his hamstring injury, there had to be some concern on that Ole Miss sideline that the Rebels' offense might lose some of its rhythm. It didn't. The Rebels continued to work the ground game with other options and just wore down the Panthers up front. That running game helped open up the passing game and helped the Rebels enter the offseason with a ton of momentum after this win.
What Pitt learned:
It had no offense without star senior running back
Ray Graham
. He had a heck of a career with the Panthers, but a hamstring injury kept him out of the BBVA Compass Bowl, and the Panthers just couldn't replace his production on the field. Pitt ran the ball 36 times for 81 yards, averaging just 2.3 yards per carry.
Rushel Shell
replaced Graham, rushing for 79 yards on 25 carries. That lack of a running game severely limited the Panthers through the air as well, as quarterback
Tino Sunseri
passed for just 185 yards.
April, 24, 2012
4/24/12
4:00
PM ET
Pitt had one of the best defensive lines in the Big East last season, a group that had two players make second team All-Big East, and three players rank in the top eight in the league in sacks.
But the Panthers head into 2012 without three of their starters on the line --
Chas Alecxih
,
Brandon Lindsey
and
Myles Caragein
-- making them one of the more inexperienced groups in the league. That might be cause for panic at some programs, but Pitt has a tradition of cranking out some pretty stellar defensive linemen.
In fact, Pitt has had at least one lineman make the Big East first or second team every year since 2005.
Aaron Donald
, who finished second in the league with 11 sacks last season, returns to anchor the group. Beyond him, there are some question marks when it comes to experience, first and foremost.
[+] Enlarge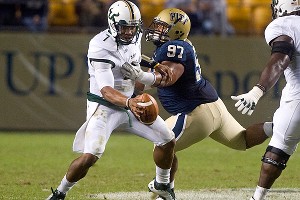 Vincent Pugliese/US PresswireAaron Donald, 97, enters the season as the leader of Pittsburgh's young defensive line.
At the end of spring practice,
Bryan Murphy
and
T.J. Clemmings
were running with the first team at defensive end, with
Shayne Hale
making a late push. Donald has moved inside to tackle, where he will be joined by K.K. Mosley-Smith or
Tyrone Ezell
, who was out for the last several practices because of an injury.
Murphy missed all of last season because he was academically ineligible, but came into spring with a renewed spirit and determination. Mosley-Smith played in every game as one of the top reserves on the line. But Clemmings, Ezell and Hale have not been very productive throughout their careers.
The cases of Clemmings and Hale in particular have been quite confounding, considering they were among the highest-rated prospects the Panthers signed over the past few years. Last season, Clemmings took a redshirt because he simple was not ready to play. Coaches have tried to get him to find a
"mean streak"
this spring in hopes that he'll realize his potential.
Hale initially came to Pitt as a middle linebacker but has struggled in his move to end, doing little in his three seasons with the Panthers. But this spring, he was selected as the most improved player on defense, and might finally be ready to make his presence felt.
Depth still has to be developed at tackle and end, and defensive coordinator Dave Huxtable didn't rule out using true freshmen this season. Perhaps a bigger concern is getting as much sack production out of this group. Pitt ranked No. 2 in the Big East with 43 sacks last season. Seventeen of those sacks are gone with Alecxih, Lindsey and Caragein.
"He's a tremendous football player," Huxtable said of Donald this spring. "One of the best that I've been around. He's had a great spring. We're big, we're a bunch of run stoppers up there I think. We're going to have to work really hard in the pass rush game to get some heat on the quarterback with that group, and to do some things in the defensive scheme to help out with some of the pass rush. But overall, that group is going to do a good job for us."
September, 14, 2010
9/14/10
4:19
PM ET
The Big East has been hit by a lot of injuries early in the season. None are bigger than Tuesday's news that Greg Romeus could miss a large part of this season after he
undergoes back surgery
on Thursday.
[+] Enlarge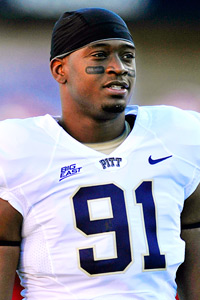 Boyd Ivey/Icon SMIGreg Romeus was co-defensive player of the year in 2009.
Romeus's back appeared to be a major issue in fall camp when he repeatedly missed practice. Head coach Dave Wannstedt tried to downplay it and said Romeus would be fine. But the star defensive end did not look like himself against Utah and then didn't play at all against New Hampshire last week.
No one knows for sure how long Romeus will be out. Pitt officials said they expected to have a better idea on a timetable for him once he begins rehabbing. But backs are tricky injuries. Wannstedt said he hoped to have Romeus back "for the conclusion of the season." Which could mean a lot of things.
There's no replacing a guy like Romeus, who won the Big East's co-defensive player of the year award last season and is a load to contain with his combination of speed and size. (And think about how bad things could have been if fellow senior defensive end Jabaal Sheard had earned a lengthy suspension after his altercation this summer.) The one bit of good news for Pitt is that the program has done a great job of developing defensive linemen. Brandon Lindsey started in place of Romeus last week and did a good job, recording a pair of sacks.
But he's not Romeus, and New Hampshire isn't Miami or Notre Dame, two teams Pitt will face in the next three games. Not having Romeus to generate a pass rush without blitzing, which is so key to the Panthers' entire game plan, puts a lot more pressure on Sheard and defensive tackles Chas Alecxih and Myles Caragein. Justin Hargrove and Shayne Hale will have to improve as well to give the team enough depth to rotate fresh bodies at the end spot. Impressive true freshman Aaron Donald could see more time as well.
It's also really unfortunate for Romeus, who contemplated going to the NFL draft last offseason before returning for his senior year. Now his senior year is in jeopardy -- and so too are Pittsburgh's Big East title hopes unless others step forward in his place.
April, 21, 2010
4/21/10
1:30
PM ET
PITTSBURGH -- When Greg Romeus watches film of himself from last season, he says he sees all kinds of mistakes. Poor technique, bad footwork, not finishing off plays -- those things all jump out at him.
[+] Enlarge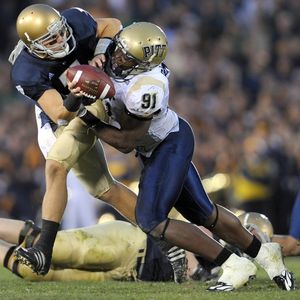 Matt Cashore/US PresswireGreg Romeus decided to return for his senior season and hopes to make a splash in the 2011 NFL draft.
And remember, he is the reigning Big East co-defensive player of year.
Still, Romeus believes he has plenty of room for improvement that will make him a better player and a richer man soon. That's why the defensive end decided to return to the Pittsburgh Panthers for his senior year instead of entering the NFL Draft this winter.
"Next year, I'll be more prepared," he said. "The more experience I have, the better chance I have [of being a high draft pick]."
Romeus gave serious thought to coming out after his junior year, and there's no doubt his 6-foot-6, 270-pound package of skills would have intrigued NFL personnel. Pitt coach Dave Wannstedt called his contacts in the pros, and he said the consensus among them was that Romeus would be a third- or fourth-round pick in this year's deep draft.
"He and I talked about it, and I told him if he needed the money, he should go," Wannstedt said. "But I really believe he's a first- or second-round draft pick. I think he'll be a great player in the NFL. I think he'll have a great year here and then make a ton of money."
Romeus is still relatively new to the sport, having not played football until his senior year in high school. So his ceiling remains ridiculously high, which must be a sobering thought to opponents already having trouble containing him.
"You aren't going to find too many people with Greg's size and athleticism," Pitt left tackle Jason Pinkston said. "Practicing against him all the time makes Saturdays seem easy."
For all of his talent, Romeus has never put up huge numbers. He shared the Big East honor last year with teammate Mick Williams despite recording only eight sacks and 43 tackles. But it's often a race to the quarterback between him and fellow senior defensive end Jabaal Sheard. And though Williams and Gus Mustakas are gone, the Panthers remain strong in the middle with Myles Caragein and Chas Alecxih.
"We finished No. 1 in the nation in sacks last year and it wasn't just one player getting 13 or 14 sacks," he said. "I think that's what makes the line so good. Somebody might be getting chipped or double-teamed the whole game, and another person will step up."
Romeus and Sheard played a lot of snaps last season because they didn't have experienced backups. This spring, sophomore Shayne Hale and junior Brandon Lindsey have performed well and could perhaps provide more depth at the position. Romeus thinks that will make him better.
"I need to play harder and run to the ball more," he said. "I have to get off the field if I'm tired. I plan on being a lot more aggressive this year."
And by the end of the season, he could produce some film that NFL scouts will love to watch.