NCF Nation:

Shea McClellin
May, 1, 2012
5/01/12
9:00
AM ET
The knock against Boise State year after year is always its schedule.
Too weak, the critics say. Play with the big boys, they yell. No credibility, they howl. The argument has always been a lazy one, steeped in superficiality and ignorance.
This past weekend proved it.
Boise State had a school-record six players drafted, including two in the first round. For those scoring at home, only Alabama (eight), Georgia and Oklahoma (seven each) had more. Ten Boise State players have been drafted in the past three years. To put that into context, Boise State had 10 players drafted between 2002-08, a span of seven years.
[+] Enlarge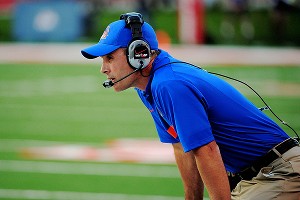 Kyle Terada/US PRESSWIREChris Petersen has been churning out victories and NFL talent at Boise State.
So it turns out, going 50-3 over the past four seasons was not so much a product of a lousy schedule, but a product of some darn good football players, and some excellent coaching.
Consider: Boise State never lands Top 25 recruiting classes. In fact, Boise State and five-star commitments go together -- never. Coach Chris Petersen is perhaps the most underrated coach in America when you consider the talent level of the players he has to work with when they arrive on campus.
Shea McClellin
went No. 19 overall to the Bears. In the class of 2007, he was unheralded and unranked out of a
tiny town in Idaho
.
Doug Martin
went No. 31 overall to Tampa Bay. In the class of 2007, ESPN ranked him the No. 248 running back in the nation. They are about as unlikely a pair of first-round picks as you will find in the draft. And yet NFL teams, NFL coaches and NFL scouts seemed to have no problem with the competition they faced.
Anybody who has bothered to watch Boise State play under Petersen appreciates the type of players he has been able to develop. Three of the four starting defensive linemen on last year's team were drafted, and that is no big surprise. Boise State
dominated up front
the past several years -- as Georgia will attest to after getting walloped in the season opener last season. McClellin and
Billy Winn
(sixth round, Cleveland) were stalwarts on that unit.
Tyrone Crawford
moved into the starting unit in 2011, but he has been a significant contributor over the past two seasons, as the team's leader in tackles for loss. Crawford is another player with an unlikely story. He hails from Canada, and only began playing in ninth grade at the request of his physical education teacher. He was picked in the third round by the Cowboys.
We have not even talked about quarterback
Kellen Moore
, who went undrafted and signed as a free agent with the
Detroit Lions
. Moore helped engineer all those victories with his leadership, his skill and his incredible knowledge of the offense. He is talented, yes. But he is undersized and lacking in some of the key measurables teams want in a quarterback, so he was passed over despite the intangible values he brings to the quarterback position.
Whether he should have been drafted is another topic. The point is that NFL teams and scouts are not simply enamored with college success, enough to overlook deficiencies or potential stumbling blocks for that particular player on the next level. These NFL teams do an inordinate amount of homework and research when they make their selections. They are looking for talent and potential when they watch tape, not the strength of the opposition.
Nobody is going to argue that Boise State has played the quality schedule Alabama has played. But the argument that Boise State is simply lucky and not any good must end. The Broncos have proven they have way too much talent to be undercut with such a silly notion.
October, 11, 2011
10/11/11
12:00
PM ET
BOISE STATE BRONCOS
Record: 5-0, (0-0, MWC)

The Broncos opened the season with a critical test against Georgia in the Georgia Dome, yet another nonconference game on the road that would test its mettle. Boise State easily passed the test, winning 35-21 and in the process taking down an SEC team for the first time in school history.
Kellen Moore
carved up the Georgia secondary, and the underrated Boise State defensive front had six sacks and never really let the Bulldogs find much of a rhythm. That win looks better and better, now that Georgia has a real shot at winning the SEC East after shaking off an 0-2 start. Boise State has cruised in its other four games and is ranked No. 5 in the latest AP poll, leaving many to question its credentials once again. Certainly the Broncos are in a tougher conference this season now that they are a member of the Mountain West. But their critics always like to point out that Boise State only plays a few tough games a year. The strength of schedule might bear some of that out, but there is no disputing this is another solid team playing in Boise. Kellen Moore tweaked his knee early in the season and has had to play with a brace on, but is still as good as always even without his top two playmakers in Austin Pettis and Titus Young. The Broncos do not have much of a deep threat without them, but Moore is finding ways for his teammates to make plays. Still, there are a few areas of concern as Boise State hits conference play. The running game has been inconsistent. Coach Chris Petersen would like to see bigger plays in the pass game. Defensively, Boise State ranks No. 12 in the nation. But its pass rush is not up to its usual standards. After getting six sacks in the opener, the Broncos have a combined three in their last four games. Having said all that, Boise State has scored 30 or more points in all its games this season and has made winning look easy. Tests remain on the schedule, with games against Air Force, TCU and San Diego State chief among them. But Boise State should be poised once again to get into the BCS.
Offensive MVP:
QB Kellen Moore. He remains in Heisman contention, with 1,391 yards passing and 17 touchdowns this season, but Moore has only played in one complete game this season. Still, his completion percentage is 74 percent, on pace for a career high, and he has only been sacked once.
Defensive MVP:
DE Shea McClellin. McClellin ranks third on the team with 21 tackles and leads the way with 3.5 sacks. His experience and leadership have been big for a defense that had to replace several starters in the back end.
October, 6, 2011
10/06/11
3:00
PM ET
The best player on the Boise State defense never thought he would end up playing football in college.

No, Shea McClellin figured basketball was his sport.

He grew up 45 minutes away from Boise State playing both sports in high school. But then reality hit his junior year. "I was a little bit better at basketball," he said in a recent phone interview. "I am 6-3, but it's hard to play point guard when you're 250. So I was like I might try football out."

McClellin started attending football camps, including one at Boise State. He drew interest from several other teams, but they all wanted him to play tight end. McClellin played running back and linebacker in high school, but Boise State was the only place that envisioned him as a defensive end.

That is the position he wanted to play. That is the school he grew up cheering on. So after he got a scholarship offer from the Broncos, he accepted. Easy decision.

"It's been amazing," McClellin said. "It's like a dream, basically. I never thought of it. Living it is crazy."

But perhaps just as incredible as how McClellin landed at Boise State has been his transformation into one of the best defensive ends in the country -- despite learning the position as a freshman in college. McClellin leads the No. 5 Broncos in tackles (21) and sacks (3.5) as they get ready to play Fresno State on Friday night.

When he came Boise State, he took a grayshirt year. That allowed him to begin preparing for the college game, and to learn his new position. He credits that year off as being instrumental to his success.

McClellin dishes off most of the credit to his coaches, including defensive coordinator/line coach Pete Kwiatkowski. He also spent extra time in the weight room and film room to get better. Now he is the anchor of a strong defensive line, a player who has emerged as a three-year starter.

He started the season off with a huge performance, picking up two sacks and seven tackles in an important win over Georgia. Last week against Nevada, McClellin had a sack and six tackles. He lists those games as two of the better ones in his career.

It is no coincidence they both came this year.

"I think in the offseason, I was working better, and the coaches helped me out a lot," he said. "I just feel more comfortable this year than I have in past years. The comfort feeling helps out a lot."

In Fresno State, McClellin and the Broncos will be going against a familiar opponent, though they are not members of the same conference this season. Boise State beat Fresno State nine of the 10 times they played as members of the WAC, including 51-0 last year.

McClellin expects an extra motivated Fresno State team, but that is no different than what they expect every week. This will be the final game Boise State will be on ESPN this season, but McClellin says players are not paying much attention to that.

He has not paid much attention to where he stacks up against other players at his position, either.

"I don't look at those kind of things," he said. "I try to stay away from what everyone is talking about."
September, 6, 2011
9/06/11
4:00
PM ET
The cliched story line gets repeated over and over whenever Boise State plays a team from an AQ conference. Somehow, people still think the Broncos cannot match up with bigger offensive lines because they simply are not physical enough to handle the load.
And every single time, Boise State dispels the tired complaint with a ferocious performance. It happened last season against Virginia Tech. It happened even more emphatically Saturday in a 35-21 win over Georgia.
[+] Enlarge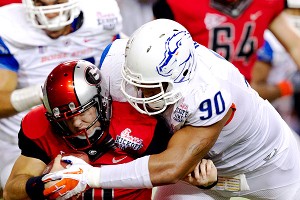 Bob Kupbens/Icon SMIBilly Winn and the Boise State defensive line sacked Georgia quarterback six times during Saturday's season opener.
The Bulldogs boast an offensive line full of 300-pound big men. Tackle Cordy Glenn and center Ben Jones are two of the more highly rated offensive linemen headed into the NFL draft. But they and their teammates could not stop a relentless Boise State defensive front, featuring veteran players who simply know how to play their assignments and make big takedowns behind the line.
Tackles Billy Winn and Chase Baker, and defensive end Shea McClellin have been starting together for two years now. Tyrone Crawford took over for Ryan Winterswyk, but as a reserve last year he was tied for the team lead with 13.5 tackles for loss and second on the team with seven sacks. This is a group that knows each other, that plays together and works extremely hard to prove themselves.
Boise State ranked first in the nation last season with 48 sacks. The Broncos are off to another great start after racking up six against the Bulldogs. McClellin had 2.5; Crawford had 1.5. What does it say that McClellin led the team with seven tackles? He constantly harassed
Aaron Murray
, hurrying him into throws and getting him on the run. Coach Chris Petersen said simply: "Shea McClellin had a great day."
As for the performance of his entire line, Petersen said, "They did have a good day. They're good players. They're well-coached. They answered against a pretty good offensive line in Georgia. There's no way we're going to play good defense if we don't start on the defensive line."
A big reason why they play so well together is because they have done so for so long. Baker has started 28 games; McClellin 25. Winn started all 13 last season. Crawford was supposed to redshirt last season after transferring from a junior college. But he made so many plays behind Winterswyk, the Broncos had to play him because he was too valuable to keep on the sideline.
His transformation has been remarkable. He only began playing football in Windsor, Canada, in ninth grade. His physical education teacher also was the head football coach, and asked Crawford to play for him because he had such a big body. Crawford played running back, tight end and a little linebacker, but it was not until junior college in Bakersfield that he started playing defensive line.
His story just shows once again how Boise State coaches can take raw players without all the recruiting hype and turn them into stars on their defense. Crawford understands the importance of joining such a strong defensive front, and believes they can be the best in the nation this season.
"We can take it to the top," he said. "Our first and second string defensive line, we have all big guys who know how to play. I feel we can go as far as everyone is saying we can."
Petersen, ever the humble coach, had no answer when he was asked Monday whether his line was the best in the nation.
"I would have no idea on that," he said. "They're good for us but those are hard comparisons to make."
August, 4, 2011
8/04/11
1:14
PM ET
By now, we have come to expect to see Boise State and TCU in the Top 25 every season. So when the preseason
USA Today coaches Top 25
was released Thursday, the top non-AQ teams were right there in the top 15.
The Broncos will start the season ranked No. 7, while TCU is ranked No. 15. Boise State returns Heisman Trophy finalist
Kellen Moore
, along with
Doug Martin
, Nate Potter, Billy Winn, Shea McClellin and George Iloka, and expectations are high once again to return to a BCS game.
TCU, meanwhile, loses Andy Dalton off its Rose Bowl-winning team, which is why the Horned Frogs are outside the top 10.
Both teams open up their fall camps Thursday, so let us take a look at a few of the burning questions that they face.
Boise State

1. Developing depth.
No question the Broncos have some big-time senior players in Moore, Martin, McClellin and Iloka. In fact, 15 projected starters are seniors. That means Boise State has to develop its young players, something coach Chris Petersen emphasized at Mountain West media day in July. "We have some players that have played a lot of football that are very good players, and then we've got a big gap to some young guys that haven't played and need the experience and need the knowledge," Petersen said. "On our team right now, I think it's fairly wide. Our job as coaches is to narrow that gap."
2. Developing receivers.
Petersen and Moore both emphasized they are not worried about their receiving group. Rather than relying heavily on two players the way they did the past few seasons with Titus Young and Austin Pettis, you will see more players involved. That means
Tyler Shoemaker
,
Chris Potter
,
Kirby Moore
,
Mitch Burroughs
,
Aaron Burks
and
Geraldo Boldewijn
(formerly Hiwat) will have expanded roles. True freshman
Troy Ware
had a nice spring and could contribute as well.
3. The kicker is ...
Kyle Brotzman is gone, leaving a bit of inexperience at the kicker position. The Broncos have scholarship true freshman Jake Van Ginkel, who will practice for the first time this fall, along with walk-ons Dan Goodale and Michael Frisina.
TCU

1. Casey Pachall era begins.
Much has been written about how Pachall will do in replacing Dalton. Pachall has heard all of it. "I am ready,"
Pachall said
at a news conference earlier this week. "I am ready to be the guy that everybody looks to when things are good or bad. [The comparison to Dalton] doesn't bother me. It just gives me incentive and a little bit more motivation to be more of a leader and get more in that role."
2. Developing receivers.
Leading receiver
Josh Boyce
returns, but Jeremy Kerley,
Jimmy Young
and
Bart Johnson
are gone. There is talent in Fort Worth, but much of it is unproven. It is tie for players like
Antoine Hicks
and
Skye Dawson
to step up and help Pachall get the job done. Boyce is confident in his teammates. "We've worked really hard this summer with Casey, to get our chemistry going," Boyce said. "We will be just fine."
3. Can TCU be No. 1 in total defense again?
The stat is incredibly impressive -- TCU has led the nation in total defense for three straight seasons. Can TCU make it four in a row? Gary Patterson believes this unit can be even better than last season, even without defensive leader Tejay Johnson. Linebacker tandem Tanner Brock and Tank Carder return, and they should be the heart of the defense. Even with the potential, Patterson has no idea what type of identity this unit will take on. Each season, that changes. He will have a better idea once the season begins.
July, 25, 2011
7/25/11
9:30
AM ET
I am traveling to Las Vegas Monday for Mountain West media days. You already saw
my top questions for the league
headed into the annual interview extravaganza. Now you get my predicted order of finish for 2011:
1. Boise State
2. TCU
3. Air Force
4. San Diego State
5. Colorado State
6. Wyoming
7. UNLV
8. New Mexico
I have the Broncos as the champion based on a few factors. First, they have a huge advantage with
Kellen Moore
returning at quarterback. Moore was a Heisman finalist last year, and has a huge challenge on his hands without his top receivers in Austin Pettis and Titus Young. But Moore will make guys like
Tyler Shoemaker
,
Kirby Moore
and
Geraldo Hiwat
into solid standouts. Moore and
Doug Martin
form the best quarterback-running back duo in the league. On defense, the line should be one of the best in the league with veterans Billy Winn, Shea McClellin and Chase Baker returning. Factor in Boise State getting Air Force and TCU at home, and that completes my prediction.
The Horned Frogs, of course, would love nothing more than to leave the league as champion. But I am not sure the team will be able to match the heights it reached the last two seasons without an experienced quarterback.
Casey Pachall
may end up being one of the greats at TCU, but we have no idea right now. Replacing Dalton is going to be incredibly hard, and the TCU schedule is tough this year with trips to Air Force, San Diego State and Boise State.
I placed Air Force ahead of San Diego State for a few reasons: the Falcons have consistency in a coaching staff returning, and
Tim Jefferson
proved last season he has the capability of dominating the league. This is no shot at
Ryan Lindley
, who also came into his own last season. But the Aztecs are going to have a huge challenge on their hands at receiver.
Vincent Brown and DeMarco Sampson are gone, and now comes word that
Dominique Sandifer
and redshirt freshman
Jay Waddell
are going to miss the season with injuries. Teams no doubt will load the box to stop
Ronnie Hillman
and force Lindley to beat them with a group of inexperienced receivers. The good news for San Diego State is their talent at the tight end position is the best in the league.
The departures of Utah and BYU leave an opening for another team to break through into a bowl game. My pick is Colorado State, which has one of the most experienced teams returning in the league and has a schedule that should make the Rams bowl-eligible.
Pete Thomas
is a rising star at quarterback.
The bottom three all have issues to work out. Quarterback is a big question for all three.
My preseason choices for players of the year should not come as a huge shock: Moore for offensive POY; TCU linebacker Tank Carder for defensive POY; Air Force return specialist
Jonathan Warzeka
for special-teams POY.
March, 8, 2011
3/08/11
9:00
AM ET
Here we go, the Top 10. I bet you have been counting down the days. I debated long and hard about who belongs here, and where I should rank all of these players. I think they are all outstanding, and they each made contributions to their team that showed beyond their own individual stats. They are all leaders, and they are all winners. We start with a defensive player. In fact, four of the Top 10 players are on the defensive side of the ball.
No. 10 Shea McClellin, DE, Boise State
[+] Enlarge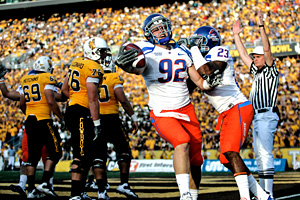 AP Photo/AAron OntiverozShea McClellin made big plays for the Broncos all season, including this fumble returned for touchdown against Wyoming.
This was a tough choice to make because of all the great players on the Broncos defense. Every player on that line contributed big time in 2010, from Ryan Winterswyk to Billy Winn to Chase Baker. But in choosing one, I went with McClellin for a few reasons. With Winterswyk getting double teamed, McClellin was able to have the best season of his career. He went from three sacks in 2009 to a team-high 9.5 in 2010. That total actually helped the Broncos lead the nation in sacks with 48. He also had 13.5 tackles for loss and was another big reason why the Broncos were No. 2 in the nation in total defense and No. 7 in rush defense. He set the tone with a monster game against Virginia Tech in the all-important nationally televised game with 2.5 sacks and four tackles for a loss. His impressive season led to All-WAC first-team honors. Wonder what he will do for an encore.
No. 11
Greg Salas, WR, Hawaii
No. 12
Jeremy Kerley, WR/KR/PR, TCU
No. 13
Vai Taua, RB, Nevada
No. 14
Titus Young, WR, Boise State
No. 15
Bryant Moniz, QB, Hawaii
No. 16
Dontay Moch, DE, Nevada
No. 17
Dwayne Harris, WR/KR, East Carolina
No. 18
Chad Spann, RB, Northern Illinois
No. 19
Reggie Rembert, CB, Air Force
No. 20
T.Y. Hilton, WR/KR, FIU
No. 21
Eric Page, WR/KR, Toledo
No. 22
Jake Kirkpatrick, C, TCU
No. 23
Muhammad Wilkerson, DT, Temple
No. 24
Bobby Rainey, RB, Western Kentucky
No. 25
Roosevelt Nix, DT, Kent State
January, 14, 2011
1/14/11
11:00
AM ET
Our final look at the 2010-11 bowl season leaves us with the non-AQ all bowl team:
OFFENSE
[+] Enlarge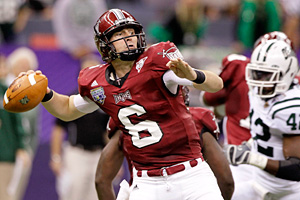 AP Photo/Patrick SemanskyTroy quarterback Corey Robinson threw four touchdown passes in the New Orleans Bowl.
QB Corey Robinson, Troy:
There were plenty of candidates to choose from, but Robinson gets the nod. He went 32-of-42 for 387 yards, four touchdowns and no interceptions in a dominating 48-21 win against Ohio in the R + L Carriers New Orleans Bowl.
RB Adonis Thomas, Toledo:
His team might have lost, but it wasn't really Thomas' fault. He did all he could to help the Rockets, rushing for 193 yards and 2 touchdowns (averaging 8 yards a carry) in a 34-32 loss to FIU in the Little Caesars Pizza Bowl.
RB Ronnie Hillman, San Diego State:
Hillman ran for a Poinsettia Bowl-record 228 yards in a 35-14 win against Navy. He also scored three rushing touchdowns and caught the first touchdown pass of his career, and set the school record for rushing yards by a freshman.
OL Matt Reynolds, BYU:
Helped the Cougars run for 219 yards on the ground in a 52-24 win against UTEP. The Cougars also did not give up a sack in the game.
OL Nate Potter, Boise State:
Helped the Broncos rush for 202 yards in a 26-3 win against Utah in the MAACO Bowl Las Vegas.
OL Logan Pegram, Northern Illinois:
He was part of a terrific effort from a Huskies' offensive line that totally dominated the Humanitarian Bowl. The Huskies shut down the Fresno State passing attack, holding the best sack duo in the country in Chris Carter and Logan Harrell without a sack.
OL Joe Pawlak, Northern Illinois:
Also part of the Huskies' offensive line that opened holes for
Chad Spann
and
Chandler Harnish
, and allowed the Huskies to run for 203 yards.
C Trask Iosefa, San Diego State:
Helped the Aztecs pile up 279 yards on the ground in a win against Navy, and held the Midshipmen without a sack.
WR Greg Salas, Hawaii:
The Warriors looked terrible on offense, and Salas was the only player who seemed to show up. You have to give a nod to a guy who led all receivers during bowl season with 214 yards on 13 catches. He added two scores in a 62-35 loss to Tulsa in the Sheraton Hawaii Bowl.
WR Cody Hoffman, BYU:
Had eight catches for 137 yards and three touchdowns in a 52-24 win against UTEP in the New Mexico Bowl for the first 100-yard game of his career.
TE Virgil Green, Nevada:
Had 62 yards on four catches in a 20-13 win against Boston College in the Kraft Fight Hunger Bowl. He helped open up the offense early in the game.
DEFENSE
DE Jake Coffman, Northern Illinois:
Set a Humanitarian Bowl record with three sacks, added another 1.5 tackles for a loss and forced a fumble en route to a 40-17 win against Fresno State.
DE Jonathan Massaquoi, Troy:
Had eight tackles, including three for a loss, and a New Orleans Bowl record 2.5 sacks in a 48-21 win against Ohio in the R+L Carriers New Orleans Bowl.
DL Bruce Miller, UCF:
Led the best defensive effort of the season, helping hold Georgia to 82 yards rushing, while notching eight tackles and 1.5 sacks in a 10-6 win against the Bulldogs in the AutoZone Liberty Bowl.
DL Shea McClellin, Boise State:
The Broncos had a dominating performance against Utah, holding the Utes to 200 total yards. McClellin had one of the team's four sacks.
LB Tank Carder, TCU:
He only had the biggest play of the game, swatting down a 2-point conversion with two minutes left to save a 21-19 win against Wisconsin in the Rose Bowl presented by Vizio.
LB Curnelius Arnick, Tulsa:
He had two interceptions, including one that was returned 54 yards for a touchdown in a 62-35 win against Hawaii in the Sheraton Hawaii Bowl.
LB Stephen Anderson, Army:
Had 10 tackles, one interception and half a sack in Army's 16-14 win against SMU in the Bell Helicopter Armed Forces Bowl. The defensive effort was its best of the season and allowed the Black Knights to finish 2010 with a winning record for the first time since 1996.
S Colin Jones, TCU:
He had a career-high 10 tackles and also added two pass break-ups in the 21-19 win against Wisconsin.
S Kreg Brown, FIU:
Brown had the first two interceptions of his career, but they were mighty big ones in a 34-32 win against Toledo in the Little Caesars Pizza Bowl. His second interception in the fourth quarter set up a touchdown that gave FIU a 28-24 lead.
CB Dayonne Nunley, Miami (Ohio):
His 52-yard interception return for a touchdown early in the third quarter gave Miami its first lead of the game en route to a 35-21 win against Middle Tennessee in the GoDaddy.com Bowl. He also had a fumble recovery.
CB Josh Robinson, UCF:
Not only did he have an interception, he helped keep
A.J. Green
in check, allowing him just 77 yards in receptions – and a long of only 18 yards in a win against Georgia.
SPECIAL TEAMS
P Brian Stahovich, San Diego State:
He might have only punted three times in a win against Navy, but all three of his punts landed inside the 20, and he averaged 40.3 yards a kick. Navy didn't return a punt.
PK Jack Griffin, FIU:
Nailed a 34-yard field goal with no time left to give FIU the win against Toledo in the Little Caesars Pizza Bowl. He made his other field-goal attempt in the game, a 31-yarder, and all his extra-point attempts.
PR Rishard Matthews, Nevada:
His 72-yard punt return for a touchdown ended up making a huge difference in a 20-13 win against Boston College in the Kraft Fight Hunger Bowl. It was Nevada's first punt return for a touchdown since 2001.
KR T.Y. Hilton, FIU:
His 89-yard kickoff return for a touchdown in the third quarter helped spark the Panthers' rally in the win against Toledo in the Little Caesars Pizza Bowl. Hilton finished with 174 yards on five kickoff returns.
*AP Damarius Johnson, Tulsa:
Had to add in the all-purpose category to give a nod to Johnson, who had 329 all-purpose yards and set the NCAA career record in that category in the win against Hawaii.
December, 8, 2010
12/08/10
10:30
AM ET
Coming up with the all non-AQ team is never easy, because there are so many good players across all five conferences, Army and Navy. Unfortunately, many talented players get left off this list because there isn't room for everybody.
I tried to pick the players who had the most outstanding seasons at their respective positions. The toughest positions for me to pick were defensive line, receiver and linebacker, where I had 10 worthy candidates to whittle down.
It was also tough selecting a quarterback, so I went with two: Heisman Trophy finalist
Kellen Moore
of Boise State and record-setting
Colin Kaepernick
of Nevada. Both had incredible seasons worthy of recognition. My lone Sun Belt selection had the best player in the conference -- Western Kentucky running back
Bobby Rainey
, who ran for 1,649 yards on an astounding 340 carries, with 15 touchdowns.
My lone MAC selection was KR
Eric Page
, who led the nation with three kickoff returns for touchdowns.
Here is the complete list. Feel free to debate in the comments section.
OFFENSE
QB – Kellen Moore, Boise State; Colin Kaepernick, Nevada
RB – Bobby Rainey, Jr., Western Kentucky
RB –
Vai Taua
, Sr., Nevada
AP –
Damaris Johnson
, Jr., Tulsa
WR –
Greg Salas
, Sr., Hawaii
WR –
Titus Young
, Sr., Boise State
TE –
Virgil Green
, Sr., Nevada
OL -- Matt Reynolds, Jr., BYU
OL – Marcus Cannon, Sr., TCU
OL – Nate Potter, Jr., Boise State
OL – Rob McGill, Sr., Louisiana Tech
C -- Zane Taylor, Sr., Utah
DEFENSE
DL -- Chris Carter, Sr., Fresno State
DL – Vinny Curry, Jr., Marshall
DL – Dontay Moch, Sr., Nevada
DL – Shea McClellin, Jr., Boise State
LB – Tank Carder, Jr., TCU
LB – Corey Paredes, Jr., Hawaii
LB -- Mario Harvey, Sr., Marshall
DB – Reggie Rembert, Sr., Air Force
DB – Mana Silva, Sr., Hawaii
DB – Tejay Johnson, Sr., TCU
DB – George Iloka, Boise State
SPECIAL TEAMS
K – Danny Hrapmann, Jr., Southern Miss
P – Kyle Martens, Jr., Rice
KR – Eric Page, So., Toledo
PR –
Shaky Smithson
, Sr., Utah
December, 7, 2010
12/07/10
11:30
AM ET
The season started with such high expectations -- BCS bowl or bust. After all, Boise State returned nearly every starter off a team that went undefeated in 2009 and won the Fiesta Bowl over TCU. The Broncos began the season with the highest ranking in school history at No. 3 in the AP poll, setting the stage to potentially become the first non-AQ team to make it into the BCS National Championship Game.

The first hurdle was the season opener against No. 10 Virginia Tech at FedEx Field, a virtual home game for the Hokies.
Kellen Moore
engineered a dramatic comeback after Boise State blew an early 17-0 lead, and Boise State won 33-30, validating its high ranking. The Broncos beat Oregon State a few weeks later, and remained in the top 5, jockeying for position with TCU as the top non-AQ. TCU moved ahead after a win over Utah, but it appeared the momentum began to swing back toward Boise State after the Horned Frogs had a close win over San Diego State. Most projected Boise State would be the top non-AQ if it won out.
But alas, it was not meant to be. The Broncos lost a heartbreaking stunner to Nevada 34-31 in overtime on Nov. 26, dashing their hopes at getting a BCS bid. Kyle Brotzman missed a 26-yard field goal that would have won it in regulation, then another 29-yarder in overtime. He became the subject of harassment and ugly taunts, but Chris Petersen maintained it was a team loss. Indeed, the Broncos blew a 17-point halftime lead. Still, Boise State was able to win a share of the WAC title, finished No. 10 in the BCS standings and ended their WAC membership with a 40-0 record at home in league games. The senior class has gone 47-5 with two undefeated regular seasons and a BCS win.
Offensive MVP: QB Kellen Moore.
A Heisman Trophy finalist and WAC Co-Offensive Player of the Year, Moore threw for 3,506 yards, 33 touchdowns and five interceptions -- and he's only a junior.
Titus Young
,
Austin Pettis
and
Doug Martin
deserve recognition as well. All three made the WAC first team: Young had 1,151 yards receiving and 9 touchdowns, Pettis had 804 yards and 9 touchdowns, and Martin had 1,113 yards rushing and 11 touchdowns.
Defensive MVP: Billy Winn, Shea McClellin, Ryan Winterswyk, Chase Baker.
This was simply too close to call, but the nod goes to the entire front four for being the engine that made the defense go. The four combined for 19.5 sacks and helped set the tone for everyone else to follow.
Turning point:
The loss at Nevada killed its chances at a BCS game.
What's next:
Boise State plays Utah in the MAACO Bowl in Las Vegas on Dec. 22, then prepares for life as a member of the Mountain West missing several key players including Young, Pettis, Winterswyk, Winston Venable, Brandyn Thompson and Jeron Johnson.
November, 26, 2010
11/26/10
9:00
AM ET
Boise State has faced few challenges in the WAC, one of the biggest arguments against its credentials as a national championship contender.
The dominance has been staggering. Boise State is 74-4 all-time in league play as it heads into its final two games as a WAC member. Their critical game tonight at No. 19 Nevada (10-1, 5-1) is only the fourth time the Broncos have faced a ranked WAC team, and the first time they are the team ranked higher in the matchup.
The last time Boise State (10-0, 6-0) played a ranked WAC team, it lost 39-27 at No. 15 Hawaii to close out the 2007 season. Hawaii ended up in the Sugar Bowl, and that was the last time the Broncos dropped a WAC game. In the 22 consecutive league wins since then, Boise State has beaten its league opponents by an average of 33 points.
So it is no wonder that the general public expects Boise State to win this game without breaking a sweat. Perhaps voters feel that way too. How Boise State plays could end up making a difference in whether the No. 4 Broncos leap No. 3 TCU as the top non-AQ team in the BCS standings.
Boise State is trying not to worry about the "outside noise" as players like to say, but they realize it definitely helps to be on national television with the spotlight on them. It certainly helped last week in a 51-0 win over Fresno State, a win that led Bulldogs coach Pat Hill to start lobbying for Boise State as a title contender.
"We've just got to go out and show America what we're about, and perform like we always do," Boise State defensive end Shea McClellin said.
Perhaps those who rail against the strength of schedule -- including Ohio State president E. Gordon Gee -- should focus more on the actual Boise State team, one that has several playmakers on offense and defense. Boise State has won 24 straight games for a reason -- that includes wins over Oregon, Virginia Tech and TCU.
There is no question Nevada will provide a challenge. The Wolf Pack are also eager to show what they have to offer in what the Reno Gazette-Journal called "
the biggest sporting event in Reno since Jack Johnson defeated Jim Jeffries in 1910
."
The city's iconic downtown arch was turned blue for the big game. This also is the top-selling contest of the season for Nevada, with an average ticket price of $143. Quarterback
Colin Kaepernick
realizes this is the biggest game of his career, not only because it is his last one, but because of the implications of taking down the most dominant team in the conference.
"Boise's the team to beat. They've been the WAC champions … they've been the powerhouse. It's our turn to try to knock them off," Kaepernick said.
If Nevada wins, there is a possibility there would be no outright league champion. Boise State, Hawaii and Nevada could each finish the year with one league loss, and the three would be considered co-champions. The Wolf Pack would take that.
What would help is getting off to a faster start than they have the last three years, when the games have been close in the end. Last season, the Wolf Pack trailed 27-3; in 2008 they were down 24-3; and in 2007 they were down 21-7. They rallied in all three only to lose.
"The players have to be accountable for what you ask them to do," Nevada coach Chris Ault said. "Our situation has been twofold: 1. Boise's executed very well and 2. We've failed to execute early. That can't happen."
Not against a team that is poised for a championship shot.
October, 12, 2010
10/12/10
11:30
AM ET
Boise State Broncos
Record:
5-0 (1-0 WAC)

You want to talk about pressure? Try being Boise State this season. The Broncos are trying to become the first team from a nonautomatic qualifying conference to play in the BCS national championship game, but are fighting negative perceptions and stereotypes along the way. They started the season with a crucial game on the road against No. 10 Virginia Tech. But even a 33-30 win has not been good enough to silence the critics, who point to the way the Hokies lost the following week to FCS James Madison. Boise State beat Oregon State, another team from one of the "Big Six" conferences many said afterward the Broncos did not do it convincingly enough. Winning is not enough, and beating teams 59-0 is not enough -- because Boise State dropped in the polls after posting that large margin of victory over New Mexico State. The Broncos now have their highest ranking ever at No. 3 and own the longest current winning streak in the country at 19 games. But they have helped draw distinct lines in the sand among college football fans. You either want to see them bust the system, or you want them to lose, go home and stay in their little corner in the West. Either way, Boise State has been one of the biggest storylines to watch this season, and a huge game at Nevada on Nov. 26 could determine its fate.
Offensive MVP, QB Kellen Moore.
What more can you say about the only non-AQ player in the Heisman conversation? Moore is as good as he was last season, as evidenced by his poise under pressure in leading the Broncos to the game-winning drive against Virginia Tech with time ticking down. He is 91-of-135 for 1,336 yards with 14 touchdowns and just one interception this season.
Defensive MVP, DE Shea McClellin
. All the guy does is make one big play after another. He has five tackles for loss, 3.5 sacks and has scored twice -- once on an interception return and once on a fumble return, the first player to do that since Kareem Williams in 1999. He has helped key an aggressive but underrated defensive line.
September, 23, 2010
9/23/10
11:00
AM ET
Here we go again. Boise State. Another opponent from an automatic qualifying conference. Another nationally televised game. Another chance to prove the Broncos belong in the national championship conversation.
For the second time in three weeks, all eyes will be on No. 3 Boise State (2-0) in prime time. This time, the Broncos host Oregon State in a Saturday night game. They answered a few skeptics with their season-opening win against Virginia Tech, only to turn those skeptics into non-believers again when Virginia Tech lost to James Madison the following week.
Nonetheless, Boise State is only interested in what it can control. And it can control the way it plays against the Beavers.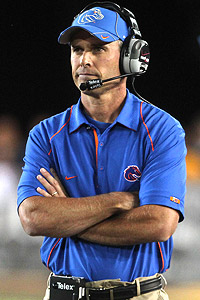 AP Photo/AAron OntiverozCoach Chris Petersen and Boise State are braced for another nationally televised game.
The only problem is this – to many, the matchup represents the final game of the season for Boise State. There are not many people who take its remaining schedule seriously, even though Nevada and Fresno State have looked much improved this season. Hawaii and Utah State, too.
Those scheduling questions are fair to be sure. But this game against Oregon State is not the final game on the schedule. It is just the third. And Boise State knows it must continue to win, and go undefeated, if it has any shot at all at playing in the national championship game.
"I'm sure we're going to have many more
challenges down the road," Boise State coach Chris Petersen said. "The thing we think about is what we've got going this week."
That would be Oregon State (1-1), a team that already has lost to the other top non-AQ school in the country, TCU. The Beavers had a tough time getting
Jacquizz Rodgers
going in that game, gaining 75 yards, and the Horned Frogs got good pressure on quarterback
Ryan Katz
in the 30-21 win.
The vastly underrated Boise State defensive line has been outstanding in two games this season, though the Broncos could be without Shea McClellin, who suffered a concussion last week and is listed as day to day.
That would be a huge blow, considering he leads the team with 2.5 sacks. The other defensive end, Ryan Winterswyk, who led the team with nine sacks last season, has yet to get one as he has been double-teamed often.
Boise State ranks No. 2 in the country in rushing defense and No. 5 in total defense, and has no problems playing a physical game. If the nation learned anything from the Virginia Tech game, it was that this defense is not about finesse.
Meanwhile,
Kellen Moore
picked up where he left off in the final two minutes of that Virginia Tech game. Moore went 20-of-30 for 370 yards last week in a 51-6 win against Wyoming, with two touchdowns and an interception.
He is even better in the red zone. According to ESPN Stats & Information, Moore has a 209.1 pass efficiency rating inside the 20 since the 2009 season, which ranks him second among active quarterbacks in that time frame. His favorite receiver in the red zone –
Austin Pettis
, who has been targeted 32 times. Remember, Pettis had two red-zone touchdowns against Virginia Tech, including the game-winner.
There is no question this is a big game for both teams. Oregon State has painted its practice field blue in order to prepare for the turf at Bronco Stadium. But it is much bigger for the Broncos. They have won five of their past six games against AQ opponents.
This is the first game of the season at home for the Broncos, and the atmosphere should be raucous. "College GameDay" will be in Boise for the first time, and anticipation has grown throughout the week.
"It's going to be a great environment," Petersen said. "It seems to always be when we play at home. It's such a great place. It's not the biggest stadium, but it has as good an energy as any stadium we've been around. We're real excited to get back here."