October, 25, 2012
10/25/12
12:00
PM ET
Last weekend, Arizona's
Matt Scott
and USC's
Matt Barkley
led their teams to victory and played well. And you heard a lot more about Barkley than Scott.
Barkley was brilliant, and Scott was just very good. Barkley completed 19 of 20 passes for 298 yards with six touchdowns and zero interceptions against Colorado. It was the most efficient performance in the country this season and the most efficient in the history of the Pac-12. He now has 102 career TD passes, a Pac-12 record.
[+] Enlarge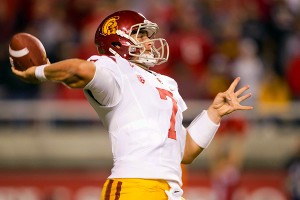 Russ Isabella/US PresswireSenior QB Matt Barkley has the Trojans sitting at 6-1 (4-1 Pac-12) entering Week 9.
Scott, who leads the Pac-12 in passing yards per game with 336.4, played a more supporting role while throwing for 256 yards and four touchdowns and rushing for 43 yards and a score in a blowout win over Washington.
Yet it felt familiar. USC is always big news, even when it's not winning championships. And Barkley is the most famous college quarterback in the country, even if he's not going to win the Heisman Trophy.
Scott? His outstanding numbers and quick adoption of new coach Rich Rodriguez's offense resonates only regionally, if at all.
That might change. These two seniors meet Saturday in Tucson, Ariz., with Barkley, a four-year starter, trying to lead the Trojans back into the national title picture, which means not overlooking Scott and the Wildcats because of their Nov. 3 date with Oregon.
These two did meet once before. Let's hope this one is as fun as the first time: Oct. 4, 2007. That's when Barkley, a junior at top-ranked Mater Dei in Santa Ana, Calif., and already highly celebrated, and Scott, a senior at No. 2 Centennial High of Corona, clashed in front of roughly 10,000 fans in the Santa Ana Bowl.
[+] Enlarge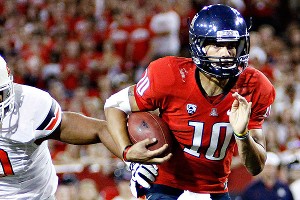 AP Photo/Wily LowSenior QB Matt Scott and the Wildcats are 4-3 (1-3 Pac-12) entering Week 9.
Mater Dei
won 51-37
in a game that featured 58 first downs and 1,295 yards of offense, a California high school record that didn't fall until this season.
"The fans definitely got their money's worth," Mater Dei coach Bruce Rollinson told reporters after the game. "That was some show."
Scott passed for 176 yards and rushed for 178. Barkley was 21 of 31 for 364 yards and two touchdowns. The Centennial defense featured Vontaze Burfict,
Brandon Magee
, Shelly Lyons and
Will Sutton
, who all signed with Arizona State. In a joint interview in 2011, the Pac-12 blog asked Burfict, Magee and Lyons about this game, and they all became a bit grumpy. It's fairly well-known that Barkley and Burfict
are not exactly close
.
Barkley was a five-star prospect in 2008, the nation's highest-rated quarterback. He signed with USC, which was on a dynastic run atop the then-Pac-10, with a 6-1 record in BCS bowl games over the previous seven years and two national titles.
So what does Rodriguez think of Barkley?
"He's obviously been one of the best quarterbacks in the history of the Pac-12," he said. "He's likely to be the first pick in the NFL draft. We're facing one of the all-time greats and also a tremendous leader."
Scott, a year ahead of Barkley, was a three-star prospect who picked Arizona over California, Boise State and Utah. The Wildcats went 5-7 in 2007, their ninth consecutive non-winning season. He beat out Nick Foles for the starting spot in 2009 but lost the job to Foles three games into the season. When Foles was hurt in 2010, Scott came off the bench and played well, but he opted to redshirt in 2011 so he could finally inherit the keys to the offense as a fifth-year senior.
When asked about Scott, USC coach Lane Kiffin's first word is "Wow."
"He's a phenomenal player," Kiffin said. "I didn't realize he is as fast as he is -- accurate, arm strength. He's playing great, doing an unbelievable job with the system."
So there's plenty of admiration for both quarterbacks.
Scott said he and Barkley know each other from football camps and recruiting and get along well, but, yes, it would be meaningful to best Barkley on Saturday.
"They are the No. 9-ranked team, so it's going to mean a lot more," Scott said. "It's a big stage. A great quarterback is coming in here. It would mean a lot to outplay him."
If Take 2 is anything like Take 1, this one figures to be pretty interesting.
January, 12, 2012
1/12/12
11:00
AM ET
What were the top 10 games or moments of the 2011 season? Here's a stab at a list.
10. Colorado wins 17-14 at Utah
: If the Utes had won Nov. 25, they would have won the Pac-12 South Division -- instead of UCLA -- and played at Oregon in the first Pac-12 championship game, in their first year of Pac-12 play. As it was, the Buffaloes' surprising victory ended a 24-game losing streak outside of the state of Colorado.
9. Shelly Lyons' pick-six vs. Matt Barkley
: Arizona State ended an 11-game losing streak to USC on Sept. 24 in a quaking Sun Devil Stadium. The most memorable play was Lyons returning an interception 41 yards for a touchdown to ice the 43-22 victory. This victory seemed to announce the Sun Devils' arrival as a top-25 team.
8. Third-and-29
: Arizona State's shocking 29-28 loss at UCLA on Nov. 5 was the first of five consecutive losses that derailed the Sun Devils' season and got coach Dennis Erickson fired. While it's most remembered for kicker Alex Garoutte missing three field goals, the biggest play of the game was the Bruins converting on a third-and-29 play on their go-ahead drive late in the fourth quarter.
Kevin Prince
connected with
Nelson Rosario
for 33 yards to the Sun Devils' 6-yard line. After that play, pretty much nothing went right for the Sun Devils the rest of the season. Further, UCLA wouldn't have played in the Pac-12 championship game without that play.
7. Halliday
!
Celebrate
! Freshman
Connor Halliday
, the third quarterback Washington State used this season, threw for a Pac-12 freshman-record 494 yards and four touchdowns in a 37-27 victory over Arizona State on Nov. 12. It was his first significant playing time.
[+] Enlarge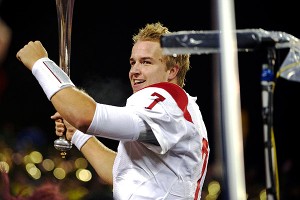 Jim Z. Rider/US PresswireUSC's win at Oregon, and Matt Barkley's decision to stay, signaled the Trojans' return to relevance.
6. Utah at USC, Sept. 10
: It was a good game that wasn't decided until the waning moments, with USC prevailing 23-14, but that's not why it was memorable. It was the first official Pac-12 game. (California's trip to Colorado earlier in the day didn't count as a conference game; it had been pre-scheduled as a nonconference game).
5. LSU-Oregon, third quarter
: The Ducks were statistically superior but trailed LSU 16-13 at halftime on Sept. 3 because Tyrann Mathieu scored a touchdown after stripping the ball from
Kenjon Barner
on a punt return. Then the third quarter happened. Two fumbles from
De'Anthony Thomas
in Oregon territory set up a pair of Tigers touchdowns, and the game was pretty much over before it got to the fourth quarter.
4. Stanford wins at USC 56-48 in triple overtime
: Start with this: The Oct. 29 meeting was a fantastic game, clearly one of the top five regular-season contests in the nation this year. What was most memorable to me wasn't the fumble that ended it, but Cardinal quarterback
Andrew Luck
regrouping after throwing a 33-yard pick-six to Nickell Robey and coolly leading a 76-yard touchdown drive to tie the count with 38 seconds left.
3. USC wins at Oregon 38-35
: When the Ducks missed a late field goal to tie the Nov. 19 game, several things happened, starting with the end of a 21-game home winning streak as well as the end of a 19-game conference winning streak. It eliminated Oregon from the national title hunt. It also announced USC's return to national relevance. This victory -- as well as quarterback Matt Barkley's decision to return for his senior season -- is why many see the Trojans as 2012 national title contenders.
2. Black Mamba strikes in the Rose Bowl
: For those in the college football world who only remembered De'Anthony Thomas from his fumbles in the opener against LSU, they got reintroduced in the Jan. 2 Rose Bowl. Thomas' touchdown runs of 91 and 64 yards were two of the most stunningly athletic plays of the bowl season. Immediately everyone thought: 2012 Heisman?
1. No Fiesta for Williamson
: Stanford kicker Jordan Williamson missed a 35-yard field goal wide left as time expired that would have given the Cardinal a victory over No. 3 Oklahoma State in the Fiesta Bowl on Jan. 2. Williamson then missed from 43 yards in overtime, setting up the game-winning kick for the Cowboys. Of course, Stanford wouldn't have been in that situation if it had stopped the Cowboys on one of their two fourth-down conversions. Or if they tackled Oklahoma State receiver
Justin Blackmon
better. Or if they hadn't fumbled inside their 10-yard line.
August, 26, 2011
8/26/11
10:00
AM ET
Oregon State quarterback
Ryan Katz
laughs. Yeah, he remembers receiving a head-butt from Arizona State linebacker Vontaze Burfict after a play last season.
"That started before the game, though. He was on the sidelines talking and everything," Katz recalls.
[+] Enlarge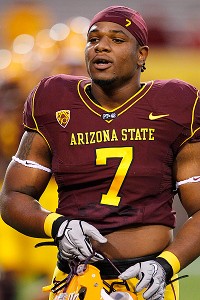 Rick Scuteri/US PresswireArizona State is counting on a drama-free season from star linebacker Vontaze Burfict.
He then pauses. Katz is a sharp guy who favors giving reporters vanilla answers. But it's not hard to hear the wheels turning. He's being goaded to spice things up and he's considering whether than might be fun or not.
He takes a pass. Said Katz, "It's just competitive juices flowing. I don't take it personally. Things happen. I know he's an emotional player. He was just trying to get in our head."
Just about everyone who has played or coached against Burfict has a story. Many are about his breath-taking skills that rate the 6-foot-3, 252-pound true junior perhaps the nation's best linebacker, one with an NFL All-Pro future. But others are about him being unhinged, his intensity so overwhelming his self-control that he often hurts his team with his antics.
The head-butt to Katz, in fact, convinced Dennis Erickson, a coach not typically thought of as a strict disciplinarian, to take away Burfict's starting job last fall (albeit briefly).
A few weeks later, in a tight game with Stanford, Burfict was called for a critical face-mask penalty. It was a bad call, but Burfict couldn't resist the urge to point that out to officials, which earned him an unsportsmanlike conduct penalty on top of the face mask, which gave Stanford the ball on the Sun Devils' 7-yard line. Shortly thereafter, Stanford pushed in the game-winning score, foiling a potential major upset that also would have earned the Sun Devils bowl eligibility.
In a highly competitive game with Oregon, Burfict spent a lot of time focusing on the Ducks' sideline, including mocking coach Chip Kelly's well-publicized method of signalling plays with random graphics on a large poster board.
Want more? Go to YouTube. If you search Vontaze Burfict, you'll find a long list of great plays and dubious behavior caught on film -- both noticed and unnoticed by officials.
"A lot of people ask about Vontaze -- from Oregon, from other places," said former Ducks and current Sun Devils wide receiver
Aaron Pflugrad
. "They are like 'What's up with this guy?' He's a shy, quiet guy off the field, but he's just a monster on it. That's the only way to explain it. I've never played with anyone like him before."
While Burfict loves to talk, intimidate and get inside opponents' heads, he's not so chatty or revealing about his own state of mind off it. After a spring and offseason when he worked with the school's sports information office and granted more interviews than he did his first two years, he has turned down interview requests -- including one from the Pac-12 blog -- this summer.
While part of that is because Burfict is reclusive and insecure with public speaking, another part involves things he doesn't want to talk about, including a locker room fight with 200-pound receiver
Kevin Ozier
, which the school attempted to downplay. Since that incident, reports of
other off-field skirmishes
, including a practice altercation with receivers coach Steve Broussard -- which Erickson told reporters was "totally ridiculous" -- have surfaced.
All this has clouded a storyline that Erickson and ASU officials had been working on since the spring: Burfict as team leader, a role even more required of him after cornerback Omar Bolden and linebacker Brandon Magee went down with season-ending injuries.
Said Erickson at Sun Devils media day, which Burfict chose not to attend: "He's matured a whole heck of a lot. I'm really proud of how he's matured." That was just days after the locker room fight.
Fellow linebacker Shelly Lyons, like Magee a former Burfict teammate at Centennial High School (Corona, Calif.), was asked what Burfict needs to work on this season.
"I would say when he gets frustrated," Lyons said. "He really has all the attributes as a player -- size, speed, he can hit. So I'd just say that when he gets frustrated to take it easy. The referees have a target on him. He's got to hold it back this year."
Last season, Burfict led the Sun Devils -- and was ninth in the Pac-10 -- with 90 tackles, including 8.5 for a loss. He also forced two fumbles. While there are some holes in his game -- his frenetic style sometimes gets him out of position -- physically, he's a finished product, one whose ability screams he's a certain top-15 NFL draft pick.
But the lack of self-control, on and off the field, will be an issue with NFL general managers.
If Burfict can fully focus his ability and intensity on what happens between the whistles, he could win the Butkus Award as the nation's best linebacker. And the Sun Devils' defense, despite injuries, could become one of the top units on the West Coast.
If that happens, Burfict and the Sun Devils will have a happy ending: Perhaps a Pac-12 South Division title and a high draft pick.
"Hopefully this year it's controlled insanity and he doesn't go after a player or anything," Pflugrad said.
If it isn't, well, it's still likely to be great theater.
August, 15, 2011
8/15/11
10:15
AM ET
Injuries are part of the game, coaches will tell you. That doesn't make them any less of a drag.
And no team is dragging more with injuries than Arizona State, which lost senior linebacker Brandon Magee for the season Saturday due to a
ruptured Achilles tendon
.
Magee is not only a returning starter, there's also this from the Arizona Republic:
Defensive coordinator Craig Bray recently told The Republic that Magee was the team's best defensive player last season.

Over the past week, Magee had seemed to take a greater leadership role on the field, barking at the first-team defense to get to the ball and to work through fatigue.
Magee also is one of the "
Centennial Threesome
" with fellow LBs Vontaze Burfict and Shelly Lyons. He and Lyons keep pretty busy helping the volatile Burfict maintain an even keel.
Perhaps no team in the county expected to contend for a national ranking has suffered as much roster attrition as the Sun Devils since the end of 2010. QB
Steven Threet
(retired due to recurrent concussions), QB
Samson Szakacsy
(left team), DT Lawrence Guy (entered NFL draft), CB Omar Bolden (knee), WR
T.J. Simpson
(knee), DE James Brooks (left team) and RB
Deantre Lewis
(gunshot wound). And since the beginning of camp, linebacker Oliver Aaron suffered a high-ankle sprain, backup defensive tackle Joita Te'i suffered a foot injury that will sideline him for seven weeks and cornerback Devan Spann dislocated his left shoulder two times in the first week of practice.
And now Magee.
Despite all this, the Sun Devils
still
have the makings of a good team. Just not as good of a team as they had when they walked off the field Dec. 2 after beating rival Arizona.
August, 25, 2008
8/25/08
10:39
AM ET
Posted by ESPN.coms' Ted Miller
Just think: 119 sets of fans are optimistic right now. Wonder what that number will be in a week?