September, 3, 2014
Sep 3
3:00
PM ET
Win No. 1 of the season wasn't exactly one to celebrate for UCLA.
Yes, the Bruins' defense was brilliant, scoring three times to lead the charge over Virginia, but as Jim Mora succinctly put it afterward, "it wasn't pretty offensively."
Players marched into the locker room after the
28-20 win
with little enthusiasm, a somber scene more befitting a loss.
[+] Enlarge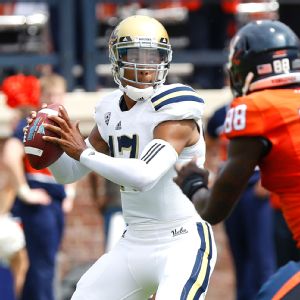 Geoff Burke/USA TODAY SportsUCLA's offensive line left QB Brett Hundley scrambling all game long at Virginia in Week 1.
Sophomore center
Scott Quessenberry
, starting in place of injured
Jake Brendel
, even took time to thank his defense for cleaning up after his own mistakes.
This may still have been the start of a magical season, but UCLA's offense certainly did its best to temper all that early enthusiasm.
"As a team, the sky is the limit," quarterback
Brett Hundley
said, "but we can't shoot ourselves in the foot and make mental lapses like this. We have to come out and perform."
And that has to start with the offensive line.
In reality, the Week 1 matchup with Virginia was destined to be a struggle. The Bruins may have arrived with a gaudy No. 7 ranking, and Virginia was coming off a 10-loss season, but the Cavaliers still featured a ferocious defensive front, led by linebacker
Henry Coley
, and coordinator Jon Tenuta has made a career of testing the mental toughness of opposing linemen. Meanwhile, UCLA was coming off a season in which it allowed the most tackles-for-loss in the Pac-12, had questions surrounding the ground game, and was beset by injuries up front.
The early struggles, in other words, were no surprise to the coaching staff.
"I looked out there one time," Mora said, "and our right tackle's a sophomore, our right guard is a sophomore, our center is a sophomore, our left guard is a freshman and our left tackle is playing his first game for us."
It wasn't that UCLA didn't anticipate problems, it's that the offense -- particularly the line -- didn't execute the solutions.
"I know there's going to be a lot of concern about our offensive line," Mora said, "and it's warranted at this point."
It's warranted because Hundley was sacked five times, warranted because Virginia racked up 11 tackles for loss (15 percent of UCLA's total plays), warranted because seven of the Bruins' first 11 rushing attempts went for a loss or no gain before
Paul Perkins
jumpstarted the rushing attack in the third quarter.
The end result was a game plan that was largely abandoned as the Bruins faced one third-and-long scenario after another. They needed 8 yards or more to convert on 7 of 18 third downs in the game.
"Our whole keys to victory was stay on schedule, keep ourselves in third-and-medium or shorts," offensive coordinator Noel Mazzone said. "So I'm like, who wants to call plays around here?"
There are, of course, explanations, too. The flight across three time zones and early kickoff wasn't ideal. The injury to Brendel had ripple effects across the line. Even the defensive highlights helped keep the offense from getting into a rhythm. But when it was over, no one seemed interested in looking for excuses.
"I didn't do a very good job of coaching my guys or calling plays, and my guys didn't do a good job of executing," Mazzone said. "Were there outside influences? Who knows? Who cares? We have to overcome those things and do a better job."
That may start with getting healthy.
Mora said Brendel, who suffered an MCL injury three weeks ago, is on the mend.
Simon Goines
should return from an ankle injury in a few weeks. Younger players are getting reps, and Hundley has added a level of stability to the offense that should help navigate some early obstacles, just as he did Saturday against Virginia.
Perkins' strong second half offers encouragement, too. The sophomore tailback finished with 80 yards on 16 carries, and while Mora said he expects a timeshare to continue with
Jordon James
, there's hope that the tailbacks can limit the workload for their QB.
"[Hundley] is a very good runner, but we don't want that to be our running game," Mora said. "I'd like to see us establish a little more rhythm with our offense."
But Week 1 wasn't really about what UCLA wants to do. If anything, it was a crash course on what the Bruins hope to avoid this season, and they still managed to emerge with a win.
UCLA also knows it may not be so lucky the next time.
"There are a lot of things we have to correct," Hundley said. "We had those moments you could see it, but it was the stuff that shot us in the foot. We'd start something, and then we'd hurt ourselves. We have to cut that out, and we'll be fine."
April, 2, 2014
Apr 2
5:30
PM ET
One of the ways a football team transitions from a group of wishful maybes to a sense of near-ontological certainty is when its collection of spring practice questions becomes mostly an array of appealing potential options.
So we have
UCLA
as it transitions from an underachieving program (1999-2011) to a good one (2012-2013) to one that has the makings of a national contender in 2014.
[+] Enlarge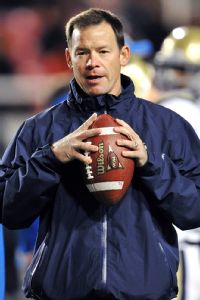 Gene Sweeney Jr/Getty ImagesWith few questions to answer this spring, Jim Mora has the makings of a special 2014 season with UCLA.
While the Bruins have questions on their depth chart, there isn't any particular area of vexing concern. The five positions where starters need to be replaced seem likely to be filled by promising athletes with playing experience. If those more veteran players don't rise to the fore during spring practices, that mostly speaks to the program's strong recruiting under Jim Mora.
Further, it's reasonable to project that those 20 or so freshmen and sophomores who saw significant playing time last year will physically and mentally mature into their primes.
There simply aren't any worrisome voids on this team.
As in:
There are, of course, important questions.
Is defensive end
Owamagbe Odighizuwa
fully healthy? He told reporters Tuesday that he is. So then is the former A-list recruit ready to break through as a senior?
What does LB/RB
Myles Jack
do for an encore after one of the best true freshman seasons in recent memory?
And speaking of what's next, is it reasonable to project Hundley taking a strong step forward as a third-year starter? Of course, that's why the program has already launched a Heisman Trophy campaign.
A lot of variables beyond personnel go into a special season -- a Rose Bowl-, College Football Playoff-type season. A team needs a great offseason. It needs positive chemistry and leadership. It needs to avoid injuries. It needs to stay hungry. It needs laser-like focus every week.
Returning starters do not guarantee anything. National champion Florida State only had 11 of them last year.
But on paper, UCLA appears to be the most likely candidate to break the five-year Stanford-Oregon Pac-12 hegemony atop the Pac-12. The Bruins might even be a team that catches the notice of the CFP selection committee in December.
January, 24, 2014
Jan 24
9:00
AM ET
The Pac-12 has 26 of the 98 early entrants in the NFL draft. That's impressive. Some players are locks to get drafted. Others might have jumped the gun a bit and find themselves on practice squads or brushing up on their Canadian. We'll see.
What we're more concerned about here is who is going to replace them. Some answers are clearer than others. Some teams might have to alter their schemes just to account for a departed player.
Here's a look at the possible replacement players in the Pac-12 South. We'll look at the North later this morning.
Leaving:
Ka'Deem Carey
, RB, Arizona.
The replacement:
Jared Baker
should be in the mix, though an injury will keep him out of spring ball. He's expected to return in time for fall camp.
Pierre Cormier
and
Zach Green
will also get looks. Speaking with folks at Arizona, the word right now is that it's wide open. One player could emerge, or it could end up being a by-committee approach. Nothing is off the table at this point.
Leaving:
Carl Bradford
, LB, Arizona State
The replacement:
There really isn't anyone who has Bradford's skill set in the program yet, so the position is wide open.
Viliami Latu
has potential. So does
Chans Cox
, who was hurt a lot last season. They are also excited about incoming freshman
Ismael Murphy-Richardson
. He might not be ready to jump in immediately, but he could be the Devil backer by 2015.
[+] Enlarge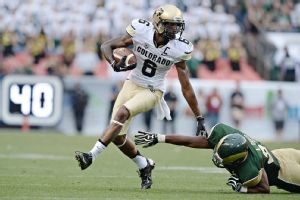 Ron Chenoy/USA TODAY SportsColorado will have a hard time replacing the explosive plays that Paul Richardson provided.
Leaving:
Paul Richardson
, WR, Colorado
The replacement:
It was probably going to be
Jeff Thomas
before he transferred. Now it's probably going to be a rotation of
D.D. Goodson
,
Devin Ross
, or redshirt freshmen
Bryce Bobo
or
Elijah Dunston
.
Nelson Spruce
has been solid, but he's not the breakaway threat Richardson was. This will be a key spring battle to watch.
Leaving:
Xavier Su'a-Filo
, OL, UCLA
The replacement:
Simon Goines
should be back after starting six games at left tackle before an injury forced him out.
Scott Quessenberry
stepped in and played five games at left guard, which is where he'll likely be next season with Goines back at tackle.
Leaving:
Dion Bailey
, LB, USC
The replacement:
Leon McQuay III
saw some playing time and is very highly regarded by the coaching staff. His contributions last season were mostly on special teams, but he'll take on a larger role with Bailey's departure.
Leaving:
Marqise Lee
, WR, USC
The replacement:
Remember
George Farmer
? He's still around and could be in for a big season if healthy.
Darreus Rogers
and
Steven Mitchell
both are promising, but both have missed time with injury. You never truly replace a Biletnikoff winner, but playing opposite a surging
Nelson Agholor
could help boost the production of whoever gets in the regular rotation.
Leaving:
George Uko
, DT, USC
The replacement:
Transfer
Delvon Simmons
is coming off a redshirt season, as is freshman
Kenny Bigelow
. Both should get some serious looks, as this will be one of the hot position battles this spring. Someone will ultimately win the job, but expect a rotation with both next season.
Leaving:
Marcus Martin
, C, USC
The replacement:
Lots of ifs here. It could be
Max Tuerk
moving over from guard, but he'll also be in the mix for right tackle to replace
Kevin Graf
.
Khaliel Rodgers
redshirted and is an option at guard or center.
Giovanni Di Poalo
could also get a look.
Leaving:
Xavier Grimble
, TE, USC
The replacement:
Grimble and
Randall Telfer
were basically co-starters, so all this probably means is Telfer's workload increases as he becomes the clear No. 1.
Jalen Cope-Fitzpatrick
is the only other scholarship tight end on the roster.
Leaving:
Jake Murphy
, TE, Utah
The replacement:
Westlee Tonga
seems like the logical fit. He has been around for a few years and has some experience, but was injured most of last year. He'll get another opportunity to be the lead tight end in the newest installment of Utah's offense.
September, 6, 2012
9/06/12
1:00
PM ET
It's no secret that UCLA is young on the offensive line.
As UCLA's always-charismatic offensive coordinator, Noel Mazzone, playfully pointed out: "We needed permission slips from their mothers just so they could get on a plane last week."
Despite the obvious hyperbole, his point is well taken -- especially since last week was the first time the Bruins had ever started three freshmen on the offensive line in a season opener.
Torian White
,
Jake Brendel
and
Simon Goines
are all still pretty new to this college football thing. Factor in sophomore
Xavier Su'a-Filo
, who had been out of football for two years on a Mormon mission, and you have a pretty green group protecting a redshirt quarterback ready to make his second career start.
There's a reason Mazzone calls them pups. Still, they played well enough to help carry the Bruins to a
49-24 victory
at Rice in Week 1.
"I was really happy," Mazzone said. "They took some big strides in the first game. You just hope during the season you grow offensively and as a team exponentially. You hope each week you get a little bit better and a little bit better and hopefully the finished product is good enough to win some football games."
[+] Enlarge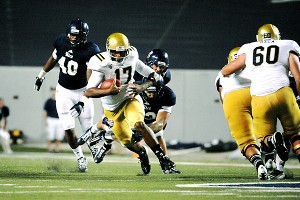 Brendan Maloney/US PresswireUCLA's young line helped QB Brett Hundley and the offense churn out 343 rushing yards against Rice.
On Saturday, the line faces a stiffer challenge when No. 16 Nebraska comes to town. And so does starting quarterback
Brett Hundley
.
Naturally, Mazzone is looking for more consistency out of Hundley, who ran hot and cold in his first collegiate start. But during the times he was hot, Hundley was scorching. He took his first collegiate offensive play and scrambled 72 yards for a touchdown. He completed 21 of 28 passes for 202 yards and two touchdowns.
"I think he did some really good things," Mazzone said. "At times he looked like he was a redshirt freshman quarterback. Last game he'd played had been Chandler versus Hamilton or something back in Phoenix, Ariz. Now he gets a chance to play against traditionally one of the top 10 football programs in the country. As long as he just keeps progressing. He's got some moments he's flashing and some moments you wonder what he's thinking. But if we can keep him progressing and learning from game to game I think he can be a really solid Pac-12 quarterback."
It's pretty safe to assume that the Cornhuskers will present more problems for UCLA's offense than Rice did. They'll likely key in on running back
Johnathan Franklin
, who opened with a 214-yard, three-touchdown performance against Rice, including scoring runs of 78 and 74 yards.
"Nebraska is a powerful, explosive defensive front," said UCLA head coach Jim Mora. "They can put pressure on the quarterback. That's with four, that's with five, that's with six rushers. [Nebraska coach] Bo [Pelini] will come with some exotic blitzes at times. It will really be a challenge for us. We are starting three freshmen and this will be their second time at the collegiate level. They just have to buckle up and do their best and we just have to help them with good protection calls and getting the ball out quick and running the ball."
UCLA's Week 1 performance was far from perfect. And though the competition level increases, Mazzone said he's still hoping to see improvements in Week 2.
"Like every offense in the country right after its first week, you want more consistency," he said. "You try to minimize the lulls you have offensively. Any offense does. ... We're a tempo team so that's one of the things you fight against is you hit those lulls during a game and try to minimize those.
"Nebraska is a great defense and we're young on offense. We're playing about nine kids that had never played in a college football game before last week. Right now we're trying to walk a little bit before we start running."