NCF Nation:

Simoni Lawrence
August, 5, 2010
8/05/10
2:32
PM ET
Schedule:
The Gophers hit the field Friday for their first practice.

What's new:
Another offensive coordinator, the Gophers' third in as many seasons. Jeff Horton isn't bringing dramatic changes like his predecessor Jedd Fish, and he'll try to simplify things for senior quarterback
Adam Weber
, who retained his starting job after spring ball. There are also a ton of new faces on defense as Minnesota loses nine starters, including productive linebackers Lee Campbell, Nate Triplett and Simoni Lawrence. The Gophers also have a new wide receivers coach in former NFL player Steve Watson, who must identify some playmakers after the loss of standout Eric Decker.
Sidelined:
We thought Kim Royston would be in this category, but the senior safety has
healed extremely well from a broken leg
this spring. Royston won't be 100 percent for the start of camp, but barring any setbacks, he should be ready for the start of the season. As one of only two returning starters on defense, Royston provides a strong presence in the secondary. Linebacker Sam Maresh, a possible starter, isn't with the team as he improves his grades at a junior college.
Key battle:
Name a spot on defense and there's probably some competition there, as Minnesota must find answers at linebacker, defensive end and cornerback. The linebacker group should be particularly interesting. Mike Rallis locked up a starting job this spring, but the other spots are open as Keanon Cooper, Gary Tinsley and others are in the mix. Cornerback also is a spot to watch as Michael Carter and Christyn Lewis try to lock up starting spots.
New on the scene:
Head coach Tim Brewster and his staff have recruited well, and it's time they start to see the rewards. Lewis and tight end Tiree Eure both are junior-college transfers who should contribute right away. Minnesota really likes redshirt freshmen offensive linemen Ed Olson and Brooks Michel, and incoming freshman tackle Jimmy Gjere is a name to watch. It also will be interesting to see if freshmen running backs Lamonte Edwards and Donnell Kirkwood can work their way into the mix.
Breaking out:
Brewster sings the praises of defensive end
Ra'Shede Hageman
, and Minnesota could really use a boost in the pass rush from the redshirt freshman.
MarQueis Gray
didn't win the starting quarterback spot, but he's a guy who needs the ball in his hands one way or another. Replacing Decker will be tough, but Minnesota has high hopes for
Da'Jon McKnight
, who averaged 18.3 yards on 17 receptions last year.
Time to step up:
Without a doubt, Minnesota's offensive line is the group that needs to elevate its play in camp. The line boasts both experience and some exciting young talent, and the players are used to coach Tim Davis and his demands. Minnesota simply can't rank last in the league in rushing year after year. It's time for the line to get tougher, come together and build off of a strong spring.
Quotable:
"We're bigger. We're stronger. We're faster. We're more athletic than we've been. And rightfully so. We need to be. We know that we're going to play one of the most challenging schedules in America this season. And our players are going to have to be prepared." -- head coach Tim Brewster
December, 30, 2009
12/30/09
9:00
AM ET
Here's what you need to know about Thursday's matchup between Minnesota (6-6) and Iowa State (6-6) in the Insight Bowl:


WHO TO WATCH:
Adam Weber
. The Minnesota junior quarterback has taken a step back in his third year as the starter, but as he showed on Halloween night against Michigan State, he still can light it up. Weber also can struggle mightily, as he showed in shutout losses to Iowa and Penn State and a near shutout at Ohio State. Golden Gophers head coach Tim Brewster will open up the quarterback competition in spring practice, but Weber can help his cause with a strong showing against a vulnerable Iowa State defense that ranks 95th nationally against the pass (245 ypg). Minnesota is still searching for someone to replace
Eric Decker
's production, but Weber has some decent options in tight end
Nick Tow-Arnett
and wide receiver
Troy Stoudermire
. If Weber struggles, don't be surprised if Minnesota goes to
MarQueis Gray
.
WHAT TO WATCH:
Minnesota's linebackers against Iowa State's rushing attack. Seniors Lee Campbell, Nate Triplett and Simoni Lawrence have carried the Gophers' defense this fall, combining for 284 tackles. Iowa State isn't much of a passing team and wants to get
Alexander Robinson
going. Robinson, ranked 29th nationally in rushing average, is a Minneaoplis native who nearly considered transferring to Minnesota after Gene Chizik bolted from Ames. If Minnesota can plug the middle with defensive tackles Garrett Brown and Eric Small, the linebackers should be in position to slow down Robinson and mobile quarterback
Austen Arnaud
.
WHY TO WATCH:
Brewster is safe and
will receive a contract extension
in the near future, but this remains a pivotal game for the Minnesota program. A victory assures Minnesota of a winning season and could bring some life back to a fan base that seems unhappy with the current direction. The Gophers haven't won a bowl game since 2004 and lost the Insight Bowl in 2006 and 2008. A loss will brand the 2009 season as a disappointment and increase the pressure on Brewster and his assistants this offseason. It's also a nice regional game between two upper Midwest teams that haven't played since 1997.
PREDICTION:
Neither of these teams is very good, and both offenses are inconsistent at best. Expect a low-scoring affair, and the team that makes the fewest number of major mistakes wins. Iowa State will have more fans in Tempe and could be more motivated than Minnesota, which has gone to the Insight Bowl in three of the past four years. The Gophers offense has been too inconsistent for my liking, and Iowa State finds a way to win, 17-14.
Minnesota (6-6) vs. Iowa State (6-6)
Dec. 31, 6 p.m. (NFL Network)
Minnesota take by Big Ten blogger Adam Rittenberg
: The Insight Bowl might not attract much national attention, but you can bet it'll mean a lot in the upper Midwest.
Minnesota and Iowa State haven't played since 1997, but the two schools are separated by only 215 miles and share a hated rival in the
Iowa Hawkeyes
. Iowa State makes its first bowl appearance since 2005, while Minnesota returns to the Insight Bowl for the second straight year and for the third time in the past four seasons.

This is a very critical game for Gophers fourth-year coach Tim Brewster and a team that broke even despite boasting the Big Ten's most experienced roster. A victory would secure consecutive winning seasons and build momentum for 2010, when Brewster's recruits will occupy most of the key roles. A loss would increase doubts about the program's direction and put Brewster squarely on the hot seat.
The Insight Bowl typically is high scoring, but don't expect too many points on Dec. 31 in Tempe, Ariz. Minnesota has been shut out twice this season and ranks 98th nationally in scoring (21.6 ppg), while Iowa State is even worse, coming in 102nd in scoring (21.1 ppg). Both teams have quarterbacks (Minnesota's
Adam Weber
, Iowa State's
Austen Arnaud
) who can do big things, but also hurt their teams with turnovers.
Defense is certainly Iowa State's calling card, as the Cyclones have held opponents to 17 points or fewer in each of their six wins. Minnesota also relies heavily on its defense, particularly linebackers Lee Campbell, Nate Triplett and Simoni Lawrence, but needs some offensive playmakers to emerge at Sun Devil Stadium.
---
Iowa State take by Big 12 blogger Tim Griffin
:Insight Bowl officials jumped all over the Cyclones, picking them over teams with a better record.

The Cyclones were one of the biggest surprises in the Big 12, claiming six victories to earn a bowl berth under first-year coach Paul Rhoads. But a close examination reveals that they defeated only one team with a winning record all season -- a 9-7 triumph at Nebraska where they forced eight turnovers, including three inside the Cornhuskers' 5-yard line.
The Cyclones struggled offensively when quarterback
Austen Arnaud
and running back
Alexander Robinson
were injured. But, new defensive coordinator Wally Burnham helped craft a gritty defense that was smaller than most opponents, but overachieved and ranked 27
th
in turnover margin.
Meanwhile, the Gophers will be making their third Insight Bowl trip in the last four seasons – not exactly a mark of distinction among Big Ten teams.
Tim Brewster's team limped home with four losses in its last six games and failed to score an offensive touchdown in its final two games. The Gophers never really recovered from the loss of standout wide receiver
Eric Decker
and ranked last in the Big Ten in offense. Their lack of offensive weapons should make this a relatively equal battle with the Gophers.
These two teams were early rivals, playing 22 times between 1895-1924, but have met only three times since then. It was in the 1923 game where Jack Trice sustained an injury that later took his life, becoming a iconic martyr whose spirit pervades Iowa State to this day. The Cyclones haven't beaten Minnesota since 1898.
November, 17, 2009
11/17/09
3:24
PM ET
The teams will be separated by more than 300 miles, but Minnesota and Indiana will seek the same thing Saturday when they take the field.
Here's a hint: it's more important than a
bronze pig
or an
iron-bound bucket
.
"We have to go in and earn respect back," Minnesota senior linebacker Simoni Lawrence said.
[+] Enlarge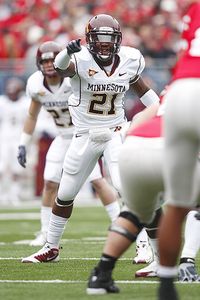 Joe Robbins/Getty ImagesSimoni Lawrence and the Gophers hope to earn back some respect when they visit Iowa on Saturday.
The Gophers lost some when they were pummeled
55-0
by Iowa last year in the Metrodome. It marked Minnesota's worst Big Ten loss in team history and the second worst loss overall (the Gophers fell 84-13 to Nebraska in 1983). Minnesota had been drubbed by Iowa before -- it lost 45-3 in 1995, 33-0 in 1959 and 41-7 in 1921 -- but nothing quite like last year's beating.
Indiana knows the feeling. The Hoosiers fell
62-10
to Purdue last fall to end a miserable 3-9 campaign. The 52-point margin of victory marked the largest in the Old Oaken Bucket series since 1893, when Purdue won 64-0. Purdue scored on its first 10 offensive possessions (eight touchdowns, two field goals) before trying to run out the clock on its 11th drive.
Both the Gophers and the Hoosiers will have little trouble getting motivated on Saturday. Minnesota kicks things off at No. 13 Iowa (ESPN, noon ET), while Indiana hosts Purdue (Big Ten Network, 3:30 p.m. ET) later in the day.
"It's not one of those things that we have to dwell on the final score," Indiana head coach Bill Lynch said. "Any of us that were there know how that game went. They got after us, and it's certainly in the back of the minds of our guys."
Lynch's Minnesota colleague, Tim Brewster, also has no need to conduct a history class this week in Minneapolis.
"We know exactly what happened last year," Brewster said. "Obviously, Iowa was much better than us the day we played them. They played an outstanding game, and we did not play well. But that was last year. This is a whole new year. It's a totally different team."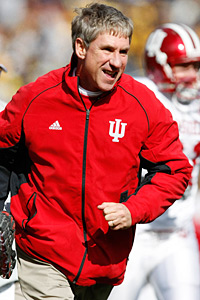 Scott Boehm/Getty ImagesIndiana coach Bill Lynch hopes for a different outcome this season against Purdue.
Indiana has, at times, looked like a totally different team this fall, though its record could be similar. The Hoosiers have led in all four of their Big Ten road games, only to lose, and gave Wisconsin all it could handle two weeks ago in Bloomington.
A bowl berth is off the table, so Indiana's mission seems pretty clear: avenge last year's loss to Purdue and create some positive momentum for 2010.
"It'd be huge," Lynch said. "It's important for your seniors leaving on a positive note, and it certainly leads you into the offseason and the future. And when it's a rivalry game against Purdue, it means a great deal. It is a different game than the others."
Lawrence will sometimes pose a question to Minnesota fans he meets: If you could beat either Wisconsin or Iowa, the program's top two rivals, who would it be?
"Everybody always says Iowa," he said. "I'm going to try and get everybody as geeked up as possible for this game. This is my last chance to get a trophy since I've been here with coach [Tim] Brewster."
Brewster has
yet to win a rivalry trophy at Minnesota
, a fact trumpeted by his critics. It won't be easy to end the drought Saturday, as Iowa can inch closer to an at-large BCS bowl berth with its 10th victory.
Minnesota hasn't won at Kinnick Stadium since 1999, Kirk Ferentz's first season as Hawkeyes head coach.
"They're a big favorite in the game, and rightfully so," Brewster said.
Lawrence has watched Iowa play more than any other Big Ten team this year. In addition to scouting the offense of Minnesota's upcoming opponent, he watches the Hawkeyes defense and admires its mindset and aggressive style.
But this week, Lawrence is no fan of Iowa's.
"We've got to go in there angry," he said. "That's the only thing you can do. When a team beats you up like that, they'll be like, 'Aw, yeah, they're just another team coming in.' You've got to go in and earn some respect back."
October, 22, 2009
10/22/09
8:03
AM ET
Posted by ESPN.com's Adam Rittenberg
The home stretch begins Saturday, and here are 10 things you don't want to miss.
1. Iowa's quest for perfection continues:
The Hawkeyes are halfway through one of the nation's toughest road schedules, and it doesn't get much easier Saturday night at Michigan State (Big Ten Network, 7 p.m. ET). Spartan Stadium recently has posed problems for the Hawkeyes, who have dropped four consecutive games there, including a 16-13 decision last year. A win Saturday night will convince any nonbelievers left that Iowa is for real and move the Hawkeyes to at least No. 5 in the BCS standings. Iowa has shown no fear of tough environments and tough situations so far, but the Hawkeyes are now the team to beat in the Big Ten, which can bring unique challenges.
2. Penn State enters (Big) House of Horrors:
Iowa isn't the only Big Ten team trying to end its struggles in the state of Michigan on Saturday. Penn State can't buy a break in Michigan Stadium, where it has lost five consecutive games stretching back to 1995. Head coach Joe Paterno is
still haunted by the 2005 loss
in Ann Arbor, the lone blemish on his team's record. The jury remains out on this Penn State team, which has looked very impressive against weak competition and seems to be getting stronger each week. The Lions can validate their record and end a rough run at Stadium and Main with a victory Saturday (ABC, 3:30 p.m. ET).
3. Pryor under pressure:
Ohio State's offense and sophomore quarterback
Terrelle Pryor
are under the gun after a mistake-filled loss to Purdue last week. Critics and fans are questioning the scheme, the coaching and Pryor. Head coach Jim Tressel said this week that no major changes are coming and Pryor's teammates remain in his corner. Pryor handled himself well in responding to his critics this week. Still, the offense must bounce back strong against Minnesota (ESPN, noon ET). The Gophers boast an improved defense led by three excellent linebackers (Lee Campbell, Nate Triplett and Simoni Lawrence) and a playmaking cornerback (Traye Simmons). If Ohio State's offense starts off slowly, it could be a rough afternoon.
4. Postseason implications in Evanston:
Northwestern and Indiana bring identical 4-3 records into Saturday's game at Ryan Field, and quite frankly, it's tough to see both squads reaching the postseason. The winner of the game should be in good shape for at least an invitation to the Little Caesar's Pizza Bowl, while the loser will have an uphill climb. Northwestern's banged-up yet improving defense faces a confident Indiana offense led by quarterback
Ben Chappell
and wide receivers
Tandon Doss
,
Damarlo Belcher
and
Mitchell Evans
. The series usually produces plenty of excitement, as the last five meetings all have been decided by seven points or fewer.
5. Desperation at Boiler Station:
The Big Ten's bottom two teams meet at Ross-Ade Stadium with very different mindsets. Purdue comes off an energizing upset of Ohio State, its first win against a ranked opponent since 2003. The Boilermakers hope the victory springboards them into a big second half as they try to turn those near misses into wins. Illinois, meanwhile, seems to be falling apart after its fourth consecutive double-digit loss and its fifth this season. The Illini remain undecided at quarterback and might soon need to make a decision about head coach Ron Zook's future at the school unless things turn around fast, beginning Saturday.
6. Jones vs. Sash:
Two of the leading contenders for Big Ten defensive player of the year will be on the same field Saturday night in East Lansing. Michigan State linebacker Greg Jones had a monster first half, leading the nation with 85 tackles, including 8.5 tackles for loss and five sacks. He'll try to slow down Iowa's young running backs and put pressure on quarterback
Ricky Stanzi
. Hawkeyes safety Tyler Sash hopes to build on his Big Ten interceptions lead against Spartans quarterback
Kirk Cousins
, who has thrown only four picks in 156 attempts. Sash leads the most opportunistic secondary in the country, which faces a talented crop of Michigan State tight ends and wide receivers.
7. Wolverines offense vs. Lions defense:
Something's got to give as the Big Ten's top scoring offense (37.3 ppg) takes on the nation's No. 2 scoring defense (8.7 ppg). Both units are getting healthier, as Michigan freshman quarterback
Tate Forcier
has recovered from head and shoulder injuries, while Penn State star outside linebacker Sean Lee should see his reps increase despite tweaking his knee against Minnesota. The Wolverines will use multiple quarterbacks and mix personnel behind an offensive line that gained confidence from the Iowa game. Penn State hasn't faced an FBS offense ranked higher than 79th nationally, but the Lions are receiving excellent play from their front four and linebackers Navorro Bowman and Josh Hull.
8. Gophers offense looks for a spark:
Pryor isn't the only quarterback feeling the heat in Columbus on Saturday. Minnesota junior
Adam Weber
has struggled in recent weeks, and some are calling for backup
MarQueis Gray
to get more playing time. Weber could certainly use some help from his running backs, but it won't be easy against a dominant Ohio State defensive front. The Buckeyes undoubtedly will gear their defense toward Minnesota star wideout
Eric Decker
, so Weber must find other targets and do a better job of freelancing to make plays. Ohio State already owns two shutouts this season, and the Gophers were blanked last week at Penn State.
9. League title race taking shape:
It's pretty easy to size up the Big Ten title race right now, with Iowa as the league's lone unbeaten team and in the driver's seat for the Rose Bowl and possibly more. But if Michigan State knocks off the Hawkeyes, things could really get interesting. You could have four one-loss teams by the end of play Saturday (Iowa, Michigan State, Penn State and Ohio State), and an Iowa loss would open the door for some two-loss teams as well. Michigan State has a favorable schedule down the stretch and could legitimize itself as a league title contender. Losses by Penn State and Ohio State could really turn things around in the standings, given the preseason forecast for the league.
10. Star search on offense:
The Big Ten is clearly a defense-oriented league this season, but the lack of stars on offense is really stunning. Things weren't much better in 2008, but at least the league boasted the nation's best group of running backs. As the stretch run begins, who will emerge at quarterback, running back or wide receiver? Penn State quarterback
Daryll Clark
has played well since the Iowa loss and needs a big performance at Michigan. Forcier, Stanzi, Purdue's
Joey Elliott
, Northwestern's
Mike Kafka
and Chappell also have had their good moments. I'm interested to see if the league's unheralded wide receivers (
Keith Smith
,
Zeke Markshausen
, Doss,
Blair White
) can keep up their strong play.
September, 18, 2009
9/18/09
9:30
AM ET

Posted by ESPN.com's Ted Miller and Adam Rittenberg
Holy Rose Bowl! It's another Big Ten-Pac-10 weekend, with No. 8 California visiting Minnesota and Arizona headed to Iowa. All four teams are 2-0. Seems like a good time for another blogger debate.
Ted Miller
: You again! Adam, we need to stop meeting like this. Or at least the Big Ten should stop meeting like Ohio State did with USC. Perhaps there will be some redemption on Saturday when California visits Minnesota and Arizona takes a gander at Iowa.
| | |
| --- | --- |
| | |
| | Icon SMI/US Presswire |
| | Golden mascots square off in the Twin Cities on Saturday. |
Let's start with your game Saturday in fancy pants TCF Bank Stadium. (Nice job, Minnesota.)
I look over Minnesota's particulars and I can't get a good vibe about what Cal should expect, particularly after the Gophers struggled to beat Syracuse and Air Force. Who are these guys ... and whose mascot is more golden?
Adam Rittenberg
: Ted! Buddy! Good to be with you again. OK, full disclosure here. I grew up in Berkeley, attended pretty much every Cal home game between 1994 to 1999. Witnessed the one Mariucci season in '96 (still have nightmares about the Pat Barnes fumble at Washington State) and the insufferable Tom Holmoe era. But I was never a huge Oski the Bear fan. Too subdued of a mascot. Looked like a glum professor who hadn't had his sweater ironed in 50 years. And he doesn't wear pants, which is perfect for Berkeley (I grew up there, so I can say that!) So Goldy Gopher gets my vote. He's goldier.
As for Minnesota, they did struggle against the Cuse, but the Air Force win is pretty solid in my book. The defense has been the big plus so far, especially the three linebackers (Nate Triplett, Lee Campbell and Simoni Lawrence). Triplett has gone from special teams all-star to major playmaker. The offense has struggled quite a bit, as Minnesota incorporates a new pro-style system under Jedd Fisch. It's a pretty dramatic departure from what they did the last two seasons, and it has taken a bit of time to click. Quarterback
Adam Weber
has loads of experience and can be effective when he limits interceptions, and
Eric Decker
is a freaking stud. Might be the best wide receiver in America that no one talks about. The problem is Minnesota hasn't found many weapons other than Decker. The Gophers need to spark their rushing attack behind
Duane Bennett
and
DeLeon Eskridge
and hope a No. 2 wide receiver emerges, possibly speedster Troy Stoudermire.
I saw Cal is flying in Thursday for the game. Will the Bears be ready to play this time around for a 9 a.m. Pacific kickoff, and can anyone slow down
Jahvid Best
and
Shane Vereen
? How has
Kevin Riley
looked so far?
| | |
| --- | --- |
| | |
| | Paul Jasienski-US PRESSWIRE |
| | Cal QB Kevin Riley ranks eighth in the nation in pass efficiency. |
TM
: Gosh, Cal coach Jeff Tedford HATES being asked about the 9 a.m. PT kickoff, because that was the prime excuse for the Bears' terrible effort last year at Maryland, an excuse, by the way, that Tedford has rejected from the get-go. Still, it's obvious he's doing everything he can to get his team ready for the early start, changing his previous plan and flying in on Thursday.
As for Best and Vereen, they are a great combination for sure. Best is going to make a play or two, mostly because he always does. The question is whether he can be such a bothersome threat that he forces Minnesota to load up the box. If that happens, a much-improved Kevin Riley and a receiving corps that has grown up could make big plays down field. Riley ranks eighth in the nation in pass efficiency and has yet to throw a pick, so he's started off as a completely different quarterback from the guy who was so inconsistent last last season.
The big issue for Cal is playing on the road: They've lost four in a row on the road. Moreover, they've not been challenged by a team so far that can approach them physically. Minnesota will be a far tougher test, and we just don't know whether Riley and the Bears can maintain their cool efficiency away from Berkley.
As for the other game: Iowa seems to have righted itself with the big win over Iowa State. But Arizona has a fast defense. Can quarterback
Ricky Stanzi
and running back
Brandon Wegher
lead an effective attack against the Wildcats?
AR
: As I like to say, Stanzi is the Manzi. Actually, Stanzi has been inconsistent throughout his time as the starter, mixing big plays with too many picks. But he has more targets this year with
Derrell Johnson-Koulianos
, Tony Moeki,
Trey Stross
and
Marvin McNutt
. The running game has been a bit messy this year because of departures (Shonn Greene) and injuries (
Jewel Hampton
,
Jeff Brinson
).
Brandon Wegher
likely would have redshirted but stepped up big last week. He and another freshman,
Adam Robinson
, will get most of the carries Saturday. It's rare to see Kirk Ferentz play so many young players, but these guys seem up to the task. The offensive line could be without star left tackle Bryan Bulaga (illness) again, so those two speedy Arizona pass-rushers will have their ears pinned back for sure.
Let's talk about the Wildcats offense. How good is
Nic Grigsby
and does Arizona have a passing game to complement the nation's second leading rusher?
TM
: Grigsby is off to a fast start, but the Iowa defense will offer a far tougher test than Central Michigan and Northern Arizona. Also, Grigsby had some fumbling problems a year ago -- he got benched a couple of times and capable back
Keola Antolin
took over -- but that has yet to be an issue in 2009. My guess is the Hawkeyes load the box, gang up on Grigsby and will dare Arizona's new quarterback, sophomore
Matt Scott
, to pass, which is never easy on the road.
And therein lies a huge issue for this game. Arizona's best player, tight end
Rob Gronkowski
, is out with a back injury. Gronkowski is a beast. More than a few folks in the Pac-10 believe he's every bit the player that Oklahoma's
Jermaine Gresham
is. Think having a 6-foot-6, 265-pound safety valve would help a young QB? It also doesn't help that No. 1 receiver
Delashaun Dean
has been slowed by a hamstring injury, though he will play.
So, the Wildcats passing game, with Scott making his first road start, is a huge question.
Speaking of road games, seems like all the Big Ten owns home field advantage in all these matchups with the Pac-10 ... no fair. But, seriously, which place will be more difficult for a visitor from the West Coast? I love Minnesota's new digs but I've heard a lot about pink bathrooms and the nutty horde at Kinnick Stadium.
AR
: Well, you guys do have this game called the Rose Bowl. If memory serves, it's in Pac-10 country. Like in USC's backyard. That reminds me, Ted, can you find a way to make sure the Trojans don't go to Pasadena this year? The Big Ten would like a break from the Trojans after all these years of punishment. I stayed on the same floor as Pete Carroll last week in Columbus but forgot to ask him myself. Let me know what they say over at Heritage Hall. Thanks, dude.
| | |
| --- | --- |
| | |
| | AP Photo/Charlie Neibergall |
| | Ricky Stanzi has passed for 439 yards and five touchdowns so far this season. |
TCF Bank Stadium is pretty freaking awesome, and I'm excited to see the finished product in person. But I'd have to go with Kinnick Stadium as a tougher place right now. Iowa always sells it out and the fans are right on top of the field. It's a tremendous atmosphere, one of my favorites in the league. The early start time at Minnesota could be tougher for a Pac-10 team, but Kinnick definitely is less hospitable.
OK, prediction time. Who you got in Minnesota-Cal? Arizona-Iowa?
TM
: Rose Bowl in Detroit, which is beautiful in midwinter!
I don't think anyone wants to see USC in the Rose Bowl again -- even USC's fans and players. The Trojans, however, wouldn't mind being in Pasadena again this January, if you catch my drift (nudge, nudge).
As for the predictions: For folks who read the Pac-10 blog, they know I've been advocating Cal as the team that might challenge USC's seven-year run atop the conference. They also know that for weeks I've been ranting about how underrated Arizona is.
So I've got pick a road warrior weekend for the Pac-10.
Let's say: Cal 35-21
And: Arizona 24-21.
Now, for the pick you should take to Vegas ...
AR
: Call me a homer, but I've got to go with Cal. Minnesota has really struggled to make plays on offense, and while the Gophers' defense looks much improved, it'll be hard to contain Best and Vereen for 60 minutes and keep Cal off the scoreboard. Minnesota will have its crowd going and should keep things relatively, close, but I have Cal winning by 11, 34-23.
We'll probably see a defensive struggle at Kinnick Stadium. Iowa's defense is always solid under Norm Parker, and the front seven should prevent Grigsby from going nuts. I think Iowa got its mojo back last week and pulls this one out, 21-17 Hawkeyes.
March, 25, 2009
3/25/09
12:46
PM ET
Posted by ESPN.com's Adam Rittenberg
I'm still decompressing a bit from my trip to Minneapolis for football and hoops. The Big Ten tour continues next week at Wisconsin.
In honor of the Gophers, welcome to Linkytown.
"All jobs are open to anyone who wants to take one," head coach Danny Hope said. "That's going to be fun."
October, 28, 2008
10/28/08
12:52
PM ET
Posted by ESPN.com's Adam Rittenberg
| | |
| --- | --- |
| | |
| | Frank Victores-US PRESSWIRE |
| | DeLeon Eskridge is one of several freshmen making an impact for the 7-1 Golden Gophers. |
As the head coach of arguably the nation's most opportunistic team, Tim Brewster knows that timing and momentum can be everything in college football.
Brewster has a good thing going at Minnesota right now. The Gophers are 7-1 and ranked 17th in the BCS standings after a historically bad 1-11 season in 2007. Their new outdoor, on-campus facility, TCF Bank Stadium, is set to open next September. They have a ton of talented underclassmen. The enthusiasm around the program is building at a rapid rate.
Minnesota's next phase seems clear. Accelerate and improve recruiting. Go after the top prospects while the team is winning. Canvass the state for top talent and tap into familiar spots like Texas and California.
Slam on the gas.
Thing is, when it comes to recruiting, Brewster has always been ahead of the curve. If there was a sixth gear, he would have found it.
"You seize every moment that you can," Brewster said, "but also understanding that we recruited at an extremely high level last year. Recruiting is something that really doesn't change with us, regardless of the now, the moment. We're going to recruit 24-7, 365. That's just kind of our thing."
October, 12, 2008
10/12/08
2:00
PM ET
Posted by ESPN.com's Adam Rittenberg
Week 7 had a bit of everything: surprise, shock, disappointment and domination. Here are five lessons from the week that was in Big Ten football.

1. Penn State should be in the national title discussion -- Their starting quarterback has been questioned. Their defensive depth has been questioned. Their road toughness has been questioned. But all the Nittany Lions do is continue to provide answers. They recorded a benchmark blowout of Wisconsin on Saturday night at Camp Randall Stadium, handing the Badgers their worst loss since 1989. Head coach Joe Paterno spent his second consecutive game in the press box and watched his team destroy the Badgers with aggressive offensive play-calling, hard-hitting defense and polished special teams. Few FBS teams have been as consistently dominant as Penn State, which validated itself as a national championship contender.
2. The Gophers are back -- A year after going 1-11 and setting team records for futility on defense, Minnesota became bowl eligible on Oct. 11. The impressive about-face was capped by a signature road win against Illinois, the alma mater of Gophers coach Tim Brewster. Behind first-year defensive coordinator Ted Roof, Minnesota forced three Illini turnovers, including a Juice Williams fumble that Simoni Lawrence returned to the end zone for the decisive touchdown. Senior defensive end Willie VanDeSteeg turned in a dominating performance as the Gophers locked up their first Big Ten road win since 2006.
3. Misery at Michigan -- Coach Rich Rodriguez's attempt to challenge his players by calling their previous performance "soft" clearly didn't work, as a team loaded with inexperience and the wrong type of personnel suffered one of the worst losses in program history. Michigan's sputtering spread offense imploded against 1-4 Toledo, and the Wolverines suffered their first defeat to a Mid-American Conference team in 25 tries. At 2-4, Michigan needs a miracle to avoid its first losing season since 1967. This is beginning to look a lot like Notre Dame of 2007.
4. Michigan State has turned a corner in October -- College football's biggest tease has found a new identity behind second-year coach Mark Dantonio. A Spartans team prone to September surges and October collapses turned in a near-spotless performance against mistake-prone Northwestern, winning its sixth straight and setting up a huge matchup Saturday against Ohio State. Dantonio has instilled greater discipline on both sides of the ball, and Michigan State is cashing in on its opponents' errors instead of the other way around.
5. Big Ten title could be decided in the next two weeks -- Minnesota could continue to surprise everyone, but it seems as though the league's top three teams (Penn State, Ohio State and Michigan State) have separated themselves from the pack. The next two Saturdays should reveal a lot, as Ohio State visits East Lansing after an unimpressive showing against Purdue. Penn State then visits Columbus, where it has never won as a Big Ten member. Should both the Spartans and Nittany Lions survive, the championship could come down to their meeting Nov. 22 in Happy Valley.
October, 12, 2008
10/12/08
10:52
AM ET
Posted by ESPN.com's Adam Rittenberg
It's time to recognize some of the Big Ten's best and brightest after a fascinating day of football.

Minnesota DE Willie VanDeSteeg -- The Gophers' junior college transfers have undoubtedly helped a new-look defense, but VanDeSteeg is setting the tone up front. After playing last season with a broken bone in his wrist, VanDeSteeg is proving that when healthy, he's one of the Big Ten's top pass rushers. VanDeSteeg recorded three sacks in the road win at Illinois, forced the Juice Williams fumble that Simoni Lawrence returned for a touchdown, and hit Williams as he threw a pass that Ryan Collado intercepted.
Penn State DE Aaron Maybin -- The sophomore has established himself as the Big Ten's top young pass rusher. Maybin, who entered the night with the Big Ten sacks lead, racked up another sack and 3.5 tackles for loss as Penn State stomped Wisconsin at Camp Randall Stadium. He forced two fumbles, including one just before halftime that set up Penn State's cleat-in-the-throat touchdown. Maybin leads Penn State and is tied for the league lead in tackles for loss with 12.5 this season.
Iowa RB Jewel Hampton -- Shonn Greene has been as consistent as they come, but Iowa boasts another ball-carrying option. Hampton, a true freshman, had 22 carries for 114 yards and three touchdowns in Iowa's much-needed rout of Indiana. Hampton set career highs in all three categories and became the first Iowa player to score three touchdowns in a game since tight end Tony Moeaki on Sept. 8, 2007.
Michigan State QB Brian Hoyer -- The oft-criticized senior epitomized Michigan State's mistake-free performance at Northwestern. Hoyer made Northwestern respect the passing game and completed 14 of 20 passes for 169 yards and two touchdowns. His ability to manage the game and capitalize on Wildcats mistakes helped the Spartans win their sixth consecutive game and vault into league title contention.
October, 11, 2008
10/11/08
3:50
PM ET
Posted by ESPN.com's Adam Rittenberg
What a wild day in the Big Ten so far. Minnesota is back, Iowa might be on its way, Michigan looks down and out and Illinois can officially be labeled overrated. You've got to love the unpredictability of college football.
I'm about to head over to Camp Randall Stadium, but here are my thoughts on what has transpired in the Big Ten so far Saturday.
MINNESOTA-ILLINOIS
It seemed fitting that Minnesota sealed a defining road win against Illinois with big plays on defense. The Gophers' transformation behind first-year defensive coordinator Ted Roof has been truly stunning, as Illinois found out today. Defensive end Willie VanDeSteeg was draped over Illini quarterback Juice Williams all game long, and Simoni Lawrence scored what turned out to be the decisive touchdown. Illinois took too long to get its big-play offense going, and Williams' tendency to hold the ball in the pocket ended up hurting him on two fourth-quarter turnovers. Kudos to second-year coach Tim Brewster for bringing in the right type of talent to engineer a quick turnaround.
TOLEDO-MICHIGAN
Michigan coach Rich Rodriguez has not done well, despite his sparkling track record, in his first season at a new school. The troubling trend has continued, and Michigan suffered the worst loss in recent team history to Toledo, which came into the game at 1-4. Folks, this is worse than Appalachian State. The Wolverines entered the game with a 24-0 record against MAC teams, and Toledo's lone win had come against Eastern Michigan. Michigan's quarterback situation is a complete mess, with neither Steven Threet nor Nick Sheridan having any kind of success against the Rockets. Rodriguez has to stick to the system he believes in, but he should consider playing to his quarterbacks' strengths.
IOWA-INDIANA
Well, the Hawkeyes finally figured it out. This was a much, much better team than its 3-3 record indicated, and Iowa executed in all areas to pound Indiana 45-9. The Hawkeyes now boast a legit two-headed rushing attack, as freshman Jewel Hampton has joined junior Shonn Greene as a backfield threat. Both Hampton and Greene eclipsed 110 rushing yards against a soft Hoosiers defense, and Ricky Stanzi had an efficient, intelligent performance. But this game was won on the defensive side, as Iowa's ferocious front four contained Hawkeye-killer Kellen Lewis. Indiana continues to give away the football and really misses big-play wideout James Hardy.
September, 23, 2008
9/23/08
12:20
PM ET
Posted by ESPN.com's Adam Rittenberg
No one would have blamed Tim Brewster or his players for turning their attention to Ohio State as soon as they left the Metrodome field Saturday afternoon.
The way the Gophers dominated Florida Atlantic, they could have started scheming for Terrelle Pryor and the possible return of Chris "Beanie" Wells early in the fourth quarter of a 37-3 romp.
| | |
| --- | --- |
| | |
| | AP Photo/Paul Battaglia |
| | Marcus Sherels is part of a secondary that has racked up six interceptions and 23 pass deflections. |
But Minnesota wasn't just another BCS team polishing off a fairly negotiable nonconference slate before getting its first major test in league play. In four weeks, the Gophers quadrupled their wins total from all of last season, Brewster's first as head coach.
The nation's worst defense in 2007 has become an opportunistic bunch of talented junior college transplants and holdovers who have upgraded their play. The offense has surged behind quarterback Adam Weber and Eric Decker, limiting mistakes and putting up points in Year 2 of the Spread Coast system.
For the Gophers to gloss over these accomplishments, regardless of the competition, would be a disservice to their fans and themselves.
"As coaches and players, we don't do a good enough job of savoring victory," Brewster said Monday. "We had a great victory over a really good football team on Saturday, and I wanted to make sure our players savored the victory."
So Minnesota celebrated Saturday before reconvening Sunday. Players went through their running and lifting. Then they studied the Florida Atlantic film and made corrections.
"Once we had all of that done," Brewster said, "we started talking about Ohio State."
The Gophers open Big Ten play on Saturday with a visit to the 14th-ranked Buckeyes. But before breaking down the matchup, here's a look at the reasons behind Minnesota's 4-0 start after a 1-11 clunker in 2007.
IMPROVED TURNOVER MARGIN
The Gophers were far too generous last season and ranked 114th nationally in average turnover margin (minus-1.25). This fall, Weber and the offense have safeguarded the football. More important, the defense is consistently taking it away.