November, 5, 2012
11/05/12
11:00
AM ET
MANHATTAN, Kan. -- Three games remain on the schedule, and until the win column reads 12, the comparisons will be inevitable.
Kansas State receiver
Tyler Lockett
says the Wildcats have to "act like we've been here" before.
But the only man who has? Coach Bill Snyder.
Kansas State has been on what linebacker
Arthur Brown
called a "magic carpet ride" before, but it was all the way back in 1998. That dream season turned into a nightmare when Texas A&M's Sirr Parker broke loose for a winning touchdown in double overtime that sent the Wildcats tumbling from the national championship game to the Alamo Bowl, which it lost.
[+] Enlarge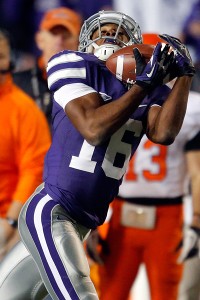 Bo Rader/Wichita Eagle/MCT via Getty ImagesTyler Lockett and the Kansas State Wildcats vow to remain focused on the task at hand.
"I know college football has changed dramatically," Snyder said. "I could hardly find Fox or CNN. Everything is football all day long, and if we were having a world war, I wonder, it'd probably still be all football."
Since then, the Wildcats have never been this close to getting their paws on the crystal trophy. Alabama? It's been a whole 10 months since it won a national title. Even undefeated Oregon reached the BCS National Championship Game in 2010.
The Wildcats? They're the new guys and have to deal with mounting pressure unlike anything they've ever experienced.
"It can be [distracting]," Snyder said. "I'm proud of our guys, because I think the young guys have been able to hold up under that, because it increases, and then all the noise becomes a bit more enhanced."
The Wildcats might have to maneuver without Heisman Trophy front-runner
Collin Klein
, who missed much of the second half Saturday with an undisclosed injury. But most around the program were optimistic that Klein would return this week against TCU.
The noise is hardly deafening yet, and Kansas State's path to an undefeated season is clear, although Alabama, Oregon and Notre Dame will also have a say in the national championship picture.
No blockbuster games or epic showdowns await. Just three games against teams Kansas State should clearly outperform. Play well, and the record will speak for itself. Slip up, and K-State will join the 2011 Oklahoma State team as a group that came oh-so-close but wasn't good enough.
"We're focused on us because you don't want to get caught up in all of that stuff," Lockett said, admitting he'll peer at the BCS standings on Sundays. "They throw out different scenarios. As long as we just focus on us and take one game at a time like we've been doing from day one, we'll be OK."
The results have been favorable. K-State survived tight games with Iowa State and Oklahoma, but the Wildcats haven't needed any late-game heroics or survived any real scares that required fancy footwork to escape.
"I want to believe the guys have handled it well," Snyder said. "I think they probably have had a few occasions where that hasn't been the case, but very, very limited to my knowledge. I don't know truly what goes on in the mind of a young person, or an old person for that matter, but they seem to handle themselves in a way that I would be proud of."
First is a trip to TCU this week, followed by a trip to Baylor and a bye week before Kansas State hosts Texas on the season's final weekend. The pressure will build, but the task ahead is to continue to do what it's done in the midst of noise that will become louder and louder and the pressure heavier and heavier.
"We were not paying attention to it when we first started, and we're not paying attention to it now, because the thing is, things are going our way now, but we've got to be able to continue to do what got us here," Lockett said. "We don't want to settle, because we haven't done anything yet. We haven't proved anything. I think we still have things to prove. We've got three games left, and who knows what's going to happen these next three games?"
November, 2, 2012
11/02/12
6:51
PM ET
Thanks for all the emails this week.
Here's where you can reach me
if you've got more to say. Let's get to this week's mail!
Jeremy in Junction City, Kan., writes:
Hey Ubbs, I got a quick question for you, and i really hope its a good enough question for you to answer, what is your view or thoughts about if Oregon cannot beat there ranked opponents as convincingly as k state has beat there's (like if they only won by 3 points as an example, and if there not in the top 15 either) do you possibly see some eye-voters changing their minds? Thanks Ubbs, or shal; I say "Ubbtimus Prime". -Jeremy-
DU:
It's definitely possible, but Oregon will definitely have better wins down the stretch. It could get a big win on Saturday against USC, and if that happens, there's no way the Wildcats get the jump this week. The computers love K-State, and the Wildcats have the edge in the schedule department. Voters tend to look at the most recent results, and if Oregon State still has one loss when it faces Oregon and the Ducks win that game by 10, I doubt many voters will remember how badly K-State beat Texas Tech and West Virginia. If Tech and WVU win games down the stretch and get back into the top 10, it's definitely possible, but I'm not betting on it.
Still, it should be enough for K-State to hang on to the spot ahead of Oregon in the BCS. For my money, Notre Dame will be a much bigger problem, right or not.
---
Daniel Otto in Lincoln, Neb., writes:
If you were a K-State fan who would you be rooting for in the Ala/LSU game?
DU:
This one is all too simple, Daniel. All this bunk about a one-loss SEC team getting to the national title game ahead of an undefeated Oregon, K-State or Notre Dame? That's just insanity. It could happen to Louisville, but the idea that Bama or LSU could get in ahead of those other three is just silly.
That said, you most certainly want all the undefeated teams to lose. That means you need to be cheering hard for LSU. Additionally, if LSU wins, the SEC would all of a sudden be all but out of the national title race. If Bama or LSU is going to get back in, two of the three undefeated teams would need to lose down the stretch.
So, K-State fans, no doubt: Fire up your "Geaux Tigers" chants for Saturday night during the game against Oklahoma State.
---
Cyclones in Everywhere writes:
Thank You
Jake Knott
. You mean so much to all of Cyclone Nation. You will never be forgotten.
DU:
Absolutely. I saluted Knott in my Friday Four Downs today, but you can't say enough about the guy. I see you,
Collin Klein
. For my money, though, Knott is the toughest player in the Big 12 and one of the toughest we've seen in a long time. He's Iowa State through and through and played through so many injuries, including popping his shoulder back into place twice against Baylor last year and playing all game. The guy was unstoppable.
My favorite Knott story, though, is when he broke his arm earlier in his career during spring practice. He broke it one day, had the surgery the next morning and that afternoon, he had his mom drive him out to practice before he'd even gone home.
Not only was he tough, but he truly loved his teammates and being a Cyclone. Knott was the absolute best of what we see in college football.
---
Kevin Vondemkamp in Rosa Linda, Calif., writes:
David, Love the Aurthur Brown / Predator reference :)How does he compare stat wise against the ND LB Heisman hopeful...is he that far off?Kevin
Scott in Manhattan, Kan. writes:
Explain something to me Ubbs, why is manti te'o getting so much love for Heisman contention?Is he really that much better than
Arthur Brown
, or
Jarvis Jones
?If he is then why do major draft boards have Jarvis being drafted before te'o?It's just media bias at it's finest. If ESPN wants to plug a defensive player for a Heisman contender they should actually give props to the best defender in the nation Jarvis Jones.
DU:
I hear you, Scott, and I agree that Jarvis Jones is the best player of the three, but he also missed a pair of games and was slowed in one. That's enough to take you out of what's a tough, tough race.
As for Brown and Te'o, you can't compare defensive numbers across the board, but here's a look:
Arthur Brown:
60 tackles (35 solo)
6 tackles for loss
One sack
Two interceptions, one returned for a touchdown
Three pass breakups
Manti Te'o:
80 tackles (39 solo)
4.5 tackles for loss
one sack
Five interceptions
Three pass breakups
One fumble recovery
So, statistically, there you have it. Te'o obviously has the big plays in the passing game which I think have earned him the most recognition, but he's also been in on the mix in a lot more tackles. Twenty is a ton.
---
Pete in Frisco, Texas, writes:
You stated that the Crabtree catch against Texas to win the game a few years ago was the best play in Big 12 football history. I think it was an awesome play, but disagree on the best in the history of the conference. While Crabtree's catch was to win a conference game, Sirr Parker from A&M caught a pass in the 98 Big 12 Championship game to win the Conference Title. That catch was in overtime and knocked Kansas State from the national championship discussion. Wouldn't you agree that would be the best play in Big 12 football history to decide a Conference champion on the last play of an OT game?
DU:
It's definitely close, Pete. When you talk about the best plays in Big 12 history, those two are up there. Vince Young's fourth-down scramble to win the title in 2005 is on the list, too, but I don't know if you can really count that as a Big 12 play, considering it was in a bowl game. Still, those three are sort of the league's triumvirate.
I give the edge to Harrell and Crabtree, though, because of a) the risk. It was a tie game. Throwing that ball was a huge risk, but Crabtree made the catch and slipped out of Chykie Brown's tackle instead of going out of bounds like just about every other player might have. Additionally, what a risky play call. How many coaches besides Mike Leach throw a ball to the opposite sidelines with so little time left and no timeouts?
Additionally, beating Texas -- and that Texas team especially -- was something special. Kansas State was a great team, but everybody in the Big 12 knows there's a little something extra these days when you beat Texas or Oklahoma. Texas Tech did it at home in one of the most hyped games in school history, and did it to stay undefeated and keep its national title hopes alive. That game made people take Tech seriously as a title contender (even though Oklahoma unraveled it shortly after).
Parker's catch and run was awesome, but if he gets tackled instead of getting into the end zone, the odds are still high that A&M wins that game. Parker's play is exciting and much more memorable than, say, Iowa State's
Jeff Woody
scoring from a couple yards out on a zone-read to beat Oklahoma State last year.
No question: Parker and Young's plays challenge Harrell-to-Crabtree, but the skill, risk and scene give that play the edge for me.
August, 17, 2009
8/17/09
9:15
AM ET
Posted by ESPN.com's Tim Griffin
It's the player, school or coach that "done you wrong" once upon a time -- or maybe even repeatedly.
These figures resonate through the years for rival schools, providing an enemy that serves as a unifying element for hatred from fans of a rival school.
Here's a list of Big 12 villains over the years, both historic and present. Take a good look at the grouping and see if you have any recommendations of players or coaches I might have missed.
I'd be curious to see if any coaches or players spark greater antagonism than the ones I've selected.
Baylor Bears
Current villain: Texas coach Mack Brown, who's gone 11-0 against them with no signs of stopping.
All-time villain: Former Baylor coach Kevin Steele. His decision to try to ram in a statement touchdown against UNLV in 1999 blew up in his face like an exploding cigar when Darrell Bush fumbled and Kevin Thomas raced 99 yards for a touchdown on the final play of the game. That play snatched a sure victory from the Bears, making Steele and the Bears the laughingstock of college football. His program never recovered from that moment.
Colorado Buffaloes
Current villain: Wyoming coach Dave Christensen, who piled up 106 straight points against the Buffaloes in the last two seasons while offensive coordinator at Missouri, beating them by a combined 113-10 margin. The Buffaloes will have a chance for payback this season when Christensen brings a less-talented Wyoming team to Boulder.
All-time villain: Nebraska coach Tom Osborne directed the Cornhuskers to a career record of 21-3-1 against the Buffaloes during his coaching stint from 1973-97.
Iowa State Cyclones
Current villain: Kansas quarterback Todd Reesing has thrown seven career TDs against the Cyclones and beaten them twice, including last season's dramatic 35-33 comeback victory.
All-time villain: Iowa coach Hayden Fry, whose homespun witticisms weren't that funny for Cyclone fans when he was winning 15 straight against them from 1983-97.
Kansas Jayhawks
Current villain: Nebraska DT/FB Ndamukong Suh who beat the Jayhawks with a memorable offensive and defensive performance last season and is back for more in 2009.
All-time villain: Kansas State coach Bill Snyder beat the Jayhawks 12 of his last 13 seasons in his first coaching run, including a nine-season streak where he rolled up 41, 38, 48, 54, 50, 52, 40, 64 and 42 points in consecutive blowout victories.
Kansas State Wildcats
Current villain: Kansas running back Jake Sharp grew up only 61 miles from Manhattan in nearby Salina, but has abused them since arriving at college. He's tormented them with five career touchdowns, including four last season.
All-time villain: Texas A&M running back Sirr Parker, whose dramatic game-winning touchdown in overtime snuffed out the Wildcats' national-title hopes in 1998.
Missouri Tigers
Current villain: Oklahoma quarterback Sam Bradford has beaten the Tigers in the Big 12 title game each of the last two seasons, ruining their hopes for a first Big 12 title.
All-time villain: Colorado coach and former Missouri grad and assistant Bill McCartney should have been magnanimous after getting a gift victory over the Tigers en route to a shared 1990 national title. Instead, he sparked hostility among his old friends by ripping Faurot Field's "treacherous" playing field.
Nebraska Cornhuskers
Current villain: Missouri quarterback Chase Daniel talked a lot of smack and then backed it up by beating the Cornhuskers in each of the last two seasons. And after orchestrating a 52-17 victory in Lincoln last season, he raised the hackles of Cornhusker fans by complaining about Nebraska players spitting on him. He'll be gone this season, but definitely not forgotten among Cornhusker fans.
All-time villain: Oklahoma. Even though the rivalry was marked by immense respect on both sides -- imagine Barry Switzer doing Nebraska television commercials and endorsing Nebraska gubernatorial candidate Tom Osborne -- the Sooners' domination was a constant source of irritation for the Cornhuskers. Oklahoma claimed 16 straight from 1943-59 and beat Osborne in eight of his first nine games against them.
Oklahoma Sooners
Current villain: Those pesky BCS bowls. The Sooners have lost five-straight BCS games, stripping coach Bob Stoops of much of his national stature that should have been gleaned from an unprecedented three-straight Big 12 titles.
All-time villain: Darrell Royal represented the ultimate turncoat to Sooner fans after starring at the school from 1946-49 as a record-setting quarterback and defensive back. His 12-7-1 career record against the Sooners included eight straight victories and 12 of his 14 games against them that made his old friends despise him.
Oklahoma State Cowboys
Current villain: Texas coach Mack Brown, who has run off an 11-0 record against them. Worse, four of those victories were by four points or less, including the last two games.
All-time villain: Oklahoma. The cross-state rivals have turned the "Bedlam Series" into a one-sided affair with a 74-16-7 edge. Since Josh Fields orchestrated back-to-back upsets in 2001-02, Stoops hasn't called off the dogs in six-straight victories, exploding for 52, 38, 42, 27, 49 and 61 points.
Texas Longhorns
Current villain: The Big 12's tiebreaker rules. Texas fans are still lamenting the national-title shot that got away last season, despite beating Big 12 title game participants Oklahoma and Missouri.
All-time villain: Jackie Sherrill. He beat them regularly at Texas A&M and continued his success at Mississippi State. Even worse, he fired up his team before that 1991 victory by castrating a steer and then crowed about it after his Texas-taming success. Even more than Barry Switzer, Longhorn fans hate Sherrill.
Texas A&M Aggies
Current villain: Texas Tech coach Mike Leach. He's beaten them seven of nine games, including four straight. And he's gigged them by mocking their traditions, their coaching, their quarterbacks, everything but "The Dixie Chicken."
All-time villain: Texas. All things burnt orange set off Aggie fans -- with good reason. Their team has been dominated by the Longhorns in the school's longest rivalry. And how much of a Texas fixation do the Aggies have? The second verse of the Aggie War Hymn is essentially all about Texas.
Texas Tech
Current villain: Missouri coach Gary Pinkel. Nobody in the conference does a better job of rolling up points or handcuffing Tech's offense than his Tigers, who have averaged 47 points and won by an average of 26.3 points per game during recent three-game winning streak in the series.
All-time villain: Texas A&M. Aggie fans chap Red Raider followers by claiming the game isn't a rivalry. Mike Leach has made it seem one-sided in recent seasons. But look closely enough and you'll find it's not unusual to see the A&M logo
adorning urinals in several bars in Lubbock. Isn't that the best sign of antipathy there is?
November, 2, 2008
11/02/08
12:55
PM ET
Posted by ESPN.com's Tim Griffin
1. Michael Crabtree's game-winning touchdown grab was simply the greatest play in the history of the Big 12 Conference. You can have Vince Young's run through the USC secondary.
Or Matt Davidson's kicked pass reception against Missouri. Or even Sirr Parker's catch-and-run against Kansas State. But Crabtree's dramatics trumped them all. People will be watching replays of the play and talking about where they were when Crabtree's grab took place for a long, long time. And I think a pretty good argument can be made that Texas Tech's classic 39-33 victory over Texas was the greatest game in Big 12 history, too. Colt McCoy's near-comeback after all of his early struggles. All of the wacky field goals by Matt Williams and Donnie Carona. The late heroics by Crabtree and Harrell after Blake Gideon's dropped interception on the previous play. Tech fans storming the field and forcing their team to kick from its 7½ yard line on the final play of the epic game. Tech's first victory over a No. 1 team in school history. In my mind, it's pretty tough to beat all of that.
2. Texas Tech's comeback Saturday night just means that we will likely have a November to remember around the Big 12. Texas would have taken a giant step to its first South Division title since 2005 if it would have held on. But instead, it all sets up very nicely for another run of potentially great games the next several weeks. We'll have Oklahoma State-Texas Tech next week, followed by Texas-Kansas on Nov. 15, Texas Tech-Oklahoma on Nov. 22 and then Texas A&M-Texas and Oklahoma State-Oklahoma on the final weekend of the season. It should be fun to watch it play out.
3. After watching Jake Sharp knife through the Kansas State secondary as a runner and as a receiver, I've got to wonder why Mark Mangino ever benched him in the first place. Sharp is one of the most productive combination backs in college football. It's hard to believe that he totaled 86 rushing yards and four receptions during the Jayhawks' first four games. Maybe Mangino was just saving him for conference play. But his recent emergence is the biggest reason why the Jayhawks are sitting in a tie for first place for the North Division lead.
4. Bo Pelini's emotion-charged decision of barring his players from talking to the media after their blowout loss in Oklahoma was a wrong one of make. Sure, the Nebraska coach was angry and agitated with his team's struggling performance. He obviously felt his team wasn't emotionally ready to compete. But a better punishment than keeping them away from the media would have been to make them come out and explain their actions. Pelini actually let them off the hook.
5. Heralded Colorado recruit Darrell Scott will get his chance now. Scott popped off to reporters after the Buffaloes' loss to Texas A&M that he wanted more chances to carry the ball. After leading rusher Rodney Stewart broke his right leg Saturday, Scott should be used more by coach Dan Hawkins. Scott showed some promise after Stewart's injury with a season-best 66 yards. He'll need much more if the Buffaloes have any legitimate hopes of winning two games during the rest of the season to qualify for a bowl game.
October, 9, 2008
10/09/08
1:47
PM ET
Posted by ESPN.com's Tim Griffin
It remains one of the most memorable football games in the Big 12's short history.
Back in 1998, the facility in St. Louis still was known as the The Trans World Airlines Dome. And the conference's championship game there was as good as any I have ever seen.
Kansas State was playing for a shot at the national championship game. And that became a tangible goal when Miami upset UCLA midway through the game, opening that opportunity for the Wildcats.
With players like Michael Bishop, Mark Simoneau, Darren Howard, David Allen and Travis Ochs, that KSU team was loaded. But somebody forgot to tell the underdog Texas A&M Aggies and particularly backup quarterback Branndon Stewart.
The Aggies stormed back to claim victory in overtime when Sirr Parker scored on a game-winning 32-yard touchdown pass from Stewart. I still think I can hear A&M play-by-play announcer Dave South's call ringing in my ears from that play.
But what a difference nearly 10 years makes. The matchup Saturday at Kyle Field between the Aggies and Wildcats might be between the two worst teams in the Big 12. Brent Zwerneman of the San Antonio Express-News does a nice job of tracking down some former A&M players for their recollections of the title game.
There are a couple of reasons why both schools have fallen on hard times. The departure of legendary KSU coach Bill Snyder has been the major explanation of why the Wildcats haven't been able to consistently continue success in recent seasons. KSU won a Big 12 title with Snyder in 2003, but have been to only one bowl game under Ron Prince. And it might be a stretch for them to make another bowl trip this season.
And A&M's slide can be best explained by the emergence of national-caliber programs at both Texas and Oklahoma in the years since then. And in retrospect, the firing of R.C. Slocum might have been a tad hasty. Slocum remains the only A&M coach to lead his team to a Big 12 football championship -- or a title game for that matter.
Here are some other links that should make your lunch tastier.
August, 1, 2008
8/01/08
1:10
PM ET
Posted by ESPN.com's Tim Griffin
The Big 12's short history has been dotted by key performers with a knack for making the big plays. Here are 10 of the most notable. I'd be curious to know if anybody has any other thoughts as well.
* Texas QB Major Applewhite (1998-2001) His mettle was shown in his freshman season when he led a comeback at Nebraska, snapping the Cornhuskers' 47-game home winning streak. And he wrapped up his career by leading Texas back from a 19-point deficit late in the third quarter in a comeback triumph over Washington in the Holiday Bowl in his final game.
* Kansas State QB Jonathan Beasley (1996-2000) Not nearly as flashy as his predecessor, Michael Bishop, but Beasley just had a knack for producing in key situations. He became the only quarterback in school history to lead the Wildcats to back-to-back bowl victories, but he's more remembered for leading the Wildcats for a game-winning touchdown in a driving snowstorm against Nebraska to clinch the 2000 North title.
* Colorado K Mason Crosby (2003-06) The most consistent clutch kicker in Big 12 history made 12 of 13 field goals in the fourth quarter, including a perfect 10 of 10 in the final 8 1/2 minutes of a game.
* Nebraska QB Eric Crouch (1998-2001) Big 12's career rushing leader among quarterbacks wrapped up the 2001 Heisman Trophy with dramatic 63-yard throwback pass from Mike Stuntz against Oklahoma, taking the Cornhuskers to the national championship game. But his 95-yard TD run against Missouri -- longest in league history by a quarterback -- showed some moxie.
* Iowa State NT Brent Curvey (2003-2006) Massive 295-pounder was one of the best run-stuffers of his era. But he also earned the nickname of "Big Play Curvey" with three career touchdown returns, including a dramatic 66-yard interception return as a senior that wrapped up a victory over Colorado in 2005.
* Texas Tech QB Graham Harrell (2006-present) Has a knack for bowl comebacks, leading the Red Raiders back from double-digit fourth-quarter deficits in the last two seasons. Included was a 24-point fourth-quarter comeback against Minnesota in the 2006 Insight Bowl.
* Texas A&M RB Sirr Parker (1995-98) Although hampered by injuries most of his senior season, he delivered a performance for the ages in the 1998 championship, scoring on a game-winning 32-yard TD pass from Branndon Stewart in overtime after earlier scoring a TD and a two-point conversion to tie the score in regulation.
* Missouri QB Brad Smith (2002-05) Started early by leading comebacks from his freshman season. He finished with his biggest clutch performance, directing the Tigers back from an early 21-0 lead in a 38-31 victory over South Carolina in the 2005 Independence Bowl.
* Oklahoma S Roy Williams (1999-2001) His leaping blitz helped cause an interception of Chris Simms that was returned for a touchdown by Teddy Lehman, sealing a dramatic victory over Texas in 2001. But he had a repeated flair for key plays throughout his career, helping earn him the nickname "Superman" while playing for the Sooners.
* Texas QB Vince Young (2003-05) Arguably the best clutch player in recent college football history, he had a knack for making big plays at key moments. He tormented Oklahoma State with comebacks, made Mark Mangino erupt after a fourth-quarter scramble and saved his best for last with a performance for the ages beating USC for the national title.