December, 30, 2012
12/30/12
2:12
AM ET
Pretty much everybody thought the Buffalo Wild Wings Bowl would be a low-scoring game, given the two outstanding defenses and the, uh, challenges facing the offenses. TCU and Michigan State lived up -- or down, depending on your point of view -- to expectations. But the finish was exciting.


The Spartans looked completely lost on offense for the first three and a half quarters, punting on each of their first eight drives. But they rode their workhorse, tailback
Le'Veon Bell
, and caught a big special-teams break in rallying for two late touchdowns and a 14-13 lead in the fourth quarter. The Horned Frogs answered on
Jaden Oberkrom
's 53-yard field goal with 2:42 left. But Michigan State won it
17-16
on a 47-yard field goal from
Dan Conroy
with 1:01 left.
Here's a quick review of how it all went down:
It was over when:
TCU's
Trevone Boykin
threw an incomplete pass on fourth-and-18 in the final minute, extinguishing the Horned Frogs' chances. After scoring 13 points on its first four possessions, TCU had just a field goal in its final nine drives. Michigan State's defense limited the Horned Frogs to just 74 yards in the second half.
Game ball goes to:
Michigan State's Bell. After a slow start, he carried the ball 32 times for 145 yards and a touchdown. He also threw a 29-yard pass out of the Wildcat formation to convert a key third down on the team's first scoring drive. He accounted for 174 of the Spartans' 227 total yards, which is nothing new. Bell finished the season with a nation-leading 382 carries.
Stat of the game:
Michigan State had as many punts (11) as pass completions and yet won the game. Bell had one more passing yard than starting quarterback
Andrew Maxwell
.
Unsung hero:
Speaking of punts, the Spartans'
Mike Sadler
was a busy man, and he did a great job. Sadler averaged 43.7 yards on his 11 punts and pinned three inside the TCU 20. He boomed a 52-yarder while backed into his own end zone in the second half. And his driving 55-yard punt inside the Horned Frogs' 5 sent returner
Skye Dawson
backpedaling. Dawson fumbled the punt, Michigan State recovered on the 4-yard line and Bell ran in for a go-ahead score.
What Michigan State learned:
After losing five games by 13 points this season, the Spartans looked like they were headed for another heartbreak when Oberkrom hit that 53-yarder. Instead, unlike so many previous games this season, Michigan State found a way to make big plays in all three phases in the final two minutes. The bowl win doesn't erase the disappointment of a 6-6 regular season, and the offense still looked cringe-worthy most of the night. But Mark Dantonio's team has something to build on with a positive closing note. The spring storyline is already set, as there's a quarterback controversy brewing. Freshman
Connor Cook
, who hadn't thrown a pass since Week 2, gave the team more of a spark than Maxwell. With two minutes left and his team needing a score to win, Dantonio turned to Cook, not the junior he'd started in all 12 games this season.
What TCU learned:
This was a rare off-year for Gary Patterson, whose team lost five of its final seven games. The good news is that the Horned Frogs are still extremely young and bring back just about everyone next year. Though facing Michigan State's offense probably seemed like a vacation compared to Big 12 play, TCU still showed that it has an elite-level defense. Improving on offense will be the key for next season. Quarterback Boykin made some big plays early but overthrew several receivers and was limping around late. He completed only 13 of 29 passes and threw an interception. He'll need to make great strides to compete with
Casey Pachall
next year, assuming a successful return for Pachall.
December, 29, 2012
12/29/12
12:30
PM ET
Three keys for Michigan State in tonight's Buffalo Wild Wings Bowl matchup against TCU:
1. Balancing act:
It has been the
Le'Veon Bell
show all season for Michigan State's offense, to the tune of a nation-leading 350 carries. The junior running back will be ready to be a workhorse again in what could be his final game in a Spartans uniform. But Michigan State needs to find other dimensions against a talented TCU defense to avoid the results we saw throughout the regular season. Junior quarterback
Andrew Maxwell
and his receivers have had more than a month to prepare and find the chemistry they had only in stretches this fall. It also would be nice to see offensive coordinator Dan Roushar open up the playbook a bit as the Spartans try to attack a TCU defense more vulnerable to the pass (52nd nationally) than the run (10th nationally). The Spartans really need more of a balanced offense to win this game.


2. Contain Boykin:
This isn't a great TCU offense -- 60th in points per game and 63rd in yards per game -- but the Spartans have to pay close attention to quarterback
Trevone Boykin
. The freshman had some predictable ups and downs after taking over for
Casey Pachall
in early October, but he had some very big performances (Baylor, Texas Tech) and limited mistakes after his first three starts. Michigan State can't let Boykin get comfortable and needs a strong performance from its defensive front seven. Junior end
William Gholston
had a breakout game in last year's bowl win over Georgia (five tackles for loss, two sacks). After a somewhat disappointing season, can Gholston replicate his last postseason performance?
3. Special attention:
The kicking game likely looms large in a game featuring two strong defenses and two inconsistent offenses. Michigan State likely has to win on special teams to emerge from the desert with a victory. Place-kicker
Dan Conroy
converted a Big Ten-leading 22 field goals this season, but he also had more misses (nine) and more attempts (31) than any other kicker in the league. Several of those misses really stung in close losses, so the Spartans likely need a flawless performance from Conroy against TCU. Michigan State also must limit
Skye Dawson
, who ranks 27th nationally in punt returns (10 yards per return) and 61st in kick returns (22.5 ypr) but has some trouble fielding kicks cleanly.
September, 28, 2012
9/28/12
4:00
PM ET
Thanks for all the emails this week. Should be a fun weekend of games.
Here's where you can reach me
if you've got more to say.
On to this week's Mailbag:
Jason in Austin writes:
David, I keep seeing you write about how fast
Tavon Austin
is, and as a Longhorn fan, I keep trying to compare his speed to Marquis Goodwin or DJ Monroe. Who, in your opinion, are the five fastest players in the Big 12?
David Ubben:
This category is pretty tough. Ultimately, we can't know until we line these guys up and have them go at it. So, who's the absolute fastest? We have no real idea. It's a big group and I don't think you can narrow it down to just five. That said, there's a class of guys who are clearly among the elite. Here's who I've got as guys who have a case (in no particular order) as the fastest man in the league:
From what I've seen so far, Texas Tech freshman
Jakeem Grant
might join that group, but I want to see him with the ball in his hands a little more often.
---
ksucats44 in Manhattan writes:
Hey DU,Could you post links to all the "where to go" articles somewhere so that we can look at them in preparation for away games?
DU: I've got you covered. I may tweet or post them during the week for every Big 12 school hosting a home game.
Here are the city guides you need for this weekend:
Big 12 Blog guides to:
---
The Old Scarlet and Black in Lubbock writes:
You got to make up your mind Ubb's. First you put us on upset alert, then pick us to win. You say our WR's are deep but then do this talking about how WVU and Baylor as the best offenses in the league. Either take us out to dinner or stop texting us late at night! If we make it out of Ames with the win what are our chances of being the team that you think will do the upsetting next week instead of the team you think will be upset... again?
DU:
It's kind of crazy, actually. People get more fired up about being put on upset alert than they actually do about me picking their teams to lose.
Here's how I approach upset alert each week: It's not necessarily a game that I think will be an upset. It's simply the underdog with the best chance to pull a surprise each week. TCU is going to take care of business this weekend at SMU. I don't think Baylor's got much of a chance to beat West Virginia and I think Texas rolls against Oklahoma State.
Tech was pretty much the only team left, and Iowa State at home is always scary. I don't necessarily pick my upset alerts in my predictions, but it's my game of the week that might go the opposite way experts expect. Nothing to get all bent out of shape about. Some weeks, there's more potential for upsets. Some weeks, there really aren't any, and I end up having to pick Texas State against Tech. Take it easy, folks.
---
Josh in Salina, Kan., writes:
Not that it really matters much, but I wanted to ask about the shovel pass/fumble thing. I agree that super duper slow mo looked like Jones' hands were intentionally moving forward, but how many times have you seen a QB throw a shovel pass that falls incomplete and without any hesitation the QB starts to run after the ball?!? If he really had passed it, he would have just stood there and not put himself in harms way going after an incomplete pass. Who does that? ... Unless it was unintended...
DU:
I've never seen K-State fans more fired up than when I insisted it was the right call. It was. This play, popularized by Dana Holgorsen in recent years, is technically a shovel pass, but it's sort of a hot potato play that's super dependent on timing.
Like we saw from Oklahoma, it can look terrible when it's done right. When Oklahoma State has done it the past two years and West Virginia does it with
Geno Smith
and Tavon Austin, it looks pretty good. Jones clearly possessed the ball and re-directed its path toward
Roy Finch
, who was completely oblivious and got an earful from receiver
Trey Metoyer
after the play.
As for Jones' reaction, when the ball's on the ground on a short pass like that, I'm sure his instincts just took over and he went after the ball. That doesn't mean it was a fumble.
It was incomplete, and it was the right call from officials.
---
Will in South Bend/Morgantown writes:
Hey Ubbs. Which QB do you think goes the longest without throwing a pick among the current sans interception QBs? Which games do you think each makes their first blunder?
DU:
I'm taking Geno Smith on this one.
David Ash
will throw a pick this weekend against Oklahoma State. The Cowboys secondary is too talented. Justin Gilbert or
Brodrick Brown
will get one, and Geno will be the Big 12's last man standing after this week against Baylor.
---
Lucien in Omaha, Neb., writes:
First, you knew this was coming. You doubted Paul Rhoads (which you said never, ever, ever to do?again). Not only did you doubt Rhoads and the 'Clones but you picked TT to win by a fairly large margin. AND you've been touting how hard it is becoming to win in Ames. You know what I think it is? I think you're still a teenage boy at heart and are picking against the Cyclones just to defy your ISU alum father. I can't think of any other reason why you woul have Tech by such a large margin. When are you going to come to the same conclusion that the AP voters and Coaches have come to? Even Vegas says they are 3 point dogs. It's time to quit fighting it and give ISU it's due.
DU:
Ha, I don't think that's the reason. I was never much of a rebel. I mostly think Iowa State won't be able to cover Tech's receivers, and that
Seth Doege
is criminally underrated around the league. With an offense back at full strength and clicking, he's going to have a huge game. Iowa State's defense has looked good of late, but that stat about nine consecutive games giving up fewer than 30 points in regulation? Let's break it down.
The first was against Tech, and yeah, that win was impressive. No qualms there. Holding Kansas under 30? Iowa State and just about everybody else last year. Oklahoma State? Impressive, but we've talked about the circumstances of that game plenty over the past few months. I'm not going to get into that any more than to say that it wasn't the same OSU team we were used to seeing.
Oklahoma? That game took place in about 40 mph winds and Oklahoma's receivers dropped about nine passes. That was in the post-Ryan Broyles era at OU, too. Kansas State? The Wildcats were seventh in the Big 12 in scoring last year and Iowa State held them just two points below their average. Rutgers? Come on.
It's an impressive stat, sure. But it's not indicative of some just amazing defense that Big 12 teams can't deal with. The Oklahoma State game was the most impressive of the lot by far, and we saw some inspired stuff from the Cyclones, but that 30-point streak ends this weekend.
---
Evan in Atlanta writes:
What will you do if Baylor's defense pitches a shutout at WVU Saturday?
DU:
Give up hope and give up this blog. If that happens, it will be official: I don't know anything about this game.
September, 23, 2012
9/23/12
10:00
AM ET
So after a bit of an eye-popping night in Norman, what did we learn about the Big 12?
K-State is all kinds of bad news.
Kansas State coach Bill Snyder loved what his defense did. "They just kept rowing the boat," Snyder said. Indeed. Oklahoma got all the way to the 1-yard line and fumbled a snap in the Belldozer. It settled for field goals of 28 and 34 yards, going without a touchdown in the first half at home for the first time since TCU sprang a season-opening upset in 2005. There wasn't an ounce of quit in the defense, and the Wildcats made big plays when they were in position. This team is remarkably consistent despite a few slow starts. The defense is disciplined, though not very speedy. The offense is efficient and doesn't make mistakes. If K-State keeps playing like that, preventing big plays and squeezing the life out of opposing defenses, can anybody in the Big 12 beat it?
[+] Enlarge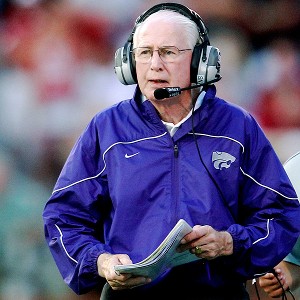 AP Photo/Sue OgrockiBill Snyder's defense keeps "rowing the boat" for Kansas State, which made a big statement with its win over Oklahoma.
There's a good chance Oklahoma is just average this year.
The evidence was there, out on display in the desert when a very mediocre UTEP defense stymied the Sooners' offense and made Oklahoma look pretty bad. Those concerns are officially confirmed.
Landry Jones
quite obviously has shown a constant penchant for making big mistakes in big games, and Saturday night was no exception.
Sterling Shepard
broke out on Saturday, but with a young receiving corps, the margin of error for the defense in a loaded Big 12 is not very large. Don't be surprised if Oklahoma finishes with nine wins or so, which qualifies as a big disappointment in a season with big dreams in Soonerville.
West Virginia's offense can be slowed.
Maryland's a pretty good defense, and became the first team this season to frustrate the Mountaineers. They harassed and hit
Geno Smith
more than anybody and forced an offense that had punted three times in two games to do so seven times in 60 minutes. That was a big-time performance from the Terps, which fell 31-21. Look for Big 12 defensive coordinators to be watching that film for hours on end in the weeks to come. WVU's got more speed and explosiveness in the passing game than anyone in the Big 12, but it can be contained to some extent.
Kansas still has a ton of work to do.
Northern Illinois is a pretty good team, but Kansas yet again coughed up a late lead, and it's about to get much more difficult for the Jayhawks. When you've got a double-digit lead in the fourth quarter, you've got to prevent the big play and not turn the ball over. Unlike two weeks ago versus Rice, Kansas didn't have a late turnover this time, but it gave up a 65-yard touchdown pass just 10 seconds after taking a 23-13 lead in the eventual 30-23 loss. It also gave up three fourth-quarter sacks. The Huskies were dominant in the fourth quarter, and that's got to be seriously alarming for the Jayhawks, even early on in this attempted reclamation project.
TCU needs to figure out what's going on in the red zone.
You don't have to start pounding any alarms quite yet, but TCU has left a ton of points on the board in consecutive weeks now. In a 20-6 win over Kansas, TCU made seven trips to the red zone and came away with points on just three. In Saturday's 27-7 win over Virginia,
Skye Dawson
fumbled the ball out of the end zone and
Casey Pachall
threw his first interception of the season inside the Hoos' 5. Yes, it's out of character for each player, but that margin of error is about to disappear as Big 12 play heats up.
September, 22, 2012
9/22/12
3:25
PM ET
Red-zone mistakes were the story of TCU's all-too-close win at Kansas in its Big 12 opener a week ago.


Quarterback
Casey Pachall
made another one this week -- his first interception of the season came at the Virginia 3-yard line -- but the Frogs' defense made it easy in Saturday's
27-7
win.
Skye Dawson
fumbled out the back of the end zone after a long reception to give the Frogs another red-zone miscue, but the defense made sure it didn't matter on Saturday.
The defense pitched a shutout for the first three quarters, and the offensive mistakes were once again outweighed by a strong defensive outing.
Brandon Carter
's one-handed stab began the day's scoring and produced its biggest highlight for a 68-yard touchdown, but the defense provided the day's biggest highlights and suffocated Virginia's offense for 60 minutes. Carter finished with five catches for 128 yards.
Matthew Tucker
had a quiet day as the lone TCU back left standing.
Waymon James
is out for the season with a knee injury and Ed Wesley left the team after fall camp. Tucker had just 52 yards on 15 carries, and freshman
B.J. Catalon
added just 11 yards on five carries. The potential to get better is there, but that's got to be a concern.
Linebacker
Kenny Cain
caught one interception off a tipped pass and snatched another away from a receiver, returning it 41 yards to set up a field goal. He recovered another first-half fumble to complete a huge day for the senior.
To this point, TCU has looked the part of the Big 12's best defense. It took more than 11 quarters for the Frogs to give up their first TD of the season, but considering the wholesale personnel losses suffered by the defense since the end of the 2011 season, that's pretty amazing.
Gary Patterson is working with his youngest team ever, and that's in play big time with the defense.
On Saturday, the Frogs held Virginia's offense to just 3-of-16 on third down and forced four turnovers. Unless your offense is awful (and TCUs decidedly is not), that's going to be good enough to win on just about any day.
By now, though, the offense's penchant for fumbling has to be a concern. Maybe it goes away next week against SMU, but Dawson's fumble came just a play after backup QB
Trevone Boykin
got away with a fumble at the end of a 40-yard run. Virginia had a chance at it, but the Frogs jumped on it, giving them one more chance.
TCU fumbled that chance away on the next play.
Last week, it didn't change the outcome of the game. Today, it didn't change the outcome of the game.
If it continues, eventually that will not be the case.
September, 20, 2012
9/20/12
10:15
AM ET
Here's what I'm keeping an eye on in this week's five games across the Big 12.
1. Dominance up front is where it's at:
How did Kansas State beat Miami so handily? By handling its business on both the offensive and defensive lines. Oklahoma's offensive line has been underwhelming, and it's thin, too. The defensive line is unproven and has had to shift around because of suspensions and personnel issues. If Kansas State is going to
come into Norman and do the impossible (?)
, that's how it's going to happen.
[+] Enlarge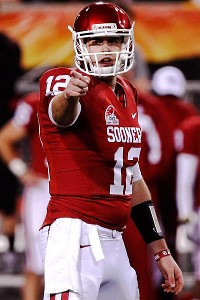 Rick Scuteri/AP ImagesLandry Jones is hoping for another monster game against Kansas State.
2. Was last year a reality, or a rarity?
Where Oklahoma had the biggest advantage a year ago? On the outside.
Landry Jones
torched Kansas State's secondary for 505 yards, and the Sooners scored 58 points in the blowout win. The personnel is mostly the same for the Cats in the secondary, but if the Sooners hang 58 again, this one's going to just be another blowout.
3. How much better are you, really?
Baylor's defense looked good against SMU in Week 1, but I'm not so sure how much Mustangs quarterback
Garrett Gilbert
has (A) improved or (B) was ready to run June Jones' offense. Last week, Baylor's defense didn't look great against Sam Houston State, especially in the first half. The second half was a different story. So which defense can we count on seeing from Baylor? The answer to that question might determine the outcome of the Friday-nighter.
4. Welcome to the land of the big-armed passers:
Five of the nation's top six leaders in passer rating are in the Big 12, and
Collin Klein
gives the Big 12 six of the top nine. The Big 12 is living up to its reputation as the league with the best quarterbacks. Will that continue this week, the final one before conference play officially kicks in?
5. Keeping up appearances:
Geno Smith
has been downright ridiculous through two games. The competition doesn't get much tougher this week, but can he maintain his 9-9 touchdown-incompletion ratio? Craziness. Also, if you've lost track, TCU quarterback
Casey Pachall
isn't far off. He's got five touchdowns and six incompletions.
6. Don't get defensive about it. (On second thought, do exactly that):
Kansas' defense looked decent last week against TCU, and helped force four turnovers, moving into the national lead with 12. Northern Illinois topped 40 points in Lawrence last year, but the Huskies' offense has been unimpressive to this point this season. What does the Kansas defense have in store this week, in its first road game?
7. Can we get a medic here? STAT!
Wildcats star linebacker
Arthur Brown
went down with what looked like an ugly, ugly ankle injury last week against North Texas. However, after missing only limited time, he returned to the field and made two tackles on his first two snaps, and finished with a career-high 13 stops. He's expected to play again, but will he look like his usual self? Kansas State needs him to.
8. What about the supporting cast?
TCU's
Josh Boyce
and
Brandon Carter
have been really good through two weeks, both grabbing multiple touchdowns, nine catches and amassing at least 160 yards.
Skye Dawson
was quiet last week, and
LaDarius Brown
didn't have a catch until breaking out for five catches and 70 yards last week against Kansas. What does TCU's receiver depth have in store for this week against Virginia?
9. Welcome to the Thunderdome:
Bob Stoops didn't really "call out" Oklahoma's crowd this week, but he did say he wanted the atmosphere to be something special. Will the folks around Owen Field respond? I'll be there to find out. We'll see.
10. Time to improve:
Landry Jones has been unimpressive through two games, completing just 62 percent of his passes, and his offensive line has put him on the run more than you'd like to see if you're in crimson and cream. He has to be much better this week, both to grab the win and also to feel encouraged about how the rest of the season will play out. He's still dealing with a young offensive line and inexperienced receivers, and those guys have to help him out.
September, 20, 2012
9/20/12
9:00
AM ET
Last week was a good one, my second week this season without a missed pick. That wasn't too difficult, though. This week, it gets harder.
No big surprises in my Saturday location: I'm heading to Norman to see the Sooners and Wildcats tangle in a Saturday night prime-time showdown.
Here's who I've got in this weekend's games:
Last week:
8-0
Season record:
22-3 (.880)
Texas, Iowa State, Oklahoma State and Texas Tech are off this week.
Baylor 41, Louisiana-Monroe 28:
I don't buy the upset potential here.
Tyler Wilson
looked fine against the Warhawks before he got hurt.
Nick Florence
should do the same.
Terrance Williams
and
Tevin Reese
give Louisiana-Monroe fits. The Bears will take care of business and have too much offense, though
Kolton Browning
will make plenty of plays to make Baylor's defense sweat.
No. 8 West Virginia 55, Maryland 17:
Maryland is better this year under Randy Edsall, but not good enough to make this a game. West Virginia is playing like a top-10 team and will keep it going to close out nonconference play.
Stedman Bailey
will grab two more touchdowns and
Tavon Austin
will hit double digits in receptions once again. Business as usual for the 'Eers.
No. 17 TCU 44, Virginia 20:
Gary Patterson is not sweating the turnovers from last week because the fumbles were so out of character for his team. The Horned Frogs will prove it this week, dominating the line of scrimmage against the Cavaliers.
Matthew Tucker
will clear 100 yards easily, and
Skye Dawson
will finally get in the mix after a Week 1 suspension and quiet game at KU last week.
Kansas 28, Northern Illinois 27:
This was by far the toughest pick of the week. Ultimately, I think NIU is a bit overrated based on its reputation this season and won't be able to stop Kansas' running game.
Tony Pierson
and
James Sims
are quite the duo in the backfield, and Sims will be fired up after returning from suspension. He's ready, and KU will get a big win on the road against the Huskies.
Dayne Crist
should learn from his mistakes and make a couple of big throws late, instead of interceptions.
No. 6 Oklahoma 37, No. 15 Kansas State 31:
This is (obviously) my game of the week. Come back later today for a video explaining why I picked the game to play out like this.
September, 14, 2012
9/14/12
4:00
PM ET
Thanks for all the emails this week. It was an active few days in my Mailbag. Got more to say?
Send it to me
.
Here's the best of the bunch from the past week:
Chris in Sioux Center, Iowa, writes:
I love the blog Ubbs, but I noticed though
you said the SEC won the past six national championships
, but then like most SEC-hating people you said the one or two teams comment. C'mon Ubbs, Auburn, Florida, LSU, and Alabama have all accounted for those National Championships. It annoys me when people make that comment, and you cant even apply the two teams comment this year as it has 4 in the top ten currently.
David Ubben:
Hey, I hear you on this one Chris. The fact that four teams have won those six titles is impressive. I don't necessarily argue that the SEC's not the best league. My biggest argument is that the difference between the SEC and the Big 12 isn't as vast as some would have you believe.
The Big 12 didn't have two title contenders last year, but it had one really good candidate, and Oklahoma State didn't get their shot to measure up the Big 12's best offense against one of the SEC's best defenses. My guess is LSU wins that game, but I still believe Alabama had an inferior résumé to Oklahoma State. As for the league comparison, my argument's been the same for the past year or so: The Big 12's depth rivals any league in the country, even the SEC. We'll see how West Virginia and TCU measure up over time to Missouri and Texas A&M, but I'm betting it levels out in the Big 12's favor.
This year and last year, the Big 12 had nine teams playing really, really good football. Arkansas, the supposed third-best team in the SEC, needed a late rally to sneak by six-win Texas A&M in the final minutes. This year, that same Arkansas team lost to ... Louisiana-Monroe? Doesn't bode well for the SEC's depth. More like S-B-C! S-B-C!
This year and last year, I don't think the Big 12 has a team that would have beaten LSU or Alabama. But it's so silly to measure a league by its best teams. That's how it always ends up, and it really doesn't make sense. If you want to compare the Big 12 to the SEC side by side, top to bottom, it's much closer than some would have you believe (minus that whole, having four more teams thing).
Dan in Fort Worth, Texas, wrote:
Hey David. Got a question about the TCU receiver corps. It's arguably the Horned Frogs' deepest position, but I'm not sure that's an excuse for not getting Lardarius Brown involved in the game. I was at the game I didn't count a single target for Brown, but every report out of camp is that he's been a force in practice. My conspiracy-theory question: could Coach Gary Patterson (CGP) be keeping Brown under wraps so that Big 12 coaches don't have any tape on him? He's the only one of our top few receivers that hasn't appeared on game tape. Is CGP crazy like a fox?
DU:
That was definitely the weirdest thing about that rout for TCU in the opener, and something that didn't get as much attention as I thought it would. Considering TCU was playing without suspended receiver
Skye Dawson
, it was even more surprising. I'm not sure I buy your conspiracy theory, but I don't think the Brown hype this offseason was misguided. He'll get in the mix eventually. The only thing that hangs that up is TCU doesn't really need him to be effective through the air. I think he can add another weapon in the red zone if he and Pachall develop a little chemistry on the fade route, but
Josh Boyce
is already pretty good at going and getting jump balls.
Brandon Carter
and Boyce are plenty of firepower for Pachall to be very, very productive, but be patient with Brown. He'll catch on eventually, and even if he has a disappointing 2012 season, the Horned Frogs offense will still be fine.
Zach in Tampa, Fla., wrote:
What are the chances of BYU, and Louisville going to the big 12 in 2014
DU:
Not very good, especially that soon. For your first suggestion, BYU presents more problems than it solves. The Cougars like to get their way, and the Big 12 already has one alpha dog in the league's meeting room: Texas. A second is a recipe for disaster. Nobody in the Big 12 is clamoring for more cash these days after the most recent TV deal was officially inked, so that sort of negates the biggest positive for BYU. For your second suggestion, the need for a geographic partner to help West Virginia assimilate is nice in theory, but nobody in the league's going to sacrifice money to make an expansion move that doesn't need to happen. Louisville is no slam dunk, and the general consensus is that the Cardinals wouldn't add enough value to the league to make sure that everybody's pie piece in league revenue got bigger, not smaller.
Additionally, with 2014, that's a little too soon. The Big 12 will sit pat for now, and see how this new playoff plays out. I don't think the league seriously considers expansion before then.
Curtis in Iowa writes:
Do you think with how often bubble screens are used we shouldn't view all completion percentages the same? I'm an ISU fan and they throw a lot. Watching OK state and WVU they throw most passes within 5 yards of the line of scrimmage. I saw your note on Ash's improvement and it is something to look at for his development, but think we should concentrate more on turnovers and more stats down the field. That would show more of an ability to read coverage than catch and throw to the wide receiver right away. any thoughts?
DU:
Yeah, I'd agree, but it's hard to keep track of who is throwing screens how often. You have to take into account those screens when you look at everything, though. That includes yards, touchdowns and interception/attempt ratios. Thing is, by now, just about everybody in the league is throwing a pretty high percentage of screens. A lot of offenses in this league see them as extensions of the running game, but they go under passing stats.
Dana Holgorsen brought the "Colorado School of Mines" play to the Big 12, where the QB flips the ball to a receiver running full speed laterally as soon as he touches it. Oklahoma State loves it. WVU uses it with
Tavon Austin
and other guys. Texas'
Daje Johnson
scored on a variation of the play last week, too.
In this league, you have to keep that in mind, but ultimately, it evens out. Oklahoma doesn't throw as many bubbles as it used to with Ryan Broyles, but plenty of quarterbacks in this league throw passes around or behind the line of scrimmage. The best ones are the guys who stretch the field, and they make themselves known.
Matt in Waukee, Iowa, writes:
How is pounding an bad FCS team more impressive than going on the road and beating a Big 10 team? Are you saying that points is more important in your rankings than defense and strength of opponent?
DU
: I don't care how many points a team scores necessarily, but you have to factor in how a team looks while beating a team. Iowa's not that good. Tulsa's probably better, but not by much. Beating Iowa means a lot to ISU, but the truth is that team's not very good. Iowa's worse this year than last year, and a beat-up Oklahoma team beat the tar out of Iowa in the Insight Bowl, shutting them out in the opening three quarters before a 31-14 final score.
Iowa State had some awful stretches in that game, and against Tulsa, too. The defensive numbers look good, but Iowa's offense is nothing like what ISU will find in the Big 12. That offense might not even be better than KU's. A win is a win, yes. Iowa State's beaten better teams than Texas Tech. Tech, though, has looked more impressive, even though they've played against inferior competition. It's close, but I'm going with Tech for now. Iowa State will get their chance eventually. That's what you've got to love about the new Big 12: Everybody plays everybody.
January, 10, 2012
1/10/12
1:00
PM ET
With the season over, it's time to take a look at the Big 12 in 2012. For now, that means assuming a few things. And we all know what assuming does.
It makes us all look like geniuses.

So, for the purpose of this, I'll assume a few predictions. First, I'll assume
Robert Griffin III
is heading for the NFL. I'll also assume Mike Stoops lands back at Oklahoma.
That said, it's time to project what this league looks like in 2012.
And, before we start, let me make this clear: The Big 12 from 1-6 is absolutely wide open. Last year, the league only had three legitimate title contenders: Oklahoma, Texas A&M and Oklahoma State. This year, every one of the top six teams (and maybe seven, if RG3 returns) can win the Big 12 in a realistic scenario. The difference between Nos. 2 and 6 is minuscule and could change a ton by the end of spring practice.
And for the curious: I would have Missouri behind Kansas State on this list, and I'd have Texas A&M right behind Texas.
1. Oklahoma:
The Sooners moved into the familiar role of favorite after
Landry Jones
announced he'd return in 2012, but not nearly as heavy a favorite as they were in 2011. Injuries hurt Oklahoma late this season, and replacing Big 12 Defensive Player of the Year Frank Alexander, along with linebacker Travis Lewis and corner Jamell Fleming won't be easy. Receivers
Kenny Stills
and
Jaz Reynolds
have to play big for the Sooners to get the win.
2. Kansas State:
The big question mark for this team is can it take care of business and not get stuck in close games in 2012? The Wildcats were 8-1 in games decided by a touchdown or less this season. They can't count on duplicating that in 2012. They should be better, and return most of the big pieces from this season's 10-win team, most importantly quarterback
Collin Klein
and linebacker Arthur Brown. Next season is the time to prove it.
3. West Virginia
: Who else is excited to see
Geno Smith
, Dana Holgorsen and the Mountaineer Express show up in Big 12 country next season? Like I wrote last week, giving up 33 points and still winning by five touchdowns is the Big 12 way of life. The Mountaineers broke Baylor's week-old bowl scoring record with 70 points, and bring back most of a good Big East champion team in 2012. The transition won't be easy, but they've got a chance to make a big splash in their inaugural year. The Big 12 and West Virginia are both convinced that the Mountaineers will join the Big 12 in 2012 and are planning as if it will happen, though pending lawsuits with the Big East mean it's still unofficial.
4. TCU:
The transition will be more difficult for TCU, methinks. Depth could be an issue. There aren't any weeks off in the Big 12. Not even Kansas. Ask Baylor about that one. New Mexico's staying behind in the Mountain West. Eventually, I think TCU has a chance to be on par with Texas and Oklahoma on the recruiting trail and on the field. Being the only team in the metroplex is a huge deal. And it'll bring back a great team with lots of offense, headlined by QB
Casey Pachall
and receivers
Josh Boyce
and
Skye Dawson
, along with
Brandon Carter
. It'll be fun to watch.
5. Oklahoma State:
The Cowboys should sustain success from this year, even though they lose
Brandon Weeden
and
Justin Blackmon
. They don't have to worry about a losing season, but with a first-year starter at quarterback, the odds are against them winning the Big 12. First-year starters have only won the Big 12 twice. Look out for
Joseph Randle
to have a huge year in 2012. I'm also betting on Clint Chelf to grab the starting QB job, but keep an eye on early enrollee Wes Lunt.
6. Texas:
The Longhorns should be better and have lots of upside, but it's looking more and more like this team will only go as far as
David Ash
will take it. We'll learn just how far that is during spring and summer. This offseason is paramount for Ash's development. He's got to show something big next fall. The defense should be stingy, the offensive line improved and the backfield loaded. It's up to him.
7. Baylor:
Sounds like 2012 may be the
Nick Florence
Show in Waco. Baylor will take a step back without RG3, but we'll see just how much he had around him, which is to say, a lot.
Kendall Wright
and
Terrance Ganaway
will be gone, but
Terrance Williams
and
Tevin Reese
will get a chance to shine. Oregon transfer
Lache Seastrunk
will get plenty of preseason attention, too. The Bears look like a fringe bowl team with some upside without RG3.
8. Texas Tech:
Tech and Oklahoma State probably have the most upside of any team in these power rankings. The Red Raiders were better than 5-7 this season, but will have to prove it in 2012, and have to stay healthy.
Seth Doege
,
Eric Stephens
and
Darrin Moore
could be a dynamic set of triplets in 2012, and don't rule out a top-three finish for the Red Raiders in 2012.
9. Iowa State:
The Cyclones may have a bit of a quarterback controversy in the spring after
Steele Jantz
reclaimed the quarterback job in the second half of the Pinstripe Bowl. Paul Rhoads joked about it after the game, but he's not joking when it comes to needing one of those guys to push the other.
Jared Barnett
has more upside, and the Cyclones could certainly grab a third bowl bid in four years if he plays well in 2012. ISU's a good team, but it's stuck in an absurdly deep conference that could have as many as seven (six, most likely, depending on RG3) Top-25 teams to start the season.
10. Kansas:
There's a new flavor at KU, and the variables will be unpredictable for this team through spring and fall. The season should be fun. Can Charlie Weis redeem himself? What about
Dayne Crist
? Was Notre Dame just not the right fit for either? The opportunity to do something special at Kansas is here, and the bar is very, very low after a miserable two years. The defense can't be worse, and the Jayhawks have solid, maturing running backs.
December, 21, 2011
12/21/11
11:45
PM ET
This one isn't going to win Best in Show. Four turnovers. Costly penalties (should you really be getting 12-men-in-the-huddle penalties in the 13th game of the year?). At times, neither really looked the part of a conference champion. But credit TCU for overcoming a lethargic start and credit Louisiana Tech for scrapping and pushing the No. 18 team in the land.
Here's how it all went down
in San Diego:


How the game was won
: With the teams locked at 24-24, TCU got the ball at its own 31 with 6:24 left in the game. Unlike in their previous scoring drive that tied the game (read on), quarterback
Casey Pachall
moved the Horned Frogs 69 yards in just 1:58, connecting with
Skye Dawson
on a 42-yard scoring strike. The defense forced a three-and-out on the ensuing drive and the offense was able to run out the final 3:33.
Turning point
: Trailing 24-17, TCU put together its longest drive of the season -- an 18-play, 72-yard march that sucked up 9 minutes, 21 seconds of clock. The Frogs converted two fourth-and-1s and picked up a pass-interference call in the end zone, setting up
Luke Shivers
' 1-yard touchdown run to tie the game at 24-24.
Stat of the game
: 100 percent — TCU's fourth-down conversion rate. The Horned Frogs were bad on third down — just 2-of-11 until late in the game — but they kept two scoring drives alive by converting all three fourth-and-1s.
Player(s) of the game
: TCU's offensive line did a fantastic job keeping Pachall sack-free and holding off one of the better pass rushes in the country. It helped the Horned Frogs to 190 yards on the ground and on the final drive that ran out the clock, the line looked like it had worn down the Bulldogs' defensive front.
Unsung hero
: Pachall's barber. Not too many quarterbacks can pull off the shaved writing in the hair.
What it means
: TCU closes out its Mountain West Conference tenure with a sixth consecutive win for the conference in the Poinsettia Bowl. Coach Gary Patterson picks up his 109th career victory at TCU, tying Dutch Meyer for most wins in school history. TCU is now 6-1 in its past seven bowl games.
August, 4, 2011
8/04/11
1:14
PM ET
By now, we have come to expect to see Boise State and TCU in the Top 25 every season. So when the preseason
USA Today coaches Top 25
was released Thursday, the top non-AQ teams were right there in the top 15.
The Broncos will start the season ranked No. 7, while TCU is ranked No. 15. Boise State returns Heisman Trophy finalist
Kellen Moore
, along with
Doug Martin
, Nate Potter, Billy Winn, Shea McClellin and George Iloka, and expectations are high once again to return to a BCS game.
TCU, meanwhile, loses Andy Dalton off its Rose Bowl-winning team, which is why the Horned Frogs are outside the top 10.
Both teams open up their fall camps Thursday, so let us take a look at a few of the burning questions that they face.
Boise State

1. Developing depth.
No question the Broncos have some big-time senior players in Moore, Martin, McClellin and Iloka. In fact, 15 projected starters are seniors. That means Boise State has to develop its young players, something coach Chris Petersen emphasized at Mountain West media day in July. "We have some players that have played a lot of football that are very good players, and then we've got a big gap to some young guys that haven't played and need the experience and need the knowledge," Petersen said. "On our team right now, I think it's fairly wide. Our job as coaches is to narrow that gap."
2. Developing receivers.
Petersen and Moore both emphasized they are not worried about their receiving group. Rather than relying heavily on two players the way they did the past few seasons with Titus Young and Austin Pettis, you will see more players involved. That means
Tyler Shoemaker
,
Chris Potter
,
Kirby Moore
,
Mitch Burroughs
,
Aaron Burks
and
Geraldo Boldewijn
(formerly Hiwat) will have expanded roles. True freshman
Troy Ware
had a nice spring and could contribute as well.
3. The kicker is ...
Kyle Brotzman is gone, leaving a bit of inexperience at the kicker position. The Broncos have scholarship true freshman Jake Van Ginkel, who will practice for the first time this fall, along with walk-ons Dan Goodale and Michael Frisina.
TCU

1. Casey Pachall era begins.
Much has been written about how Pachall will do in replacing Dalton. Pachall has heard all of it. "I am ready,"
Pachall said
at a news conference earlier this week. "I am ready to be the guy that everybody looks to when things are good or bad. [The comparison to Dalton] doesn't bother me. It just gives me incentive and a little bit more motivation to be more of a leader and get more in that role."
2. Developing receivers.
Leading receiver
Josh Boyce
returns, but Jeremy Kerley,
Jimmy Young
and
Bart Johnson
are gone. There is talent in Fort Worth, but much of it is unproven. It is tie for players like
Antoine Hicks
and
Skye Dawson
to step up and help Pachall get the job done. Boyce is confident in his teammates. "We've worked really hard this summer with Casey, to get our chemistry going," Boyce said. "We will be just fine."
3. Can TCU be No. 1 in total defense again?
The stat is incredibly impressive -- TCU has led the nation in total defense for three straight seasons. Can TCU make it four in a row? Gary Patterson believes this unit can be even better than last season, even without defensive leader Tejay Johnson. Linebacker tandem Tanner Brock and Tank Carder return, and they should be the heart of the defense. Even with the potential, Patterson has no idea what type of identity this unit will take on. Each season, that changes. He will have a better idea once the season begins.
April, 15, 2011
4/15/11
10:30
AM ET
TCU has not had to worry about its kickoff and punt return game in recent years, not with
Jeremy Kerley
returning kicks.

Kerley became on of the most dynamic return men in college football, winning Mountain West Conference Special Teams Player of the Year honors twice -- just the second player to accomplish that feat. He ranked second in the league in punt returns and third in kickoff returns. His speed always made him a threat to return a kick for a touchdown, though many teams kicked away from him last season and his opportunities dwindled.
Still, he leaves a big hole in the TCU special teams game. Kerley had 30 of the team's 36 punt returns last season and 19 of the team's 31 kickoff returns. Coach Gary Patterson still is undecided about who will replace Kerley when the season begins Sept. 3 against Baylor. There are some players on the team with punt and kickoff return experience, but not many. Among the candidates:
Cornerback Greg McCoy
. Perhaps the most experienced of those on the team with kickoff returns, McCoy returned one for an 81-yard touchdown in 2009. He had five kickoff returns last season for 167 yards, a 33.4-yard average that could make him the front-runner to take over for Kerley.
Receiver Skye Dawson
. He had one punt return and three kickoff returns last season and is one of the fastest players on the team.
Safety Elisha Olabode
. He played as a true freshman last season but returned no kicks. He did in high school, though, with three punt returns for touchdowns at Cesar Hill High in Texas.
April, 13, 2011
4/13/11
1:30
PM ET
No question TCU is going to be a new-look team in 2011. But coach Gary Patterson realizes he does not have time to wait and see how his team develops.
Hence the motto for 2011: Do it now.
"We don't have time to say this year we're going to have young guys, we have to develop a new quarterback," Patterson said in a phone interview. "Now is our challenge to grow up and be a preseason top 25 team."
TCU is in a vastly different position today than it was a year ago at this time. Expectations were high for the Horned Frogs going into 2010, and even included talk about potentially becoming the first non-AQ team to play for a national championship.
That did not happen, but they did beat Wisconsin in the Rose Bowl and their 26 seniors left with a career 36-3 record. With players like
Andy Dalton
, Tejay Johnson and Jake Kirkpatrick gone, many expect this to be a rebuilding year -- many outside Fort Worth.
[+] Enlarge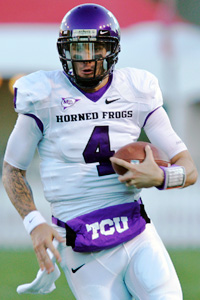 AP Photo/Jake SchoellkopfCasey Pachall replaces Andy Dalton under center for the Horned Frogs.
Whether this year is as good as the last few could hinge on what happens with the offense. The trademark defense is expected to be just as good, even without Johnson manning the defensive backfield. Linebackers Tank Carder and Tanner Brock return, and the defensive line could be even better.
The three biggest questions right now:
How will Casey Pachall do replacing Andy Dalton at quarterback?

Who will step up in the receiving corps?

How will TCU play on the offensive line?
Pachall had a good spring, but Patterson is holding off on any judgments until the season opener at Baylor on Sept. 3. "The only way you can judge a quarterback is by the way he plays in the fall," Patterson said.
The redshirt sophomore has several advantages over Dalton, who also made his first career start against Baylor back in 2007 (that game was at home, a key difference). For one, Pachall has had three spring practices to learn. Dalton did not. Pachall also has a better arm and better running ability. Depth at running back also is huge, with
Ed Wesley
,
Matthew Tucker
and
Waymon James
all returning.
But there are several other factors that will determine whether Pachall can be successful immediately. The offensive line loses four of five starters, including center Jake Kirkpatrick and tackle Marcus Cannon, expected to be high NFL draft picks. Both tackles are gone, and that is one of the biggest question marks headed into the fall. Senior Jeff Olson is slated to start at one spot, but plenty of other candidates are aiming for the other spot.
Three of the team's top four leading receivers are also gone, though leading wideout
Josh Boyce
returns. Antonie Hicks and
Skye Dawson
had good springs, but watch for true freshman receivers Brandon Carter and LaDarius Brown to see playing time immediately.
If all the pieces of the offense come together, this could be another great year. But everyone will be watching to see whether Pachall has what it takes to be a leader. When I asked Patterson whether quarterbacks are born with those intangibles or if they are something they learn through game experience, he went back to his quarterback in 2005 and 2006.
"Jeff Ballard was 19-2 and I fired him every Tuesday," Patterson said. "He was a terrible practice quarterback. Casey knows it's about wins and losses -- it's not about yardage, it's not about touchdowns. He has to do whatever he can to manage the game. We'll see how it works."