NCF Nation:

Skyler Mornhinweg
September, 10, 2014
9/10/14
4:00
PM ET
GAINESVILLE, Fla. --
Florida
played nine true freshmen in its season-opening
65-0 rout
against Eastern Michigan last weekend.
[+] Enlarge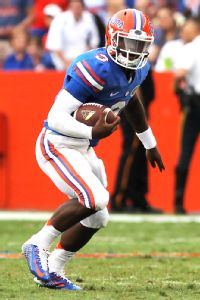 Mark LoMoglio/Icon SportswireIn his first game for Florida, freshman QB Treon Harris threw two completions -- both touchdowns -- for 148 yards.
Duke Dawson
, one of four fresh-faced defensive backs to see action, became the first true freshman in school history to return an interception for a score in his first game. Running back
Brandon Powell
had a 12-yard TD among his three rushes for 24 yards.
But the debut that everyone is still buzzing about belonged to quarterback
Treon Harris
.
His first two passes were long touchdowns for 70 and 78 yards, respectively. Harris' final line was 2-for-2 for 148 yards and two TDs. He finished with a 1,051.6 quarterback rating.
"He made two huge plays for us and showed a lot of confidence in what he was doing," coach Will Muschamp said. "That's something that really appealed to us in his process. He's been a guy that's able to make plays."
Harris was a highly regarded prospect coming out of Booker T. Washington High School in Miami. He was rated the No. 7 dual-threat quarterback in the nation but didn't arrive at UF until late June. Yet he made a strong enough impression in preseason camp to win a tightly contested competition for the backup quarterback job behind starter
Jeff Driskel
.
Harris jumped up the depth chart past fellow true freshman and ESPN 300 prospect
Will Grier
as well as third-year sophomore
Skyler Mornhinweg
, who started three games in 2013.
It helped Harris came to Florida with the aura of a big-time winner. He earned his reputation after quarterbacking his high school team to two consecutive unbeaten seasons, capped with state championship wins. His final team was ranked No. 1 in all seven national high school football polls.
By the time he set foot on UF's campus, many of his teammates were already well aware of Harris.
"We all knew Treon was probably one of the best quarterbacks in Florida," sophomore receiver
Ahmad Fulwood
said. "Everybody was kind of anxious to see what he could be."
Flash forward to Harris' spectacular debut, and it's no wonder Florida offensive coordinator Kurt Roper feels good about helping to get Harris, who had been committed to Florida State, to change his mind on signing day and instead go with the Gators.
"You just turn on his tape and he's a playmaker and then you just see how much his team won," Roper said. "That's always an impressive thing for a quarterback, for your team to win. Those are the things that I saw, that jumped out at us and made it important to recruit him.
"I think that's what happened in the first game, he just made some plays."
It helps Muschamp went into this season determined to develop his backup QB more than in past seasons. When Driskel was lost for the season in 2013, the Gators' playbook shrank considerably as the team struggled under backup quarterback
Tyler Murphy
and his backup Mornhinweg.
"I told Kurt (on Saturday) the guy needs to play," Muschamp said. "We don't need to sit on the ball. We need to take some shots, and we did that and he hit on it. ...He needs more and more of those reps and more and more of those opportunities to go in and play the game."
Harris won everyone's praise after the season opener, including that of Driskel, who called it "a huge confidence builder" and "an awesome, awesome first game."
Driskel, himself a heralded recruit who played as a true freshman, also had some perspective to share with Harris.
"You know," Driskel said, "his first two passes were touchdowns. My first one was an interception. So thanks for showing me up."
November, 26, 2013
11/26/13
11:00
AM ET
GAINESVILLE, Fla. -- Every year the most storied rivalries in college football add another chapter. On Saturday in the Swamp the steamroller squares off against the spoiler.
This is what it's come down to: The once-mighty Gators are merely a speed bump in the way of the hated Seminoles' ascension to the mountaintop of a BCS championship berth. Florida may lack the firepower to compete with the nation's No. 2 team, but the Gators still insist they have the fire to pull a colossal upset.
[+] Enlarge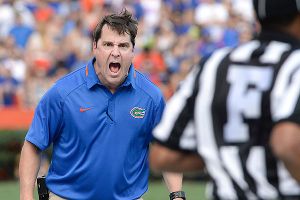 AP Photo/Phil SandlinWill Muschamp hasn't had much to be happy about this season, as the Gators have clinched a losing season for the first time since 1979.
"Our guys understand the importance of this game," UF coach Will Muschamp said. "We'll work hard and we'll have a great crowd just like we did this past Saturday to support our guys. [It's] one of the great rivalries in all of college football. Florida State's got a good football team. They're having a great year. It would help us a lot to go get a win."
What a year it's been for Florida State and Florida. Neither team can wait for the regular season to end on Saturday -- the Noles so they can begin their quest for postseason glory; the Gators so they can begin to wash out the sour taste of one of the worst seasons in school history.
It's hard to fully grasp just how far these archrivals have gone in opposite directions since they played one year ago.
While the Seminoles (11-0, 8-0 in the ACC) have run roughshod over their conference, Florida (4-7, 3-5 SEC) has fallen flat and lost six in a row, including its final five league games.
Both schools have made history this season. Florida State scored a school-record 80 points last week against Idaho and has already broken the school and ACC records for points in a season, while Florida lost to an FCS opponent for the first time ever. With last Saturday's home loss to Georgia Southern, Florida clinched a losing season for the first time since 1979 and will see its 22-year bowl streak come to an end.
One last goal remains for the Gators -- beat their in-state rival.
"We've got to treat this like our bowl game," senior guard
Jon Halapio
said. "It really is our bowl game."
Another Florida senior, cornerback
Jaylen Watkins
, said it would "change the feeling around here" to shock the Noles on Saturday.
"It's motivating for everybody in that locker room," he said. "You want to go win this game and try to duplicate what we did last year, come out with a win and create some short fields for the offense. They're having a really good season, and we can end off on a good [note]."
Looking back at the way Florida defeated Florida State 37-26 in Tallahassee last season, Muschamp might consider it a proof-of-concept performance. The Gators executed their coach's philosophical approach to perfection with suffocating defense and a power running game that piled up yards against what was then the No. 1 rush defense in the nation. Florida was a national-championship contender ranked No. 6 entering that game and went on to play in a BCS bowl.
"Looking at last year's game, we're just going to try to emulate that," Florida quarterback
Skyler Mornhinweg
said. "We had some success against them last year, so we think we can have some success against them this year, too."
Mornhinweg, an inexperienced redshirt freshman who started the season No. 3 on the QB depth chart, could draw his third career start on Saturday against a revenge-minded Seminole defense if junior
Tyler Murphy
(questionable) misses his third straight game with a shoulder injury.
Either way, the quarterback position will be the most glaring difference in the two schools' contrasting seasons.
"They do have a stable quarterback," Watkins said of Heisman Trophy candidate
Jameis Winston
. "We've had both our quarterbacks go down this year."
The injuries for Florida are impossible to ignore. When linebackers
Michael Taylor
and
Alex Anzalone
miss Saturday's game, it will bring the number of players who have missed one game or more this season to a staggering 23, including 15 starters.
"Sometimes they come in bunches, sometimes they don't," FSU coach Jimbo Fisher said on Monday. "Injuries change your football team. That's why I keep talking about our youth development. You don't know when one of those things is going to occur. You have a plan for them, but those plans have to work.
"When you have the number they've had, I can understand it's been very difficult."
Florida's youth development plan will be on full display on Saturday, but for the Gators' 15 seniors there is only the bitterness of ending their careers on such a low note while their biggest rival comes in on such a high note.
"It's pretty frustrating," senior receiver
Solomon Patton
said. "That's our rival, and to see them actually on top right now and doing real good, it's pretty hard to see that."
The way their season has gone has left many a Florida fan sour and inconsolable. The idea of ruining the Noles' unbeaten season, however, offers a sweet consolation.
"This being our last game," Patton said, "we definitely plan on doing that."
November, 23, 2013
11/23/13
8:55
PM ET
GAINESVILLE, Fla. -- Just when it appeared Florida's season of discontent could get no worse, it did.
The Gators lost to an FCS opponent for the first time in school history Saturday, and with that
26-20 loss
to Georgia Southern, UF (4-7, 3-5 in the SEC) has its first losing season since 1979, as well as an end to a 22-year run of bowl games that was the longest active streak in the nation.
And Florida
paid
Georgia Southern $550,000 to schedule Saturday's contest.
Was it the worst loss in school history? The most humiliating? Does it matter at this point?
A season that began with promise and a 4-1 start has spiraled into a free fall with a six-game losing streak of which few inside the program can make sense. Facing the media Saturday and tasked with explaining another numbing low point, head coach Will Muschamp struggled to find new words or explanations for the state of his program.
"Very disappointed for our program," he said. "An embarrassment in this situation."
[+] Enlarge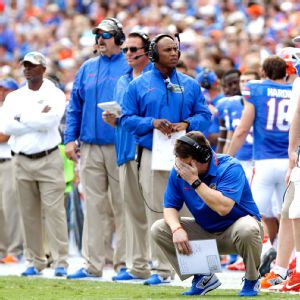 Kim Klement/USA TODAY SportsGators coach Will Muschamp was at a loss to explain the latest in a long string of disappointments.
As usual, the primary culprit was an inept offense that came into the game ranked No. 111 out of 123 FBS teams in total offense and generated 279 yards (4.5 yards per play).
"You've got to be able to change the scoreboard, and we just struggled scoring points offensively," he said. "It's been a week-in, week-out occurrence, and it's my job to get it fixed, and we will get it fixed. ...
"We've just got to keep working at what we're doing. We're struggling offensively, and it has infected our entire team right now."
On Saturday, however, Florida's defense shouldered as much of the blame, if not more, for another staggering loss.
Georgia Southern's 429 yards rushing were the fourth most Florida has allowed in school history. The Eagles also won without completing a pass (0-for-3).
Muschamp said earlier in the week that the Florida coaching staff began working on its defensive game plan for Georgia Southern in the offseason. But long running plays -- one each by GSU's quarterback (45 yards), tailback (66) and fullback (53) -- either scored or set up three of the Eagles' four touchdowns.
"It hurts," junior safety
Cody Riggs
said. "We didn't watch what we were supposed to be watching on certain plays, and those six, seven, eight plays are the ones that got them all of those yards."
It didn't help that Florida was playing without starting middle linebacker
Antonio Morrison
. Or that backup
Michael Taylor
injured the MCL in his right knee in the second quarter and did not return. Or that Taylor's replacement, true freshman
Alex Anzalone
, separated his shoulder during the game.
Injuries handcuffed the Gators' offense, as well. Starting quarterback
Tyler Murphy
, the backup at the start of the season, missed his second straight game with a nagging shoulder injury, forcing the Gators to turn again to redshirt freshman
Skyler Mornhinweg
.
But Florida was facing a team with similar injury problems. Georgia Southern, which plays within the FCS limit of 65 scholarships, has suffered 19 injuries this season, including 13 to starters. As a result, the Eagles have struggled to a 7-4 record (4-4 in the Southern Conference), including losses to Samford, Wofford and Appalachian State.
"I know [the Gators] have had a tough year. They've had a lot of injuries. So have we," GSU coach Jeff Monken said after his team stormed the field at Ben Hill Griffin stadium and lingered to enjoy the biggest win in program history. "We've got a lot of guys playing out there that weren't our starters at the beginning of the year and wouldn't have been starters right now had other guys been healthy. But we've continued to improve, and as those guys said, we've continued to fight."
The same cannot be said of Florida.
The Gators' patchwork offensive line struggled to run and pass block against its FCS foe, forcing a number of direct snaps, jet sweeps and wildcat plays in order to catch the defense off guard, despite the fact that the Eagles' starting defensive linemen averaged just over 6-foot-1 and 270 pounds. Mornhinweg had 6 yards passing at halftime. Florida rushed for 111 yards in the first half but just 46 in the second.
"We came out flat as a team," senior offensive guard
Jon Halapio
said. "We didn't play as a team today. We didn't communicate. We didn't block together. We didn't run the ball as efficient. That's something that we preached early on in the week, to not take this group of men lightly. They came out here and played their tails off. This was their bowl game. They had nothing to lose. We took them lightly, and we got outworked, outplayed, outphysicaled. You call it, it happened."
Now what happens at Florida is a week of preparation for arch-rival Florida State, followed by a merciful end to a painful season.
"As far as not going to a bowl game, I'm not gonna lie, I never would have seen that coming, coming to Florida," Riggs said. "That's very upsetting. A losing season, even though we were plagued by injuries, like I said, there's no excuses."
Without the excuse of injuries, however, the historic losses this season could throw into question the votes of confidence Muschamp received just more than a week ago from athletic director Jeremy Foley and UF president Bernie Machen.
Losing to Georgia Southern could have significant implications if the outcry from Florida fans is heard. Despite the negativity and the demoralizing losing streak, the Gators coaching staff still has the full faith of its players.
"We're not concerned," Riggs said. "I know that a lot of people around here have Coach Muschamp's back. He's a great coach, best coach I ever had. We're not worried about that. I've learned more under him than I have under any coach ever.
"Yeah, it's about winning. But some stuff you just can't control. We've had a lot of hardships this year. Not using that as an excuse again, but it's just a rough year for us."
January, 7, 2013
1/07/13
10:35
AM ET
All the attention is on tonight's Discover BCS National Championship, but eyes were all over the SEC over the weekend, with a handful of players making decisions about their futures.
Here's a look at some of the movers and shakers from the weekend to check up on:

FLORIDA
Backup quarterback
Jacoby Brissett
, who was beaten by
Jeff Driskel
for the starting spot at the beginning of the season, and reserve running back
Chris Johnson
, who was primarily used on special teams,
have decided to transfer
. Brissett's decision didn't shock anyone. He was behind Driskel all year and played in just five games and his only start came late in the year when Driskel was out with an ankle injury. Johnson arrived at Florida as a safety, but moved to running back, where he was buried on the depth chart. His lasting image with the team was being ejected in the Gators' loss to Louisville in the Allstate Sugar Bowl for punching a Louisville player.
The loss of Brissett is significant when it comes to depth. After Driskel, the Gators will have three scholarship quarterbacks entering the 2013 season, but basically no experience.
Tyler Murphy
will be a redshirt junior, but has never thrown a pass at the college level, while
Skyler Mornhinweg
will be a redshirt freshman and Max Staver will be a true freshman. That means Driskel's health becomes the top priority in 2013 for the Gators.

GEORGIA
While Florida lost a quarterback, Georgia kept one, with
Aaron Murray
deciding to
stay for one last year with the Bulldogs
. Murray seriously considered leaving school early for the NFL, but will return for one final attempt at making a run to a championship. With the defense Georgia had in 2012, this past season felt like the best chance Murray had at winning multiple championships with the Bulldogs. Next year's defense will be gutted, so it will be back to the drawing board for that side of the ball.
One thing that has been counted against Murray when it comes to the pro level is his height. At 6-foot-1, he doesn't have ideal height for a quarterback, but what might have helped him in this year's draft was the play of Seattle Seahawks quarterback
Russell Wilson
, who stands just 5-11, but has had a tremendous rookie year. Murray isn't going to get any taller, but he does have a chance to break even more records in a Bulldogs uniform and could improve his stock for the 2014 NFL draft.
On Friday, linebacker
Jarvis Jones
decided to enter April's NFL draft
. No shocker at all, as he's No. 1 on ESPN draft analyst Mel Kiper Jr.'s Big Board. Jones is a two-time All-American and has been right at the top of the list for the nation's best defensive player for the past two years. He would have been silly to come back for a final year at Georgia, and he's going to make himself -- and his family -- a ton of money. He was one of the league's most exciting players to watch, but it was his time to move on.

LSU
There was a mass exodus from LSU over the weekend, as eight underclassmen decided to leave the Bayou. It started with linebacker
Kevin Minter
last week. Then, safety
Eric Reid
, cornerback
Tharold Simon
, running back
Spencer Ware
and punter
Brad Wing
decided to leave LSU early Friday
. On Sunday, sources told ESPN's Joe Schad that defensive linemen
Sam Montgomery
,
Barkevious Mingo
and
Bennie Logan
would also enter the NFL draft
.
Losing those linemen wasn't much of a surprise, as Mingo and Montgomery are projected to be first-round draft picks, and Logan is rated as Kiper's fifth-best defensive tackle among juniors. Wing's time in Baton Rouge seemed to be coming to an end, and his bowl suspension didn't help, but Simon and Ware could have benefited from another year of football. With the emergence of freshman
Jeremy Hill
, Ware saw his carries decline in 2012, while Simon still has some room to improve. He's rated the No. 15 cornerback by ESPN Scouts Inc., but didn't blow a ton of people away in 2012. He has great size and instincts, but it was surprising to see him leave early.
February, 29, 2012
2/29/12
4:10
PM ET
Penn State fans were getting a bit antsy about the fact new coach Bill O'Brien hadn't landed a verbal commit for 2013.
The wait is over, and Nittany Nation is celebrating.
Quarterback Christian Hackenberg committed to Penn State on Wednesday, becoming the first verbal for an all-important 2013 class. Lions247.com first reported Hackenberg's commitment, and colleague Jamie Newberg
confirmed it with Hackenberg's father
.

Hackenberg, a member of the ESPNU 150 Watch List, is a 6-foot-3, 210-pound signal-caller for Fork Union Military Academy in Virginia. He had received offers from Alabama, Florida, Miami, South Carolina, Tennessee and Virginia, among others.
This is a big get for Penn State, which needs quarterback help in the 2013 class. Penn State lost out on one-time verbal Skyler Morningweg, and while new quarterbacks coach
Charlie Fisher loves incoming recruit Steven Bench
, the team needs more options. It's also significant for O'Brien, whose background as a quarterback guru should help Penn State upgrade the position. Hackenberg recently
cited O'Brien's work with New England Patriots quarterback
Tom Brady as a big selling point. Hackenberg's father, Erick, played football at Virginia with Tennessee coach Derek Dooley, so Penn State certainly had some competition for Christian's services.
Two positions where O'Brien could make a major impact are quarterback and tight end, given the Patriots' success last season with tight end Rob Gronkowski. Penn State is in the mix for tight end recruit Adam Breneman, who grew up a Lions fans and
recently took an unofficial visit to the school
.
Penn State has a long way to go in 2013 recruiting, but Hackenberg's pledge is an excellent start.
February, 6, 2012
2/06/12
11:10
AM ET
The Big Ten recruiting classes are signed and sealed, and although a few more recruits could come aboard, we have a good idea of what the rosters will look like heading into the 2012 season.
That means it's Power Rankings time. Again.
We're taking a post-signing day look at where the league stacks up. There aren't too many changes from our
previous rundown
, but some teams received a bump from strong recruiting classes.
As they say on Twitter, #legooo.

1. Michigan State:
The Spartans' recruiting class didn't crack ESPN's top 25, but it features several strong prospects and is loaded up at wide receiver and defensive back. Mark Dantonio tells us he can't remember recruiting 10 athletes like the ones Michigan State added in the class. Michigan State already is one of the Big Ten's most athletic teams, so this bodes well for the Spartans as they look for another big season.
2. Michigan:
Brady Hoke and his staff rode a fast start to 2012 recruiting and finalized a class ranked No. 7 nationally. The Wolverines started three freshmen on defense in 2011 and added several more who can contribute early in their careers, including linebacker Joe Bolden, cornerback Terry Richardson and defensive tackle Ondre "Pee Wee" Pipkins. If Michigan can maintain its momentum on defense after losing several stud linemen, it will be very tough to beat in 2012.
3. Ohio State:
Urban Meyer announced himself with a superb recruiting class featuring arguably the nation's best crop of defensive line prospects. Ohio State would have been an improved team in 2012 after its first seven-loss season since 1897, but the recruiting class boosts the Buckeyes even more. The defensive front seven should be a deeper and stronger unit, and players like Noah Spence, the Big Ten's top-rated recruit, have a chance to contribute immediately.
4. Nebraska:
The Huskers missed on their top signing day target (offensive lineman Andrus Peat) but still inked a solid class that should help at positions like linebacker, where Big Red lacked size and depth. Linebacker Michael Rose could contribute early in his career. Nebraska also addressed the departure of standout cornerback Alfonzo Dennard with talented juco addition Mohammed Seisay.
5. Wisconsin:
Quality not quantity was the theme for Wisconsin, which signed only 12 players, the Big Ten's smallest class by five recruits. The Badgers lost two offensive line commits to other schools but added a decorated quarterback in Bart Houston and some solid players to the defensive back seven, including linebacker Vince Biegel. This is the type of season that will test Wisconsin's ability to reload and provide a true gauge of the program's progress under Bret Bielema.
6. Penn State:
New coach Bill O'Brien and his staff had to scramble to keep the class together, and the 2012 recruiting haul didn't quite match what Penn State adds in most seasons. The coaches were able to keep some good prospects and fulfilled a need at wide receiver with Eugene Lewis and others. It'll be interesting to see how quarterback Steven Bench turns out after Penn State lost verbal commit Skyler Mornhinweg to Florida.
7. Purdue:
The Boilers added speed in their 2012 class, and they loaded up on quarterback prospects for the future with four signal-callers. But Purdue also beefed up along the offensive line with Jordan Roos and others. With coaching changes and personnel changes throughout the Leaders Division -- not to mention Ohio State's bowl ban -- Purdue has an excellent chance to make some noise in 2012.
8. Iowa:
The big story in Iowa City isn't so much the recent recruiting class but the seismic changes going on in one of the nation's more stable programs. After having the same coordinators for the past 13 seasons, Kirk Ferentz must replace both Norm Parker and Ken O'Keefe, who left late last week for a post on the Miami Dolphins' staff. Iowa will have new leadership on both sides of the ball, creating some uncertainty but also some excitement. The Hawkeyes added some nice pieces in the 2012 class, such as running back Greg Garmon and defensive end Faith Ekakitie.
9. Northwestern:
Although the Wildcats' class didn't crack the national rankings, it looks like the best haul in Pat Fitzgerald's tenure as head coach. Northwestern picked up a potential difference-maker on defense in defensive end/linebacker Ifeadi Odenigbo. Malin Jones could be the team's answer at running back, a spot that has suffered during Fitzgerald's tenure. The Wildcats also added the league's top transfer in former USC receiver Kyle Prater.
10. Illinois:
It might take a year for Tim Beckman and his staff to make a big splash on the recruiting scene. Illinois' 2012 haul didn't receive great reviews, but the Illini are pursuing several nationally elite 2013 prospects from within the state. Linebacker recruits Tajarvis Fuller and Tyrone Neal should help Illinois in the defensive back seven. There's enough talent on the squad to get back to a decent bowl, but Beckman and his staff have plenty of work ahead.
11. Minnesota:
The Gophers inked a class that drew good reviews from ESPN's analysts. Jerry Kill and his staff retained several top in-state prospects, including offensive lineman Isaac Hayes, wide receiver Andre McDonald and quarterback Philip Nelson. McDonald and fellow wideout Jamel Harbison could be immediate contributors for an offense that needs more options. But defense must be the top offseason focal point for Minnesota, which added several juco defenders.
12. Indiana:
Although the Hoosiers remain at the bottom, we liked their recruiting class, which should first and foremost provide immediate help on defense. Junior college defenders like Tregg Waters and Jacarri Alexander likely will step in right away for a struggling unit. Indiana also will increase the competition at quarterback with heralded prep prospect Nate Sudfeld and juco addition Cameron Coffman.
January, 31, 2012
1/31/12
1:10
PM ET
The Super Bowl is Sunday, but the super bowl of recruiting arrives on Wednesday. So on the eve of national signing day, we thought we'd check in with some of ESPN.com's top recruiting experts to get a feel for what's going on in the Big Ten.
Our esteemed panel included senior national recruiting analyst Tom Luginbill, Midwest recruiting writer Jared Shanker and Scouts Inc. recruiting coordinator Craig Haubert. This is Part I of our discussion; look for Part II later on today.
Topic 1: What impact has the arrival of Urban Meyer had on the league and in general when it comes to recruiting?
Tom Luginbill:
"It's been fairly significant. If there's one thing Urban Meyer understands and has been able to do, it's that you build a championship team from the inside out. Whether it was at Florida or now at Ohio State, if you notice who essentially all his first commitments were, they were all on the defensive line and offensive line. So he understands that, if they're going to compete for a national championship, the gap has to be closed in the defensive front seven. That's the difference between what's happened in the SEC and everywhere else. So I think that's where he's made his biggest impact."
Craig Haubert:
"What Urban Meyer has been able to come and do down the stretch has been huge. I knew when he took over, they would get better as a class, but I didn't really think when this happened, they'd have a chance to crack the Top 25. They're still in a position to possibly land some guys.
Davonte Neal
, the No. 1 athlete, could be headed there.
Stefon Diggs
and
Jordan Diamond
are also in the mix there." [Diggs and Neal are both post-signing day announcements].
"If you look at this class, it's all in the trenches, really. And our philosophy is there's always an increased value to upper-tier linemen because they're harder to find.
Noah Spence
obviously is huge, he's a five-star, but so is
Adolphus Washington
. The other thing that stands out to me about Ohio State is he's been plucking guys from other Big Ten schools.
[Se'Von] Pittman
was a Michigan State kid.
Joey O'Connor
had decommitted before he got him, but he was a Penn State kid. Same thing with
Tommy Schutt
.
Armani Reeves
. So his upper part of his class, a lot of them have come from other Big Ten schools."
Jared Shanker:
"He's exceeded my expectations. He's obviously a great recruiter. At the same time, I wouldn't call it walking into a perfect situation, but with what was going on at Penn State, I think he's taken five recruits from Penn State, so there were opportunities for him to come in and flip some guys. Noah Spence was a Penn State lean. He had O'Connor and Tommy Schutt, two other ESPNU 150 guys who were committed to Penn State.
Camren Williams
and
Armani Reeves
, two other guys at Penn State. Obviously, he's one of the best recruiters in the game. He also had some good fortune in being able to come in at a time when things were shaky at a rival school and pick up some of their commitments. Se'Von Pittman, the other ESPNU 150 guy, he was really looking for a reason to get to Ohio State."
Topic 2: How good is Michigan's class, and has the Wolverines' momentum slowed down in the last several weeks?

CH:
"They came out fast. We've always had them in that 5-to-7 type range. People might get frustrated that it's getting near signing day, when there's a lot of buzz and things going on, and they're not doing much, but to be fair to them, what they did has allowed them to maintain in the same area where they've been for most of the recruiting process. The thing that sticks out to me about this class is a lot of people kind of scoffed when Brady Hoke got hired and he said, 'I'm a Michigan man.' But he's been true to that. They've done very well in state. A lot of their key players are Michigan guys, led by
Terry Richardson
. So he's brought a little bit of that Michigan man feel, and there seems to be an excitement among recruits."

TL: "
Michigan was rolling before Meyer got the job, and they were teetering on maybe swinging
Bri'onte Dunn
, the running back, and Ohio State was able to keep him in the fold. Is Michigan in competition with Ohio State for some players? Yes. But Michigan right now is more focused on revamping the roster to the mold that Brady Hoke wants. They need more size up front, some size at the linebacking positions and some size at the skill spots. And I think they've done that in all three areas. [The lack of recent commitments] is a reflection of numbers and how much room they have. With the Big Ten's hard cap, they don't have a ton of wiggle room. If anything, the winning on the field and the sustained excellence helped solidify that the class would stay intact."
JS:
"I don't know if I'd say they've lost momentum. They really were hoping to get Josh Garnett, who ended up going to Stanford. Their class filled up so quickly, and they only had about four or five spots left midway through the season. They're hoping to get some of the guys who are closer to signing day. They're in good position to get Jordan Diamond. I think he's No. 94 overall. So it seems like they've maybe fallen off, but they were at 21 or 22 commitments by the time the season started. They really had their run of success in the spring and summer. I'm sure they would have liked to maintain that a little bit and gotten some of those final targets like Garnett, but they're also able to get the two receivers, [Amara] Darboh and [Jehu] Chesson, right after the season ended. So they've still been able to pick up some guys along the way."
Topic 3: How has Penn State fared given all the turmoil surrounding the program and the flurry of decommitments?
JS:
"My thinking for them was, if they could have just held on to their 14 commitments, that would be the main thing. They were obviously going to get some more commitments, but they weren't going to be the top-caliber guys. If they could hold onto the 14 and add those sleeper guys who have a chance to be something at the next level, that was my expectation for them. I like that they got
Akeel Lynch
, the running back. I think he could be a good player. They're probably a little disappointed that it looks like they're going to miss out on
[Skyler] Mornhinweg
and the two Massachusetts guys in Reeves and Williams."
TL:
"I think to this point, Bill O'Brien has done a good job. But a lot of credit needs to go to that previous staff. Outside of the guys they lost to Ohio State, through all of this, they're still siting here with 18 verbal commitments. If you think about it, that's astounding. And I would say that the top third of them, athletically, can compete for a conference championship. Of course, you don't know all the intangibles and all that, but based on pure player level, this is a pretty strong class. It certainly isn't anywhere near where people would have expected it to be. ... But just to have bodies in this class, in my opinion, is a positive. [O'Brien] won't be judged on this class. He will be given a long leash, and in my opinion, it was made very clear with the timetable the administration set with this hire that the 2012 class is not the priority. If it had been, they would have hired a guy in December."