July, 22, 2014
Jul 22
9:40
AM ET
By
ESPN.com staff
| ESPN.com
The Big 12 media days continue on Tuesday in Dallas, as Oklahoma's Bob Stoops and new Texas coach Charlie Strong each take the stage. Keep this page open throughout the day's proceedings as we bring you the latest from our reporters, who will cover all 10 teams at the event.
April, 16, 2013
4/16/13
12:00
PM ET
Lane Kiffin and Co. have released their official post-spring two-deep depth chart. And not surprisingly, there aren't a lot of surprises.
One of the most watched quarterback competitions in the country lists
Max Wittek
OR
Cody Kessler
OR Max Browne. Leaving us with what we knew a month ago. It's going to be Wittek OR Kessler OR Browne.

Steve Bisheff of WeAreSC
makes his case
-- and a compelling one at that -- for Kessler, who clearly had the strongest spring of all three quarterbacks.
Despite Kessler's clear advantage coming into the (spring) game, Kiffin had Max Wittek starting with the first unit at the Coliseum on Saturday. And even after Kessler outplayed his main competitor, throwing for 242 yards and three touchdowns with no interceptions compared to Wittek's 145 yards, two touchdowns and two interceptions, Kiffin insisted that no quarterback had emerged as a front-runner for the position and that he won't name a starter until the fall.
Sticking with the offense, there was already an assumed pecking order at wide receiver, but it's more solidified now. Darreus Rogers and
Victor Blackwell
are behind Biletnikoff winner
Marqise Lee
.
Nelson Agholor
will start opposite Lee with
De'Von Flournoy
and
George Katrib
backing him up.
Some intrigue at running back with
Silas Redd
at the top, but the starting gig is listed as Redd or Justin Davis or
Tre Madden
. Same for the fullback, which lists
Soma Vainuku
or
Jahleel Pinner
as the starter.
So while the entire offensive backfield is a grab bag of "ors," there is at least some solidarity on the offensive line, where four of the five starters appear to be in place.
Aundrey Walker
and
Max Tuerk
make up the left side with
Marcus Martin
at center and
John Martinez
at right guard. The only spot still in doubt is at right tackle between
Kevin Graf
or
Chad Wheeler
.
The new-look 52 defensive front has
Devon Kennard
and
Morgan Breslin
at the outside linebacker spots (that's going to be a scary combination, by the way) with
Leonard Williams
and
George Uko
(also a darn good tandem) at the ends. Nose tackle is still up for grabs between
Antwaun Woods
or
Cody Temple
.
In the secondary, where there are almost as many holes as there are questions -- little has been determined. Three of the four starting spots have an "or" attached to them. Only
Anthony Brown
looks like the inked-in starter.
Torin Harris
and
Kevon Seymour
are battling for the other corner spot and
Demetrius Wright
or Leon McQuay III are battling for free safety.
Josh Shaw
and touted freshman Su'a Cravens -- who missed a significant portion of spring drills -- will head into fall battling for strong safety.
November, 25, 2012
11/25/12
10:00
AM ET
What did we learn in Week 13? Read on.
It's UCLA at Stanford for the Pac-12 title (and who had that in August?)
: In the preseason, it was treated -- here and every other place -- as a near-certainty that USC and Oregon would play for the Pac-12 title. They were overwhelming favorites in the South and North divisions, respectively. The expectation was the game would have national title implications. Ah, expectations. The Pac-12 title game will have no relevance in the national title picture, and neither the Ducks nor Trojans won their division. Instead, UCLA captured the South over its hated rivals and Stanford ended its "Oregon Problem" by winning in Eugene. Of course, this set up an odd situation. Stanford beat UCLA 35-17 on Saturday, which made sure the two teams would play for the conference title on Friday, six days after their regular-season game.
[+] Enlarge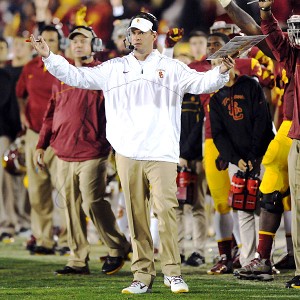 Kirby Lee/Image of Sport/US PresswireGoing 7-5 with USC's offensive talent ? A sign that Lane Kiffin needs an offensive coordinator.
Kiffin needs an offensive coordinator
: If USC coach Lane Kiffin, as an objective observer, reviewed the Trojans' crucial failure on its second-to-last possession against Notre Dame, he would conclude the play calling was clueless and indefensible. He would fire his offensive coordinator. But the problem is that he is his offensive coordinator. Three failed runs up the middle from the 1-yard line with precious time ticking away? Going for it on fourth down when the Trojans, down by nine at 22-13, needed two scores? A fourth-down pass to fullback
Soma Vainuku
, the player with perhaps the worst hands on USC's offense? Kiffin needs to stand in front of a mirror and ask, "Did this offense have a good year, based on the talent on hand?" If he says, "Yes," then athletic director Pat Haden should fire him for being an irredeemable lunkhead. If he says, "No," then Kiffin should go out and find an A-list coordinator to call plays and promise him autonomy. And about that defense, Lane ...
Oregon's three-year run ends, but not in a horrible way
: Oregon rolled to its fifth straight Civil War victory, 48-24 -- the Beavers scored a TD in the waning moments -- and improved to 11-1 overall and 8-1 in the Pac-12. But the Ducks have been officially unseated as Pac-12 champions after a three-year run due to their loss to Stanford last weekend, which gave the Cardinal the tiebreaker. For much of the season, Oregon seemed in position to play for the national title, but the loss to Stanford and subsequent results elsewhere ended that. Still, the Ducks are again a top-five team and likely headed to the Fiesta Bowl to play the Big 12 champion, perhaps finally getting a chance to play Kansas State. Not exactly a bad season. But yes, it could have been better.
A double-digit, fourth-quarter lead doesn't mean much in a rivalry game
: While there's a movement among some coaches to say every game is the same, there's plenty of circumstantial evidence that players bring something extra to rivalry games. Take two examples on Friday. Arizona State trailed Arizona 27-17 entering the fourth quarter and little was going the Sun Devils' way. But they then scored 24 unanswered points and won 41-34. Washington led woeful Washington State 28-10, yet a team that had lost eight in a row didn't fold. The Cougars scored 18 consecutive points to force overtime, then kicked the winning field goal as the Huskies wilted.
Washington (still) hasn't arrived
: As more than a few of you noticed, the Pac-12 blog wrote the Cougars off when they were down 18 to Washington to enter the fourth quarter. Perhaps the Huskies give too much respect to Pac-12 blog tweets, a possibility that scares me as much as you. Washington was set up for a wonderful finish: Five consecutive regular-season wins. A nice bowl game. A chance to earn a high position in the 2013 preseason rankings. But the Huskies got sloppy and seemed to lose their edge. A good team doesn't lose to a team with nine defeats. Ergo, the Huskies are still trying to become legitimately good again.
November, 25, 2012
11/25/12
2:36
AM ET
Things haven't been ending well for USC quarterbacks lately.
Max Wittek
's career began somewhat like Matt Leinart's ended, squeezed by the extraordinary frustration of not being able to pick up a few inches on fourth down.
That was an improvement over how things may have wrapped up for
Matt Barkley
, who walked down the tunnel for the last time at the Coliseum -- in the most electric atmosphere this season -- without a helmet. He had walked up it a few hours later in a sweatsuit, struggling to keep his gear bag from slipping off his injured right shoulder.
What do the three Trojans quarterbacks have in common, aside from having attended the same Orange County high school? For much of their college careers, they relied on Lane Kiffin to call plays for them. And USC fans will be howling about the way Kiffin handled the end of Saturday's epic opportunity against top-ranked Notre Dame.
On first and goal from the 1, Kiffin tried to sneak Wittek in. He got nowhere.
He tried the same thing again on second down. He got nowhere.
After burning a timeout, he tried giving the ball to
Curtis McNeal
, who got -- yes, that's right -- nowhere.
Finally, eschewing a field-goal try that likely would have made it a one-score game, he allowed Wittek to attempt a forward pass. The redshirt freshman with the big arm got a bit flustered, throwing it a little too low, a little too firmly, to fullback
Soma Vainuku
. It was incomplete ... and a disappointing season got just a little more disappointing.
For Mark Saxon's full ESPNLosAngeles.com column, click
here
.
February, 4, 2010
2/04/10
3:13
PM ET
USC's
class of 19
-- and one HUGE oral commitment -- ranks seventh in the nation and features 11 players (including said commitment) on the ESPNU 150 list.
That commitment is
Seantrel Henderson
, the nation's No. 1 offensive lineman, who
will wait to sign
until after USC meets with the NCAA later this month.
Lane Kiffin's first class after the departure of Pete Carroll was stronger than just about everybody thought it would be.
The Trojans had
three top needs
. They hit a grand slam at receiver and tight end. They did fairly well at defensive back. They fell short at linebacker.
Top prospects
:
Robert Woods
is the nation's No. 1 receiver.
Markeith Ambles
was No. 4.
Kyle Prater
was No. 9.
Xavier Grimble
leads a list of three top-10 tight ends. Help is coming for quarterback Matt Barkley. Speaking of quarterbacks, the Trojans signed the No. 2 guy,
Jesse Scroggins
.
Under the radar
: Not really a USC category. Fullback
Soma Vainuku
, recruited as a linebacker by a number of schools, signed as a fullback, perhaps positioning himself as the next Stanley Havili.
Issues?
It's hard to quibble with the nation's No. 7 recruiting class, particularly when the school was dealing with a coaching transition to Kiffin from Carroll, but there are two things. First, linebacker was a need area that wasn't sufficiently addressed. Second, the Trojans lost out on a number of prospects to rival UCLA, most notably safety
Dietrich Riley
and linebacker
Jordan Zumwalt
Notes
: Kiffin said he expects linebacker
Glen Stanley
, the lone JC transfer, to play immediately... USC signed players from five states... Kiffin took a shot at the players who picked UCLA over USC in his signing day press conference: "I think, I've been gone three years but much hasn't changed. As you meet the kids there is a sense and I was reminded of the kids that go to UCLA and the kids that come to USC, and to be back here, I watched it over the weekend just to see if it's the same, and it's really still the same. I guess we waste time continuing to recruit them, we know within the first 10 minutes whether they're the type of guys that want to play here or there."
February, 4, 2010
2/04/10
1:38
PM ET
Oregon State's
class of 16
ranked at or near the bottom of the Pac-10, according to the recruiting rankings, which is fairly typical.
Funny how the Beavers have won 36 games over the past four seasons without any good players.
"Are we in the top 50? " head coach Mike Riley asked. "We don't discount that, but I do like our process. When we decide a guy is worthy of a scholarship, if he commits and signs we will be happy about that. Where that puts us in the rankings, so be it. It will not change our feelings about the class."
The low ranking also can be partially blamed on the small class size. The Beavers had needs on defense and the class features five defensive linemen and three linebackers.
Top prospects
: Riley called
Shaydon Akuna
"a perfect fit" at outside linebacker. Quarterback
Sean Mannion
has tremendous upside. Riley said defensive lineman
Dominic Glover
, a former Oregon player, will play immediately.
Under the radar
: Riley said of defensive lineman
Mana Tuivailala
, "we really like this kid's potential," but Riley also described him as "rather raw." Tight end
Tyler Perry
could see playing time in 2010.
Issues
: Oregon State fans annually are torn between scoffing at recruiting rankings, while quietly wishing they could be higher. The Beavers missed on three big-time prospects: running back
Giovanni Bernard
(North Carolina), linebacker-fullback
Soma Vainuku
(USC) and defensive end
Owamagbe Odighizuwa
(UCLA). The class also lacks cornerbacks.
Notes
: Committed defensive tackle
Happy Iona
appears headed to junior college. ... Running back
Malcolm Marable
could end up as Jacquizz Rodgers' backup. ... Kicker
Trevor Romaine
, defensive back
Will Storey
and tight end
Connor Hamlett
will grayshirt.