NCF Nation:

Sooners-Cowboys-112710
November, 28, 2010
11/28/10
2:20
AM ET
STILLWATER, Okla. -- Twice facing the most crucial drive of his young career,
Landry Jones
did what he knew to do.
He prayed. Jones envisions himself as a minister when football is over, but in moments like the ones he faced Saturday against Oklahoma State, he'll learn plenty about himself.
This was no Hail Mary in hopes of a Hail Mary, even if that's essentially what Jones ended up with -- twice.
"Praying to God to keep me calm and let me have a clear head and block out everything," Jones said. "Don't rush things."
[+] Enlarge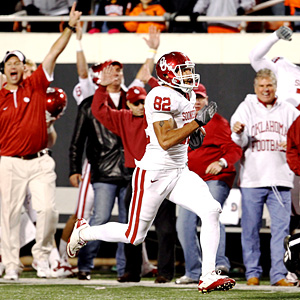 Tom Pennington/Getty ImagesJames Hanna's fourth quarter touchdown put the game out of reach for Oklahoma State.
Jones found
Cameron Kenney
over the middle for a 40-31 lead and what he thought was a game-winning 86-yard knockout punch. But Oklahoma State's Justin Gilbert returned the ensuing kickoff 89 yards for a touchdown.
So Jones did it again on the next drive, hitting tight end
James Hanna
down the left sideline for a 76-yard touchdown, giving the Sooners their final points in a
47-41
victory over the Cowboys to win the Big 12 South.
"We talk about it a lot. I have to be the calm in the storm," Jones said.
There were plenty of stormy waters before the final completion to Hanna tied him with Sam Bradford for a school-record 468 passing yards, as well as four touchdown passes. Jones said his first half was the worst he'd ever played. He had three interceptions to show for it, including a forced pass to the sideline that Oklahoma State's Shaun Lewis returned 52 yards for a score.
"God brought me through that situation," Jones said. "He gave me the patience and endurance to go through those hard times and sit in there and be calm in the pocket and make the throw. It was really satisfying to do that."
Rare are the occasions when Jones isn't calm and subdued, and on the sideline and in huddle before a game- -- and perhaps season -- defining drive was no exception. Kenney said Jones' message to the 10 teammates around him was simple: Have fun.
Mission accomplished.
"That was one of the funnest games I've ever played in," Jones said.
The heartbreaking loss for Oklahoma State only continued Oklahoma's dominance in the Bedlam series. The Cowboys haven't earned the state's bragging rights since 2002, and with a record-breaking offense going up against an Oklahoma team that struggled on the road the past two seasons, 2010 looked like it was their time. Once again, they were forced to walk off the field amongst celebrating Sooners.
The Bedlam rivals traded blows in the fourth quarter, racking up four touchdowns in 92 seconds.
"I've never felt like that," said linebacker Travis Lewis. "I was having an anxiety attack. I was just so pumped up and was like, 'Oh my goodness, who's gonna make the play? Who's gonna make the play?' We made enough plays to win tonight."
Jones made plenty in the second half on two lengthy drives that ended in field goals to give Oklahoma a 30-24 lead. On those two drives that added up to 32 plays and 138 yards sandwiched around an Oklahoma State three-and-out, Jones completed 4 of 6 passes on third down for 39 yards. The offense converted seven third downs on those two drives.
"We made big plays in the fourth quarter when we had to have 'em," said coach Bob Stoops. "Landry put the ball on the money. He had a few tough spots, but you love his resilience to come back and put the ball when he had to have them in some great spots."
Oklahoma converted 16 of 27 third downs. The Sooners defense played well, but the offense deserves the bulk of the credit for holding Oklahoma State's offense, ranked No. 3 nationally in scoring, to just 27 points -- minus a defensive touchdown and special teams touchdown.
Dana Holgorsen's unit couldn't get on the field. After those two monster drives from Oklahoma, the Sooners had run 98 plays from scrimmage. Oklahoma State had run 52, and still trailed by just six. The Sooners finished with 107 plays to Oklahoma State's 66.
"Credit goes to our offensive line picking up everything and our receivers and running backs making plays," Jones said. "We'd drop it down short to them and they'd make a person miss and go out and get the first down for us."
Oklahoma closed its season with a pair of road wins to capture the Big 12 South after sitting at home on championship weekend last season.
"A year ago, we weren't in that spot," Stoops told his players of a chance to play for a division title. "That kinda stinks."
Oklahoma captured its moment and with it, a chance to play for a fifth Big 12 title in seven seasons.
"Who better to play in the Big 12 Championship game than Nebraska, right?" Lewis said, stepping back before his declaration, a gesture as grand as the rivalry itself between the crimson and cream and Big Red. "The rivalry goes back since the Big 12, Big 8 started. Who better to play than those guys?"
The stakes will concern more than just the cities of Lincoln and Norman when the two tangle in Dallas next Saturday night, barring unforeseen BCS hi-jinks. Nebraska's exit from the Big 12 has never been more contentious, with questionable flags and absent commissioners and trophies fueling the anger of the Huskers and their fans.
Nebraska and Oklahoma's grand rivalry shriveled with the addition of Texas and divisional play in the Big 12, but the final game in the Big 12's current configuration will be between the old-time rivals with bragging rights on the line in Cowboys Stadium.
"What would be more fitting?" Stoops said. "To have one more go at Nebraska-OU would be pretty good."
November, 27, 2010
11/27/10
11:54
PM ET


STILLWATER, Okla. -- What a finish. That was a
heart stopper
.
Oklahoma should win the Big 12 South when the BCS standings are announced on Sunday night, and Oklahoma State must wait another year to break an eight-game losing streak to the Sooners.
Keep it here for more later on Saturday night.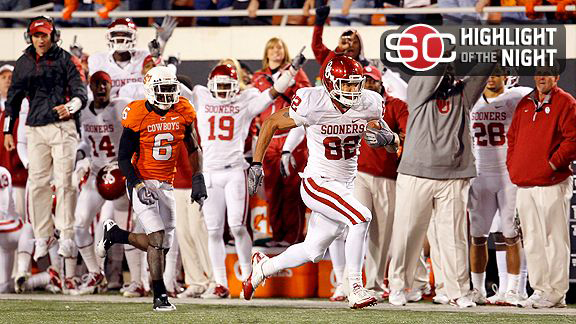 November, 27, 2010
11/27/10
11:47
PM ET
STILLWATER, Okla. -- Good luck finding a more aptly named rivalry this year.
Oklahoma has twice put this game on ice. But Oklahoma State has answered both times: with a lengthy touchdown drive and an 84-yard kickoff return by Justin Gilbert, who was
clearly inspired from the last line of our earlier post.
Oklahoma has countered twice with long touchdowns to
Cam Kenney
and
James Hanna
and leads 47-38 with just over two minutes to play.
Barring a score and onside kick shenanigans, Oklahoma may have sealed it with the Hanna score. We'll have more later.
November, 27, 2010
11/27/10
11:04
PM ET
STILLWATER, Okla. -- We saw five turnovers in the first half.

So far, none in the second. That's provided a cleaner game for both sides, but Oklahoma strung together the game's most impressive drive.

The Sooners marched 84 yards in 17 plays, but had to settle for three points to take a 27-24 lead. The safe bet is 27 points won't win this game, but the way Oklahoma's defense has played, it just may be enough.

Oklahoma would have rather chalked up another seven points than settle, but after a scoreless third quarter, they'll take what they can get. This game may come down to the Oklahoma defense, which forced a three-and-out on the ensuing possession.
November, 27, 2010
11/27/10
10:03
PM ET
STILLWATER, Okla. -- It's not every day you see a game with almost as many turnovers as punts, but it definitely makes for an exciting half. That's what we've had here at Boone Pickens Stadium.
Stat of the half:
Combined completion percentage of
Landry Jones
and
Brandon Weeden
, the Big 12's most productive quarterbacks. Together, they were at just 50 percent before Jones completed 5-of-6 passes on a field-goal drive to end the half and raise it to 54 percent (30-of-56).
Stat of the half II:
Weeden and Jones have also combined for five interceptions. Just when each quarterback's team looked it could take control, they were derailed by a costly interception. That's made for a seesaw game, which might drive coaches crazy, but makes for good entertainment.
Best player in the half:
Cornerback Brodrick Brown and linebacker Shaun Lewis, Oklahoma State. Brown has an interception, and tipped another to Lewis from out of bounds as
the first half of a spectacular play
. Lewis returned his first interception of the day 52 yards for a touchdown to keep Oklahoma State in it early with the Sooners driving with a 14-3 lead.
What Oklahoma State needs to do:
Keep testing Oklahoma's secondary deep when it gets a chance. Coaches like to say "You can only throw what you can block," and Oklahoma has pressured Weeden, but the Cowboys set up their only offensive touchdown of the day with a deep ball to
Justin Blackmon
.
What Oklahoma needs to do:
Give more carries to its trio of backs,
Roy Finch
,
DeMarco Murray
and
Trey Millard
. Landry Jones has looked masterful one moment and clueless the next. That's not necessarily anything new for Oklahoma, but the Sooners can't afford any more crippling mistakes in this one. They've run the ball well, and Murray is looking as good as he has all year.
November, 27, 2010
11/27/10
9:46
PM ET
STILLWATER, Okla. -- Notify the ESPY highlight-reel makers and get SportsCenter on the line.
I've never seen anything like the play
Brodick Brown
and
Shaun Lewis
combined to make.
Both already intercepted Oklahoma's
Landry Jones
once this game, but Jones rolled out and attempted to throw the ball away.
No sir, Brown said. The Cowboys' corner lept and tipped the ball back in play, where Lewis intercepted the pass and returned it 15 yards.
You won't see anything like that again for a long time. Oklahoma State would have liked to gain some momentum from the play, but the offense went three-and-out and was forced to punt.
Even still, that's the best play I've seen all year, and maybe one of the best ever.
November, 27, 2010
11/27/10
9:36
PM ET
STILLWATER, Okla. --
Landry Jones
bounced back from his worst throw of the night, an easy pick-six to Oklahoma State's Shaun Lewis, with two of his best passes. The first was a 16-yard throw to
Cameron Kenney
to convert on a 3rd-and-9. On the next play, he hit Kenney again for an eight-yard touchdown in the middle of the OSU defense.
That score has Oklahoma up 21-10 midway through the second quarter.
Of course, none of that would have been possible without a big mistake from Oklahoma State freshman Justin Gilbert. Gilbert careened into Oklahoma punter Tress Way after his punt was away, giving the Sooners the ball back.
Just when Oklahoma State had wrangled the momentum back from the Sooners, Gilbert's miscue gave it right back.
In a game like this, one or two mistakes can determine the outcome pretty easily. Jones' interception looked like it might have a big influence on it early, but he came back with a couple of huge plays.
Now, Gilbert looks the same. He's a dangerous return man who will have his chances later in the game. We'll see if he takes advantage of his opportunity like Jones did.
November, 27, 2010
11/27/10
9:09
PM ET
STILLWATER, Okla. -- This game was billed an offensive showdown, but it's tough to get that started with both quarterbacks playing like they are early on.
Neither Oklahoma's
Landry Jones
or Oklahoma State's
Brandon Weeden
have a touchdown pass, but both have ugly interceptions.
Weeden's receivers have come down with an untimely case of the dropsies, which haven't helped his numbers. That'll have to stop for the Cowboys to erase their 7-3 deficit after the first quarter.
Weeden is just 5-of-12 for 40 yards, and his interception was a forced throw over the middle, tipped by Oklahoma's Tony Jefferson and picked off by safety Quinton Carter. He hasn't completed a pass to Biletnikoff Award finalist
Ryan Broyles
.
Oklahoma's Jones, meanwhile, has hit passes downfield to convert a pair of third-and-longs. But Broderick Brown intercepted a Jones along the right sideline when Jones tried to throw the ball away. Jones is just 8-of-17 for 80 yards.
For Oklahoma State's receivers, nerves look to be playing a factor. Those drops are completely out of character for them. The easy guess is whoever gets back on track first leaves with a win.
November, 27, 2010
11/27/10
8:42
PM ET
STILLWATER, Okla. -- Oklahoma debuted its new diamond formation last week against Baylor. Judging from Oklahoma's first touchdown drive, Oklahoma State could have used some more tape on it.
Oklahoma did a little of everything using the formation on its 11-play, 82-yard drive to go up 7-0 midway through the first quarter.
That's a bit ironic, considering Oklahoma State is where Oklahoma got the basic idea for the formation. Cowboys offensive coordinator Dana Holgorsen has been using the formation for most of the year.
For Oklahoma, running backs
DeMarco Murray
and
Roy Finch
and fullback
Trey Millard
surround quarterback
Landry Jones
in the formation, and the Sooners can use a variety of fakes and misdirections out of it to move the ball.
Millard finished the drive with a 6-yard touchdown run -- his first carry of the day -- and made it look a little too easy. You can expect Oklahoma to keep using it until the Cowboys figure out how to stop it.
November, 27, 2010
11/27/10
8:01
PM ET
STILLWATER, Okla. --
Justin Blackmon
didn't shed the boot on his tender ankle until game day, but he looked good on the field from a few feet away just minutes ago.
That's no surprise, but both offenses should be at full speed and ready for a night of offense.
Oklahoma running back
Roy Finch
was also suited up after injuring his head last week.
Health wouldn't diminish the stakes of the 2010 edition of Bedlam, but it could have diminished the scoring. It looks like we won't have to worry about that. Oklahoma State is honoring its senior class, and kickoff is minutes away, so
come chat with national blogger Andrea Adelson and me.
November, 27, 2010
11/27/10
6:43
PM ET
STILLWATER, Okla. -- The gates just opened for students, and we're about 90 minutes away from one of the biggest games in Oklahoma State history. There's a lot on the line for the Cowboys -- a first-ever Big 12 South title and appearance in the Big 12 championship game and an 11-win season, not to mention a win over in-state rival Oklahoma -- and you can definitely feel the buzz around the stadium.
"College GameDay" this morning kicked off a long day of tailgating, and as kickoff approaches, that buzz will make its way into Boone Pickens Stadium with the fans.
A warm day is fading into a chilly night, but good luck finding a cloud in the skies above Stillwater. It's a windless, perfect November night for football, and you couldn't ask for a better stage to decide the Big 12 South.
We'll be
chatting here once the game starts,
so be sure and check back in as kickoff approaches.