NCF Nation:

Sooners-Noles-091711
September, 18, 2011
9/18/11
1:32
AM ET
TALLAHASSEE, Fla. -- When Florida State quarterback
EJ Manuel
came out of the locker room in the third quarter after having his injured left shoulder examined, backup quarterback
Clint Trickett
approached him and said, "I'm going to try to do this for you."
"I know he wanted a national championship," Trickett said. "We all do."
Following
Florida State's 23-13 loss to No. 1-ranked Oklahoma
on Saturday night, that dream is likely on hold for another year, but there were plenty of encouraging signs that the program might not be too far from it under coach Jimbo Fisher.
Florida State was defeated. It was disappointed. But unlike last year's lost to Oklahoma, these Seminoles were not crushed. Nor did they have anything to be embarrassed about.
Florida State proved on Saturday night that it has closed the gap with the nation's elite and it was deserving of its No. 5 ranking and the preseason expectations. The team that was embarrassed a year ago in Norman with a Heisman hopeful at quarterback almost won in Tallahassee tonight, with its backup quarterback.
[+] Enlarge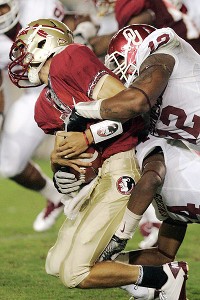 AP Photo/Steve CannonFlorida State backup quarterback Clint Trickett took some hits but nearly rallied the Seminoles to a victory.
"I'm disappointed we lost because we had a great opportunity, we had chances to win that football game," Fisher said. "But I'm also very encouraged that our kids, we can compete at the highest level. I truly believe that."
Trickett, who completed 7 of 15 passes for 134 yards, one touchdown and one interception, helped the Noles make their case. Trickett, a lanky redshirt freshman who hadn't thrown a collegiate pass until this season, was sacked five times and kept getting up for more. Oklahoma linebacker Travis Lewis had knocked Manuel out of the game, but even though Manuel had been cleared to return to the game, Fisher liked what he had seen from Trickett.
Florida State trailed the entire game until Trickett tied the game at 13 with a 56-yard touchdown pass to
Rashad Greene
. Trickett let the ball fly, hoping as it sailed through the air that it wouldn't be picked off. It wasn't. Instead, it gave the Noles a legitimate chance to win the game with its starting quarterback sidelined.
"We know we can compete up there with the top guys and that we are some of the top guys," Trickett said.
And they can be even better.
Florida State had only 27 rushing yards. The offensive line allowed six sacks. The quarterbacks combined to throw three interceptions.
And yet thanks in large part to two goal-line stands from Florida State's defense, which held the Sooners to one touchdown in five trips to the red zone, the score was tied with 9:32 left in the game.
"It just shows potential," said safety Lamarcus Joyner. "Those guys played great. You want to win games like this, but the way we played tonight shows potential and that this program is rolling in the direction Coach Fisher and this team wants it to."
Even before Florida State took the field on Saturday night, linebacker Vince Williams said, the Seminoles knew they were going to play better than they did a year ago.
They were right.
"That was a completely different team that went to Norman compared to this team," Williams said. "I still feel like we left something out there, some things we could've taken care of, but the scary part is we're still getting better. It's the third game of the season -- you guys have only seen the tip of the iceberg of what this defense is capable of."
It's only a matter of time until the Seminoles reach their full potential.
September, 17, 2011
9/17/11
11:26
PM ET
TALLAHASSEE, Fla. -- It was a much better game than it was a year ago because Florida State is a much better team. There's no question the Seminoles closed the gap between Florida State and the No. 1 program in the country, just not enough to beat the Sooners. Here's a quick recap of Saturday night's
23-13 loss
:


How the game was won:
In the end, it was a veteran quarterback and one of the nation's top receivers against a rookie backup quarterback, and the veterans got the last word.
Landry Jones
' 37-yard touchdown pass to
Kenny Stills
went over the head of Greg Reid for a 20-13 lead with seven minutes remaining. Oklahoma's defense was stifling for most of the game, and the Seminoles struggled to generate any offense. Their backup quarterback,
Clint Trickett
, gave them legitimate hope despite a shoulder injury to
EJ Manuel
. But the offense couldn't answer Jones' final touchdown pass, and Trickett was intercepted with about 5:30 left to play. It was one of three turnovers for Florida State that was costly.
Turning point
: With the score tied at 13 in the fourth quarter, on third-and-12, Jones found
Ryan Broyles
for a 22-yard completion and the first down. Jones found receiver Stills on the next play for a 37-yard touchdown that put the Sooners ahead for good.
Player of the game:
Oklahoma receiver Stills. He had a big game, finishing with seven catches for 125 yards and a touchdown. It seemed like every pass he caught was for a first down, and his touchdown reception put the Sooners up 20-13.
Unsung hero of the game:
Trickett. Florida State's backup quarterback hadn't thrown a pass in a collegiate game until this season. Against the No. 1 team in the nation, he put the Seminoles in position to win. Heading into this game, Trickett had a career stat line that included 7-of-8 passes for 176 yards and three touchdowns. Against Oklahoma, he led the Noles on two scoring drives, one a field goal and another an impressive touchdown pass. He was poised and the offense didn't miss a beat without Manuel. On third-and-28 with just under 10 minutes remaining in the game, Trickett threw a 56-yard touchdown pass to
Rashad Greene
to tie the game at 13. The Seminoles had struggled all night to generate some offense, and the rookie quarterback came up with the biggest offensive play of the game.
What it means:
Oklahoma can finally claim an important road win with Jones at quarterback, and Florida State and the ACC will have to wait until next year for more national title talk. The Sooners entered this game with a 15-10 record in true road games since 2005 and Jones entered this game with a 3-5 road record. This was one they needed to start to reverse that trend.
September, 17, 2011
9/17/11
10:46
PM ET
TALLAHASSEE, Fla. -- Clemson got it done. So did Miami. With Maryland's loss, the ACC has a 2-1 record against ranked opponents this weekend, and Florida State's game hangs in the balance. The Seminoles trail Oklahoma, 13-6, but even with Florida State's backup quarterback in the game, FSU is not out of this by any stretch. If the ACC is going to make a statement today, it has to come from Doak Campbell Stadium.

It's been a good day for the ACC.

It's up to Florida State in the final quarter to make it great.
September, 17, 2011
9/17/11
10:37
PM ET
TALLAHASSEE, Fla. -- Nice drive by backup quarterback
Clint Trickett
, who had to replace injured starter
EJ Manuel
.
It was better than Florida State could have hoped for, as he came in against the No. 1 team in the nation, held his composure, and led the Noles on an eight-play, 50-yard drive that took 3:28 off the clock. It ended in a 46-yard field goal and closed the deficit to 13-6.
Trickett looked prepared and ready for this chance. For Trickett to come into the game under those circumstances and not only keep the Noles afloat but in the game is admirable. It should give the Noles confidence moving forward.
September, 17, 2011
9/17/11
10:20
PM ET
TALLAHASSEE, Fla. -- Florida State quarterback
EJ Manuel
has shown some discomfort and concern about his left shoulder. He was grimacing when he came off the field. He was hit during a run on the Noles' last drive, and signaled to the sideline there was something wrong after the play. Manuel is being taken to the locker room to have his left shoulder examined.
Clint Trickett
, son of offensive line coach Rick Trickett, is warming up. I know FSU fans have been excited about Trickett's time in the first two games, but if there is one player FSU can't afford to lose in this game, it's Manuel.
September, 17, 2011
9/17/11
9:47
PM ET
TALLAHASSEE, Fla. -- Here's a quick look back the highlights and lowlights of the first half:


Turning point:
In such a tight game with little margin for error, Florida State needed to capitalize on every scoring opportunity that presented itself, and the Noles squandered one of those chances with a turnover late in the first half.
EJ Manuel
's second pick of the half set up first-and-goal for Oklahoma from the Noles' 3-yard line. FSU's defense stood strong and limited the Sooners to a field goal, but the turnover gave the Sooners the momentum and the 13-3 lead heading into the locker rooms.
Stat of the half:
Excluding the production from Manuel, the Seminoles only have 12 yards rushing. Manuel leads the team in rushing right now with 43 yards.
Best player in the half:
Oklahoma linebacker Tom Wort: He was all over the place in the first half and finished with five tackles, one sack, two tackles for loss and one interception he returned 12 yards. His interception came at a critical moment, as it halted a potential scoring drive with FSU in the red zone.
September, 17, 2011
9/17/11
9:14
PM ET
TALLAHASSEE, Fla. -- FSU receiver
Kenny Shaw
was conscious when he was taken off the field, and an ambulance took him to a local hospital where he will undergo X-rays, according to an announcement here in the press box.
September, 17, 2011
9/17/11
9:06
PM ET
TALLAHASSEE, Fla. -- It was the kind of hit that makes a mother shudder. Florida State receiver
Kenny Shaw
was coming down with what could have been a touchdown catch when he was hit helmet-to-helmet from
both sides
near the head/neck area by two Oklahoma defenders.
The personal foul was called against Oklahoma safety Javon Harris. Shaw is currently being immobilized on a stretcher and carted off the field. I'll give you any updates on him as they're announced here in the press box.
September, 17, 2011
9/17/11
9:05
PM ET
TALLAHASSEE, Fla. -- Don't get me wrong, Florida State has little margin for error as it trails 7-3 against Oklahoma, but so far, this is a much better effort than what we saw against the Sooners a year ago.
Florida State's defense got pushed down the field with Oklahoma's methodical opening touchdown drive, and it looked like it could be a long day for the Noles' D, but
EJ Manuel
responded with a lengthy drive of his own that ended in a field goal and gave the defense a much-needed chance to recover.
This has been a respectable performance so far, and the defense came up with a big takeaway when it needed it. Florida State's offensive line was playing well until Manuel got sacked for a loss of 11 yards, but it's clear after one quarter that Florida State isn't in over its head in this game.
September, 17, 2011
9/17/11
6:48
PM ET
TALLAHASSEE, Fla. -- The buzz for this game has been brewing since last season ended, but it has finally reached a peak today. Florida State fans have flooded the city, and the tailgating has been going on all day long for this 8 p.m. kickoff. ESPN's College GameDay crew got things started on Friday, and I-10 W from Jacksonville has been like the Tallahassee Trail today.

This is a big-time college football atmosphere, with two top-5 teams, and today's game is a monumental opportunity for both the ACC and Florida State, and you can literally feel the excitement here. Long-time Florida State fans here have said this is the biggest game they can remember in a long, long time, and they're soaking up every minute of it. This place has been one, giant party all day long.

Florida State's allotment of student tickets sold out in 17 minutes. The game is a sellout, and the crowd is expected to be the largest since the 2009 game against USF when 83,524 were in attendance. At last count, a total of 628 media credentials were issued.

Everyone is here to see if Florida State is ready to close the gap with the nation's elite.

The ACC is certainly ready for it.

According to ESPN's Stats & Info department, the conference has lost 32 straight games against nonconference AP top-5 foes. The ACC's last such win came in 2000, when Florida State knocked off 4th-ranked Florida. Florida State has accounted for 10 of those losses. No other ACC team has had more than six.

If Florida State is going to reassert itself in the national picture, it has to start now against the Sooners.