David Ubben talks to Missouri receiver T.J. Moe about the win over top-ranked Oklahoma.
1654d
David Ubben and Ivan Maisel
David Ubben and Ivan Maisel break down the significance of Missouri's win over Oklahoma.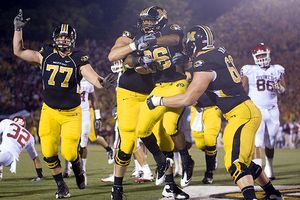 COLUMBIA, Mo. -- Tim Barnes remembers well. He should, he was there.Missouri's senior center had -- in the most frustrating sense -- a front-row seat to Oklahoma's dominance on the line of scrimmage in three victories over the Tigers in 2007 and 2008.
Missouri defensive end Aldon Smith discusses the Tigers' win over No. 1 Oklahoma.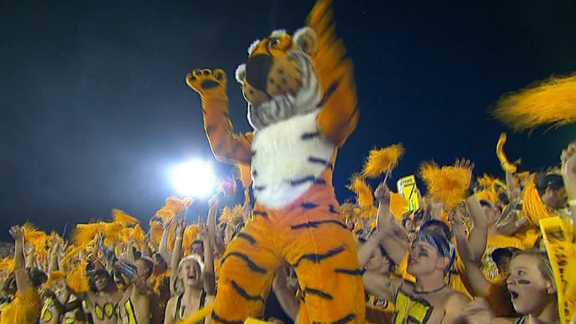 COLUMBIA, Mo. -- Missouri's big 36-27 win should vault them inside or near the top 5, and gives them sole possession of first place in the North, and with this win against Nebraska's loss last week, the Tigers are the favorite to win the division and the Big 12.
COLUMBIA, Mo. -- Oklahoma's last three possessions have resulted in a pair of punts and an interception.Missouri's last three possessions have resulted in two touchdowns and a field goal.
COLUMBIA, Mo. -- This has to look familiar to the Oklahoma faithful.Missouri took a 29-21 lead early in the fourth quarter after executing a hook-and-ladder a la Boise State in the 2007 Fiesta Bowl to set up a field goal that put them up eight.
COLUMBIA, Mo. -- Oklahoma has reached the red zone four times tonight.It has seven points to show for them.Missouri has made three trips, totaling 13 points.
COLUMBIA, Mo.--That first half was a lot of things, but entertaining is at the top of my list. Two great teams going at it here at Faurot Field, and this thing is definitely up for grabs.
In almost any upset, you'll see the underdog win the turnover battle.Missouri's doing that tonight, forcing a pair of turnovers in the red zone on an Aldon Smith interception and forcing a fumble from Oklahoma running back Mossis Madu.
COLUMBIA, Mo. -- With a high-stakes, high-energy game, we're seeing a lot of high-stakes, high-energy play.For Missouri, it's already been both good and bad.
COLUMBIA, Mo. -- Missouri star defensive end Aldon Smith plans to play, returning from a month-long absence following a broken fibula. Rumors of an ankle injury holding Oklahoma receiver Ryan Broyles out of tonight's game proved false.
COLUMBIA, Mo. -- Just found my seat in the press box at Faurot Field after a good day of College GameDay and football.The weather held up in the afternoon after some early showers, but the sky turned overcast in the afternoon and looks threatening with kickoff still over two hours away.