NCF Nation:

South Carolina
October, 22, 2014
10/22/14
11:36
AM ET
By
Brian Fremeau
| ESPN Insider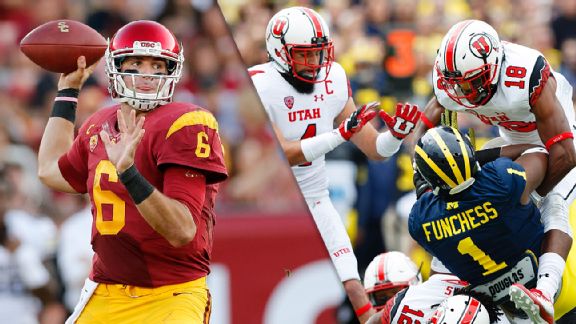 Icon Sportswire/USA Today SportsStatistics show the battle between USC's offense and Utah's defense will be one to watch.
One of the more intriguing matchups of the weekend takes place in the Pac-12 South, a showdown Saturday night between the
USC Trojans
and the
Utah Utes
. With a victory, USC would be the first Pac-12 team in either division to five conference wins. Utah looks to remain undefeated against the Pac-12 South division as it begins a brutal five-game stretch against the league's best.
The game is intriguing from an advanced stats view, as well, a head-to-head battle between one of the nation's best offenses and one of the best defenses. Traditional box score statistics might not recognize the matchup as particularly remarkable. USC's offense ranks 28th nationally in points per game and 31st nationally in yards per game. Utah's defense ranks 35th in points allowed and 55th in yards allowed per game. But those raw numbers don't account for the strength of opposition faced or the context of play and drive efficiency.
September, 30, 2013
9/30/13
8:00
AM ET
TUSCALOOSA, Ala. -- There was no dipping a toe in the water for preseason No. 1 Alabama. The Crimson Tide instead had to jump right in, battling sharks every week in the first month of the season.
The early stretch was brutal at times. Sure, Alabama looked like the best team in the country and got through the first four games undefeated, but there were certainly some blemishes revealed along the way. Each week and each win was a struggle.
Virginia Tech opened the season by stifling Alabama's offense in Atlanta, getting into the face of quarterback
AJ McCarron
by applying constant pressure on the backfield. The offensive line, a group that featured three new starters, looked nothing if not inexperienced.
[+] Enlarge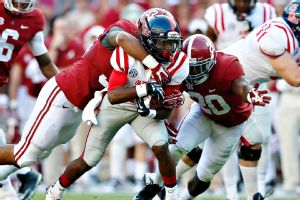 Kevin C. Cox/Getty ImagesThe Crimson Tide defense had its most complete effort of the season on Saturday.
Ninth-ranked Texas A&M then lit up Alabama two weeks later.
Johnny Manziel
and
Mike Evans
tore apart the secondary, abusing the Tide with the deep pass. UA set a kind of record you don't want to see, allowing the most yards in school history.
Even Colorado State, the $1.5 million cupcake courtesy of the Mountain West Conference, gave Alabama trouble. The Tide defense made too many mistakes and the offense was terribly inconsistent, failing to convert on a single third-down attempt in the first three quarters.
Then came No. 24 Ole Miss, an undefeated team playing with house money against Alabama. But this time, mercifully, the Tide put together a complete game and won, ending a four-game streak that tested the mettle of the championship contenders.
Now it's time to exhale. Alabama survived the early onslaught and can now take a breath to regroup with Georgia State, Kentucky, Arkansas and Tennessee up next. None of the four is ranked, and only the Razorbacks and the Vols are above .500, albeit at just one game over each. The four teams' combined record (7-11) is noticeably worse than the combined record of the first four teams Alabama faced (13-6) and the last four teams Alabama will face to end the season (11-6).
To make matters even more favorable for the Tide, Alabama will get a bye to start the month of November before hosting LSU on Nov. 9.
No team in the SEC has an easier next five weeks than Alabama. South Carolina is a close second and the only other school in the conference that won't face a ranked team over that time, but at least the Gamecocks don't have a cupcake like Georgia State to snack on. Instead, Steve Spurier's team will be tested somewhat by Kentucky, Arkansas, Tennessee, Mississippi State and undefeated Missouri. In fact, if one-loss South Carolina plays like it did against unranked UCF this past weekend, it might not be much of a championship contender come November.
The rest of the league's title contenders don't have it so easy. Georgia has rival Florida to contend with, LSU has Florida and Ole Miss in back-to-back weeks, and Texas A&M has to deal with the same explosive Rebels on Oct. 12.
Ole Miss is one of seven SEC schools to play two ranked opponents over the next five weeks. Only Tennessee and Missouri have it worse with three ranked opponents each in the month of October.
While Nick Saban might not be fond of focusing on records, it's hard to ignore the obvious -- if Alabama doesn't make it to November undefeated, it would be a shock. The Crimson Tide's coach isn't one to admit those things and he won't ever say an opponent is overmatched, but he and his staff do have the luxury of not stressing over serious competition the next few weeks.
Instead, they can budget their time wisely, resting banged up starters such as
Ryan Kelly
and
T.J. Yeldon
while working out the kinks with some younger guys for the stretch run, especially those on defense such as rookie cornerbacks
Eddie Jackson
and
Maurice Smith
.
"I'm looking more at the standard, not the record," Saban said following his team's shutout of No. 24 Ole Miss on Saturday night. "And I think it's important that our players do the same so we can continue to improve."
Improvement, though, might be the best Saban can hope for. Making another statement like his team did by thumping Ole Miss doesn't appear to be possible against the forthcoming carousel of unranked, overmatched opponents. Rather, building up some level of consistency over the next few weeks will be the challenge as the scoreboard certainly doesn't figure to be.
"We have high expectations for the standard of how we play," Saban said. "And I think more than what the record is, I think and our team thinks, what do we need to do so we can continue to improve so we can play the the standard on a more consistent basis.
"I would say if there's any criticism of myself, our staff and our team, it would be the fact that we have not been as consistent as we'd like to be."
Saban got through a rough, inconsistent start to the season intact and in the driver's seat for another run to the national championship. For the next month, he'll be in the enviable position of fine-tuning his team's mistakes against lesser competition.
While the rest of the SEC slogs through the ghoulish month of October, Alabama will be playing trick or treat each Saturday. All that remains now is reaching LSU on Nov. 9 without slipping on the proverbial banana peel.
September, 24, 2010
9/24/10
11:30
AM ET
We've got big games from coast to coast in Week 4, so let's check out the top 10 storylines to watch heading into Saturday:
[+] Enlarge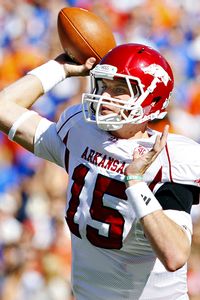 Kim Klement/US PresswireCan Arkansas quarterback Ryan Mallett lead his team to a win over the No. 1 team in the nation?
1. Does Arkansas have what it takes to beat Alabama?
Certainly the Razorbacks are much improved on defense, and
Ryan Mallett
has lived up to his Heisman Trophy billing. But does this team have a killer instinct? This is a team that had a 7-0 halftime lead over ULM, then blew a 24-10 fourth-quarter lead against Georgia last week before rallying for 31-24 the victory. Alabama will try to confuse Mallett the way it did last season. Offensively,
there are so many options for the Tide
, the Razorbacks are going to have to prove just how good they have become on defense.
2. Does Oregon State have a chance to beat Boise State?
Absolutely the Beavers have a chance. Is it going to happen? That is another question. Some keys to watch: Oregon State might not be able to run into the heart of that Boise State defensive line. Do the Beavers try to run sweeps to the outside with their speedy receivers to loosen them up? The Rodgers brothers, James and Jacquizz, are always a threat to take it the distance. The Boise State secondary has been vulnerable at times, so if
Ryan Katz
has time to throw, he could connect for some big plays.
3. Can Notre Dame close out a win?
So far 2010 has looked a lot like 2009 for the Fighting Irish, what with losing games in the closing seconds to Michigan and Michigan State. They could just as easily be 3-0 with a few more plays going their way. Instead, they are staring at the prospect of a 1-3 start, given the way Stanford has played going into the game. This could be a national statement game for Stanford quarterback
Andrew Luck
, who has 674 yards passing with 10 touchdowns and no interceptions.
4. Can the Big East represent in big nonconference games?
Pittsburgh, one of the popular preseason picks to win the Big East, fell flat on its face Thursday night in a 31-3 loss to Miami. That leaves Cincinnati and West Virginia this weekend in huge national profile games. Oklahoma visits the Bearcats, who have fallen on hard times just one season removed from an undefeated regular season. They hardly resemble the outfit that made it to the Sugar Bowl last season, having already lost to Fresno State and NC State. West Virginia, meanwhile, travels to LSU. The Mountaineers might be the best hope to win the Big East, but then again they nearly lost to Marshall.
5. How does Michigan State respond without coach Mark Dantonio?
Luckily, the Spartans play Northern Colorado, not exactly the toughest challenge. Dantonio suffered a heart attack in the hours after the Spartans' overtime win over Notre Dame, and offensive coordinator Don Treadwell will lead the team in his absence. A big game looms next week at home against Wisconsin. The bigger question is whether Dantonio will be back in time for that one.
6. Does South Carolina need to prove that it is for real even after beating Georgia?
Some believe the answer is yes. Well here it is, perhaps an even bigger test because the Gamecocks must play a better Auburn team on the road. Last week, Auburn struggled to stop Clemson running back
Andre Ellington
, who had 140 yards and a touchdown. This week, the Tigers face a bigger, more physical back in freshman stud
Marcus Lattimore
. The key for the Tigers: shutting him down to force
Stephen Garcia
into trying to win the game. South Carolina has the defense to be able to slow down Cam Newton.
7. How does Iowa respond after its heartbreaking loss to Arizona?
The Hawkeyes get an easier challenge this week against Ball State, but they are beginning life once again without
Jewel Hampton
, out for the season with a torn ACL. This game serves as an excellent tune-up headed into next Saturday's big game against Penn State. Iowa has to figure out how to get its offensive line going, perhaps the most glaring weakness on the team, which was completely exposed against the Wildcats.
8. How does Arizona respond after its big win over Iowa?
We can ask the question both ways. The Wildcats are up to No. 14 in the polls after that win, and now all of a sudden are a team everyone believes is right there in the mix for the Pac-10 title. They play a California team that lost to Nevada last week. What was striking in that game was the way Nevada dominated on both lines. That doesn't bode well going into this game, considering how strong Arizona looked on the offensive and defensive lines against the Hawkeyes.
9. Can Virginia Tech win at Boston College without Ryan Williams?
This is a crucial game for the Hokies, who could drop to 1-3 with a loss. Without Williams,
Darren Evans
and
David Wilson
will carry the load. But Evans has lost two fumbles in two weeks, and the Hokies traditionally struggle running the ball against the Eagles. That was until last season, when they had 235 yards on the ground. They are going to need another performance like that to win, but it's going to be much harder without their top runner.
10. Can Oregon keep up its scoring pace?
Hard to imagine the Ducks will be able to hang half a hundred on Arizona State, a team that came
thisclose
to beating Wisconsin on the road last week. Oregon has averaged over a point a minute in its three games this season, but the Sun Devils are no New Mexico and are certainly no Tennessee. Still, Arizona State has to be better in the red zone to have any shot at the upset.
September, 17, 2010
9/17/10
11:30
AM ET
Monster Saturday may have turned into a dud, but there are plenty of intriguing national storylines to watch in Week 3.
Here is a little sampling:
1. How does the ACC rebound?
To call the ACC's performance last week abysmal would be giving the word abysmal a bad name. Virginia Tech loses to James Madison. Miami and Florida State lay eggs in their big non-conference showdowns. Kansas beats Georgia Tech. N.C. State got the league off to a good start Thursday night with a win over Cincinnati, but that is not really saying much considering the Bearcats hardly look like their 2009 selves. Florida State-BYU, Maryland-West Virginia, East Carolina-Virginia Tech and Clemson-Auburn highlight Saturday. Here's hoping the league doesn't embarrass itself again.
2. What will we see out of Boise State?
The Broncos had the week off last week, but you wouldn't have known it for all the chatter about them once Virginia Tech lost. They finally return to the field Saturday against Wyoming to play in Game 2 after what feels like a very long layoff. The Cowboys have played Boise State tough in recent meetings. The game will be sold out, and the crowd fired up. Key to watch: Will the Wyoming spread offense be able to take advantage of a Boise State secondary that looked shaky at times in the opener?
[+] Enlarge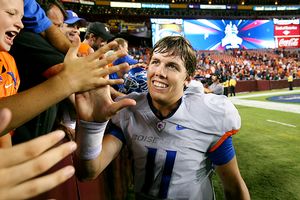 AP Photo/Joe Jaszewski/Idaho StatesmanThe last time we saw Kellen Moore and Boise State they were celebrating a win over Virginia Tech.
3. Jake Locker vs. Nebraska.
It may be unfair to pit one player against an entire team, but that is what this one is going to come down to on Saturday. Locker essentially had his Heisman campaign parked in a season-opening loss to BYU, a team that it turns out may not be as good as advertised. How will he do against a defense that continually brings pressure and is considered to be one of the best in the country? That will go a long way toward determining how people view Locker the rest of the way.
4. Can Georgia keep itself in the SEC East race?
It may be a stretch to say the Bulldogs are reeling, but Saturday's game against Arkansas has got to be considered a must-win. Georgia struggled in a 17-6 loss to South Carolina last week, with shoddy tackling headlining the defensive performance. While
Marcus Lattimore
and run-oriented South Carolina punished them last week, a different type of offense meets them this week behind pass-happy
Ryan Mallett
. Georgia is expected to open up more of its playbook for redshirt freshman
Aaron Murray
, but the onus is going to fall on the Georgia defense to stop Mallett and the Razorbacks.
5. Nick Foles vs. Adrian Clayborn.
Arizona faces its biggest test of the season against the No. 9 Hawkeyes, and this one is going to come down to the way quarterback Nick Foles is able to handle the pressure the Iowa defensive line is sure to bring. And by that we mean Clayborn, who is still waiting on his first sack of the season after notching 11 in 2009. Of course, there is this from ESPN Stats & Information: Since 1990, Pac-10 teams are 25-6-1 at home against Big Ten teams.
6. What does Denard Robinson do for an encore?
Surely the Michigan quarterback can't keep up his torrid pace, what with 885 yards of total offense in the first two games. He may not have to do as much Saturday against Massachusetts, though FCS teams have proven to be problematic for several teams this season. Still, Robinson has inspired awe throughout the country, and now word is out that high school players are leaving their shoelaces untied in order to be just like him.
7. Does Notre Dame rebound against Michigan State?
Surely a heartbreaking loss to Michigan won't be easy to get over, but the bigger question is whether
Dayne Crist
is 100 percent after he admitted he played against the Wolverines with blurred vision before being pulled from the game. If you thought the series against Michigan was a nail biter, check this out from ESPN Stats & Information: Over the past 10 meetings, the Notre Dame-Michigan State game has been decided by seven points or less eight times, with the game-winning score coming late in the fourth quarter or overtime in seven of the 10 meetings.
8. Any FCS upsets this weekend?
Already this year, five FCS schools have beaten their upper division opponents, headlined of course by James Madison over Virginia Tech. Last year there were only four. There isn't an overload of FCS-FBS games this week, but these are the teams on alert: Oregon, South Carolina, Michigan, Syracuse and San Jose State.
9. What do we see out of Alabama running back Mark Ingram?
The Heisman Trophy winner is getting his first action of the season after missing the first two games while recovering from knee surgery. Does Alabama need him to beat Duke? No. But they will need him for its run through the SEC, which begins next weekend with a huge game at Arkansas. Better get him game ready before then.
10. Any last-second heroics between Texas and Texas Tech?
We all remember the last time Texas visited Lubbock -- Graham Harrell to Michael Crabtree ruined the No. 1 Longhorns' shot at the BCS national championship. Point to remember from ESPN Stats & Information: Texas Tech has upset a top-10 Texas team twice in the Longhorns' previous four visits (2002 and 2008).
September, 3, 2010
9/03/10
4:46
PM ET
BYU has agreed to a two-game series with UCF starting in 2011, allowing the Cougars to nearly complete their first schedule as an independent.

UCF will travel to Provo in 2011, and BYU will come to Orlando in 2014. BYU now has nine confirmed games on its 2011 schedule -- Texas, Utah State, Oregon State, San Jose State, Louisiana Tech, Hawaii, Idaho and New Mexico State. It is almost certain to retain its rivalry game with Utah, too.

There is a looming series with Notre Dame, but there have been no announcements for when those games will start.

As for UCF, the 2011 game against BYU replaces a previously scheduled trip to Texas. That has been moved to 2017. UCF also signed home-and-home series with Connecticut and South Carolina. UCF will face the Gamecocks in Orlando in 2013, with the return trip to Columbia, S.C., coming in 2015. South Carolina will become the first SEC opponent to ever travel to UCF.

The Knights will play at UConn in 2014, with the Huskies coming to Orlando in 2015.
September, 2, 2010
9/02/10
9:37
AM ET
It's the most wonderful time of the year -- college football season. Watch as I put on my picking cap and make my supremely awesome predictions for 12 selected games involving non-AQ teams.
Now, on to the picks!
South Carolina 24, Southern Miss 14.
We know
Weslye Saunders
is out for the Gamecocks, but we're unclear about anybody else. Southern Miss coach Larry Fedora said his team didn't pay attention to the distractions. With those players or not, South Carolina is simply too talented, especially on defense. Southern Miss goes into the game with just three returning starters on offense.
Pittsburgh 21, Utah 17.
The Utes won the last meeting in the Fiesta Bowl in 2005. But this time around the Panthers have
Dion Lewis
, and he should make the difference -- especially against a defense that only returns four starters.
Northern Illinois 28, Iowa State 27.
One of the best teams in the MAC will pull the upset behind the legs of
Chad Spann
.
Minnesota 31, Middle Tennessee 20.
If
Dwight Dasher
was playing in this game, I would have called for the upset. But the Blue Raiders aren't going to be the same with
Logan Kilgore
at quarterback.
Washington 35, BYU 21.
The Huskies break their 12-game road losing streak behind the arm and legs of
Jake Locker
. BYU has had problems against quarterbacks like Locker in the past. The two-quarterback rotation for BYU is going to be a work in progress.
Colorado 21, Colorado State 10.
Both teams essentially have coaches on the hot seat, and quarterback uncertainty. While the Rams won the meeting last year, they go into this game with a freshman starting at quarterback in
Pete Thomas
. Only two first-time starters at quarterback have won this game for Colorado State.
SMU 44, Texas Tech 40.
Upset indeed.
Kyle Padron
should have a big day and break the Mustangs' 13-game losing streak to Texas Tech.
Navy 30, Maryland 10.
The Midshipmen have the real deal in quarterback
Ricky Dobbs
, who should pose all sorts of problems for the Terrapins defense. Maryland gave up over 200 yards on the ground four times last season.
TCU 24, Oregon State 20.
TCU is 9-2 against AQ teams in its past 11 games.
Andy Dalton
is eager to erase the memories of his Fiesta Bowl performance. The defense should be able to slow
Jacquizz Rodgers
down enough to limit his impact.
Fresno State 35, Cincinnati 34.
The Bulldogs controlled the ball in their game last year and ran for 290 yards. Ryan Mathews is gone, but
Robbie Rouse
hopes to get the running game going. Fresno State lost that game because Cincinnati was able to score and score quickly on a defense not used to seeing the spread. The Bulldogs should be improved there, and that will make the difference.
Tulsa 27, East Carolina 17.
G.J. Kinne
,
Damaris Johnson
and the Golden Hurricane offense are going to be too much for the rebuilding Pirates to handle. Tulsa starts the season on the road for the third straight year but that might not be such a bad thing in this case. The home team in this series has lost three straight.
Drumroll please …
Boise State 21, Virginia Tech 20.
The Broncos squeeze this one out on the strength of their offense, and their much improved defense.
Darren Evans
and
Ryan Williams
will get their yards, but their big games will be limited thanks to the great tacklers Boise State has in the open field -- Winston Venable and Jeron Johnson. Boise State will be able to take advantage of a Virginia Tech defense that lost seven starters, including three on the defensive line.
September, 1, 2010
9/01/10
9:00
AM ET
An early theme has emerged as we speed toward kickoff -- two quarterbacks are better than one it seems.
At least 12 programs plan on playing two quarterbacks in their season openers this weekend. From Penn State to South Carolina to Nebraska to BYU, coaches are either keeping mum about their starters, trying to fire up incumbents with the threat of job loss, or truly undecided about what to do.
Two-quarterback systems have met with little success in the past. They disrupt rhythm and fail to foster team chemistry, so it is a wonder why so many programs are going that route. Here are a few examples:
At Penn State, coach Joe Paterno says
he could play
Kevin Newsome
,
Matthew McGloin
or
Robert Bolden
in the opener Saturday against Youngstown State. "At this stage, I couldn't tell you which one is going to come to the front as
the
guy to lead the team or whether we have one who can handle the kinds of situations that the quarterbacks are going to have to handle as this season goes on," he said. One of them, or perhaps two, is going to have to grow up fast with a game at Alabama looming on Sept. 11.
[+] Enlarge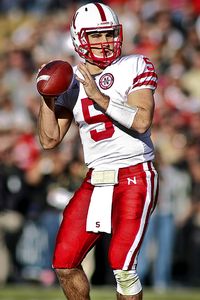 Marc Piscotty/Icon SMIZac Lee threw for 2,143 yards and 14 touchdowns last season.
At Nebraska, coach Bo Pelini has
yet to name a starter
. Fans will most likely have to wait until the opener against Western Kentucky on Saturday night.
Zac Lee
,
Cody Green
and
Taylor Martinez
have all been in a heated competition for the starting job. You can almost bet on more than one guy playing.
At BYU,
Riley Nelson
and Jake Heaps will both play Saturday against Washington. Coach Bronco Mendenhall says he could play both for the entire season, realizing the risks involved. "It hasn't worked at many places and there's a reason teams name a starting quarterback," Mendenhall said. "You have a much better chance of establishing an identity, you have a much better chance of establishing chemistry, you have a much better chance of working on a single system in practice and getting execution at a higher level because of repetitions. …
"It wouldn't be my choice to play two in other situations. The possibility of why it might work -- I think the nature of our team, the type of maturity our players have, and the genuine support both these guys seem to have toward each other has made it easier for me to feel this is the right thing to do."
At South Carolina, coach Steve Spurrier has said
Connor Shaw will play Thursday night against Southern Miss
, along with
Stephen Garcia
. Spurrier has tried to light a fire under Garcia, who has underachieved in his time as a starter for the ol' ball coach. Now that Spurrier is calling the plays, you know Garcia will be on an even shorter leash. Spurrier has plenty of experience playing multiple quarterbacks. It was his rotation of Doug Johnson and Noah Brindise in 1997 that helped the Gators upset No. 1 Florida State. But in later years, his quarterback derby never worked successfully.
At Michigan, coach Rich Rodriguez will once again
play two quarterbacks
.
Denard Robinson
and
Tate Forcier
are expected to get into the game against Connecticut. Rodriguez has yet to name a starter. "We don't have a set plan by this series or this series, this certain plays or those certain plays in our mind right now," he said. "We just want to try to get them as good as we can and get them ready to play against a very talented defense."
Other programs expected to play two quarterbacks this weekend:
Arizona State --
Steven Threet
and
Brock Osweiler
(note: Threet has been declared the No. 1 quarterback).
Eastern Michigan --
Devontae Payne
and
Alex Gillett
Mississippi State --
Chris Relf
and
Tyler Russell
Ohio --
Phil Bates
and
Boo Jackson
Rice --
Nick Fanuzzi
, Taylor Cook or
Taylor McHargue
Troy --
Jamie Hampton
and
Corey Robinson
UCF --
Rob Calabrese
and Jeffrey Godfrey