NCF Nation:

South Florida
October, 2, 2011
10/02/11
10:00
AM ET
1. Protecting the ball makes for smooth sailing:
It seemed like we'd never see the day Notre Dame went 60 minutes without a turnover, but Saturday changed that.
[+] Enlarge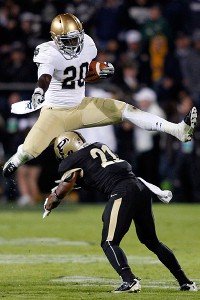 AP Photo/AJ MastNotre Dame's Cierre Wood is 42nd in the nation in rush yards per game at 89.8.
The Fighting Irish eclipsed the 500-yard mark for the third time this season, but won while crossing that plateau for the first time, as they were doomed by five-turnover performances in Weeks 1 and 2. Saturday was huge for the offense, particularly
Tommy Rees
, who eliminated many of the befuddling miscues that had Irish fans calling for a new quarterback after his first three and a half games under center. Now, for the first time all season, we can no longer say Notre Dame leads the nation in turnovers or has the worst turnover margin. (The first honor belongs to East Carolina, with 17. The latter is shared by East Carolina, Iowa State and Western Kentucky, at minus-2.00).
2. The rush defense is for real:
Notre Dame had another dominating performance up front Saturday, limiting the Big Ten's second-ranked rushing offense to 84 yards on 27 carries. This came two weeks after the Irish allowed just 29 rushing yards against Michigan State and one week after holding Pitt's
Ray Graham
to 89 yards, something that looks like more of an accomplishment after Graham exploded for 226 yards Thursday against South Florida.
3. Special teams need to improve. Still:
Brian Kelly said Saturday that he didn't want to sound like sour milk when listing what his team could have done better, but the Irish did leave points on the board. David Ruffer, a 2010 Lou Groza Award finalist, missed two field goals. And the punt return experiment once again looked like just that -- an experiment.
John Goodman
netted minus-3 yards on two returns and, in a real head-scratcher, watched one ball sail over his head and roll for a 61-yard punt in the first quarter.
4. Penalties still need clearing up:
This one gets overshadowed because the Irish didn't turn the ball over, won by 28 points and saw their opponent commit an astounding 13 penalties for 118 yards. But Notre Dame itself committed eight penalties for 85 yards, including an ugly one when long snapper
Jordan Cowart
got tangled up with several Purdue players on a second-quarter punt. Mental lapses such as these are forgivable against the Boilermakers, not so much against USC or Stanford.
September, 29, 2011
9/29/11
5:00
PM ET
Things have been relatively quiet on the Notre Dame recruiting front the past two weeks with the Fighting Irish away from home. And they will likely stay that away until the week of Oct. 16, the Sunday before the Irish host USC at night.

For now, it's worth taking a look at what other potential Notre Dame prospects are doing in their time before then.
William Mahone
, the highly touted four-star running back from Austintown Fitch (Ohio) High School, will be joining prep teammates Demitrious and Chris Davis at Heinz Field tonight for Pitt's game against South Florida, according to
our guy Jared Shanker
.
Shanker says this is the last shot for Pitt to make a strong impression on Mahone, who will likely choose between the Panthers, the Irish and Michigan State. The Davis twins have already committed to Pitt.
Still, Shanker said, it would be surprising if Mahone didn't end up in South Bend, Ind. He visited Sept. 17 for the Irish's win against the Spartans, and he liked it so much that he is paying his own way back for the Irish's Oct. 22 game against the Trojans.
Until then, however, don't expect much movement from a Notre Dame 2012 recruiting class 15-deep, one that
moved up two spots to 11th overall in the nation in ESPN's latest rankings
, released Wednesday.
September, 28, 2011
9/28/11
4:00
PM ET
SOUTH BEND, Ind. -- Like most who have watched Notre Dame this season, Brian Kelly sees the good and the bad
Tommy Rees
has done through four weeks.
"You could put together an incredible highlight reel with Tommy Rees this year," the second-year head coach said. "And you could also put together a blooper film. And so it's really being able to gain that consistency of play after play after play. And a lot of that is learning and experience, and that's where we're in."
Rees turned the ball over twice Saturday at Pitt, fumbling it deep in his own territory in the first quarter and throwing an interception in the end zone in the second quarter. He alone has accounted for nine of the Fighting Irish's nation-leading 15 turnovers, and he didn't even play in the first half of the first game of the season.
[+] Enlarge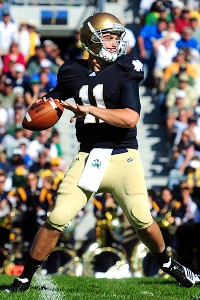 Chris Williams/Icon SMIWhile he admits there is plenty to improve upon, Tommy Rees remains entrenched as Notre Dame's quarterback.
But almost every coach's criticism about the sophomore is immediately followed by the end result -- his 6-1 record as a starter, which could have been worse if not for his perfect fourth quarter in Saturday's comeback, which saw him complete all nine of his passes and battle through a Pitt defense that negated
Michael Floyd
for most of the game.
"At the end of the day, winning is the most important thing," Rees said. "But you need to stay productive and you can't put yourself, you can't put your team in situations where the game can go either way. As individual performances, you wanna be sharp, be good. But if you're winning, you can't complain too much. Like I said before, I'm pretty tough on myself. I know where I need to improve. I look forward to keep getting better and eliminating some of those mistakes."
In an ironic twist Wednesday, Week 1 starter
Dayne Crist
was named one of 25 finalists for the Johnny Unitas Golden Arm Award, given to the nation's outstanding quarterback. Crist, of course, was yanked at the half of the Irish's 23-20 Week 1 loss to South Florida.
The staff this week said the two still split most of the reps at about a 60-40 ratio, with Rees seeing more action.
Everett Golson
and
Andrew Hendrix
have seen some situational action on the practice field as well.
Rees spoke several hours after the Unitas announcement Wednesday, three days after Kelly reiterated that he would remain the starter, though the head coach is hoping he doesn't have to answer the same kind of questions next season.
"That's this year," Kelly said. "We better not be talking about this stuff next year or there will be another quarterback playing. But he is learning. He's got, some of the body of his work is really good and some of it needs great improvement. And he knows that, I know that and we believe that he's capable of being more consistent for a longer period of time."
Rees, who has thrown for 988 yards this season with seven touchdowns and six interceptions, said he focuses more on his negatives in the film room.
"Well, obviously it's not a secret, I need to cut down some of the turnovers and some of the mental mistakes," he said. "I think each week with different defenses and different situations I keep growing as a player. The last two games we come out with wins, so you can't be too upset after those. But after every game there's places where you can improve. I think just the more experience, the more games that come, I can keep developing things and work on limiting some of those mistakes."
That includes protecting the ball with two hands in the pocket or taking a sack when there is no other option downfield.
For his part, however, Rees isn't judging himself differently as a 19-year-old.
He has started seven games and finished two more, and he knows whatever learning curve he had has come and gone one-third of the way through the season.
"I think the whole being a sophomore thing isn't really that relevant anymore," Rees said. "I need to improve how I'm playing and keep getting better. It can't be a matter of age or experience. I need to be the quarterback for this football team and I need to make sure I'm limiting my mistakes and playing up to my capabilities."
September, 27, 2011
9/27/11
4:19
PM ET
SOUTH BEND, Ind. -- Brian Kelly took the podium for his weekly news conference Tuesday and delivered a four-and-a-half minute opening statement, one that began with several references to Notre Dame's opening slate in the month of September.
"OK, we're into Week 5, and obviously it's been a rugged schedule for our guys, you know, playing our third Big Ten team, two very good Big East opponents, both bowl teams last year," Kelly began. "So you know, going into Week 5 the most important thing is that our guys are taking care of themselves, and you know, making sure that we're able to get all of our players at 100 percent on Saturday, because when you play the kind of schedule that we have in the first five weeks, you've gotta make sure that your guys are ready to play every week physically."
The Fighting Irish escaped the first-third of their season with a .500 record despite opening 2011 with a pair of close losses. Or they redeemed themselves after underperforming to start a campaign that began with a No. 16 ranking, depending on one's viewpoint.
[+] Enlarge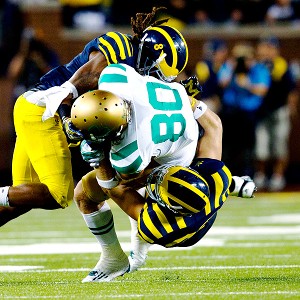 Rick Osentoski/US PresswireNotre Dame faced one of the toughest schedules in all of college football to start the season.
How long it has taken Notre Dame, particularly its offense, to efficiently run Kelly's spread offense in his second year at the helm was the first question posed to the head coach Tuesday.
"Well, you know, I look at the first two weeks where we averaged over 500 yards in offense and we lost both games," Kelly said. "You know, so really for me, it's really about winning games and making certain that we do that. I'd rather do that and be out-coached and, you know, win ugly and do all those things but at the end of the day win the football game. Beauty points, style points I'm not really interested in those things.
"Would I like to play better? Certainly. Do we want to take care — absolutely. All those things are absolutely crucial. But I don't think this is a matter of we're not moving forward. I think it's still about building some more of those important components that I believe are necessary for long-term winning."
At 2-2, Notre Dame received just three votes in this week's Associated Press poll, good for 37th nationally. The Irish received none in the USA Today poll.
Other measures, especially on paper, show more promise so far.
Statistician Jeff Sagarin ranks the Irish 25th overall and has their schedule through four games as the fifth-toughest in the nation.
Notre Dame will try to climb above the .500 mark Saturday at Purdue, a 2-1 team that has played, according to Sagarin, the 188th-toughest schedule so far. Sagarin's ratings include all 247 FBS and FCS teams.
No. 6 Stanford is the only ranked opponent remaining on the Irish's schedule with eight regular-season games left. Notre Dame has lost to a pair of currently ranked, 4-0 opponents in No. 16 South Florida and No. 19 Michigan, and it beat Michigan State when the Spartans were ranked 15th.
In his first year at Notre Dame, Kelly opened last season against Purdue, Michigan, Michigan State and Stanford, the latter two teams finishing their regular seasons with just one loss each.
Notre Dame started 1-3 before winning its final four games to finish 8-5. Kelly thought the tough early stretch helped his team last season but acknowledged there's a balance to be had for programs hoping to contend for BCS bowls.
The Irish would likely need to win out to notch a BCS-bowl berth. Illinois, which lost three regular-season games in 2007, was the only three-loss BCS-bowl team since the system started in 1998.
"I think what the most important principle is, is that you have to develop depth within your ranks," Kelly said. "I'll give you an example. Against Southeast Missouri, Purdue probably played their front-line guys less than 30 plays, plus they had the week off; where I've gone through, with our team, four very physical football games with South Florida, Michigan, Michigan State and Pittsburgh. So I'm more concerned with keeping my guys healthy and getting them at 100 percent. That's probably my biggest concern with the kind of schedule that we have."
September, 22, 2011
9/22/11
3:48
PM ET
SOUTH BEND, Ind. -- Andre Jones had a gift for reading people. Just a few moments upon meeting someone, he could tell if he or she were destined for great things. He would make people comfortable around him, they would eventually open up and relationships would gradually build.
There's a story Andre would often tell one of his sons, Malachi Jones, about how he befriended Jon Jeffries when both were at DeMatha (Md.) High School. Andre told his new friend that he loved him after just a few exchanges, that they would both accomplish a lot in school. Jeffries at first looked at him like he was crazy, but before long the two were playing football at Notre Dame and Virginia Tech, respectively.
"If you ever had the opportunity to meet my dad," Malachi said, "he pretty much touched everybody that he met."
More than 20 years later, Jeffries publicly called Andre Jones a brother.
That's more than the role T.J. Jones, a sophomore receiver on the Fighting Irish, has had to take on since June 22.
[+] Enlarge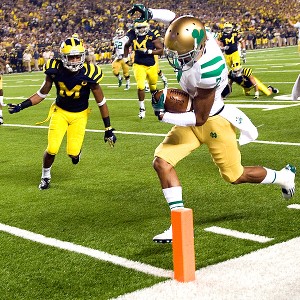 Lon Horwedel/Icon SMIT.J. Jones now understands why his dad, Andre, would get so emotional when he saw T.J. take to the field at Notre Dame Stadium.
One day before then, a Tuesday, North Gwinnett High School coach Todd Wofford was texting back and forth with Andre around noon, telling Jones that Malachi needed to be more assertive and more aggressive as a leader.
Andre told Wofford he had a headache and was going to take a nap.
"I kept our conversation on my phone for the longest time, looking back and forth at it," Wofford recalled, "because he was more than just one of my players' dads."
A few hours later, Malachi Jones called Wofford to inform him he'd miss his senior picture the next day. A day later, Andre Jones was gone, victim of a brain aneurysm at the age of 42.
He left behind 147 tackles in a Notre Dame uniform, a national title from 1988 and a brief NFL career. More importantly, he left behind six kids, the second-oldest of whom is walking in his footsteps in a No. 7 jersey at Notre Dame Stadium.
"He's sitting in my dad's locker, going to his alma mater and wearing his uniform," Malachi said of older brother T.J. "I don't think it can get any better than that."
Malachi, who wears No. 9, does his part by pretending to draw a No. 7 on his chest with his hands whenever he reaches the end zone.
T.J. was working out at his campus' Guglielmo Athletics Complex on June 21 when receivers coach Tony Alford pulled him aside and told him his father was sick. T.J. hopped on a plane to Georgia, joined his family and stuck around for about a little more than a week.
He wanted to stay until the following Friday, to try to be the man of the house for his family that his father had always been. His mother Michele, however, forced him out that Wednesday, getting him back to classes, to practices, to pursuing his dreams.
The family was on the Notre Dame Stadium field together Sept. 3, before the Irish's opener against South Florida, for a ceremony honoring Andre.
"It was hard. It was real hard," T.J. said. "Seeing my mom out there for the first time in six weeks, and she was crying. So that made me more emotional. And definitely just, it hit home that he wasn't gonna be standing there in the tunnel when I came out this year."
Andre always told T.J. how special it was to walk out that tunnel, to hear the roar of all the fans cheering you on. T.J. never understood why his father would tear up or cry seeing his son enter the field, but now he does, as does Malachi.
"I have three younger siblings, and unfortunately they won't get to experience the same experiences we did with our dad because he's gone," Malachi said. "So looking back, we're extremely grateful to know we got to spend a significant amount of time with him during football season and off the field in a short span."
Two springs ago, during T.J.'s first semester on campus, Andre took the family to the Grotto at night, a sight illuminating enough for Malachi to call "beautiful."
It's a place Andre tried to stop by before every home game, and when he wasn't in town he would often tell T.J. to light a candle for someone else who asked.
T.J. tries to go a little bit more now, though the fall is a busy time for a football player at Notre Dame.
Instead he will think about his father before each game, say a prayer and talk to him. Malachi will read the two Bible passages his dad texted him during a pregame meal a year ago: Matthew 10:16 and Psalms 18: 32-38.
Malachi drew connections from the readings to the football field, though a message in the latter may resonate a little bit more in his everyday life:
You have also given me the shield of Your salvation;
Your right hand has held me up,
Your gentleness has made me great.
You enlarged my path under me,
So my feet did not slip.
September, 12, 2011
9/12/11
4:21
PM ET
In the second half of Saturday's 35-31 loss to Michigan, Notre Dame went 0-for-3 in third down situations of three yards or fewer. That problem looks manageable when compared to that of Florida Atlantic's, as the Owls managed just one first down Saturday.
In the entire game.
[+] Enlarge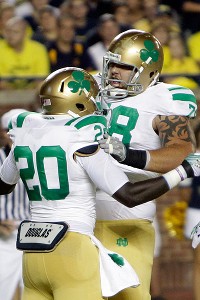 AP Photo/Carlos OsorioNotre Dame might lean on Cierre Wood, 20, and the running game against Michigan State.
FAU's opponent was Michigan State, which dominated on all cylinders in winning 44-0. The 15th-ranked and defending Big Ten co-champion Spartans allowed just 44 yards of total offense, stopped the Owls on all 10 third-down plays and scored a touchdown on defense.
Not exactly what the Fighting Irish are itching to see after a pair of mistake-filled losses.
Notre Dame's offense has a nation-leading 10 turnovers through two games, severely hindering an offense that is 10th among FBS schools in total yards but tied for 69th in points scored. It will face an MSU defense that ranks third against the pass, fourth in total defense and third in scoring defense.
At 2-0, the Spartans have looked like a much more complete team than the South Florida and Michigan teams that have beaten the Irish on the way to their 2-0 starts. The Spartans are sound overall on defense, efficient on offense and, as Notre Dame learned the hard way last season, well-coached.
If there is one area MSU has shown deficiencies in through two weeks this season, it might be its rushing defense. In a 28-6 Week 1 win against FCS opponent Youngstown State, the Spartans surrendered 128 rushing yards. Despite playing from behind most of the game, the Penguins finished with more yards on the ground than they did through the air (126).
That's not to say that Notre Dame should run all over Sparty, which still boasts the nation's No. 22 rush defense. But the Irish should try to establish a ground game early.
For one,
Greg Jones
is no longer in the green and white. Jones, now with the New York Giants, finished last season as the school's third-leading career tackler, with 465 takedowns. His 46.5 tackles for loss were tops in school history.
Notre Dame had plenty of success running the ball up the middle early Saturday in Ann Arbor, Mich.
Cierre Wood
carried the ball four times for 29 yards on the Irish's opening drive, and both he and change-of-pace back
Jonas Gray
combined for 22 yards on four carries on drive No. 2. Both series ended in touchdowns.
Wood finished the evening with 134 yards on 25 carries; Gray with 66 yards on six carries. Wood, who had 104 yards in Week 1, became the first Irish back to rush for 100 yards in two straight games since Armando Allen did so against Michigan and MSU in 2009.
Unlike Allen, Wood fumbled against Michigan, with his team driving in the fourth quarter. Gray fumbled in Week 1 at the goal line, resulting in a 96-yard touchdown for USF.
The key, of course, is protecting the ball while trying to expose a potential weakness in the defense. Then again, with the Irish, that's been the problem all along in this young season.
September, 11, 2011
9/11/11
2:20
AM ET
ANN ARBOR, Mich. -- The story of two smiles in two vastly different interview rooms told the story of Michigan-Notre Dame, another heartbreak for Brian Kelly that's become seemingly inevitable whenever he enters this state as the Irish head football coach.
[+] Enlarge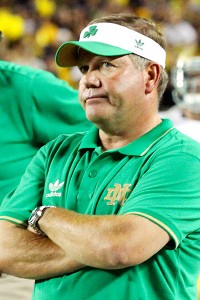 AP Photo/Bill FundaroBrian Kelly and Notre Dame are off to a frustrating 0-2 start after a wild 35-31 loss to Michigan on Saturday.
No, this wasn't a fake-field goal in overtime that left him smirking after loss No. 2 a year ago in East Lansing, though the
Michigan Wolverines
seemed capable of pulling that off under the lights as well had
Roy Roundtree
not come down with the winning grab with two seconds left in
Michigan 35, Notre Dame 31.
But Roundtree did make that catch, a 16-yard touchdown on a lob by
Denard Robinson
that sent the biggest crowd in college football history into a frenzy and left Kelly scratching his head and staring at an 0-2 hole with -- guess who -- Michigan State coming to town next week.
A five-turnover performance a week ago compelled Kelly to call Week 1 his most frustrating loss. When asked where this one ranks, the Fighting Irish coach paused for a few seconds while offering a smirk.
"I don't know that I've got a great definition for this one other than our kids, I feel for them," Kelly said. "And this one in particular. They battled back on the road after things turned on them, came back with a great last two-minute drive. And not to see it finish off, I feel really bad for them."
For the second straight week, Notre Dame broke the 500-yard mark on offense, a unit that ran with the efficiency of a well-oiled machine, jumping out to a 14-0 lead in the first quarter.
But Kelly knows there are no trophies for being the most talented 0-2 team in the nation, and he delivered that message stone-faced immediately after the loss.
"We're not good enough," Kelly said. "There's not one individual in that locker room, including all of the coaches, that are good enough right now. And consequently we lost the football game. And I mean across the board. It's turnovers, it's sub-par special teams play, it's the inability to make a stop, it's all of those things. So [I] pretty much told our football team that when we're better as a football team, we'll start winning."
It's not exactly the message he thought he'd be telling his players and the rest of Irish nation two weeks into a season that began with BCS bowl dreams, especially not before facing a Spartans team that is superior on paper to the Michigan and South Florida squads that have capitalized on 10 Notre Dame turnovers through two weeks.
The blooper-real ran again Saturday night, the Irish giving it away five times after pleading so thoroughly to cut down on the mistakes that doomed them a week ago.
"Stunned is not the word, I'm surprised obviously we weren't able to hold on," Kelly said when asked if he was stunned by the way things unfolded. "Nobody would sit here and say, 'Well, 30 seconds, we got a pretty good chance to win the game.' I think that's probably the one area. They made a great play. But no I'm not stunned, I've been in this business way too long."
Minutes later in the home interview room, Robinson flashed a smile much more fulfilling than Kelly's. It told the fortunes of these two teams after a third straight Michigan win that improbably topped the previous two and validated all of the hype surrounding the first night game in the Big House.
"Every time you see the game, you know both team's gotta fight till the end," Shoelace said. "And it's never over until you see zeroes on the clock."
Saturday was Exhibit A of that statement, with Notre Dame starting the fourth quarter up 17, watching a forced fumble turn into a Michigan touchdown one play later and eventually surrendering four touchdowns to the Maize and Blue in the final 15 minutes, none more shocking than the last two in a span of 1 minute, 12 seconds.
Asked if he had ever experienced a minute and a quarter of football like that, linebacker Manti Te'o said: "No. Never. And something that I hope I don't experience again."
Sounds familiar? Sure. But Week 2 provided further proof that drama and Notre Dame football are tied together at the hip, especially when crossing the Indiana-Michigan border.
Notre Dame will need to disprove that theory to avoid an unthinkable 0-3 start.
September, 8, 2011
9/08/11
1:30
PM ET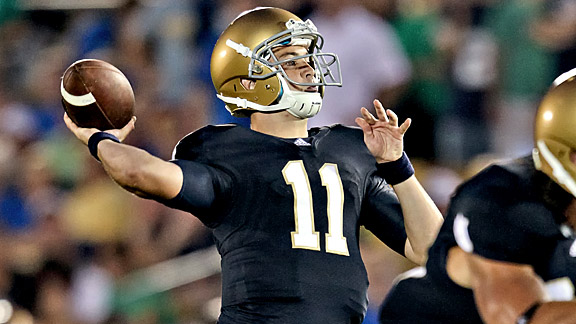 Robin Alam/Icon SMITommy Rees will start when the Irish take on Michigan in the first-ever night game at the Big House.
SOUTH BEND, Ind. -- Before he could lead a group of older teammates into Yankee Stadium, and before he could quarterback the first Notre Dame team to win at USC in a decade,
Tommy Rees
had to go 78 yards in 3 minutes, 26 seconds at Libertyville High School.
Only a high school sophomore at the time, Rees took his Lake Forest teammates 77 yards, enough to set up a game-tying field goal before his game-winning touchdown pass clinched a 23-20 overtime victory, knocking the hosts out of the playoffs.
"He put the team on his back," Lake Forest coach Chuck Spagnoli recalled. "That's probably my biggest memory of him."
The stage has gotten slightly bigger in the four years since, as Rees finds himself directing Notre Dame into a Michigan Stadium that is expected to host the biggest crowd in college football history Saturday night.
For a kid who grew up in a football family, the situation is hardly daunting.
Rees' father, Bill, spent 17 years as an assistant with Northwestern and UCLA before working for four NFL teams. His older brother Danny played at UCLA.
"This kid was at Rose Bowl games when he was young," Spagnoli said. "He's been around high levels of football as a youngster, so I don't know that stadiums really intimidate him. He was on the sidelines when he was 10 years old at NFL games, so he's probably got an advantage growing up in that environment."
That shows during preparation in the film room, where tight end
Tyler Eifert
says a lot of players don't initially know what exactly they're looking for.
That wasn't the case with Rees.
"I think a lot of the quarterbacks see film differently than other people," Eifert said. "He just sees the whole defense as a whole instead of just looking at one guy or end up watching the offense, actually, instead of watching the defense."
Offensive coordinator Charley Molnar said Rees broke down every play from the first half of the Fighting Irish's loss to South Florida flawlessly -- all the more striking since Rees didn't take a snap until the third quarter.
"I think he's got a real innate sense about the game of football," Molnar said. "He has some real football intelligence that other players just don't have, and that's just a product I think of him growing up in a football family, No. 1.
"No. 2 is he's a gym rat, as we say. He spends the time watching film, watching himself and really, really trying to be the best football player that he can be. He loves football, and that's obvious by the way he practices and the way he plays."
But it's less obvious by his stature. Spagnoli remembers the first time he met Rees, then an 11-year-old whose dad brought him to practice to watch Danny in his sophomore year under Spagnoli.
"Just a little guy with freckles," Spagnoli recalled. "I wasn't going, 'Oh my god, this is the future.' He was just a little kid at the time."
At a less-than-imposing 6-foot-2 and 193 pounds when he enrolled at Notre Dame in the spring of 2010, Rees hardly made a first impression on unsuspecting teammates.
Said Eifert: "He was the dork. I was the lanky, tall kid."
But the dork soon showed his heart,
Michael Floyd
said, taking hits in the pocket and instilling confidence in the offense with his unflappability.
"It's kind of weird," Floyd said. "Kind of different just knowing coming from high school and to playing elite college football. Kind of surprising that a freshman quarterback can do that."
Added Brian Kelly: "His FBI, his football intelligence, was really good early on. He had to physically develop. As I've said before, he looked like a high school student -- I guess he was, he was a high school student. He physically needed to develop, but mentally I thought he was well beyond his years."
Still, Rees' teammates never miss a chance to rag on his demeanor when the opportunity arises.
Take Tuesday, when
Cierre Wood
told reporters that Rees dresses like a bum, a line that made its way to teammates.
"They hit that dead-on," Braxston Cave said. "You always see him in like a raggedy sweatshirt and some shorts and just hanging out. That's just Tommy."
Rees was met with ridicule upon entering the locker room the next day.
"We were in the cold tub and someone was like, 'Man, you do look like a bum,'" Cave said. "So we were kind of giving him crap for that."
Cave said Rees off the field is one of the least serious people he's ever met. That thick skin will serve him well under the lights at the Big House as he gets another shot at the team that ruined his debut last season.
Replacing a woozy
Dayne Crist
in the first quarter of that contest, Rees had his first career pass intercepted in an eventual loss.
"A 'Welcome to College Football' moment," he said, adding: "Since that moment I haven't really looked back, so that probably has helped me in the long run."
A year, an initiation and a full-time job later, Rees is tasked with turning roughly 114,000 opposing fans and a prime-time audience into believers.
Even if he catches most of them off guard.
"He's unassuming, but at the same time you better be careful of what you can't see," Spagnoli said. "This guy -- I won't say he's a shark or anything like that -- he's pretty much what you see except one thing: He cares.
"He really has been around it a long enough time that he understands the implications of when he doesn't succeed as a quarterback."
September, 7, 2011
9/07/11
11:30
AM ET
SOUTH BEND, Ind. --
Theo Riddick
is eager to put his shaky debut as a punt returner behind him. More specifically, he wants the public to forget about what it saw from Notre Dame as a whole in its season-opening loss to South Florida.
"I have put it in the past, it's nothing around there," Riddick said. "But I'm just eager just to play Michigan. It's a huge rivalry not just for us but for this university, and I can't wait to display this team because I feel as if last week, that wasn't us."
For Riddick, that means forgetting the negative-2 yards he netted on a pair of punt returns, which includes a lost fumble at his own 20-yard line. And it means not letting his play in one facet of the game carry over into another, which is another way of saying he expects to do more than catch just three passes for 32 yards in his role as slot receiver.
[+] Enlarge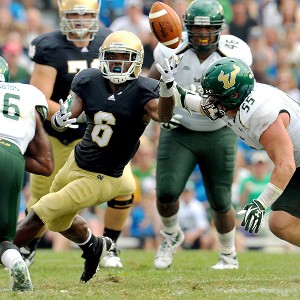 Matt Cashore/US PRESSWIRETheo Riddick's struggles in the punt return game against South Florida may have carried over to his play at receiver. "He can't get down on himself," coach Brian Kelly said.
"It's his fundamentals got away from him, that's just the bottom line," offensive coordinator Charley Molnar said. "He didn't become a worse receiver in the three hours during the game; he just lost his fundamentals.
"Maybe it was just playing in a game -- it could have been a million things on his mind. Maybe returning punts and playing receiver. So we just are getting back, doing the basic drill work of what brought Theo Riddick from Point A to Point B and getting him back to where he was coming out of camp."
Riddick emerged out of camp as the Fighting Irish's No. 2 threat at receiver despite having played less than a full season at the position. But the converted running back showed flashes of promise in his new role in 2010, catching 40 passes for 414 yards and three touchdowns despite missing four games toward the end of the season because of a right ankle injury.
Riddick, who had 885 career kick return yards in his first two seasons, entered 2011 with a renewed focus on special teams, as he would be handling punt returns for the first time as well. Head coach Brian Kelly had said before Week 1 that any breathers the junior would get in the course of a game would come on offense.
Kelly reiterated this week that Riddick is still his guy on punt returns, though he may remove him in short-field situations since a return is unlikely.
"The things that he has to work on, obviously is his body language," Kelly said. "He can't get down on himself, because we're gonna keep coming to him. He's gonna be our guy. He's got to fight through a very difficult set of circumstances that were presented to him."
Riddick said he went through exercises in practice Tuesday that featured coaches hitting him with bags while others threw towels at him during returns.
Kelly recalled a drill last week in which Riddick was not allowed to field a punt without holding another football in one of his hands.
"I think he dropped one in five days," Kelly said. "So he's capable of doing it. He's got to get over that traffic that's coming down on him and concentrate on catching the ball."
Added defensive line coach and special teams coordinator Mike Elston: "We have a whole checklist of things that we do with the punt returner, and that's one of them. There's other things that we do with them -- catching in a crowd, hitting him with things while he's catching it, crowd noise, yelling at him, guys whizzing by him, running backwards to catch punts, running forward, running sideways, catching rugby punts. We go through everything to try and prepare him for what the team is gonna do, because you never really know what the first opponent's gonna do."
Riddick saw what his first opponent -- along with Mother Nature -- did this past Saturday. Now he's hoping to weather the bells and whistles that come with playing the first night game in the history of the Big House.
"I've been here for three years and I'm accustomed to it, but I just had a bad day," Riddick said. "It was the first game, a first-time thing, and I just gotta move on and play better this week."
September, 6, 2011
9/06/11
1:19
PM ET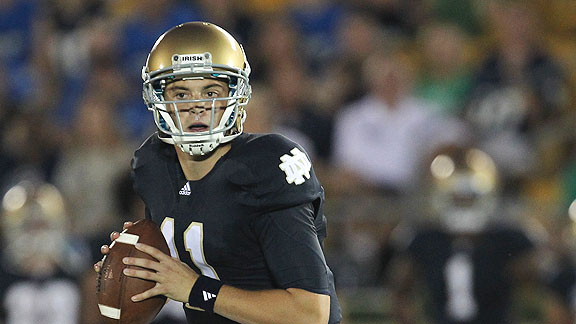 Jonathan Daniel/Getty Images Tommy Rees will take the reins Saturday as the Irish look to overcome a disappointing Week 1 loss.
SOUTH BEND, Ind. -- It took Brian Kelly just 15 days to reverse course on his quarterback decision, as the Notre Dame head coach named
Tommy Rees
his starter for Saturday's game against Michigan.
In choosing a sophomore to lead a group whose BCS aspirations are on life support after a disappointing opening-game loss to South Florida, Kelly is going with a win-now formula rather than protecting the potential emotional consequences that come with benching a senior who overcame two devastating knee injuries.
Rees will be on the same leash
Dayne Crist
was if he fails to deliver.
"He knows what I told him: 'You gotta be productive,'" Kelly said of Rees. "If you're not productive, you should be looking over your shoulder. If you're a productive quarterback and you're doing the things that we ask you to do, you should just go out there and play the game the way you know how to play. When you have two really good quarterbacks, you know that if you're gonna err on one side or the other, you want your quarterback to be productive. And I keep coming back to that word, maybe I'm overusing it, but both of those guys are capable of leading our football team, and those are the expectations that are placed on them."
Kelly hinted that Rees developed a better rapport with
Michael Floyd
on Saturday, as 10 of Floyd's 12 catches and 107 of his 144 receiving yards came in the second half.
Getting the ball to Floyd, who is blitzing through the Fighting Irish's record books, is a must if this offense wants to click.
"I don't know that Tommy has a better relationship than Dayne has with Mike, but he seemed to find him at the right time," Kelly said. "Maybe sometimes he threw the ball when he shouldn't even have thrown it to him, so I think I've got to be careful we're not trying to feed the ball to Mike if he's being doubled. We just have to have those other guys step up --
T.J. [Jones]
,
Theo [Riddick]
,
Tyler Eifert
have to step up if they're gonna double Mike."
One of the intangibles that has marked Rees' success in the past year has been his ability to step into game action and fit right in without any flaws. He did so in a failed comeback attempt last season against Tulsa and again Saturday, when he completed his first four passes before a costly interception in the red zone.
"I'm not here to cover Dayne's butt, OK? That's not my job," Kelly said. "But I'm going to tell you what: He did some really good things, and the offense comes pretty easy to him. The difference between being good and great sometimes is being decisive, not whether you can process and understand but decisiveness.
"Some of that is just what we're all talking about. Sometimes it just happens that way. And again, when you look at the film and you really break it down, Dayne did some really good things for us in the first half."
Just not good enough.
September, 5, 2011
9/05/11
1:00
PM ET
SOUTH BEND, Ind. -- Notre Dame would like to forget its opening weekend as quickly as possible. The No. 16 Fighting Irish were sloppy in a 23-20 loss to South Florida that has fueled the school's critics who thought the Irish's BCS goals were unrealistic.
Here's a look back at the weekend that was for Notre Dame:
The Good:
Notre Dame's defense allowed just one touchdown despite being put in tough spot after tough spot by the offense and special teams. The Irish held USF to 2-of-14 on third downs and limited the Bulls to 254 yards of total offense.
[+] Enlarge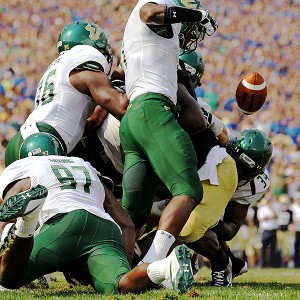 Jonathan Daniel/Getty ImagesJonas Gray's goal-line fumble was just one of five turnovers the Irish committed against South Florida.
The Bad:
No one expected to see a group Brian Kelly called as focused as any he has ever coached turn the ball over five times in its debut. The Irish will need to hope those first-game jitters are out before a prime-time showdown this weekend.
The Ugly:
Mother Nature takes the cake here. The first and second delays in more than a century of Notre Dame football resembled those of a baseball game, complete with the "time of the game" stat being announced at the end. (It was 5 hours, 59 minutes, for the record). The delays totaled 2 hours, 53 minutes, and it couldn't have been easy for either side to start and stop again after waiting the entire offseason for the games to begin.
Turning point:
Jonas Gray
's opening-drive fumble at the USF 1-yard line was picked up by Kayvon Webster and returned 96 yards for a touchdown. Kelly said afterward that a culmination of mistakes did his team in, not the first one. But watching the other team go up 7-0 after you drove 76 yards in eight plays over four minutes can be demoralizing early.
Call of the day:
It would have been easy for Skip Holtz to invoke himself in the pregame hoopla surrounding his return to Notre Dame. But the USF coach said his players would be the ones between the stripes Saturday, and so he made it about them. They returned the favor by delivering a victory that ranks right up there in the brief 15-year history of the program.
Next Up:
The Irish renew the rivalry with Michigan when the two teams meet under the lights at 8 p.m. ET Saturday for the first time in Michigan Stadium history. "College GameDay" will be in Ann Arbor, and you can bet it will be an atmosphere unlike any the Big House has ever seen. The Wolverines, like the Irish, dealt with rain delays in their opener before their game was called at the 1:23 mark of the third quarter, up 34-10 on Western Michigan. A 0-2 start going into a Week 3 matchup with co-Big Ten champ Michigan State is something Notre Dame will look to avoid at all costs.