NCF Nation:

Southeastern Conference
December, 26, 2013
12/26/13
9:00
AM ET
Aaron Murray
and
Taylor Martinez
, the shelved senior quarterbacks at Georgia and Nebraska, started 95 college games.
They won 67.4 percent.
Bet you thought that rate was higher.
Seems we've watched these two operate forever. In the past four years, Murray and Martinez meant something important to college football. They tormented defensive coordinators and served as the poster boys for a pair of proud programs, trying -- desperately close at times -- to break through.
It's not going to happen in their time.
Despite 64 victories between them (35 for Murray, 29 for Martinez), neither won a conference title. At Georgia and Nebraska, a conference title, at minimum, is the standard of success.
Yet as Murray and Martinez depart the college game in sadly anticlimactic fashion as the Bulldogs (8-4) and Huskers (8-4) meet for a New Year's Day rematch in the TaxSlayer.com Gator Bowl, they leave a record of greatness.
[+] Enlarge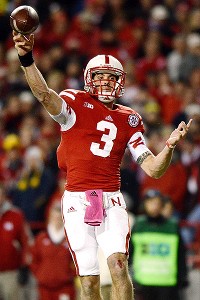 Josh Wolfe/Icon SMITaylor Martinez's final season didn't go as planned, but he'll be remembered in Lincoln.
Murray's senior season was nearly doomed from the start. Injuries to running backs
Keith Marshall
and
Todd Gurley
, several top receivers and playmakers on defense contributed heavily to four Georgia losses.
The QB persevered until Nov. 23, when he suffered an ACL tear in a 59-17 victory over Kentucky. Murray played through the injury for one series but couldn't fight the pain any further.
In similar fashion, Martinez battled for two weeks through a foot injury, suffered in the Huskers' season opener.
He led the Huskers to a 21-3 edge over UCLA in the second quarter on Sept 14, but any thoughts of a storybook ending to his career crashed to a halt in the second half. The Bruins scored 38 consecutive points. Martinez clearly wasn't himself, unable use his usually dangerous feet to stem momentum.
A one-game comeback fell flat at Minnesota in October. Martinez was finished. He lost his final two starts and an opportunity to join Colin Kaepernick as the only players in FBS history to pass for 9,000 yards and rush for 3,000. He finished with 7,258 passing yards and 2,975 rushing yards.
He lost his chance to win a conference title, a hope so promising back in 2010, when Martinez led Nebraska to a 17-point lead over Oklahoma in the Big 12 championship game as a freshman.
Martinez never broke through.
"It's been hard," Nebraska coach Bo Pelini said. "This whole season's been hard on him. It's not the way you want to see him go out."
Georgia coach Mark Richt said the same thing about Murray. Richt visited a hospitalized Murray after he underwent surgery on the damaged knee. Richt said he wanted to feel sorry for his quarterback, but Murray wouldn't let him.
His positivity is relentless. And that's part of Murray's legacy, alongside the 13,166 passing yards and 121 touchdown passes.
No Southeastern Conference quarterback before Murray threw for 3,000 yards in three seasons. Murray did it four times. He broke Danny Wuerffel's SEC record for touchdown passes and Tim Tebow's record for total yardage.
But, like Martinez, his teams never broke through.
Murray's best chance fell 5 yards short last year against Alabama in the SEC championship game. He targeted
Malcolm Mitchell
in the end zone, a shot within reach to win an SEC title as the clock ticked away. Tide linebacker
C.J. Mosley
deflected the pass to Georgia receiver
Chris Conley
. Conley slid to the turf, surrounded by defenders. Time expired on Murray's best opportunity.
[+] Enlarge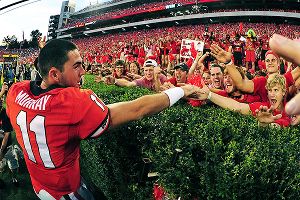 Scott Cunningham/Getty ImagesAaron Murray's place in Georgia and SEC football history is secure.
Instead of a shot to play for the national title, Georgia beat Nebraska in the Capital One Bowl as Murray threw for 427 yards and five touchdowns, both career-best marks.
It all felt anticlimactic for Murray, though nothing like this year.
"Obviously I had a vision of how I wanted to go out," Murray said recently.
This wasn't it.
"It's almost like I didn't say goodbye," he said, "which, I guess, is a good thing. I guess it's like, 'to be continued.' I'm not leaving. I'm always a Bulldog. I'll always be a Bulldog, and I guess if I would have been there to wave and really cherish the end of it, that would have been like, 'Book closed, it's over,' and I feel like it's not over for me."
Murray is eloquent and charismatic. Martinez is quite the opposite.
Uncomfortable in the spotlight, the Nebraska quarterback hasn't spoken to the media since the Minnesota game.
But Martinez appears to be at peace. He has remained at the side of teammates through conditioning drills and practices this month. Those close to him, though, say he's devastated by the injury.
A generation from now, Murray and Martinez will be remembered not for this anticlimactic ending or their inability to break through and win a championship.
Time will heal their wounds. History will reflect well on their legacies. College football will remember them.
July, 14, 2011
7/14/11
11:00
AM ET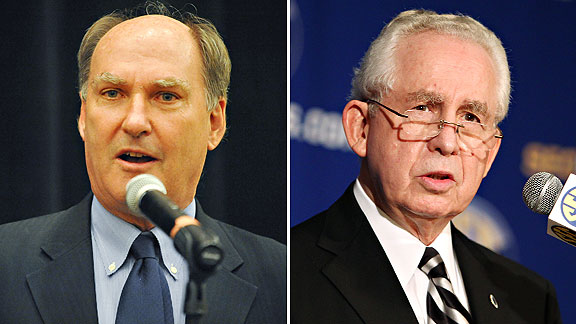 AP PhotosCommissioners Jim Delany of the Big Ten, left, and the SEC's Mike Slive support paying athletes.
Two of the most powerful men in college sports, Big Ten commissioner Jim Delany and SEC commissioner Mike Slive, came out this past spring in support of providing more money to college athletes to cover the full cost of attendance. When these guys speak, people listen, so naturally there has been a lot of talk about the issue. Some wonder whether it's merely the start of a seismic shift in college athletics. What does it all mean? Big Ten blogger Brian Bennett and SEC blogger Chris Low break it down.
Brian Bennett:
Chris, Jim Delany caused a stir at the Big Ten spring meetings when he said his league was looking at increasing scholarship money. It wasn't a new idea -- the late Myles Brand and current NCAA president Mark Emmert have publicly supported the same plan. Still, things are different when Delany and Slive get behind an idea.
We know that the Big Ten and SEC are flush with money thanks to their lucrative TV contracts, so they can afford an extra $3,000 per athlete if they decide to go this route. I guess the big question is, are these leagues merely exploring this idea with the student-athletes' best interests at heart, or are they trying to move toward a model in which the richest schools operate on a different playing field? What do you think?
Chris Low:
The SEC (and the Big Ten) trying to gain a competitive edge? Surely you jest, Brian. Nah, I think Slive is serious about exploring every realistic possibility to try to share the wealth with the athletes. As South Carolina coach Steve Spurrier reminded us all in Destin, Fla., at the SEC spring meetings in June, the athletes are the performers and the ones who are bringing in all the big dollars. They're the ones who deserve a piece of the pie or, at the very least, enough money to help bring in their families every weekend to see them play. Remember, too, that Spurrier was willing to give up part of his salary to pay each player a $300 stipend for every game, and that would equate to a little less than $300,000 per season. That's a lot of coin. But when nine of the 12 SEC head football coaches are making $2.5 million or more per year, they can spare a few extra dollars.
Obviously, Spurrier's proposal has no chance of passing, even though six other SEC head coaches signed it. But his point is well taken. This is a movement, Brian, that I think will just keep gaining momentum. What do you see as the biggest hurdle to paying athletes? To me, it's the simple fact that you're going to have to pay all athletes (on both the men's and women's side) and not just football players. When you do the math, that's a lot of cash ... even for leagues with seemingly endless pockets.
BB:
With Title IX, it's impossible to envision a scenario where only players in revenue-generating sports receive extra money. But I have done the math. The average gap in cost of attendance is about $3,000. At a place like Ohio State where there are about 400 varsity athletes, that works to about $1.2 million a year. That's a lot of money, but when the Big Ten is raking in more than $20 million per year per school from its TV deals, that figure is not outlandish.
And why shouldn't these leagues do this? Do SEC and Big Ten schools really need to pay coaches more? Do they really need to build even bigger stadiums and spotless weight rooms? There has to be a limit to the arms race at some point, and putting this influx of cash into the players' hands is a noble goal in many ways.
I guess the concern here is that Western Michigan isn't the same as Michigan, nor is Alabama-Birmingham the same as Alabama. Outside of the big six leagues (or maybe big five; it's questionable whether the Big East is rich enough), very few conferences could afford to go this route. Many athletic programs are in the red already and need student fees to stay afloat. Ohio State athletic director Gene Smith suggested in May that non-AQ teams shouldn't try to spend like the big boys and that the playing field does not need to be level. Are we headed for a scenario where the wealthy schools gain even more of an advantage through cost-of-attendance increases, or an eventual split among the FBS haves and have-nots?
CL:
Brian, I think there's already an unofficial split between the FBS haves and have-nots. You mention the arms race in college football. Try walking around an SEC campus these days. There are new football facilities going up all the time, and I'm talking about state-of-the-art digs. Auburn is getting ready to open a brand-new indoor practice facility, and Arkansas is poised to spend $34 million on a new complex. It truly is an arms race and recruiting-driven in most cases. Prospects do keep count. If Alabama has one, LSU and Auburn have to have one. And if Florida has one, you can bet Tennessee and Georgia will be angling to get one.
I don't see any way the FBS have-nots can keep up in the facilities arms race or the paying-of-coaches arms race. The SEC has an assistant coach (Auburn offensive coordinator Gus Malzahn) making $1.3 million. I'm old enough to remember when it was a big deal that then-Tennessee head coach Phillip Fulmer hit the $1 million plateau just before the Vols won the national championship in 1998.
With all this money flying around, there has to be some practical way to share it with the players. I know the cynics insist a lot of the players are already being paid under the table, and there's no denying that. But what about the second-team offensive guard who was lightly recruited and comes from an impoverished background? He's the guy I think about in this whole deal.
BB:
Some might suggest that SEC players are already getting some extra money. But I digress.
Giving players the true cost of attendance is a worthy cause, but I'm not sure it will ever fly. There will be many objections from the non-AQ leagues, and unless the big six are truly ready to strike out on their own, I don't see it happening for a while. I do think that eventually things have got to change. With all the recent scandals, the lawsuit over player images in video games and the huge dollars being thrown around, sooner or later this concept of amateurism in college sports needs to be revisited and revised for a more equal partnership. I just don't know whether that will happen in our lifetimes.
OK, Chris, since I just took a cheap shot and your league has won all the national titles, you get the last word. Where do you see this all heading?
CL:
Where do I see it heading? Honestly, nowhere. There will be considerable grandstanding. Players will speak out, and Slive and Delany will continue to push the issue. But the whole concept of paying collegiate athletes is a road too many people simply don't want to go down. Hey, it quit being an extracurricular activity a long time ago. A successful football program at a place like Ohio State or Alabama is worth millions of dollars to that university and to that state.
I, too, don't expect to see any significant changes in the system in our lifetimes, and in the meantime, those intent on breaking the rules will see to it that certain players and hotshot recruits are compensated ... be it in cold, hard cash or maybe even tattoos.
November, 17, 2010
11/17/10
3:42
PM ET
By
Adam Rittenberg, David Ubben
and
Ted Miller
| ESPN.com
The SEC is king in college football after producing each of the last four national champions. That won't change until a team from another league hoists the crystal football.
But the SEC has a reason to look over its shoulder this season. Several of them, in fact. The Big 12, Pac-10 and Big Ten are trying to catch the SEC, and all three leagues can make cases for being the nation's No. 2 conference right now. According to the
ESPN Stats & Info conference power rankings
, the Big 12 is No. 2, followed by the Pac-10 and the Big Ten.
Which conference is right behind the SEC?
Bloggers
David Ubben
(Big 12),
Ted Miller
(Pac-10) and
Adam Rittenberg
(Big Ten) weigh in.
Adam Rittenberg:
What the Big Ten lacks -- an undefeated team -- it more than makes up for with incredible depth. The league boasts three 1-loss teams in Wisconsin, Ohio State and Michigan State, all of which could finish 11-1. It also boasts a veteran Iowa team that no one wants to face in a bowl, in addition to decent squads like Northwestern, Penn State and Michigan. Even Illinois has made some major strides from 2009.
[+] Enlarge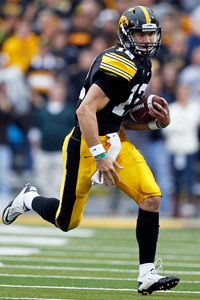 AP Photo/Charlie NeibergallThe Big Ten boasts some great talent at quarterback, including Iowa's Ricky Stanzi, who ranks third in the nation.
This is the deepest the Big Ten has been since 2006, when it entered late November with the nation's No. 1 and No. 2 team and three teams -- Ohio State, Michigan and Wisconsin -- ranked in the top 7 of the final BCS standings. The Big Ten's rise also has occurred while Michigan rebuilds. The league also has significantly upgraded its quarterback play, boasting five of the nation's top 15 rated passers. Although the Big Ten's nonconference performance was just so-so, competition within the league seems to be largely undervalued by those evil BCS computers. A top-tier SEC or Big 12 program seems to get much more credit for beating a mid-level team in its league than Wisconsin gets for beating Iowa on the road or Michigan State gets for beating Northwestern on the road. The human voters see the Big Ten in a different light.
The Big Ten finished the 2009-10 bowl season as the nation's No. 2 conference, recording four victories against top 15 opponents.
Nothing has changed to move the Big Ten off of the second line.
David Ubben:
Hey, I get it. In college football, a conference is only as strong as its strongest link. That's how the expression goes, right? Gimme a break.
The Big 12 has landed a team in the title game in each of the past two seasons. Despite being on the outside looking in on this year's chase, the league still has five teams in the top 20, and earlier this year, nine teams were in the poll or receiving votes. All that should be even more impressive considering the league's glamour program, Texas, at 4-6, is having a "down year" that is insulting to down years. Nine consecutive seasons of at least 10 wins for the Longhorns has come to a rather spectacularly bad end.
But otherwise, strength is everywhere. Baylor is having one of the program's best years and should be just as good in 2011. Missouri, had they not tripped up at Texas Tech, could be in the top 10. Oklahoma State has emerged as the league's surprise top 10 team and Nebraska is proving everybody wrong who thought they were overrated in the preseason. Texas A&M struggled early, but has won four Big 12 games in a row to reach the top 20. All in a down year for the two programs who have ruled the conference, Oklahoma and Texas.
Outside of Colorado, which is leaving anyway, and rebuilding Kansas, every team in the league is proving to be, at the very least, capable. Iowa State, despite playing the toughest schedule in college football, still has a chance to qualify for a bowl, and if Texas does the same by beating rival Texas A&M, the league could have 10 bowl-eligible teams.
So maybe the Big 12 doesn't have a team vying for the crystal football this year, but it has a whole lot of really good teams, and a handful of others who are proving there's no such thing as an easy week in the Big 12.
Ted Miller:
Over at the Pac-10, we're grinning. We're about to point out the Pac-10 plays a nine-game conference schedule, which automatically adds five losses to the conference, which, of course, hurts the conference's national perception, not to mention its number of bowl-eligible teams. Every other BCS conference plays eight, other than the eight-team Big East. But that's not why we're grinning. We're grinning because the Big Ten and the Big 12 will do that soon, and then they'll find out the perception consequence of not giving your entire conference an extra win with a nonconference patsy. Of course, the savvy SEC will continue to play eight conference games, schedule weak nonconference opponents and then trumpet itself as super-awesome.
Why is the Pac-10 No. 2? Well, it's got the nation's No. 1 team in Oregon. It's got the nation's No. 6 team in Stanford, which many believe to be the nation's best one-loss team. And four of 10 teams are ranked. Are Iowa and Wisconsin good teams? Absolutely. But Iowa lost to Arizona, which has three Pac-10 defeats, and Wisconsin got a fluky one-point win at home over Arizona State, which is 2-5 in the Pac-10. The Pac-10 is 10-4 overall vs. other BCS conferences. It's ranked No. 1 by the Sagarin ratings, which for some reason don't believe stadium size is a true measure of a team or a conference. Even lowly Washington State is no longer the pushover it was the previous two seasons.
Depth? Let's put it this way: The Pac-10 would love to match the team that ends up second to last in its conference versus the one that ends up in that spot anywhere else.
Rittenberg:
Three strong cases for the No. 2 spot. But are any of these leagues closing the gap with the SEC?
Ubben:
I guess we'll find out come bowl season, but I don't know that anybody in the Big 12 is in position for a run like the SEC's enjoyed in the latter half of the last decade.
Oklahoma and Texas will be Oklahoma and Texas, but the strength of the Big 12 has been a rising middle class with teams like Oklahoma State, Missouri, Texas A&M and maybe Baylor and Texas Tech positioning themselves to become mainstays in the top 25 during the next couple years or beyond.
That's good for the computer ratings, but not good for a league trying to field a national champion. And for better or worse, a league's ultimate identity boils down to its best team or two. Thanks to that rising middle class, getting inside the top five and staying there could be harder than ever in the next few years.
[+] Enlarge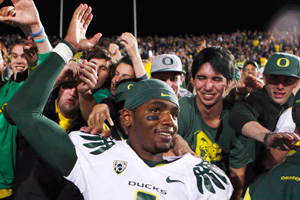 AP Photo/Paul SakumaThe SEC might be the top rated conference, but the Pac-10's Darren Thomas leads the nation's No. 1 team in Oregon.
Miller:
Are we talking reality or perception? Because the SEC's ostensible superiority is largely about perception -- i.e., fan passion equals great football. The Pac-10 has a winning record vs. the SEC over the past decade, and the Big Ten has done just fine vs. the SEC in the Capital One and Outback Bowls. The SEC is probably No. 1, but the margin is thin, and the conference refuses to prove its superiority during the regular season by consistently scheduling tough nonconference games.
When USC ruled the Pac-10 from 2002-2008, folks called the conference the Trojans and the nine dwarfs. Now that USC has fallen, Oregon has risen, and teams such as Stanford and Arizona also have made moves. But USC will be back. That's just inevitable. And if Utah continues to play at a high level after it joins the Pac-12, you could make the case that the Pac-10 should start to produce multiple top-10 teams and five or six top-25 teams annually, which would put it on par with the SEC.
And, honestly, with resurgent Nebraska joining the Big Ten, I'm not sure we won't have a new No. 1 conference in 2011 anyway.
Rittenberg:
Well, Ted made most of my points for me. I'll be sending a gift basket to Scottsdale.
The Big Ten certainly has matched up well with the SEC in the Capital One and Outback bowls, and the addition of Nebraska next fall truly enhances the league's clout. Big Ten commissioner Jim Delany often points out the only way his league truly regains national respect is by beating the best from another conference at the championship level. The Big Ten still gets bashed for Ohio State's stumbles against the SEC in the BCS title game, and barring a wild final three weeks, a Big Ten squad won't be facing Auburn on Jan. 10 in Glendale. So the Big Ten must wait for that true statement game.
When I look at these two leagues from top to bottom, I don't see much difference. The Big Ten has continued to build off of its strong finish to 2009, while the SEC seems to have backslid. All you need to do is look at the SEC East division. Could Wisconsin, Ohio State and Michigan State beat Auburn or LSU? It's possible, but I really think the entire league matches up better now with what the SEC is offering.
Like Ted writes, it's all about perception. Until a team from another league beats the SEC at the highest level, the SEC will keep living off of its incredible run.
But the Big Ten is catching up.
January, 11, 2010
1/11/10
11:01
AM ET
By
Tim Griffin
| ESPN.com
There's really no way to sugarcoat it. The 2009 season was a disappointment in the Big 12.
The bowl season only added to those miseries.
The conference finished 4-4 in its bowl games, but lost in the BCS title game for the second straight season as Texas fell to Alabama. Colt McCoy's injury may have left an asterisk on that defeat in the minds of most Longhorn fans and even for Barack Obama, but it's a loss nonetheless.
McCoy's injury was the capper in a jinxed season for the Big 12 that included season-ending injuries to
Sam Bradford
and Robert Griffin, a season-ending NCAA suspension to
Dez Bryant
and season-long injury struggles for 2008 leading rusher
Kendall Hunter
.
The final Associated Press rankings underscored that sentiment. The Big 12 finished with only three teams ranked among the top 25, the fewest since a record-low two teams were ranked at the end of the 2006 season. Texas finished at No. 2, Nebraska was No. 14 and Texas Tech was No. 21.
Most notably, the Big 12 lost all three bowl games against the Southeastern Conference. The nation's baddest conference bullied the Big 12 again, stretching its record in bowl games against the Big 12 to 12-3 since 2003. Convincing victories by Alabama over Texas in the BCS title game, Mississippi over Oklahoma State in the AT&T Cotton Bowl and Georgia over Texas A&M in the AdvoCare V100 Independence Bowl came by an average of 18 points per game.
Missouri was flummoxed by Navy's triple-option offense in a humbling 35-13 Texas Bowl loss where it appeared the Tigers' coaches had little inkling for making in-game adjustments.
Despite a victory over Stanford in the Brut Sun Bowl, Oklahoma finished the season out of the top 25 for the first time since Bob Stoops' first season in 1999. The Sooners finished 2009 with five losses, most since Stoops' first season.
Texas Tech overcame a suspension-depleted Michigan State team in the Valero Alamo Bowl in a game that was overshadowed by Mike Leach's firing three days before kickoff.
Oklahoma State skidded out of the top 25 after starting the season at ninth in the preseason Associated Press poll.
The Big 12's two most impressive bowl victories came with upset triumphs from North Division teams. Nebraska stymied Arizona with a vintage defensive performance in Ndamukong Suh's final game in a 33-0 victory over Arizona. And Iowa State punctuated the conference's feel-good story of the season as Paul Rhoads' team produced an emotional 14-13 triumph over Minnesota.
But conquests like those were too few and far between for the Big 12 in a season to forget for the conference's power elite.
August, 17, 2009
8/17/09
10:10
AM ET
Posted by ESPN.com's Tim Griffin
The Big 12 has more villains than can rightfully be included in one post, but so does college football in general.
Here are some my major perpetrators of ignominy.
Anybody else have some other suggestions about what in college football really raises their hackles?
College rulemakers -- Those soulless technocrats who attempted to make the game faster by instituting quick-play rules. Don't they know that the reason that college football is so much better than the NFL is the additional offense from more plays?
The Southeastern Conference -- The South shall rise again -- or at least it already has with its new megabuck television contract. Now, can the rest of the college football keep up?
Big Ten commissioner Jim Delany -- By placing all of his bowl teams on the East and West coasts, he's robbing us in the flyover parts of the country of watching how slow and unathletic his teams really are.
Coaches as unchecked poll voters -- Who is the American Football Coaches Association trying to fool? Giving coaches the chance to hide behind the mask of anonymity in their final votes prompts a chance for widespread poll abuse and makes a mockery of their poll.
Weak nonconference schedules -- Every team owes its fans at least one marquee nonconference opponent a season and a pledge of avoiding FCS schools. Is that really asking for that much, especially with the run of Big 12 pastry-trough games with "opponents" like North Dakota State, Northern Colorado and North Dakota scheduled in the first week alone by Big 12 teams?
August, 7, 2009
8/07/09
3:25
PM ET
Posted by ESPN.com's Tim Griffin
By all accounts, 2008 was a landmark season for Big 12 football.
The unprecedented three-way tie for the South Division championship that involved Texas, Texas Tech and Oklahoma made the conference must-see television for the second half of the season for fans across the country. Attention was riveted to the conference unlike any previous time in the Big 12's history.
It should be more of the same this season as strong races are expected in both the North and South Divisions.
The conference again will feature cutting-edge offensive units that will score boatloads of points and be powered by the most talented collection of quarterbacks that can be found anywhere.
Those numbers are nice, but the Big 12's lack of defensive production is the main reason I still think it ranks behind the Southeastern Conference.
The top athletes in the Big 12 are clustered on offensive units, helping to result in shootouts.
In the SEC, those same athletes seem to end up playing defense. It might not be as much fun to watch, but the physical nature is apparent.
In recent bowl games, the Big 12 has struggled to match that defensive nature of the SEC for many statement-making victories. Oklahoma's loss to Florida in the BCS title game and Texas Tech's defeat to Mississippi in the Cotton Bowl last year indicated there's still a gap between defenses found in the SEC and the Big 12.
The SEC also has a deeper concentration of top teams, as seen by its four teams in the top 10 when the USA Today coaches' poll was released earlier today.
It doesn't mean the Big 12 won't be exciting or fun to watch this season. Because it will be -- again.
But until Big 12 teams can notch some statement-making victories where defense isn't an afterthought, its national perception will continue to lag behind the SEC's.
The rest of the nation is no comparison. Big 12 teams can occasionally win their BCS bowl games, unlike the ACC. It might not have the fancy television network of the Big Ten, but has a more exciting brand of football to showcase. And it's not nearly as top heavy as the Pac-10 with its concentration of USC and Oregon at the top and little balance after.
Here's my ranking of the top eight conferences heading into the upcoming season
SEC
Big 12
ACC
Big Ten
Pac-10
MWC
Big East
WAC
July, 28, 2009
7/28/09
10:26
PM ET
Posted by ESPN.com's Tim Griffin
ARLINGTON, Texas -- Trying to earn more television money while maximizing exposure for his schools is taking much of Big 12 commissioner Dan Beebe's attention these days.
Beebe called working on settling that television question as the "major issue" that currently is facing him in his role as the conference's chief executive officer.
"I think that's fair to say because it was such a strong proponent of what put us together in the conference in the first place," Beebe said. "The origins of this conference was to get together to find a more valuable spot in the marketplace. We need all the platforms we can get for the quality of play that all of our student-athletes provide."
The Big 12 was formed in a marriage between the old Big Eight Conference and four schools from the old Southwest Conference because of vanishing spots in the market for those conferences in the mid-1990s.
A similar concern could be facing the Big 12 in the immediate future as it lags behind the megabuck contracts recently earned by the Southeastern and the Big Ten conferences that have helped propel those conferences to preeminent spots in college athletics.
"We can't deny it," Beebe said. "I give them a lot of credit for what they have been able to achieve. It's up to us to try to compete with that. It certainly concerns me there's going to be so much exposure of SEC product and Big Ten Network in this part of the country. And part of my charge will be how we will be able to compete with that in the future."
Several reports indicate there has been discussion among the Big 12, Pac-10 and Atlantic Coast conferences to provide a new television network with programming from two or perhaps three of the conferences in a consortium. Beebe said that the Big 12 must be creative in looking for ways to remain viable in the changing economic marketplace.
"I think we have to look at strategic partnerships with whomever, whether it's on the media side or the content owners (conferences) to find out what would be best for us," Beebe said. "I don't discount any scenario in that regard. Looking at a partnership with other conferences is something we'll have to take a close look at. Maybe there's something there that would work out for all of us."
Beebe conducted his press conference late Tuesday at the new Dallas Cowboys' stadium in Arlington. The facility will serve as the home of the next two Big 12 championship game and the site for three regular-season games involving Big 12 teams this season.
Big 12 officials like many things about the new stadium. The facility's location, its ability to accommodate more than 80,000 fans and the ability to stage games in climate-controlled conditions are particularly attractive. The conference already has forged a working relationship with the Cowboys as the Big 12 will serve as the sponsoring entity for the NCAA men's basketball Final Four in 2014 when it comes to facility.
The new stadium also will serve as the home of the Cotton Bowl beginning in January. The bowl hopes that moving to the new facility will boost its chances of elbowing its way into the rotation of BCS bowl locations -- although the BCS likely will not expand before its current contract expires in 2014.
"If there's going to be an expansion of games in the BCS, we're certainly going to be adamant about that including a bowl in our region," Beebe said. "This would be highly attractive with the kind of facility we have here. The Cotton Bowl is our Tier I partner and we would try to accommodate that."
Beebe said he hopes the conference will have agreements with its bowl partners by the start of the football season with plans to take them for approval to the conference's board of directors at its October meeting.
"Our bowl partners have been tremendous," Beebe said. "The addition of the Gator Bowl has been very great for us. I wish I was this desired when I was a single man. There are a lot of bowls interested in coming after us and we're very fortunate in that regard."
July, 22, 2008
7/22/08
8:39
AM ET
Posted by ESPN.com's Adam Rittenberg
We're T-minus two days from the start of Big Ten media days in downtown Chicago. Items sure to be discussed ad nauseam: Joe Paterno's future, Rich Rodriguez's offense and the trouble in Iowa City. I can't imagine Hawkeyes coach Kirk Ferentz is looking forward to his time at the podium Thursday.
Time to take a spin around the league: