NCF Nation:

Spartans-Hawkeyes-111112
November, 12, 2011
11/12/11
6:39
PM ET
IOWA CITY, Iowa -- Michigan State didn't merely lose a game here last year.
The Spartans didn't merely get "killed," as cornerback Tony Lippett said, in a game he described as "a disaster."
Michigan State, in falling 37-6 to Iowa in 2010, lost the ability to control its own fate in the Big Ten. While the Spartans responded with three consecutive victories to close the season and record a team-record 11 wins, their loss to Iowa came back to haunt them when the BCS bowl selections rolled around.
Mark Dantonio's team was left out, despite a win against Wisconsin, which went to Pasadena because of a stronger BCS standings profile.
The Spartans once again came to Kinnick Stadium with their Rose Bowl fate in their hands. And this time, they refused to let it go, surging to a 31-7 halftime lead and prevailing
37-21 against Iowa
.
"Like [linebacker] Max Bullough said, we've just got to take it on our own," Lippett said. "We can't think about other people losing or stuff like that. We're in the driver's seat, so let's just take it."
Michigan State can win the division next week with a win against Indiana and a Nebraska loss to Michigan. If the Spartans beat Indiana and Northwestern the following week, they'll be headed to Indy, no matter what any other team does.
"We're right where we want to be," senior quarterback
Kirk Cousins
said. "Can't ask for anything more than that."
[+] Enlarge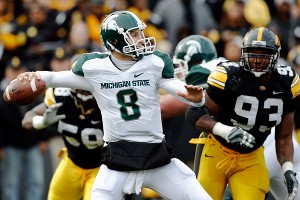 AP Photo/Charlie NeibergallMichigan State's Kirk Cousins completed 18 of 31 passes for 260 yards and three touchdowns.
Heading into the game, Dantonio talked about the need to weather the storm against Iowa or be the storm. Turned out, the Spartans experienced both.
They established control from the onset, as
Le'Veon Bell
rushed for 9 yards on the first play from scrimmage. Michigan State racked up 37 rush yards on its opening possession and 91 in the first half -- just 10 yards shy of its rushing total for its previous road game at Nebraska.
"[Offensive coordinator] Dan Roushar came out and [said], 'Run the ball, prove a point,'" said Bell, who finished with a season-high 112 rush yards and a touchdown on 20 carries and added two receptions for 49 yards. "We ran it effectively today, and that's a big reason why we won the game."
After falling behind 30-0 at halftime last year and eventually trailing Iowa 37-0, Michigan State went to the locker room with a 24-point lead.
"They were a lot more ready to play than we were," Hawkeyes coach Kirk Ferentz said.
Dantonio kept the foot on the gas, calling a wide receiver pass and a fake field goal -- a play boringly nicknamed "Gold" -- with a 31-7 lead. While some saw it as a response to Iowa calling a reverse pass with a 31-point, fourth-quarter lead in last year's contest, Dantonio said he wasn't trying to send a message.
"I just kept telling our coaches, 'Play like we're even, don't play like we're ahead, don't let our players play like we were ahead,'" Dantonio said. "... Maybe people from Iowa don't think it was close. I personally thought it was a close football game in that second half."
He was right. Michigan State's first win in Iowa since 1989 wouldn't be so easy.
A storm arrived late in the third quarter, as Iowa's big-play offense came alive behind senior wide receiver
Marvin McNutt
(8 catches, 130 yards, TD). The Hawkeyes recorded two quick touchdowns to close to within 13 points entering the fourth quarter.
But Michigan State stood its ground and did enough to keep Iowa at arm's length. The defense flustered Iowa QB
James Vandenberg
, who had arguably his worst passing performance of the season. In a game in which Michigan State received contributions from so many sources, it was fitting that Jairus Jones, a safety who tore his Achilles' tendon late this spring and seemed unlikely to play this season, forced a fumble in the red zone that Lippett recovered to seal the win with 2:53 left.
Michigan State had 10 different defenders record either a sack, a tackle for loss, a forced fumble, an interception, a fumble recovery or a pass breakup. On offense, the Spartans had five players record multiple receptions, while Bell and junior
Edwin Baker
combined for 163 rush yards. Although top wideout
B.J. Cunningham
had two touchdown grabs, fellow receiver
Keshawn Martin
(87 receiving yards, 28-yard pass completion) and tight end
Brian Linthicum
(5 receptions, 71 yards) were bigger factors.
When Dantonio entered the locker room afterward, "there were so many people to congratulate," he said.
Dantonio had many options for the game ball, but he handed it to Cousins, who brought the pigskin into the postgame interview room. Cousins threw three interceptions in last year's loss, including a pick-six.
The senior, who grew up rooting for Iowa and had several family ties to the school, capitalized on his chance for redemption. Cousins fired three touchdown passes and no interceptions. While he fumbled several snaps, he didn't hurt his team.
"It's special to be able to win and go out on the right note," said Cousins, who took pictures with folks wearing both Spartan green and Hawkeye black after the game. "I guess when I go back to visit my grandparents every summer in Iowa, I can feel a little better about the vacation than I felt last summer."
The win marked the 34th for Cousins and his fellow seniors, moving them past last year's seniors as the winningest class in team history. Under Dantonio, Michigan State now has won a road game against all but three Big Ten squads (Wisconsin, Minnesota and Nebraska).
"With the nature of what coach Dantonio is doing here at Michigan State, there have been a lot of things 'first time' or 'best ever,'" Cousins said. "A lot of firsts and a lot of special accomplishments."
But there's one special accomplishment left, one important first to achieve. Michigan State is three wins away from its first Rose Bowl appearance since Jan. 1, 1988.
"We're one win closer," Dantonio said. "... The farther we go, the higher the [stakes]. We want to still be in a position to play 14 games.
"We're not there yet, but we're getting closer."
November, 12, 2011
11/12/11
3:41
PM ET
IOWA CITY, Iowa -- Kinnick Stadium is no longer a haunted house for Michigan State, which has taken total control in the Legends Division.
The Spartans survived a brief Iowa surge to
win here
for the first time since 1989, ending a seven-game slide that included last year's 37-6 beatdown. They remain in control of their own fate in the Legends Division and could clinch the title next week against Indiana.


Credit the Spartans' offense for showing up in a big way after a lifeless effort at Nebraska. Michigan State offensive coordinator Dan Roushar called an excellent game and got a bunch of players involved, including tight end
Brian Linthicum
(5 catches, 71 yards). Quarterback
Kirk Cousins
tossed three touchdowns and received plenty of help from his receivers, his backs and his blockers, who controlled the line of scrimmage for most of the game.
The Spartans have to feel a lot better about their run game after today, as
Le'Veon Bell
(19 carries, 107 yards, TD) turned in an excellent performance and
Edwin Baker
also contributed. After scoring 26 points in its first three road games, the Spartans ignited today.
Michigan State's defense fought through some injuries and weathered the storm in the second half. The Spartans seemed to rattle
James Vandenberg
in the fourth quarter and did a very good job against
Marcus Coker
, the Big Ten's leading rusher, who was held to 57 yards on 21 carries.
Marvin McNutt
had a nice performance (8 catches, 130 yards, TD) in his final home game, but Iowa needed more contributors and far fewer mistakes.
Iowa committed three turnovers and simply made way too many errors in this game.
The Hawkeyes now must try to improve their bowl position in the final two weeks, while Michigan State has much bigger goals.
November, 12, 2011
11/12/11
2:54
PM ET
IOWA CITY, Iowa -- Iowa's not dead yet.
After having its pride challenged midway through the quarter, the Hawkeyes have responded with two late touchdowns to get within striking distance entering the fourth. A big-play offense led by star wide receiver
Marvin McNutt
(7 catches, 119 yards, TD) has settled into a nice rhythm after struggling mightily in the second quarter.
Iowa needs to replicate its magic from the
Pitt comeback
, and do so against a much better defense in Michigan State.
The Spartans were in total control midway through the quarter and reminded Iowa that they haven't forgotten the beating it absorbed here last season.
Leading 31-7, Spartans coach Mark Dantonio called for a fake on a 42-yard field goal try and
Brad Sonntag
picked up the first down.
As one media member remarked, "That's called payback's a [expletive]." The fake undoubtedly was a shot at some aggressive play calling Iowa had with a big lead in last year's game. I like the way this rivalry is headed.
The Spartans need to regroup a bit on both sides of the ball. The defense has had no answer for McNutt, who became Iowa's all-time career receiving yards leader late in the quarter. The Spartans' safeties must find ways to keep McNutt in front of them.
Iowa's defense, meanwhile, must contain the run game in the final quarter. Michigan State established it early with
Le'Veon Bell
and
Edwin Baker
, and it will continue pounding away until Iowa makes some stops.
Should be a fun final 15 minutes. Stay tuned.
November, 12, 2011
11/12/11
1:50
PM ET
IOWA CITY, Iowa -- Thoughts at halftime from Kinnick Stadium, where No. 17 Michigan State is crushing Iowa.


Turning point:
Iowa cut its deficit to 14-7 and had Michigan State facing a third-and-6 from its own 30. The Hawkeyes pressured
Kirk Cousins
, who threw off his back foot, but receiver
Keshawn Martin
beat safety Tanner Miller to the ball and raced 67 yards. Although the Spartans failed to get in the end zone, they extended their lead to 10 points.
Best player in the half:
It's close between
Le'Veon Bell
and Martin, but Bell gets the nod. The Michigan State sophomore is running with authority, as he showed with a powerful 25-yard touchdown run late in the half in which he broke three Iowa tackles. Bell finished the half with 11 carries for 71 yards and a touchdown. Defensive tackle Jerel Worthy also was fabulous both on defense and on special teams with a blocked field goal attempt.
Stat of the half:
Here are several that illustrate the difference between a team playing its most polished game of the year and a team imploding. Michigan State has one penalty versus six for Iowa. The Spartans have no turnovers versus two for Iowa, both of which led to Michigan State touchdowns. Michigan State is averaging 5.4 yards per carry versus only 4.3 yards per carry for Iowa. The Spartans have held
Marcus Coker
, the Big Ten's leading rusher, to 42 yards on 13 carries.
November, 12, 2011
11/12/11
12:44
PM ET
IOWA CITY, Iowa -- Some quick notes at the end of the first quarter at Kinnick Stadium, where it has been mostly Michigan State so far.
Michigan State made a statement on its opening possession, marching 64 yards in eight plays. After recording only 101 rush yards in its Oct. 29 loss to Nebraska, Michigan State immediately established its ground game with Le'Veon Bell and eventually Edwin Baker. Bell's 9-yard gain up the middle on the first play from scrimmage was a very good sign. The run game allowed Michigan State to set up its play-action pass, and Kirk Cousins made an easy touchdown toss to B.J. Cunningham. Baker also made a terrific touchdown grab moments later.
The Spartans are simply making way more plays on both sides of the ball than Iowa. Cornerback Johnny Adams had a terrific interception, showing great concentration on a sideline fade pass to Keenan Davis.
Iowa finally showed some signs of life at the end of the quarter. First, the Hawkeyes pressured Cousins to force a punt. Then, the offense moved the ball downfield, thanks to a brilliant one-handed grab from senior wideout Marvin McNutt. Coordinator Ken O'Keefe made some excellent calls on the drive, as Iowa faces third-and-2 from the Michigan State 8 to begin the second quarter.
On the injury front, Michigan State cornerback Darqueze Dennard suffered a left leg injury and needed to be helped off the field.
November, 12, 2011
11/12/11
11:40
AM ET
IOWA CITY, Iowa -- A few pregame notes before kickoff between No. 17 Michigan State and Iowa at Kinnick Stadium.
Michigan State linebacker Chris Norman (shoulder) worked with the first-team defense during warm-ups and didn't appear to be limited. Cornerback Darqueze Dennard (concussion) also warmed up without limitations. The only uncertainty for the Spartans is linebacker Steve Gardiner (neck).
Iowa defensive end Lebron Daniel returns to the starting lineup today in place of Dominic Alvis, who tore his ACL in last week's win against Michigan. There shouldn't be any other lineup changes for the Hawkeyes.
Iowa tight end Brad Herman has his hand wrapped. Not sure if it will limit him. Herman has moved to the second team in favor of C.J. Fiedorowicz.
The winds were kicking up when I shot my pregame video. It seems to be more of a swirling wind right now.
November, 12, 2011
11/12/11
11:21
AM ET

Adam Rittenberg looks at today's matchup.