NCF Nation:

Spartans-Huskers-102911
October, 29, 2011
10/29/11
6:30
PM ET
LINCOLN, Neb. -- In the locker room after
a 24-3 win
over Michigan State, Nebraska defensive coordinator Carl Pelini told his players that he had a present for them. Then he held up a black shirt.
As fashion goes, it isn't much to look at. Just a plain, mesh black shirt that big men sweat through during practice. But the shirts are a proud tradition for the Cornhuskers' defense, and they're only handed out when the players earn them through performance.
For about as long in a season as anyone can remember, Nebraska had gone shirtless in 2011. The defense looked nothing like the one that has annually been one of the nation's best. On Saturday, the Huskers finally found their form, holding Michigan State to a season-low 187 yards in a dominant effort.
"We turned the corner," defensive end Josh Williams said. "Now we can actually say we're Blackshirts."
[+] Enlarge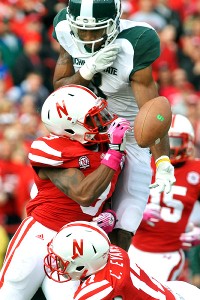 AP Photo/Dave WeaverThe Cornhuskers kept B.J. Cunningham without a catch in a game for the first time since 2008.
And Nebraska can say that it's back in the hunt for a Legends Division title. By ruining Michigan State's magical October run, Big Red moved into a first-place tie in the division, along with the Spartans and Michigan. The Big Ten may not have any national title contenders, but the league should boast a wild November race toward Indianapolis.
The Huskers still have to go to Penn State and Michigan, but now they control their own destiny. If they play defense like they did Saturday, they may just put a chokehold on the division.
"I think they saw today what we're capable of doing when we're right," coach Bo Pelini said.
Michigan State looked lost in its first conference trip to Lincoln, confused by a Huskers defensive scheme that is both simple and complex at the same time. They play both their safeties deep to help in the passing game, leaving it to the linebackers to stop the run and the front four to get pressure. Carl Pelini said he called the same defensive play for almost the entire game.
Why change when it's working so well? Michigan State quarterback
Kirk Cousins
couldn't find openings in the zone and continually threw into double coverage. Nebraska made sure to give safety help all day on star receiver
B.J. Cunningham
, who finished without a catch for the first time since 2008. At the end of the third quarter, Cousins had just 35 passing yards -- or nine fewer than he had on last week's Hail Mary to beat Wisconsin. And while the Cover 2 look should in theory leave a defense open to the running game, the Spartans managed only 101 rushing yards, averaging a paltry 3.4 yards per carry.
Afterward, the only real question was: Where had this defense been all season?
Pelini said he sensed a big day coming because the players were "locked in" all week with their preparation.
"It's easy to defend a team when you know what they're doing before they even know," Nebraska safety Austin Cassidy said. "We knew exactly what was going to happen on every play."
That kind of knowledge had been missing earlier this season, as the Huskers' defense surrendered 38 points to Washington, 48 to Wisconsin and 27 to Ohio State. Carl Pelini blamed some of the bad defense partly on a lack of cohesion in the secondary, which is so key to his scheme. Star cornerback Alfonzo Dennard, who shut down Cunningham on Saturday, missed time with a pulled leg muscle he suffered in training camp and is just now rounding into form. Safety Daimion Stafford, who came over from junior college this summer, needed to grow. He broke up three passes and nearly had a pick-six Saturday.
"Our guys are more knowledgeable now, so they're being faster and more aggressive and not second-guessing themselves," Carl Pelini said.
The improvement began during the bye week following an Oct. 8 victory over Ohio State. That's when the Pelini brothers got back to basics with their defense, re-emphasizing fundamentals and basic concepts.
"Physically and mentally we were able to regroup," Cassidy said. "We were able to step back as a unit, as defensive backs, and focus on ourselves. That helped people get a better grasp on what we're trying to do."
Michigan State looked like it could use some time off. After three straight emotional wins against Ohio State, Michigan and Wisconsin, the Spartans were uncharacteristically sloppy on special teams, hurt themselves defensively with drive-extending penalties and appeared to be worn down in the fourth quarter.
They refused to use the October grind as an excuse for the loss, however. In reality, a 3-1 record through that stretch is probably as good as the team could have hoped for coming into this season. Michigan State has a much easier schedule in the final month than either Nebraska or Michigan and can get to Indy by winning out if the Huskers drop a game.
"We had a great month," Cousins said. "It didn't end the way we wanted it to, but it's more important how we respond than what we did in October. People remember how you finish, and that's why November is so important."
No one will want to play the Huskers in November if their defense can keep up this resurgence. Michigan State came into Saturday's game with the heavily-hyped defense, one that ranked second nationally in yards allowed per game. But now that the Blackshirts are back, there might be a new big, bad bully in the Big Ten.
"We're pretty damn proud of our defense around here," Carl Pelini said. "Everybody you listened to this week said [Michigan State is] a better defense. I challenged our guys and said, 'Let's go out and show them we are a better defense.' Who knows who's better or not, but today our defense was better."
October, 29, 2011
10/29/11
5:18
PM ET
By
ESPN.com staff
| ESPN.com
Linebacker Will Compton talks with Brian Bennett about Nebraska's improvement on defense and the Huskers' big
win at home
against Michigan State.
October, 29, 2011
10/29/11
3:16
PM ET
LINCOLN, Neb. -- Realistically, Nebraska had to beat Michigan State to have any chance of making the Big Ten title game.
The Huskers didn't just beat the Spartans -- they beat them up. In by far their best defensive performance of the year, they raced out to a 21-point lead in the third quarter and held on
for a 24-3 victory
.


Now, Nebraska is tied with Michigan and Michigan State atop the Legends Division, and Iowa will join them in a four-way deadlock if it takes care of business against Minnesota tonight. It should be a fun November.
The Spartans were oddly listless on offense and sloppy on defense. Blame that brutal October schedule, which must have taken its toll. Or just blame it on having to play a re-energized Nebraska team in Lincoln, where it's awfully tough to beat.
Either way, the Big Ten race just took another turn.
Much more to come after postgame interviews, so stay tuned.
October, 29, 2011
10/29/11
2:43
PM ET
LINCOLN, Neb. -- Michigan State's magical October will come to an end today, unless the Spartans have some fourth-quarter tricks up their sleeves.
Nebraska came out of halftime with some excellent offensive adjustments, while Michigan State appears to be falling apart.
Taylor Martinez
had just one completion for no yards in the first half, but he completed four passes for 34 yards on a touchdown drive to open the third quarter and later added a touchdown pass. Offensive coordinator Tim Beck has called a terrific game, using a variety of option pitches, reverses and now some short passes to keep the Spartans' blitz-heavy defense off-balance. And Michigan State has contributed with a variety of drive-extending penalties after not being whistled for a single violation last week against Wisconsin.
The Spartans still have yet to solve Nebraska's defense, though they did find some success running the ball up the gut. The problem is they trail by so much that they have to pass the ball, and the receivers can't get separation in the Huskers' two-deep coverage.
Kirk Cousins
was sacked on third down inside Nebraska territory to end a potential scoring threat.
At this rate, Michigan State probably needs a momentum-swinging play on defense or special teams to avoid its first loss in October.
Nebraska is obviously going to pound the ball as much as possible with the lead in the fourth quarter.
Rex Burkhead
has been a warrior, with 31 carries already through three quarters. He had to be helped off the field after No. 31 with apparent cramping, but he came back two plays later to catch a 27-yard touchdown. That was likely the score that shook up the Legends Division race.
October, 29, 2011
10/29/11
1:41
PM ET
LINCOLN, Neb. -- Quick halftime analysis from Memorial Stadium, where No. 14 Nebraska leads No. 11 Michigan State
10-3
:


Turning point:
Lance Thorell intercepted a
Kirk Cousins
pass early in the half to set up a
Rex Burkhead
touchdown run, the only trip to the end zone by either team.
Stat of the half:
The teams have combined for just 27 passing yards, all of it by Michigan State. Kirk Cousins is 4-for-15 with that interception, and
Taylor Martinez
has completed as many passes to the Spartans (one interception) as he has to his own teammates.
Best player in the half:
Nebraska cornerback Alfonzo Dennard has three pass breakups and has shut down Michigan State star receiver
B.J. Cunningham
. Of course, he has had safety help on just about every play his way.
What Michigan State needs to do:
For whatever reason, the Spartans can't seem to figure out Nebraska's defensive game plan. The Huskers have had two deep safeties almost the entire game, leaving the middle of the field open for short passes and power runs. Yet Michigan State continues to try to throw deep to receivers who are double-covered or run sweeps and pitches to the outside. Offensive coordinator Dan Roushar needs to make the proper adjustments at halftime.
What Nebraska needs to do:
Keep running the ball. I questioned this week how the Huskers would be able to throw the ball against this Spartans' defense. The answer is they can't. Nebraska is better off sticking with Martinez and Burkhead on the ground and playing defense, at least as long as Michigan State remains clueless on how to attack it.
October, 29, 2011
10/29/11
12:52
PM ET
LINCOLN, Neb. -- Nebraska is playing so far like this is a must-win game, which it is. Michigan State needs to find the energy that helped it notch three straight important victories.
The first quarter went as well as the Huskers could have reasonably expected, as they hold a
10-0
lead. They've done it by sticking to the ground game, slowing down the Spartans' blitz and confusing the defense with pitches, option keepers and a couple of reverses.
Taylor Martinez
has yet to complete a pass, but it doesn't matter.
Michigan State has a different problem. It is running the ball effectively, but can't get any balance.
Kirk Cousins
is just 2-of-8 passing for 8 yards and has twice thrown into double coverage. He was also intercepted early by Lance Thorell, which led to the game's only touchdown. Nebraska is blanketing
B.J. Cunningham
and daring the Spartans to go somewhere else with the ball.
Bottom line is that Michigan State is just not sharp, and that extends to its normally reliable special teams. The Spartans have shanked a field goal attempt (granted it was a 52-yarder) and squirted out a 27-yard punt. The only thing that has gone right was a nice goal-line stand after the Huskers had first down at the 2-yard line. Or else it would be 14-0.
Long way to go, but Nebraska looks like the better -- and more energized team -- so far.
October, 29, 2011
10/29/11
11:38
AM ET
LINCOLN, Neb. -- Greetings from Memorial Stadium, where a chilly morning has given way to sunny skies and what should be very pleasant conditions for an important Big Ten football game. Temperatures could reach the 60s by the second half.
With defensive tackle Thad Randle out with a knee injury and Jared Crick done for the year, Nebraska is very young in its interior defensive line. Two redshirt freshman -- Chase Rome and Jay Guy -- are in the top four of the rotation there. Guy made his career debut last week at Minnesota.
For Michigan State, safety Jairus Jones is dressed and went through warm-ups. He has missed the entire season with a torn Achilles tendon. And of course, William Gholston is back at defensive end after serving a one-game suspension. He could play a key role, not only in getting pressure but using his height to bat down passes from
Taylor Martinez
.
It's almost time for kickoff ...