February, 23, 2015
Feb 23
2:30
PM ET
The NFL scouting combine wrapped up Monday with the defensive backs going through the on-field workouts. As always, the SEC was well represented at the event. Former Georgia wide receiver
Chris Conley
put on a show while a trio of LSU defenders --
Kwon Alexander
,
Jalen Collins
and
Danielle Hunter
-- proved just how athletic that defense was last season.
[+] Enlarge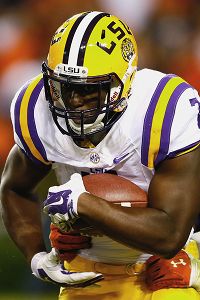 Kevin C. Cox/Getty ImagesIn his freshman season at LSU, Leonard Fournette rushed for 1,034 yards and 10 touchdowns.
Who's next? The SEC has plenty of athletes made for the combine, and we decided to look at which returning players will turn heads when it's their turn to go through the gauntlet.
LB Caleb Azubike, Vanderbilt:
Don't be so shocked a Vandy player made the list. Azubike is a freak athletically. He's 6-foot-4, 270 pounds, and there's not an ounce of fat on his body. As a junior, he started off strong but injuries derailed his season down the stretch. The senior-to-be will look to finish his career on a high note and earn his invite to the combine.
CB Tony Brown, Alabama:
Brown is one of four Crimson Tide football players who double up with track and field. He played sparingly as a freshman last fall, but the expectations are high for the former five-star defensive back. On the track, he's the team's fastest runner in the 60-meter hurdles, and he recently ran the 60-meter dash in 6.82 seconds.
RB Nick Chubb, Georgia:
Who else remembers that picture of Chubb showing off his vertical before a track and field event at his high school last May? If not,
here you go
. The guy looks like he could jump over a car. After a sensational freshman season, he'll be one of the more talked about athletes when it's his turn at the combine. Odds are he won't disappoint.
RB Leonard Fournette, LSU:
Chubb isn't the only freshman running back we can't wait to see at the combine. Fournette, the former No. 1 player in the country, has all the skills to put on a show when he goes and works out. He's big, fast, and there always seems to be a chip on his shoulder. It won't be any different at the combine.
DE Myles Garrett, Texas A&M:
Chiseled would be the best word to describe Garrett's physique. The freshman is a weight room freak and should put up big numbers on bench press. The scary part is he'll be just as impressive in the 40-yard dash and the shuttle. There's a reason he broke the SEC freshman sack record, previously held by No. 1 pick
Jadeveon Clowney
.
CB Vernon Hargreaves III, Florida:
4.3 is the new 4.4 in the 40-yard dash, and Hargreaves has a chance to run in that 4.3 range. A performance like that could solidify his stock as a top-10 pick in next year's draft, assuming he decides to leave early. And don't be surprised if the former high school track star clears 40 inches in the vertical jump.
RB Derrick Henry, Alabama:
Everybody wants to see what Henry is going to do when he goes to the combine. Players that big (6-3, 241) aren't supposed to run that fast. Henry likely won't be among the fastest at his position, but he did run a 4.45 at the 2012 Nike SPARQ competition. Granted, it was on a faster surface, but still -- that's moving for a guy his size.
DT Robert Nkemdiche, Ole Miss:
To nobody's surprise, another former No. 1 player in the ESPN 300 makes this list. Nkemdiche has always been gifted athletically, and though
he might not be as fast as his brother
, his overall performance will certainly grab the media's attention at the combine. Simply put, he's the complete package.
WR Speedy Noil, Texas A&M:
It's all in the name. Wouldn't it be great if the fastest 40 time came from a guy named Speedy? It could happen. Noil won the Nike SPARQ Rating National Championship in 2013 with a 40 time of 4.46 seconds and a vertical jump of 44.1 inches. He also ran the shuttle in a blistering quick 3.87 seconds.
OT Braden Smith, Auburn:
Former Miami offensive tackle
Ereck Flowers
was deemed the strongest man at the combine this year after he put up 37 reps of 225 pounds on the bench press. Per Auburn's strength coach, Smith can already put up at least 30 reps and he's still a freshman. Imagine what he'll be able to do in two-to-three years when it's his turn.
Honorable mention
RB
Alex Collins
, Arkansas
LB
Leonard Floyd
, Georgia
WR
Ricardo Louis
, Auburn
WR
Demarcus Robinson
, Florida
WR
Laquon Treadwell
, Ole Miss
December, 15, 2014
12/15/14
10:00
AM ET
Now that Oregon quarterback
Marcus Mariota
has strutted away with the Heisman Trophy in an utter landslide, it's time to look into the future to see who could be up for that bronze beauty next year.
What's that? We haven't gotten to bowl season? Santa hasn't even come to fill our stockings?
Pssssh! It's
never
too early for some prognostication that has nothing to do with the current season. And looking ahead to the Heisman is so much fun.
So who could be in the mix for a trip to Times Square next December? I think the SEC has a few candidates to keep an eye on. Too bad
Todd Gurley
isn't returning, because he would be at the top of this list. In fact, if he didn't deal with that NCAA suspension or lose his season to an ACL injury, Gurley might have won the Heisman over Mariota. But that's a story for another day.
Also, Heisman finalist
Amari Cooper
isn't on our list because he would be crazy
not
to bolt to the NFL.
Here's our very early list of possible SEC Heisman candidates in 2015:
The NFL could claim these guys:
T.J. Yeldon, RB, Alabama: He leads Alabama with 932 rushing yards and has 10 touchdowns, but he could take his game to the next level. He wasn't completely healthy this season, but his vision and ball security improved a lot in 2014.
D'haquille Williams, WR, Auburn: He missed two games but still led the Tigers with 45 catches for 730 yards and five touchdowns. Another top-tier athlete, Williams made a ton of clutch plays for Auburn this fall. But with his incredible athleticism and size, he's very much a candidate to leave early.
Keep an eye on:
Speedy Noil, WR, Texas A&M: He had only 559 receiving yards and five touchdowns, but when you are regularly making plays like this, people better be on the lookout for you. Noil is a supreme athlete who will grow with more time in the Aggies' offense.
November, 2, 2014
11/02/14
12:08
AM ET
It was another fun weekend in the SEC. Here's what we learned on Saturday:
Will Muschamp and the Gators have life:
The Gators'
38-20
win over No. 11 Georgia (6-2, 4-2 SEC) means that Florida (4-3, 3-3) is still in the SEC Eastern Division race and Muschamp's seat in Gainesville has cooled a little. Florida's plan was to run, run, run, and the Gators did it better than they ever have under Muschamp, cranking out 418 rushing yards and 31 straight points. New starting quarterback
Treon Harris
threw it just six times, so the jury is still out on what he can do when forced to throw, but the Gators dominated Georgia in the trenches on both sides of the ball and were just tougher in every phase. There's no way Florida can stay in the East hunt with that sort of passing game, but it didn't matter with how well the Gators ran it. Beat Vanderbilt and South Carolina, and the Gators will be bowl eligible and right in the thick of the East race with some slip-ups from Missouri and Georgia. And how about Muschamp? Wanted to run, did it. Called a crazy fake field goal, watched it go for a game-changing touchdown. Before the game, people were prepping for his firing. Now he's earned more time at Florida. How long? Who knows? But the evaluation of Muschamp is far from over.
[+] Enlarge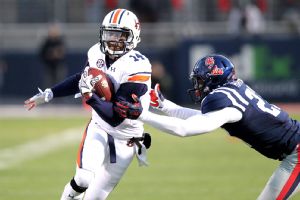 Nelson Chenault/USA TODAY SportsQuarterback Nick Marshall proved clutch in Auburn's win over Ole Miss on Saturday.
There's something about Auburn:
So that
35-31
win over No. 4 Ole Miss (7-2, 4-2) really could have gone either way, but third-ranked Auburn (7-1, 4-1) is starting to look eerily similar to the team that won the SEC and played in the BCS title game last year. The offense is churning out yards and points like crazy, and quarterback
Nick Marshall
is making clutch play after clutch play. And in the past two weeks, the Tigers have had a couple of things go their way. Last week, it was having two players wearing jersey No. 1 going unnoticed on the last play against South Carolina, which should have drawn a penalty. On Saturday, it was the incredibly unfortunate goal-line fumble by Ole Miss receiver
Laquon Treadwell
, who subsequently suffered what appeared to be a very serious leg injury. The defense certainly has its issues, but Auburn won in large part because of 248 rushing yards and some huge plays on third-and-long. It was an excruciating loss for Ole Miss, but the Tigers just have that feel to them again. It's a good team that's had a little luck to work with.
The ugly East is Missouri's to lose, again:
It's no secret that the Eastern side of the SEC isn't great, but someone has to represent it in the SEC championship game. Oh, if only the West could send two teams to Atlanta. With Florida's stunning upset of Georgia, Missouri (7-2, 4-1) is now in sole possession of first place in the division. Even with how average the offense has looked for the better part of the season, the Tigers are winning and control their own destiny. The defense has been great of late -- carrying this team -- and held Kentucky's Air Raid offense to just 260 total yards in a
20-10
win. With the East struggling so much, Mizzou doesn't have to be great. A win is a win, and the Tigers have won three straight since getting crushed 34-0 at home against Georgia. After next week's bye, the Tigers go on the road for games at Texas A&M and Tennessee before closing the season at home against Arkansas. Those are all winnable games for the reigning East champs. Georgia, on the other hand, now has to regroup from getting pummeled by a reeling Florida team with a trip to Kentucky next week before hosting Auburn.
Growing pains continue at A&M:
Where do you begin with the Aggies? Starting quarterback
Kenny Hill
has been suspended for two games for
violating team rules and athletic department polices, but backup Kyle Allen struggled in his starting debut Saturday. He threw for just 106 yards with a touchdown and turned it over twice in a rough 21-16 win over Louisiana-Monroe. Outside of Speedy Noil, the receivers are playing poorly. The offensive line continues to struggle. The defense is a liability and is lucky the Warhawks had absolutely no threat of the deep ball in its passing game. With the Aggies playing so many youngsters, these issues are expected, but it's late in the season, and this team is getting worse. It isn't close to being the same caliber of team it was to start the year and now has to change the offense some with Allen starting. There's just no excuse for a team like A&M to let UL Monroe hang around with it at home, especially coming out of a bye week. Kevin Sumlin and his coordinators have a lot of work to do with Auburn, LSU and Missouri still left on the schedule.
Ole Miss' playoff hopes are all but lost:
A second loss for the Rebels probably eliminates them from the College Football Playoff. Two losses is going to be hard to sell with the playoff committee. Ole Miss had already greatly surpassed expectations and came up just short against Auburn. But the season is far from over. The SEC championship game is very much in the picture, but the Rebels need help. They need to win out and see Alabama and Mississippi State lose two conference games so they'd own the head-to-head with both. They also need Auburn to lose two more and for LSU to lose at least one more so they'd both have three SEC losses. Go to Atlanta and win, and who knows what the selection committee will think of the Rebels.
October, 13, 2014
10/13/14
2:30
PM ET
COLLEGE STATION, Texas -- The past two Saturdays have been an excruciating reality check for Texas A&M.
Merely weeks ago, the Aggies were riding high with a top-10 national ranking, spotless record and national buzz about being a College Football Playoff contender. For Aggies that feared the prospect of life post-Johnny Manziel, it was a dream land, the program flexing its muscle and showing it was more than just one player and long-term success in the SEC was here to stay.
[+] Enlarge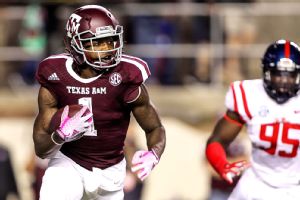 Troy Taormina/USA TODAY SportsBrandon Williams and the Aggies are experiencing the challenges -- and the losses -- that go along with a youthful team that has had to replace star players.
Then Mississippi State and Ole Miss lined up across from the Aggies and turned it into a 120-minute nightmare.
Seven games into 2014 -- the most recent two being convincing losses to the Magnolia State squads -- many are left wondering what to think of this Texas A&M team. Clearly, the Aggies aren't what many perceived them to be after their season debut, nor does it seem likely they are as bad as they've looked the previous two Saturdays, when they've taken beatings from two teams currently ranked in the top three nationally.
What we're seeing is a team in transition, which is what many expected before Texas A&M went to Columbia, South Carolina and blew the doors off the Gamecocks,
52-28
, on Aug. 28.
Preseason expectations of the Aggies weren't high from most pundits and outsiders. After saying goodbye to three NFL first-round draft picks, Manziel, Mike Evans and Jake Matthews, it was natural to assume some growing pains in coach Kevin Sumlin's third year. A first-time starter at quarterback and a still mostly-young defense which had an awful 2013 were the primary reasons for a skeptical eye.
When
Kenny Hill
and the Aggies went to Williams-Brice Stadium and snapped South Carolina's 18-game home-winning streak in emphatic fashion, it suddenly recalibrated expectations and gave the Aggies a look of a team with its foot on the gas pedal, expectations be damned.
As weeks have passed, it became evident the Aggies' big win wasn't as telling as initially thought. These Gamecocks don't resemble the group that won 11 games each of the past three seasons and are now fifth in the SEC East. The national rankings boost and buzz that followed Texas A&M in the aftermath turned out to be based on unfulfilled expectations of what South Carolina really was.
It seems the Aggies'
overtime win
against Arkansas, in which they had to scratch and claw out of a two-touchdown deficit late, is more revealing into what this current group is: a young team that is both talented and flawed, showing flashes of both brilliance and frustrating inconsistency at different times.
The overreaction to the South Carolina win, talks of Heisman Trophy contention and "Kenny Trill" made it easy to forget the sophomore is still a first-year starter. The Aggies'
35-20 loss
to Ole Miss was Hill's seventh career start. In addition, he's accompanied by a talented but young group of receivers. Of the nine listed on the Texas A&M depth chart, seven are freshmen or sophomores.
In an offense like Texas A&M's, which is predicated on timing, precision and chemistry, the ills that come with playing a young quarterback or young receivers can be disruptive, unless you're fortunate enough to have a transcendent player running the show, like the Aggies did Manziel the past two seasons, who kept defenses off balance with his scrambling ability. After Hill and his receivers played stellar ball in the Aggies' first four games, the last three have seen Hill throw three interceptions, the receivers drop 15 passes, according to ESPN Stats & Information, and the overall effectiveness of the passing game has dwindled.
Replacing a Heisman Trophy winner and a top-10 pick at receiver isn't supposed to be smooth.
Defensively, the Aggies have made progress from the SEC-worst unit that existed a season ago, but there is still a long way to go. Linebacker depth is lacking. Secondary play has been inconsistent. The defensive line is talented and has held its own but, like the Aggies' receivers, has a lot of youth, with seven of the 10 players on the depth chart being freshmen or sophomores. In a league like the SEC, built on strong line play, that can make life challenging.
Against Ole Miss, the Aggies struggled to stop the Rebels in the first quarter but forced five consecutive punts after that. Against Mississippi State, they seemed to have few answers for
Dak Prescott
& Co. Against Arkansas, early struggles against the run were followed by clutch stops in the fourth quarter and overtime, including one that sealed victory on fourth-and-1.
The Aggies have recruited at a high level in the Sumlin era, turning in back-to-back top-10 classes and are on track for a third straight in this cycle, but not every player is a
Myles Garrett
or a
Speedy Noil
, who can make the type of instant impact that those two have. The up-and-down nature of the Aggies' recent play is one byproduct of the amount of youth lining up weekly for them in college football's deepest, toughest conference.
In reality, the Aggies are likely at least a year away from being true SEC West title contenders. Sumlin, whose name was rumored as a candidate for the USC job or NFL jobs last offseason, didn't pass on those other opportunities for what awaited Texas A&M in the immediate future of 2014. He doubled-down in Aggieland because of what he believes the future holds in 2015 and 2016 as talent continues to stockpile and facilities continue to improve (well, that and a hefty $5 million-per-season contract, which runs through 2019).
Much like its home, Kyle Field, the Aggies are a team in transition and the finished product is still at least a year away.
October, 4, 2014
10/04/14
4:13
PM ET
What a way to start a big Saturday. No. 12 Mississippi State dominated No. 6 Texas A&M to the tune of
48-31
at Davis Wade Stadium to remain undefeated. The Bulldogs (5-0, 2-0 SEC) were strong on both sides of the ball while the Aggies (5-1, 2-1) started fast but never seemed to get comfortable after that. Let's look at how it went down:
How the game was won:
Mississippi State played terrific defense and harassed Texas A&M quarterback
Kenny Hill
, sacking him twice and intercepting him three times. Offensively, quarterback
Dak Prescott
was flawless, scoring five TDs (three rushing, two passing) while compiling 347 offensive yards (259 passing, 77 rushing, 11 receiving).
Game ball goes to:
Prescott. You could hand a game ball to a lot of guys (
Richie Brown
, who had three interceptions, or
Benardrick McKinney
and the Bulldogs' front seven, who made life tough for Hill and bottled up A&M's running game), but Prescott applied pressure on the Aggies by making great decisions and moving the offense down the field consistently, breaking the game open and taking the Bulldogs to a large lead that they wouldn't relinquish. He threw, he ran, he caught, he did it all.
What it means:
The Bulldogs are legit (if the win at LSU didn't already convince you). To not only beat but dominate a talented team like Texas A&M says a lot about where coach Dan Mullen has the Mississippi State program headed. It's a force to be reckoned with in the SEC West and appears to be taking that "next big step" that folks have been waiting for. Meanwhile, the Aggies look like a flawed team with
a lot
of work to do, especially defensively.
Playoff implication:
Mississippi State is in the College Football Playoff conversation now. With big wins over LSU and Texas A&M, look for the Bulldogs to move into the top 10 of the national rankings. The schedule doesn't get much easier, but the Bulldogs are in a great spot right now. Texas A&M, on the other hand, probably has to run the table the rest of the way to have a shot at sneaking in. That's asking a lot, considering the Aggies still have Alabama, Auburn and LSU on the schedule.
Best play:
The best individual play
belongs to
Speedy Noil
, but this is the play that pretty much erased remaining hope for the Aggies, who were down 17 before Prescott found
Fred Brown
for a 51-yard score:
What's next:
Another huge test for Mississippi State awaits, as No. 5 Auburn makes its way to Davis Wade Stadium next week. Texas A&M doesn't get much time to regroup as it must return home to Kyle Field to take on Ole Miss.
September, 3, 2014
9/03/14
12:00
PM ET
COLLEGE STATION, Texas -- Mark Snyder has been down this road before, so before Texas A&M took the field on Thursday against South Carolina, he made sure to look into the eyes of his freshmen.
After a nightmarish 2013 defensive campaign, one which included roughly a dozen freshmen in the two-deep -- many of which had their hands full trying to figure out where to line up and what to do -- the Aggies' defensive coordinator knew this group of freshmen was different but surveyed them visually prior to their season opener. He searched for evidence of nerves, jitters, any sign that they'd be overwhelmed playing on the road in the SEC at a venue where the home team possessed an 18-game winning streak.
He found no such thing.
"I was looking pregame, I promise you, at the hotel and pregame on the field," Snyder said. "I really liked the looks in their eyes. These young guys didn't bat an eye. It was really refreshing to see."
[+] Enlarge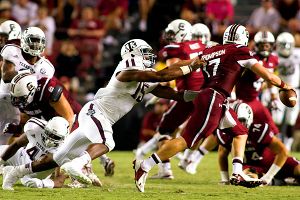 Jeremy Brevard/USA TODAY SportsTrue freshman Myles Garrett had a sack and two quarterback hurries last week against South Carolina.
Many of the Aggies' true freshmen and members of the 2014 recruiting class played like veterans in Texas A&M's 52-28 destruction of South Carolina last week. And that's a relief for Kevin Sumlin and the Aggies staff.
Nine members of Texas A&M's 2014 class saw the field in the season opener, eight of which were true freshmen (one,
Joshua Reynolds
, is a junior college transfer and a sophomore). Most of the true freshmen were on defense: defensive linemen
Myles Garrett
,
Zaycoven Henderson
,
Qualen Cunningham
and
Jarrett Johnson
, safety
Armani Watts
and cornerback
Nick Harvey
.
Garrett and Watts separated themselves as playmakers in their respective debuts. Garrett, a five-star defensive end and the No. 4 overall player in the 2014 class, recorded a sack and two quarterback hurries and was active against opposing offensive linemen throughout the night.
"The thing that doesn't show up in the statistics is the number of times he got pressure on the quarterback and forced a bad throw," Snyder said. "Myles has a ways to go; he's got to learn the defense, he left a lot of plays out there. He had the opportunity to have a three or four sack game. He'll learn and grow from that. But the pressure he put on
Dylan Thompson
with some of those errant throws, that's as good as a sack in my book."
While Garrett's appearance was highly anticipated and almost expected, Watts, an ESPN 300 recruit, was a pleasant surprise at a critical position. The Aggies are sorely seeking upgraded safety play this season and Watts got the start at free safety and performed exceptionally, recording and interception and two pass breakups, including one that saved a touchdown. He, too, didn't seem nervous, according to Sumlin.
"Was the atmosphere, was the stage, was that going to be too big for them?" Sumlin said. "It's pretty good when you have a guy like Armani Watts say, 'This is the best day of my life.' So I don't think he was really worried about playing. I kind of like that. We need more guys like that."
It wasn't all roses. Snyder referenced the fact that a few of his young defensive linemen, Cunningham, Henderson and Johnson specifically, got "baptized" by South Carolina's veteran offensive linemen. And Noil, who played relatively well offensively at receiver, did drop a pass, which offensive coordinator Jake Spavital feels is easily corrected. But there is time and room for improvement. More importantly, the emergence of many of these freshmen is significant for the Aggies, who had several questions to be answered at key positions across the board.
Part of those contributions are a byproduct of recruiting at an elite level, which the Aggies have done since Sumlin arrived. They turned in two consecutive top-10 recruiting classes and they're on track for a third straight in this cycle [the Aggies' class is currently fourth nationally]. Rankings that high means elite players are being signed, several of which are good enough to get on the field immediately rather than having to redshirt.
And the nine 2014 class members who played won't be the only ones. Expect more to see the field Saturday when the Aggies host Lamar.
Players say the added contributions are a significant boost for the team.
"[It's a] very big relief," middle linebacker
Jordan Mastrogiovanni
said. "They've done well in practice and the weight room, all that kind of stuff, but it's very big to see them actually come out and perform in a game. If they keep that up, I think we'll be in great shape."
April, 2, 2014
4/02/14
9:00
AM ET
AUBURN, Ala. -- There wasn't much fire in the voice of Gus Malzahn as he stood at the podium following Auburn's first scrimmage of the spring on Saturday. All told, it was a pretty boring scene. No injuries to report. No position changes to speak of. Only one turnover and a handful of big plays. His team had to move indoors because of the threat of rain, but as he said, "It didn't bother us a bit."
Watching Malzahn, you got the feeling he wasn't playing coy. This was the difference a year makes. Last spring was an anxious time for Auburn. There was no quarterback, no depth chart and no sense of expectations. Malzahn and Co. were simply trying to pick up the pieces left behind from the previous staff.
This spring has a much different tone. All one needed to do was look at the long-sleeve, collared shirt Malzahn wore after practice, the one with the SEC championship patch on its left shoulder. The building phase of Malzahn's tenure is over. The questions are much fewer this year than the last. And with that, the sense of urgency is far more diminished.
"We've got more information now, so we're not as urgent," Malzahn said. "We pretty much know a lot about the guys returning."
Not every coach in the SEC is in the same enviable position.
"You've also got to keep in mind next year," Malzahn said. "You want to get your guys as much reps as you can moving forward for next year, because that's what it's all about ... but I would say, probably, for the most part, that we've got guys in the position that we want them to be in."
Not every coach can afford to look ahead this spring. Not every coach has the time.
With that said, let's take a look at the programs with the most to accomplish this spring, ranking all 14 schools by the length of their to-do list.

Vanderbilt:
Any new coaching staff has the most work to do, from determining the roster to installing new schemes on both sides of the ball. Throw in a new starting quarterback and the
raid James Franklin put on the recruiting class
, and it adds up to an enormously important spring for Derek Mason.

Kentucky:
Mark Stoops has done a lot to turn around the culture at Kentucky. In fact, veteran defensive end
Alvin Dupree
said it feels like more of a football school now
. But the fact remains that Stoops has a very young group to deal with, so inexperienced that true freshman
Drew Barker
is in contention to start at quarterback.

Tennessee:
The Vols are facing many of the same
challenges in Year 2 under Butch Jones
. He has brought in a wealth of talent, including a remarkable 14 early enrollees. Considering the Vols lost all of their starters on both the offensive and defensive lines, there's a lot of work to do.

Florida:
The hot seat knows no reason. All is good in Gator Land right now as a new offense under a new coordinator is installed, injured players -- including starting quarterback
Jeff Driskel
-- return, and expectations creep upward. But a bad showing in the spring game could change the conversation quickly for Will Muschamp.

Arkansas:
There's
nowhere to go but up for Bret Bielema
after a 3-9 finish his first year with the program. The good news is he has young playmakers on offense (
Hunter Henry
,
Alex Collins
, etc.). The bad news is the quarterback position is unsettled and his defensive coaching staff is almost entirely overhauled from a year ago.

LSU:
A depth chart full of question marks is nothing new for Les Miles, who has
endured plenty of underclassmen leaving for the NFL
before. But missing almost every skill player on offense (
Zach Mettenberger
,
Jeremy Hill
,
Odell Beckham
,
Jarvis Landry
) hurts. He has to find replacements at several key positions, and we haven't even gotten into the defense.

Texas A&M:
Cedric Ogbuehi
can replace
Jake Matthews
at left tackle. The combination of
Ricky Seals-Jones
and
Speedy Noil
can replace
Mike Evans
at receiver. But
who replaces the legend of Johnny Football
? Determining a starter under center won't be easy, but neither will be overhauling a defense that was far and away the worst in the SEC last year.

Georgia:
Jeremy Pruitt
should breathe some new life
into a struggling Georgia defense. Having
Hutson Mason
to replace
Aaron Murray
helps as well. But
off-the-field problems continue
to plague Mark Richt's program. With stars such as
Todd Gurley
, the players are there. The pieces just need to come together.

Missouri:
After 13 seasons in Columbia, Gary Pinkel knows how to handle the spring.
Maty Mauk
appears ready to take over for James Franklin at quarterback, and even with the loss of
Henry Josey
, there are still plenty of weapons on offense. The real challenge will be on defense, where the Tigers must replace six starters, including cornerstones
E.J. Gaines
,
Kony Ealy
and
Michael Sam
.

Alabama:
The quarterback position won't be settled this spring, so we can hold off on that. But still, Nick Saban faces several challenges, including finding two new starters on the offensive line, replacing
C.J. Mosley
on defense and completely overhauling a secondary that includes
Landon Collins
and a series of question marks.

Ole Miss:
Hugh Freeze has his players. Now he just has to develop them. With emerging stars
Robert Nkemdiche
,
Tony Conner
,
Laremy Tunsil
,
Evan Engram
and
Laquon Treadwell
, there's plenty to build around. Include a veteran starting quarterback in
Bo Wallace
and there's a lot to feel good about in Oxford.

Mississippi State:
It's a new day in the state of Mississippi as
both state institutions have high expectations this spring
. Mississippi State returns a veteran defense, a solid offensive line and a quarterback in
Dak Prescott
who could turn into a Heisman Trophy contender. A few months after Dan Mullen was on the hot seat, he now appears to be riding high.

Auburn:
Losing
Tre Mason
and
Greg Robinson
hurts, but outside of those two stars, the roster remains fairly intact.
Nick Marshall
figures to
improve as a passer
, the running back corps is well off, and the receivers stand to improve with the addition of
D'haquille Williams
. The defense should get better as youngsters such as
Montravius Adams
and
Carl Lawson
gain experience.

South Carolina:
Steve Spurrier would like to remind everyone that
Dylan Thompson
was the only quarterback in the country to beat Central Florida last season. Sure, Thompson wasn't the full-time starter last year, but he has
plenty of experience and is ready to be the man
. Throw in a
healthy and eager
Mike Davis
and an improving set of skill players, and the offense should improve. The defense has some making up to do on the defensive line, but there's no reason to panic, considering the rotation they used last year.
March, 17, 2014
3/17/14
3:00
PM ET
COLLEGE STATION, Texas -- For two seasons, the man donning No. 2 in maroon and white made history. Texas A&M was forever changed and a lasting imprint was left on college football.
[+] Enlarge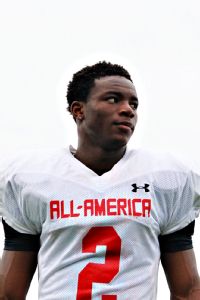 Miller Safrit/ESPN.comSpeedy Noil is already making a name for himself at Texas A&M's spring practice.
Life after the exit of a player of
Johnny Manziel
's caliber is certainly different, but when the Aggies began spring practice almost three weeks ago, No. 2 was still running around the practice field.
"Actually, I did see No. 2, he was
Speedy Noil
," coach Kevin Sumlin said with a hearty laugh. "And he looked pretty good today."
Yes, a new No. 2 is in Aggieland, and fans are hoping he can be as exciting as his predecessor. That's a ton of expectation to place on a high school recruit who should be getting ready for the prom, but Noil is not your typical recruit.
The five-star prospect, ranked as the No. 1 athlete in the country and the No. 7 overall player in the ESPN 300, represents the upward direction Texas A&M's football program has moved since joining the SEC. Five years ago, it would have been hard to picture the Aggies going into LSU's backyard and snagging a recruit that the Tigers wanted. But that's what they did with Noil, a product of New Orleans' Edna Karr High.
If his lofty status, success at the high school level (he led Edna Karr to a state championship in his junior season) or pure ability (the nickname "Speedy" is appropriate, given his 4.45-second electronically timed 40-yard dash) wasn't enough to excite Texas A&M fans, his confidence, represented by the fact that he's donning Manziel's jersey number, should.
Through a week's worth of spring practices (Texas A&M took last week off for spring break), the reviews of Noil have been positive.
"Man, he's good," senior receiver
Malcome Kennedy
said. "For him to be a high school receiver ... he already possesses a lot of skills that college receivers have. Just as far as getting in and out of breaks, fundamental stuff and technique, Speedy is far along. He's pretty much a beast, man."
It doesn't surprise receivers coach David Beaty. The veteran assistant called Noil the "best receiver in the country" in his recruiting class and said the 5-foot-11, 190-pound receiver is "explosive as anybody I've ever seen."
"Combination of strength, speed and explosiveness," Beaty said. "Really smart guy. Played the quarterback position a lot [in high school] so he has a little bit more of an understanding than some of my guys that come in. ... He'll look at it and sees the entire picture, which it takes some kids two-to-three years to do that. That's advancement for him and for us."
There is certainly a learning curve, especially adjusting to being a full-time receiver and acclimating to the pace of Texas A&M's up-tempo offense. That, along with learning the proper spacing for receivers in the offense, might be Noil's biggest challenge. But once he masters that, the Aggies are expecting great things.
"He's adjusting to it, but I see potential in him because he's athletic, he runs good routes, he has good speed, and he has good hands also," senior cornerback
Deshazor Everett
said. "That surprised me. He'll go up and get the ball. Once he gets the offense down, you'll see some things from him that'll be spectacular."
Kennedy, who is the lone returning starter among the Aggies receivers, said he wouldn't be surprised to see Noil make a quick on-field impact this fall.
"He takes [to] coaching well," Kennedy said. "For him to be a five-star recruit, he's very level-headed, he takes coaching well, he loves his teammates, he's always competing. He's not shy, he's up for contact, and he's just a great receiver all- around right now."
There's a long way to go for the new No. 2. But the hopes are high that he will be something special like the last person to wear the number was.
"I look at him every now and then and say 'I can't believe he is here,'" Beaty said. "He was so unattainable but with Kevin [Sumlin], I've learned that there's nothing unattainable. It's just one of those deals where you don't ever know if you'll get a player of that magnitude and who knows what he'll do? But I know what his potential is."
January, 2, 2014
1/02/14
9:50
PM ET
ST. PETERSBURG, Fla. -- LSU's drive for five commitments at the Under Armour All-America Game ended shortly after it kicked off. Tigers fans vented their frustrations when receiver
Speedy Noil
(New Orleans/Edna Karr) committed to Texas A&M and his high school teammate, defensive tackle
Gerald Willis III
, picked Florida. It mushroomed when
Tony Brown
(Beaumont, Texas/Ozen) committed to SEC West rival Alabama later in the game.
But LSU still managed to walk away with the biggest prize of the 2014 recruiting calendar when No.1-ranked
Leonard Fournette
(New Orleans/St. Augustine) committed to the Tigers. In the end, Fournette wasn't some consolation prize. His decision will mean more to LSU fans than any of the other players who got away. Fournette -- who had 44 yards rushing and 46 yards receiving in the game -- is the best running back to come out of the high school ranks since Adrian Peterson was tearing through defenses as a Texas high school legend. Just like Peterson, Fournette has lofty expectations for himself when he arrives in Baton Rouge, La.
"I plan on winning a Heisman and a national championship with my fellow teammates," Fournette said while surrounded by a throng of microphones and television cameras. "I can handle the pressure. I can handle it."
Before you complain about Fournette saying that, don't forget that Peterson stormed into Norman, Okla., as a true freshman and was a Heisman finalist and led Oklahoma to the 2005 BCS National Championship Game. He said similar things when he was coming out of high school and was able to handle the pressure of those expectations.
Fournette could do the same.
To continue reading,
click here
.
Five Stars gallery
November, 19, 2013
11/19/13
11:30
AM ET
COLLEGE STATION, Texas -- When it comes to the presence schools have in their respective home states, few are stronger than LSU in the state of Louisiana.
The Tigers' success, conference affiliation and game day atmosphere are just a few of the unique advantages for natives of the Pelican State.
[+] Enlarge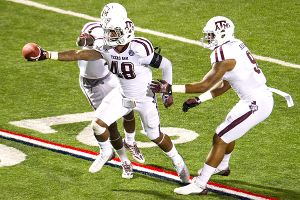 Michael Chang/Getty ImagesTexas A&M freshman Darian Claiborne (48) took over the middle linebacker job before the fourth game of the season.
Port Allen (Louisiana) High School head coach Guy Blanchard vividly remembers the emotions of one of his players,
Darian Claiborne
, when LSU took a tough loss early in 2012.
"When Darian was in January of his junior year (of high school) and LSU lost the national championship game to Alabama, you would have thought his best friend died the next day at school," Blanchard said. "He was a big LSU fan. You can't grow up in Southeast Louisiana and not have some kind of attachment or an eye on the prize, however you want to say it, [to LSU]."
Claiborne, a true freshman, is now the starting middle linebacker for No. 12 Texas A&M, which heads to Death Valley on Saturday to play No. 22 LSU. But Port Allen is fewer than seven miles from the LSU campus, so it's understandable how he could have envisioned a future with the Bayou Bengals.
But Texas A&M's staff developed a strong relationship with Claiborne, a three-star prospect. Furthermore, the Aggies made a strong impression and made it clear they wanted him while LSU didn't officially extend an offer. The Aggies' diligence paid off because Claiborne has played a key part on the A&M defense.
In recent years, Texas A&M has had success recruiting the state of Louisiana. Texas is and will continue to be the home base for Texas A&M recruiting for good reason -- it's fertile recruiting ground that most colleges attempt to pick from, because of the vast number of players and caliber of talent the state produces. But Louisiana is also known for producing high-caliber recruits as well and head coach Kevin Sumlin has made sure to make "The Boot" part of his recruiting footprint.
Currently, the Aggies have nine players that are from Louisiana on the roster and all of them are on the Aggies' two deep. Some of them have been recruited by the current staff, others are holdovers from the previous staff, but all of them currently contribute on the field.
All nine are defensive players and five of them are regular starters: Claiborne, defensive back
Deshazor Everett
, defensive ends
Julien Obioha
, safety Floyd Raven and defensive end
Gavin Stansbury
. The others have played key roles: true freshman cornerback
Noel Ellis
has seen significant time in recent weeks and is the Aggies' future at the nickel cornerback position. Cornerback
Tramain Jacobs
started six games this season while the Aggies' dealt with injuries in the secondary and has been a reliable rotation player among the cornerbacks. True freshman linebacker
Shaan Washington
has found his way onto the field in a special teams capacity but also saw time at linebacker early in the year and defensive tackle
Ivan Robinson
has been a part of the rotation at his position when healthy.
[+] Enlarge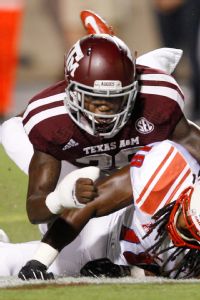 AP Photo/Bob LeveyDeshazor Everett, another Louisiana native, was recruited my Mike Sherman's staff but has been the Aggies' most reliable defensive back.
There's no doubt the Aggies have received bang for their buck with the "Louisianimals," the term former Texas A&M center Patrick Lewis coined for his fellow Louisiana products last season. Claiborne and Everett have been arguably the Aggies' best defensive players this season. Everett has done whatever the Texas A&M coaches have asked, whether it's playing safety while Raven was injured or going back to his traditional position of cornerback, while playing with a broken thumb early in the year. Claiborne got the starting job at middle linebacker -- which is not his traditional position -- before the fourth game of the season and hasn't let go of it.
Stansbury has emerged as a playmaker while Obioha and Raven have each been a steady presence at their respective positions.
Even when he was at Houston, where the Cougars put their primary focus on their own city, Sumlin's staff would travel across the border to recruit talent out of Louisiana. But in the SEC it's a different story, because the caliber of player Texas A&M is searching for is often the same that LSU is trying to keep in state.
With the Tigers being
the
signature program in Louisiana, it makes it all the more difficult to pull a kid out of the state when LSU wants him.
The Aggies are experiencing that in their early SEC years. In this recruiting cycle, the Aggies are going after some of Louisiana's finest, like ESPN 300 athlete
Speedy Noil
and ESPN 300 defensive end
Gerald Willis III
. The Aggies are also trying to make inroads with the top 2015 prospects from the state, like receiver
Tyron Johnson
.
All have LSU offers and the battle for Noil and Willis III has been hotly contested and will be until signing day approaches.
But the Aggies have found success in recruiting prospects from the state that might have been overlooked or not as heavily pursued. If those players continue to play like Claiborne, the in-state powerhouse will start taking notice.
"Yeah, we've run across them at times," said LSU coach Les Miles of seeing A&M recruiting in Louisiana. "We recognize some of the [players] that they have there, and we wish them the very best. It's an opportunity to play in this league, and we're for that."