May, 17, 2011
5/17/11
5:25
PM ET
South Florida has landed yet another high-profile transfer.

The school announced on Tuesday that former Florida receiver
Chris Dunkley
has officially joined the program. Dunkley redshirted last season while dealing with a hamstring injury. He was suspended for parts of this spring with academic issues.
ESPN.com ranked the 6-foot, 172-pounder as the No. 7 receiver prospect in the Class of 2010 and rated him an ESPNU 150 recruit. ESPN.com's recruiting profile of Dunkley concluded with this: "Overall, Dunkley can run and he can make people miss. He is one of the speedier wide receivers we have seen over the last few years and could be an impact player early in his college career."
"We're really excited to have Chris join the program," USF coach Skip Holtz said in an official statement. "He's very talented, has a lot of ability and we think he'll be a positive addition at USF."
Dunkley won't be eligible until 2012 under NCAA transfer rules, but he should help a position of need for the Bulls. A big-time receiver appears to be one of the last missing pieces for the Bulls.
Dunkley joins several other transfers who've opted to play for Holtz at USF. The Bulls have also welcomed former Colorado running back
Darrell Scott
, former Auburn tailback
Dontae Aycock
and ex-Notre Dame defensive back
Spencer Boyd
into the fold. They are currently pursuing another former Gator, running back Mike Blakely.
February, 23, 2011
2/23/11
9:00
AM ET
Spring practice is just around the corner -- South Florida will be on its new practice fields next week, while other Big East teams will follow suit shortly after.
So here's a look at what to expect from each league team this spring.
Cincinnati
Spring practice starts:
March 29
Spring game:
April 16
What to watch:
Fixing the defense: There's little doubt that improving the defense is the first order of business in Clifton. The Bearcats ranked last in the Big East last season while giving up 28 points per game. The good news is that all 11 starters on that side of the ball are back. The bad news is those are the same guys who couldn't get it done a season ago. An extra year of maturity should help, and Butch Jones expects more depth and competition on defense, including the arrival of junior-college import Malcolm Murray at safety.
Restocking the Binns: Cincinnati should still be strong on offense with the return of senior quarterback Zach Collaros and senior Isaiah Pead, the leading returning rusher in the Big East. Yet the loss of the league's most productive receiver in 2010, Armon Binns, means the Bearcats need to find a few more guys to make plays at receiver. D.J. Woods is an obvious choice as the new go-to guy, but he'll have to solve his fumble problems. Transfer Kenbrell Thompkins, who couldn't get eligible last season, will look to step forward. Another sidelined receiver, freshman Dyjuan Lewis, won't be cleared to join in team activities until the summer.
Looking for leaders: One of the problems during the 2010 4-8 season, as voiced by departing senior Jason Kelce and implied by Jones, was a lack of leadership on the team. Hey, it happens sometimes when your program has been to back-to-back BCS games and young players feel an undeserved sense of entitlement. Jones has been trying to change that, and we should be able to tell during the spring whether some new leaders have emerged.
Connecticut
Spring practice starts:
March 15
Spring game:
April 16
What to watch:
Back to the future: For the first time since the end of 1990s, and for the first time ever as an FBS-level program, the Huskies will have someone other than Randy Edsall leading them through practice in March. Former longtime Syracuse coach Paul Pasqualoni took over when Edsall left for Maryland, and Pasqualoni hired new coordinators (George DeLeone on offense and Don Brown on defense) to mix in with the holdovers from Edsall's staff. UConn has been doing things the same way for a long time, and with pretty strong results. How will the team react to Pasqualoni's new-look, old-school ways?
Backfield in motion: Quarterback Zach Frazer is gone. Star tailback Jordan Todman left early for the NFL. Fullback Anthony Sherman graduated. Everything behind center is new. The quarterback position looks pretty wide open, with sophomore Michael Box perhaps having the edge after making one (very unsuccessful) start in 2010. Early enrollee Michael Nebrich is one to watch. How will the Huskies replace Todman? Good question. Robbie Frey decided to concentrate on graduate school, leaving USC transfer D.J. Shoemate as the only experienced ballcarrier. Freshman Lyle McCombs' status is unclear for spring after his offseason arrest, and the two running backs in the signing class won't arrive until summer. Right now, it's anybody's guess as to who might carry on the UConn running back tradition.
Reloading at linebacker: The Connecticut defense brings a lot back, but one position that needs refilling is linebacker. Lawrence Wilson, who led the Big East in tackles the past two seasons, and Scott Lutrus, a four-year starter and solid leader, both exhausted their eligibility. Sio Moore looks like a rising star and had some huge games in 2010, but the other two positions have large shoes to fill.
Louisville
Spring practice starts:
March 23
Spring game:
April 15
What to watch:
Smooth sailing for Bridegwater?: The Cardinals' most pressing issue is at quarterback, where senior co-starters Justin Burke and Adam Froman are gone. Highly-touted recruit Teddy Bridgewater will participate in the spring, and how quickly he picks up the college game and coordinator Mike Sanford's system could go a long way to determining what happens this fall. If he needs more time, senior Will Stein will happily take the reins.
Rebuilding the O-line: The key to Louisville's offensive success was its senior-laden line, which proved to be the best in the Big East a year ago. But now four new starters must be found to go along with center Mario Benavides. The new guys must get up to speed and develop chemistry quickly for the running game and presumed new starter Jeremy Wright to duplicate last season's progress.
Last line of defense: Louisville's defense was most vulnerable at its back end at times last season, and now the Cardinals must replace both starting cornerbacks (including All-Big East first team performer Johnny Patrick), no to mention two senior linebackers. An obvious candidate to take over some leadership is safety Hakeem Smith, who was the Big East rookie of the year. The plus side is that Charlie Strong and coordinator Vance Bedford will have more young talent to work with.
Pittsburgh
Spring practice starts:
March 15
Spring game:
April 16
What to watch:
Golden Graham?: There will be no more drastic change in the Big East this spring than the offense at Pittsburgh, which will go from a run-based pro-style attack to Graham's no-huddle, wide-open, points-per-minute machine. Can the Panthers get this new offense up and running this spring? Does Graham have the players to make it work? And how will his offense, so successful in Conference USA, translate into the more rugged Big East? All those questions will be fascinating to follow.
Quarterback competition: Junior Tino Sunseri started every game in his first year at the controls in 2010, and he played well at times. But a new style and new coaching staff means that he might have an edge, but not necessarily an insurmountable one, in this spring's competition. Redshirt freshman Mark Myers is multi-talented and will be given a look, along with classmate Anthony Gonzalez and Kolby Gray. The current staff has no loyalty to Sunseri, so he'll need to perform at a high level this spring to keep his job.
Shoring up the 'D': It's no secret that Pitt struggled in defending the pass last season. Graham's offense may be more explosive, but he doesn't want to have to get into shootouts all the time. He and defensive coordinator Keith Patterson have experience running 3-3-5 and 4-2-5 formations and may go to more of those kinds of looks to counter the increasing spread offenses throughout the league. First Pitt will have to get better play from its secondary and linebackers in pass coverage, and that starts this spring.
Rutgers
Spring practice starts:
March 29
Spring game:
April 30
What to watch:
Line change: The first thing to focus on this spring for the Scarlet Knights is the front five on offense. The offensive line has been a mess for the past two years and was an utter disaster a year ago. Head coach Greg Schiano is counting on junior-college center Dallas Hendrickson to provide some immediate help, and that another year will lead to better things for the returnees. Rutgers needs answers at right tackle, especially, and if the line can't block its own defense in spring practice, you'll know there's trouble.
A Frank re-assessment: Former Pitt offensive coordinator Frank Cignetti takes over the Scarlet Knights' playcalling duties this spring, and his pro-style background seems like a perfect match for what Schiano likes to do. Look for Cignetti to try to establish a stronger running game this spring (while waiting for mega-recruit Savon Huggins to arrive this summer) and abandon the Wildcat formation and other gimmicks that Rutgers desperately turned to the past two years. His work with sophomore starter Chas Dodd will also be critical, since there are no other experienced quarterbacks on campus.
Recharging the defense: You always expect a Schiano-led defense to be rock solid, but that defense wore down last season and ended up allowing more points in conference play than anybody. Three of the starting four defensive linemen are gone, as well as the team's leading tackler -- linebacker Antonio Lowery -- and safety Joe Lefeged. Schiano has recruited well and has lots of young players ready to step into bigger roles. Spring will be the time we start to learn who's ready to handle increased responsibilities.
South Florida
Spring practice starts:
March 3
Spring game:
April 2
What to watch:
Transfers accepted: Running backs Darrell Scott and Dontae Aycock have strong credentials; Scott was one of the more sought-after recruits in the country before disappointing at Colorado, while Aycock was set to play for Auburn. Both become eligible this year and will show their stuff this spring. The two big-bodied ballcarriers could add some power and explosiveness to the Bulls offense. Notre Dame transfer Spencer Boyd should bring depth, at the very least, to the secondary.
B.J. still the main Bull?: Junior B.J. Daniels seemed to reassert himself as the starter with a big performance in the Meineke Car Care Bowl win over Clemson. But before that, there were serious questions about whether sophomore Bobby Eveld might unseat him. Daniels goes into the spring with an obvious edge, but he'll be pushed by Eveld and redshirt freshman Jamius Gunsby. He'll need to perform at a consistent level to stiff-arm questions about his job security.
Receiver reconstitution: No doubt, receiver was the position that needed the largest upgrade a year ago. The bad news is, the Bulls lost leading pass-catcher Dontavia Bogan, who was nearly a one-man show at wideout in 2010. On the flip side, A.J. Love and Sterling Griffin return from injury. And Skip Holtz hopes getting thrown into the fire last season sped the development of guys like Evan Landi, Joel Miller and Lindsey Lamar. At the very least, the position has a lot more experience and depth than it did a year ago at this time.
Syracuse
Spring practice starts:
March 8
Spring game:
April 16
What to watch:
Displacing Delone: Senior Delone Carter brought the thunder to the Syracuse running game the last two years, and he may have been the least favorite ballcarrier for opposing tacklers to bring down. With him gone, it remains to be seen whether the smaller Antwon Bailey can be an every-down back, or if youngsters like Prince-Tyson Gulley and Jerome Smith are ready for an increased role in the offense.
Linebacker makeover: It would be hard for any team to lose a more productive linebacker tandem than the Orange did with seniors Doug Hogue and Derrell Smith. They were both crucial to what defensive coordinator Scott Shafer liked to do. The lone returning starter is Marquis Spruill, who played as a true freshman last year. Could a newcomer like junior-college transfer Siriki Diabate be ready to help immediately?
Wideout wonders: Marcus Sales helped rescue an ailing passing game with his breakout performance in the New Era Pinstripe Bowl. Is Sales ready to play like that all the time now, or was he a one-game wonder? Will Van Chew continue the improvement he showed last season before getting injured? Can the Orange get more out of Alec Lemon? What new faces might help at receiver? The answers to these questions will be key to the attack under Nathaniel Hackett, who was promoted to offensive coordinator this offseason.
West Virginia
Spring practice starts:
March 28
Spring game:
April 29
What to watch:
Dana days: Mountaineer Nation is salivating at the thought of what Dana Holgorsen will do to revive the offense. Holgorsen has had an immediate and incredible impact at the last two places where he called plays, and some solid work in the spring is required to do the same in Morgantown. A couple of things are for sure: the Mountaineers will be throwing it around a whole bunch during practice, and fans will breathlessly gobble up every small detail. Another thing to watch will be the chemistry between Holgorsen's hand-picked offensive staff and Bill Stewart, the man he'll replace at the end of the season. That relationship will also be dissected relentlessly.
Defense reload or rebuild?: Most people assume West Virginia will continue to field an excellent defense because of coordinator Jeff Casteel. That may be true, but no team lost more defensive talent than the Mountaineers, who must replace frontline players like tackle Chris Neild, linebacker J.T. Thomas, safety Robert Sands and cornerback Brandon Hogan, among others. There's still a lot to like here, including ends Julian Miller and Bruce Irvin and corner Keith Tandy, but for Casteel must find new contributors to keep his 3-3-5 humming along.
Who's in the backfield?: It's not yet know just how much quarterback Geno Smith will be able to do during spring practice after his offseason foot surgery. Obviously, the more reps he can take, the better he'll be able to get Holgorsen's system down. And there's no experience behind him. West Virginia will be cautious with Smith, though, because the fall is way more important. With Noel Devine gone and Tavon Austin seemingly making his move to receiver permanent, there will be competition for the starting running back spot. Shawne Alston and Ryan Clarke are bulldozers who could add an interesting wrinkle to Holgorsen's spread if they get the job done.
February, 16, 2011
2/16/11
9:00
AM ET
Here is Part II of my pre-spring interview with South Florida coach Skip Holtz, in which we look forward to spring practice and the 2011 season. You can read Part I
here
. And if you missed Holtz's comments on his quarterback situation, you can find those
here
.
You don't bring back a lot of starters. But considering how many guys you played last year, how comfortable do you feel with your returning experience this season?

Skip Holtz:
I do feel like we return quite a bit of experience. You look at a guy like Mark Popek on the offensive line, who didn't start but played quite a bit, and Danous Estenor played quite a bit. Obviously
Bobby Eveld
started one game. I'll just use the quarterback position: last year in the spring, we had one quarterback on scholarship; this spring we're going to have four. I look at the improvements we've made there from a competitive standpoint.
[Tight ends]
Andreas Shields
and
Jeff Hawkins
played. We had a number of running backs play. I look on the defensive line and we played four defensive ends and even though we graduated two of them, Ryne Giddins, Patrick Hampton and Julius Forte played just as much as the starters did. We played about seven linebackers a year ago, so even though we lost three, you return four with a significant amount of experience. I think we redshirted some really good players. We return all four of our safeties a year ago. We played three cornerbacks and two of them return.
So I think we have a great nucleus to build on. I definitely feel like we're much farther ahead than we were a year ago at this time.
You brought in three transfers from other BCS programs last year. Can you tell me about each of them?

SH:
I'm really excited, and I'll start with the running backs. When we came in here a year ago, all of a sudden [Mike] Ford and [Jamar] Taylor were dismissed from the team. You start looking ahead and say Mo Plancher is going to graduate, and we're going to have a hole at the running back position. So we brought in some transfers in
Darrell Scott
from Colorado and
Dontae Aycock
from Auburn, and I think they're both very very talented players who are working extremely hard. They were both very impressive on the scout team with their attitudes and their work habits.
Darrell Scott came in about 240 [pounds]; he's down to about 226 and looks great. I think both of them are definitely going to be guys who make an immediate impact, and that's why we didn't sign a lot of junior college guys -- there was only one junior college player in our class. I think guys like Aycock and Scott are going to make a huge difference. And then a young man who transferred from Notre Dame,
Spencer Boyd
, is going to bring some depth to us in the secondary, where we graduated Mistral Raymond. He's a great athlete, and he's going to have an opportunity to come in and compete for time.
You had a good running game but not a lot of explosive gains there last season. How much can the new guys help that?

SH:
We didn't have a lot of big plays there, you're right. Both Dontae Aycock and Darrell Scott are bigger running backs. Mo Plancher was about 200, Demetrius Murray was about 200 pounds, where Darrell Scott is 226 and Dontae Aycock is about 230. I think they're bigger, stronger running backs who are going to be able to break more tackles maybe than we have in the past, and when I watch those two guys run, they've shown me some big-play potential. So I'm really excited to see how they develop and mature as we go through spring practice and fall camp.
How are receivers A.J. Love and Sterling Griffin coming along from the injuries that kept them out all of last season?

SH:
Well, it's nice to have them both back. A year ago we had four players returning with any type of experience at receiver, and Carlton Mitchell left early for the NFL before we got here. All of a sudden A.J. Love gets injured in the spring game, and Sterling Griffin gets injured in the summer.
Dontavia Bogan
had a great year for us, and what happened was a lot of these young guys got a chance to get experience last year. And then when you add A.J. Love and Sterling Griffin back to the mix, I think we'll be much deeper there. Plus, I'm excited about a couple of young signees we have that are coming into the program this season. But I think we'll be much deeper at that position, we'll be more experienced and we'll have more playmakers than we had a year ago.
Did it feel like, offensively, you were playing with one arm tied behind your back at times last year?

SH:
It really did, with our limited big-play potential in the running game and how inexperienced we were at the receiver position. But
Evan Landi
came on and gained some great experience. Terrence Mitchell converted over to wide receiver halfway through the year and made an impact. Steven Bravo-Brown got better,
Joel Miller
had a great game against Miami. And with those guys gaining that kind of experience and then being able to throw A.J. Love and Sterling Griffin in there, it may be one of the most experienced positions on our football team.
[+] Enlarge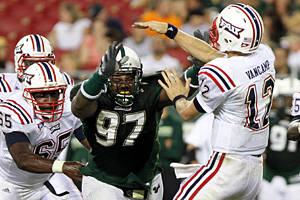 Kim Klement/US PresswireSouth Florida's departing defensive tackle Terrell McClain leaves big shoes to fill this coming season.
Defensively, it seems like Terrell McClain will be the hardest guy to replace. I know Bruce Feldman had some nice words about Todd Chandler the other day. How do you see the defense being able to replace McClain?

SH:
It's hard to replace a guy like Terrell McClain as a senior, whom they're talking about as a possible first-day draft pick, with a redshirt freshman. Keith McCaskill was solid for us last year and he's going to have to play more for us. Cory Grissom is going to be a year older as a starting nose guard. We're going to have to get a little more out of him.
Anthony Hill
is a guy who played a limited role for us a year ago that's going to be a junior; both him and Luke Sager, I expect more out of them. And then you hope Todd Chandler continues to mature into that position. And then there's a signee like Elkino Watson, who came in with an awful lot of accolades and is a talented player.
There are an awful lot of players there, and I don't think we're going to ask just one player to pick up that slack, that hole in the bucket left by Terrell McClain. We're going to ask a number of players to step their game up and fulfill that void.
Your season opener this year is at Notre Dame. How much does that help motivate everybody this offseason?

SH:
I think it's huge as a far as a motivational factor. I remember being at Notre Dame, and we used to open with Michigan every year, when I was at East Carolina, we opened with Virginia Tech. And what that does for your players' focus as they go into winter workouts and spring practice and summer conditioning and fall camp, it just keeps their focus maintained with what's on the horizon. Having the opportunity to play Notre Dame as a young football program like we are, I think it creates an awful lot of excitement in our program, and it's something I know the players are looking forward to.
Have you talked much with your dad about that game yet?

SH:
No, not enough yet. We'll get into that more as we get into summer breakdown. Right now, as we started winter workouts and are getting into out new practice facility, we're just trying to see where our players are and what we can do. Every team has a life expectancy of one year, and this time of year you start to put the pieces together. We're working on our own strengths and weaknesses before we start looking at our opponent and what they can do.
But I know they finished the season with wins at Southern Cal and a lopsided win against Miami. So I know it's going to be a great challenge, it's going to be a tall order. But it's going to be something as a young program that our players and fans are really looking forward to. It's going to be interesting to see what colors Dr. Lou is wearing that Saturday.
The team is drawing some offseason buzz because of how you finished. How do you address that, if at all, with the players?

SH:
I think it's a huge compliment to what this team has accomplished and a huge compliment to this program for what we've been able to accomplish in such a short period of time. The thing for us is, we've just got to stay focused on the task at hand. You start sitting around reading the newspaper articles and drinking the Kool-aid and start believing what everybody starts writing about you, your focus isn't where it needs to be as far as getting a team ready, getting it focused and getting ready for a season. I think it's nice to be able to have that type of exposure for our program, for our fan base and for our players, that they've earned and deserved.
But I think there are two aspects of building a program: I think you have to start by learning how to win, and then once you learn how to win as we started to do toward the end of last season, I think there's a whole another process that goes into being able to handle winning. That becomes maintaining your focus and not getting sidetracked by the circus of college football that goes with the media exposure and everything else.
I suppose that's a nice problem to have.

SH:
I'd much rather be here than still trying to learn how to win.
August, 6, 2010
8/06/10
4:02
PM ET
SOUTH BEND, Ind. -- The image on the cover of Notre Dame's media guide tells the story of what kind of team Brian Kelly wants. Instead of depicting any current players or the new head coach, the guide has a portrait of old-school, anonymous players emerging from the stadium tunnel in leather helmets.
Kelly is seeking a return to the glory days of Irish football, which some cynics may say has been gone as long as that leather headgear.
"I think that is the pervasive theme here," Kelly said. "Let's get back to understanding the great tradition, who we are and how we play the game. I won't go as far as no facemasks. But I will tell you that toughness, the Fighting Irish theme, is what I want to continue to advance forward."
[+] Enlarge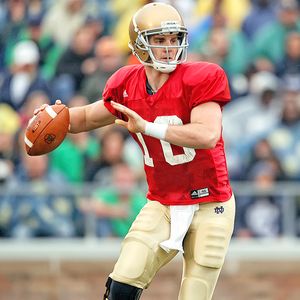 Robin Alam/Icon SMIDayne Crist is the only Irish quarterback with game experience.
Kelly didn't make any grand pronouncements at Friday's kickoff luncheon, held one day before Notre Dame opens fall practice. He seemed more upbeat about the team's prospects than he did at times during the spring when the players were still learning the system. Kelly said the Irish have strengths, vulnerabilities and questions marks, which he listed as the following:
Strengths: Depth on the offensive line, "great depth" at running back and defensive playmakers on the perimeter.

Vulnerabilities: Experience at quarterback (only Dayne Crist has played in a game, and he's never started) and depth on the defensive line.

Question marks: Consistency from the secondary and kicking game.
Kelly said the key battles of fall camp will occur on the offensive line, where he believes he has 10 players capable of contributing; at one of the inside linebacker spots, where Anthony McDonald, Steve Paskorz and David Posluszny are among those fighting for time; and safety.
Dan McCarthy, Zeke Motta, Jamoris Slaughter and Harrison Smith are all in the mix for starting safety spots. Behind them, the team is thin with Spencer Boyd transferring and Chris Badger opting to go on a Mormon mission to Ecuador. Kelly said he'll consider moving some players there from the offense, but he wouldn't disclose who that might be until he has discussed it with them.
Of the freshmen who arrived this summer, Kelly singled out receivers Bennett Jackson and Austin Collinsworth as having impressed the most and having perhaps the best chance to make the travel roster. One freshman who appears to have a long way to go is highly touted defensive lineman Louis Nix.
Nix weighed in at a whopping 350 pounds, or about 35 pounds more than he was listed at on signing day. Defensive coordinator Bob Diaco said Nix was working with the training staff to shed the weight.
"It's going to be a while," said Diaco, who added that he wants his noseguards to weigh between 290 and 300 pounds.
Kelly said he usually wishes he had more time when fall camp rolls around, but that he can't wait to get back to work with this group. He wants the players to embrace the tradition and take on a tough attitude. And he only mentioned one goal.
"We're here to win championships," he said.
June, 3, 2010
6/03/10
4:27
PM ET
One of Brian Kelly's first recruits to enroll at Notre Dame has become the first player to leave under his tenure.
Defensive back Spencer Boyd, who enrolled in January and went through spring practice, has
decided to leave
the program, Eric Hansen reports in the South Bend Tribune. According to the story, Boyd -- who is from Florida -- cited family reasons for his departure, though he must be in good academic standing this summer in order to transfer.
"He's been a good kid," Kelly says in the story. "He's done the right things. He's worked hard. He fell behind academically and had a lot of personal things going on in his life. Unfortunately, all of the things tipped the scale enough to make it difficult for him to stay in South Bend."
Boyd was not expected to play a major role this year for the Irish. The story speculates that he may transfer to South Florida to be closer to his family, including his 2-year-old son.
February, 16, 2010
2/16/10
11:30
AM ET
Notre Dame players will get their first experience of what it's like to play for Brian Kelly this spring.
It will be an important time for the Irish and their first-year coach as he uploads his spread offense, evaluates roles and generally instills a new way of doing things.
Here is a primer on what to watch for during spring practice in South Bend.
Notre Dame Fighting Irish
Spring practice starts:
March 26
Spring game:
April 24
What to watch:

• The quarterback situation. There's no more important position on the field, especially in Kelly's system, and he usually likes to have gobs of quarterbacks available. However, he'll have to undergo his first spring at Notre Dame shorthanded. Sophomore
Dayne Crist
, the presumed starter in 2010, is recovering from a torn ACL he suffered midseason, and just how much he'll be able to do remains a question. Certainly the coaching staff won't want him to endure contact or risk further injury, because the depth behind him is almost nonexistent.
Signee Tommy Rees enrolled early and can chip in, and perhaps receiver
John Goodman
can go under center for some reps. Notre Dame will likely just have to get through the spring until reinforcements -- from the likes of signees Andrew Hendrix, Luke Massa and possibly multi-talented athletes Derek Roback and Danny Spond -- arrive in the summertime.
• Defense, defense, defense. Quite simply, the Irish didn't play much of it in 2009, and how they fare in 2010 will likely depend largely on the improvement Kelly and new defensive coordinator Bob Diaco can bring to the unit. Diaco will install the 3-4, which will put a premium on defensive linemen like Ethan Johnson and Ian Williams continuing to make strides.
Going into his first spring after a promising rookie year, linebacker Manti Te'o could be ready to take the next step toward superstardom. The secondary was hit hard by graduation, and early enrollees Chris Badger, Spencer Boyd and Lo Wood may be given a shot to win playing time there. Most of all, Kelly and Diaco need to find out who the playmakers are and figure out the best way to utilize them.
• The offensive line transformation. The Irish started four seniors on the offensive line last year, and super sub Dan Wenger also graduated. Only guard Trevor Robinson returns, though luckily for the team he had a strong sophomore season. Replacing longtime starters like Sam Young and Eric Olsen won't be easy. And though the previous coaching staff planned for the eventual departure of the '09 starters, Kelly wants more athletic, faster offensive linemen for the spread system than Charlie Weis needed for his pro-style attack. The spring will be a key time for that changeover to begin to take root.
February, 4, 2010
2/04/10
12:03
PM ET
How did Brian Kelly fare with his first Notre Dame signing class? Let's take a closer look:
View class
here
.
Signees:
23
Heavy on:
Receivers (four), quarterbacks (three).
Geographic trend:
The signees hail from 12 different states, led by Ohio (five) and Florida (four).
Headliners:
DT
Louis Nix
(ESPNU 150), WR
Tai-ler Jones
(ESPNU 150) OL
Matt James
(four stars).
Sleeper:
Running back
Cameron Roberson
got less attention than some of the other tailbacks Notre Dame was recruiting, but Kelly said Roberson was the one he really wanted and fits his offense perfectly.
Best potential for immediate impact:
The Irish have five recruits who enrolled in January to get a head start. Among them, Jones and defensive backs
Chris Badger
and
Spencer Boyd
might have the best shots at playing early.
Needs met:
The Irish clearly needed to stock up on quarterbacks with Dayne Crist being the only scholarship signal-caller on the roster, and they did that. They also needed help at defensive back and the offensive and defensive lines, where they found some intriguing prospects. Defensive end still is an area that needs work, and Kelly says that's a top priority for 2011.
Analysis:
It's hard to make a long-term judgment on Kelly's recruiting style based on this class, since he had only two months to put it together. But this does seem to be a departure from Charlie Weis' methods. Weis signed lots of five-star, all-world type players but didn't get the results on the field. Some Notre Dame fans are worried about the lack of five-star players in Kelly's first class, or that he took some two- and three-star kids.
But Kelly's strength has been identifying the kind of player he wants and then developing him over a career. He might not win signing day every year, but he's more interested in winning in the fall. That said, there are some excellent, high-level players in this class like Nix, Jones and James. The key down the line will be if Kelly can consistently recruit the top-notch defensive ends and tackles that Notre Dame hasn't had in recent years.
What Kelly said:
"You need time to recruit. You need success if you want to be able to continue to recruit the very best. Clearly, we did not have either one on our side this time. We will.
"I think we've addressed some short-term needs with this class, and some long-term needs. So the class will be representative of all of those areas.
"I think if you look at each position, I think we addressed some immediate needs within this class. Part of that is the five mid-year enrollees. The five mid-year enrollees gives them an opportunity to develop, be part of spring ball, be here in the summer and have an opportunity to contribute.
"We're not going to take a guy just to make a statement. 'Hey, let's just take a guy, and spin these guys on their head. They won't know what we're thinking.' We're taking somebody at the University of Notre Dame that we believe can help us win."
Scouts Inc. national rank:
21