NCF Nation:

Stacy Searels
March, 12, 2012
3/12/12
3:30
PM ET
The discussion comes up every year, especially in years like 2008, 2009 and 2011 when the Big 12 mounts a serious threat at toppling the SEC's run of national title wins.


So what separates the two leagues? TCU coach Gary Patterson was asked the question this weekend. He's a Big 12 newcomer, and his answer confirms what you've probably heard before, but from one more source.
"There are a lot of good players every where else. If you look at the NFL per capita, Alabama, Louisiana and Mississippi they put out more NFL players than anywhere else in the country," Patterson
told the Fort Worth Star-Telegram
. "It's the body types in the regions of the United States that make a difference, too. You are going to find the skill players, but what we don't have as much in this state is the size of bodies of offensive and defensive linemen that the southeast part of the United States has. It's the gene pool."
I agree with Patterson. In the high-stakes games we've seen in the past few years, beefy linemen like Nick Fairley at Auburn and Marcell Dareus at Alabama have proved too much for spread offenses like Oregon and Texas.
But for those across the Big 12, Patterson's latter comments should be cause for concern.
Texas brought Bo Davis from Alabama to coach the team's defensive tackles and Stacy Searels to coach the offensive line. This year, both Davis and Searels will have junior-college transfers to coach.
Traditionally, the more mature-bodied talents show up on campus ready to contribute and have been staples of championship SEC defenses.
Texas' Brandon Moore has been described by teammates as "unstoppable" this offseason. Apparently, word has gotten out.
"Alabama is playing with 350-pound guys. Like the guy who just transferred to Texas; he's 6-7, 340. They ain't had 6-7, 340 guy forever that can run like he does," Patterson said. "(The state of Texas) has skill players. It doesn't matter whether it's 1-A or 5-A, they can all run. I'm not knocking what we do here at all. It's just a different body type."
Patterson's right, but could Texas be the first step in a changing game? Moore and offensive lineman Donald Hawkins are just the first.
Will they be the last? If either has a big impact, you better believe there's no way others won't follow suit, and we could see a whole lot of Big 12 teams gunning for those highly recruited jucos in the South.
February, 3, 2012
2/03/12
2:45
PM ET
Recruiting Nation scoured every league and named the recruiter of the year in each conference.
Who landed the honor in the Big 12?

Bo Davis of Texas.
Writes Recruiting Nation
:
Bo Davis settled right in for the Longhorns and did very well in his first season as a recruiter for Mack Brown and Texas. His impact was immediate as ESPNU 150 defensive end Torshiro Davis (Shreveport, La./Woodlawn) signed with Texas on signing day instead of LSU, where he had been a longtime commit. These are battles LSU doesn't normally lose to Texas. Davis was also responsible for landing junior college standout Brandon Moore (Scooba, Miss./East Mississippi C.C.), who originally signed with Alabama out of high school two years ago. Davis also had a key hand in the Longhorns getting defensive end Caleb Bluiett (Beaumont, Texas/West Brook) and defensive tackle Paul Boyette Jr. (Humble, Texas/Humble) on signing day. Davis, who is from Louisiana, is a big reason Texas, which normally isn't very active late in the process, made some big, late moves.
Honorable mention: Stacy Searels, Texas; Joe Wickline, Oklahoma State; Terrell Williams, Texas A&M; David Yost, Missouri.
No doubt an impressive haul for a Texas team bringing in lots of talent once again. We'll see how well each develops.
November, 9, 2011
11/09/11
9:00
AM ET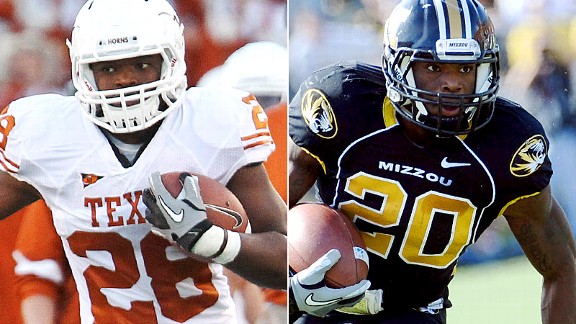 US PresswireTexas' Malcolm Brown and Missouri's Henry Josey have revitalized rushing attacks.
Missouri and Texas made their living with NFL quarterbacks behind center over the last half decade. Vince Young and Colt McCoy at Texas and Chase Daniel and Blaine Gabbert at Missouri took the program to new heights and did so with thousands of pass attempts.
This season? Both programs are grounded.
"There's a little bit of a contrast there with all the wide-open offenses and the quarterbacks and the passing yards we've had this year and traditionally in this league the last few years," said Missouri coach Gary Pinkel. "Both of us run the ball here pretty good."
A bit of an understatement, perhaps.
While a pair of wide-eyed, first-year starters in
David Ash
and
James Franklin
take snaps, Missouri and Texas have developed the Big 12's top two running games.
"We can throw it well, but we'd like to be at least 50-50 or 60-40 run to pass," Texas coach Mack Brown said. "And if you can run the ball and and stop the run in college football, you've got a chance."
Texas has averaged better than 246 yards a game on the ground this year, enjoying the fruits of consecutive 400-yard weeks on the ground for the first time since 1977.
Missouri, meanwhile, averages just fewer than 245 yards a game this year. The Big 12's next best, Kansas State, averages just 217 yards a game.
Both teams, best known for slinging it this decade, rank outside the Big 12's top half in passing offense.
"We didn't need the passing game much the last two weeks. We threw it some and threw it downfield," Brown said. "But we do feel like over the next four weeks here, we're going to have to be more balanced. We'll still be physical. We'll still run the ball, because that's what we're doing best right now, but we also feel like when people are stacking the box, it'll alleviate some of the pressure in the passing game."
Both have the advantage of running quarterbacks. Ash ripped off runs of 47 and 18 yards against Texas Tech and Missouri's Franklin is 11th in the Big 12 with 599 rushing yards, second among quarterbacks behind Kansas State's
Collin Klein
.
Franklin also leads the team with 10 touchdowns, third in the Big 12. The Tigers'
Henry Josey
leads the Big 12 in rushing with 1,149 yards, fifth nationally and 234 more yards than any Big 12 back.
The Longhorns are led by freshman
Malcolm Brown
and his 635 yards, but even though he was sidelined in Saturday's game, fellow freshman
Joe Bergeron
exploded for 191 yards and three touchdowns on 29 carries.
"We're doing a pretty consistent job of running the football, but I don't think our offense is very consistent," Pinkel said of his 4-5 team. "We're very hot and cold. We're having to work through that, and we're not working through it fast enough."
For both coaches, the aim is balance. Brown cited his Rose Bowl champion team in 2004 that was outside the top 100 in passing and second nationally in rushing. With McCoy at the helm, those numbers were reversed.
Texas has shown the ability to do both with its offense, just rarely in the same season.
"We'd like to get back to where we do both really well," Brown said.
The Longhorns finally have the physical running game they looked for last year, but outside of handing it over to offensive coordinator Bryan Harsin and offensive line coach Stacy Searels, Brown couldn't venture a guess as to why it's worked this year and didn't in 2010, when the Longhorns won just five games.
But expect this game to look markedly different than the Big 12 matchups the league has become known for.
"It will be a great test," Brown said, "a real physical game and a fun game to watch."
July, 20, 2011
7/20/11
12:54
PM ET
We'll move on to the cornerbacks today in our position rankings across the Big 12.
Here's what we've covered so far:
This group is subject to more change during the season than perhaps any other position. You never quite know how chemistry will develop, and in these rankings, you really have to rely heavily on experience, similar to quarterbacks. It's not the only factor, but you have to acknowledge that it's a major one.
So, here's how I rank them:
[+] Enlarge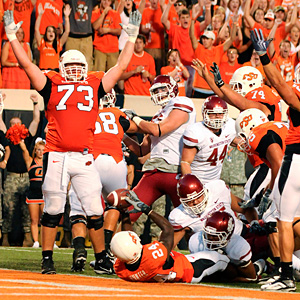 AP Photo/Brody SchmidtOklahoma State's Levy Adcock, 73, is among the Big 12's best returning offensive linemen.
1. Oklahoma State:
This is a no-brainer. The Cowboys broke in four new starters last season, but became a big reason why OSU's offense was one of college football's best. Despite throwing 532 passes, third-most in the Big 12, the group surrendered just 10 sacks. All five starters return, too. Running back Kendall Hunter also rushed for more than 1,500 yards. Right tackle Levy Adcock headlines the unit as the league's best overall lineman.
2. Baylor:
The Bears might be a bit of a surprise here, but Baylor's strong skill-position talents wouldn't look nearly as good without this group, which lost a first-round pick at left tackle in Danny Watkins. However, Philip Blake is one of the league's best centers and four starters return from a line that helped Baylor finish second in the Big 12 last season in yards per carry, just behind Nebraska but nearly a half-yard more than Oklahoma State, the third-place team.
3. Missouri:
The Tigers suffered a big loss in center Tim Barnes, a three-year starter and the offensive line's leader, but they return four starters from last season line and have the most career starts on the line of any team in the Big 12, with 105, which ranks 11th nationally.
4. Texas A&M:
A&M's rising sophomore tackles, Luke Joeckel and Jake Matthews, had to learn on the go last season, but their development should be fun to watch this season on an offensive line blocking for the Big 12's best overall collection of skill-position talents. The line returns four starters, replacing only center Matt Allen.
5. Oklahoma:
The Sooners' goal-line problems last season cost them a game at Texas A&M, but this line was very solid the rest of the season and has plenty of upside. Likely starter Jarvis Jones won't be available until perhaps October, so the Sooners will turn to touted redshirt freshman Daryl Williams at right tackle in the interim. Center Ben Habern and tackle Tyler Evans add a lot of experience.
6. Texas Tech:
Tech boasts one of the Big 12's best guards in Lonnie Edwards, but don't be surprised if Mickey Okafor grabs the Big 12's first-team spot at right tackle by season's end. The Red Raiders return all five starters, and will have to play well to support new faces at every skill position on offense.
7. Kansas:
Four of the Jayhawks' starters are juniors and another is a senior, and for all of KU's struggles last season, it did have some success running the ball in spots, even though its 1,615 total rush yards were the fewest in the Big 12.
James Sims
(742 yards, 9 TDs) returns and KU adds a possible home-run threat in Darrian Miller, but the offensive line returns 97 total starts, 15th-most in college football and second-most in the Big 12. That has to pay off eventually, if not this season.
8. Iowa State:
The Cyclones boast the league's best left tackle, Kelechi Osemele, but center Ben Lamaak is gone and ISU might turn to redshirt freshman Tom Farniok as his replacement. Brayden Burris is solid at right tackle, but sophomore Ethan Tuftee, who has very little experience (just five appearances total), enters fall camp as the starter at right guard.
9. Texas:
No, I don't know how this happens. But it's hard to deny. Run blocking has been a struggle for Texas, and new position coach Stacy Searels will have to change that for the Longhorns, who have kept quiet about any real depth-chart developments throughout the spring and into fall camp. Tray Allen's health is a concern, but Mason Walters played well in 2010 and David Snow has a lot of experience at center with 19 starts and 39 appearances. If this group can't ascend in these rankings during the season, Texas' turnaround from last season 5-7 campaign will not happen. Texas, though, has the fewest career starts in the Big 12, with 36, which ranks 105th nationally.
10. Kansas State:
Kansas State has had the Big 12's leading rusher the past two seasons, but he's gone and so are three offensive linemen, including the unit's best blocker, guard Zach Kendall. Center Wade Weibert and guard Kenneth Mayfield also are gone, leaving gaps in the interior. Senior Zach Hanson joins Manese Foketi and Clyde Aufner on a unit that returns just 42 career starts, second-fewest in the Big 12 and 97th-most in college football.
June, 16, 2009
6/16/09
10:15
AM ET
Posted by ESPN.com's Chris Low
Georgia's 2010 signing class isn't bursting at the seams with numbers like Alabama, Florida and LSU, but it's hard to argue with the quality of prospects the Bulldogs are landing.
Brent Benedict, one of the top offensive tackle prospects in the country, is the latest highly rated player to commit to Georgia. He's also the second player Georgia has beaten Florida for in the last two weeks. Receiver Da'Rick Rogers of Calhoun, Ga., committed to the Bulldogs last week. Both are members of the ESPNU 150 Watch List.
The 6-foot-5, 280-pound Benedict is a freakish athlete for a guy his size and was recruited by all the powerhouses. He plays at the Bolles School in Jacksonville, Fla., and is used to facing strong competition.
Georgia offensive line coach Stacy Searels was a big factor in Benedict's decision, and judging by some of the young talent already in the program and on the way, the Bulldogs' offensive line the next few years should be the strength of the team.
Benedict isn't the first member from his family to be a highly rated football prospect. His older brother, Heath Benedict, signed with Tennessee out of school and later wound up at Newberry, where he became an All-American and NFL draft prospect.
Sadly, Heath died suddenly in March 2008 from an irregular heartbeat caused by an enlarged heart. The draft was only about a month away.
I covered the Senior Bowl that year in January, and Heath was the only Division II player there. I had a chance to sit down and talk with him in Mobile, and he was so eager to prove that he belonged.
The other thing that stuck out to me was how proud he was of his brother. I remember him telling me to watch out for Brent and that he was going to be one of the top prospects in the country.
I know Heath would be just as proud if he were still here today.
November, 12, 2008
11/12/08
11:07
AM ET
Posted by ESPN.com's Chris Low
Our weekly look at some Internal Affairs in the SEC:

1. A Grant sighting: A neck injury has left Roy Upchurch's status for Saturday's game against Mississippi State as doubtful, meaning Terry Grant may get his shot in Alabama's three-pronged running attack. Grant was the Crimson Tide's leading rusher last season with 891 yards. But he's been buried on the bench this season behind Glen Coffee, Mark Ingram and Upchurch. Alabama coach Nick Saban hopes Grant can provide some of the things Upchurch had brought to the Tide offense, namely some speed to the outside and the ability to catch the ball out of the backfield. Grant has carried the ball just 28 times for 77 yards this season, as Saban has opted for more physical between-the-tackles runners.

2. Sticking with the Wild-Cobb: Kentucky threw the ball all over the place the past two years with Andre' Woodson setting SEC records. The Wildcats still like to think of themselves as a pro-style offense. But for the time being, they're going with what they do best -- and that's freshman quarterback Randall Cobb lining up in the shotgun and breaking teams down with his quick feet and open-field running. It's Kentucky's version of the spread option, and it produced 226 rushing yards last week in the 42-38 loss to Georgia. Vanderbilt can expect to see more of it this Saturday, especially with the Wildcats so depleted at receiver. Cobb's a special talent, too. Once he cuts down on his mistakes, he's going to be one of those quarterbacks nobody wants to face.

3. Run Kodi run: After rushing for 158 yards last week in Auburn's 37-20 win over Tennessee-Martin, Auburn quarterback Kodi Burns knows that's not going to cut it against Georgia. He's also not likely to pass for 318 yards like he did two weeks ago in the loss to Ole Miss. The Tigers would like him to come in somewhere in the middle of those two extremes against the Bulldogs and without the three second-half interceptions he threw against Ole Miss. Burns looks much more comfortable now that it's clear that he's Auburn's quarterback. He still can't be a gun-slinger, though, whether he's running it or passing it. He carried the ball 13 times last week, which would be a bit risky if he were facing an SEC defense. The last thing the Tigers need is to get him hurt.

4. More shuffling up front: It's become a weekly routine for Georgia offensive line coach Stacy Searels: This guy moves here, and that guy moves there. The latest injury in the Bulldogs' offensive line is to right tackle Justin Anderson, who hurt his foot against Kentucky and will miss the Auburn game and possibly the Georgia Tech game. The Bulldogs are working sophomores Josh Davis and Kiante Tripp at right tackle this week in practice. Since the preseason, Tripp has moved from right tackle to left tackle to tight end and now back to right tackle again. This will be the fifth different combination the Bulldogs have used on the offensive line this season when they face Auburn on Saturday.

5. Musical quarterbacks: Nobody rotates quarterbacks on every play. That is, with the exception of Steve Spurrier. The Head Ball Coach is looking seriously at rotating Stephen Garcia and Chris Smelley on every play, or at least every few plays, this Saturday against Florida. As unconventional as it sounds, Spurrier liked the way it worked last weekend in the 34-21 win over Arkansas. It's not a strategy Spurrier plans on sticking with forever. But since Garcia and Smelley haven't been able to separate themselves, Spurrier's going to run them in and out of the game until they do. He pulled a similar stunt when he was at Florida in 1998 with Doug Johnson and Jesse Palmer.
TOP 25 SCOREBOARD
Friday, 12/6
Thursday, 12/5
Saturday, 12/7
TOP PERFORMERS