NCF Nation:

Stansly Maponga
January, 23, 2013
Jan 23
9:00
AM ET
Now that all of the early entries for this year's NFL draft are in, we decided to take a closer look at some of the players who decided to leave school early.
We're checking in on how teams were affected and who some of the winners and losers were from all of these early departures:
Biggest winners: David Ash and Texas' offense.
Mike Davis
committed to returning for his senior season. Then he didn't. Then he did again. For that brief period when he was headed to the NFL draft but hadn't signed with an agent -- it was less than a day -- it felt pretty close to panic time for Texas' offense. Ash is still trying to mature, and if his biggest deep threat took his talents to the NFL, the Longhorns would have had exactly one receiver with more than 10 catches in 2012. That's not conducive to Ash progressing as a passer. Texas still needs a bit more depth at the position, but Davis' decision to stick around is a huge boon for its offense, which very well may pay off in the Big 12 title race next year. Winning in this league typically requires teams to hang 30-40 points a game.
[+] Enlarge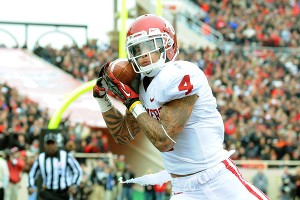 Jackson Laizure/Getty ImagesWill Oklahoma's passing game suffer in 2013 without receiver Kenny Stills in the lineup?
Biggest losers: Oklahoma.
The Sooners got gutted by the draft.
Kenny Stills
and
Tony Jefferson
might have been able to improve their stock with another year, but two-thirds of the Cali Trio is officially checking out of school early. New quarterback, likely
Blake Bell
, will have to adjust to a young group of receivers without Stills, the most consistent member of the group. Additionally, the defense has more pieces to fill.
Tom Wort
wasn't outstanding, but he at least had experience. He's headed to the NFL draft, too, and the Sooners lost a starting linebacker.
Headscratchers: Stansly Maponga, Tom Wort, Brandon Moore.
Maponga is best suited to hear his name called pretty early in the draft, but the Frogs' best preseason standout was banged up this season and definitely could have improved his stock with a strong season in a major conference as a senior in 2013. He was overshadowed by teammate
Devonte Fields
, a fellow defensive lineman, and managed just 6.5 tackles for loss, the fourth-most for the Frogs. He had just four sacks after making nine a season ago. Wort, meanwhile, made the perplexing decision amidst rumors that he was unhappy with Oklahoma's new defensive scheme, which was a reason for a major production drop from him. Linebackers aren't meant to rack up tackles or make plays, but instead funnel ball carriers and plug up gaps. He runs the risk of being undrafted, and so does Moore, a Texas defensive tackle who transferred to Austin and started about half of Texas' games. Moore was basically just a member of a strong rotation up front for the Longhorns' defense, which struggled to stop the run for most of the season.
The replacements:
December, 6, 2012
12/06/12
12:57
PM ET
An official from the Big 12 Conference said Thursday that the league has reviewed the punch thrown by Oklahoma offensive tackle
Tyrus Thompson
against a TCU player and will not be taking further action.
Big 12 assistant commissioner of communications Bob Burda said that league officials supervisor Walt Anderson reviewed the play and supported the personal foul penalty assessed after the play.
"No further action will be taken by the conference," Burda said in an email, "and the matter is considered closed."
The Big 12 has the power to review plays and impose sanctions on players who commit flagrant fouls.
Section 10, Article 1 of the NCAA rulebook states that a "flagrant" foul is "a rule infraction so extreme or deliberate that it places an opponent in danger of catastrophic injury." Section 4 of the rulebook states that all flagrant offenders shall be disqualified.
Thompson received a 15-yard penalty for unnecessary roughness for punching TCU defensive end
Stansly Maponga
twice in the head at the end of a play in the second quarter, but was not removed from the game.
The Sooners play Texas A&M in the AT&T Cotton Bowl on Jan. 4.
November, 21, 2012
11/21/12
10:15
AM ET
Here's what I'm keeping an eye on in the Big 12 during its four games this week:
1. They got a new attitude. Last year's Bedlam? Well, it wasn't what either side was used to. Oklahoma State rolled by 34 points to win the Big 12 title. This year, the results could go one of two ways for OSU, which has been completely destroyed in each of its past four trips to Norman. Has Oklahoma State proven it can compete on equal footing with the Sooners, or just angered big brother down South? Even a competitive loss would be evidence of the former.
2. Encore! Encore! Encore! Tavon Austin was absurd in his new role at running back for West Virginia, but he can't run for 344 yards every week ... can he? Look for a whole lot more for Austin there, but what's he got in store for Iowa State?
[+] Enlarge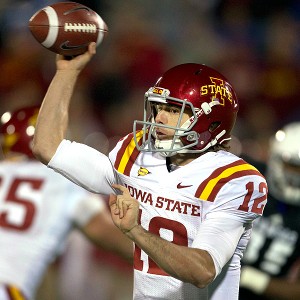 AP Photo/Orlin WagnerSam Richardson will lead what is expected to be a more up-tempo Iowa State offense in 2013.
3. But does he like green eggs and ham?
Are you on board with Sam? I am. Iowa State should be, too. Freshman quarterback
Sam Richardson
was forced into duty last week against Kansas and blew up with five total touchdowns, 23-of-27 passing and 250 yards through the air. Can he back up that performance with another big one against a suspect West Virginia defense?
4. Keep 'em away from the urn. TCU has one of the best pass rushes and defensive lines in the Big 12. Devonte Fields and Stansly Maponga are beasts and the Frogs are second in the Big 12 with 23 sacks. Can Texas protect David Ash? The Longhorns have given up only seven sacks this year, fewest in the Big 12 and fourth nationally. Should be a matchup of two high-quality lines.
5. Fix for a flat? Oklahoma's defense was the Big 12's best this year, but West Virginia poked all kinds of holes in the Sooners' D last week. How much of that was Sooners shortcomings and how much of it was amazing skill position talent from the Mountaineers? Oklahoma State may provide an answer and another difficult test.
6. He thinks he can, he thinks he can. Mike Gundy didn't wait long to give Clint Chelf another chance to take his train to the next station in Norman. He announced after Saturday's win over West Virginia that Chelf would start Bedlam. Still, this environment will be the most difficult Chelf has ever encountered, and it will be his first-ever road start. Can the junior keep it rolling against a tough secondary in a big spot?
7. Dominance up front. Texas loves to run the ball and it's finally starting to come together. Texas has topped 200 yards rushing in three of the past four games and has 12 rushing touchdowns over that stretch. As we mentioned earlier, TCU's defensive line is serious business. It's the only Big 12 defense that has given up fewer than 100 yards a game and has given up less than double-digit rushing touchdowns (8). Whoever wins this battle wins the Thanksgiving night game.
8. Time for a tuneup. Texas Tech's defense gave up 400 yards once in its first six games. All of its past five opponents have topped 400 yards, including 500 yards by TCU in a loss. Can Texas Tech shore up what was one of the Big 12's best defenses early in the season? The Red Raiders are still second in the Big 12 in the stat, but sit fourth in the Big 12 in conference play.
9. Vindication, finally? Last year's Bedlam was a nightmare for Landry Jones for all kinds of reasons. Worst of all was a fumble over his head that led to an Oklahoma State defensive touchdown. He's had a tumultuous career, but in his final home start, does he have one special performance left? It'll keep Oklahoma on track for the BCS.
10. Crowd at Cowboys Stadium. Texas Tech and Baylor playing in Cowboys Stadium in the Dallas/Fort Worth metroplex is good for recruiting, but is it worth another poor crowd? They won't sell out, but last year's game in Cowboys Stadium had just over 51,000, and the year before in the Cotton Bowl was only 48,000. Not a good look for nationally televised games.
November, 8, 2012
11/08/12
11:00
AM ET
TCU coach Gary Patterson knew the Big 12 would be full of new challenges. Chief among them: close games.
The last time TCU had more than one conference game decided by one possession was 2008. That season, it was only two. Since then, the Horned Frogs have coasted through the Mountain West with three consecutive league titles and only three total conference games decided by seven points or fewer.
In the Big 12, it has been a whole new ballgame for the Frogs. Two of the past three games for TCU have gone to overtime, one in the Frogs' favor against West Virginia on Saturday and the other tipped toward their in-state rival Texas Tech two weeks ago.
[+] Enlarge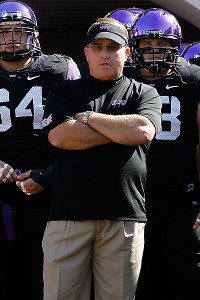 Tom Pennington/Getty ImagesGary Patterson's Horned Frogs have gone to overtime in two of their past three games.
"It just depends on whether you win or lose. After the Texas Tech game, nobody felt good," Patterson said. TCU led 14-9 against Oklahoma State in the week between the two close games and Patterson harped on his team to finish. It didn't, dropping a 36-14 decision to the reigning Big 12 champs.
He gave the team Sunday off to rest, and it paid off with a comeback victory against the Mountaineers in which the Frogs played their best ball late in the fourth quarter and in overtime.
That rest allowed TCU to get offensive lineman
Blaize Foltz
and receiver
Brandon Carter
back on the field, as well as defensive end
Stansly Maponga
. Even banged-up back
Matthew Tucker
returned to the field.
"He still wasn't where we needed him to be last week, but we'll need all of our bullets to have a chance against Kansas State because they're a really good football team," Patterson said.
A 9-0 football team, to be exact. Still, the lesson was learned for TCU, which is still getting used to needing all its bullets every week in the Big 12.
"I feel like it helped us last Saturday at West Virginia. Both players and coaches, how do you manage the season? I think that's one thing we've talked about," Patterson said. "To get ready for Kansas State you've got to be doing the same thing. You've got to be able to run and be able to get the soreness out of your body because they'll make you play for three hours."
That's nothing new for the Cats, the reigning masters of the tight decisions. Since 2011, the Wildcats are 10-1 in games decided by one possession. Only two of those wins came outside Big 12 play and the only team to notch a win against K-State in one of those games won a Big 12 title in 2011.
"I'm probably like all coaches. Regardless of what the score is, they're all tight games," Wildcats coach Bill Snyder said. "It's never over until it's over, and I think we're all that way, but I can't tell you in all honesty that there's any great difference in how I am during the course of a ballgame. I don't think it really has been all that different for me."
The Wildcats have shown the poise of an experienced team even when they didn't necessarily have that experience a year ago. The execution late in games provided them opportunities to consistently erase deficits and notch 10 victories. A year later, tight wins against Oklahoma and Iowa State on the road have the Wildcats right in the thick of the national championship race.
Can TCU give its players opportunities in practice to simulate the tight situations that haven't existed on the field with this kind of frequency in a long time around Fort Worth?
"We're always trying to create adversity to get things ready to go," Patterson said. "When you're in a conference where the competition level is so close, you're going to have to get ready for those kinds of games. For as young a football team as we have, I think we're building valuable experience, especially going on the road."
All three of TCU's Big 12 victories have been on the road this season, including last week's close victory at West Virginia -- the latest of many lessons for the Horned Frogs in 2012.
"There's a lot of things that are being learned at this point by coaches and players. I don't think it's just the players," Patterson said. "The coaches, we're trying to learn about our kids and how they play and how they handle things and we've got to do a better job on our side of getting them ready."
October, 21, 2012
10/21/12
10:00
AM ET
Here's what I learned after five Big 12 games in Week 8:
K-State is the unquestioned leader for the Big 12 title.
Any questions? Kansas State has three road victories against Top 25 teams this year and walked into Oklahoma and West Virginia and handed both Big 12 contenders humbling losses. Coach Bill Snyder has this team playing up to its potential, doing the same things it did last year ... just better.
Baylor has work to do to get into the postseason.
The Bears are stuck in a three-game losing streak and are slumming at the bottom of the Big 12 standings at 0-3, just ahead of Kansas at 0-4. Baylor is a pretty good team, but the Big 12 is deep, and somebody has to get swallowed up. Baylor has four ranked teams left on its schedule and stands at just three wins overall. With Iowa State, Kansas and Oklahoma State left, the opportunities will be there for the Bears, but only KU looks like a gimme, and the Jayhawks nearly beat Baylor last year, even with RG3.
TCU is playing gutsy, gutsy football.
The Horned Frogs have lost more players than anybody in the Big 12, but they keep chugging along and nearly grabbed a huge win against Texas Tech. Trailing by double digits with three minutes to play,
Trevone Boykin
hit
LaDarius Brown
for a 60-yard score to get the Frogs back in it. TCU played without
Brandon Carter
for much of the game, and its best offensive lineman,
Blaize Foltz
, was missing, too. Preseason All-Big 12 DE
Stansly Maponga
was out, and the team's top two backs after spring football, Ed Wesley (left team) and
Waymon James
(knee), are gone this season. Boykin is playing only because of the
Casey Pachall
mess earlier this fall, but TCU keeps hanging on. Saturday would have been one of the most emotional wins in a long time for the Frogs, but this team is still good and will be scary in 2013.
[+] Enlarge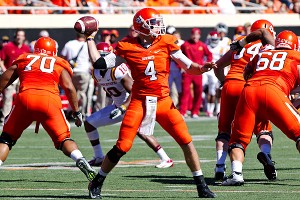 Richard Rowe/US PresswireJ.W. Walsh and Oklahoma State could still defend the Big 12 title, but a murderers' row awaits.
Texas Tech is a force to be reckoned with.
The Red Raiders have one bad loss to a very good team in Oklahoma and eked out a triple-overtime, comeback win on the road against a good TCU team. How good are the Red Raiders? Well, they're one of just three teams (K-State, Oklahoma State) to control their fate in the Big 12 title race, so we'll find out exactly how good next week when they travel to Manhattan, Kan. The Red Raiders look legit, but in case you weren't watching on Saturday night, so did K-State, and significantly more so.
There is still hope for Oklahoma State.
Beating Iowa State by three touchdowns isn't easy, even if the Cyclones' offense is struggling. Oklahoma State did it, and did it with its backup quarterback,
J.W. Walsh
. I generally think the quarterback "controversy" is a joke. This offense is built to run with
Wes Lunt
commanding things, and it will be his when he comes back, but when will that be? Oklahoma State is crazy if it hasn't had a frank conversation about a medical redshirt at this point. The Cowboys have just one Big 12 loss but a whole lot to prove with five more ranked teams on the schedule in the next five weeks. OSU still hasn't really beaten anybody, but it'll have plenty of chances.
West Virginia has hit rock bottom ... I think.
Geno Smith
said it after the game, and he's right: This is a terrible, terrible time for a bye week. The Mountaineers have two weeks to do some soul searching before hosting a young but improving TCU team. Those offensive issues last week against Texas Tech may have been a sign of things to come, and TCU knows a thing or two about playing some defense. Coach Gary Patterson learned a lot from these past two games, I'm sure. We know the WVU defense can't stop anybody, but will the offense regain its form? We won't know for another couple of weeks.
October, 4, 2012
10/04/12
10:15
AM ET
Here's what I'm keeping an eye on across the Big 12 this weekend.
1. Get 'em down and keep 'em down.
Texas' tackling issues were on display in a big way in a narrow victory over Oklahoma State. The Longhorns got away with it in Stillwater. I don't think that'll be the case against West Virginia, even at home. Texas has emphasized the issue this week. How will it work?
2. Time for a quarterback change?
Steele Jantz
turned the ball over four times in Iowa State's loss to Texas Tech, and coach Paul Rhoads said this week the quarterback who looks best in practice will play. Does
Jared Barnett
finally see some time? For Jantz, it will ultimately boil down to turnovers.
3. Take care of opportunities.
TCU has reached the red zone 20 times this season, but has come away with a touchdown on just nine occasions. The Horned Frogs have scored just 12 times. The touchdown percentage (45 percent) ranks 106th nationally. The Frogs are good enough to get away with it against Kansas or SMU or Virginia. Iowa State? The Cyclones will take advantage if the Frogs leave the doors open.
4. A big piece is missing.
West Virginia's running game has taken a big hit with
Shawne Alston
on the sidelines. Coach Dana Holgorsen was tight-lipped this week in regards to Alston's status, but he's going to be needed this week against Texas. He's a better pass-blocker than
Andrew Buie
and
Dustin Garrison
, too. Will big back
Ryan Clarke
make a return, too?
5. It's real. We know that. But is it spectacular?
Texas Tech took a step toward validating its defense, holding Iowa State to fewer than 200 yards of total offense, forcing four turnovers and maintaining its spot as the nation's No. 1 defense. How good is this unit, though? Oklahoma will be the toughest test yet, and its offense will be more like what Tech will see the rest of the season. Teams like OSU, Baylor and West Virginia have more high-powered offenses, but the Sooners will offer a huge checkpoint for Tech on its defensive road to redemption after an awful 2011.
[+] Enlarge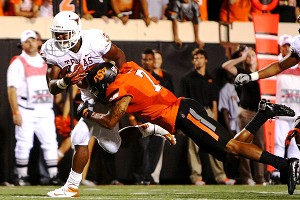 William Purnell/Icon SMIFreshman Johnathan Gray led Texas in rushing in relief at OSU; the spotlight will be brighter Saturday.
6. The young legs are back.
Sophomore
Malcolm Brown
, Texas' leading rusher a year ago, is out against West Virginia, but he'll sit on Saturday with an ankle injury. Now's the time for hyped freshman
Johnathan Gray
to step up. He looked really good in the fourth quarter against Oklahoma State and led the Longhorns in rushing. How will he handle West Virginia and how will he look with a week to know he'll be counted on?
7. Getting competitive yet?
I stick to my belief that Kansas is better than it was last year, despite its frustrating losses and worse record than in 2011. Nothing would signify progress more than hanging with in-state rival Kansas State. When Charlie Weis got the job, he looked at K-State and Missouri to see what they had and what KU didn't have, and how the Jayhawks could start closing the gap. Here's his first chance to measure up on the field.
8. Call it a Heisman special.
Geno Smith
's not throwing for 656 yards against Texas. Let's just get that out of the way. The Longhorns have defensive personnel and depth unlike anything Baylor's got. It's one of a few major hurdles for Smith to go from Heisman front-runner, as he is now, to Heisman winner in December. Can he maintain his crazy numbers that are better than RG3's from a year ago?
9. Where is the elder statesman?
The young'un
Devonte Fields
, a true freshman, has grabbed all the headlines so far this year at TCU, leading the Big 12 with five sacks and 8.5 tackles for loss. Meanwhile, preseason All-Big 12 representative
Stansly Maponga
has been really, really quiet thus far. He's got just 1.5 tackles for loss and one sack. Can he have a coming-out party against the Cyclones?
10. A lesson in thievery is needed.
Oklahoma's got just one turnover through three games this year. Buffalo is the only other team in the country who has forced just one turnover. Texas Tech has lost six turnovers this year (32nd nationally), but if Oklahoma doesn't force a turnover against the Red Raiders, the Sooners could very well be looking at an upset and a drop out of the top 25.
August, 29, 2012
8/29/12
9:00
AM ET
The season is only a few days away, and it's time to unveil our official All-Big 12 team.
The criteria for this is pretty simple: I picked the best players at every position in the game, but made room for deserving players. For this league, that meant eliminating the tight end spot and sliding a more deserving Collin Klein onto the team via an all-purpose position.
The quarterbacks are solid in this league, but I'd call the cornerbacks the best and deepest position in the league. The worst? Defensive tackle. I didn't put a single one on the All-Big 12 team, electing to name four defensive ends along the defensive line. I hate doing that, but this year, it's necessary.
Without further ado, here's our team:

OFFENSE
QB:
Geno Smith
, West Virginia
RB:
Joseph Randle
, Oklahoma State
RB:
Waymon James
, TCU
All-Purpose:
Collin Klein
, QB, Kansas State
WR:
Stedman Bailey
, West Virginia
WR:
Kenny Stills
, Oklahoma
WR:
Tavon Austin
, West Virginia
C:
Joe Madsen
, West Virginia
OL
:
Gabe Ikard
, Oklahoma
OL:
Lane Taylor
, Oklahoma State
OL:
Cyril Richardson
, Baylor
OL:
Mason Walters
, Texas
DEFENSE
DL:
Jackson Jeffcoat
, Texas
DL:
Stansly Maponga
, TCU
DL:
Alex Okafor
, Texas
DL:
Meshak Williams
, Kansas State
LB:
A.J. Klein
, Iowa State
LB:
Arthur Brown
, Kansas State
LB:
Jake Knott
, Iowa State
CB:
Carrington Byndom
, Texas
CB:
Brodrick Brown
, Oklahoma State
S:
Kenny Vaccaro
, Texas
S:
Tony Jefferson
, Oklahoma
SPECIALISTS:
K:
Quinn Sharp
, Oklahoma State
P:
Quinn Sharp, Oklahoma State
KR:
Justin Gilbert
, Oklahoma State
PR:
Tavon Austin, West Virginia
Honorable mention/regrettable snubs:
Landry Jones
, QB, Oklahoma;
Malcolm Brown
, RB, Texas;
Ivory Wade
, C, Baylor;
LaAdrian Waddle
, OL, Texas Tech;
Blaize Foltz
, OL, TCU;
Kenny Cain
, LB, TCU;
Shaun Lewis
, LB, Oklahoma State;
Jamarkus McFarland
, DL, Oklahoma;
Quandre Diggs
, CB, Texas;
Nigel Malone
, CB, Kansas State;
Demontre Hurst
, CB, Oklahoma;
Tyler Lockett
, KR, Kansas State
February, 9, 2012
2/09/12
9:00
AM ET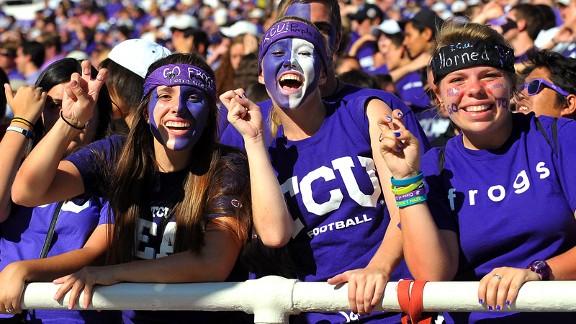 Cal Sport Media/AP ImagesThe Horned Frogs move to the Big 12 next season, an AQ conference with a perfect geographic fit.
We'll cap our moving week by introducing a new team to the big stage: TCU, welcome to the Big 12.
Our former Southwest Conference teams surely remember the Horned Frogs, but it's time to get everyone acquainted. To help me out, we've got College Nation blogger Andrea Adelson.
David Ubben:
Andrea, you've been around this program the last year or so. Most fans won't have to travel far when they make it to the newly renovated Amon G. Carter Stadium, but what can they expect for a game-day experience?
Andrea Adelson:
TCU might not have a stadium as big as Texas or Oklahoma, but fans sure get loud and provide a really good home-field advantage. The Horned Frogs have won 26 of their last 27 home games, and coach Gary Patterson has lost only seven times there in his 11 seasons as head coach. The newly renovated stadium should provide even more of a home-field advantage as the student section has now been reconfigured to run goal line to goal line behind the opponent bench. Students typically get dressed up all in purple and there is one spirit organization known as
the HyperFrogs that leads chants throughout the game
to get everybody fired up. Word is that playing a full slate of Big 12 competition is going to spur even more excitement at games and lead to many more sellouts.
DU:
I'm excited to see it. I've done baseball and basketball at TCU, but I've never been to a football game. I'll have to end that this year. I'm definitely buying the idea that TCU's attendance issues have been accentuated by some less-than-stellar opponents. I'm not impressed by the home record, though.
The Horned Frogs already have their hand signal ready, a signature of Texas teams from that old Southwest Conference, but what's this move, getting reacquainted with some old friends, mean to TCU?
AA:
It means everything, David. TCU was so desperate to get into an automatic qualifying conference, it agreed back in 2010 to join the Big East and then tried to tell everybody that geography did not matter and making the move was the perfect fit. The truth is, TCU always had designs on the Big 12, but the league had no interest in the Horned Frogs. Maybe that is because they were viewed as the pesky little brother that needed to be kept locked in his room. But the shifting sands of realignment made it increasingly obvious that TCU was the no-brainer choice to join the Big 12. It is no wonder TCU jumped ship for a conference closer to home without ever having played a down of football in the Big East. The Horned Frogs have finally achieved the goal set when the Southwest Conference broke up -- and it took only three (and a half) league homes to get there.
DU:
Yeah, people want to knock TCU for conference jumping, but how can you not when the non-AQ leagues are shifting as much as they have in the past couple of decades. There's no doubt about it: TCU is home. I was at the news conference when they announced the move, and I've never seen so many people in suits wearing enormous smiles.
Big 12 fans may know TCU's combo of quarterback
Casey Pachall
and receiver
Josh Boyce
, but who are a few names Big 12 fans should keep an eye out for in 2012?
[+] Enlarge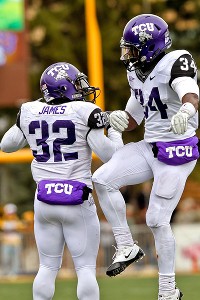 Troy Babbitt/US PresswireEd Wesley and Waymon James are part of TCU's deep running back corps.
AA:
TCU has a three-headed running back trio in
Ed Wesley
, Matthew Tucker and
Waymon James
, and all three return for this season. The three nearly split their carries evenly in 2011 -- each getting over 100 -- and combined for 2,337 yards and 24 touchdown runs. On the defensive side of the ball, watch for DE
Stansly Maponga
, a first-team Mountain West selection who really blossomed in his sophomore season. Maponga had nine sacks, 13.5 tackles for loss and five forced fumbles and will be expected to anchor what should be a solid defensive line. I am also going to be intrigued to see how receiver
Brandon Carter
does in his sophomore season. He did play as a true freshman and had 352 yards and three touchdowns, but bigger things will be expected. He was one of the big gets in the 2011 recruiting class, a four-star prospect out of Euless, Texas.
DU:
OU fans may remember
Brandon Carter
. He was almost a Sooner, but they wanted him to play corner. Safe to say he's feeling good about his decision now.
Time to put you on the spot, AA: Forecast the Horned Frogs' first year in the Big 12. Win total, conference record, bowl game and Big 12 finish.
AA:
Without knowing the actual schedule, as in home games and away games, I am going to say at least eight wins and a finish in the top four. So that would project out to Alamo or Insight, and of course that depends on who else is eligible to be selected.
DU:
Yeah, the Big 12 isn't really making this one easy on us.
I like what TCU's got coming back. This is a team that could run the table outside of the Big 12, but they may hit a few speed bumps in the transition. I'll say TCU wins nine games, finishes fourth in the Big 12 and heads to the Insight Bowl. Not a bad debut for a program that could see its success sky-rocket in years to come.
October, 11, 2011
10/11/11
10:00
AM ET
TCU HORNED FROGS
Record:
4-2 (2-0, MWC)

The Horned Frogs had a banner year in 2010, winning the Rose Bowl and finishing undefeated. But they knew there were some challenges ahead, having to replace quarterback Andy Dalton and several key players on defense, including safety Tejay Johnson. The offense has not been the problem. It has been the defense that has had some issues to work through, which is uncharacteristic for a Gary Patterson-coached team. TCU ranks No. 69 in the nation in total defense, on pace to be the worst since ranking No. 99 in 2004. This is a group that finished the last three seasons ranked No. 1. But the Horned Frogs have been hurt by the loss of starting linebacker Tanner Brock and an inexperienced secondary. In losses to SMU and Baylor, TCU put itself in position to win after giving up huge leads. But the defense could not hold long enough for the Horned Frogs to prevail. Patterson says the unit is getting better, and the biggest challenge left remains its game at Boise State on Nov. 12. Meanwhile,
Casey Pachall
has done a fine job replacing Dalton. The rushing game also has proved to be invaluable thanks to its quality depth. TCU is averaging 209.7 yards a game on the ground.
Ed Wesley
has been banged-up, so
Waymon James
has taken on a bigger role, rushing for 398 yards and two scores while
Matthew Tucker
has seven rushing touchdowns.
Josh Boyce
is on pace for a 1,000-yard receiving season, with 580 yards and five touchdowns. But no matter what has happened on the field this season, perhaps the biggest story has been off the field, where TCU is now set to join the Big 12 for 2012. The Horned Frogs spurned the Big East for an opportunity to stay closer to home, its years of BCS busting paying off in a big way.
Offensive MVP:
QB Casey Pachall. There are plenty of candidates here, with James and Boyce having great seasons, too. But questions about Pachall have been answered with his play so far -- going 118-of-171 for 1,391 yards with 15 touchdowns to just four interceptions.
Defensive MVP:
DE Stansly Maponga. Patterson has repeatedly praised Maponga for his strong play this season. Maponga leads the team with 4.5 sacks, and he also has forced four fumbles and recovered one. Linebacker Tank Carder has not quite been 100 percent but he is nearly there.
December, 30, 2010
12/30/10
4:18
PM ET
LOS ANGELES -- TCU is proudly carrying a banner at the Rose Bowl Game presented by VIZIO.
"We're not just representing TCU," quarterback
Andy Dalton
said. "We're representing all the non-AQ schools."

The Horned Frogs are taking that responsibility very seriously this week, saying they have to play well for all the schools who might never get a chance to make it to this stage. As far as crusades go, though, this won't be a long one. TCU will soon be leaving that torch for someone else to pick up.
It is the first team from outside the six automatic-qualifying conferences to reach two consecutive BCS games, and it came the hard way as TCU has gone 12-0 the last two regular seasons. In 2012, the team will have much more margin for error as it joins the Big East and can still make the BCS just by winning the league.
"I'm actually a little envious of the younger players," said cornerback Greg McCoy, whose eligibility expires after the 2011 campaign. "We all worked hard for the future, and I know there's a lot of envy among the upperclassmen. But when you work hard, things get better. And we all know we contributed to this."
TCU's senior class played a major role in making the program attractive to the Big East, winning 35 games the previous three years. Many of those seniors are stars on this team, like four-year starter Andy Dalton, center Jake Kirkpatrick, receiver/returner
Jeremy Kerley
, safety Tejay Johnson and defensive end Wayne Daniels.
But the program has shown that it can reload. Last year's team lost All-America defensive end Jerry Hughes and linebacker Daryl Washington to the NFL. Daniels elevated his game, and redshirt freshman Stansly Maponga stepped in to replace Hughes' production at end. Sophomore Tanner Brock took over for Washington at middle linebacker and kept that position strong.
"We have a great coaching staff and the athletes to continue to be successful," senior right guard Josh Vernon said. "We don't rely on just one guy on offense or defense."
Can TCU keep this going? It's unrealistic to think the program will keep piling up undefeated regular seasons. But who's to say they can't become the top frogs in the Big East and turn into the next Virginia Tech, Miami or Florida State -- programs that went from humble beginnings to consistent national powers.
They're not far from that level now.
"I don't feel like we're the small guy," head coach Gary Patterson said. "We've only lost three games the last three years. We lost to Oklahoma that played in national championship game. We lost to Utah that beat Alabama in the Sugar Bowl, and then Boise State a year ago (in the Fiesta Bowl). So we've been in big games and we've proven we can play on a big stage. "
As long as Patterson stays in Fort Worth, the team should remain highly competitive. The school is in the midst of a $105 million renovation of Amon Carter Stadium, funded through private donations. Patterson's staff knows how to recruit and develop Texas talent.
There might not be many more Rose Bowls in the Horned Frogs' future, but Big East membership will allow them to compete for BCS games on an annual basis.
"Obviously we've done something right to get to go to the Big East, and hopefully we'll make that league better," Dalton said. "I can't see us dropping off. I think we'll just keep getting better."
November, 1, 2010
11/01/10
10:00
AM ET
Both Gary Patterson and Kyle Whittingham take pride in their defense. So is it any wonder one of the big storylines headed into the showdown between TCU and Utah on Saturday is this: Which defense is better?

Both rank in the top 10 in the country in three major statistical categories: total defense, pass defense and scoring defense. Both are strong up front. Utah has plenty of depth on the defensive line and its three starting linebackers are among the top four tacklers on the team. The Utes have 23 sacks on the season. TCU has 20.

The Horned Frogs posted back-to-back shutouts to open conference play and have allowed a total of 16 points in five conference games. They held Air Force to a season-low in rushing yards, and lead the nation in total defense once again. That should not come as too much of a shock. It's a spot they held in 2008 and 2009, too.

They are going to be without starting nose tackle Kelly Griffin, who is out indefinitely with a broken ankle. D.J. Yendrey made his first career start last week against UNLV. Here is a closer look at both units:

Experience: Utah has less experience, having lost seven starters from last season. But because Whittingham has emphasized defensive improvement, this unit has gotten better in a hurry. There is no greater example of that than looking at the trio of Matt Martinez, Chaz Walker and Chad Manis. They had combined for zero starts before this season. Walker and Martinez are former walk-ons; Manis is a former quarterback. TCU returned six starters, though cornerbacks Jason Teague and Greg McCoy saw plenty of action last season. Still, there is youth that has grown up -- most notably linebacker Tanner Brock and defensive end Stansly Maponga.

Breakout player: Utah safety Brian Blechen has been a most pleasant surprise. The true freshman switched from quarterback in fall camp and the move has been a good one. His interception in overtime against Pittsburgh helped the Utes win, and he shares the team lead with two interceptions on the year. For TCU, it would have to be Maponga, filling in for the departed Jerry Hughes. Patterson has spoken highly of the job Maponga has done. He leads all TCU defensive linemen with 27 tackles and has three tackles for loss and 2.5 sacks. His play has helped open things up for Daniels, who leads the team with 5.5 sacks.

Areas of improvement: Whittingham has spoken all season about trying to create more turnovers on defense. Utah only has taken the ball away 12 times in seven games. Seven of those have come in the past two games, including five last week against Air Force. Patterson has talked about wanting his team to hunt together, to play effectively as a unit, and that has showed in league play. But this is going to be the most significant test to the secondary, perhaps all season, making this a unit to watch.
TOP 25 SCOREBOARD
Saturday, 12/21
Monday, 12/23
Tuesday, 12/24
Thursday, 12/26
Friday, 12/27
Saturday, 12/28
Monday, 12/30
Tuesday, 12/31
Wednesday, 1/1
Thursday, 1/2
Friday, 1/3
Saturday, 1/4
Sunday, 1/5
Monday, 1/6
TOP PERFORMERS