NCF Nation:

Steed Lobotzke
September, 18, 2013
9/18/13
9:15
AM ET
Three games into the season, Wake Forest is searching for an offensive identity.
Right now, it looks like a 1-2 mess.
Coach Jim Grobe knows exactly what he has to work with: decent players, good kids, not enough depth and zero margin for error in the ACC.
And apparently against Louisiana-Monroe. And Army.
[+] Enlarge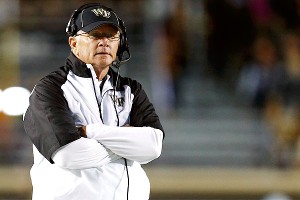 Mark L. Baer/USA TODAY SportsAt 1-2, Jim Grobe's team is facing a must-win at Army on Saturday.
"I don't think it's a program thing, it's just the way Wake Forest is always going to be," Grobe told ESPN.com on Monday. "We're going to be a team that's got some talented kids, we're not overly talented, we don't have a lot of depth. We can't afford too many injuries like what happened to us last year. But more than anything else, we're just a team that's capable, but we've really got to play good every week. Some teams are talented enough that they can have four or five down weeks a year and still play good enough to win, but Wake is not that way. We'll never be that way in this league, or even with the teams we play nonconference. We're a team that has to play good every Saturday, and any time we don't play pretty good, we're not going to win."
Hence the past two weeks and the 1-2 start, with the lone win over an FCS team and last week's 21-19 loss to Louisiana-Monroe of the Sun Belt Conference.
Of everything that has happened in the ACC this month, the ineptitude of Wake Forest's offense might be the biggest surprise. After a 5-7 finish in 2012 and just one bowl appearance in the past four seasons, the shine of the 2006 ACC title has started to rust. Wake Forest is not going to win the Atlantic Division every year, but fans should expect to be bowl eligible under Grobe on a more consistent basis. Right now, just four weeks into the season, that's already in jeopardy.
The Deacs' offense has been downright ugly. The defense has been on the field too long. While much of the attention has been on the lack of a running game (70 rushing yards total in the past two games) and whether or not the staff should continue to run the option, the bigger problem has been the fact that Wake was unable to win with its passing game when defenses have shut down the run.
The bulk of the problems start up front, with an offensive line that is fragmented and continues to battle injuries -- a carryover of last year's problems. Pass protecting, run blocking -- it's all an issue, but it wasn't that long ago that the staff showed what it could do with a capable line. In 2011, when the Deacs had four veteran linemen, they broke the school record for pass offense and went to a bowl game.
"We thought we really had it down," said offensive coordinator Steed Lobotzke. "We beat Florida State again that year, and we thought, 'Ok, we've got it figured out. We have our offensive identity.' Last year we tried to come in with that same stuff, but the breakdown was offensive line issues. ... A lot of stuff has happened to our O-line and I think we're still struggling to find out what our offense is with this offensive line ever since that round of guys graduated in 2011.
Tanner [Price]
hasn't changed. Tanner was a sophomore and we broke the school record for pass offense. I thought, 'Wow, the best is yet to come.'
"We've experimented with a lot of different running plays and running styles the last two seasons now," he said. "... I think we're still trying to nail that down, and we hope we're honing in on this."
The Deacs only ran the ball 15 times against ULM last week, but they only completed 28 of 48 pass attempts. In the past two losses, they've converted just 9-of-29 third downs. Against BC, they had three turnovers. Instead of watching receiver
Michael Campanaro
catch the ball 16 times, Grobe said he'd rather see three receivers catch it five or six times each.
The Deacs like to throw the ball on running plays and use bubble screens. Their top receiver, Campanaro, catches a lot of balls behind the line of scrimmage. If opponents load up the box to try to stop the run, the staff has no problem opening up the passing game.
"We're not hard-headed about running the ball like some people are," Lobotzke said. "If you're not going to defend the run, we're going to run the ball. If you're going to load up on the run, we're going to try to find other avenues. We want to run the ball, but a lot of our running plays result in good passing yardage for us."
Against ULM, the Deacs were 9-for-9 on running plays throwing the ball. But they didn't win.
"The one stat we do care about is winning," Lobotzke said. "We've got to score more and we've got to win more games. At the end of the day, rushing stats be damned, passing stats be damned, we need to score some points, and we haven't. I don't know that there's an answer yet, but we are working our butts off to find it."
They've got about three days.
The Deacs have to travel to Army this Saturday, a game they very well could lose considering how poorly the offense has played. A loss at West Point could trigger a slick downward spiral, starting with a road trip to Clemson on Sept. 28.
"We've got to win Saturday," Grobe said. "I don't think there's any question about it. It's going to be tough if we don't win Saturday and then heading to Clemson the next week is not going to be good.
Seven straight conference opponents await following the Army game, and the regular season will once again be punctuated with Vanderbilt. Grobe, who is in his 13th season as head coach of the Deacs, is just three wins away from reaching the top of Wake Forest's all-time wins chart. At this rate, though, he might not get it, especially if they can't win on Saturday.
Not that they're not trying.
At 6:30 a.m. on Monday, Wake Forest was back in the weight room, working to lift its focus from the disappointing loss to moving on to this weekend's game at Army. Grobe was his usual pleasant self on Monday afternoon, not sounding discouraged or frustrated. Instead, he was matter-of-fact about what needs to happen moving forward: get healthy, stay healthy and play better.
"We've got to keep working at it," Grobe said. "Our job is to teach the kids better. It's not just the kids. We're Wake Forest. We're an academic school playing in a big-time league. We don't have great depth, and we have good players, but we're not better than everybody on our schedule. We've got to play to win. I understand that. When we don't play well enough to win, I'm not going to tolerate it. We're going out there this afternoon and work harder than we've been working. The coaches are going to work harder, and the players are going to work harder. I know Saturday we can go up to West Point and win, but we've got to play good."
The staff had much higher hopes for the option game heading into the season, and "it just hasn't materialized," Lobotzke said. There's been a bevy of problems, including injuries to offensive linemen and receivers, youth and an inability to pass protect. Even worse, though, was the apathy on the sideline during the ULM game.
"My biggest problem Saturday was I never felt like our offense had a sense of urgency about them," Grobe said. "That's unusual because our kids practice hard. We've got good kids. But get to Saturday and each time we had a bad series and we come off ... there just wasn't a sense of, 'We've gotta get this done.'
"We've got to somehow drill into our players that every possession is pretty special, and you've got to take advantage of it because you're not always going to have a chance to take those last-minute drives to win games."
The clock is ticking for Wake Forest to turn things around.
May, 8, 2013
5/08/13
5:00
PM ET
The ACC's leading active career rusher does not play for heavyweights Florida State or Clemson.
Surprise: That distinction belongs to Wake Forest, which had one of the worst running games in the country last year.
[+] Enlarge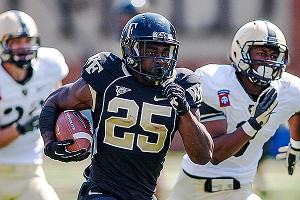 Jeremy Brevard/USA TODAY SportsCoach Jim Grobe said Wake Forest will be relying heavily on Josh Harris and the run game in 2013.
Senior
Josh Harris
enters this fall as the league's leading active career rusher with 1,760 career rushing yards and a 4.8 per-carry average. Needless to say, the Deacs are still looking for more this fall from both Harris and the entire running game. Wake Forest ranked No. 113 in the country last season in rushing offense.
While Harris has been a highlight for the Deacs' offense, his success has been fleeting and his durability questioned, thanks in part to a nagging hamstring injury. This spring, emphasizing the run was a priority in the playbook, and offensive coordinator Steed Lobotzke said three running backs the staff thinks it can count on have emerged.
Heading into fall camp, Harris is leading the depth chart as expected, followed by
Deandre Martin
and Josh Wilhite, who redshirted last year. Lobotzke compared Wilhite to former Deac and all-time leading rusher Chris Barclay in that he's quick, shifty, and can stop and start. The staff is also willing to give Dez Wortham from Texas a shot at playing time.
"Last year we were just abysmal at running the ball, from start to finish," Lobotzke said. "We really couldn't get much going. We dedicated most of the spring to trying to run the ball better in different ways to get them between the tackles, get them in space, one-back sets, two-back sets, gun, pistol, everything, just trying different things and studying every good running team that's out there in college football, trying to steal stuff from people."
They've also asked quarterback
Tanner Price
to get more involved in the running game.
"We've really got to get back to running the football," coach Jim Grobe said. "The key to that is having him run the football. We did that as a freshman, then we got him knocked out at Florida State running the football. It panicked us a little bit. Then we went back to being more of a pocket football team and making him throw the football all the time. You know, you really need a good offensive line and a great group of receivers to do that.
"But this past year when we weren't as strong at receiver and had all those issues with injuries and whatnot on the offensive line, we just put too much on Tanner to throw the football," he said. "So we've got to get back to where we know Tanner can throw the football, but we've got to get back to where we don't live and die with the throw game. I think asking him to run the football more is going to be the thing that our offense needs."
May, 1, 2013
5/01/13
9:00
AM ET
The Wake Forest coaches are big fans of receiver
Michael Campanaro
. The Deacs love their top receiver. They know what he can do.
Which is why they didn't really miss him all too much this spring as Campanaro sat out to recover from ankle surgery.
[+] Enlarge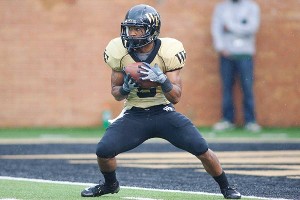 Jeremy Brevard/USA TODAY SportsWake Forest's Orville Reynolds says he's feeling more comfortable after a successful spring transitioning from running back to receiver.
It was the perfect opportunity for the program to find a complement to "Camp."
With Campanaro sidelined, receiver
Orville Reynolds
emerged as a dependable second option for veteran quarterback
Tanner Price
-- so much so that Reynolds was voted by his teammates as the most improved offensive player this spring. In fact, Reynolds was impressive enough that he actually put the coaches in a bit of a predicament -- now they feel obligated to find a place for him on the field this fall.
"He took advantage of his opportunity," offensive coordinator Steed Lobotzke said. "He made a lot of big plays for us. We're trying to do more things in the run game with the receivers, kind of like we used to do with Kenny Moore back in the day. He's really good at that, that's really his forte, and he's getting better at doing those slot receiver routes that we do, those balls that Camp catches over the middle and stuff, he's getting better at those things.
"The biggest problem we have right now is, when Camp comes back, what do we do with Orville?" Lobotzke said. "We're trying to figure out if we're in a three receivers set, is Orville good enough to play one of the other positions and not just slot? Can he slide in outside, or put him in the boundary, or whatever? Because right now, he and Camp are overlapping. We want to have two of those guys, but we hate to have two of our faster, better players stacked up behind each other on the depth chart. We're trying to figure out where Orville fits right now, but he's got a bright future. After Camp graduates, I think the show will be his at slot."
Reynolds, a converted running back, is so thrilled to be a part of the offense he'll play just about anywhere they ask him to lineup.
"I'm just ready to do whatever the coaches want me to do, wherever I have to be on the field," Reynolds said. "I know that a lot of eyes are going to be on Camp, so maybe I'll free up somewhere else, but wherever the coaches want me to play, then that's where I'll play. I'm just excited that I can be used in the offense."
Midway through last season, the staff decided to move Reynolds from running back to slot receiver. Lobotzke kindly described Reynolds as a "fish out of water," getting limited playing time behind superstar Campanaro.
That clearly changed this spring.
"I was a lot more comfortable," Reynolds said. "It was a lot of work to get the feel for everything. I just thank God I got a shot to show everybody what I have."
As a former running back, one of Reynolds' strengths is catching the ball in open space and gaining the yards after the catch. Reynolds said he and Campanaro are good friends, and that Campanaro has given him advice on the position. Despite missing two full games and most of a third last fall, Campanaro still set an ACC single-season record for per-game pass reception average (7.9), making 79 catches for 763 yards and six touchdowns. He had over 12 catches in a game on three different occasions, including an ACC record-tying 16 grabs in the Deacs' win over Boston College.
This fall, he might be even more productive if Reynolds continues to be another option the defenses must be concerned about.
"He's kind of embraced the slot position," head coach Jim Grobe said. "Going through spring, as much as we love Camp and we know he can play, I thought it was a perfect scenario for Orville to show whether he could play or not. He had a great spring -- did some good things running the football, catching it. Just a completely different kid from what we've had the past couple of years. So I do think we have a guy that can back-up Campanaro. But what he's done for us is he's probably made us look at having two slots on the field sometimes."
April, 4, 2013
4/04/13
12:30
PM ET
Wake Forest offensive tackle
Steven Chase
is sitting out this spring with a torn ACL. He can't do anything in the weight room. He can't do anything on the field. But he can eat pizza -- which means he can still compete.
Chase fired down four big slices -- the equivalent to half a large pie (according to sources) -- to win the Deacs' pizza eating contest on Wednesday, but that was only part of the afternoon team competitions. There was a belly flop contest between the linemen (congrats, veteran nose tackle
Nikita Whitlock
, for the most fabulous flop). There was a 3-point shooting contest. There was a sled push, dodgeball, tug-of-war, punting and a "sweatshirt swim" in which players swam the length of the pool in a hoodie and then had to take it off and get it onto a teammate quickly to win the race.
Steven Chase wins the Pizza Eating Contest #WFSuperStars twitter.com/COACH_HIMEY/st…

— Jonathan Himebauch (@COACH_HIMEY) April 3, 2013
"The guys had a blast," said offensive coordinator Steed Lobotzke, who helped organize the events with senior receiver
Michael Campanaro
, defensive back
A.J. Marshall
and co-defensive coordinator Brian Knorr.
Chase and his teammates were all #WakeForestSuperStars on Wednesday afternoon in what was one of the most light-hearted, entertaining sessions of the spring in the ACC. The Deacs took a break from the grind of the gridiron and the seniors drafted eight teams, with a full draft board in one of the team meeting rooms. ("Some people were saying people were drafting like Al Davis," said offensive line coach Jonathan Himebauch, "they were just going for the flash.") They then competed in four team events and four individual events, and the winning team (senior tight end
Spencer Bishop
's team) got T-shirts that read: Wake Forest Superstars Champions.
Nikita Whitlock kills the Belly Flop with Perfect Score! #WFSuperStars youtu.be/QAq0vyA4uIE

— Jonathan Himebauch (@COACH_HIMEY) April 3, 2013
"It's a nice break, especially for us as coaches, too," said Himebauch. "We're around our guys all the time, just grinding and going hard with game plans, scheming and practice and workouts that to get the guys in an event like that where it's fun and lighthearted, but also, you really find out who's a competitor, and who by any means is going to try to find a way to win.
"We had guys playing dodgeball and they were on the team but acted like they were out, but had a ball behind their back," he said. "Campanaro came flying out of nowhere and tagged a couple of guys. It's pretty fun."
There were also some sleepers in the competition.
Ryan Bauder
-- a walk-on long snapper and the last man drafted -- won the 3-point shooting contest.
"That was awesome," Lobotzke said.
"He was the darkhorse surprise," Himebauch said with a laugh. "He definitely wasn't a first-round draft pick, but he was a guy who held his own and was a nice surprise."
The event started around 2:30 p.m. and ended about four hours later with a barbeque for the entire team. Make no mistake, the Deacs are working hard this spring to improve upon last year's 5-7 finish. Wednesday's competitions, though, were part of the plan, as a little time for team building now can go a long way later.
"This breaks things up for the fall," Himebauch said. "Spring can be a bit of a grind, but I know the guys like being out there. It's changed their focus and preparation in the offseason, that it's not just same old grind in the weight room. We're doing some things to make it fun, but you also want to see guys compete and you want to see them get after each other."
Steven Chase included.
March, 13, 2013
3/13/13
9:00
AM ET
Wake Forest wants to go retro on offense this season, all the way back to the days when it featured a dual-threat quarterback able to mix the run with the pass.
The Deacs shied away from that philosophy over the past several seasons, but not anymore. Thanks to better depth behind starter
Tanner Price
, they are going to try to expand what he can do when spring practice opens next week.
[+] Enlarge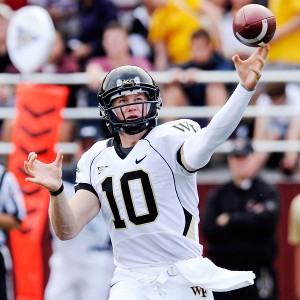 Bob DeChiara/US PresswireQuarterback Tanner Price hopes some designed running plays will help him in the passing game.
"We got this way with Riley Skinner, and we did a lot of things to try and protect him," coach Jim Grobe said in a recent phone interview. "We just got too cautious with Tanner, trying not to put him in a position where he might get dinged. We've got to be a little more aggressive with him. One of the things we liked about him out of high school was that he was a dual-threat quarterback. We haven't really used him in that capacity, but in watching some of the breakdowns the last few weeks, one of the things we noticed was his ability to scramble out of the pocket. We will put Tanner in some situations where he has to run. We can't just hang our hats on throwing the football."
Wake Forest did have those dual-threat guys in Ben Mauk and Cory Randolph, but Skinner was a guy who was a much stronger passer and not exactly adept at running the ball. When Price played as a freshman, he did run but offensive coordinator Steed Lobotzke recalls, "We overdid it." Price ended up getting hurt in 2010. A lack of depth behind him made Wake Forest even more cautious.
But as Grobe said, toward the end of last season the Deacs had some success with designed quarterback draws. Now, Lobotzke is interested in integrating standard spread-option runs, zone reads and quarterback draws.
"We're not going to do what Georgia Tech does," he said. "But we are looking for ways to expand what Tanner can do. He's a decent runner. At least now if he does get hurt, we have a stable of guys behind him."
Though Wake Forest does return leading rusher
Josh Harris
, the ground game hasn't exactly been the envy of the ACC. Coaches hope getting Price more involved will give a boost to the ground game as well. Of course, how much Wake can do and how successful it can be depends on the guys up front. This spring, Wake Forest will not have its full complement of linemen.
But at least the Deacs will get a bigger glimpse at what Price can do with the ball tucked under his arm.
"I want to be more of a threat running the football," Price said. "I've been working on my speed a little bit, try to put on weight to be more of a threat and that will, in turn, set up the passing game."
November, 12, 2011
11/12/11
1:36
PM ET
The
first half
of this game has revealed just how much separation there really is between the top two teams in the Atlantic Division -- barely enough to slip a credit card through.


That could change in the second half -- Clemson has been notorious for its slow starts this season -- but based on what we've seen so far, there's no reason to think Wake Forest can't leave Death Valley with a win today. The Deacs couldn't have gotten off to a much better start today, as quarterback
Tanner Price
has been picking apart Clemson's defense, offensive coordinator Steed Lobotzke is putting his players in position to succeed, and the defense has been disruptive of the passing game. Clemson can clinch the Atlantic Division title with a win today, but Wake Forest is making the Tigers work for it. The Deacs are winning the turnover battle and the time of possession.
Clemson quarterback
Tajh Boyd
has gotten off to a sub-par start with one interception and some poor decisions, and it could have been worse, considering two potential interceptions were dropped. The Tigers have made some impressive plays on fourth down, but Boyd is the key to the offense, and if he's off, so is everything else. There doesn't seem to be any sense of urgency on the part of Clemson, and that is working to Wake Forest's advantage. If the Deacs continue to play smart and disciplined in the second half, the ACC could see yet another surprise in the division standings.
April, 1, 2011
4/01/11
4:00
PM ET
Wake Forest quarterback
Tanner Price
was thrown into a starting role as a true freshman last season on the road against a Stanford team that was one of the best teams in the country. Injuries forced the coaching staff to use all four of its quarterbacks last season, but Price was the one who led the offense for the majority of the season. Whether or not he does that again depends on how the competition unfolds this offseason. Price said in a recent interview that he's come a long way since last season, when he completed 56.8 percent of his passes for 1,349 yards, seven touchdowns and eight interceptions. Here are the highlights of our conversation:
[+] Enlarge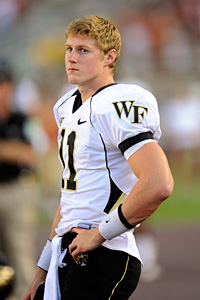 John David Mercer/US PresswireWake Forest's Tanner Price passed for seven touchdowns and eight interceptions last season.
How much more comfortable are you with the offense right now? I can't imagine what it was like being you at Stanford last year. How much have you grown since then?
Tanner Price:
Last year definitely had its ups and downs, but I feel much more comfortable this year. Things are starting to slow down a bit more and I feel like I have a better understanding of the offense and the plays and the overall game.
How much more settled do you think the offense is? Lobo (offensive coordinator Steed Lobotzke) told me they threw about three different offenses at you last year.
TP:
I think they're a lot more settled this year. From what it sounds like, we're going to be sticking with one offense, and I think that's going to be really big for us, to be able to stick to one thing and get really good at that particular offense.
What about the players around you? What's the talent like coming back and how comfortable are you with the guys who help make you look good?
TP:
I'm really excited about the guys we have coming back. We're losing three starters on offense, so we have a lot of guys returning and I'm excited about this season.
Lobo also told me it's an open competition. Do you get the sense you're being pushed for the job, or do you feel like it's yours to lose?
TP:
Football is a game of competition, so you're always going to have to be competing for your job. You want to go out and show the coaches it is still your job. You have to come out every day ready to compete knowing someone is trying to get your job. I'm just trying to hang onto it.
Where did you feel like you needed to make the most improvements this offseason?
TP:
I think just understanding the game and plays and defensive coverages. I've really been working on my footwork and pocket presence. Those were the main areas I've been focusing.
Where do you think you've made the biggest strides?
TP:
I'd probably say overall knowledge of the game and defenses and our playbook.
How much have you been studying this offseason?
TP:
We've been studying a lot. We started putting in our offense about a month ago. We've been working at it.
What do you feel like the team as a whole is capable of this year? I'm not quite sure what to make of the Deacs right now.
TP:
I'm really optimistic about this team. We have a chance to make a bowl game, and I think it's really important that we do make a bowl game and get back on track and show the nation we are a really good team and we can compete in the ACC.
Do you feel any pressure to help do that?
TP:
There's definitely pressure to get to a bowl game, but I'm excited about it, and I think the whole team will embrace it.
June, 24, 2010
6/24/10
9:00
AM ET
Wake Forest senior center Russell Nenon had a decision to make this offseason -- either get an internship and go to work or continue his football training.
"It was kind of a no-brainer," said Nenon, who has been in Franklin, Tenn., training at D1 Sports Training for five weeks. "I just wanted a challenge. We had some misfortunes last fall, so I have to make sure I do my best to not sit at home for Christmas.
[+] Enlarge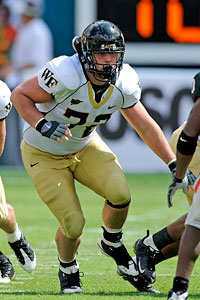 Richard C. Lewis/Icon SMIWith the turnover on the offensive line, Wake Forest will be leaning on Russell Nenon's leadership.
"I think I was asked about 500 times how my season went when I was home for Christmas," he said. "I don't really like explaining why I'm not at a bowl game."
Nenon is tired of sitting out. He missed this spring while recovering from January surgery on his torn left labrum. Part of the reason he chose extra training this summer was to help gain the strength back in his shoulder. Nenon has been working with a few free agents from the Titans, and a few players from Tennessee. Nenon's health, his leadership and his contributions up front will be invaluable to an offense in transition.
Not only did the Demon Deacons graduate six offensive linemen, but they are also ushering in a new quarterback. Wake Forest must replace three starters who combined for 104 starts up front, leaving Nenon and guard Joe Looney as the veterans of the group.
"We're really close, we work really hard," Nenon said. "We're going to try our hardest to be a strong point of our offense. Joe Looney is a great guy, a great player. Doug Weaver has improved a lot since he was younger. Steven Chase (former defensive tackle) came over this spring, he had a great spring. Dennis Godfrey had a great spring. They know they have a lot to learn, and Joe and I are going to try to make it as calm as an atmosphere as possible. We're going to work hard and hopefully be ready for Presbyterian come the first game."
Nenon said he's confident in all three of Wake's quarterback candidates.
"Being a spectator this spring, I kind of got a different view," he said. "My confidence level with Skylar [Jones], Ted [Stachitas] and Brendan [Cross] is very high. I'm not worried about them. I've seen them play on the practice field all the time. I have no worries with them. As soon as they get that first snap, they'll remember it's just football. As far as the offense, it's definitely different from having Riley [Skinner] back there, but I'm excited. It's something different we're bringing to the table. I know coach [Steed] Lobotzke is giving us the best chance to win, so hopefully we can turn things around this fall."
Nenon is doing his part this summer.
December, 20, 2008
12/20/08
3:21
PM ET
Posted by ESPN.com's Heather Dinich
Wake Forest can finally exhale.
| | |
| --- | --- |
| | |
| | AP Photo/Nick Wass |
| | Riley Skinner more than made up for his earlier performance against Navy, completing all 11 of his passes for 166 yards and one touchdown. |
The Demon Deacons strung together a little over two quarters of arguably their best offense this season, and another impressive performance from their top 20 defense led to redemption in a 29-19 win over Navy in the inaugural EagleBank Bowl.
The difference the second time around was glaring -- the offense moved the ball.
Quarterback Riley Skinner, who had accounted for five of his team's six turnovers in Wake's September loss to Navy, completed all 11 of his passes for 166 yards and one touchdown.
Wake Forest was finally able to run, which in turn helped Skinner pass effectively. Skinner's mobility took some pressure off of his offensive line, and offensive coordinator Steed Lobotzke was able to accomplish his goal of giving Navy a dose of its own medicine. The Demon Deacons were able to control the clock on offense and contain fullback Eric Kettani on defense. There were only a few occasions they fell asleep on quarterback Kaipo-Noa Kaheaku-Enhada, and allowed only a few big plays.
Wake Forest's offense, which had struggled all season, peaked at the right time and now has a springboard heading into next season. The Demon Deacons racked up a season-high 405 yards of total offense and a season-high 239 rushing yards.
Believe it or not, Wake Forest outrushed the No. 1 rushing offense in the nation.
Wake scored three touchdowns on the ground to Navy's one, and Kevin Harris led both teams with 136 yards on 24 carries. That's an amazing feat, considering Wake Forest was held to under 100 yards rushing in half of their regular season games, including the 24-17 loss to Navy on Sept. 27.
It was a gritty comeback effort for a team that trailed 13-0 in the first quarter, when the defense still looked asleep for the 11 a.m. kickoff.
Wake Forest coach Jim Grobe is not one to reveal his emotions on the sideline, but as he pursed his lips together tightly in the first half, his team's miscues were clearly wearing on him. Lobotzke got creative in the first quarter and gave standout cornerback Alphonso Smith a tryout on offense. Smith made a nice run, but it was negated by a fumble that was returned 50 yards for a touchdown, and Wake Forest trailed 10-0 early.
That was exactly what the Demon Deacons were afraid of when they accepted the invitation into the bowl for a rematch against Navy. There wasn't any lack of drama in the first bowl game of 2008, but not only did Wake Forest save face in this game, the Demon Deacons looked good in the process.
Despite the many veterans who will be lost on defense, Wake Forest has also used plenty of young players this season who can build on this win.
November, 2, 2008
11/02/08
12:35
PM ET
Posted by ESPN.com's Heather Dinich
Maryland won without playing. The Terps are in sole possession of first place in the Atlantic Division and can be considered the frontrunner because they are the only team in the division without a loss to a division opponent. In fact, the Terps are 3-0 against the Atlantic Division, and would win the tiebreaker over Wake Forest if need be. Georgia Tech helped the Terps by beating Florida State, which lost its share of the division lead. Maryland will play in a hostile environment Thursday night at Lane Stadium, but a loss would be more damaging to the Hokies than it would the Terps. Boston College is now on the outside looking in.

The Coastal is chaos. Miami's win over Virginia threw it all out of whack. While that's great for the Hurricanes, there are now five teams each with two conference losses. While Virginia Tech remains the only team without a Coastal Division loss, that won't matter if the Hokies lose to Maryland -- or anyone else for that matter -- and other teams finish with a better conference record. The upcoming game between North Carolina and Georgia Tech will be very interesting, especially considering both teams have lost to the same opponents -- Virginia and Virginia Tech. This division is more than likely going to need the tiebreaker.
Miami and Georgia Tech are officially ahead of schedule. Never mind that both teams had new defensive coordinators coming into this season, or that Georgia Tech was in its first year under Paul Johnson and Miami in its second under Randy Shannon. Does anyone realize how many freshmen made key plays this weekend for both of these teams? Miami freshman quarterback Jacory Harris threw the game-tying pass to freshman Laron Byrd and freshman Aldarius Johnson caught the pass for the lead in overtime. In Atlanta, Georgia Tech would have lost had it not been for two true freshmen defenders determined to get the football on Florida State's final possession, and after the ankle injury to Josh Nesbitt, they were led by a freshman quarterback. Both programs became bowl bound by Nov. 1 and are equally in the mix for the ACC championship.
Wake Forest has an offense. Offensive coordinator Steed Lobotzke should have silenced some critics this weekend. The Deacs' 33 points were the most they had scored since their 41-13 season-opening win against Baylor. It was the most points Wake has scored against an ACC opponent this season. The Deacs were averaging just 8.5 points and had scored just two touchdowns in four ACC games. They also cured their red zone woes. Wake Forest entered the Duke game 11th in the ACC in red zone success, scoring on 18 of 25 trips. The Deacons improved that mark by scoring on three of four trips inside the red zone.
Clemson coach Dabo Swinney can win on the road in the ACC. He even got the Gatorade bath to prove it. With the win over Boston College, Swinney avoided becoming the first Clemson coach ever to start his career 0-2. The question now is whether it was the start of a turnaround, and the Tigers figured out how to win games, or if it was an anomaly in a season filled with disappointing trends. If it was the beginning of some serious change, then Swinney will get some serious consideration to keep his job. If not, he won't. That simple.