NCF Nation:

Stephan Virgil
February, 11, 2010
2/11/10
9:20
AM ET
The Hokies' defense will be one of the biggest questions in the ACC this preseason, as Virginia Tech has to replace six starters. Still, expectations are high heading into 2010 that Virginia Tech will be one of the best teams in the country. Much of that confidence comes from defensive coordinator Bud Foster's proven ability to reload.
Can he do it again?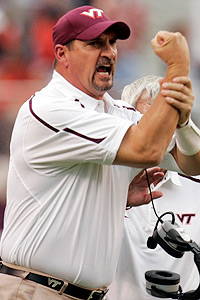 AP Photo/Steve HelberBud Foster will have some new pieces to work with this season.
Here's a closer look at exactly what Virginia Tech's situation is on defense heading into spring practice, and how much work the Hokies have to do:
Overall, Virginia Tech needs to replace three of four starters up front, outside linebacker, cornerback and free safety.

The only defensive ends with any significant playing time are Chris Drager, who the staff wanted to move back to tight end, and Steven Friday. There are a few redshirt freshmen you might get to know: Duan Perez-Means, Tyrel Wilson, James Gayle and J.R. Collins. Of course, the only problem with redshirt freshmen is that they haven't played yet. Isaiah Hamlette is the only other defensive end who has played, but that was extremely sparingly. It's possible the staff could move tackle John Graves back to end, where he practiced last spring, or possibly look at moving other players.

At defensive tackle, Antoine Hopkins will be the front-runner to replace Cordarrow Thompson, and he has experience so that shouldn't be too much of a concern.

At outside linebacker, Cody Grimm and Cam Martin have to be replaced, leaving a wide open competition.

At cornerback, Jayron Hosley or Cris Hill will likely take over for Stephan Virgil. No worries there.

At free safety, Eddie Whitley was Kam Chancellor's backup, and the staff is confident in him. Antone Exum will also be given an opportunity.

The good news? Virginia Tech returns cornerback Rashad Carmichael, rover Davon Morgan, Graves at defensive tackle, and Lyndell Gibson at inside linebacker.
It's a lot to ask for a team that faces Boise State's offense on Labor Day, but the Hokies wouldn't be so highly ranked this preseason if people didn't think they could do it.
August, 14, 2009
8/14/09
10:27
AM ET
Posted by ESPN.com's Heather Dinich
The ACC has released its preseason all-conference team last month, now ESPN.com is releasing ours. Here's the final version with minimal tweaks from the original ballot:
OFFENSE
QB Riley Skinner, Wake Forest
RB C.J. Spiller, Clemson
RB Jonathan Dwyer, Georgia Tech
WR Jacoby Ford, Clemson
WR LaRon Byrd, Miami
TE Greg Boone, Virginia Tech
OT Anthony Castonzo, Boston College
OT Jason Fox, Miami
OG Thomas Austin, Clemson
OG Rodney Hudson, Florida State
C Ryan McMahon, Florida State
PK Matt Bosher, Miami
DEFENSE
DE Willie Young, NC State
DE Jason Worilds, Virginia Tech
DT Vince Oghobaase, Duke
DT John Russell, Wake Forest
LB Sean Spence, Miami
LB Quan Sturdivant, North Carolina
LB Dekoda Watson, Florida State
CB Stephan Virgil, Virginia Tech
CB Patrick Robinson, Florida State
S Morgan Burnett, Georgia Tech
S Kam Chancellor, Virginia Tech
P Travis Baltz, Maryland
SP C.J. Spiller, Clemson
August, 6, 2009
8/06/09
9:09
AM ET
Posted by ESPN.com's Heather Dinich
When Virginia Tech senior cornerback Stephan Virgil was at Rocky Mount High in North Carolina considering his college options, he almost wound up committing to UNC. It was one of his final two choices, along with the Hokies.
| | |
| --- | --- |
| | |
| | Bob Donnan/US Presswire |
| | Stephan Virgil is excited about his move to the boundary corner position. |
"[UNC] had a pretty good football team, but there wasn't a lot of stability there with the coaches," Virgil said. "Coach [John] Bunting, he was on the hot seat for a couple of years in a row, and I just didn't feel safe and comfortable there, and being so close to home, I know I could've gotten in a lot of trouble. I wouldn't have been totally focused on what I needed to focus on.
"Virginia Tech, they had stability here with Coach [Frank] Beamer -- he wasn't going anywhere anytime soon. The tradition here was great. The football tradition here is amazing. I wanted to be a part of that tradition, and the environment here was great, and it was far enough away from home where I could distance myself from the trouble back home."
As the Hokies begin practice today, not only has Virgil distanced himself from any trouble (he was in class this spring instead of practice), he also is now at the center of the defensive tradition. Virginia Tech has made a habit in recent years out of moving its best corner from the field position to the boundary position, and this year, Virgil is next in line to take over the spot vacated by Victor "Macho" Harris.
"Coming from Jimmy Williams, to Brandon Flowers, Macho and now me, it's an honor to be a boundary corner for Virginia Tech," Virgil said. "That's where the best corner is on the field. So it's an honor to be in that position."
Virgil's teammates have confidence he's the right player for the job.
"Obviously we have a history at the boundary corner," said linebacker Cody Grimm. "We always call on our best cover guy to go there. Coach [Torrian] Gray puts a lot of responsibility on the boundary corner, a lot of man-to-man coverage. It's a privilege to get the call to boundary corner, but at the same time, he understands what he needs to do. He's been working hard."
Virgil enters summer camp as the Hokies' most-experienced cornerback, and he's a proven game-changer. Last year, he started all 14 games at field corner where he was a true difference-maker. He returned a fumble for a touchdown against East Carolina, made a game-clinching interception at UNC, blocked a punt for a safety at Nebraska and grabbed an interception in the ACC title game.
"He had some big, big plays for our football team last year," Beamer said, "and he's a kid that makes plays."
Virgil tied Harris last year for the team lead with six interceptions. He isn't much of a numbers guy, and said he is more focused on team results and getting the most he can out of film sessions and team meetings. There were things Virgil learned from watching Harris last year, like how to read receivers' body language, read offenses and come out of breaks. But he's been studying the Hokies' boundary corners for a few years now, and understands what he has to do to fulfill the expectations for the position.
"I have to be a more physical guy than I was last year," he said. "I have to be smarter. I have to do everything better. I have to be on my keys, and be a leader out there on the field. The boundary corner is a leader on the field. I just have to step my whole game up."
February, 23, 2009
2/23/09
10:38
AM ET
Posted by ESPN.com's Heather Dinich
As we head into spring football, there will be some pretty big names missing from the rosters -- Clemson needs to replace its starting quarterback, safety and running back, Duke lost the ACC's leading tackler, Virginia lost its leading receiver and rusher, BC lost its starting defensive tackles, Georgia Tech needs to replace three of its four starting defensive linemen, and UNC needs to replace all of its top receivers -- just to name a few. There will also be plenty of replacements within coaching staffs.
Here are the five biggest shoes to fill in the ACC this spring:
| | |
| --- | --- |
| | |
| | Mark Goldman/Icon SMI |
| | Aaron Curry finished his career at Wake Forest with 332 tackles. |
Virginia Tech cornerback Victor "Macho" Harris -- Not only will the Hokies lose one of their top defenders, they'll also lose a true leader. Last season, Harris had 14 passes defended and six interceptions -- including two returned for touchdowns -- and two forced fumbles. One option is to move Stephan Virgil to the other side like the staff did when Brandon Flowers left. Another is to let a few players battle it out. Rashad Carmichael started the game Harris missed due to injury.
Florida State defensive end Everette Brown -- He led the league in sacks and tackles for loss. Brown's season sack total was 13.5 and his career sack total was 23. Markus White, who was Brown's backup in 2008, earned his first sack against Clemson, and is the front-runner to succeed Brown. Kevin McNeil also has experience at the end position.
Wake Forest linebacker Aaron Curry -- The Butkus Award winner finished the regular season with a team-leading 101 tackles and 15 tackles for loss. Curry finished his career with 332 tackles and a school-record 278 career interception return yards. Jonathan Jones was Curry's backup last season and has some experience there.
UNC receiver Hakeem Nicks -- Nicks set UNC single-season records in 2008 for receiving yards (1,222) and touchdowns (12). In just three seasons, Nicks established 14 school records at UNC, including career receptions (181), career receiving yards (2,580) and career touchdowns (21). The staff recruited several receivers who are expected to compete for time this fall, but Joshua Adams, who enrolled in January, could have a slight edge because he'll be practicing this spring. Sophomore Dwight Jones should also be in the mix, along with Todd Harrelson and Rashad Mason.
Boston College coach Jeff Jagodzinski -- He took the Eagles to back-to-back ACC title games, including 2008, when little was expected of the Eagles in their first season without Matt Ryan. Jagodzinski left Boston College with a 20-8 record (11-3 in 2007, 9-5 in 2008). Former defensive coordinator Frank Spaziani will be in his first season as a head coach.