NCF Nation:

Stephanie Wingfield
April, 20, 2013
4/20/13
6:26
PM ET
SOUTH BEND, Ind. -- Big
Louis Nix
entered the media room in Notre Dame Stadium and was immediately intercepted by sports information director Michael Bertsch.
"You know quarterbacks go to the podium," Bertsch said.
Up Nix went to the center of the cramped room, facing a throng of media members who generally hang on his every word anyway, given the fourth-year junior's penchant for saying whatever in the world is on his mind at that moment.
One such instance came early in the 2012 season, when Nix explained how younger brother Kenneth, one of his 13 siblings, had told classmates during a presentation in Jacksonville, Fla., that his big brother was the Fighting Irish's quarterback.
Nix had no idea where that idea came from, but then joked that he would love to be inserted as a Wildcat-only signal caller in the "Irish Chocolate" package, an ode to his nickname.
His dream came to fruition during the fourth quarter of Notre Dame's Blue-Gold spring game Saturday before 31,652 fans, as Nix lined up in the backfield for a two-point conversion following the game's only touchdown. He took the shotgun snap and galloped into the end zone untouched for the score, continuing the roll he has been on in the past year.
"I really am a quarterback," Nix said. "I told you guys it would happen and it did."
That was Louis Nix being Louis Nix; as he provided a refreshing spark to a ho-hum exhibition on a 38-degree April afternoon. He was Notre Dame's best defensive player on the nation's biggest stage this past Jan. 7 against Alabama, and he was the anchor of a defense that happened to feature the Heisman Trophy runner-up.
By playing even bigger than his out-sized personality -- a trait that turned his every word into a soundbite and made his video news series a YouTube sensation -- Nix faced a decision that would have changed the lives of everyone back inside his family's three-bedroom home.
[+] Enlarge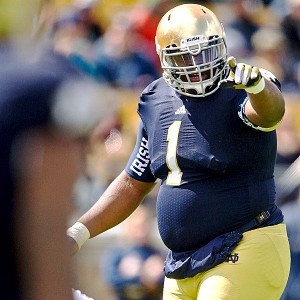 Matt Cashore/USA TODAY SportsLouis Nix capped off Notre Dame's spring game with a two-point conversion in the Blue-Gold Game.
Last spring Nix publicly expressed feelings of homesickness, as he fell into a rut and lost his spot on the first team to
Kona Schwenke
. But the film, television and theatre major thought back to senior night four years ago at Raines (Fla.) High School, when he was the only player who took the field without a loved one. His mom, Stephanie Wingfield had a shift at a hospital cafeteria that night and cried when she found out her son had taken the field alone. She begged him to stay in college, earn his degree and celebrate senior day with her.
The decision to stay ensures that the senior day moment will happen. The play that highlighted Saturday's scrimmage served as proof that he is on the right track in the classroom.
Nix's two-point conversion was the result of an academic wager he made with head coach Brian Kelly, who credited the conversion to offensive coordinator Chuck Martin and his new responsibilities as play-caller heading into the 2013 season.
"He surprised me, and so I paid up," Kelly said of Nix. "I said, 'What do you want?' I figured he would want something. He came up: 'I want to score a touchdown in the spring game.' As you know, we had a hard time scoring touchdowns in the spring game and I didn't think that was going to come to reality."
So Nix went up to quarterback Malik Zaire with 14:05 left in the contest, ordering the early-enrollee to get him to the promised land. Six plays and four minutes, 55 seconds later,
C.J. Prosise
was in the end zone with a 35-yard touchdown reception, allowing the blue-jerseyed Nix to step into the huddle with his white-jerseyed teammates. It set off a minor social media celebration of a FAT GUY TOUCHDOWN. (Or, in this case, a FAT GUY CONVERSION.)
Is this something Temple needs to scheme against come the teams' Aug. 31 opener?
"That's what all teams need to be scared of. Everybody needs to be scared of Irish Chocolate," Nix said.
"Everyone," he continued, staring at the reporter who had inquired, "including you."
The defense charged with stopping the play certainly seemed scared, though it adjusted enough to keep the new quarterback from beating them with his arm.
"I just made a few checks or whatever. You couldn't hear them. They were silent checks," Nix said. "I just told them where to line up, give me a nice pass-block. My O-line did a great job, that's why I was successful."
Or simply because he looked up, stared at nothing but daylight and entered a state of shock, with linebacker
Kendall Moore
getting the heck out of the way once Nix committed to running straight ahead.
"I saw fear in his eyes," Nix said of Moore.
George Atkinson III
said afterward that
Everett Golson
should worry about losing his job. Fellow defenders expressed relief that they will never have to face Nix again.
But that might not be the case, not if Nix continues to ride this surge.
"It's a dream of mine to happen [in a game], hopefully it does -- hopefully Coach thinks I can handle the ball," he said.
"I'm 305 right now," the listed 347-pounder deadpanned. "If I gain a few pounds, maybe he'll just hand me the ball off."
December, 20, 2012
12/20/12
5:04
PM ET
SOUTH BEND, Ind. --
Louis Nix
wants to walk with his mother.
Zack Martin
wants to play with his brother.
In deciding to return to Notre Dame for one more season, both of the standout linemen chose family over finances, the nose guard seeking a senior day moment he never got at the prep level, while the left tackle relishes the chance to line up on the same unit with his kin.

"My brothers and sisters, they didn't really care," Nix said. "My dad, he knew the decision was up to me. Just my mom, she called me every day, like, 'I can't wait to walk on the field with you for Senior Day.' In high school, she didn't get to do it with me. She barely made it to any of my games. She didn't do the Senior Day with me in high school and she cried about it. So that was a big one for me."
An aunt in the crowd noticed the lonely Nix make the walk to midfield and alerted his mother, Stephanie Wingfield, who had another shift to tend to at the hospital cafeteria.
"I couldn't afford to let her take off, she couldn't afford to take off herself," Nix said. "She cried when that happened, she was kind of mad at me. I walked on the field by myself and people were like, 'Where's his parents?' She didn't like stuff like that. This will give her an opportunity to come up and do that for once."
Even if that means one more year of 10 people living inside their three-bedroom Jacksonville, Fla., home.
Nix has 13 siblings in all, and no one in his family had seen a college game of his before last year's Champs Sports Bowl contest in Orlando. A month before that, his father suffered a mild heart attack that had him hospitalized for two weeks.
"That'll make her happy," Nix said, referring to his mother's reaction to his decision. "We've been surviving so far. So we'll be OK, I guess."
Martin, meanwhile, is anxious to play alongside little brother Nick, a versatile redshirt freshman offensive lineman who figures to see plenty of time next year on the interior, if not start.
The redshirt junior said he had no idea what his plan would be following the regular-season finale at USC before opting to return, even before his paperwork from the NFL advisory committee returned.
"It means everything to me," Martin said of coming back. "I sat down, talked to my parents and thought about it. And to have the opportunity to come back wit Nick and finish out my career with
Chris Watt
and have the opportunity to play with [offensive line coach Harry] Hiestand again were really the big three things that went into that decision."