NCF Nation:

Stephen Obeng-Agyapong
October, 13, 2013
10/13/13
12:00
AM ET
STATE COLLEGE, Pa. -- Defensive coordinator John Butler scanned the sideline after the referees signaled touchdown, finally bringing to end an instant classic that'll be talked about five years from now.
He watched as more than 100 Penn State players erupted in ecstasy -- spinning around, hugging, pumping their fists -- as they sprinted to the end zone to join their offensive teammates, who clinched a 43-40 win. In quadruple overtime. Against Michigan.
Two seconds after the game had ended, no one was left on the sideline. Maybe Butler was just looking for an assistant coach to embrace after the season-defining win. But he couldn't find one; they had already started a celebration that's sure to last until morning. He instead looked around, turned to the person closest to him and said one line before jogging off.
"We're going to be fine," he said, with no smile on his face but a sense of conviction in his voice. "Write that -- we're going to be fine."
[+] Enlarge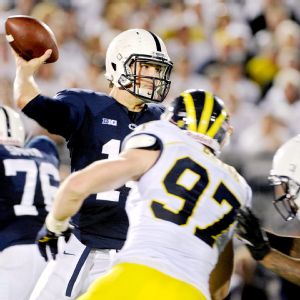 Abby Drey/Centre Daily Times via Getty ImagesChristian Hackenberg passed for 305 yards and 3 TDs in the upset of Michigan.
Beaver Stadium was filled with a sold-out crowd of more than 108,000 -- but it was also filled with question marks. Had Penn State's magic run out? Could this team really come away with a big win? Would this defense collapse again when it counted? Was there anyone on this offense besides
Allen Robinson
who could make plays?
The Nittany Lions didn't punctuate each answer with an exclamation mark. But they won. With dozens of lettermen on the sideline for homecoming, the Nittany Lions did to UM what it did to PSU in 2005: put an end to a perfect season.
"You can't really compare this to anything else; it's pretty much indescribable," quarterback
Christian Hackenberg
said. "It's just one of those things where if you're fortunate enough to be in this type of game and you experience it -- it's something that's going to stick with you for the rest of your life."
Added tailback
Bill Belton
: "Oh, I'm going to remember this. Ten years from now? Yeah."
This wasn't a game that anyone "deserved" to win. Then again, maybe no one deserved to lose. Michigan quarterback
Devin Gardner
paced the sideline, with a headset over his ears, as
Brendan Gibbons
' 40-yard attempt was blocked in the first overtime. Then, in the third overtime, Michigan's players stared at the ground -- tight end
Khalid Hill
yelled, "Damn!" -- when Gibbons' missed a 33-yarder.
Both teams had plenty of opportunities to win. Michigan came into this game always making plays when it needed to, while Penn State always seemed to watch the ball bounce in a bad direction. The roles were reversed this time around. Call it luck, call it skill, call it whatever -- but, whatever it was, it couldn't have come at a better time for Penn State.
"I would just say that in a lot of situations, God was on our side today," Robinson said. "We were able to make some plays down the stretch to keep this game alive."
Safety
Stephen Obeng-Agyapong
promised after the UCF loss that a game like that wouldn't happen again. Then Indiana happened. And wideout
Eugene Lewis
took to Twitter to let everyone know PSU was better than that. If PSU loses this game? Well, at some point, you stop believing it gets better. Those words don't have meaning if the losses pile up.
Bill O'Brien usually heads into every game by taking the dais and telling the media that every game is important. This week, he said he'd be crazy to say this was just another game. It wasn't. Win or lose, this was going to be a turning point for the Lions.
And, for the first time this season, it turned out the right way for Penn State.
"I'm just so jacked-up and so happy because you're putting it out on the line every single play," linebacker
Mike Hull
said. "This says we're a resilient bunch of guys."
Offensive tackle
Garry Gilliam
lingered beneath the tunnel and slapped hands with the fans. Linebacker
Glenn Carson
jumped around as if he were at a track meet. And fans, many of whom wore the same color for a stadium-wide "White Out," didn't move from their seats minutes after the game had ended and the Wolverines had already retired to their locker room.
Penn State had answered the questions by scoring 10 points in the final seven minutes of the fourth quarter to force overtime; then enduring a swing of emotions -- unlike any game either team has played this season -- and coming out with a win.
But, overall, the answers all revolved one simple theme. And it's one these fans can head home through snarled traffic with in mind.
These Nittany Lions are going to be just fine.
October, 11, 2013
10/11/13
3:30
PM ET
STATE COLLEGE, Pa. -- The Nittany Lions have found themselves at a crossroads early on this season.
Expectations last year were low. Students walked around campus with "We Still Are ..." plastered on their T-shirts and in their minds. The team, held together by shoestrings and their dimple-chinned coach, came out of nowhere to capture the admiration of Big Ten coaches and the respect of many who sat in front of their couches on Saturday afternoons and watched the Nittany Lions pummel teams that many thought they'd get pounded by.
[+] Enlarge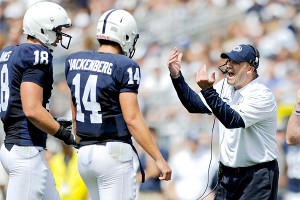 Abby Drey/Centre Daily Times via Getty ImagesBill O'Brien has seen more growing pains with his young team this season.
That's changed this season. Eight to 10 wins were expected.
Christian Hackenberg
was heralded as a savior before he moved in to a dorm. The group of tight ends smiled and referred to themselves as "TEU." The sanctions were wrongly thought to be behind them. And PSU has come out wheezing like a short-distance runner asked to run a marathon.
The defense, without Gerald Hodges and Michael Mauti, isn't the same. The tremendous story of a determined Matt McGloin has given way to a talented true freshman trying to find his footing. The lack of scholarships, whether or not O'Brien wants to keep discussing them, has impacted the team.
The narrative has clearly shifted. And it sure seems as if O'Brien and the rest of these Lions are aware of that.
Last October, on the Tuesday before the Ohio State game, O'Brien took the dais like he has every week and discussed the upcoming opponent. He was asked about the importance of the home game, just as he's always been. And this was his response on Oct. 27, 2012: "I think every game we play is a very important game here at Penn State. I would say that for every team. ... And this year we only get the chance to lay it on the line 12 times; 12 Saturdays. So every game for us is a very, very big game."
Contrast that with what a feisty O'Brien said on Tuesday before this weekend's contest against Michigan. A reporter asked if he needed to emphasize to this team not to buy into the hype, that this is just another game.
"No," O'Brien said. "We tell them, 'Look, this is an exciting opportunity. Penn State-Michigan. ESPN. 5 o'clock. 108,000 [fans]. You got Nittanyville going crazy over there.'
"It'd be crazy to think this is just another game."'
It would be crazy. This isn't just another game because this isn't last season. Fans' memories are shorter than coaching tenures nowadays and some of same ones who wait around at Damon's every Thursday in hopes for O'Brien's autograph after his radio show have logged onto message boards and spit venom about how Joe Paterno never would've lost to Indiana. And how defensive coordinator John Butler should be fired.
Penn State is 3-2 right now. That has to be stated because, by the looks of the record alone, it seems as if it might be premature to inch closer to the proverbial panic button. Well, it's not.
Stephen Obeng-Agyapong
said after the UCF loss that the defense's performance was just a one-time mistake, a bad day. It wouldn't happen again. Then Indiana happened. And
Eugene Lewis
said on Twitter, "We going to be better promise that."
You can only believe so many times that it's going to get better. And that's why Saturday's contest against Michigan is paramount to the Nittany Lions. Win; and all the concern, all the message-board fodder, all the doubt -- that can be looked back upon and labeled an overreaction. Lose, and those generalizations and critiques seem about right, especially with a tougher Ohio State team up next.
O'Brien likes to say he's not a genie. He also said Tuesday he's no psychologist or psychiatrist. Well, he's no magician either. Different reporters, fans and analysts have their own ideas about why Penn State has struggled. It's the lack of leadership or the lack of talent or maybe a play-calling problem. Maybe it's a combination of the three.
But, whatever the exact issues are, the only panacea is winning. And O'Brien isn't the only one who knows that.
"Penn State vs. Michigan has always been a big-time game," safety
Malcolm Willis
said. "And I'd be lying to you to tell you it wasn't."
September, 21, 2013
9/21/13
9:05
PM ET
STATE COLLEGE, Pa. -- Bill O'Brien, the offensive guru who's had to insist on more than one occasion that he's no rock star, took to the dais Saturday evening and cut himself short as he waxed poetic on the Lions' improved rushing attack.
"You guys need to ask me some defensive questions. They're all offensive questions right now," Penn State's head coach said following a 34-0 victory over Kent State. "The defense just pitched a shutout, and you guys were all over them last week and they just pitched a shutout. So, can we get some defensive questions or what? No?"
O'Brien, with a blue cap pulled close to his eyes, waited a moment and then continued on between scattered laughter.
"I thought the defense played a helluva football game. They pitched a shutout, and I think John Butler and that crowd of coaches over there and that crowd of football players over there did a f- …" said O'Brien, pausing to change words in midstream. "… hell of a job."
For a minute there, one reporter told him, it sure sounded like O'Brien was going to say
he had a bunch of "fighters."
"You know what?" O'Brien said with a smile. "I do. We have a bunch of fighters and fantastic kids. Anyone that debates me on that -- it's like my mom, she still doesn't believe I said 'fighters.' Do I look like a guy who swears? You're kidding me."
[+] Enlarge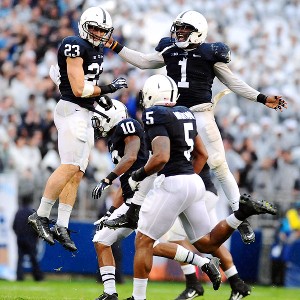 Evan Habeeb/USA TODAY SportsThe Penn State defense had plenty to celebrate as it notched its first shutout since 2010.
O'Brien's mood told the tale of the day. Last week, after his defense surrendered 34 points and 507 yards, he crossed his arms and countered most questions by saying he'd have to watch the film. He glared, and his anger was evident. This time, he laughed and smiled -- and his players shared that sentiment.
Cornerback
Jordan Lucas
pumped his fist as he jogged underneath the tunnel. Linebacker
Nyeem Wartman
embraced DT
Tyrone Smith
, and the dimple-chinned coach didn't have to stop any players from prematurely jogging into the locker room. They stayed and swayed to the alma mater.
O'Brien even lingered a bit and high-fived students who leaned over the rail. Last week, the players stared at their feet and looked as if they had heard a eulogy just minutes before. This week? It seemed as if the Lions were in the midst of a celebration -- probably because they were.
This marked the first Penn State shutout since Sept. 18, 2010, which also just so happened to come against the Golden Flashes. It was also a statement game, one that said the defense wasn't a pushover liked it seemed last week.
PSU surrendered 15 plays of 10 yards or more last week. It gave up just 190 total yards this week.
"It feels good for our defense. But we can't stop there, man," linebacker
Stephen Obeng-Agyapong
said. "We got to keep striving because we definitely made mistakes today, and we just have to keep improving."
Of course, comparing UCF's offense to Kent State might just be like comparing Ohio State to Ohio. Some players believed last week didn't seem as bad as the media made it out to be. But, by the same token, this week's shutout likely isn't the watershed moment for the defense either.
It's more of a confidence boost for the defense than an indicator -- even if some defensive players seemed to take offense at that notion.
"I don't think it was the opponent," Wartman said. "I think it was more us."
Defensive players didn't believe there were big changes between last Saturday and this Saturday. Obeng-Agyapong just chalked the loss to UCF up to one of those days when nothing goes right.
This shutout doesn't mean the Nittany Lions will enter the conference season and limit Indiana's high-powered offense to 200 yards. But it does give Penn State something to build on, something for the defensive players to smile about and something for the fans to look forward to.
The shutout was undoubtedly important to this Penn State team, Kent State or not. And, heading into the bye week, it sure makes a 3-1 record easier to swallow.
"When you can shut any team out, it feels good," Obeng-Agyapong said, "because you stop them from scoring the whole game. That's pretty difficult at times, you know?
"You always feel good when you win. When you lose, you feel crappy. It's as simple as that."
September, 6, 2013
9/06/13
9:00
AM ET
STATE COLLEGE, Pa. --
Stephen Obeng-Agyapong
told the media in early August that his transition to linebacker wouldn't be that difficult. It's just going from the third level to the second level, last year's starting safety said. It's not a big change, he insisted. It won't be a problem.
Turns out the Penn State senior didn't exactly believe his own words back then.
He admitted this week he practiced the new position with hesitation. He worried he was too short, too light and wouldn't be a good matchup against the bigger blockers. But he kept those concerns to himself and his teammates. He didn't need the opposition knowing he wasn't comfortable.
[+] Enlarge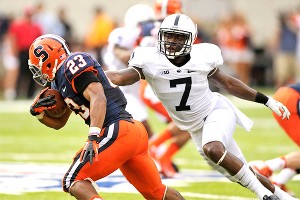 Nabil K. Mark/Centre Daily Times/Getty ImagesFormer safety Stephen Obeng-Agyapong surprised even himself with his play at linebacker in the opening victory over Syracuse.
"I'm not the biggest linebacker, you know?" said Obeng-Agyapong, who stands 5-foot-10 and 205 pounds. "I wasn't a fan of it. But I kept practicing and, when the game came, I did a pretty good job of it. It gave me confidence."
The Bronx native played down his heroics earlier this week but acknowledged his performance in the Syracuse game -- one sack, one pick, one fumble recovery -- finally sold him on the switch. After starting LB
Mike Hull
went down with a leg injury, the Orange targeted the defense's apparent weak link in replacement Obeng-Agyapong ... but it didn't exactly go as expected.
The man with the longest last name on the team -- get used to pronouncing it; it's OH-bing AH-juh-pong -- shut Syracuse down at every turn. Defensive coordinator John Butler frequently called his number on blitzes, and his speed caused fits for the Orange.
"Obeng played a phenomenal game," linebacker
Nyeem Wartman
said, adding he felt the safety-turned-linebacker was the defensive key to PSU's opening win. "When Hull went down, Obeng stepped up. I think his plays made a big impact because they kept going at him. They knew he wasn't a linebacker, so they kept trying to run at him and he was making plays."
Obeng-Agyapong will likely hear his name called a bit more now on Saturdays. Hull is listed day-to-day with an apparent leg injury, but PSU's shortest on linebacker depth. That's part of the reason the safety was moved there to begin with, and he has been focusing on the new position this week.
Even if Hull returns, Obeng-Agyapong should see a lot of time. And he's just fine with that now.
"Initially, I wasn't a fan," he said of linebacker. "I was recruited as a safety. That was my favorite position. I felt like I wouldn't as be successful going down there."
"But after the game Saturday, I realized I could run around those guys and compete and make some plays. That kind of changed my whole mindset."
Obeng-Agyapong started 11 games at safety last season and came away with exactly two turnovers. On Saturday, he also had a hand in two -- including forcing and recovering one fumble.
His surprise performance even caused his head coach to wonder aloud about plugging him in elsewhere. Maybe, Bill O'Brien said Tuesday, he'd practice with the fullbacks or tight ends this week. "I'm being serious," he added.
Wherever he plays, Obeng-Agyapong will undoubtedly play a big role on this team. With a team short on scholarships, versatility is at a premium -- and Obeng-Agyapong has enough trust in this staff now that he'll play anywhere. He's confident, he's one of the fastest PSU players, and he's a quick learner.
"A lot of my teammates were telling me, 'I told you so. I told you you should've been a linebacker,' " Obeng-Agyapong said with a laugh. "It is what it is.
"Sometimes those opportunities come, and you don't know what you can actually do until you actually do it."
September, 3, 2013
9/03/13
9:00
AM ET
After several mostly speculative versions of the Big Ten power rankings, we finally had a chance to evaluate these teams in games. The Week 1 competition mostly wasn't great, and the Big Ten's overall performance left something to be desired. We'll learn a lot more about most of these teams in the coming weeks.

We try to keep these rankings consistent with our ESPN.com national power rankings, so Ohio State remains No. 1, ahead of Michigan, even though the Wolverines looked more impressive against their MAC opponent than Ohio State did. But a Michigan win against Notre Dame this week could change things.
Wisconsin and Nebraska trade places in the rankings, and so do Penn State and Michigan State.
Here's one last look at the
preseason power rankings
.
Let's get to the rundown ...
1. Ohio State (1-0, preseason: 1):
The Buckeyes had a flawless record in 2012, but they were a flawed team. They still are, and they showed some warts during the final three quarters of a 40-20 win against a plucky Buffalo squad. Quarterback
Braxton Miller
has improved and has a much better supporting cast, including running back
Jordan Hall
, but the Buckeyes need to take better care of the ball. A soft schedule should give Ohio State's young defense time to develop.
2. Michigan (1-0, preseason: 2):
This year's opener went just a tad better than last year's for Brady Hoke's Wolverines. Michigan made big plays in all three phases and received contributions from many different players, delivering the most impressive debut in the league. Quarterback
Devin Gardner
(162 pass yards, 52 rush yards, three total touchdowns, two interceptions) can build off of this performance before facing a talented Notre Dame defense under the lights next week.
3. Northwestern (1-0, preseason: 3):
The Wildcats remain in the three hole but solidified themselves after a resilient performance on the road against Cal. They played most of the game without their dynamic backfield of quarterback
Kain Colter
and running back
Venric Mark
, which fundamentally changed the offense. Thanks to unlikely heroes such as linebacker
Collin Ellis
and running back
Treyvon Green
, Northwestern remained perfect in openers under Pat Fitzgerald. Up next, Syracuse.
4. Wisconsin (1-0, preseason: 5):
Fortunately, Wisconsin's next three openers (LSU twice, Alabama) will provide a lot more clues about the Badgers than Saturday's laugher against FBS bottom-feeder UMass. But you play the team across the field, and to Wisconsin's credit, it completely dismantled the Minutemen on both sides of the ball. The three-headed rushing attack of
James White
,
Melvin Gordon
and
Corey Clement
sparkled, combining for 388 yards and three touchdowns on 40 carries.
5. Nebraska (1-0, preseason: 4):
The concerns about Nebraska's young defense weren't merely confirmed in the opener against Wyoming. They grew. Nebraska surrendered 35 first downs and 602 yards and nearly blew a 16-point fourth-quarter lead before surviving 37-34. Coach Bo Pelini didn't sound too discouraged Monday, but defensive coordinator John Papuchis said the defense has "nowhere to go but up." Nebraska needs a crisper performance this week against Southern Miss.
6. Penn State (1-0, preseason: 7):
Like Northwestern, Penn State fought through some adversity to beat another major-conference team away from its home stadium. Freshman quarterback
Christian Hackenberg
backed up the hype for the most part, and tackle
DaQuan Jones
and safety
Stephen Obeng-Agyapong
sparked the defense. The Lions must get better on third down (1-of-15) before Central Florida comes to town in Week 3.
7. Michigan State (1-0, preseason: 6):
As dominant as the Spartan Dawgs were against Western Michigan -- and could be the entire season -- the big concern here is an offense that appears to have regressed, if that's even possible. The quarterbacks remain the focus, but Michigan State isn't getting enough from any part of its offense. If things don't change, expect another season of games that can go either way. MSU has a chance to get well this week against slumping South Florida.
8. Minnesota (1-0, preseason: 8):
Credit defensive tackle
Ra'Shede Hageman
and the Gophers for making big plays in all three phases in their opener against UNLV. But the 51-23 final score masked some of the issues Jerry Kill's team must address before the competition level improves. Minnesota needs a more physical effort from its offensive line, and it has to get off the field on defense after allowing UNLV to go 4-for-4 on fourth down. The Gophers need to clean things up this week on the road against New Mexico State.
9. Indiana (1-0, preseason: 9):
A loaded Hoosiers offense set a
Memorial Stadium record with 73 points
against Indiana State, and Indiana has multiple weapons at quarterback, running back and wide receiver. But we've seen big offense from Indiana before. Can the Hoosiers' defense improve enough to boost the win total to bowl eligibility? IU's discipline will be tested this week against Navy's tricky triple-option offense.
10. Iowa (0-1, preseason: 11):
Yes, the Hawkeyes actually move up a spot despite a loss (it has more to do with Purdue's plunge). Iowa in some ways looked like a better team against Northern Illinois, surviving a sluggish start to take control behind quarterback
Jake Rudock
, linebacker
Christian Kirksey
and a physical defense. But breakdowns on both sides of the ball doomed Iowa down the stretch, and Rudock's interception led to NIU's game-winning field goal. Iowa really needed a win and must regroup this week against Missouri State.
11. Illinois (1-0, preseason: 12):
Senior quarterback
Nathan Scheelhaase
looks much more comfortable in Bill Cubit's offense and threw for a career-high 416 yards and two touchdowns against Southern Illinois. That's the good news. Illinois still has many areas to fix, especially on defense after nearly blowing a 22-point third-quarter lead. We'll learn a lot more about this team the next two weeks against Cincinnati and Washington.
12. Purdue (0-1, preseason: 10):
What a mess. Nothing went right for the Boilers in coach Darrell Hazell's debut. The defense couldn't get off of the field on third down or fourth down.
Rob Henry
struggled and the offense committed three turnovers. Aside from a Cincinnati special-teams blunder, Saturday was a nightmare for the Boilers, who fell 42-7. Fortunately, Indiana State is next, but there's a lot of work to do.
September, 1, 2013
9/01/13
9:00
AM ET
Recognizing the best and brightest from around the Big Ten in Week 1:

Northwestern LB Collin Ellis:
The Wildcats didn't mind watching Ellis experience some deja vu against Cal. In the third quarter, he pulled down a deflected pass for the interception, made a nice cut and then ran it back 56 yards for a touchdown. One quarter later? It was almost like watching Ellis on rewind -- he grabbed another deflected pass and this time sprinted 40 yards for the score. That's right, the linebacker picked off two passes for two touchdowns. His career interceptions total before the game? Zero. Give that man a helmet sticker. (Hey, Adam, can we get away with giving him two?)
Wisconsin running game:
OK, UMass doesn't exactly boast the most dangerous defense. But in a soft opening conference slate, the Badgers impressed by having three running backs each rush for more than 100 yards.
Melvin Gordon
,
James White
and
Corey Clement
ran behind a stout offensive line that allowed the trio to combine for 388 yards and average 9.7 yards per carry. Yes, the running backs nearly averaged a first down every time they touched the ball ... which is probably why Wisconsin won 45-0.
Penn State S/LB Stephen Obeng-Agyapong:
He was expected to be a situational player at both positions but, when LB
Mike Hull
went down, Obeng-Agyapong took over -- and stepped up in a big way. Syracuse targeted the player, but the Orange just couldn't get the best of him. Last year's starting safety ran the gamut of defensive stats by finishing with a sack, a forced fumble, a fumble recovery and an interception. (Oh, and he was third on tackles with 6.5.) Two of his turnovers directly led to six PSU points, and the Lions won 23-17. You don't need OG
John Urschel
to do the math here; Obeng-Agyapong was very important to PSU's victory.
Michigan State LB Jairus Jones and S Kurt Drummond:
Take this pair away from the Spartans defense, and the team might not have experienced a happy ending in Week 1. Jones got the team started off on the right foot by intercepting a first-quarter Western Michigan pass and then having the awareness to lateral it to Drummond, who ran in for the defensive touchdown. Of course, neither was finished. Jones would go on to add another pick, while Drummond made a video game-esque play by using one hand to pluck the ball out of the air for a pick. If that play doesn't make an end-of-the-year highlight reel, there's no justice for these Spartans.
Minnesota DT Ra'Shede Hageman:
Double-teams were no problem for the fifth-year senior, and he showed he'll be one of the Big Ten's big play-makers this season. Midway through the third quarter, UNLV lined up for a 37-yard field goal to bring the game to within one score -- but Hageman was having none of it. He tore through the line and blocked the kick, while teammate
Martez Shabazz
returned it for a touchdown. All of a sudden, Minnesota led by 17 instead of just seven. Hageman also had five tackles and broke up a pass. He got plenty of pats on the back for his effort, and now he's also got a helmet sticker.
August, 31, 2013
8/31/13
9:50
PM ET
EAST RUTHERFORD, N.J. -- Before making his college football debut, Penn State true freshman quarterback
Christian Hackenberg
made a request for teammate
Garry Gilliam
.
"If I get spaced out or anything, give me a smack," Hackenberg told his right tackle.
Gilliam noted that Hackenberg was grinning when he made the request, so he knew the kid was going to be OK. All things considered, he was a lot better than that.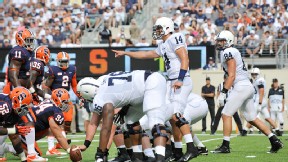 Cal Sport Media/AP ImagesFreshman Christian Hackenberg had some big mistakes but showed poise in Penn State's win.
Hackenberg completed 22 of 31 passes for 278 yards and two touchdowns while leading the Nittany Lions to a 23-17 win over Syracuse at MetLife Stadium. He made some crucial mistakes, including a pair of interceptions. But the guy who finished his high school baseball season earlier this summer faced down an ACC defense on an NFL field. He also played the entire first half without Penn State's top receiver,
Allen Robinson
, who was serving a suspension for undisclosed reasons, and much of the game without injured star tight end
Kyle Carter
.
That's a lot to ask of any first-time starting quarterback, much less an 18-year old. But Bill O'Brien is all in this season with Hackenberg, handing the keys to the Nittany Lions' season over to the talented rookie.
"We're Penn State," O'Brien said. "We can't dip our toe into the water. We've got to come out ready to go. We've got to take our shots."
So O'Brien didn't hold back when Penn State stared at third-and-11 on its own 30, nursing a 23-10 lead with under eight minutes to go. Rather than run, punt and turn it over to a defense that smothered Syracuse all day, O'Brien called for Hackenberg to throw the ball. Defensive end
Robert Welsh
slipped underneath the route and picked off the pass, returning it to the 1-yard line to set up a touchdown and put the Orange right back into the game.
O'Brien blamed himself for the call, but youth also played a part. O'Brien said he doubted that Hackenberg had ever seen that type of coverage from a defensive lineman in high school.
"They threw a lot of blitzes at us today, and I had a little bit of a tough time finding a couple of them and recognizing them," Hackenberg told ESPN.com after the game. "That will definitely be a big emphasis for me this week."
The encouraging part was that Hackenberg kept his cool despite his mistakes, which also included a first-half interception and a near pick-six later in the game. Teammates said they saw no difference in his demeanor throughout the game.
"He's just a confident kid," tight end
Jesse James
said. "He knows what he's doing. He's always been the same [in the huddle]."
Hackenberg's father, Erick, who attended the game and talked to his son before kickoff said his son showed the same calm attitude he usually displays.
"It's something I've had to get used to over the years," Erick Hackenberg said. "My emotions change, but he's always so focused."
Hackenberg also showed at times why he was the No. 1 pro-style quarterback recruit in last year's class, especially on his 54-yard touchdown pass to Eugene Lewis in the fourth quarter. O'Brien wanted only to talk about the job Lewis did on his route and how
Zach Zwinak
picked up the blitz on that play, saying Hackenberg had the easiest job of anyone. But Hackenberg also fired a laser downfield that his predecessor, Matt McGloin, might not have been able to match.
O'Brien walked a fine line in his postgame news conference, predictably dominated by Hackenberg questions. He loves the freshman's potential but doesn't want to heap too much praise on someone with still so much to learn.
"He's a young guy who's got a tremendous future," O'Brien said. "But we're not ready to waltz him into the College Football Hall of Fame."
O'Brien and the Nittany Lions will have to live with some freshman mistakes along with the natural playmaking ability of their quarterback. And as Saturday's game indicated, the team might be in for a bumpy ride all season.
Hardly anyone would call last year a smooth one for Penn State, but at least the program benefited from relative health. The Lions went into the opener with only about 65 scholarship players, and 16 true freshman, including walk-ons, made the trip. Before it was over, starting linebacker
Mike Hull
and tight ends Carter and
Matt Lehman
had to leave the game with injuries. That put even more pressure on the team's depth and ability to adapt, the latter of which it handled beautifully.
Stephen Obeng-Agyapong
, who started the game at safety, played linebacker for long stretches and came up with an interception and a forced fumble. Cornerback
Trevor Williams
, who switched from receiver in the middle of spring practice, secured the clinching interception. The 300-pound Gilliam, a converted tight end playing tackle, made a touchdown-saving tackle when he ran down Syracuse cornerback
Brandon Reddish
following a Robinson fumble.
"It's next guy up," defensive end
Deion Barnes
said. "We're all willing to do whatever it takes to win."
O'Brien downplayed the depth issues, but it clearly will remain a concern all season long. As will the youth under center. Counting
Tyler Ferguson
, who played one series, Penn State's quarterbacks committed three turnovers Saturday. Last year's starter, McGloin, had five interceptions all year long.
Expect some dizzying highs and some head-smacking lows with Hackenberg.
"It depends on how he handles it," Gilliam said. "But he's very mature, very poised."
By the looks of things, the kid is going to be OK.
March, 18, 2013
3/18/13
9:00
AM ET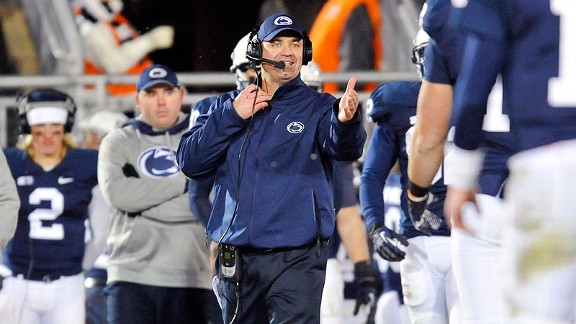 Randy Litzinger/Icon SMIBill O'Brien is excited about his team as he heads into his second season at Penn State.
The last time we saw Penn State, the Lions were celebrating a surprisingly strong finish to the 2012 season and saying farewell to a special senior class. Penn State since has turned the page and will begin spring practice Monday with a mix of familiarity and uncertainty. Bill O'Brien is not the "new coach" in Happy Valley anymore, and players have acclimated to O'Brien and his staff. But the Lions are looking for a starting quarterback for the second consecutive spring. They also must replace several outstanding defenders and fill holes on both lines. But the
depth crisis many of us envisioned
for the Lions when the NCAA sanctions came down last summer simply isn't there in State College.
ESPN.com caught up with O'Brien late last week to discuss spring ball.
What are some of the main objectives you're looking for when you get on the field again?
Bill O'Brien:
The No. 1 objective offensively is to make sure we come out of this spring practice with improvement from the quarterback position. We won't name a starter coming out of the spring, but at least at the end of 15 practices we'll have a good idea of how well these guys are grasping the system, Tyler Ferguson and
Steven Bench
. So that's a big deal for us offensively.
And defensively, some new guys will be in there, and seeing how those guys do, whether it's
Nyeem Wartman
at linebacker or
Jordan Lucas
at corner or some other guys who are going to be playing a little bit more next year, how much they improve. And then we'll work our special teams every single day, so hopefully we'll find some core special-teams players this spring.
What's your message to Steven and Tyler going into the spring? You're not naming the starter, but what do you want to see out of them?
BO'B:
[Thursday] I was talking to them, and I said, 'Look, I just want you guys to put your head down and go to work. Don't worry about what everybody else on the outside of the program thinks about your performance, whether it's in scrimmages or the Blue-White Game or whatever it is. Just try to get better every single day.' These are two really, really good kids. They're smart, they work hard at it, they're grasping it pretty well to this point. We're pretty excited about getting started with them. I don't want them to think about anything other than trying to improve and be as good a leader as they can be.
Will you have to change the offense for one or the other? Do they fit in with what you did last year?
BO'B:
We'll definitely be different. We'll be different in many ways. Matt [McGloin] had certain strengths we tried to play to, no question about it. Our system is expansive enough that you can have different parts in there to take advantage of the talents of the quarterbacks who are playing. So we'll be a different offense than we were last year.
Anything specific on what might change with these two quarterbacks or areas you can draw out more?
BO'B:
I'd rather not get into all of that, but I can tell you these are two guys who are big, they're strong, they're fast, they look to be accurate passers. We're just looking forward to working with them.