NCF Nation:

Stephen Schilling
April, 28, 2011
4/28/11
9:00
AM ET
During my
Big Ten chat
Wednesday,
Dan from B1G Country
asked about any NFL draft bargains from the conference this year.
With the draft set to begin Thursday night, I thought this would be a good time to look at some Big Ten players who might benefit teams in the middle or later rounds, or even as free-agent pickups.
Here's one potential bargain from each Big Ten squad (heights and weights according to ESPN's Scouts Inc.).
ILLINOIS
Randall Hunt
, G, 6-6, 318
The skinny:
Hunt anchored a formidable Illinois offensive line that helped
Mikel Leshoure
and others run wild in 2010. He shut down Baylor's
Phil Taylor
in the Texas Bowl and brings a sturdy frame to the interior line. Hunt wouldn't be a bad choice in the later rounds.
INDIANA
James Brewer
, T, 6-6, 323
The skinny:
I'm hesitant to call Brewer a bargain because he could be off the board early in the draft. Indiana had another tackle, Rodger Saffold, taken with the first pick of the second round in 2010. Brewer has the size to be good at the next level, and if he's still available on the third day, he'd be a nice pick.
IOWA
Derrell Johnson-Koulianos
, WR, 5-11, 202
The skinny:
The character questions are there, but DJK was an extremely productive player at Iowa and could be a nice late-round addition for a team. He's a strong route runner with good speed and good hands, and he can stretch defenses. If a team is willing to take a bit of a risk, it could be rewarded.
MICHIGAN
Stephen Schilling, G, 6-4, 308
The skinny:
Schilling played a ton of football at Michigan and helped the Wolverines to a record-setting offensive performance in 2010. His measurables might not blow teams away, but he's a smart, solid lineman who could be a nice addition in the middle to later rounds.
MICHIGAN STATE
Eric Gordon
, LB/S, 5-11, 224
The skinny:
Overshadowed by fellow linebacker
Greg Jones
for much of his career, Gordon quietly produced at an extremely high rate for Michigan State. You could argue he was the Spartans' best linebacker during the second half of the 2010 season. Gordon turned in an impressive performance on pro day and would be a nice pickup late in the draft or as a free agent.
MINNESOTA
Adam Weber
, QB, 6-3, 221
The skinny:
Some Gophers fans might scoff at this, but I always felt Weber got a raw deal during his college career. He played for three different offensive coordinators, never complained about it and still set a bunch of team records. While his junior season was a disappointment, Weber did some good things last fall and drew respect around the Big Ten. Not a bad pick in the later rounds.
NEBRASKA
Eric Hagg
, S, 6-1, 209
The skinny:
Hagg is a playmaker, as he showed with a team-high five interceptions plus a school-record 95-yard punt return for a touchdown against Texas. He also brings versatility to the table, having played a safety-linebacker hybrid role last fall for the Blackshirts. Hagg has played on an elite college defense and would be a good get in the middle to late rounds.
NORTHWESTERN
Quentin Davie
, LB, 6-4, 238
The skinny:
Davie entered the 2010 season as a solid NFL prospect and started off strong but disappeared at times down the stretch. He made big plays throughout his career and boasts good size as an outside linebacker. Davie could help a team as a late-round or free-agent addition if he gets back to his 2009 form.
OHIO STATE
Dane Sanzenbacher
, WR, 5-11, 182
The skinny:
If I were an NFL general manager, I wouldn't hesitate to draft Sanzenbacher. He lacks ideal measurables but makes up for it with football intelligence and a fearless approach to the game. Sanzenbacher has great hands and became Ohio State's top threat in the red zone this season. He stood out at the Senior Bowl and would be an excellent pick in the middle rounds.
PENN STATE
Evan Royster
, RB, 5-11, 212
The skinny:
Royster is a patient runner with good vision who could thrive in the right situation at the pro level. His slow start to the 2010 season is a concern, but he picked things up down the stretch and boasts a productive college résumé. If a team needs a running back in the late rounds, Royster would be a nice choice.
PURDUE
Keith Smith
, WR, 6-2, 224
The skinny:
There's risk here as Smith comes off of tears in two knee ligaments, but a team could get a major steal if the Boilers receiver can stay healthy. He has the size to excel at the pro level and might have been the Big Ten's top receiver had he stayed on the field last season. Smith is a class act who has a chance to be a solid NFL receiver.
WISCONSIN
Scott Tolzien
, QB, 6-2, 209
The skinny:
He might never be a full-time starter in the NFL, but teams certainly can benefit from having Tolzien on the roster. He's an extremely smart player who makes up for mediocre measurables with superb intangibles. Tolzien is accurate and efficient, and he'll prepare harder than anyone. If a team needs a quarterback in the later rounds, Tolzien would be a great pick.
February, 28, 2011
2/28/11
9:00
AM ET
All eyes were on Indianapolis this weekend as dozens of NFL prospects, including
a large contingent from the Big Ten
, went through the scouting combine.
My ESPN colleagues are all over the happenings in Naptown, so check out the
combine blog
and the latest
Scouts Inc. combine notebook
.
There's more testing and timing Monday with the defensive linemen and linebackers, but some results are in, so let's take a look. I'm breaking these down into
top performers by position
. I'll put together an overall top performers post once the combine is finished.
Wide receivers

Nebraska's Niles Paul finished second in bench-press reps (225 pounds) with 24
Paul tied for 14th in the 40-yard dash at 4.51 seconds
Indiana's Terrance Turner tied for second in vertical jump at 41 inches
Turner finished seventh in broad jump at 10 feet, 8 inches
Ohio State's Dane Sanzenbacher finished second in 3-cone drill at 6.46 seconds; Turner tied for 14th at 6.77 seconds
Sanzenbacher finished third in the 20-yard shuttle at 3.97 seconds; Paul finished 12th at 4.14 seconds; Turner finished tied for 13th at 4.15 seconds
Sanzenbacher finished second in the 60-yard shuttle at 10.94 seconds; Turner tied for ninth at 11.21 seconds
Quarterbacks
Iowa's Ricky Stanzi and Wisconsin's Scott Tolzien tied for 13th in the 40-yard dash at 4.93 seconds
Stanzi finished ninth in the vertical jump at 32.5 inches; Tolzien tied for 12th at 29.5 inches
Tolzien tied for seventh in the broad jump at 9 feet, 8 inches; Stanzi finished 12th at 9 feet, 2 inches
Tolzien tied for third in the 3-cone drill at 6.84 seconds; Stanzi finished 12th at 6.95 seconds
Running backs
Nebraska's Roy Helu Jr. finished sixth in the 40-yard dash at 4.42 seconds; Ohio State's Brandon Saine finished seventh at 4.43 seconds;
Illinois' Mikel Leshoure tied for third in the vertical jump at 38 inches; Helu tied for eighth at 36.5 inches
Leshoure tied for fourth in the broad jump at 10 feet, 2 inches; Helu finished 10th at 9 feet, 11 inches
Helu finished second in the 3-cone drill at 6.67 seconds; Leshoure finished sixth at 6.82 seconds
Helu finished first in the 20-yard shuttle at 4.01 seconds; Penn State's Evan Royster tied for eighth at 4.18 seconds
Helu finished first in the 60-yard shuttle at 11.07 seconds
Tight ends
Wisconsin's Lance Kendricks finished eighth in the 40-yard dash at 4.75 seconds; Michigan State's Charlie Gantt finished 11th at 4.93 seconds; Iowa's Allen Reisner finished 12th at 4.95 seconds
Gantt tied for first in bench-press reps with 27; Kendricks tied for third with 25
Kendricks finished sixth in vertical jump at 34.5 inches; Gantt finished 13th at 30.5 inches
Kendricks finished second in broad jump at 10 feet, 2 inches; Gantt finished ninth at 9 feet, 4 inches; Reisner tied for 12th at 9 feet
Kendricks finished sixth in the 3-cone drill at 6.94 seconds; Gantt finished 11th at 7.15 seconds
Kendricks tied for second in 20-yard shuttle at 4.15 seconds; Gantt tied for eighth at 4.4 seconds
Kendricks tied for sixth in 60-yard shuttle at 11.9 seconds; Gantt and Reisner tied for 11th at 12.12 seconds
Defensive linemen
Wisconsin's J.J. Watt tied for fourth in bench-press reps with 34; Purdue's Ryan Kerrigan tied for sixth with 31
Linebackers
Ohio State linebacker Ross Homan finished first in bench-press reps with 32; Ohio State's Brian Rolle finished fourth with 28; Illinois' Martez Wilson tied for ninth with 23
Offensive linemen
Iowa's Julian Vandervelde tied for 10th in the 40-yard dash at 5.21 seconds; Indiana's James Brewer and Wisconsin's Gabe Carimi tied for 14th at 5.27 seconds
Michigan's Stephen Schilling and Penn State's Stefen Wisniewski tied for sixth in bench-press reps with 30; Carimi tied for ninth with 29; Ohio State's Justin Boren tied for 14th with 28
Carimi finished fifth in vertical jump at 31.5 inches; Vandervelde tied for sixth at 31 inches; Wisconsin's John Moffitt tied for eighth at 30.5 inches
Carimi finished fifth in broad jump at 9 feet, 1 inch; Vandervelde finished tied for 13th at 8 feet, 8 inches
Vandervelde finished seventh in 3-cone drill at 7.46 seconds; Wisniewski finished eighth at 7.51 seconds; Boren finished 11th at 7.57 seconds
Moffitt finished sixth in 20-yard shuttle at 4.53 seconds; Vandervelde tied for seventh at 4.59 seconds; Schilling tied for ninth at 4.62 seconds;
November, 23, 2010
11/23/10
9:00
AM ET
Ohio State players understand the big-picture implications at stake this week.
A record-tying sixth consecutive Big Ten championship (35th overall)

A fourth 11-win season in the past five years and a sixth under coach Jim Tressel

A possible trip to the Rose Bowl or, at the very least, another BCS game
But the Buckeyes are always more cognizant of the small picture, which, during Tressel's tenure,
is
the big picture.
Michigan.
[+] Enlarge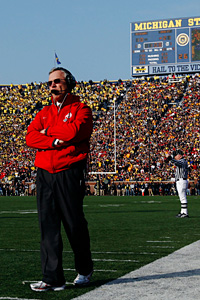 AP Photo/Paul SancyaJim Tressel is 8-1 against Michigan and is trying to win his seventh in a row in the series.
Tressel has been absolutely masterful in his handling of The Game. The Vest boasts an 8-1 record against the Wolverines and has led Ohio State to six consecutive victories in the series. But his hallmark is the way he plays up the game to his players.
"The Michigan thing, it's always on our mind, even since camp, when we have our Maize and Blue period," Ohio State center Mike Brewster said. "That's always very important to us."
Growing up in Florida, Brewster had a "little bit of an idea" about the significance behind The Game, but he didn't gain a full appreciation for all it meant until he arrived in Columbus.
"After you get that first win, you really realize how much it means to the coaches, to the fans," he said. "The biggest thing for me is getting those
gold pants
and giving them to my mom. It's always a special thing I get to do for her.
"It's definitely one of the coolest things about playing here."
Michigan players would agree with the last part, although from their perspective, the recent results haven't been cool at all.
No current Wolverines player knows what it's like to beat the hated Buckeyes. According to Las Vegas and most prognosticators, they'll have to wait for at least another year.
The Wolverines are once again heavy underdogs as they head to Columbus, a place they haven't won in a decade.
"It's not really a rivalry when one team wins every year," Michigan senior guard Stephen Schilling said Monday.
But it's still a rivalry, no doubt.
"They hate us, we hate them," Michigan star nose tackle
Mike Martin
said. "That's how it is and what it is. That's what makes it so special."
Michigan coach Rich Rodriguez is winless against the Wolverines' top two rivals, Ohio State and Michigan State, and his job status once again has come up entering Ohio State week. First-year athletic director Dave Brandon has been supportive of Rodriguez to this point but hasn't truly showed his hand regarding 2011 and beyond.
Although Michigan is assured of a winning season and a bowl appearance for the first time in three years, Rodriguez still needs to show his teams can compete with the Big Ten's elite. Under Rodriguez, Michigan has yet to beat a team that finished the season with a winning record in Big Ten play.
"I didn't get this job in Michigan by getting a lottery ticket that said, 'Congratulations you're the coach of Michigan,'" Rodriguez said Monday. "We didn't get stupid overnight and all that when we lost a few games."
Tressel has won quite a few games at Ohio State, but he makes no secret about which ones mean the most to him.
"You're defined by your Ohio State-Michigan games," he said Monday.
Brewster and his teammates want to continue to be defined as winners.
"It's an accomplishment to say you played four or five years at Ohio State and never lost to Michigan," he said. "That'll always be a big one."
October, 5, 2010
10/05/10
1:05
PM ET
There's little doubt Michigan-Michigan State is a bona fide rivalry, but it typically has been an unbalanced rivalry.
Start with the fundamental difference in significance: Michigan State considers Michigan its top rival, while the Wolverines always reserve that label for Ohio State.
Michigan holds a sizable edge in the all-time series (67-30-5), and the rivalry has been defined by pockets of dominance: Michigan went 16-0-2 between 1916-33; Michigan State went 9-1-2 between 1956-67; Michigan went 13-1 between 1970-83. Even after a rare competitive stretch between 1990-95 where the teams split six meetings, Michigan reclaimed control with an 11-2 spurt.
[+] Enlarge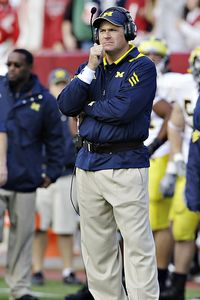 AP Photo/Darron CummingsSince taking over at Michigan, Rich Rodriguez has yet to record a win against Michigan State.
Michigan State has claimed each of the past two games, taking home the
Paul Bunyan Trophy
and, in the minds of many, control in the state.
It's often easy to identify the gap between the two teams heading into their annual matchup. And that gap might show up Saturday afternoon in Ann Arbor.
But heading into the game, Michigan and Michigan State have achieved balance, which only enhances the rivalry.
The teams bring identical 5-0 records into the Big House. Michigan State is just one spot ahead of Michigan in both polls (No. 17 in AP, No. 16 in the coaches'). Both teams recorded dramatic victories against Notre Dame. Michigan State has a signature win against Wisconsin, while Michigan opened the season with a convincing win against Connecticut, a team many had pegged to win the Big East. The Spartans boast the Big Ten's most accomplished defender in senior linebacker Greg Jones, while the Wolverines are led by the nation's most dynamic offensive player this season in quarterback
Denard Robinson
.
"Two teams 5-0, bragging rights, playing in front of your hometown," Spartans running back
Edwin Baker
said. "It hasn't been a big game like this in a long time. We're going to bring that tradition back. Hopefully, we'll bring Paul Bunyan back."
Jones took it a step further moments after the Wisconsin win.
"That's like the biggest game of the year," he said. "Bottom line. It just is. There's nothing more to say. It's the biggest game of the year."
Michigan's biggest game always comes against Ohio State, but the significance of beating Michigan State has been ratcheted up this year. The Wolverines haven't dropped three straight to Michigan State since 1965-67. Third-year coach Rich Rodriguez is 2-1 against Notre Dame but a combined 0-4 against Michigan State and Ohio State.
[+] Enlarge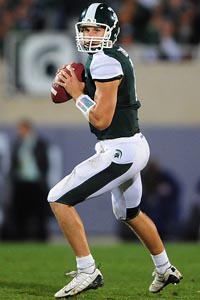 Andrew Weber/US PresswireKirk Cousins and the Spartans hope to maintain their winning ways against Michigan.
While the Wolverines' drought against Ohio State is always thrown in their faces --
2,509 days and counting
-- players also hear about the 1,068 days that have passed since their last win against the Spartans.
"It's there," Michigan guard Stephen Schilling said. "Obviously, the Ohio State one has been going on a little bit longer, but you don't want to lose to Michigan State at all, let alone two or three times in a row. That's a streak we're looking to stop before it gets too big."
Schilling, a fifth-year senior, remembers what it's like to beat Michigan State. But his teammates like junior receiver
Roy Roundtree
have never experienced the feeling.
"We hear it a lot, definitely from the students," Roundtree said. "They're like, 'Aw, you got Michigan State this week. I hope it's not like the last two years.' I just laugh and I'm like, 'New year, new team.'
"There's a lot at stake. Both teams are undefeated, in-state rivals, Paul Bunyan on the line. We miss Paul Bunyan."
The Spartans, who see the trophy displayed daily in the Skandalaris Football Center, have no intention of giving it back. Michigan State also eyes another goal in Ann Arbor: national respect.
The R-word was thrown around the media trailer after the Wisconsin win. Some Spartans felt they'd gained respect by beating the Badgers, while Baker said they'll need to do more.
Despite Michigan State's 5-0 record, Michigan and Robinson continue to dominate the headlines.
"Always," Baker said of the attention Michigan receives. "U of M is supposed to be the team of the state, but we're going to come out, play hard and we'll see who comes out on top."
September, 4, 2010
9/04/10
4:57
PM ET
ANN ARBOR, Mich. -- Michigan's speed on offense has been the story so far, but don't forget about the guys up front.
The Wolverines' size advantage is one area I really thought they could exploit heading into the game. So far, they have.
When
Michael Shaw
scored from three yards out to put the Wolverines up 20-3, he barely got touched before the goal line. Center David Molk, guard Stephen Schilling and others are generating excellent push against a smaller Huskies defensive front.
Michigan's offensive line was supposed to be a strength entering the year, as the Wolverines boasted both experience and depth with young players like Taylor Lewan.
Denard Robinson
and co. clearly don't need much space to make things happen, and so far, they're getting plenty of it.
The Wolverines lead 21-3 with 2:08 left in the half.
August, 19, 2010
8/19/10
9:11
AM ET
The position rankings move to the offensive side of the ball, and the offensive lines are first up. Several Big Ten offensive lines are among the nation's best, while other units boast experience but must step up.
[+] Enlarge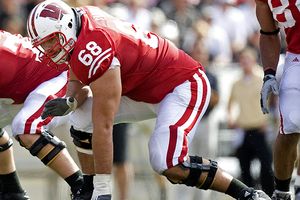 Jeff Hanisch/US PresswireThe Badgers' Gabe Carimi is entering his fourth season as a starter.
1. Wisconsin:
If this group stays healthy, I don't believe there's a better offensive line in college football this season. Left tackle Gabe Carimi is a bona fide NFL prospect who enters his fourth year as a starter. The Badgers boast another All-Big Ten selection at guard in senior John Moffitt, who can play both guard and tackle. Josh Oglesby should be ready to take the next step at right tackle. All the injuries last season forced Wisconsin to use a lot of linemen, and Peter Konz's return makes this one of the league's deepest units.
2. Ohio State:
The talent always has been there, and the physical play finally showed up late last fall. Ohio State's line finished 2009 on a very strong note and returns pretty much everyone for 2010. First-team All-Big Ten guard Justin Boren leads the group along with fellow guard Bryant Browning. Center Michael Brewster enters his third season as a starter, and right tackle J.B. Shugarts came along last year. If gifted left tackle Mike Adams effectively protects
Terrelle Pryor
's blind side, the Buckeyes will be extremely tough to stop.
3. Michigan:
The Wolverines boast one of the Big Ten's best interior line tandems in guard Stephen Schilling and center David Molk, who returns from an ACL injury. When Molk was healthy in 2009, Michigan consistently moved the football. His return is a major boost. The Wolverines need to solidify the tackle spots but have experienced options in Perry Dorrestein and Mark Huyge. Michigan's offensive line recruiting also should pay off as redshirt freshmen like Taylor Lewan solidify the depth.
4. Penn State:
The line had an average performance in 2009 and struggled against elite defensive fronts, but things should improve this fall. Stefen Wisniewski, who moves back to guard from center, is one of the nation's most experienced and polished offensive linemen. He leads a group that also features veterans Lou Eliades and Johnnie Troutman. Penn State needs big things from new starting left tackle Quinn Barham.
5. Northwestern:
All five starters return from 2009, but there's competition at three spots in camp. I see this as a testament to Northwestern's strong O-line recruiting the past four seasons. While experience is great, the Wildcats need to be more physical in run blocking and could benefit from some new faces (or some old ones hardened by competition). Left tackle Al Netter and center Ben Burkett are All-Big Ten candidates, and watch out for Patrick Ward, a heralded 2009 recruit who steps into the spotlight at right tackle this season.
Up next:
Running back/fullback
More rankings ...
June, 2, 2010
6/02/10
11:00
AM ET
Wisconsin running back
John Clay
might be the Big Ten's best hope for the Heisman Trophy this season, which will make you scratch your head after reading this next statement.
The Badgers can survive without him.
Not to diminish Clay's size and power, which Wisconsin would miss if he goes down, but the Badgers aren't exactly starved for running backs.
Montee Ball
showed flashes as a true freshman the past season, and
Zach Brown
boasts more experience (36 games played) than any other Big Ten backup back.
And whomever carries the ball for Wisconsin will benefit from working behind one of the nation's top offensive lines. Left tackle Gabe Carimi and guard John Moffitt get most of the buzz, but Wisconsin returns all five starters up front, as well as others like Bill Nagy who boast game experience.
The Badgers are one of several Big Ten teams who can survive the loss of a key player or two, as long as it isn't quarterback
Scott Tolzien
.
The reason why Ohio State has won or shared the past five Big Ten championships: their depth chart. Take the linebacker position, for example. The Buckeyes have two of the Big Ten's best in Ross Homan and Brian Rolle, but they also can turn to a guy like Etienne Sabino, or younger backers Storm Klein, Dorian Bell and Andrew Sweat. Tyler Moeller also should return to the field this fall, although he'll likely see more time at safety.
Indiana's
Tandon Doss
and Purdue's
Keith Smith
were the media's picks for the first-team All-Big Ten squad in 2009, and both players are primed for big seasons this fall. While both also would be big losses, their teams have other options. Indiana can turn to
Damarlo Belcher
and
Terrance Turner
, or younger players like
Duwyce Wilson
. Purdue always boasts depth at receiver and has options like
Cortez Smith
,
Antavian Edison
and
Gary Bush
behind Smith. And don't forget about incoming freshman O.J. Ross or
Justin Siller
, the reinstated former starting quarterback.
Speaking of the offensive skill positions, Michigan State and Iowa boast similar depth. Both teams have potential All-Big Ten players --
Keshawn Martin
,
Derrell Johnson-Koulianos
,
Marvin McNutt
,
Keith Nichol
-- but can truly lean on their strength in numbers. Michigan State quarterback
Kirk Cousins
is a very lucky man, as he'll have four capable wideouts, three capable tight ends and at least two capable running backs at his disposal. Iowa's
Ricky Stanzi
also has weapons at wideout with Johnson-Koulianos and McNutt, as well as three solid options in the backfield with
Jewel Hampton
,
Adam Robinson
and
Brandon Wegher
.
Michigan has several areas of concern entering 2010, but offensive line shouldn't be one of them. The Wolverines return five linemen who started part or all of the past season, led by veteran guard Stephen Schilling. Michigan has five offensive linemen who have three years of experience under their belts, not to mention promising young prospects like Taylor Lewan and Michael Schofield.
Flipping to the other side of the line, look at Penn State. Sure, the Nittany Lions lose Big Ten co-Defensive Player of the Year Jared Odrick, but there's no reason to doubt defensive line coach Larry Johnson and his personnel. Penn State will have depth up front yet again with guys like Jack Crawford, Ollie Ogbu, Devon Still, Eric Latimore and Kevion Latham.
May, 13, 2010
5/13/10
4:00
PM ET
ESPN's NFL draft expert
Mel Kiper recently addressed a question

I get all the time: Where does Ohio State quarterback
Terrelle Pryor
project for the NFL?
[+] Enlarge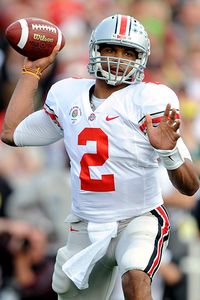 Kirby Lee/Image of Sport/US PresswireTerrelle Pryor's draft stock should soar if improves his footwork and decision-making.
Kiper drops the dreaded name -- Tim Tebow -- but points out an important difference between the former Florida star and quarterbacks like Pryor and Vince Young.
"While Tebow was in a system that asked him to run and he liked to run, Young and Pryor don't need to run, but they can run. It's a big distinction. Part of Young's growth and value as an NFL quarterback is his knowledge of his physical skills allowing him to run, but he doesn't have to just to have value. What Pryor will need to prove is that he has footwork, not just good feet, an accurate arm, not just a cannon, and that he can read plays and deliver with anticipation, not just find open receivers."
As I've written before, Pryor likely never will have textbook mechanics. But if he can improve in other areas, namely footwork and decision-making, he can be a heck of a college quarterback, and possibly a great pro quarterback. This spring, I saw improved footwork from Pryor, and if he can make smart decisions -- and
anticipate
the right throws, as Kiper says -- he should have a great junior season.
Kiper also weighs in on former Penn State quarterback
Pat Devlin
, now at Delaware, as well as former Michigan defensive end Brandon Graham, the first-round draft pick of the Philadelphia Eagles.
I also missed this from last week, but Kiper has come out with his
position rankings (top 5) for the 2011 NFL draft

. These are seniors only, so draft-eligible juniors like Pryor and Wisconsin's
John Clay
aren't on the list.
Here are the Big Ten players who made it:
Wisconsin's Gabe Carimi, No. 2 offensive tackle

Ohio State's Justin Boren, No. 2 offensive guard

Michigan's Stephen Schilling, No. 3 offensive guard

Wisconsin's John Moffitt, No. 5 offensive guard

Penn State's Stefen Wisniewski, No. 2 center (note: Wisniewski practiced at guard this spring and likely will stay there this season)

Iowa's Adrian Clayborn, No. 2 defensive end

Ohio State's Cameron Heyward, No. 4 defensive end

Michigan State's Greg Jones, No. 3 inside linebacker

Iowa's Ryan Donahue, No. 1 punter
A solid list of players there. I was a little surprised not to see Purdue defensive end Ryan Kerrigan or Ohio State linebacker Ross Homan, but the others look to be in the right places.
Kiper on Jones: "Jones is one of the purest tacklers you'll see in college football. His stock could rise next season on a potentially underrated Michigan State team, but he'll need to overcome questions about his size. I wouldn't be surprised to see him come into camp with 10 more pounds on that frame, which should help solidify his stock."
Kiper on Clayborn and Heyward: "Heyward came on strong this past season and should be an anchor of a top-five defense next season. Clayborn was a beast down the stretch, and it's huge for coach Kirk Ferentz to get him back as an anchor point for that defense, which loses significant talent elsewhere."
Kiper on Boren and Moffitt: "Moffitt is the only guy to be added to this list; Wisconsin should have an elite line next season with Moffitt and OT Carimi. RB John Clay will enjoy running behind them. Justin Boren isn't No. 1 here yet, but could jump [Rodney] Hudson with a dominant season for a Big Ten power."
March, 27, 2009
3/27/09
12:00
PM ET
Posted by ESPN.com's Adam Rittenberg
"He's probably further ahead than I thought he would be," coach Tim Brewster said. "Obviously, you can see his talent. His talent jumps out at you, but what has impressed me is his ability to learn and pick things up. He has some real presence about him."
October, 27, 2008
10/27/08
5:45
PM ET
Posted by ESPN.com's Ted Miller
In 2005, Tyrone Willingham took over a Washington program that was headed downhill. He resigned Monday because he did little to reverse the course.
| | |
| --- | --- |
| | |
| | Jonathan Ferrey/Getty Images |
| | The Huskies have lost 13 of their last 15 home games under Tyrone Willingham. |
The 2004 Huskies that got Keith Gilbertson fired after just two seasons went 1-11. That is an optimistic projection of where the currently winless team will end up this season.
How did a program that won the 1991 national championship and finished No. 3 in the nation as recently as 2000 win only 12 games over the past five seasons?
The easy answer is the program failed to recruit and then develop players who could compete in the Pac-10.
But Willingham, beyond his failure on the field and on the recruiting trail, was never a good fit.
His hiring split the fan base from the beginning and set up a nasty schism between fans focused on football and others who believed Willingham restored class and integrity to a program that had appeared out of control during the previous administrations.
Willingham was supposed to be a stabilizing presence after the tumultuous Rick Neuheisel tenure and the failed stop-gap that was Gilbertson's brief term.
When Gilbertson and then-athletic director Todd Turner agreed on a separation, Turner immediately fired up Huskies fans by announcing he wanted his new coach to have "pizazz."
Turner later would regret the word choice.
When he hired Willingham over then-Boston College coach Jim O'Brien -- after being spurned by California's Jeff Tedford -- the fan base was decidedly under whelmed.
Many Husky fans didn't believe a discard from Notre Dame was worthy of the UW post. They also didn't think Willingham was a very good coach. And they weren't shy about saying so on the high-traffic message boards.
"Anybody with half a brain can get on the Internet and say whatever they want -- pay no attention to that," Turner said at the time when asked about the vocal critics.
Of course, that comment immediately spawned a movement and a group of anti-Willingham UW fans that gained momentum and unofficial members with each dispiriting defeat.

While it might seem like 20-20 hindsight, Willingham immediately created consternation even among the more reasonable fans. He filled out his coaching staff with an inexplicable deliberateness, which crushed his initial recruiting effort.
His big name failed to generate any recruiting momentum. Elite in-state players like running back Jonathan Stewart and offensive lineman Stephen Schilling bolted for Oregon and Michigan, and Willingham's 13-member class finished ranked 10th in the Pac-10, according to most recruiting services.
He then imposed some of the nation's most restrictive policies on media and fan contact with the team. All practices were closed to reporters, which is unusual in the mostly open Pac-10. Big-time boosters didn't fare much better. The team hotel, long the social headquarters for fans who followed the Huskies the on road, was made off-limits.
Willingham never made much effort to connect with boosters, which isn't good for a program desperately in need of a massive and expensive stadium renovation.
Of course, all would have been forgiven if Willingham had won and recruited well. He did neither, though his 2007 recruiting class pushed into the top half of the conference rankings.
Sure, there are some "what if" moments.
Surging to a 4-1 start in 2006 and sniffing the national rankings, the Huskies nearly won at No. 3 USC before falling 26-20, as an official indefensibly stood over the ball as the final seconds ticked away and wouldn't let them run a final play from the Trojans 15-yard line.
But then dual-threat quarterback Isaiah Stanback broke his foot the following weekend against Oregon State. The season imploded amid a six-game losing streak.
The promise of a 2-0 start and a halftime lead over Ohio State in 2007 evaporated with another six-game losing streak.
And this year's only moment of any hope -- a controversial 28-27 loss to BYU -- quickly yielded, as losses piled up, to desperation and frustration. And then resignation.
Willingham is 11-32 in Seattle and is 2-16 since the 2-0 start in 2007. The Huskies are terrible on both sides of the ball, ranking 117th in scoring offense (16.1 points-per-game) and 115th in scoring defense (39.6 ppg).
Sure, the Huskies have been wracked by injuries. Sure, they are relying on way too many freshmen and sophomores. Sure, the brutal schedule has been unforgiving.
But Willingham has failed to do the job he was hired to do by every measure. He even admitted that when the announcement was made today.
"We didn't win enough games -- that's it," he said.
That is it.
And he leaves the program not well-positioned to win much anytime soon.
September, 10, 2008
9/10/08
11:54
AM ET
Posted by ESPN.com's Adam Rittenberg
Injuries are cropping up around the league, and coaches are shuffling pieces to try to find the right fit. Here's a look at five key issues in the Big Ten.

Minnesota -- Just when the Golden Gophers found a viable running threat, they received news that Duane Bennett tore his ACL against Bowling Green and will miss the rest of the season. Coach Tim Brewster will audition three players -- junior Jay Thomas and freshmen Shady Salamon and DeLeon Eskridge -- at the running back spot in hopes of identifying a featured back. The Gophers need more than one capable runner, but Brewster doesn't want a rotation there. Though Thomas has by far the most experience, Eskridge and Salamon are listed behind Bennett on this week's depth chart.

Michigan State -- The Spartans apparently no longer have cornerbacks or safeties, just general defensive backs. Before the season, coach Mark Dantonio moved starting corner Kendell Davis-Clark to safety after projected starter Roderick Jenrette took a leave of absence. Dantonio now is considering switching another starting cornerback, Ross Weaver, to safety after Davis-Clark sustained a shoulder injury against Cal and missed last week's matchup against Eastern Michigan. Davis-Clark is listed as day-to-day but didn't appear on this week's depth chart for Florida Atlantic.

Ohio State -- Cornerback Donald Washington returns from a two-game suspension Saturday against USC (ABC, 8 p.m. ET), but the two-year starter might not retain his job. Ohio State likely will platoon Washington and sophomore Chimdi Chekwa, who has started the first two games. Coach Jim Tressel also seems intent on keeping Jermale Hines in the mix, possibly at nickel back. Hines should get decent playing time Saturday because the Buckeyes don't know whether linebacker/safety Tyler Moeller will be able to play after suffering an injury.

Michigan -- Redshirt sophomore Perry Dorrestein likely will make his season debut as the Wolverines' starting left tackle Saturday at Notre Dame after Mark Ortmann dislocated his elbow last week. Dorrestein previously had backed up Stephen Schilling at left tackle. Michigan already is without two guards who went down with injuries before the season. Coach Rich Rodriguez expects Bryant Nowicki and true freshman Patrick Omameh to fill in behind Dorrestein on the left flank.

Penn State -- The still-unresolved suspensions of starting defensive linemen Maurice Evans and Abe Koroma and the season-ending injury to Jerome Hayes leave the Nittany Lions in a bit of a bind. Both the end and tackle positions have depth issues, and end might be a greater concern as Penn State doesn't have much behind Josh Gaines and Aaron Maybin. One possibility would be moving true freshman Jack Crawford from tackle to end, though Paterno is leery about Crawford's inexperience. If Crawford switches, it puts more pressure on keeping Jared Odrick, Ollie Ogbu and Tom McEowen healthy.
August, 28, 2008
8/28/08
10:05
AM ET
Posted by ESPN.com's Adam Rittenberg
Michigan safety Stevie Brown tries to block negativity from his life whenever he can. The problem is he also owns a TV.
| | |
| --- | --- |
| | |
| | Leon Halip/Getty Images |
| | Stevie Brown and Michigan still remember last year's season-opening loss to Appalachian State. |
When Brown flips through the channels, he's often comes across those unsightly images, the ones showing the little team with the funny name stunning the big team with the famous name. There might as well be a station called WLAS -- Wolverines lose to Appalachian State.
"It was hard to get over because every week, we saw the clips being played," Brown said. "It's still being played right now. So it's always something that stays in the back of your mind."
Does Brown relive Michigan's 34-32 loss, considered by many to be the biggest upset in college football history?
"Nah, I change the channel right then and there," he said.
Brown might want to unplug his set this week. The Wolverines enter a new era with head coach Rich Rodriguez and dramatically different schemes and personnel, but the Appalachian State loss will undoubtedly be rehashed as another season dawns Saturday at Michigan Stadium.
Rodriguez and most of his assistants weren't in Ann Arbor for Michigan's historic setback last fall, and though they focused on installing new systems with mostly unproven players this summer, there have been some not-so subtle hints about the game. Brown remembers a particular conversation he had with one of Michigan's graduate assistants.
"The one thing the GA told me was, he didn't believe it and the coaching staff didn't believe it, but when they came in, they heard that No. 3 would just have mental mistakes and blow coverages every now and then," Brown said. "I didn't ask where it came from, they didn't tell me where it came from."
It doesn't take much detective work to find the likely source. Brown started the Appalachian State game, got burned on a 68-yard touchdown and several other plays, and began the second half on the bench.
Don't expect a re-run Saturday against Utah.