NCF Nation:

Sterling Lucas
October, 5, 2012
10/05/12
2:00
PM ET
NC State's secondary entered this season as a veteran group. It's still a veteran group, but it hasn't performed up to its potential yet this season. That will have to change on Saturday if the Wolfpack is going to have a chance to upset No. 3-ranked Florida State. I spoke with senior safety
Earl Wolff
earlier this week to get his take on the season so far. Here are the highlights of our conversation.
What's happened to you guys? What's going on?
Earl Wolff:
We had a lot of breakdowns in our pass coverage that usually doesn't happen. Things like that went wrong our freshmen year. We didn't expect it to happen against Miami and it did. We watched film and we handled everything we needed to handle. We made adjustments and I feel like we're ready to go this Saturday.
[+] Enlarge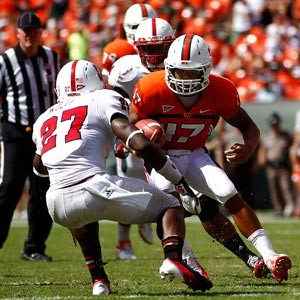 J Pat Carter/AP PhotoNC State's Earl Wolff tracks down Miami quarterback Stephen Morris in the two teams' Week 5 game.
Do you feel like you guys have fallen below your own expectations, considering what a veteran group the secondary is?
EW:
Absolutely. 565 yards, that really hurt. Deep balls over our heads, things that don't usually happen. We feel like we can be the best secondary in the nation, athletically and mentally. When it comes to experience, we're one of the more experienced groups in the ACC, also. That 565 yards, it hurt us. I don't want to say we needed it, but we'll build off of that and try to be better this week. As a matter of fact I can promise you that won't happen again.
I read you called a team meeting. How important was it for you guys to do that?
EW:
Honestly it was very important. I feel like we should've done that last week, before the Miami game. Everybody's heads weren't where they needed to be. People had different things on their minds. I don't know the exact number of penalties, but especially with coach O'Brien, we're not used to that many penalties in a game. I just feel like guys, I don't know if the heat was getting to them, I don't know exactly what it was, but that team meeting we had, we didn't name any individuals, we just talked about what we need to work on as a team. We talked about what we need to do to get better at our weaknesses. Mostly everything that happened was mentally. The staff was in there for part of the meeting and then they left. We just went in there and a couple of guys stood up and said what they had to say. I feel like it was a much-needed meeting and we'll build off of that and get ready for this great game Saturday.
The No. 3 team in the country is coming to your house. How do you get better quickly enough to be ready for this game?
EW:
Just preparation. I feel like a lot of people didn't prepare the way they should have last week. As a matter of fact, we usually call meetings individually on Thursday, we call it ourselves, the players, and honestly, a lot of guys didn't show up. I felt like in the game it showed. When we talked to everybody we said if you're not all in then you can leave right now. A lot of guys have buckled down and they're going to be all in. That's exactly what we need this week. We're going to play one of the best teams in the nation. Luckily we get to play them at home in front of our crowd. We're going to get all this energy from our crowd. We're going to need all the energy we have. We have to go all out to beat Florida State.
What do you feel like the attitude is right now? Do you feel like you guys can truly beat them?
EW:
Honestly we do. A lot of people outside of here even some fans probably think we can't. But I feel like as long as the coaches believe in us and we believe in ourselves, that's really all that matters. For example, last year we played Clemson. A lot of people thought we were going to lose. They were ranked. We came in, we beat them, and it was our crowd. Our crowd gives us energy that we need. Luckily we played them at home. We get to feed off our crowd. We're going to put up a fight for all four quarters.
Have you had to console David Amerson at all?
EW:
Honestly, I did that during the game. Dave doesn't talk a whole lot. He's never been one who does a whole lot of talking. But sometimes you can just look at him and see there's something wrong. At the game I could tell, I don't know what's going on, but this is not like him. I said something to him during the game and then basically afterwards, I was like, 'Man, Dave, it's not just you, brother, we all played bad. We can't point the finger at you. If our pass coverage skills are on point, they don't throw the ball like that. It's not just you. Just stay up.' Dave said thank you. He's a competitor. He'll continue to compete, regardless of what happens. It won't happen again.
It sounds like that meeting helped. Maybe it will be a turning point for you guys.
E
W:
Oh yeah, I feel like that meeting really was what we needed. We'll probably call another one before the game on Saturday, just to make sure. We'll probably call one Thursday, honestly. Make sure everybody gets their rest and just prepares right.
Where is the leadership coming from this year besides yourself?
EW:
I don't really do a whole lot of talking, but I feel like a lot of people aren't talking. So, sometimes I have to speak up and say what I've got to say. In the secondary, it's me,
Brandan Bishop
,
C.J. Wilson
throws his input in sometimes. He doesn't say too much, either. Linebackers it's really just Sterling [Lucas]. On the d-line,
Darryl Cato-Bishop
. He holds everyone on that d-line accountable. I really like that guy. Just leading. Offensively I would say it's
Mike Glennon
.
Mario Carter
sometimes. But I feel like we still have to do a better job when it comes to that. Everybody's still just not on board yet. We have a lot of young guys, and I feel like sometimes they're in the mindset of, 'Shoot, I have two more years, three more years, so if we don't do it this year, than maybe next year.' We're trying to instill in their minds that it has to happen now. We need it now. Imagine if it was your senior year, how would you feel about it? That's how I felt when I was playing. At first I was like, I have this year, and this year. Even though I always gave it my all. I remember Nate [Irving], Audie [Cole], all them boys, saying, it's our senior year. We want to win this. We want you to help us win this. I'm just trying to instill that in their minds and help everybody buy in."
June, 29, 2011
6/29/11
5:00
PM ET
You are going to argue about this. How do I know? Because I'm still arguing with myself over it ...
[+] Enlarge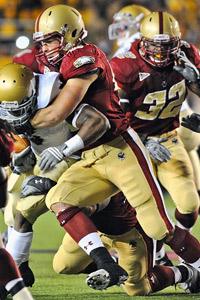 Michael Tureski/Icon SMILuke Kuechly leads a deep group of Boston College linebackers.
1. Boston College:
Luke Kuechly is one of the best in the country, but he's not alone. The Eagles also have Kevin Pierre-Louis, who ranked second nationally among all freshmen in tackles per game last season with 7.15 -- ninth in the ACC. It won't be easy to replace Mark Herzlich, on or off the field, but Steele Divitto played in 11 games last season, and Nick Clancy and Will Thompson both saw time on the second team.
2. Florida State:
The Noles had to replace two starters, including Kendall Smith, the team's second-leading tackler, last season, and Mister Alexander, but the upcoming talent could be even better. Nigel Bradham led the team with 98 tackles and five pass breakups last season, and Christian Jones, Jeff Luc, Telvin Smith and Vince Williams will also be competing for playing time.
3. Miami:
Sean Spence, who has 30 career starts, should be one of the best in the country, and Ramon Buchanon, another senior, also returns. The Canes have five other linebackers with experience in Kelvin Cain, who started seven games, Jordan Futch, who had a great spring and will see the field, Tyrone Cornelius, Shayon Green and C.J. Holton.
4. North Carolina:
Kevin Reddick, who led the Tar Heels with 74 tackles last season, returns for his third season as starter. Zach Brown is also a returning starter with game-changing capabilities, and there is plenty of depth with Dion Guy, Darius Lipford, Ebele Okakpu and Herman Davidson. Junior college transfer Fabby Desir could also have an impact.
5. NC State:
Audie Cole and Terrell Manning have combined for 39 career starts, and Cole fared well this spring moving to the middle to replace Nate Irving. With the return of Sterling Lucas, Dwayne Maddox and Colby Jackson, there is plenty of experience, but not quite as much depth as some other programs.
6. Georgia Tech:
The Jackets return both starters in Steven Sylvester and Julian Burnett. There is no shortage of depth with Jeremy Attaochu, Quayshawn Nealey, Brandon Watts, Albert Rocker, Malcolm Munroe and Daniel Drummond.
7. Clemson:
This group has a lot of potential, especially if true freshmen Tony Steward and Stephone Anthony make an immediate impact. There's no question they'll be given a chance, but the Tigers already have a good group with Corico Hawkins, Quandon Christian and Jonathan Willard.
8. Virginia Tech:
It seems like this rotation has been in flux for a while now. The Hokies' leading tackler returns in Bruce Taylor, Barquell Rivers had 96 tackles as a starter in 2009 but was injured last season, and there are several young players adding to the competition. Chase Williams, Tariq Edwards, Telvion Clark and Jack Tyler are only a few. Whip linebacker Jeron Gouveia-Winslow will have to earn his spot back over Alonzo Tweedy, Dominique Patterson and Nick Dew.
9. Maryland:
The Terps were hit hard here with the losses of Alex Wujciak (381 career tackles) and Adrian Moten (14.5 career sacks). Demetrius Hartsfield returns with 20 career starts, and there are four lettermen returning including Darin Drakeford, Isaiah Ross, David Mackall and Bradley Johnson.
10. Wake Forest:
Kyle Wilber's move to outside linebacker will give this position a boost, as he led the Deacs with 14.5 tackles for loss and six sacks last season. His backup is Gelo Orange (22 tackles). The Deacs also have Tristan Dorty, Joey Ehrmann, Mike Olsen, Scott Betros, Riley Haynes and Justin Jackson.
11. Virginia:
Starters LaRoy Reynolds and Ausar Walcott both return, but neither has started more than 11 career games. Junior Steve Greer has prior starting experience but played mainly as a reserve last season. Adam Taliaferro, Conner McCartin, Tucker Windle and LoVante Battle are also in the mix for playing time.
12. Duke
: Kelby Brown is the lone returning starter, but he's a promising young player who led the nation last season as a freshman in fumbles recovered. He missed spring ball while recovering from a knee injury, but is expected to start with Tyree Glover or Kevin Rojas.
TOP 25 SCOREBOARD
Saturday, 12/7
Thursday, 12/5
Friday, 12/6
TOP PERFORMERS